The WordPress recipe plugin will benefit you if you are a food blogger. This recipe plugin for WordPress will enable you to present your delicious meals most attractively. WordPress is a powerful website construction platform that has replaced others as the go-to for online shopping, advertising, and communication. You may easily publish your recipe using a recipe plugin for WordPress, which also helps you customize the theme to meet your unique needs. These plugins are compatible with food and restaurant themes for WordPress. Move over, professionals—even beginners and ambitious cooks are blogging and posting their cuisine adventures and recipes online. Features of some of the most practical WordPress recipe plugins improve the website's functionality and give it an accurate, organized, and tidy appearance. There are multiple WordPress recipe plugins available to get you going. We've hand-selected some of the top WordPress recipe plugins for you.
11 Best Recipe Plugin for WordPress 2023
1. WP Recipe Maker

WP Recipe Maker's key benefit is a simple approach to writing and publishing your recipe. Its automatic metadata addition feature aids in enhancing search engine ranks. You can add pictures to any step of the process to have a backup recipe to show if the plugin is disabled. All the ingredients and instructions can be grouped to make it simple for visitors. There is a clear print version with an optional byline for credits. Content from other plugins can also be transferred to WP Recipe Maker. Users can search for the recipe's content and rate it in the comments. You'll be glad to know that the WordPress recipe plugin is compatible with Pinterest Rich Pins because recipes are trendy on Pinterest and you can easily share your content on Pinterest with the social media plugin for WordPress. The premium edition lets you select from various themes, alter serving sizes, display nutrition labels, and provide links to other recipes for items.
2. Zip Recipes

Numerous characteristics in Zip Recipes let Google prioritize your recipes. The plugin optimizes SEO, boosts traffic, and puts a blog URL in the recipe. Additionally, you may incorporate affiliate links into your recipes. Additionally, formatting the recipe and including photographs using the plugin is not difficult at all. No custom post will need your attention. You can create in-post recipes and use the Media Library to add photos to your website built with a free simple WordPress theme. The WordPress recipe plugin only offers a few design choices and a small selection of layouts. But you may use CSS to alter it if you like. Zip Recipes provides an additional remark field to include any optional items, specific equipment, supplementary directions, or short recommendations. The plugin automatically inserts the post name for recipes and photographs. The premium edition of the plugin comes with a nutrition calculator, recipe card layouts, a recipe index, author settings, user ratings, and more features. It provides support for AMP pages and multilingual functionality, including a multilingual blog.
3. Five Star Restaurant Menu

You can rapidly post your menu with the help of the simple menu builder and the corresponding layout and customization options included in the Five Star Restaurant Menu plugin. Shortcode for restaurant menu is also available in the plugin. This WordPress recipe plugin enables the creation of distinct restaurant menu sections. It also enables you to divide a menu into several sections, making it more organized for your clients. Even a section-specific note is acceptable. You can easily create a website mega menu if you want to attract your customer more. Additionally, you can take orders via your website. Customers can place menu items in their cart, provide contact information, and send their orders to your business. A customizable order notification that includes all the order details is sent to restaurant owners by default.
4. Cooked – Recipe Plugin

Cooked is the best WordPress plugin for developing and showing recipes. The WordPress recipe plugin includes printable recipes, cooking timers, and galleries with SEO optimization. You may easily design your recipes using the drag-and-drop recipe maker without any restrictions. It includes ingredients and instructions, a gallery, nutritional information, and cooking timings you can use in your fastest and most lightweight WordPress themes. Every recipe you submit on Cooked automatically incorporates schema.org microdata and semantic structure. This enables Google to show your recipes on a range of platforms and device sizes.
5. Delicious Recipes
Delicious Recipes is the best and most user-friendly free recipe plugin for WordPress. You can create and view recipes from your WordPress Dashboard with its many features. Delicious Recipes is schema-friendly and SEO-optimized. This WordPress recipe plugin makes it much easier for social networks to share information about your recipes and for search engines to give them a higher ranking and you can create a sitemap for WordPress to quickly index your site or page for better ranking. The plugin includes many essential features like recipe image and video galleries, unlimited recipe creation, nutrition charts, and detailed text instructions. The plugin also comes with a User Dashboard, which enables visitors to sign up for an account and explore your recipes. Even your recipes can be added to people's favorites lists.
6. Tasty Recipes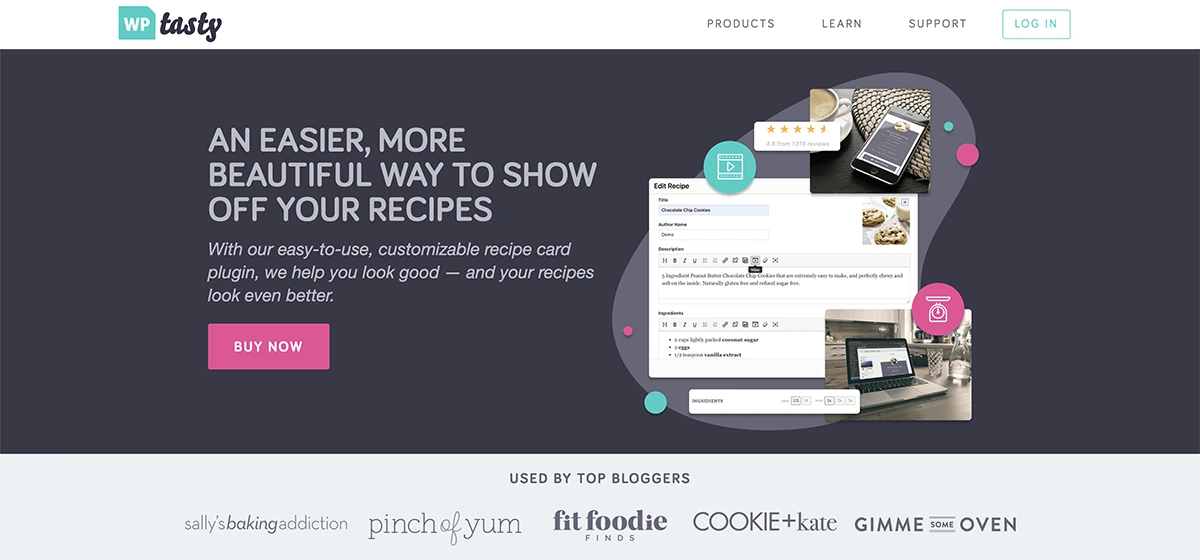 The Tasty Recipes plugin is a high-end recipe solution because it comes with everything you need to make delectable recipes. This essential plugin for WordPress will enable you to create videos that offer nutritional advice and also recipes that are simple to make and share with others. Using this plugin, visitor preferences can also be automatically scaled up or down. You may quickly alter recipes by using five predefined templates. Additionally, you can translate recipes from other plugins. To guarantee that your recipes are properly displayed on Google and Pinterest, this plugin makes advantage of JSON-LD. By using this plugin, you may avoid the hassles related to intricate and annoying plugins that are challenging to use or adjust and make you jump through hoops to get support. You can spend more time developing recipes, promoting them, and producing content that will be interesting for your readers if you use this plugin to streamline your blogging process.
7. Recipe Box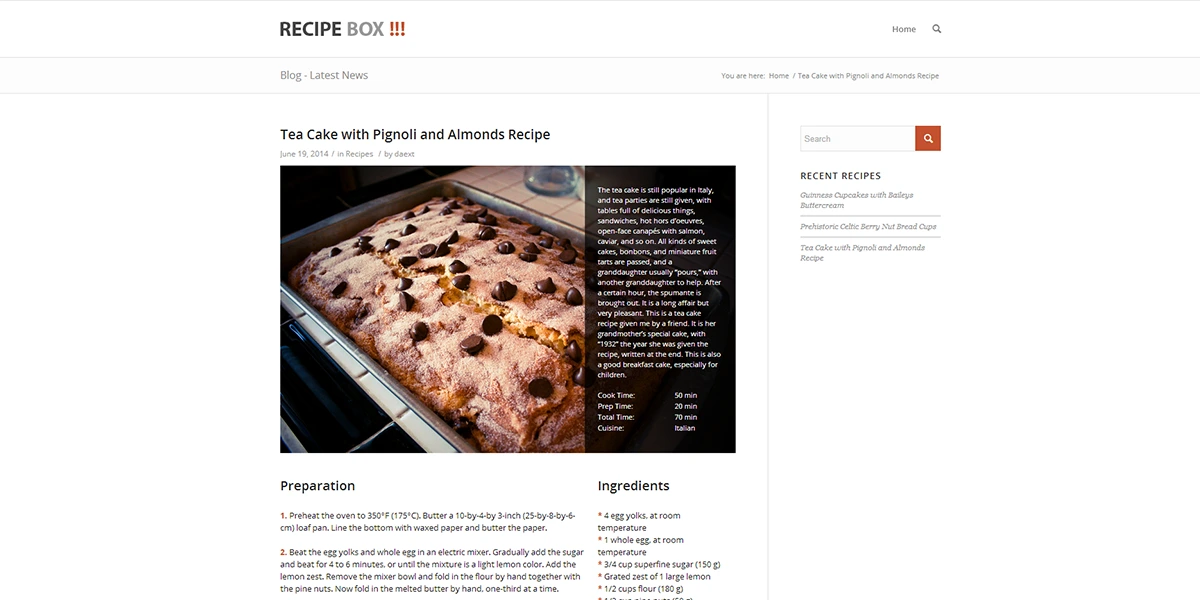 You can have much versatility with the Recipe Box plugin because you can modify your website's overall design, including its color scheme. To publish a recipe, all you need to do is add the necessary shortcodes to the plugin. Recipe Box is a box full of happiness for your recipe-based website and does a perfect job of living up to its name. With the help of this WordPress recipe plugin, your recipes' rich snippets are automatically generated. All the top recipe websites use rich Snippets. The benefit of employing Rich Snippets is that your material will receive more search engine exposure with off-page and on-page SEO tactics.
8. Le Chef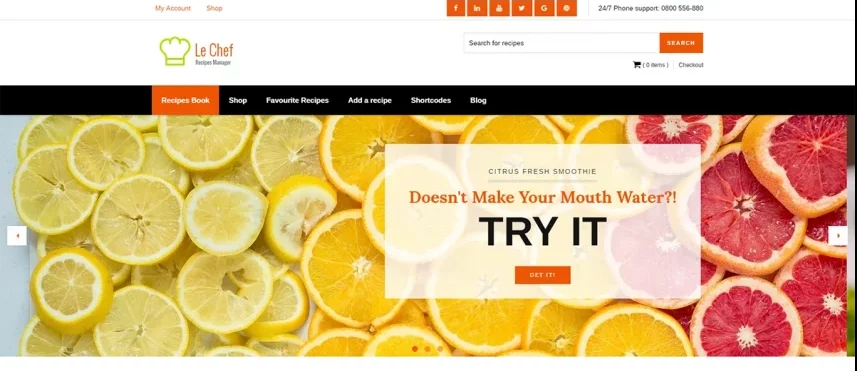 Le Chef is a simple-to-use WordPress recipe plugin that enables you to manage both your grocery shopping and recipe posts in one location. This plugin enables users to add and publish recipes after the admins have made the appropriate edits. The plugin supports Youtube videos and allows users to share recipes on social networks. All devices can display the layout well, and it is fully responsive. Additionally, you can activate the filter and modify its color as an admin.
9. Create by Mediavine

Create is a further powerful and adaptable recipe plugin that helps food bloggers build a stylish food site. This straightforward plugin takes care of all the challenging tasks for you. Create plugin supports Google Rich Snippets. Using this plugin increases visitors and raises the search engine ranking of your recipe material. It additionally provides one-button Schema validation or you can use schema plugins WordPress. The mobile-friendly, fully responsive WordPress recipe plugin has outstanding import features. Create plugin makes it simple to create and share stylish recipe cards that can be printed on any kind of paper material. It optimizes the overall speed of your website and is lightweight. The best possible user experience can be achieved using this plugin. You can also add videos to give step-by-step directions on creating a dish. The nutrition-conscious audience can get all the information about your recipe from its nutrition calculator. Additionally, you can include pertinent graphics and links on your website to improve user experience.
10. Total Recipe Generator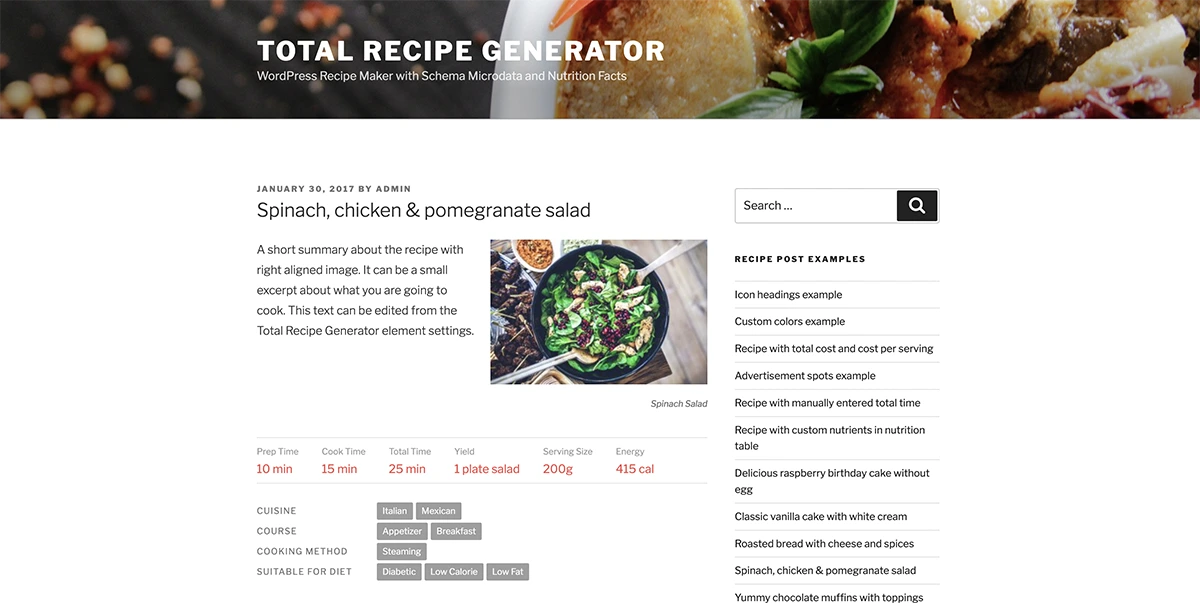 Total Recipe Generator is a WordPress recipe creator with nutritional facts label and Schema Microdata support. You can quickly create WordPress recipe posts using pre-defined templates and a drag-and-drop interface included with this WordPress recipe plugin. Your recipe content is hierarchically and semantically arranged with Total Recipe Generator. This enhances the visibility of your website in search results and on personalized media sites like Pinterest. This plugin is well integrated with all top modern and creative WordPress themes. The WPBakery Page Builder Add-on is how the plugin is distributed. The drag-and-drop interface is carried over, and a massive number of elements with built-in support are available for use in recipe method instructions. The plugin for the Total Recipe Generator works well on pages, posts, and custom post kinds.
11. Recipe Card Blocks for Gutenberg & Elementor

The Recipe Card Blocks plugin is straightforward to use and was specifically created to operate with the Gutenberg WordPress editor. The WordPress recipe plugin follows the idea that adding your recipes should be done using native blocks instead of shortcode generators or separate interfaces. If you are new to food blogging, Recipe Card Blocks is the ideal addition to your website. You can easily develop delectable meals using the plugin without any coding experience. There is a benefit to using Gutenberg blocks, You can easily import and export WordPress Gutenberg blocks. The components of the plugin make it simple to construct recipes and add visual or video instructions. The blocks can add additional choices, including component lists, serving information, prep and cook times, nutritional data, and different categories.
Conclusion
We aim to give you the best recipe plugin for WordPress. They are beneficial and may assist you in creating a fantastic website. When publishing recipes for your blog, you'll need to test out recipe plugins for yourself to see how simple or challenging they are. Additionally, maintaining your brand's consistency depends on structuring posts exactly how you want, so make sure it provides the customization choices you require. There is many WordPress plugin list that can help you well at the time of processing a project.