If you want an easy and flexible way to improve the speed of your WordPress website, then the WordPress cache plugin is one of the best solutions for you. Caching is known as the procedure of saving and storing static copies of your site's files in a temporary storage location. Caching allows for faster web page delivery to the visitor's browser. Many social media wants to find out to clean their cache as Instagram users don't know how to clean the Instagram cache and they became worried about it.
Here, we'll discuss the most popular WordPress Cache Plugins, and you will find your desirable plugin.
Best WordPress Cache Plugins for High-Performance 2022
1. WP Super Cache


WP Super Cache is a popular, free WordPress cache plugin. All you have to do is enable caching, and the plugin will take care of the rest.
You can create cache files for posts, categories, and tags of your site by preloading. Preloading will go into each page of your site, generating a cached page as it goes, just like any other visitor.
The main attraction of this plugin is its simplicity. A non-technical person or a beginner can use it correctly. It also includes all necessary caching features, such as GZIP compression, page caching, CDN support, etc.
WP Super Cache doesn't create cache pages for known users. It allows for the rebuilding of the cache.
2. LiteSpeed Cache


LiteSpeed Cache is another highly rated WordPress cache plugin.
LiteSpeed Cache is compatible with the must-have WooCommerce plugins, including WooCommerce, bbPress, and Yoast SEO, and supports WordPress Multisite and also with the best lightweight WordPress themes as well.
This plugin has a free QUIC.cloud CDN cache and object cache. It has lazy-load images/iframes and responsive image placeholders. In this plugin, the database cleaner and optimizer clean up all garbage data and give more speed.
LiteSpeed Cache is an attractive plugin, and its interface is easy to understand. Its automatic page caching improves site performance.
3. W3 Total Cache


W3 Total Cache is another one of the best free WordPress cache plugins.
This plugin improves your site's performance with many features like content delivery network (CDN) and the latest best practices. It also improves SEO by reducing the website load time.
W3 Total Cache improves search engine result page rankings without taking help from SEO plugins in WordPress, especially for mobile-friendly websites and sites that use SSL. It also improves conversion rates and "site performance", which will affect your site's rank on Google.com.
W3 Total Cache is compatible with shared hosting, virtual/private/dedicated servers, and dedicated servers/clusters. It allows you to cache pages and posts in memory or on disk or CDN, CSS, and JavaScript in memory, on disk or CDN, and feeds (site, categories, tags, comments, search results) in memory or on disk or CDN.
This plugin allows you to minify CSS, Minify JavaScript, and Minify HTML with granular control. It imports post attachments directly into the media library.
4. WP-Optimize


WP-Optimize Cache is a revolutionary WordPress Cache Plugin that caches your site, cleans your database, and compresses your images.
This plugin allows you to clean and optimize your database and cache your pages for super-fast load times. It also gives you the option to compress images.
This plugin enables you to minify and asynchronous CSS and JavaScript. WP-Optimize Cache can clean and remove thousands of spam and unapproved comments from your comments table in a single click without taking help from the best comment plugins for WordPress.
WP-Optimize Cache shows you which database tables have wasted space and overhead so you can reduce them. This WordPress plugin allows you to improve page speed without sacrificing image quality.
5. WP Fastest Cache


WP Fastest Cache is another popular WordPress Cache plugin. It is beginner-friendly and easy to use and set up. This plugin has both free and premium versions.
WP Fastest Cache uses Mod_Rewrite, which is the fastest method. The administrator can remove cached files, along with minified CSS and js files from the options page. This plugin knows how to speed up the WooCommerce website easily.
This plugin can delete all cached files at the determined time. It also can enable/disable the cache option for mobile devices and logged-in users. It preloads the cache and automatically creates the cache of all the sites.
6. Comet Cache


Comet Cache is the best WordPress cache plugin for increasing your website's speed.
The average page load time of the tested site was reduced by 0.92 seconds. Comet Cache employs advanced techniques to determine when a cached version of a file should be served and when it should not.
Comet Cache is a simple and well-documented configuration. You can also set a timer for the cache files to expire automatically. It also works with the WP-CLI command-line interface. You can use this command-line interface if you need to manage your WordPress site from a command prompt.
7. Breeze


Breeze is a free, user-friendly, and simple WordPress cache plugin. It works with WordPress, WordPress with WooCommerce, WordPress Multisite, and the most popular WooCommerce themes.
Breeze has a file exclusion option that allows you to choose which file types and URLs the plugin should not cache. It also has built-in Varnish cache support. The most important features such as database optimization and GZIP compression, are included in this plugin for free.
This can be used in conjunction with Breeze to create a much faster website. Furthermore, it supports CDNs such as KeyCDN and Amazon CloudFront, allowing you to optimize your site's performance further.
8. Cache Enabler


Cache Enabler is the best WordPress cache plugin, which is available for free from KeyCDN. Its smart cache clearing feature automatically clears the cache when a page is updated.
This plugin allows the static HTML files to be delivered instead of generating pages on the fly, avoiding resource-intensive backend processes from the WordPress core, plugins, and database.
Cache Enabler has a fast and efficient cache engine, automatic smart cache clearing, manual cache clearing, and WP-CLI cache clearing. This plugin supports WebP, mobile, and Brotli and Gzip pre-compression.
9. Swift Performance


Swift Performance is a caching, optimization, and WooCommerce WordPress cache plugin with lots of useful features.
Individual user session caching, stock management, and multi-currency support are available for WooCommerce sites. It works effortlessly with Elementor, Contact Form 7, Nginx helper, and WordPress hosting website.
This feature-rich plugin also has some interesting extra options like Google Analytics bypass, Whitelabel, Heartbeat Control, and Cronjobs. So, you'll be able to do much more than just speed up your WordPress website.
This plugin support Cloudfare and CDN. It also supports for Varnish cache. It even has an Intelligent dynamic cache feature.
10. Hummingbird – Optimize Speed, Enable Cache, Minify CSS & Defer Critical JS

A Hummingbird flies through your site, making it much faster. With quite well controls over file compression, minification, and world-class caching, you can boost page speed in new ways.
Hummingbird was created by WordPress speed experts who also created Smush image optimization, which is now used on over +1 million websites.
Hummingbird enables text compression by using gzip to make your site fly. It avoids enormous network payloads and considers a lazy load for comments or breaking up smaller posts. The Hummingbird Cache suite offers an effective browser cache for caching any site.
It allows minifying CSS and JavaScript. This plugin moves critical CSS and JS inline and defers all non-critical JS/CSS. It also defers the loading of CSS not used for above-the-fold content.
You get a scan of your site, find out what's slowing it down, and use one-click performance improvements to make critical speed improvements. It has a full caching suite to load pages faster with full-page, Gravatar, and browser cache tools.
11. WP Rocket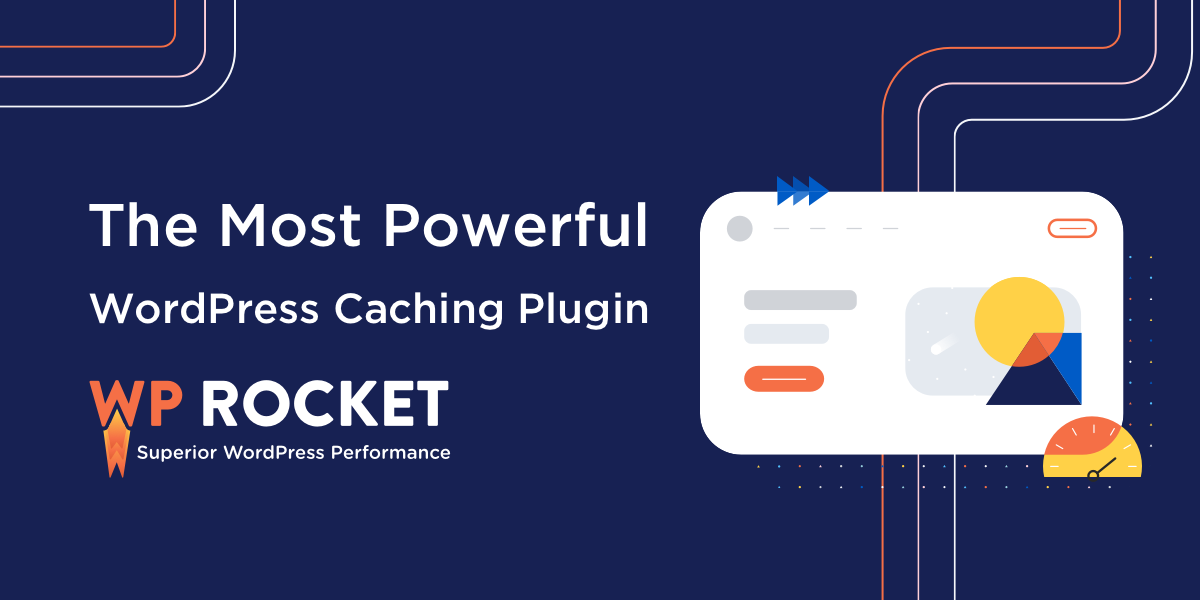 WP Rocket is the best WordPress cache plugin, according to WordPress experts, for achieving incredible speed results and optimizing your website.
WP Rocket Caching ensures a lightning-fast load time, which is critical for improving SEO and increasing conversions. When you activate WP Rocket, page caching is turned on right away. Our visitors recreate a visit to preload the cache, and search engines index your website more quickly.
WP Rocket has a page caching tool that makes your site load ultra-fast: the real key to boosting your SEO and increasing conversions. WP Rocket automatically preloads the cache every time you make some changes to your web pages. Its browser caching stores frequently accessed resources of your site images, JS, and CSS in the local memory of the navigation device, be it desktop or mobile.
With this plugin, your eCommerce will run fast and smoothly. WP Rocket works with the most popular WordPress themes and plugins, and the best WordPress hosting services.
Conclusion
A user-friendly interface and customizable functions like cache exclusion and cache clearing make them ideal for giving your website an instant boost-up. Here, we have discussed the top WordPress cache plugins. We hope, this article has helped you in finding the plugin you require. Feel free to check out our list of 10+ SEO plugins in WordPress For Higher Ranking to learn more about the best SEO plugins.