Astra is a widely popular theme with many reviews in the WordPress theme directory. According to them, more than 1.6 million websites are using Astra. Even the website now you're on is also Astra powered. Let's find out the pros & cons, and Astra theme review. Though we're using this theme, we will not talk only about the good part. We'll walk through every part of the theme and describe it accordingly.
It'll not be about just the facts; we'll give you a proper insight into Astra's options and a data-driven Astra WordPress theme review. There are thousands of criteria on which we can declare a theme best. We'll set some criteria on which we'll base the Astra theme review. Let's dive into the requirements to find out the best properties and review the theme, Astra!
Criteria of The Best Theme
1. Loading Time
Loading time is a significant factor for a theme. Because the loading time of a website directly impacts SEO, Having the least loading time creates a positive impression on Google. For this reason, Google helps fast-loading sites rank fast, and it is the fastest and most lightweight theme compared to other faster WordPress themes. Besides that, no visitor wants to wait for a page to load. Higher loading times make them uninterested in the site instantly. According to Neil Patel, one of the best SEO experts, visitors expect a web page to load in two seconds or less. He also stated that if an e-commerce site generates $100,000 per day, a 1-second page delay may cost $2.5 million in missed sales per year. Who wants to take on all those negative impacts of having a slow website?-No one! That's why all eCommerce sites want to keep visitors longer on their sites; time-consuming loading is punishable financially. 
2. Responsiveness
A website needs to behave dynamically when changing its appearance. Changing appearance means using the website on various types of screens and orientations. In short, this is known as a responsive web. Visitors around the world use different-sized devices, and the screen sizes also have too many variations. A responsive theme performs well so that no visitor faces any issues while visiting the website. As digital screens are being created in different sizes, responsiveness has become one of the most important concerns when choosing a theme.
3. SEO-Optimization 
SEO refers to search engine optimization. It helps the search engine understand exactly what the user needs. According to this, the search engine determines which information to give when someone is searching for anything. A theme should be SEO-optimized for a prominent digital presence. Without SEO optimization, it'll be difficult for the site to reach visitors. No matter how good you are at building a site, you won't be able to reach your customers without the best SEO themes for WordPress. 
4. Lightweight 
A theme is the combination of a thousand lines of code. Those codes take up memories on the server. And the more memory it takes, the heavier it'll be. Having a weighty theme is not recommended because it'll make the website slow to load. That's why a theme should be optimized for the least amount of weight. A lightweight theme makes a website lightweight, fast, and powerful. 
5. Design
Design is underrated but one of the most important factors for a theme. A good design helps visitors stay longer on the site. It enables different kinds of design in a website, such as a sidebar, slider, web page header design, etc. Also, it allows for easy navigation of the website. A good theme should have a trendy design that can give visitors comfort. Also, it has to be smooth and eye-catching. Overall, a good theme should be trendy, lightweight, and updated regularly. 
6. Uniqueness
Every theme has some common features. Those may be good enough, but they can't help the theme stand out from the crowd. A good theme should have some different, useful, and uncommon features. In short, unique features It must offer some unique features that are only available on that theme. Also, people need to be impressed by those.
7. Compatibility 
Having a good-looking, fast theme doesn't mean you've got everything. The theme needs to be made with the best technological practices. And most importantly, it needs to be compatible with the essential plugins for WordPress. Also, the theme should be compatible with different types of browsers. You can't control or know what kind of browser your visitor is using, so a theme should be compatible with any browser. It's more important for websites with a huge number of users. So, if you're trying to build a WooCommerce site, make sure that the theme is compatible with those essential themes. 
Astra Theme Review – What It Offers
1. Accessibility Ready
Astra follows WCAG 2.0 standards. WCAG refers to Web Content Accessibility Guidelines. It ensures that the content is accessible to people of all kinds. To reach people efficiently, this is a must. Following this standard, Astra becomes a theme that can reach more people than other themes. 
2. SEO Friendly 
Astra is made to be SEO-friendly. The code is SEO-optimized for the best performance. So, the users don't need to worry about the best practices for SEO tips and tricks. 
3. Translation & RTL Ready
Translating is a must if your visitors are from different countries. In Astra, using .po & .mo files, you can build your site in any language. Also, they offer to build multi-lingual websites that can help local businesses spread worldwide. Besides all of that, Astra is RTL-ready. That helps users build or translate their language if the writing convention is from right to left. languages, such as Arabic. So you don't have to worry or use translation plugins for WordPress. Aramaic, Azeri, Hebrew, Kurdish, Persian, and Urdu, which are written from right to left, can be easily used in Astra without breaking the text. These features ensure that you won't face any language-related issues in Astra. 
4. Open Source
Astra is open source and available for everyone. You can find the public repository of Astra on GitHub. It reflects the transparency of the developer team. By being open-source, Astra gets contributions from talented developers around the world that help them to grow more. It makes Astra strong, fast, and optimized. 
5. Made for Page Builders​
Astra can work with popular WordPress Page Builders like Elementor, Visual Composer, Site Origin, Divi, Beaver Builder, etc. So, building a website with Astra becomes easier and more comfortable for anyone. Because of that, it doesn't matter what page builder you're comfortable with Astra. You can do the job using any page builder with it.
6. Seamless WooCommerce Integration
Astra is a universal WooCommerce WordPress theme. It can be used for personal portfolios, local or international businesses, corporate houses, etc. Also, you can use it for WooCommerce sites easily. Astra offers huge customization that makes it easy to use as a WooCommerce site. 
7. Live Editing
Astra offers live editing for website builders. It is a feature that can help you to view the editing live. You can save time and fasten your development process using this. Without the Live Editing feature, it takes a long approach to edit and view the development of the website. Using this, you can do the website development in real-time. Moreover, it offers many options in WordPress customizer that can help users to create better designs.
8. Websites Templates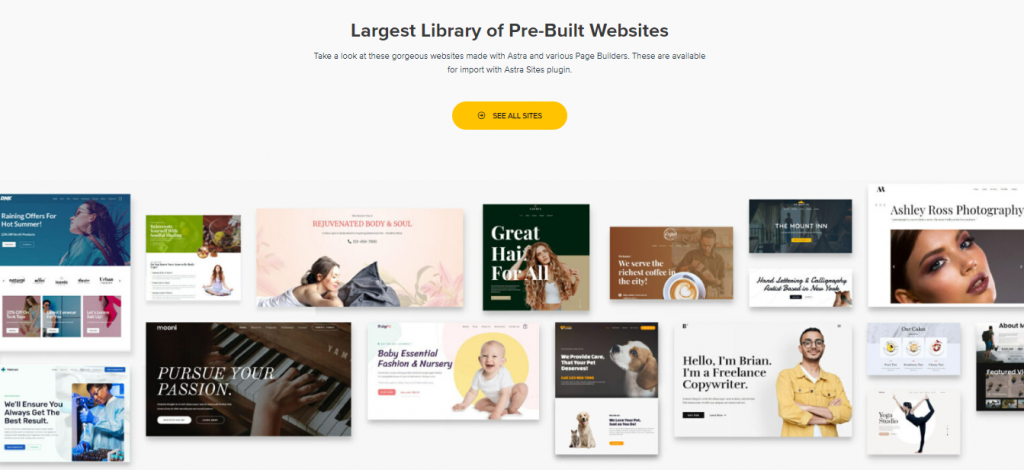 Around236 pre-built Astra starter sites are available for Astra users. You can download any of them and use them accordingly using a plugin. From personal portfolios to WooCommerce with different kinds of online store templates, every type of template is available here. 
9. Unparalleled Performance
Astra uses the most efficient coding practice to keep it neat. Also, they try to avoid anything that can affect their performance. Astra avoids using jQuery for the sake of optimization. They use vanilla JavaScript to keep it simple, fast, and lightweight.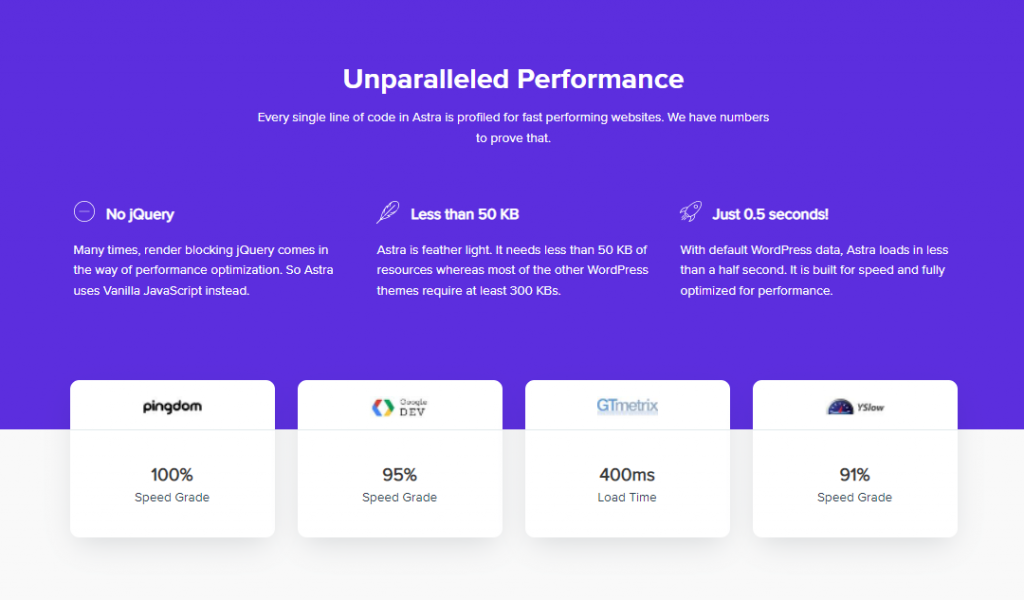 In the case of lightweight, Astra is unbeatable. Because they highly optimized their code and compressed it under 50KB. These best practices have bought the loading time to 0.5 seconds. Even you can add search console insight for optimizing search performances.
10. WooCommerce Compatible
Astra provides some features that are WooCommerce-focused and makes it easier to make an eCommerce store using it. You can use infinite scrolling, grid setting, and off-canvas sidebar while using WooCommerce in Astra. By default, you can find built-in gallery options, sales blue bubble style, and a dropdown by default for demonstrating products. You can also use Variation Swatches instead of the dropdown to keep it smart.  Moreover, it offers a product catalog, color variation, and checkout options. These essentials for any WooCommerce site. Additionally, for displaying multiple images for products, you can try the Additional Variation Images Gallery. It allows adding unlimited images of your products. Also, it allows adding videos of your products. 
11. Customize Everything Easily
Using Layout Settings, you can manage the layout of the site container, header, transparent header, sticky header, blog, archives, single pages, posts, sidebar, and footer. With the default header layout, you can choose any type of header you want. Astra offers wide options of color and typography that can help you organize things in your way. It has complete customization options for blog-related pages to help you with your blog.
Pros & Cons of Astra
Incredibly fast on any device

Mobile-friendly UI UX 

SEO optimized 

Easy customization process for a non-technical person

Supports various popular builders 
Few customers have complained about the support

Designs are basic level in some cases
Final Thoughts
Maintaining a theme that is being used by millions of websites is tough. After doing the Astra theme reviewfound, we find very few negative aspects. The users are mostly happy with their service. Besides that, Astra is committed to good quality. That's why they're such popular around the world. You can also compare the Astra vs Flatsome theme to get better insight when they're compared. We've come to this conclusion after doing the WordPress Astra theme review: if you want to know, whether Astra is recommended for you or not, no matter what type of website you want to build, Astra is always an easy choice.  Besides that, Astra is free for everyone and promised to be free always in the future. Though you may need the Pro version in some cases, basic-level websites can be easily made using Astra.  
FAQ
What does Astra mean?
Astra means weapon in Sanskrit and star in Greek. It's such a unique name for a WordPress theme.
Is Astra Pro Worth it? 
It depends on your usage. If you're building a static personal site that will be barely updated, the basic version is enough for you. In the case of professional and industry levels, Astra Pro is highly recommended for any kind of usage. 
Similar theme to Astra?
Astra is a unique theme, and few others are comparable. OceanWP, Hestia, and GeneratePress are similar to Astra. We've tested and compared the best WordPress themes similar to Astra. 
Is Astra good?
Yes, Astra is a good enough product of the Brainstorm Force. You can call it one of the best WordPress themes. Around 1.6 million websites are Astra-powered. During WPCred's Astra theme review, we found it an automatic choice!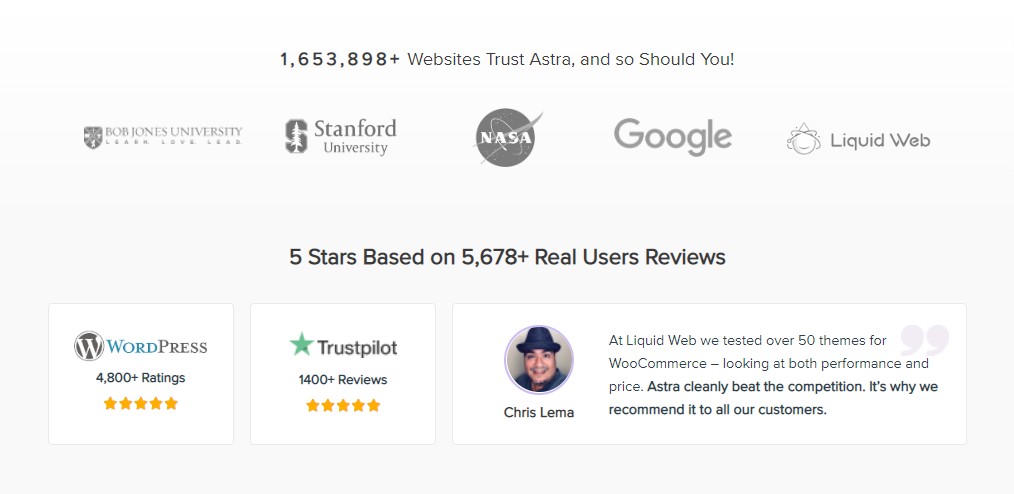 Is the Astra theme mobile-friendly? 
Yes, Astra is a very responsive theme. It's compatible with any size of device and responsive on any mobile phone. 
How do I use my Astra for free?
The free version of the Astra theme is available on the WordPress theme repository. You can use it for free. If you want to use the full power of Astra, you will need to purchase Astra pro version. Upgrading to Astra pro will help you to explore exclusive functionalities, and will also provide you with technical support.
You may find pirated versions on the internet. Don't think of using those, because they can contain viruses and you can be hacked anytime. Also, using the pirated version is a punishable crime. 
Is Astra the best WordPress theme?
Astra is one of the best WordPress themes in the WordPress theme repository. It's the most downloaded theme among WordPress themes. 
Does Astra work with WooCommerce?
Yes, Astra offers seamless integration with WooCommerce. You can easily integrate WooCommerce with Astra and start an eCommerce site.