Are you looking to integrate the best Google map into your website? You've come to the right place! We bring the top 10 Google Maps Plugins for you. Nowadays, people are more dependent on Google Maps than ever. That makes the Google Maps Plugin one of the most important & popular services in WordPress. This plugin is available on various websites, applications, and other platforms. Customers can easily find their business location using this. Google Maps Plugin is the best tool to guide the customer from one place to another and you can easily add Google Maps to a website. This article will discuss the top 10 WordPress Google Maps Plugins, so you can easily install and display Google Maps on your website.
Top 10 Google Map Plugins for WordPress 2023
1. WP Google Maps
WP Google Maps is the simplest and cleanest plugin for Google Maps. Using it, you can launch and create maps without writing code. This plugin is perfect for contact page maps, routes, and maps showing delivery areas. Customers can add a description, images, customize icons, animations, and elements to your marker. WP Google Maps can also embed video and display multiple pictures in your info window marker. It allows users to add unlimited markers.  Moreover, it includes a modern user interface and map wizard to create custom maps without hassle. On top of that, this plugin also works with WooCommerce smoothly.
2. WP Store Locator 

WP Store Locator is an easy and powerful WordPress plugin. Customers can customize this plugin feature and it provides custom labels for entry fields. This plugin provides extra details like phone, fax, email, URL, description, and opening hour. There are filters available that allow customers to add custom metadata. WP Store Locator provides a shortcode that enables you to open an address or a map with a single marker on any page. It supports 14 different languages and also includes driving directions. It uses custom post types with different filters that help you change the look. You can make an unlimited number of store locator maps with pins and search options with the help of search plugins in WordPress.
3. Maps Maker Pro
Maps Maker allows you to have total control over how your map works. This plugin is complex and powerful. It has advanced features, as opposed to simple and easy-to-use plugins. You can use shortcodes to complete the map in your article and pages. You can also transfer markers and layers between websites by importing and exporting them. This plugin is compatible with the best real estate plugin for WordPress. The plugin has a dedicated tools page where you can backup your setting and set the default map. You can change the default map values, location settings, layers, and other advanced settings in the main settings.  It has a dynamic marker list so customers can easily find their location with it. Also, it can give a customer real-time location. Nowadays, it is a popular feature of the Google map plugin not only Google but also supportable map solutions.
4. Simple Shortcode for GoogleMaps

Simple Google Maps Shortcode is one of the essential plugins for WordPress. You may include a map of any location with only one shortcode. It's simple to use and does the job well.  This plugin is pre-configured with the Google API, so you won't have any trouble installing it. It uses the WordPress HTTPS API, and the Transients API to offer cached Google maps with no delay. This plugin has a shortcode parameter for height and weight adjustment. You must use shortcodes to enable and disable map scrolling and map control.
5. MapPress Maps

MapPress Maps is one of the most popular free Google Maps plugins for WordPress. It uses interactive Google and Leaflet maps to give your maps a touch of high-function design. Even if the styles aren't modern, the plugin provides one of the simplest ways to obtain a map on a WordPress website. If your main goal is to make your website look attractive, professional, and colorful, installing the MapPress plugin is a must and this plugin is compatible with faster WordPress themes. This plugin allows customers to build several maps and place them all on one page. Customers can use an address or latitude and longitude information to create a map. This plugin shows real-time traffic information that's helpful for customers.
6. Image Map Pro for WordPress – SVG Map Builder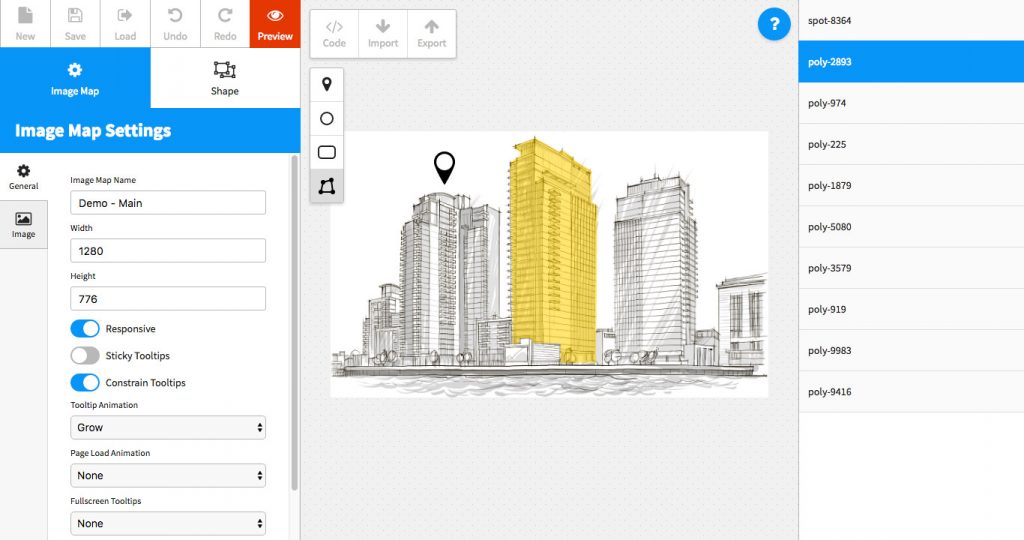 Image Map Pro for WordPress takes uniqueness to a new level with its ability to create any map you can imagine. The Image Map Pro plugin includes image mapping and geographical interactive maps. As a result, you might create a  retail store location map or create a brand new house and input photographs that outline your map. Customers can customize the shape of this plugin. It uses over 600 high-quality FontAwesome icons, and the best part is that it includes 50+ maps of countries and continents. This plugin is fully responsive and includes mouseover and click actions that can be integrated with responsive WooCommerce WordPress themes. It allows customers to rename and reorder their locations. This is just another excellent feature of this plugin. The variety of custom image maps, SVG shapes, and pins available in Image Map Pro is fantastic. The purpose of this plugin is to encourage you to be more creative.
7. Maps Widget for Google Maps

Google Maps Widget displays the map in the sidebar widget. This plugin has its own settings page. It provides a widget that allows you to customize and embed a map. You will get a shortcode if you upgrade to the premium edition. It allows you to integrate maps on your WordPress site easily. Customers can create a map using a shortcode widget. They can choose from various map themes, pin types, colors, and sizes, among other things. You can know how to add a widget to your website if you want to learn. Customers can edit the descriptions for map markers with this plugin. And, it can give them high performance. You may only add one map location marker in the free edition. On the other hand, the premium version allows you to add multiple location markers.
8.  Easy Google Maps

With the Easy Google Maps WordPress plugin, you can make easy Google Maps within a few minutes. This plugin allows you to add an unlimited number of map markers and locations to your map. It may include incorporating video backgrounds, photographs, links, and text descriptions, among other things. Use a shortcode to integrate a Google Map, open it in a browser, or use a Google Map widget.  Easy Google Maps is customizable and responsive. There are many fast & responsive themes with which you can integrate this plugin smoothly. It can provide a one-stop shop for showing Google maps, routes, real estate, and delivery zones on your contact page. The best part is that customers with a live preview may see all in-progress maps to visualize. Customers can use buttons to find different routes and directions and direct them to the appropriate navigational elements. Customers can use the map to design figures and pathways. Overall, it's an easy-to-use plugin.
9. Mapplic

Mapplic is a popular map plugin on CodeCanyon with a high rating. It is compatible with all devices and establishes a new standard for creating gorgeous, realistic floor plans for testing and real estate themes for WordPress free for property rental.  The interactive map-making solution is another option for uploading vectors and image files to overlay map markers and pins. Mapplic may use mall or event websites that need to show multiple areas of a structure. The geographical maps include several built-in global and national maps, each with landmarks and unique pins to direct visitors to the appropriate location. In this plugin, every location can be referenced by its URL.  The responsive design of this plugin ensures that it works well on a variety of devices. It has good documentation, and all documents provide information for customers. This plugin is user-friendly.
10. MapSVG

MapSVG is a map plugin and content management for WordPress. You can use it to make custom content and display it on a vector, image, or Google maps. You can use it to add powerful features to the Google maps capability. By importing thousands of map styles from SnazzyMaps, you can merge vector maps with Google maps and customize the default Google maps look and this plugin is compatible with the best free WordPress theme for eCommerce. This Google maps plugin includes a few customization features. There are also Google maps tools for sales and real estate agents. This plugin's best feature is its powerful editing capabilities, which allow customers to modify a map's look and functionality.
Conclusion
A Google Maps plugin is essential for a website & easy to implement. It can completely change the look of your website and provide more accurate information about your store's location, popular areas, etc. For WooCommerce sites, this is an essential plugin.  The listed top 10 Google Maps Plugins are the best options for Google Maps. If you want to improve your website, you just need to use one of those. We hope you've chosen the right match for your website if you've read the entire article.