Flatsome is one of the most popular WooCommerce themes in the Envato Marketplace. It's widely known for its uniqueness and easy setup process. Over 590,000 live websites are using the Flatsome theme, and it's been declared one of the top-rated eCommerce themes on Themeforest.
Let's review this theme and find out why it's so popular. We'll go through the criteria for the best theme and review the Flatsome theme according to them. 
Flatsome Review (is it the best WooCommerce theme?)
There are more than 1,000 WooCommerce themes available on the Envato Marketplace. Finding and declaring a theme as the best is tough. We need some criteria on what basis we call a piece "the best." According to our analysis, the criteria for the best theme are:
1. Unique Features
Many common features can be found in every theme. You don't need to focus on those features to identify a better theme. You need unique but highly useful features in a theme. Those unique features are not meant to be just different or uncommon; they should be different and useful. 
2. Loading Time
None want his website to be a slow one. -Why?
There are two reasons behind this.
Firstly, no visitor wants to visit a site that takes too long to load. And secondly, Google doesn't rank any slow-loading websites.
Both of these facts directly hurt a website's SEO.
So, a theme should have the least loading time, and a lightweight WordPress theme is the best option. WooCommerce themes usually contain huge amounts of content. You need to ensure that the theme is fast with that content, too. 
3. Design
A good design is more necessary than people usually think. A good design can attract people and make them stay for a longer time. It also increases engagement and builds a strong connection between the merchant and the visitor.
That's why no popular site has a bad design or an old type of design. A good theme should have a great design and also receive continuous updates. Nowadays, things change rapidly. To keep the website trendy, you need a theme that offers new updates.
4. Responsiveness
According to infront, 50% of eCommerce revenue comes from mobile devices. So, a WooCommerce theme needs to be responsive for better growth.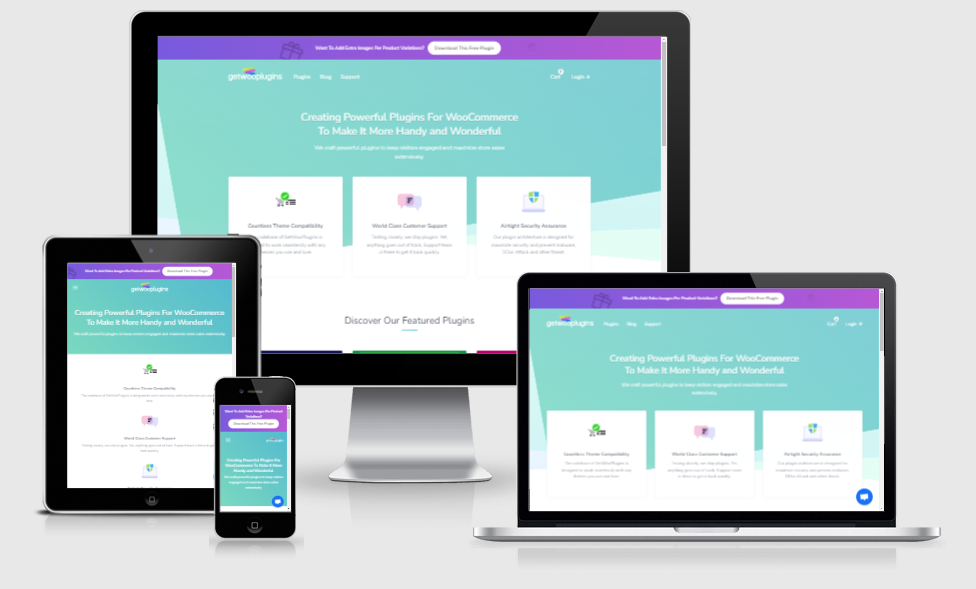 People use different devices that have different screen sizes. To serve them properly, you need to use a responsive theme so that no customer faces any issues while visiting your store. Besides all of that, Google encourages you to make your website responsive and mobile-friendly. Having the best WordPress responsive themes can give you a head start. 
There are several reasons behind Flatsome's success. We'll discuss the features that have made Flatsome a game-changer in the WooCommerce theme. 
What Flatsome Theme Offers
1. Large Element Library
You need to create many common elements when building a website, such as buttons, sliders, banners, light boxes, etc. Those require coding knowledge to build. It's a time-consuming process to learn coding and then implement it.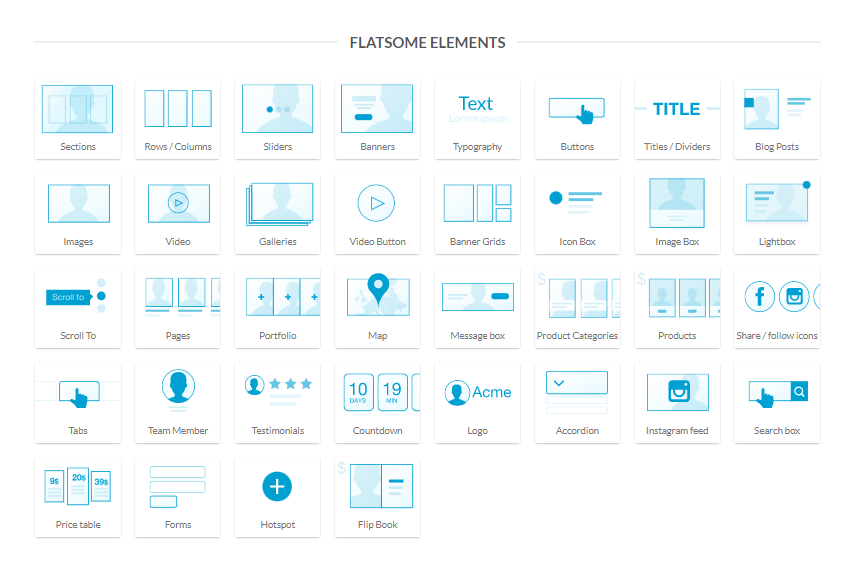 Flatsome does a wonderful job here. It provides an Element library from which you can easily choose the templates of the buttons, sliders, banners, etc.
Elements of Flatsome Theme
Supporting Elements
Using sections, you can instantly add different content types to your website. The supporting elements of the sections, such as rows, columns, sliders, buttons, and banners, are also available in the Flatsome theme. Flatsome offers a special element for the title to keep it prominent to the users. You can add blog posts, images, videos, and galleries with the help of elements.
Each of them has individual elements that can come in handy for any customization. Besides these, the Flatsome lightbox, image box, and icon box options are available to add. 
If you're starting a WooCommerce store, products, product categories, and share/follow icons can help you a lot. To keep visitors connected, you can use Flatsome's map and message box. To establish the trust of the visitors, you can use the elements of the WordPress team member plugin and testimonial plugin for WordPress as well.
Those can help you gain trust and authority. For specific events, you can use a countdown element for events like the new year or any other achievements. 
To keep your site trendy, you can integrate your Instagram feed with it using elements. Also, for easy navigation purposes, you can add a search box. Those 36 elements are the most commonly used on any WooCommerce site. Unless you want to do something unconventional, those are more than enough for a general WooCommerce site. 
2. Always Updated
Flatsome has a dynamic team that always keeps the theme updated. So, the theme is being optimized day by day. Flatsome gives new updates regularly and makes sure the theme has the best practices. It allows you to stay up to date with the industry and tech trends. Make sure you can update the WordPress theme without losing customization.
Because it is continuously updated, the Flatsome theme is optimized from time to time. This improves the quality of the website continuously. 
3. Optimized for Speed
The Flatsome is made with CSS in the last line of code, making it faster than any other theme. Also, they optimized the javascript code into 63 kilobytes, making the theme super lightweight. You can easily speed up the WooCommerce website by maintaining the background and images using "Smart Lazy Loading," which helps to load images only when needed. This makes the whole theme super fast. 
Besides those things, they use CSS animations and parallax effects at a minimum of 60 fps, giving the users a better, smoother experience. Those best practices also facilitate them. such as Google, which ranks those sites that are technically updated.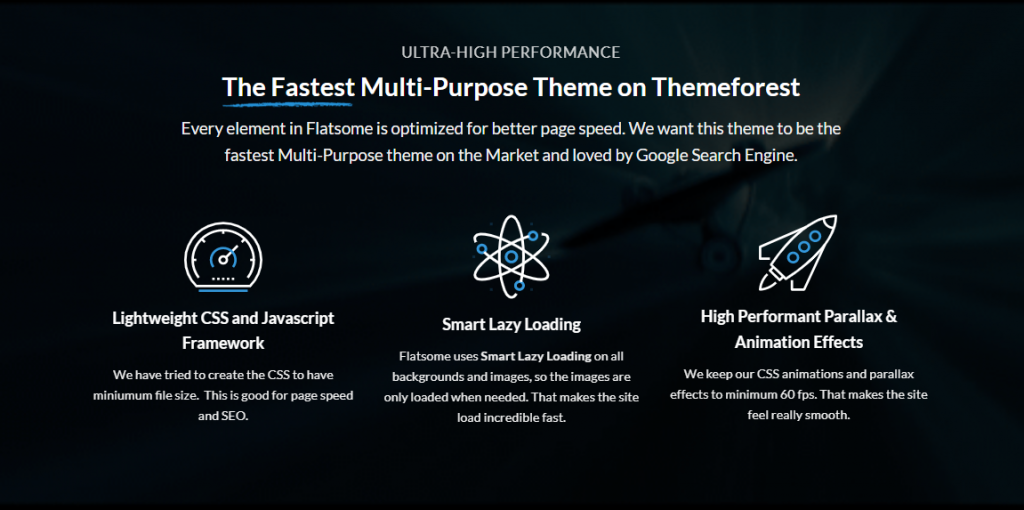 4. UX Builder
UX builder is a visual editor or page builder for Flatsome users provided by UX themes. It helps to edit the website without doing a single line of code. You can add/remove text, images, videos, or any type of media using this. It also offers to adjust any layout for your site. Overall, it offers customization options for beginners.
From page building to element building, UX Builder can help to build your site in every aspect.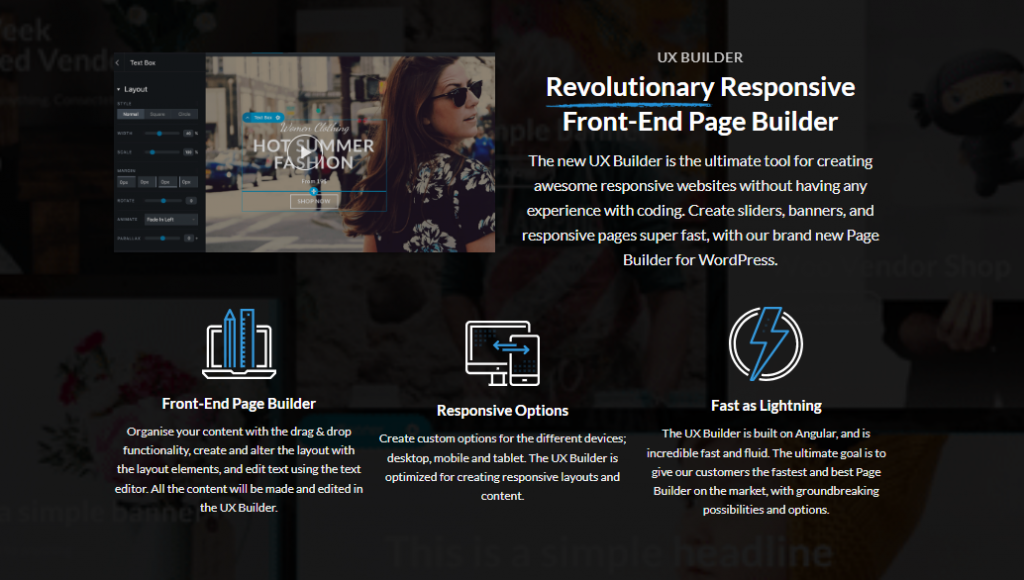 Often, non-technical persons need to maintain WooCommerce websites. In that case, UX Builder can come in handy. Without having any prior knowledge, anyone can build the Front-end of the website using this.  There are many things you can do using UX builder. Such as:
5. Flatsome Studio
To make things easier, Flatsome offers a Flatsome studio. It is a library of sections and full-page designs for your store.  The common pages like the contact page, checkout pages, and landing page can be easily found there. You can choose the page from a good number of templates.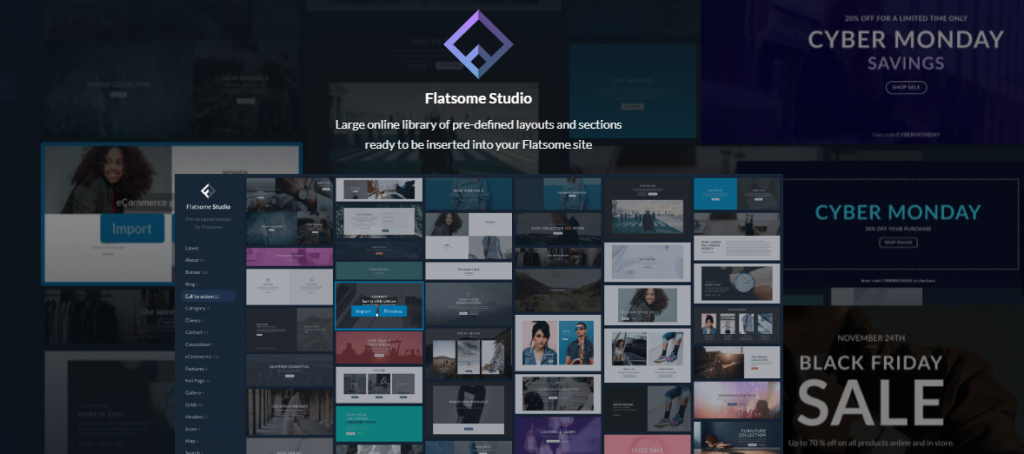 If you're worried about the similarity of your website with other websites, don't worry; Flatsomes updates the library every month and adds new demo content. Besides having free templates, you can also use images for free. You can easily create eCommerce with Flatsome studio if you want to build it in no time. 
6. Single Page Application 
A single Page Application is a special type of website that loads with a single webpage. It helps visitors to have a quick view of the website. This single page contains the whole content of the website, but it doesn't load the whole document. It loads only the part of the website you want to view and continuously updates the body content.
You can easily create a one-page website in WordPress with a Flatsome theme. SPA(Single Page Application) allows the visitors to view the website without loading whole from the server. It boosts the performance of the site and gives a more dynamic experience.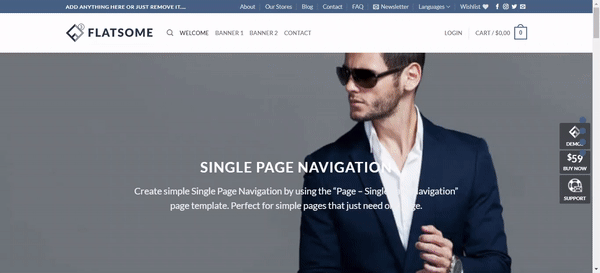 Also, you'll be able to set it so that, without reloading the page or opening any new window, you'll be able to go to the section you need. Though Flatsome is a WooCommerce-based theme, you can also use it for multi-purpose. It allows SPA(Sigle Page Application) that can be used for many other purposes. 
7. Compatible with Popular Plugins
Flatsome is compatible with many popular and essential plugins for WordPress WooCommerce websites.  Plugins, such as Variation Swatches for WooCommerce, Mailchimp, WooCommerce Multilingual, Additional Variation Images Gallery For WooCommerce, Booster, Product Filter, etc., can be used with Flatsome without any issue. 
It has a dynamic team of developers who ensure that every popular plugin is compatible with the theme, so you don't need to worry about compatibility. Even if any new plugin comes into the market, continuous updates of Flatsome will ensure compatibility. 
8. Customize Anything with Live Theme Options
The live theme option allows you to view a live preview of the site while editing. You don't need to save or reload to preview the result. This live editing feature reduces the extra time for developing your website. The live theme ensures you can customize your site without any extra hassle.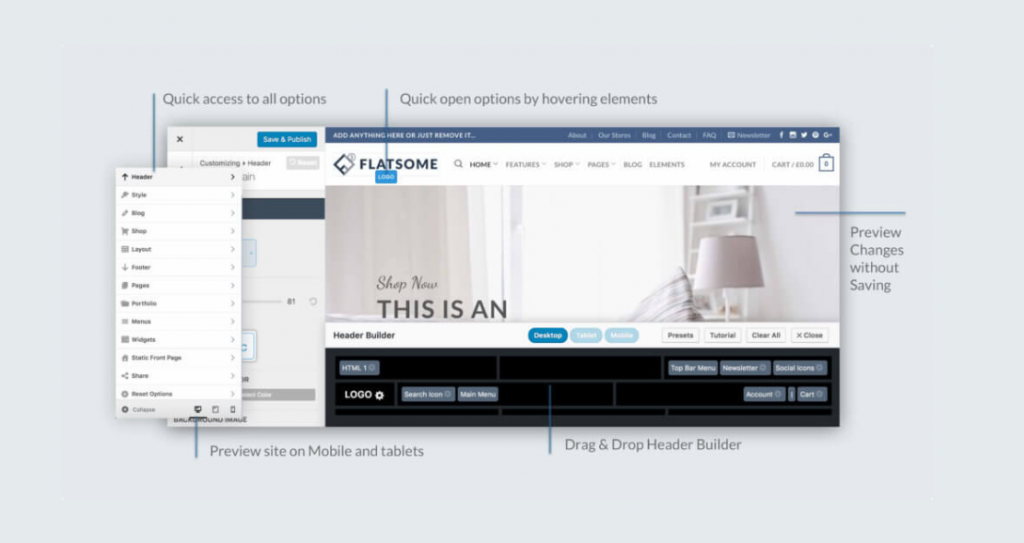 Pros and Cons of Using The Flatsome 
Very fast and lightweight WooCommerce theme

Many unique features are available

Easy to use for a non-technical person

Serves for multi-purpose 
Too many functions can confuse any beginner

The Pro version's price is relatively high for small ventures 
Number of Downloads & Active Installations
According to ThemeForest,  579,577 websites currently use Flatsome. Among them, good Flatsome reviews make more than 190,000 users purchase it. 
Should You Use It or Not ?
Flatsome is very powerful and highly recommended by experts. Though it's a WooCommerce-based theme, you can use it for various purposes, such as personal portfolios, blogs, business websites, etc. It also supports SPA (Single-page application), which can be helpful if you want to use Flatsome on a small scale.  If you're looking for something static or with limited functionalities, you may consider other options. 
Conclusion
A 4.8 rating of 6,800+ Flatsome review indicates that it satisfied most of the customers. The main reasons behind the success are: having unique features, super-fast loading, responsiveness, and next-level design.  Considering these features, Flatsome beats any other WooCommerce theme. 
If you're thinking of starting using Flatsome or have already started using it, you can follow Flatsome tutorials to become an expert in this theme.