CAPTCHA is a known feature for internet users. We often see and go through a CAPTCHA test in order to access particular websites and search engines. This CAPTCHA can be a useful feature to protect your website.
This tutorial will demonstrate how easily and quickly you can add CAPTCHA to WordPress for increased protection. You can also add Google ReCaptcha keys to contact form 7 easily by following some steps.
What is a CAPTCHA and Why Should You Use It?
A CAPTCHA is an internet security feature to ensure that the entity trying to log in or visit a particular website is human and not a spam robot. Illegal internet activity is also increasing with the growing use of the internet. Cybercriminals often use spam robots to log in and steal information from websites. The general purpose of CAPTCHA protection is to stop spam robots from accessing websites and search engines. You can learn about how to secure a WordPress website to avoid different kinds of spamming.
A CAPTCHA is a single image or a set of images from which the user needs to identify a particular object to pass the CAPTCHA test. Spam robots are not capable of reading objects from an image; only human has the understanding of doing it. Thus, the CAPTCHA test successfully prevents spam robots from logging into a website and stealing information. You can add CAPTCHA to WordPress using the plugin and the best WooCommerce themes for WordPress.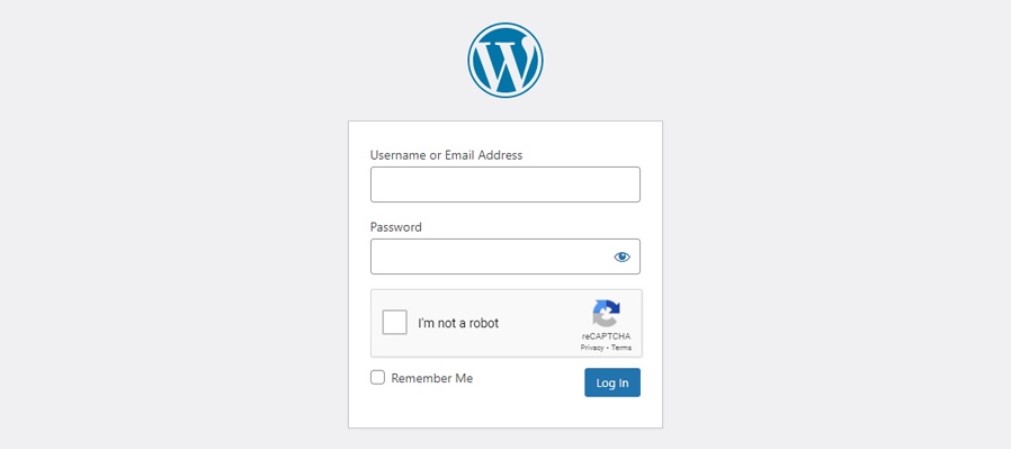 Types of CAPTCHA Security
There are a few types of CAPTCHA you can choose from and implement on your WordPress website for increased protection. In this section, we will discuss the latest and most effective types of CAPTCHA protection you may pick from. You can also choose security plugins for WordPress to enhance more security of your website.
Add CAPTCHA to WordPress:
Human-Assisted OCR 
Human-Assisted OCR is currently the most popular among the widely used CAPTCHA types. ReCAPTCHA, created by Google, uses this Human-Assisted OCR CAPTCHA where the user must recognize a particular object from a set of images to be confirmed as human. For example, you could be asked to identify a number of traffic lights, fire hydrants, palm trees, trucks, etc. 
OCR means Optical Character Recognition, which allows users to read the images and pass the CAPTCHA test successfully. Many users are unable to pass the CAPTCHA test, where they have to read and input scrambled text due to visual impairment. Thus, OCR makes it easy for the general audience to be confirmed as human users.
You can use the reCAPTCHA plugin in your WordPress website to quickly and flexibly implement this Human-Assisted OCR CAPTCHA method.  The reCAPTCHA plugin is supported by all freestore WordPress themes.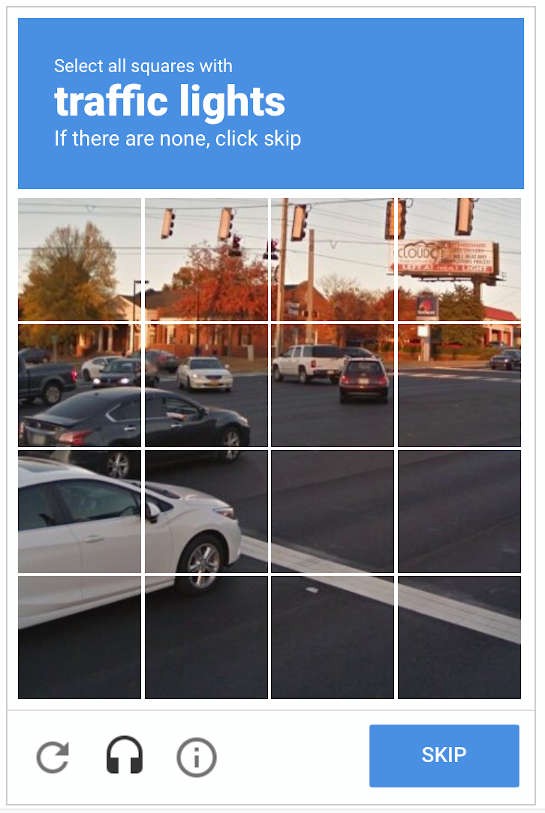 Add CAPTCHA to WordPress:
No CAPTCHA and Invisible CAPTCHA
When your website uses the No CAPTCHA or Invisible CAPTCHA type, your audiences don't really have to do anything. This type of CAPTCHA confirms the human user by tracking, observing, and analyzing the activity on the website.
You can install the CAPTCHA 4WP WordPress plugin on your website to implement the No CAPTCHA and Invisible CAPTCHA in an easy way.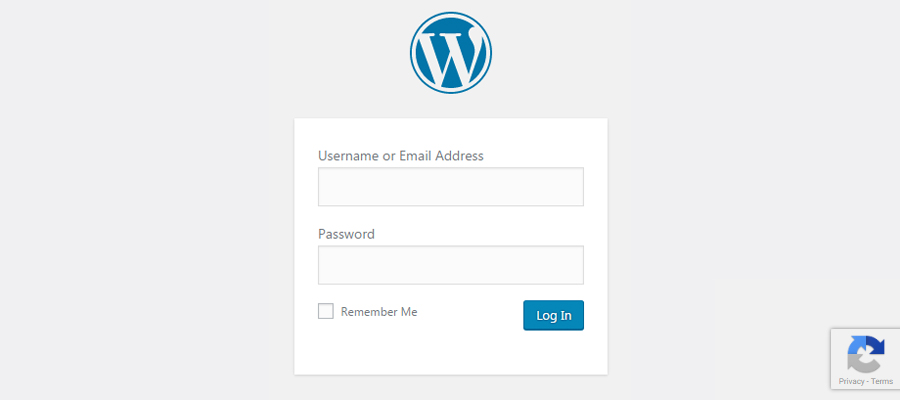 Add CAPTCHA to WordPress:
Logic Questions
One other type of CAPTCHA method is answering the logic questions. In this method, the user will be asked a simple and logical question to pass the CAPTCHA test. For example, you might be asked what is '2+2=?' or simply recognize a basic pattern. These logical questions will be of basic type, so even a 7-year-old can quickly answer them. 
WP CAPTCHA is one of the best WordPress CAPTCHA essential plugins for WordPress to implement the logical question CAPTCHA that will never miss identifying the human users. Additional features come with this plugin, like which mathematical operation you want, CAPTCHA for logged-in users, etc.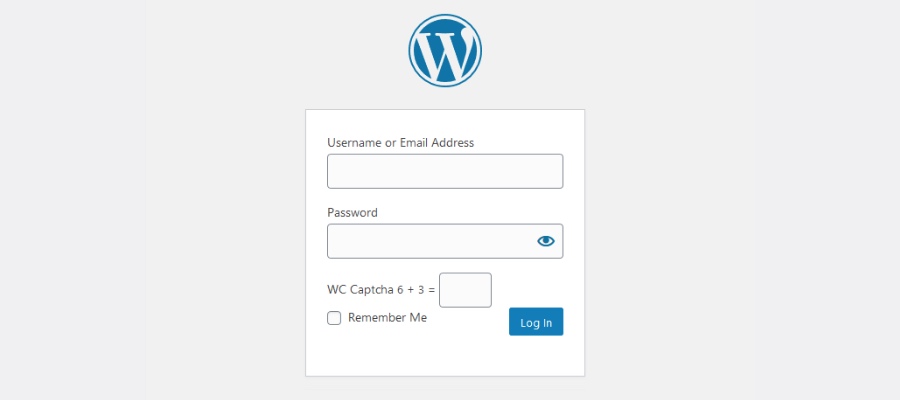 Add CAPTCHA to WordPress:
User Interaction CAPTCHA
According to us, one of the best CAPTCHA methods is the User Interaction CAPTCHA system. In this method, you have to interact with the CAPTCHA in a required manner to prove yourself as a human user. For example, you might be asked to solve a very easy puzzle where you simply need to slide a puzzle piece to its required place. 
The best solution to implement this User Interaction CAPTCHA is to install the WP Forms Puzzle CAPTCHA plugin. This plugin provides the quickest way to successfully implement a User Interaction CAPTCHA that proves to be a foolproof method to protect your WordPress website. This can be implemented easily in any top free SEO-friendly WordPress WooCommerce theme.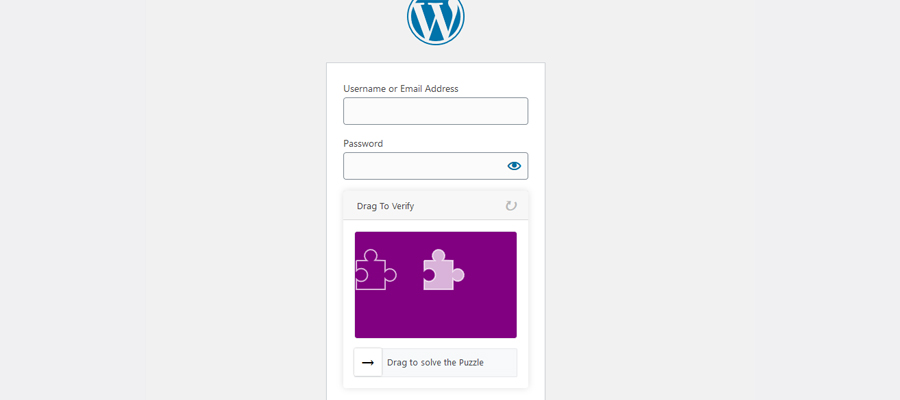 Steps to Add CAPTCHA to WordPress Website
In this tutorial, we will implement the User Interaction CAPTCHA, which proves to be effective, simple, and cost-free to install. 
Step 1:
From the WordPress dashboard, go to Plugins>Add New. Inside the WordPress plugin directory, search for the WP Forms Puzzle CAPTCHA plugin. Click to install and activate the plugin. 
Note that this plugin currently works only with Contact Form 7, so you need to have this plugin installed on your WordPress website to add CAPTCHA to WordPress using the WP Forms Puzzle CAPTCHA plugin.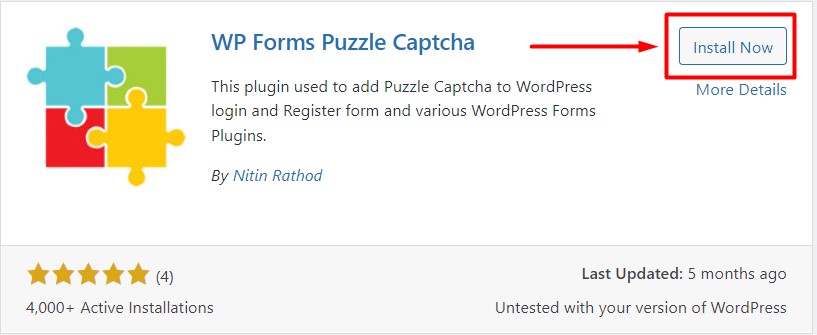 Step 2:
 From the WordPress dashboard, click on WFP CAPTCHA to configure and add CAPTCHA to the WordPress website.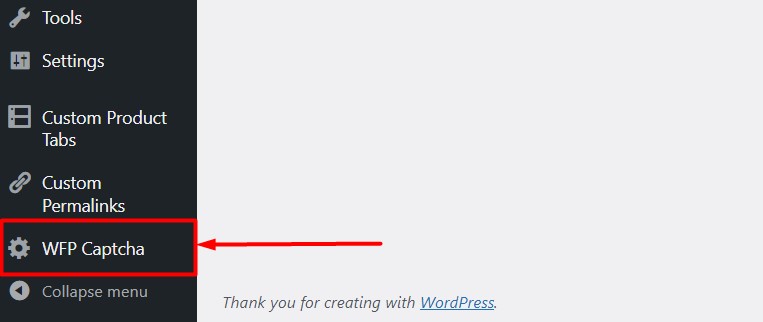 Step 3:
You will be redirected to the WFP CAPTCHA Settings page. You will find several tabs to enable the CAPTCHA on different sections of your WordPress website. You can customize the instruction text displayed with the puzzle CAPTCHA. The type of puzzle will be displayed as CAPTCHA is set by default, so there is not much to customize.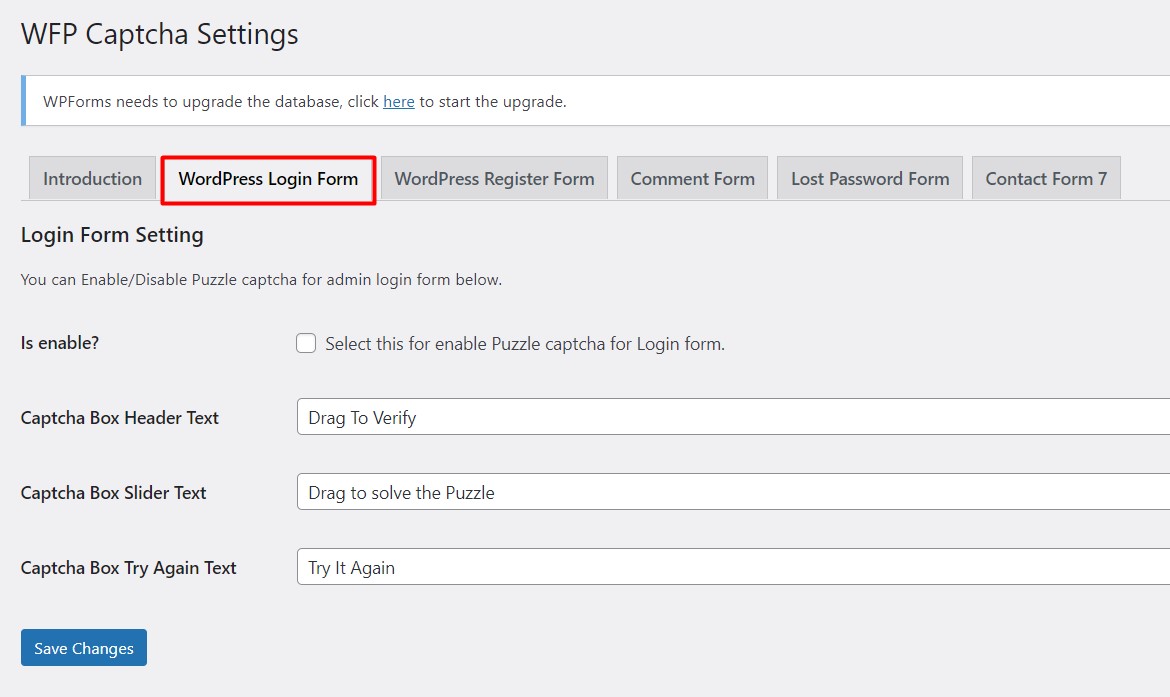 Step 4:
Each tab on the settings page contains the same customization features. You need to check the box saying 'Is enable?' to turn on the CAPTCHA for the particular page. After enabling the feature, simply click "Save Changes" to save your settings. This process is the same for all other tabs on the WFP settings page.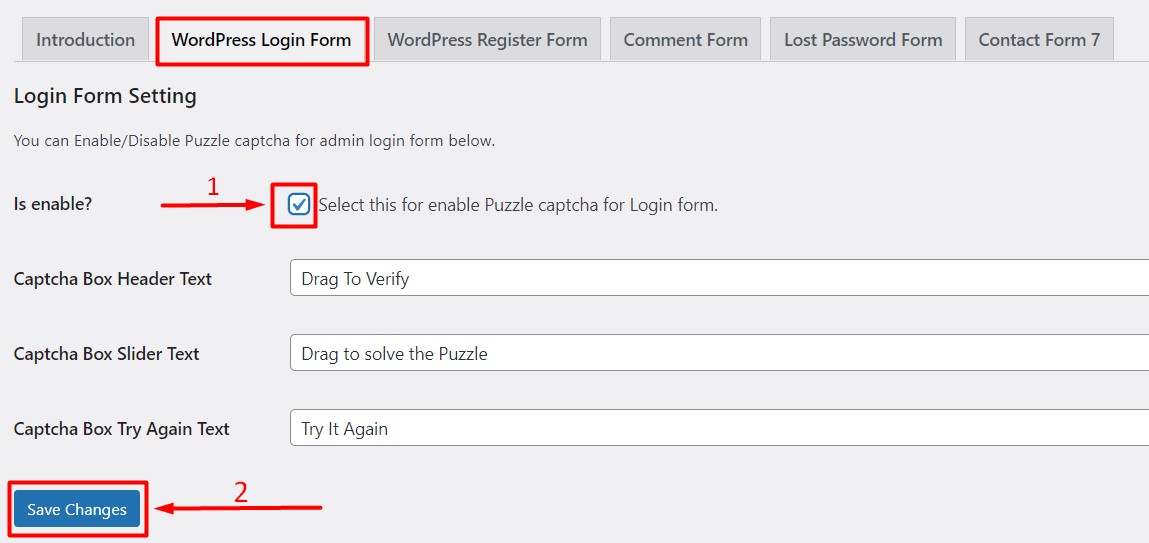 Step 5:
We have implemented the puzzle CAPTCHA for the WordPress login page in previous steps. Now try to log in to your website, and you will see we have successfully implemented the User Interaction CAPTCHA in no time! It took us zero effort to install and configure the CAPTCHA security for our WordPress website. Thus you can improve WordPress WooCoomerce security.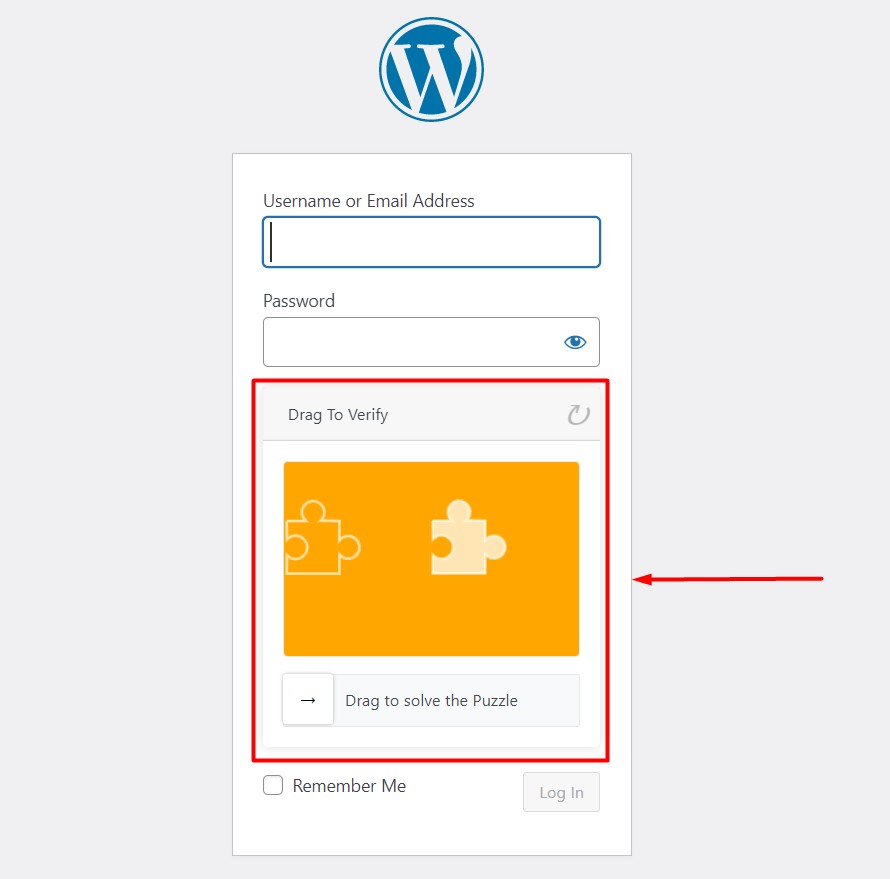 Conclusion
Security of your WordPress website is of utmost importance as cybercrime is increasing over the internet daily. Installing a simple CAPTCHA on your WordPress website can save you and your clients from getting hacked and suffering monetary and privacy damage. 
Following the procedure above, you can install any type of CAPTCHA and protect your WordPress website. This tutorial will be helpful for you to add CAPTCHA to your WordPress website and increase your internet security.  Feel free to go through our article on Elementor vs. Gutenberg comparison to get insight into the most powerful page builder for WordPress.