Are you looking for best practices for quickly getting site links for your sites? If yes, this tutorial is exclusively for you.
Search rankings are an important part of any digital marketing strategy and you can rank your website by reading SEO tips blog and applying it in the right way. But did you know Google sitelinks can be a great way to bring in extra traffic?
What are Google sitelinks?
Sitelinks is a Google sub-list that appears under the first search engine result for a given brand or company. It is automated by Google algorithms and is only shown when they are helpful to the user and Google webmaster tools can help you with ranking factor analysis.
They are internal links to the website, presented with a short description. You have likely seen the top result for Google search with two, four, or six internal links underneath.
Sitelinks are often found when performing a brand search, and they help users navigate your site.
See the image below, these are Google site links, and they look like this: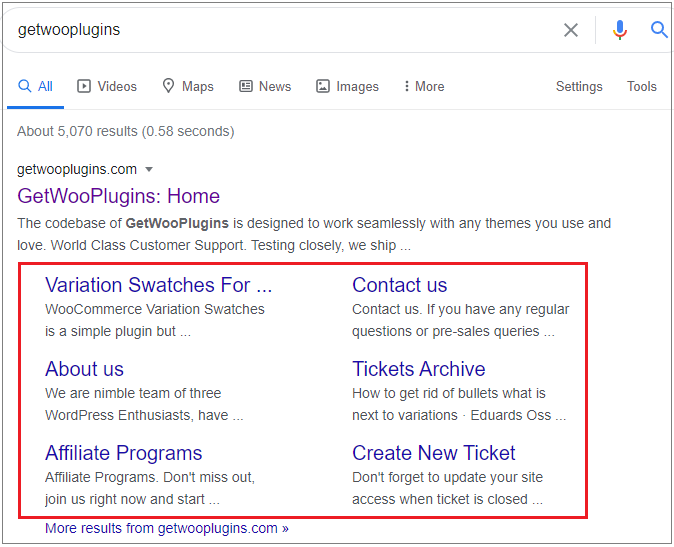 The main objective is to help users map-read your website. For example, some users search "GetWooPlugins", which they may not be interested in on the homepage. Perhaps they only want to create a new ticket.
This is how sitelinks look on mobile: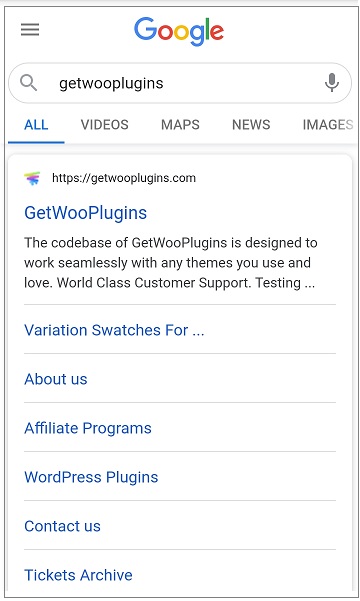 Why Google sitelinks are important
There are many reasons why sitelinks can benefit your website and your visitors. Some of the reasons are:
Build trust and credibility:
Sitelinks are not shown for all websites. Less well-known or poorly optimized sites are unlikely to display sitelinks in the SERPs. If sitelinks are displayed for a website, it shows that it is well structured and relevant to a user's query.
Improve click-through rate (CTR):
On average the first three results in Google get the majority of clicks. It then rapidly drops from there. Giving searchers instant access to your most popular pages will help entice them to click through from the search engine. You can track it with the Google search console or with WordPress analytics plugins.
Increase your brand and product awareness:
The pages that Google chooses for sitelinks are often pricing pages, product pages, or blogs. That help user to find out more about a website. This is information that most people wouldn't know otherwise unless they visited one of the inner pages of our website.
Get more traffic to internal pages:
With smart navigation and highly targeted pages, you will get better conversions, higher user satisfaction, and more loyal customers and visitors. Users can directly go to your inner pages without visiting your homepage.
How to get Google sitelinks for your website
You cannot directly specify which pages Google should use as sitelinks. Based on the user query, they are chosen automatically.
However, you can do several things to help Google understand your website structure and content. It increases your chances of getting sitelinks in the search results. You can also use Rank Math vs Yoast plugin to get listed in search engine with some SEO techniques.
Let's explore them in more detail:
1. Have a unique website name
A unique brand name will help you rank first because Google search sitelinks are predominantly found for brand searches.
A generic brand name like 'IT services" will struggle to rank at the top. It's difficult for Google to know whether the user is searching for a specific company or a generic topic.  
That's the reason generic brand names don't have sitelinks: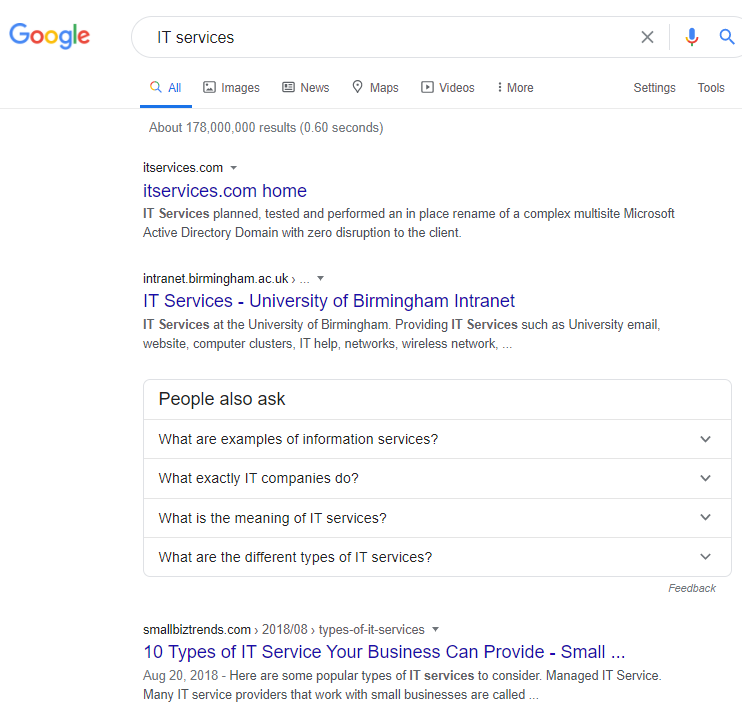 If your brand name becomes a household name like 'Apple', Google knows the search intent is for people interested in a tech company, not the fruit.
It's better to select a unique name for your company since most companies will not have a marketing budget like Apple to become a worldwide brand.
Note: we don't recommend changing your brand name to get sitelinks if your company is already established.
2. Use structured data for SEO
Structured data can help improve your chances of getting Google sitelink, featured snippet, and even appear in the answers box. It helps Google and other search engines to understand your website better.
The search engine bots look for structured data to better understand the specific page and the website is about. You can set this by using the best WooCommerce SEO plugin that lets you add meta-data and other schema elements.
Note: structured data or schema markups don't guarantee that Google will add sitelinks. However, it will improve your chances.
3. Rank at position #1 for your brand name
Google sitelinks are only assigned to the first search result. It would help if you worked on getting rank#1 for your brand term.
That's easy to do in the majority of cases. It should generally appear on top of results when you search Google for your brand name.
For example, when you search for 'WPCred,' one of our WooCommerce tutorial blogs.
You need to follow the best SEO practices to improve your website's ranking. Do as much as you can to strengthen your brand's online presence and if you want you can use the best SEO themes for WordPress to optimize your website well.
4. Create an easy-to-understand website structure
When it comes to sitelinks, the site structure is perhaps an essential factor. You must provide your users and Google with a simple, easy-to-follow site structure.
Websites with unclear or complicated structures are complex for search engines like Google to crawl and difficult for users to navigate. Google wouldn't be able to assign sitelinks if it failed to understand how they relate to each other. After creating a well-structured site you can know how to add google analytics with WordPress and then you are able to track anything with your tools.
Make sure you have the standard pages link contact, pricing, services, etc., covered on your website.
5. Use internal links to help Google identify
Internal linking is one of the most potent ways to help Google pick and use pages from your website. It is excellent for SEO as it enhances the user experience and creates several advantages.
The pages that have many internal links pointing to them are likely to appear as sitelinks. You must ensure that you frequently link to your top internal pages.
6. Use relevant page titles and descriptions
Page titles are one of the most important SEO elements on your website. It's essential to use the correct page titles and meta descriptions besides using the proper anchor text when linking to critical pages. 
For example, if you want your 'Pricing' page to appear as sitelink in Google, make sure that the page title has a good meta description. You can also setup WordPress google tag manager to see the performance of any kind of tag.
UX Themes team has done a great job with their page titles: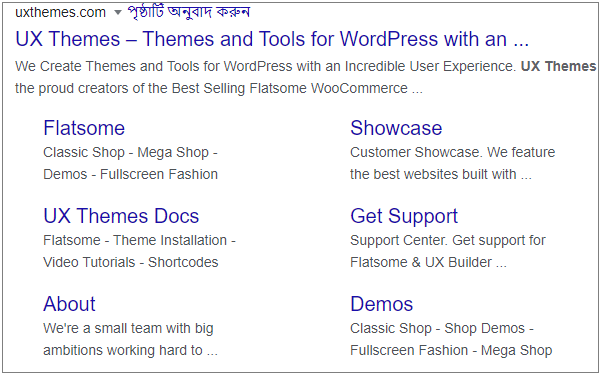 You can define the post or page title inside your WordPress SEO plugin settings for that respective page.
7. Create a sitemap for Google Search Console
Google and other search engines rely on XML sitemaps to accurately discover and index all pages from your website.
Make sure to signup for a Google Webmaster Tools account. Also, we recommend you set up Google Analytics to increase your chances of getting them for your websites.
If you are a website owner and you are not using this tool, you are missing out on a lot of features. In this tutorial, This tutorial shows how you can easily add and verify your Flatsome Powered sites in Google search console insight.
If you don't have a sitemap for your website yet, here's how to do it – two popular methods to create a sitemap for WordPress. You can choose anyone that works best for you.
Google sitelinks to your site is the quickest way to get clicks on your inner pages. You can increase your chances of getting sitelinks by following these mentioned steps. It will help your site to boost organic traffic, leads, and brand awareness.