If you have experience in the real estate industry, starting a real estate website can help you to grow your business in no time. It'll help you to showcase property listings, increase sales, and earn a good income. 
To use the full power of the WordPress-powered website, you need to use some WordPress real estate plugins. Using these, you can fully customize your website, and add various features that will make your site more engaging, attractive, and user-friendly.
Several plugins are available on the WordPress plugin repository. You can use them to create complete property listings that include details such as types, square footage, and other characteristics of the property. The list of properties can also be sorted more based on geography.
Most real estate plugins for WordPress are compatible with popular real estate themes. WordPress has a good amount of real estate plugins. We have hand-picked the best ones for you which are listed below.
Top Feature-rich WordPress Real Estate Plugin 2023
1. Realtyna Organic IDX plugin + WPL Real Estate

A fully functional plugin, WPL Real Estate supports over 100,000 listings, unlimited users, sales, rentals, holiday rentals, shared property listings, and many other criteria. The creation, updating, and management of listings are made simple by integrating all these capabilities into a dashboard. You may add, remove, modify, and remark within a logical dashboard with simple navigation and informative options.
The plugin is simple to use. The WPL's property search feature is customizable, allowing the administrator to customize the search criteria from the administration panel. WPL is a plugin that may be translated to make switching languages as simple as possible and you don't need to have translation plugins for WordPress.
2. Estatik Real Estate Plugin

The Estatik plugin enables you to easily develop WordPress real estate websites for single agents and real estate firms. It provides various functionality in a single plugin. This makes it appropriate for both real estate firms and single agents. Most significantly, this WordPress real estate plugin makes it simple to create and maintain fully working real estate websites.
The plugin provides a wide range of functions to post real estate listings. There is no limit to the number of buyers, agents, or property listings you may add. You may quickly add property characteristics like kinds, status, and features by creating custom fields for the property listings and it is compatible with the best creative WordPress themes.
Users can save searches and wishlists using this WordPress Real Estate Plugin. You can also sort your listing by popularity, date, and price.
3. Easy Property Listings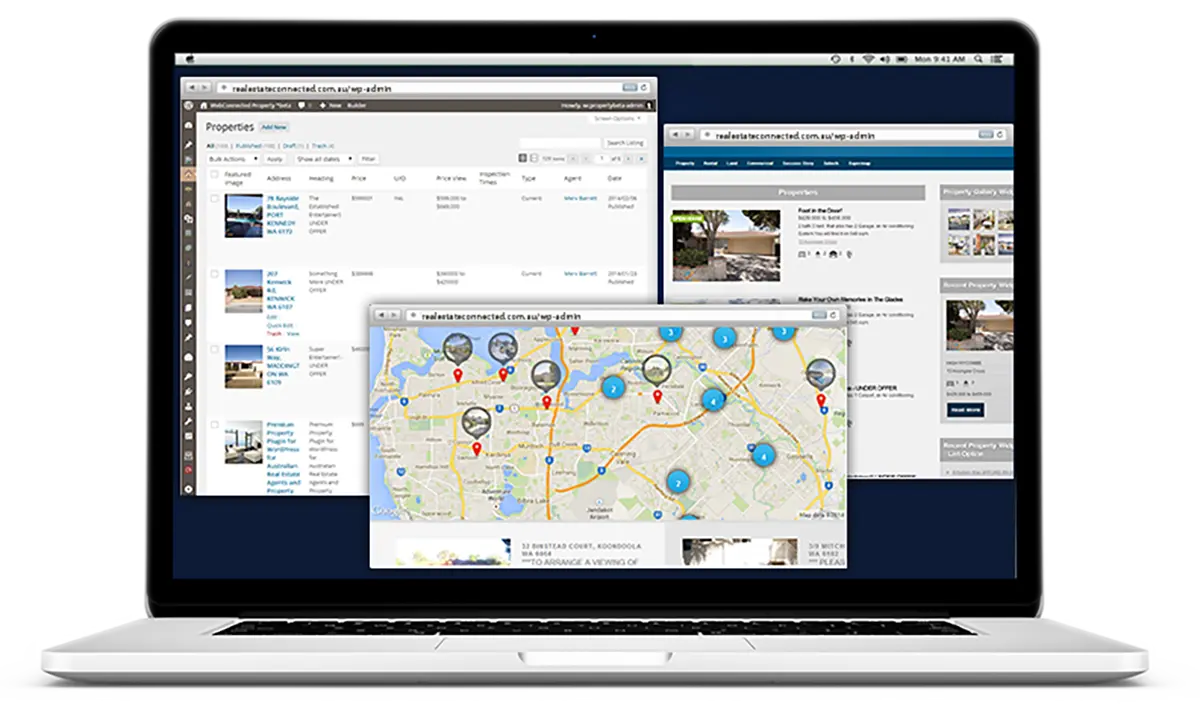 Easy Property Listings is the most popular and user-friendly WordPress real estate plugin. This plugin is simple to use and offers the necessary features to quickly construct a dynamic real estate website. It is packed with advanced tools, themes, and shortcodes, making it easy to build real estate websites quickly.
You don't have to add Google Maps to a website as this plugin has already this feature in the system. Over a hundred default themes are included with Easy Property Listings, but they may be customized to fit any brand. It enables custom fields, has a grid or list style, and supports many listing types.
Also, it is responsive and mobile-friendly. The WordPress real estate plugin features a clever "Theme Compatibility Mode" to reduce issues when integrating into an existing WordPress theme.
4. Real Estate Pro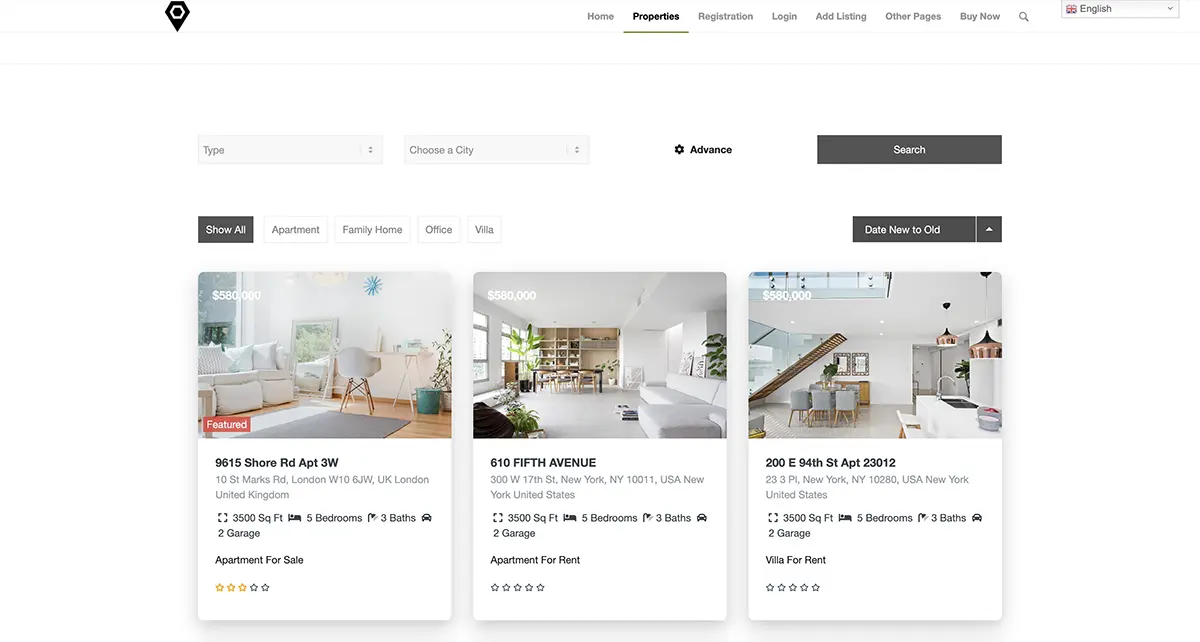 The well-liked WordPress real estate listing plugin is called Real Estate Pro. Pages, templates, and settings can all be configured with only a few clicks. Additionally, the plugin makes it simple for your users to upload listings, make claims on listings, sell properties, and much more. Additionally, it enables website visitors to place offers on the properties.
To store the purpose of storing emails for new clients, Real Estate Pro uses Mailchimp but you can also check out the best WordPress email plugins to get a better experience. It is also a fully responsive plugin. As a result, it works with various gadgets, including tablets and smartphones.
5. PropertyHive

The WordPress real estate plugin to attempt to incorporate into WordPress all the functionality often found in estate agency software is called Property Hive. We want to handle everything, from monitoring residential and commercial properties, owners, and landlords to keeping track of candidates and contacting their relevant properties.
You can also add WordPress analytics plugins to get better performance and tracking records. By default, Property Hive is a tool for managing contacts and properties. It lets you list properties on your website and keep track of owner information. To their needs, email them the necessary properties after saving the application requirements.
However, you may choose which features you want to bolt on by using expensive add-ons. The add-ons work together with the existing plugin without any problems.
6. WP VR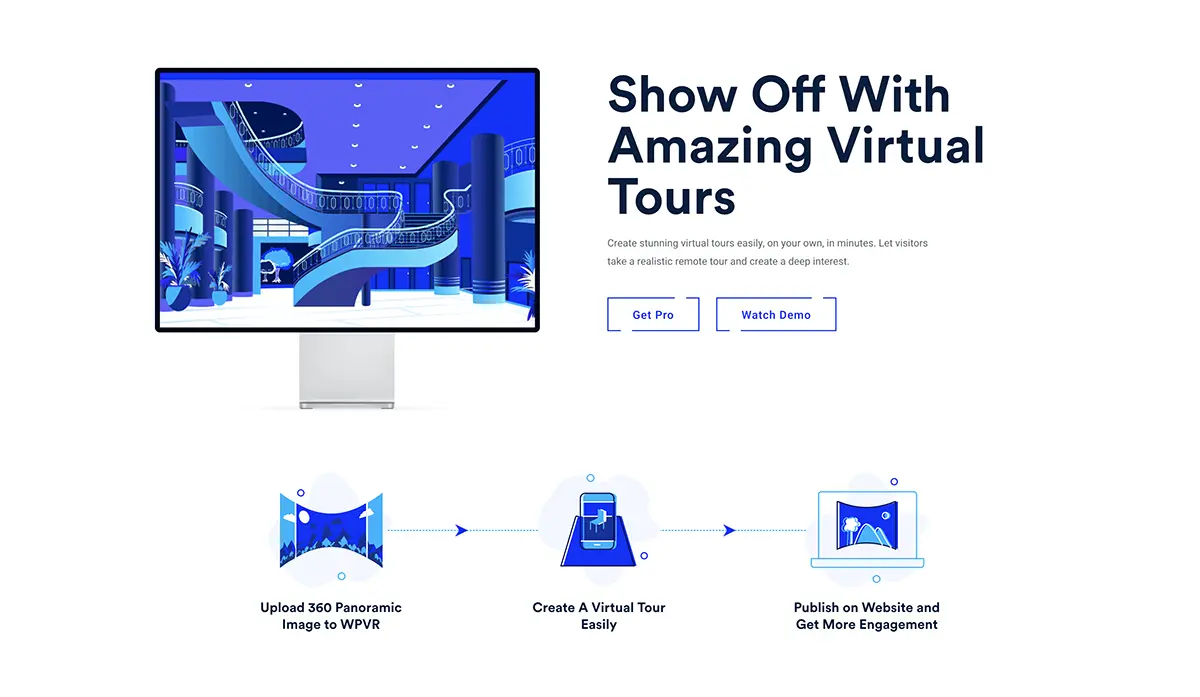 Using WP VR, you can easily create stunning virtual tours on your own. It allows visitors to explore your property to keep them interested virtually. The WordPress real estate plugin creates a virtual tour of your location with WPVR so that visitors can explore it in a 360-degree panorama and get a sense of how it looks.
You can also use interactive hotspots to present information and maintain user interest. The WordPress real estate plugin's auto-rotation effect, scene fade motion while switching between scenes, mobile devices, and many other customization options are available to personalize the trip further.
The tour can still be published if you use another page builder, employing a shortcode generated once you post the tour. All the tours you create with WPVR will be completely responsive and lightweight for mobile devices because it was built with a mobile-friendly layout and also works with any SEO-friendly WordPress WooCommerce themes.
7. Essential Real Estate

Essential Real Estate, a real estate essential plugin for WordPress, is fully operational. This plugin offers a wide range of listing settings, including Listing Expiration Date, Listing Agent and Agency (which lets you display the top agents and agencies in your sidebar), and many more.
Well-designed default listings, property pages, agent biographies, and other helpful content are included with Essential Real Estate. It has a front-end and back-end customizer, various listing kinds, custom data fields for additional listing features, and several value-added features. Using the Essential WordPress Real Estate Plugin, you can quickly create and set up a real estate website.
It provides users with a flexible search option so they may promptly locate listings. Moreover, it works with the Visual Composer plugin.
8. dsIDXpress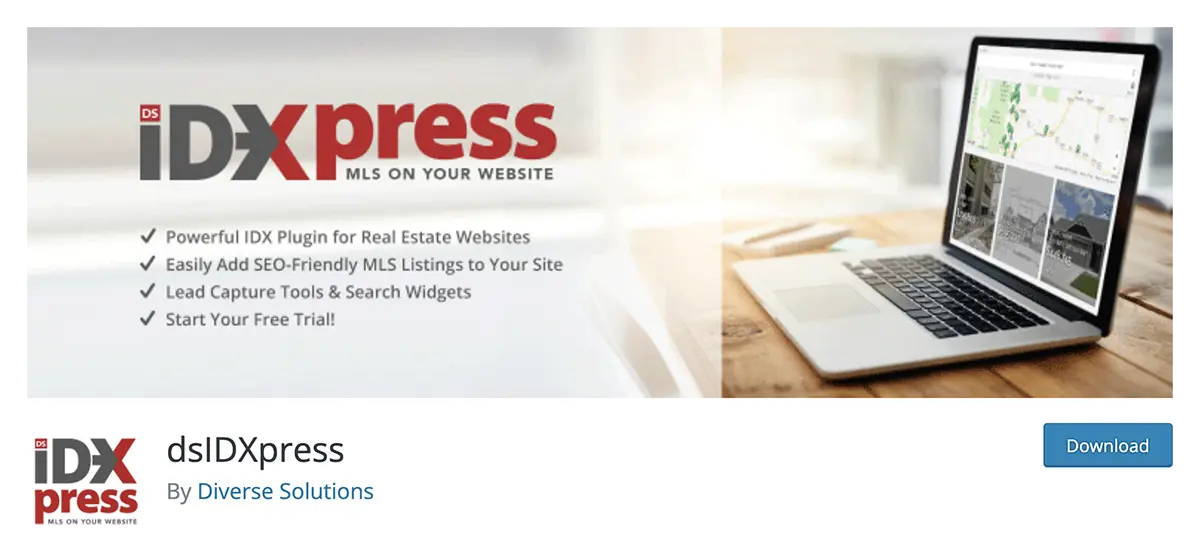 Despite your web development background, dsIDXpress may be installed and set up in minutes. You can quickly add SEO-friendly MLS listings to your real estate website with dsIDXpress. It increases traffic and turns those visitors into leads with powerful lead-capturing capabilities without taking help from any lead-generation plugin for WordPress.
The use of shortcodes, custom pages that feature robust MLS search capabilities, and widgets keep visitors on your site looking at properties for sale. This real estate plugin for WordPress turns visitors into leads with powerful lead capture tools. You can tap into forms to schedule showings, save property search capability, and daily or weekly listing alerts.
9. IMPress for IDX Broker

The top WordPress IDX plugin is widely considered an IDX Broker. This comprehensive solution comes with a ton of features, such as eye-catching themes, lead generation tools, and a walk score map search. The plugin has also more robust features a search IDX and MLS listings, interaction with social media, valuation tools, and much more.
Although IDX Broker is one of the most comprehensive WordPress real estate plugins available, there is a distinct learning curve. This plugin includes lead generation, follow-up, reporting, G-Suite integration, address search, mortgage calculator, and various WordPress widgets and plugins. It is compatible with the best portfolio themes for WordPress.
10. WP Real Estate

You can handle Real Estate Listings, Listing Inquiries, and Real Estate Agents by simply using the WordPress Real Estate Plugin, all from within your WordPress dashboard. This plugin works for Google Map integration automatically as other Google Map plugins for WordPress do. This plugin can show MLS listings, automatically retrieving the necessary data.
Additionally, the listings are automatically updated with the most recent data. You can be sure that whatever information your buyers receive about a listing is always correct and up to date. Your website can be configured to only display rentals or only properties that are for sale.
You can insert automatic contact forms for each listing that allows you to capture leads easily. By using filters, you can add custom fields to your real estate listings.
11. Real Estate Property 2022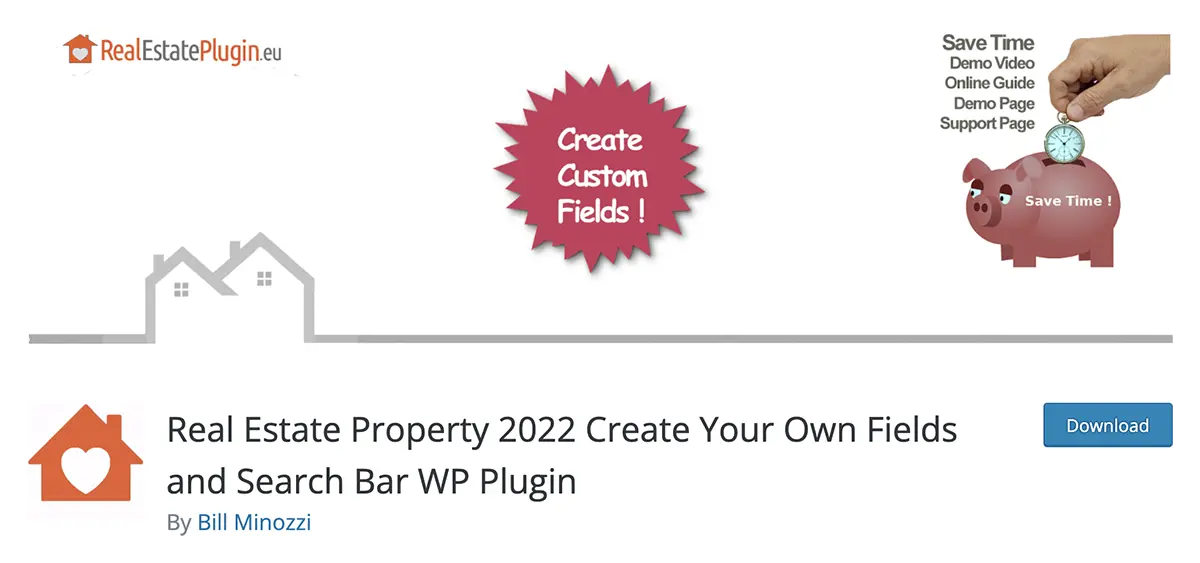 With many options available for each field type provided by the Real Estate Property 2022 plugin, managing, searching, and filtering custom fields for any agency is made easy. The WordPress real estate plugin supports multilingual like English, French, Italian, Romanian, Spanish, and Portuguese.
So you don't have to worry about how to translate a website into English or any other language. This plugin allows you to use the shortcut to create an agent front-end page. You can also control the locations table and search.
12. AgentPress Listings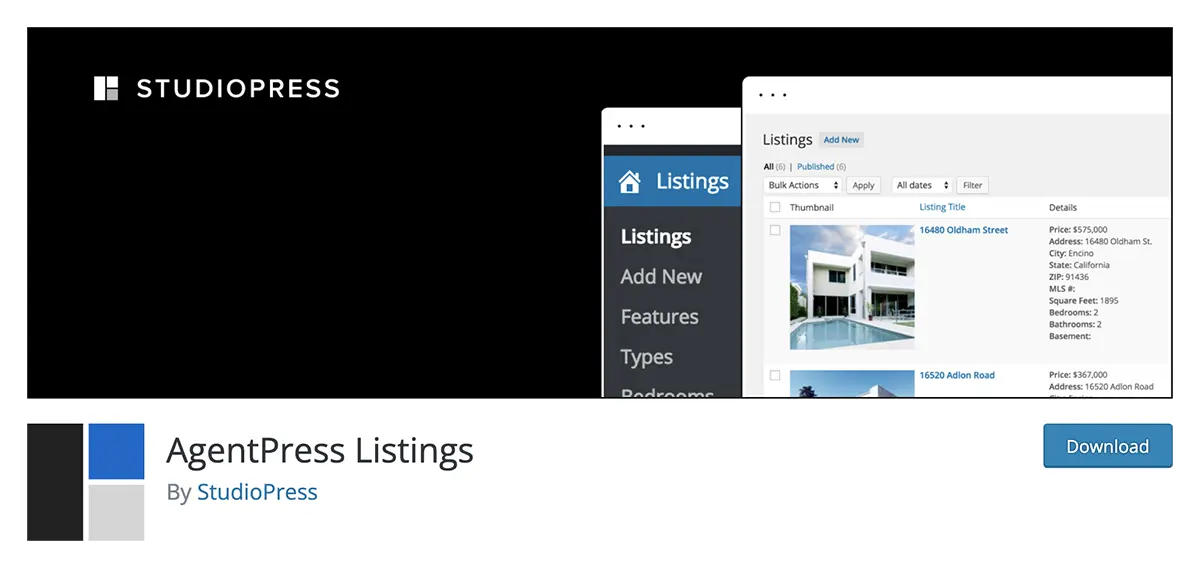 AgentPress Listings is created by WordPress theme experts at StudioPress. You must use the Genesis Framework to use this plugin, as it is made to support only WordPress themes. Besides these specifications, this is an excellent choice if you're searching for a robust, adaptable WordPress real estate plugin. Using AgentPress Listings, you can add real estate listings to your website.
You can easily add, amend, and manage listings and integrate search and WooCommerce product filtering on a page because it supports standard features, taxonomies, and listing choices.
Conclusion
WordPress real estate plugins come in various shapes, sizes, costs, and features. This list was created to represent the features and selling aspects of the most popular plugins available, helping you make an informed choice these plugins are compatible with different kinds of most popular themes in WordPress.
In this article, we've reviewed the top WordPress real estate plugins that can improve your website. This article aims to help you select the appropriate plugin for your requirements.