The necessity for personal trainers is at an all-time high. Personal trainers assist individuals in reaching physical health through workouts while motivating them to acquire optimal health. You also can introduce yourself as a personal trainer worldwide via the website. To build a website, you need a perfect personal trainer WordPress theme.  When looking for personal trainer WordPress themes, you need to consider the following aspects: the amount of space to display exercises, workout plans, and diet plans, and the ease of adding or editing information on your website. We've prepared a list of the best 16+ free personal trainer WordPress themes for you. Keep reading!
Most Downloaded Personal Trainer WordPress themes 2023
1. VW Fitness Gym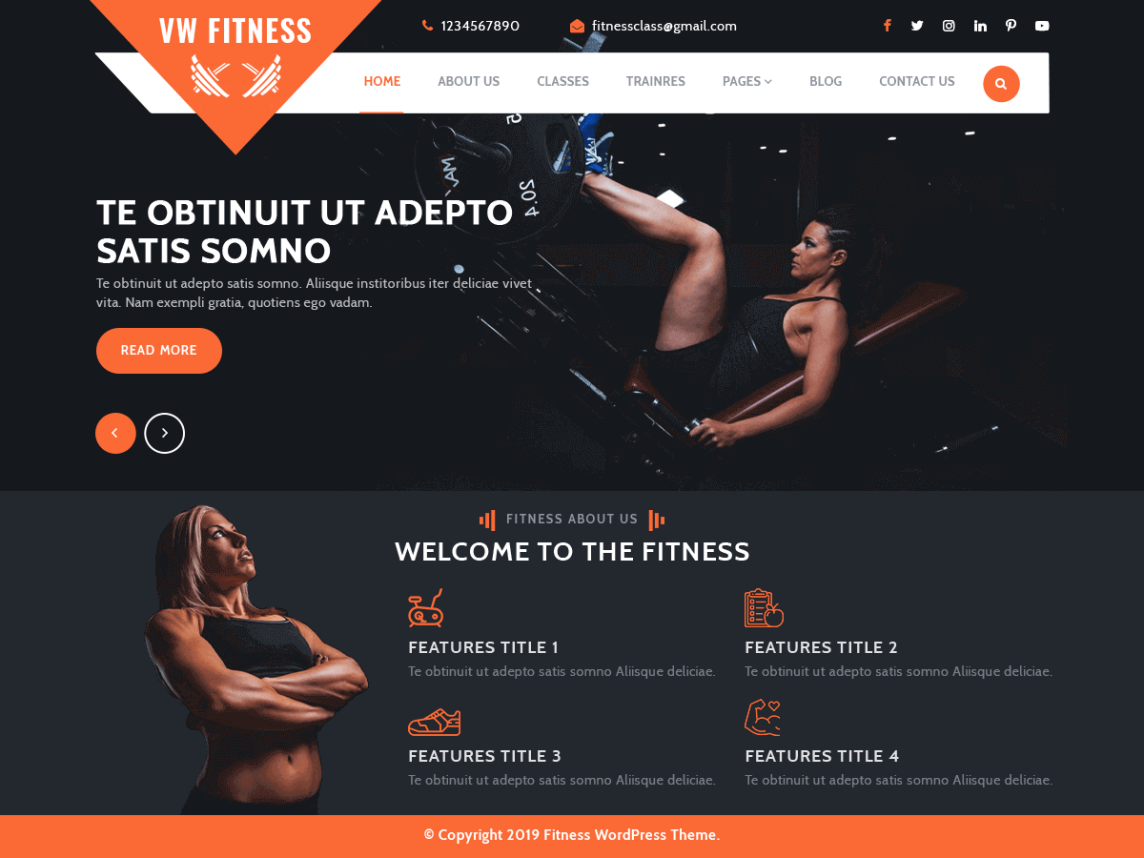 VW Fitness Gym is a responsive and professional-looking free personal trainer WordPress theme. The theme is free but comes with like premium features. It perfectly fits a health coach, yoga, fitness institutes, spas, and relevant websites. There are many fitness themes for WordPress online but this theme has different features for personal training. You can easily edit or change to build a unique website using this highly customizable theme. The theme has all the crucial sections for an ideal personal trainer website to make it more engageable to viewers. Its attractive image sliders and colors make love to the visitors.   Key Features: It offers WooCommerce integration to ensure selling gym-related products without any hassle. You don't get any stress in reaching your valuable clients with its highly SEO-ready code. In addition, it looks great on any handheld device or screen because of its responsive layout. Finally, the fun thing is you will get all of these excellent features and facilities at zero cost. 
2.
Fitness Hub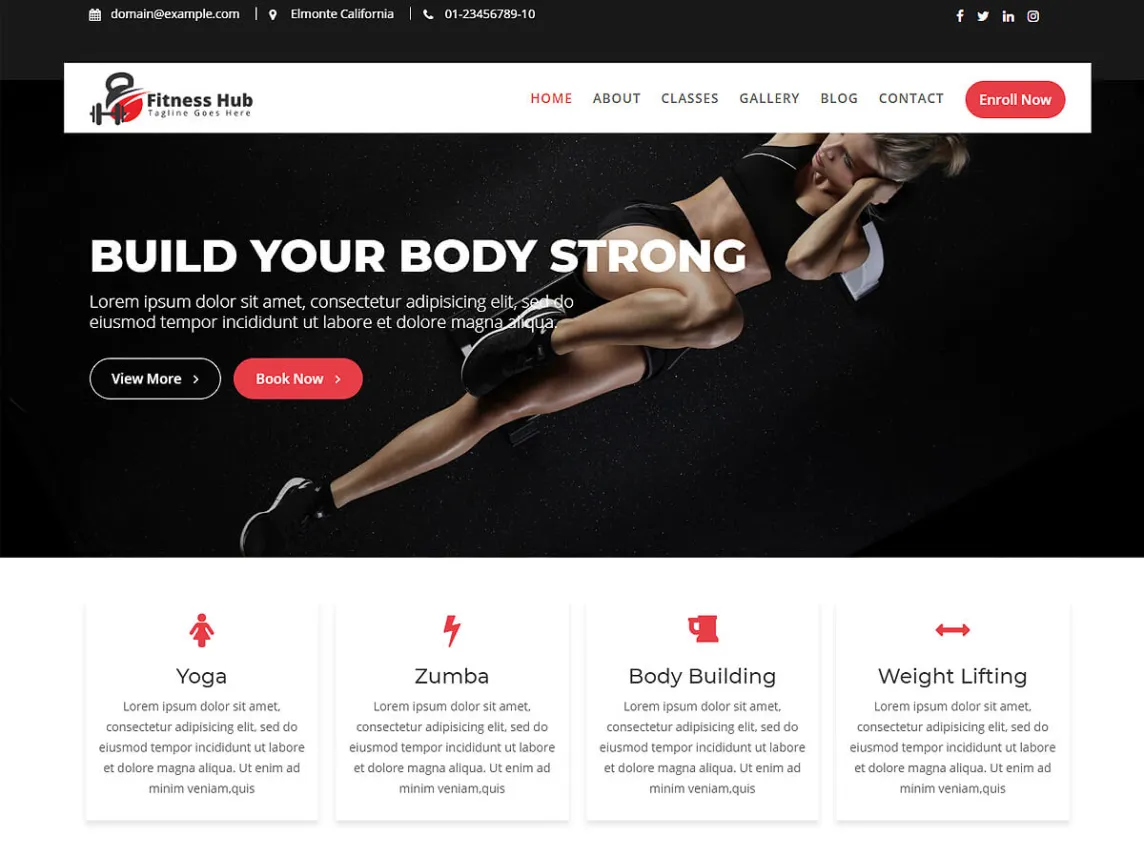 Fitness Hub is a translation-ready and most popular theme on WordPress. You can change and edit the whole body of pages top to bottom to your creativity. It is suitable for yoga coaches, fitness, gym, health, and other websites. The theme's benchmark layout structure allows it to be distinctive and appealing. Users can easily occupy themselves with the theme and analyze more with its easy modification characteristic. It is tested with all popular browsers to ensure cross-browser compatibility like Chrome, Mozilla, Opera, etc. Key Features: This theme includes 9+ innovative custom widgets for managing the home page and sidebars. Its hero section ensures a responsive image slider that fits all screen sizes flawlessly. Furthermore, it is integrated with WooCommerce to make sure your fitness material selling business to a new level.
3.
Fit Club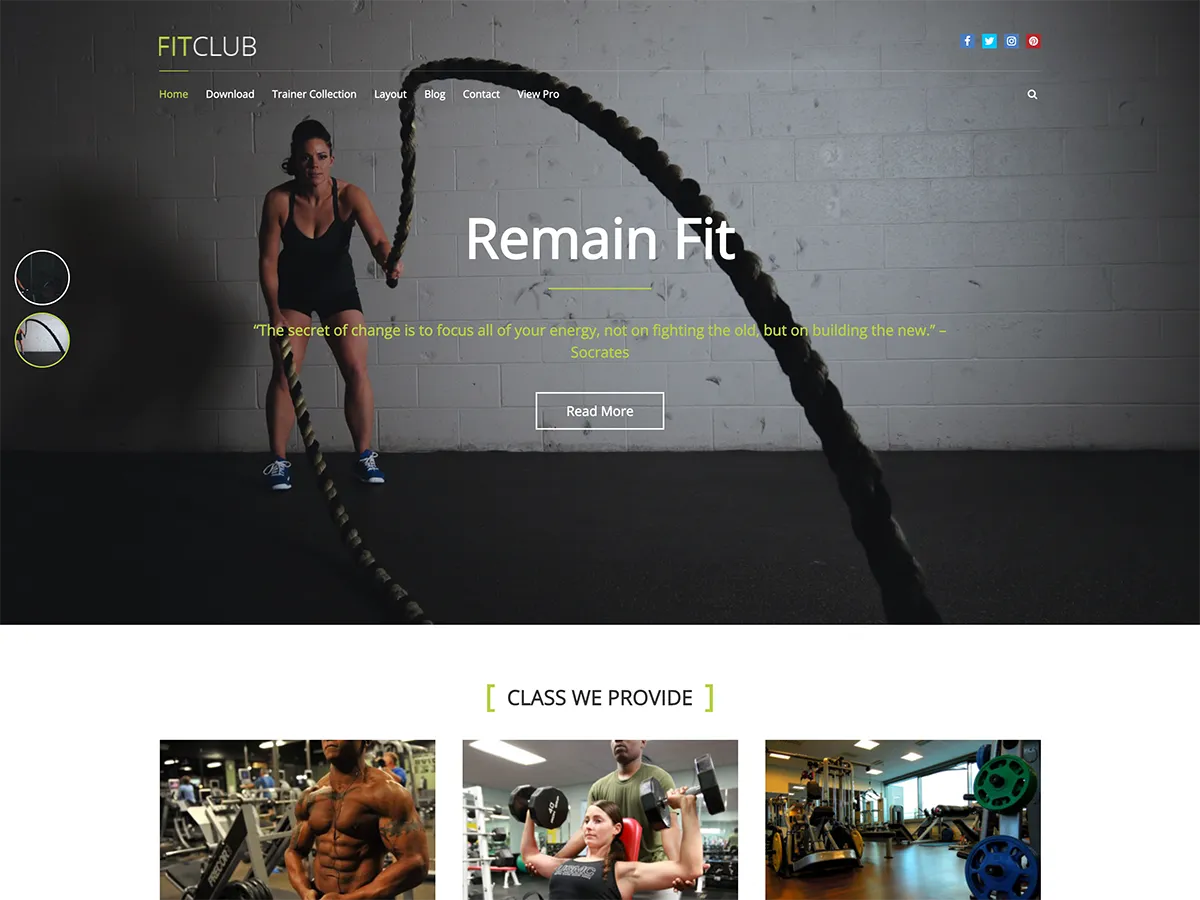 Fit Club is a lightning-fast and feature-rich free personal trainer WordPress theme. The free theme is packed with premium-like features to make your experience awesome. It perfectly fits personal trainers, health coaches, dieticians, and fitness-related websites. The theme provides impressive performance that will help to reach new heights in your business. People will love to browse your website because of its fast appearance; it loads in seconds. In addition, all browser is compatible with the theme to use Opera, Chrome, Brave, etc., ensured by different speed testing tools. Key Features: It includes two ready-to-run starter websites with a one-click demo importer plugin to make sure installing process is in minutes. If you want to start selling fitness or gym material, you can because of its WooCommerce integration. Finally, it offers a money-back guarantee for the pro version without any questions, if you think it is not perfect for you.
4.
VW Yoga Fitness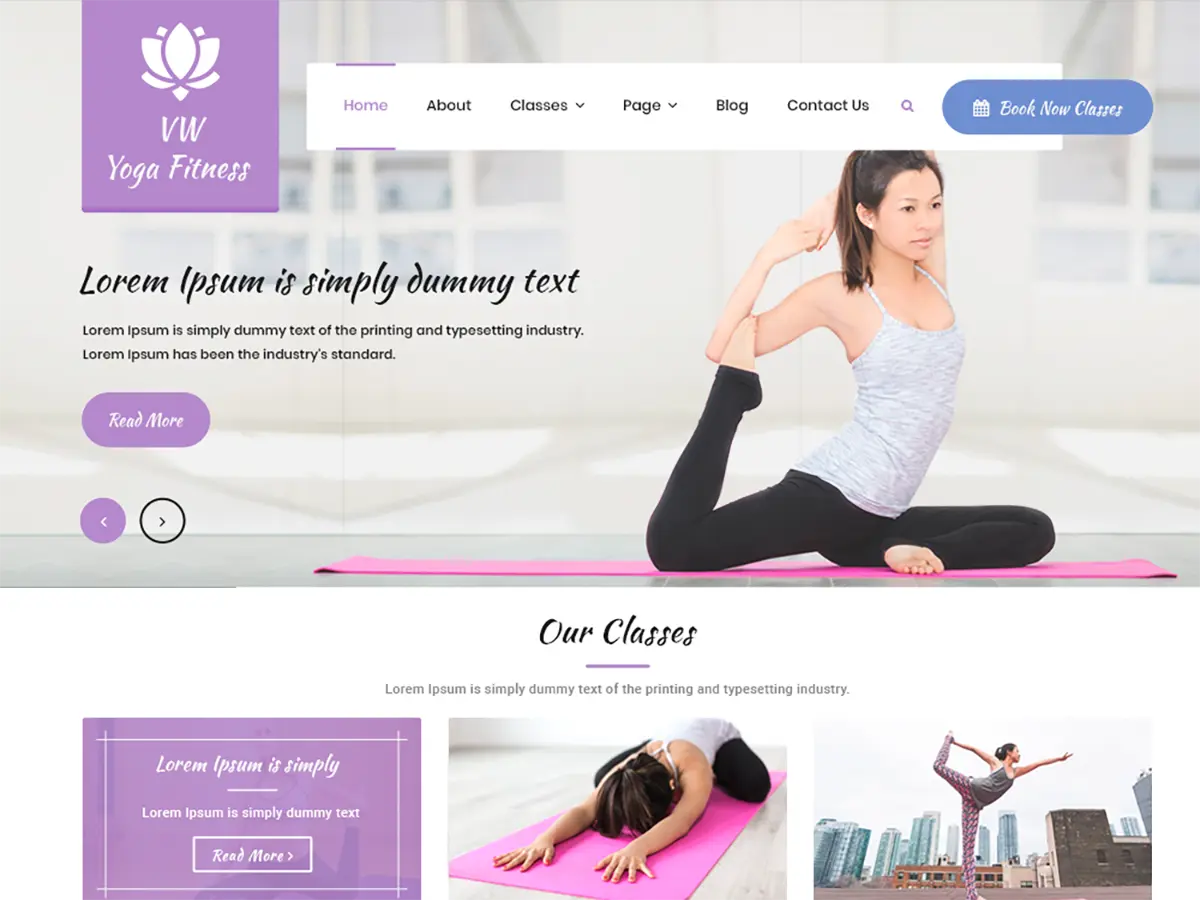 VW Yoga fitness is a modern, elegant, and highly flexible free personal trainer WordPress theme. It is specially designed to build a personal trainer website like yoga, fitness, diet, gym, and related business.  The free theme includes everything you need to get your website up and running. It is WooCommerce-ready for giving the best-selling experience of your training products. Also, it will help to boost your site on the internet world with its SEO-optimized code. In addition, you can reach worldwide with their native language because of its WPML integration and RTL support. Key Features: It perfectly fits all the shapes of screen and resolution like smartphones, tabs, and desktops for its responsive layout. The theme includes a gallery, testimonial, team intro, contact form, pricing plan, and video post section to show your reliability. And you can add or disable any section as per your needs.
5.
Yoga Fitness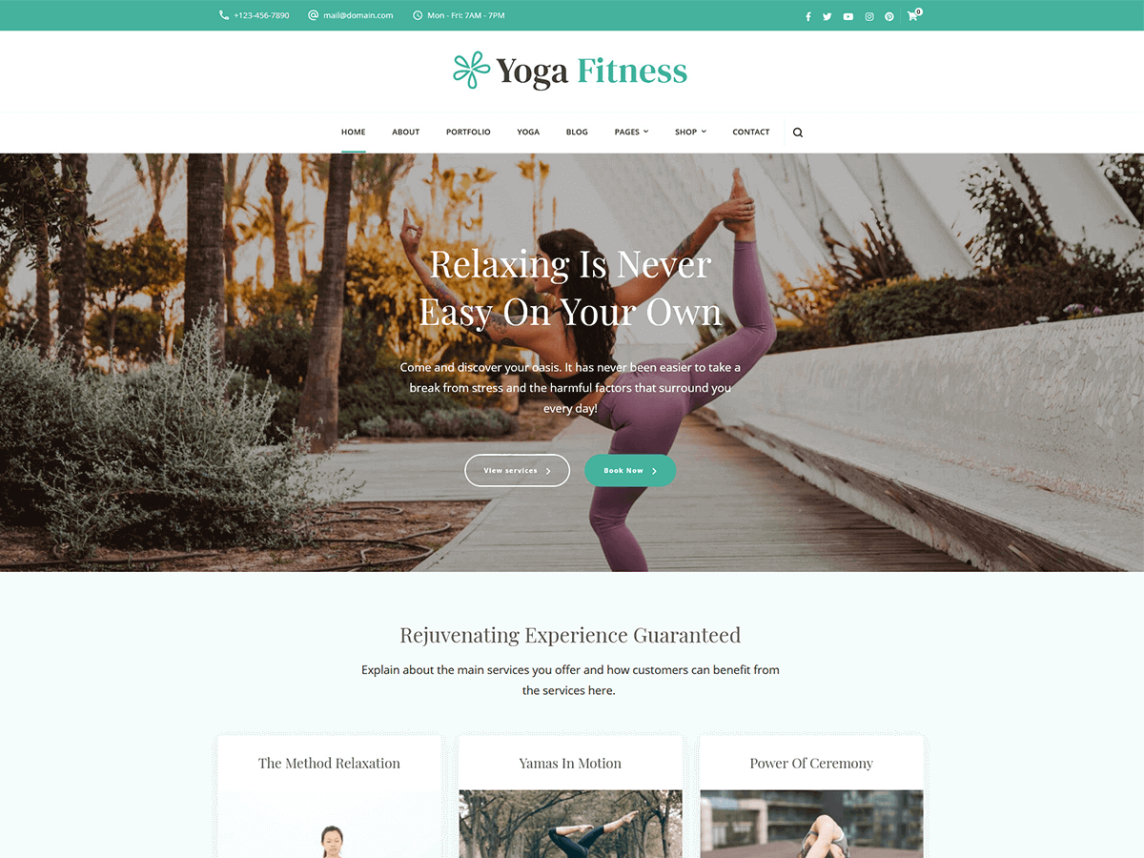 Yoga Fitness is a responsive and mobile-friendly free WordPress themes personal trainer. It comes with various customization options to make your personalization enjoyable. This theme is perfect for spas, yoga studios, massage parlors, meditation coaches, and gym websites.  It includes all the necessary sections such as service, testimonial, gallery, blog, etc.  In the blog section, you can hold your users up to date on your newly updated articles. And also add more value by providing them with useful tips and advice. Key Features: Yoga Fitness is mobile-ready, allowing adjustments to all screen resolutions like mobile and tablets. It helps get more benefits because mobile device accounts are approximately half of all internet searches. Furthermore, This theme includes four sidebar styles. You can present your sidebar on the left or right side of the page, or you can eliminate it.
6.
FitnessBase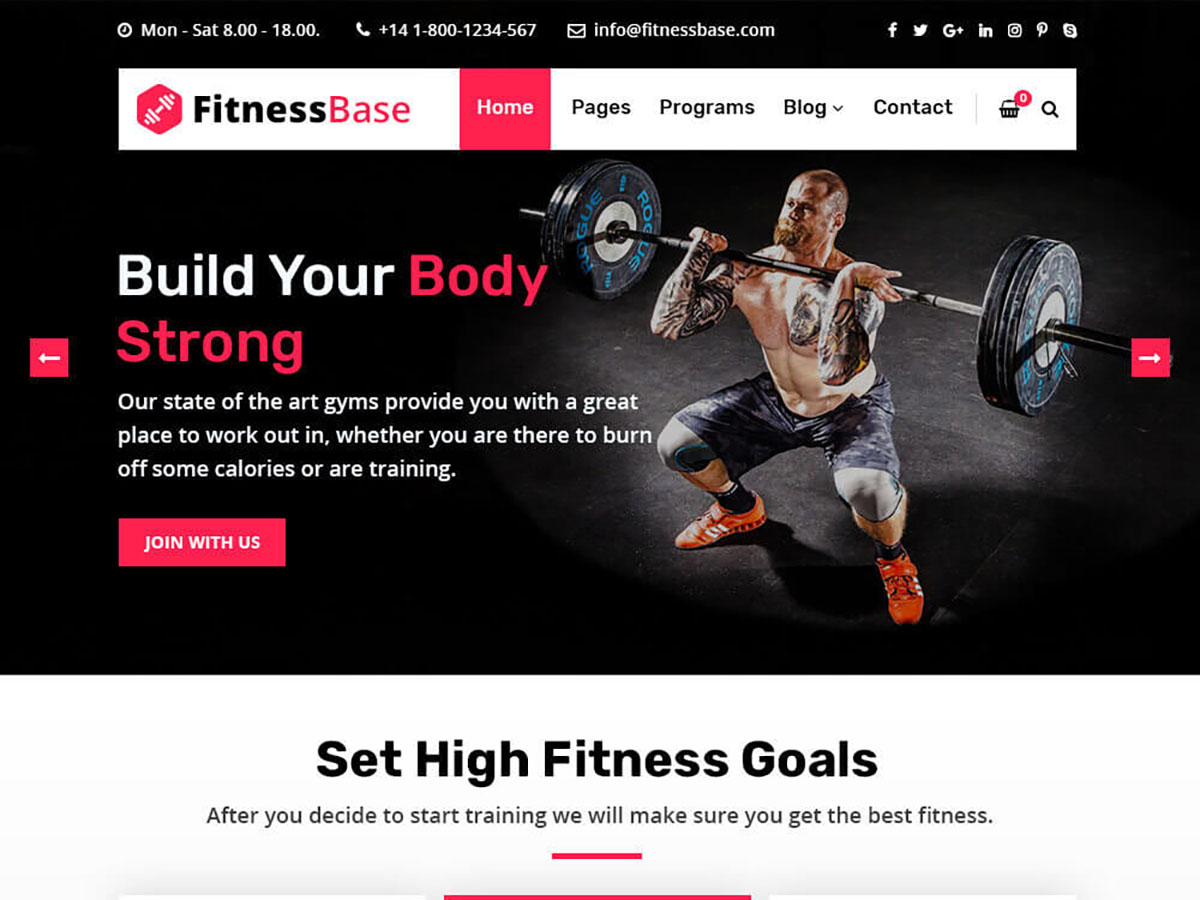 FitnessBase is a modern and versatile free personal trainer WordPress theme. It is suitable for gyms, health clubs, yoga, and fitness center websites, The included live customizer allows you to customize any section of your website independently of the others. It is 100% responsive and mobile-first, allowing your users from any handheld device to look beautiful compared with other WooCommerce WordPress themes.  Because of its multilingual feature, you can reach clients' worldwide doorsteps in their native language. Key Features: The deep integration of WooCommerce helps you start your product selling experience enjoyable. It offers fantastic header and footer styles to grab the attention of your visitors. Finally, all of these features you will get without spending money.
7.
Personal Trainer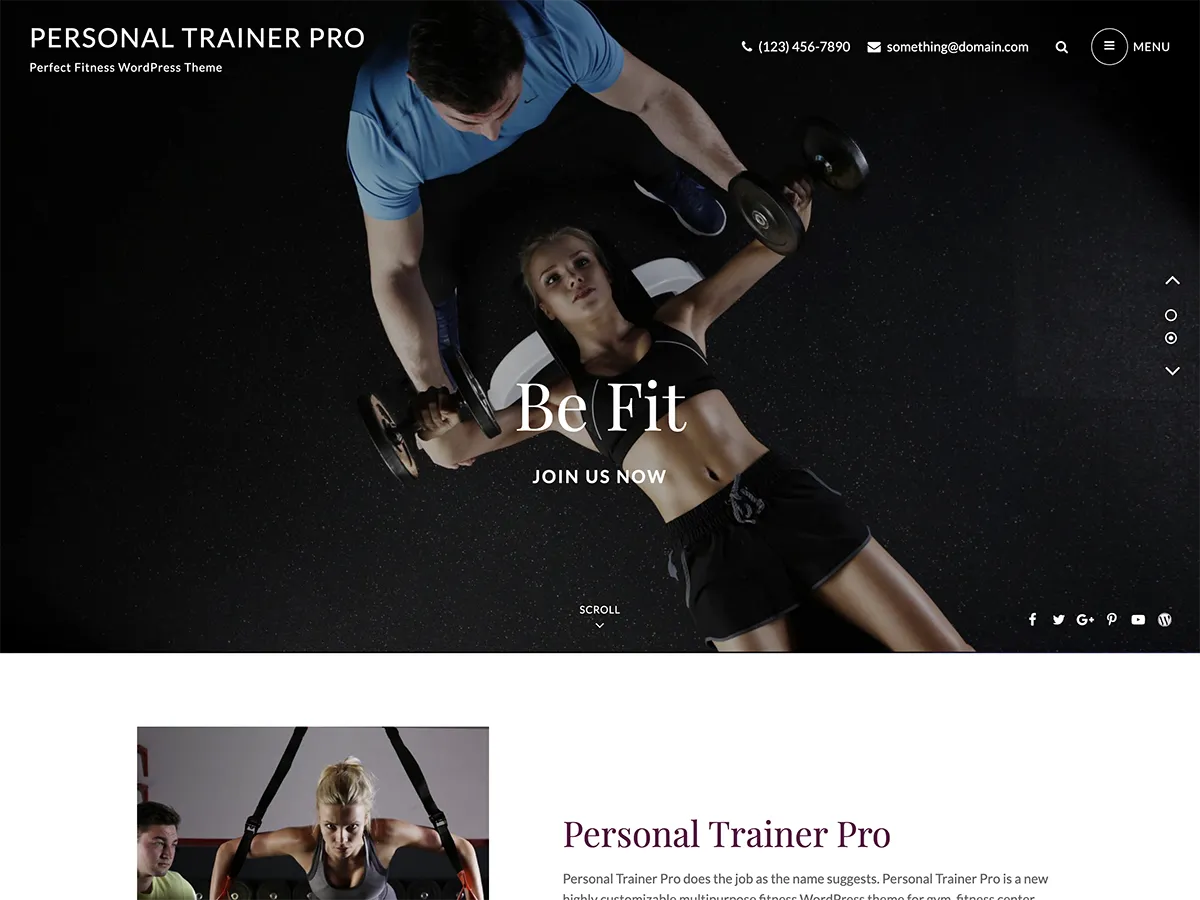 Personal Trainer is a powerful and multipurpose free personal trainer WordPress theme. The theme comes with quite premium features though it is free. It is suitable for a gym, fitness centers, personal trainers, and all other similar business websites.  You can easily set up your unique website to your desire with this highly customizable WordPress theme. It is 100% responsive to make your site adaptable on different sizes of screens and devices. Furthermore, it is multilingual and ready to translate into any foreign country and if you are using another theme & having a translation problem, You can use any translate plugin for WordPress to better understand different languages. Key Features: Personal Trainer includes fantastic features like a custom header image, a featured page slider, featured content, services, testimonials, and much more. In featured content, you can show your most valuable and popular content. And its integrated social media links help you to your online presence remarkable.

8.
Fitness Park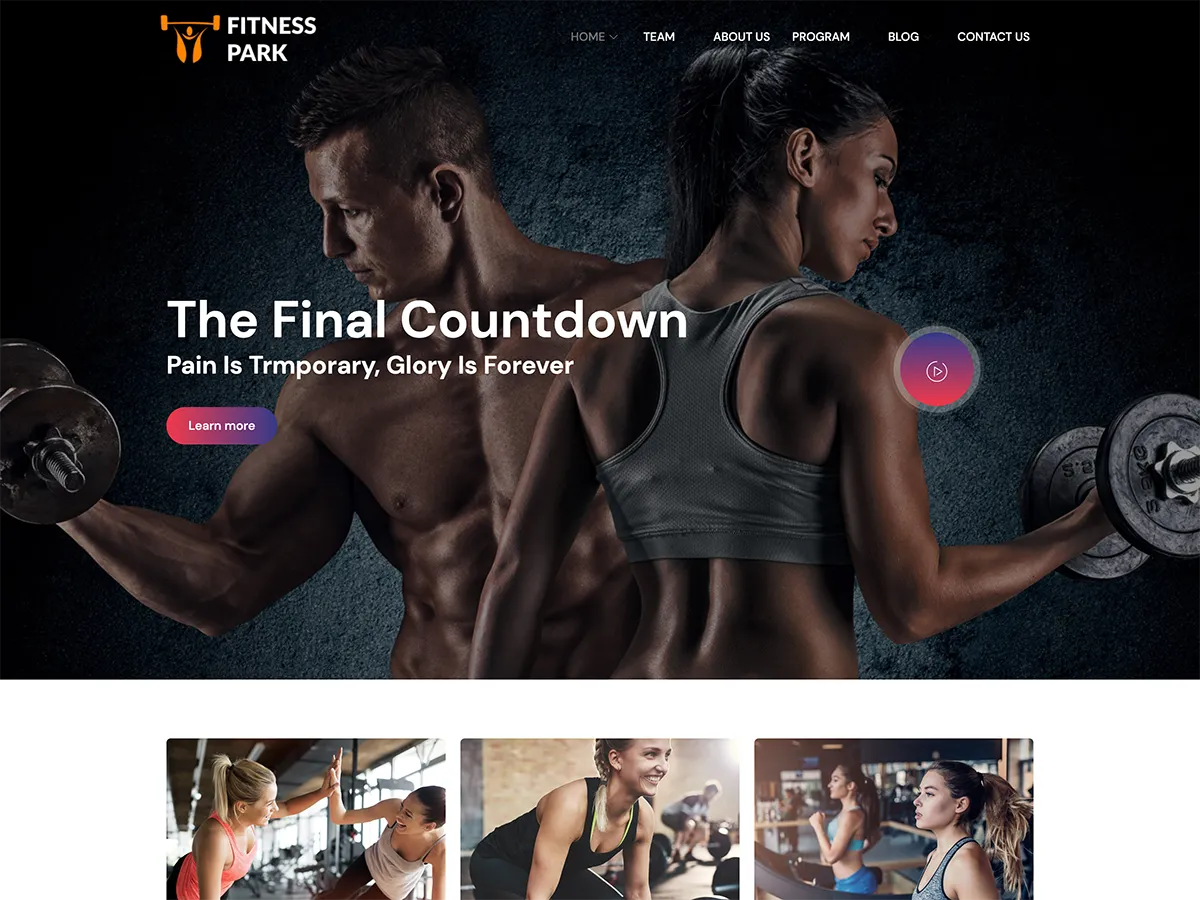 Fitness Park is a creative, modern, and high-performance free personal trainer WordPress theme. The theme has several unique ready-to-install demos to make a visually attractive website. It can be used for gym centers, fitness studios, yoga studios, and health consultant websites.  You will be ahead of your competitors because of its SEO mind code. You won't face difficulty in ranking well on renowned search engines and getting more organic traffic. It works perfectly with popular browsers like Safari, Chrome, Mozilla, and others. Key Features: It is built with professional-level code; the standard code increases productivity, stability, and overall performance. You can fluently customize every portion without knowing any coding knowledge. If you face any difficulty with customization, it offers proper documentation and support to solve it rapidly.
9.
SKT Gym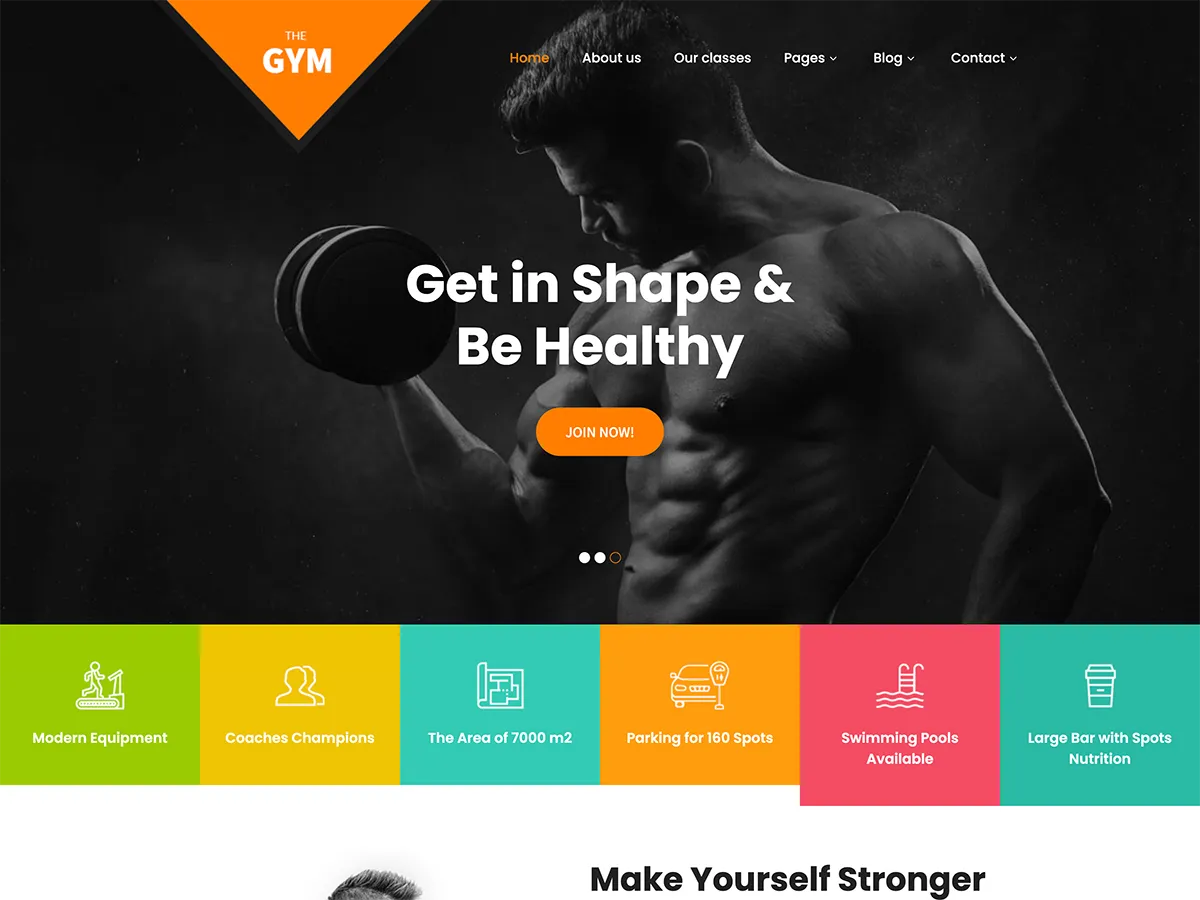 SKT Gym is a modern and professional-looking free personal trainer WordPress theme. The theme comes with vast customization options to make your working time like a free bird. You can use it to create fitness, yoga, personal trainers, health experts, and other websites.  The theme header section includes a slider with a join now option allowing your clients to connect rapidly and effortlessly. There are six columns below the hero section where you can provide information about the company. Such as the most recent equipment, your achievement, and so on. In addition, a notable section is provided for you to discuss with your viewers why they should choose the training session. Key Features: The theme has compatibility with most of the Elementor themes WordPress, WPBakery, and the  SKT page builder. So you can quickly build your page by drag-and-drop option without knowing any coding knowledge.  Finally, it is built with the best SEO practices to reach your valuable clients.
10.
Fitness Insight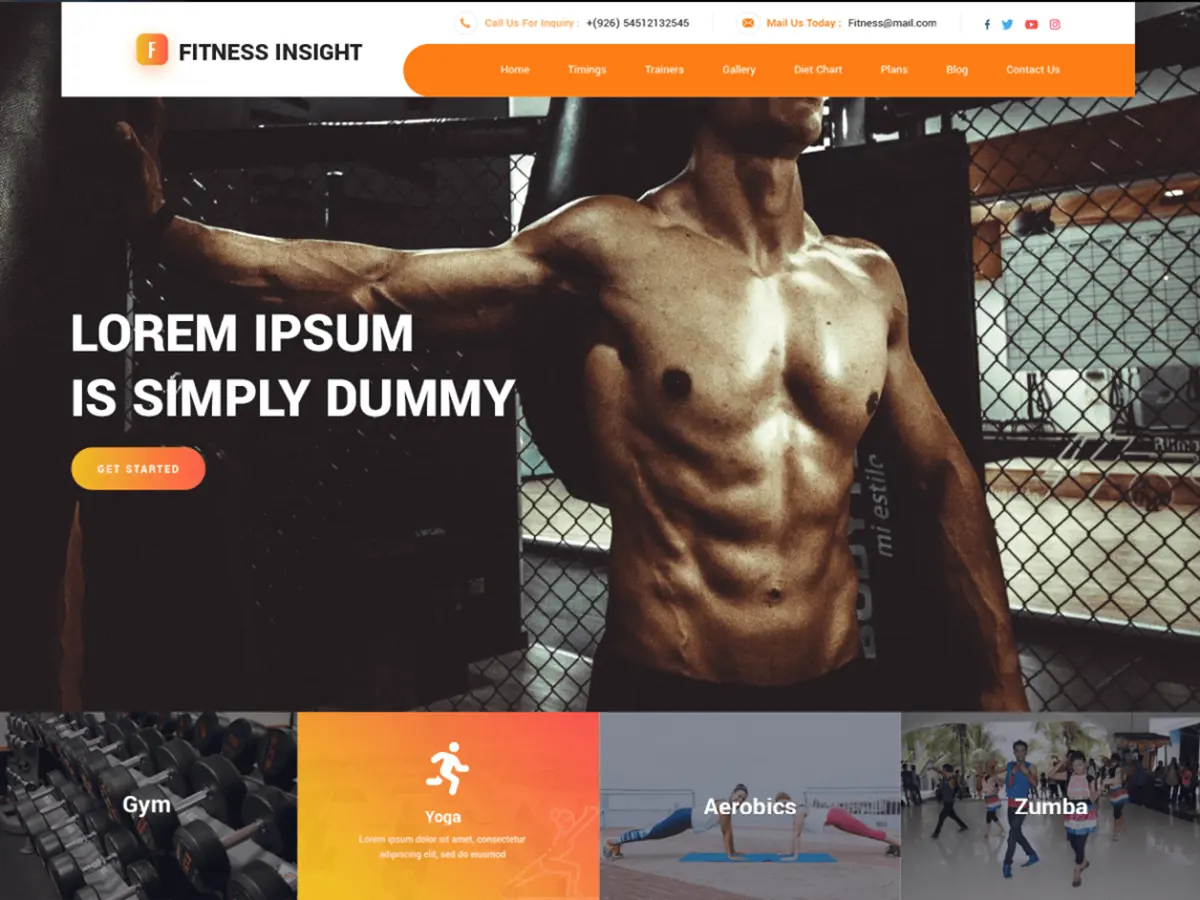 Fitness Insight is a powerful and multipurpose free personal trainer WordPress theme. The theme is suitable for fitness institutes, gym clubs, personal trainers, health coaches, and yoga center websites. This free theme is coded securely and skilfully, resulting in quicker page load times. It is also included in the list of the best SEO themes for WordPress for its SEO optimization, allowing your website to rank higher on popular search engines such as Google, Mozilla Firefox, and others. In addition, it works perfectly with RTL and WPML to make sure your business globalization.  Key Features: The theme template is made and updated regularly to ensure it is always compatible with the most recent WordPress version. It meets all the WordPress requirements, so you can often work with easiness and enjoyment.
11.
Advance Fitness Gym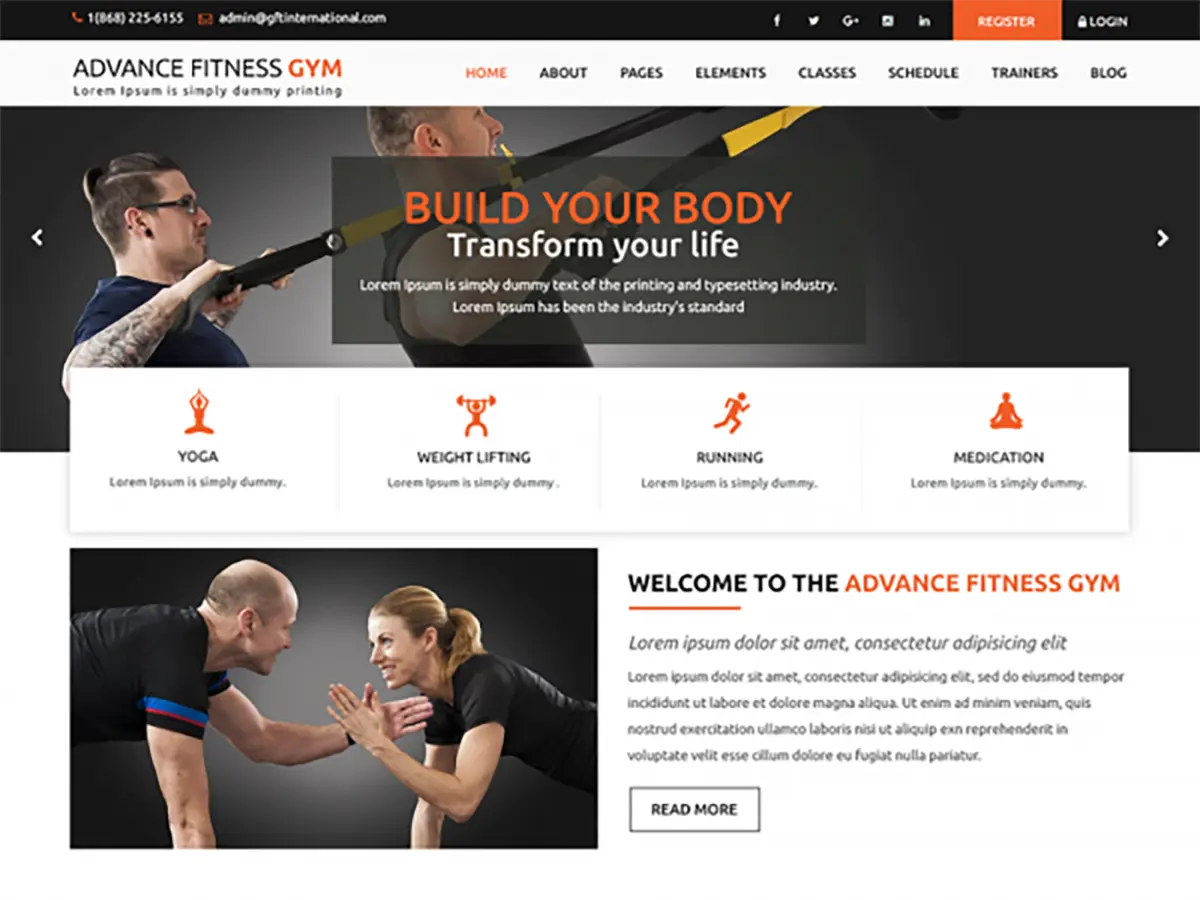 Advance Fitness Gym is a flexible and WooCommerce-ready free personal trainer modern WordPress theme. It comes with several unique home and inner pages. You can use it to create an excellent fitness club, yoga class, personal trainer, and health consultant website. It is the best solution for people who want to create an eye-catching website for their company but have less ability to code. You only need to install and run the theme and make minor changes if desired. To make your customization easy, it provides adequate documentation and support.  Key Features: This free WordPress themes personal trainer includes features required for a sophisticated website. It is fully responsive and mobile-ready to look great on all devices. It has been tested to work with all major browsers and includes files for translation into other languages. The theme has been SEO optimized to receive a lot of traffic.
12.
Fitness Club Gym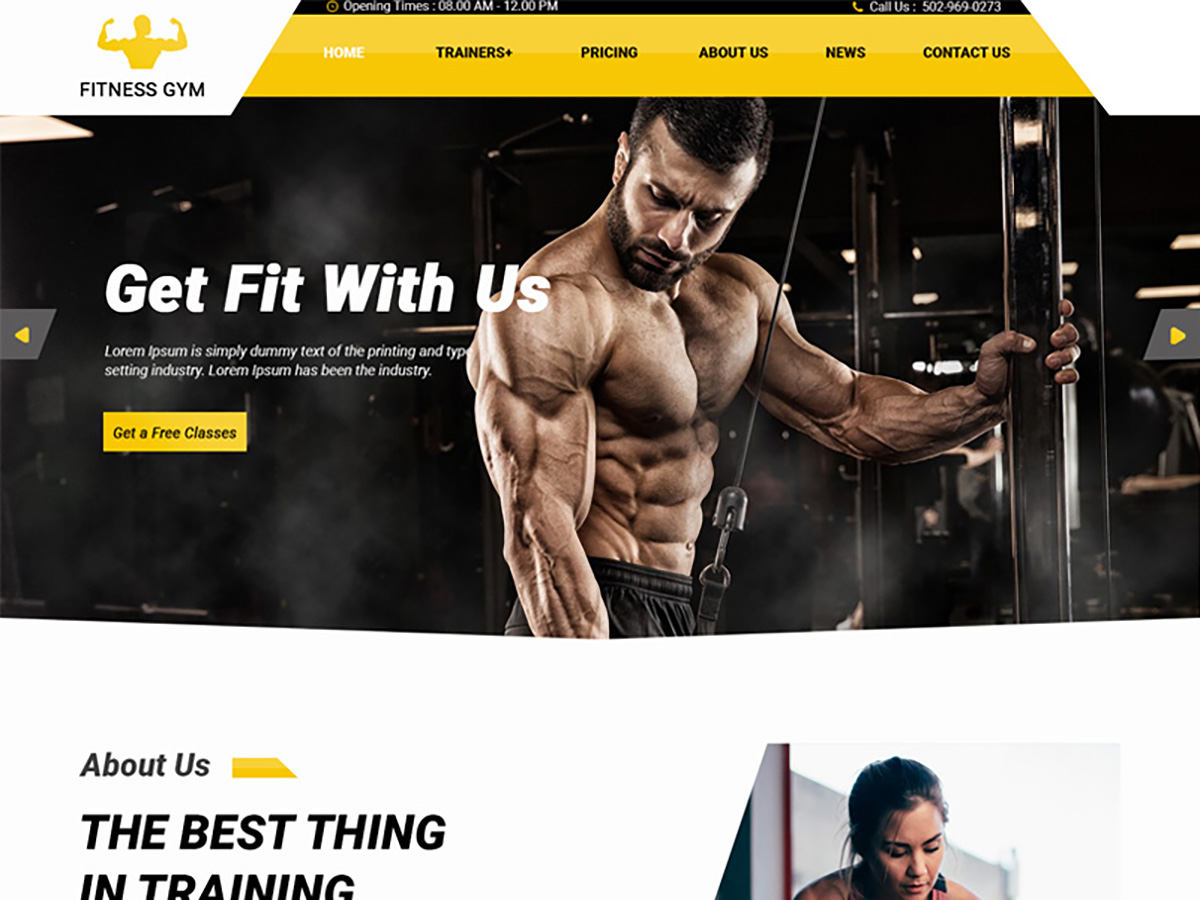 Fitness Club Gym is a stunning and user-friendly free personal trainer WordPress theme. It comes with a solid Bootstrap framework, making your website reliable and user-friendly. Using this theme, you can build perfect fitness trainers, gym trainers, physical trainers, and personal fitness coach's websites.  The theme customization is relatively easy using advanced theme options. It allows making changes on layouts with plenty of personalization options. You don't need to hire professionals to get your website to the top of the search engines and become widely known; it is SEO-optimized.  Key Features: It offers a custom banner slider to make an eye-catching look on your homepage. The deep integration of WooCommerce helps provide your users with the best shopping experience. Furthermore, it is WPML compatible, and RTL supported to ensure your international clients through their native language.
13.
Fitness Business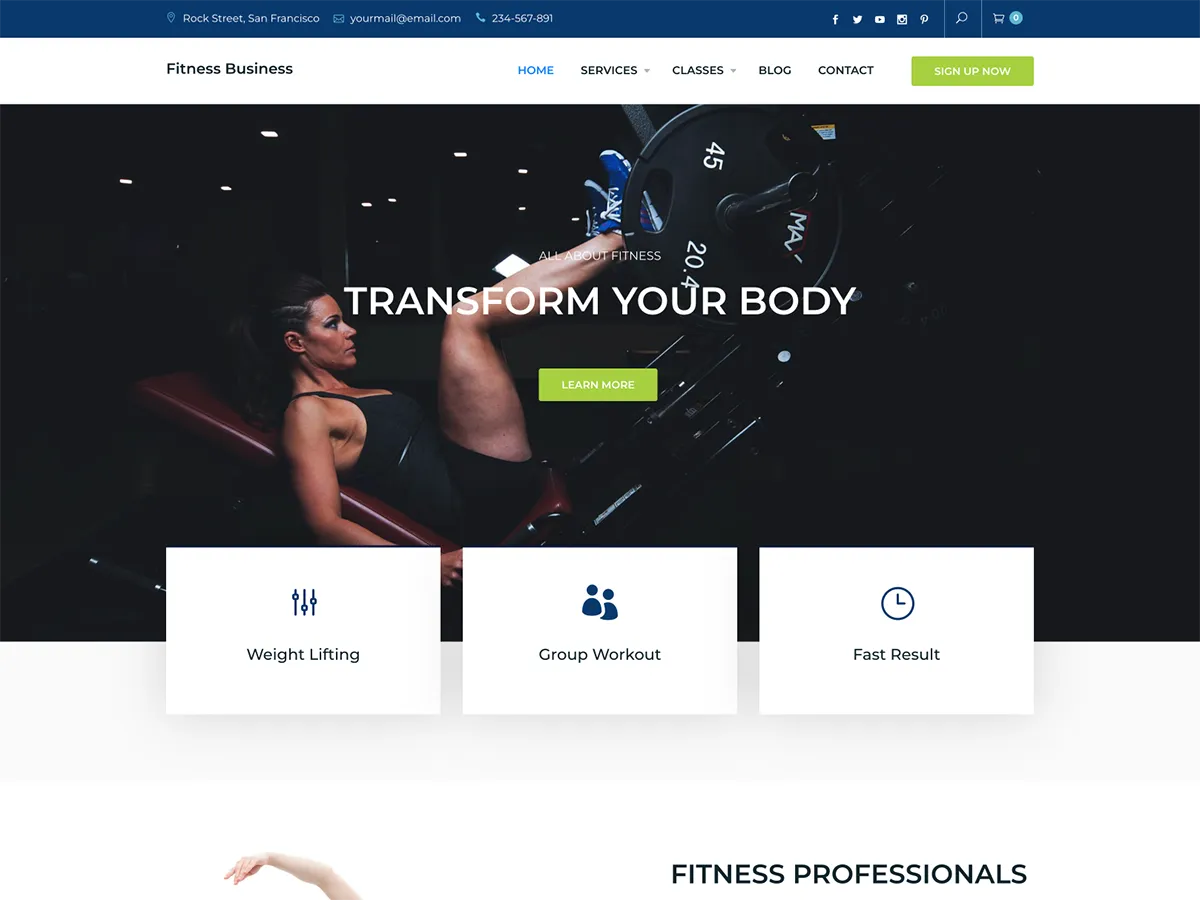 Fitness Business is a feature-rich and multipurpose free personal trainer WordPress theme. It comes with quite pro features though it is free. You can use it to build fitness centers, fitness magazines, gyms, and similar websites. It is fully customizable to your needs. You can make an attractive design with unlimited color options. The Customizer's theme options panel allows you to edit your information in real-time. This indicates you can experiment with the appearance and functionality of the website with a quick preview before making changes. Key Features: It adapts to any size of device and screen because of its highly responsive layouts. The cross-browser compatibility makes sure its usability on all major browsers like Opera, Safari, Chrome, etc. Furthermore, it is WooCommerce-ready, WPML-ready, SEO-optimized, and has more valuable features included.
14.
Real Fitness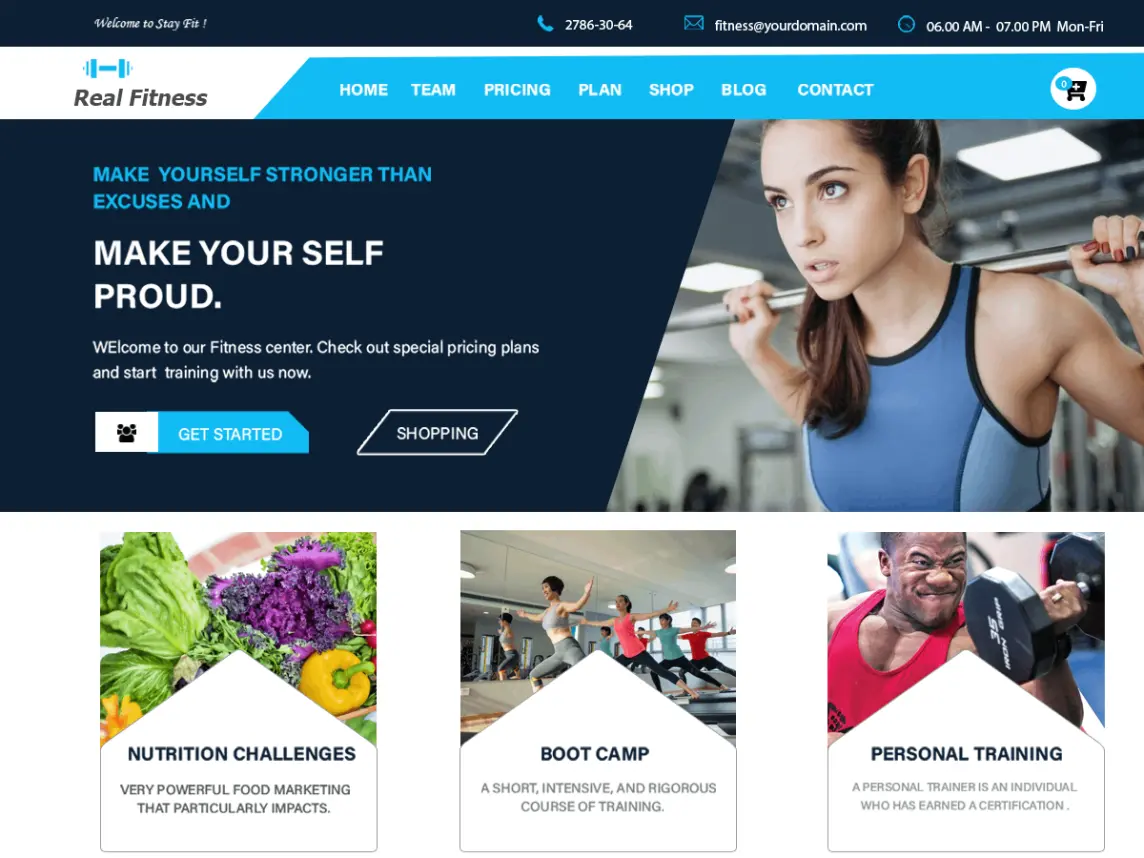 Real Fitness is an SEO-friendly and fully-functional free personal trainer WordPress theme. It comes with more than 2500 font options to make your website more attention-grabbing. The theme is perfect for bodybuilding, fitness center, health, sports, yoga, and workout websites. The responsive layout ensures it is mobile-friendly and looks great on all devices. It is built for speed, so page loading speeds are significantly quicker. In addition, it integrates all the popular social media links to make your online presence flawless. Key Features: This free WordPress theme has the following additional features: it uses theme options via the customizer API. It is compatible with numerous well-known WordPress plugins, including Contact Form 7, WooCommerce, and many others. It has a scrollbars option, a customizable home page, a full-width template, and the ability to enable and disable all sections. Furthermore, it maintains WordPress standards.
15.
Akhada Fitness Gym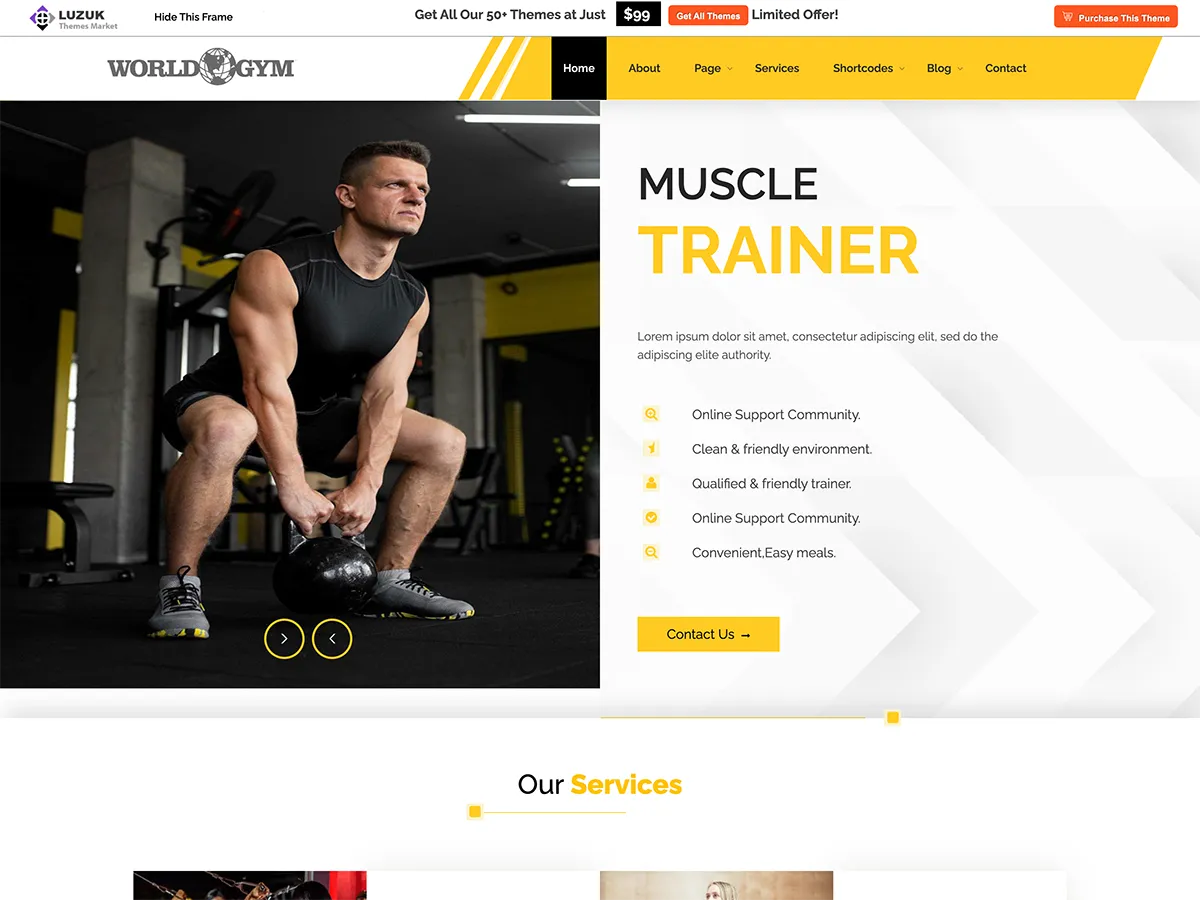 Akhada Fitness Gym is a user-friendly and multi-functional free personal trainer WordPress theme.  It is specially made for gyms, yoga trainers, personal trainers, spas, and health coach websites. It includes all of the features and functionalities required to launch your trainer's website in minutes. You can display your service details for clarification to your visitors in the service section. The testimonial section ensures your reliability, where your clients can give reviews and recommendations. You can use the testimonial plugin for WordPress to get better performance of reviews. Key Features: You can add third-party plugins on your desire to expand the user experience. It provides a fully responsive layout to look great on all device screen sizes and doesn't cause any issues. Furthermore, It is cross-browser compatible, translation-ready, WooCommerce integrated, and many others.
16.
GetFit Lite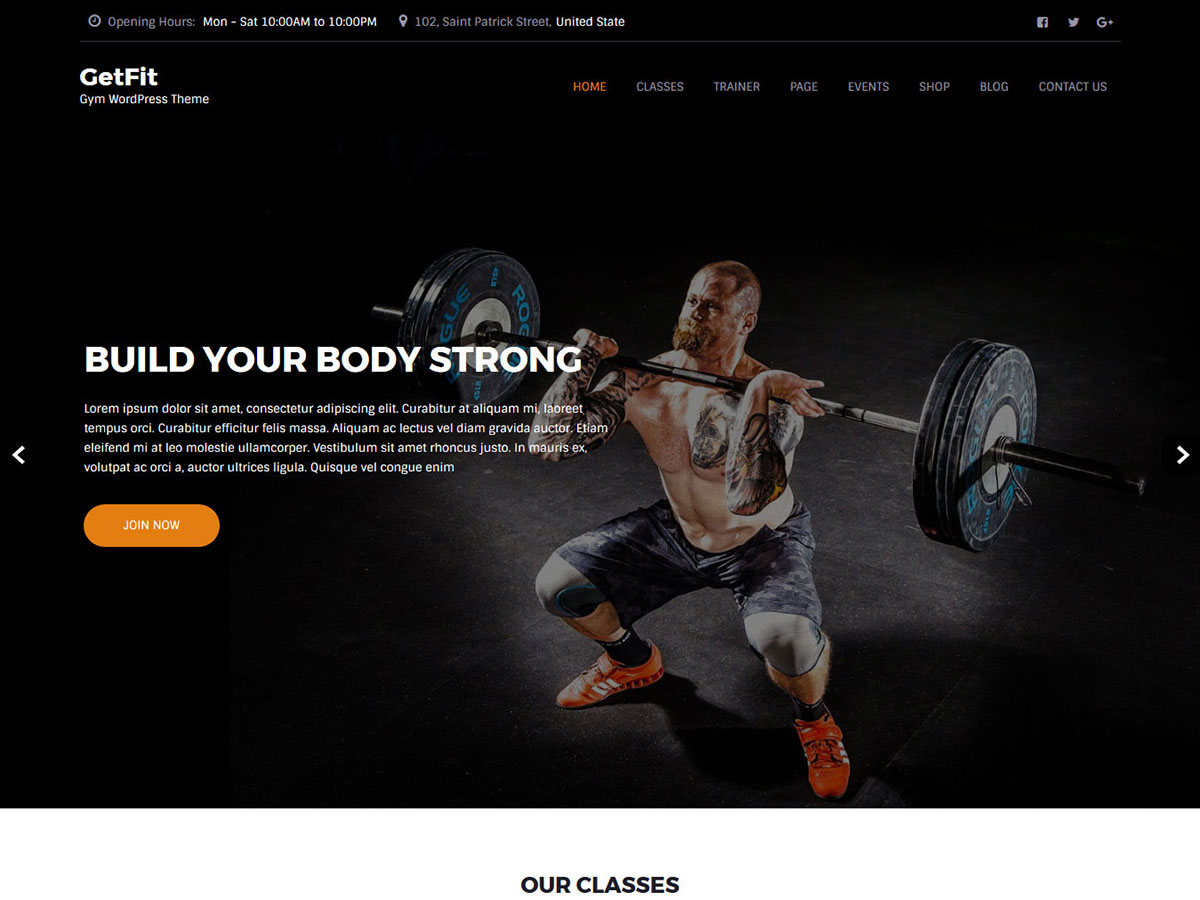 GetFit Lite is a beautiful and elegant design free personal trainer WordPress theme. It comes with all possible features for making a personal trainer website. The theme perfectly suits the gym, fitness center, and fitness trainer websites. This theme is created for those people who require a quick and simple way to set up a website with zero experience. It includes several theme options in the customizer, configuring the possibilities with a single click. The latest version of WordPress is used to develop the themes.  Key Features: It integrates with popular page builders like  Elementor and Contact form 7. The compatibility of WooCommerce helps you to sell fitness equipment freely. Moreover, it is ready to rank well on major search engines because of its SEO mind code.
17.
Yoga Studio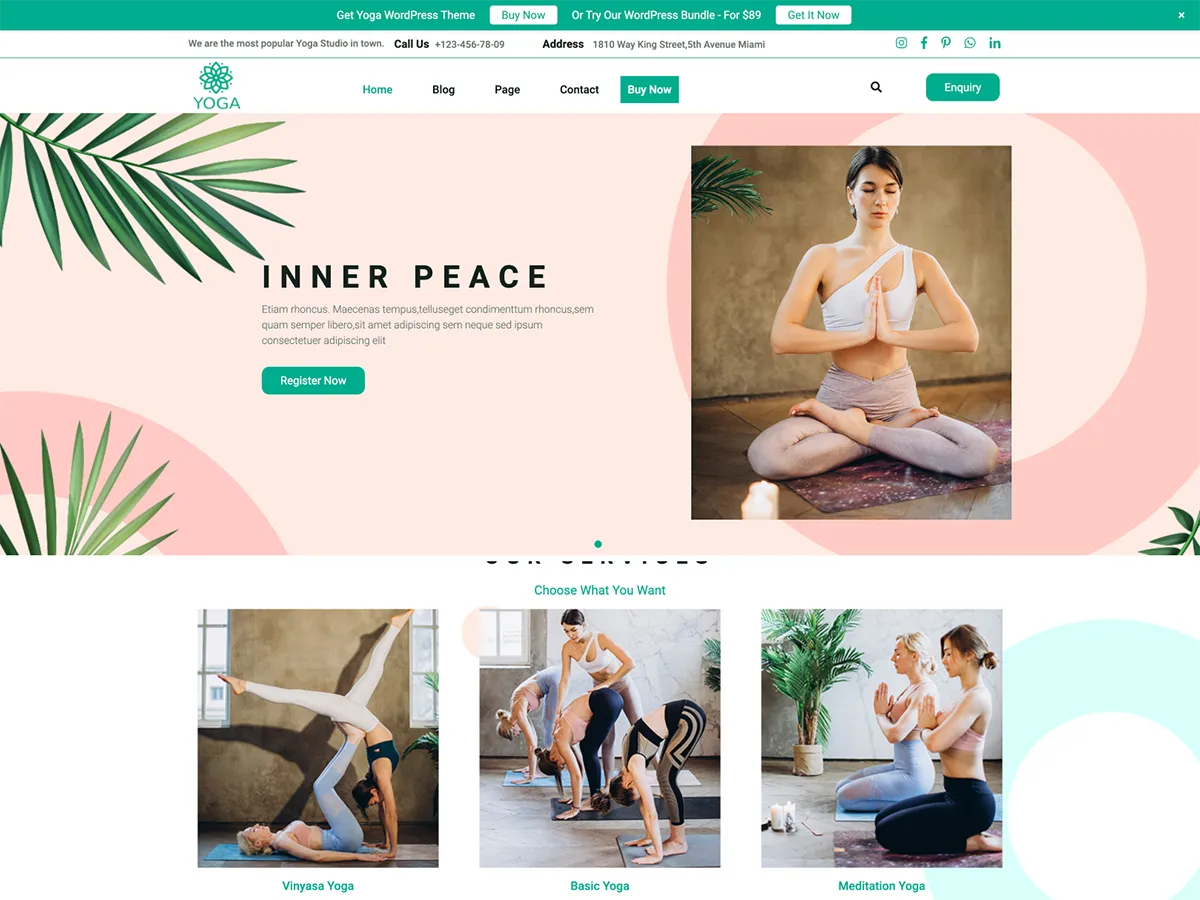 Yoga Studio is a modern and professional-looking free personal trainer WordPress theme. You can use it to create yoga coaches, exercise centers, and fitness-relevant websites.  It has all the sections for a perfect personal trainer website, such as about, services, blog, testimonials, and newsletter. In the blog section, you can write about the yoga tips and information to provide more details. The newsletter section helps you keep your valuable clients updated on the most recent updates. You can check out how to create newsletter in WordPress easily If you are using a Flatsome theme. Key Features: It is completely responsive and works well at all resolutions. It is SEO-friendly, which aids in increasing the position of your website. The provided shortcodes allow you to extend the functionality of your website. You can design your website however you want because it offers numerous customization options.
Conclusion
Thanks for reading. The best free personal trainer WordPress theme list can help to reach your business to a new height. The list is a result of detailed and massive research. All of the mentioned themes are feature-rich, and some of them come with premium features that will help you save time So, click the live demo button and build your website with zero cost. You can also check Top Consulting WordPress Themes article, just click!