Community or social gathering is an amazing platform where you can share your thoughts or ideas with your people. Here WordPress Community Themes can play a vital role. Eventually, you can share your experience easily with this platform.
The most effective community websites frequently focus on feelings. The WP themes offer a wide range of design options, attributes, and capabilities that evoke feelings and improve user experience. You receive pre-made layouts and components with all the tools you need to maintain a contemporary community website proficiently. You get access to everything, including user profiles, news feeds, emoji reactions, groups, events, private messages, etc.
In this article, we will discuss the top 17 WordPress community themes in 2023.
1. Cera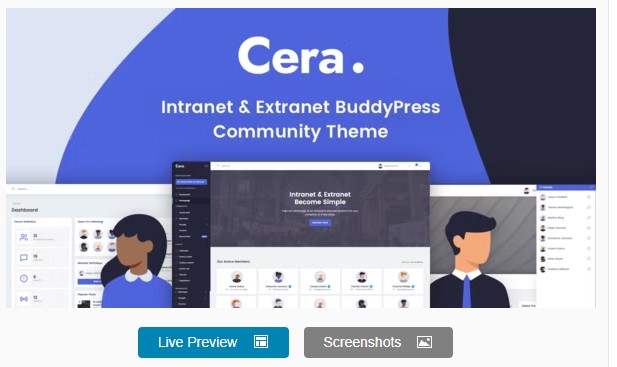 Cera is one of the best WordPress community themes. This theme has unlimited site customization, including the usage of as many buttons, blocks, parallax sections, Video Hero backgrounds, galleries, menus, and other elements as you choose.
The theme may be modified with a few clicks without the need for coding knowledge. This theme is fully translatable and WPML-compatible. It is SEO-friendly. You can create awesome events with powerful features of The Events Calendar like recurring events, organizers, and venues.
You can manage the subscriptions and payment ecosystem of your platform with WooCommerce & WooCommerce Subscriptions. It has a great e-commerce experience with features like Infinite scrolling, Product Quick View, Wishlist & Direct Product Image flipper on hover.
2. Anesta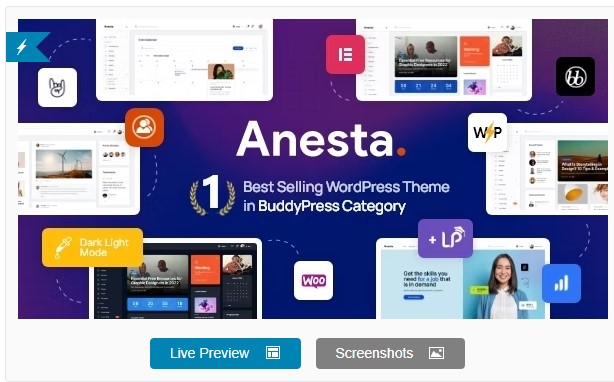 Anesta is a contemporary, clean, and fresh WordPress community theme. It is designed to enhance internal communication inside your business, firm, agency, community, and social network and to offer simple, fashionable, and user-friendly access to business data.
Anesta has an amazing dashboard where you can post your events, notifications, calendars, corporate graphs, posts, and news easily. The theme is integrated with the BuddyPress and bbPress plugins, enabling your staff to create a completely functional community, arrange themselves into groups and departments, and communicate easily. The theme provides full-featured tools to run online courses for your staff, both paid and free, because of the LearnDash LMS plugin.
3. Armadon
The Armadon theme is excellent for creating a website for the gaming and eSports community. It's excellent for team presentations, news/blogs, event organizing, and many other things.
Armadon theme has unlimited site customization, including the usage of as many buttons, blocks, parallax sections, Video Hero backgrounds, galleries, menus, and other elements as you choose. All are easily editable with a few clicks and don't require any coding knowledge.
This theme is SEO-friendly. It is compatible with WPML and fully translatable. With WordPress Customizer, all changes are made in real-time.
4. Arcane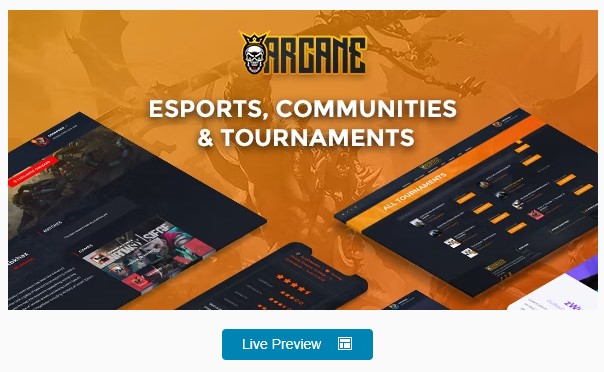 Arcane is one of the best WordPress community themes. This game theme contains everything you need to have a great time. You won't ever regret choosing this community theme because it contains premium plugins and features to modify team pages, colors, backgrounds, and user pages.
This theme has pre-built demos, you can choose one between them with just one click to install. It is fully supported by WooCommerce. This theme is compatible with WPML. Arcane is fully responsive and has an unlimited color palate.
5. Aardvark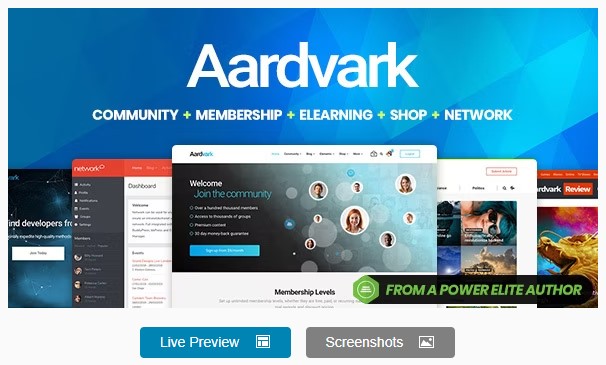 Aardvark is a fully functional WordPress community theme. It has pre-built demos and imports them with the click of a button.
Without ever touching a line of code, you can quickly and effortlessly build a beautiful site that meets your unique demands with 200+ theme possibilities. With this theme's WPBakery Page Builder, you can easily create layouts for both the front end and the back end using drag and drop.
You can change theme styling in real-time with WP Live Customizer. This theme is fully compatible with WPML. It supports full RTL and GDPR.
6. KLEO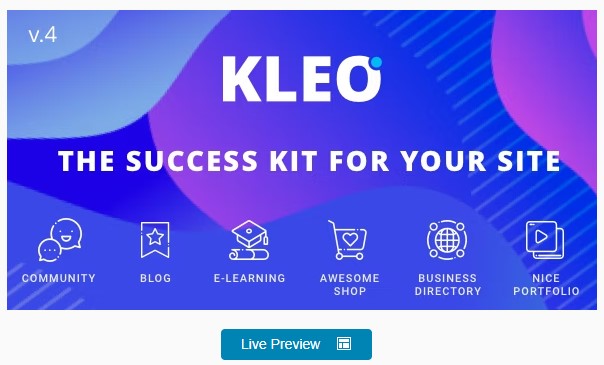 KLEO is a strong and stable WordPress community theme. You can launch your site more quickly because KLEO and the many plugins work so well together.
KLEO is beginner-friendly. It has one-click full demo content where you can install posts, widgets, and menus. For simpler theme upgrades, a child theme is offered. It keeps your primary theme files secure.
This theme dynamically creates sidebars to use on different pages. With the WPML plugin, your website can be translated into any language.
7. Vikinger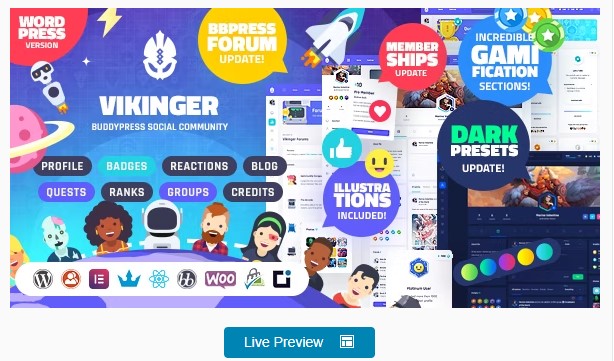 Vikinger is one of the best social community WordPress themes. This theme is made to give you everything you need to create an amazing community.
The usage of react by this theme makes a number of the template's elements more dynamic and enables users to interact with them without having to wait for the page to reload. The plugins or add-ons for this theme might function right out of the box with the base WordPress. You can check every functionality that this theme includes by visiting the live preview.
8. SocialV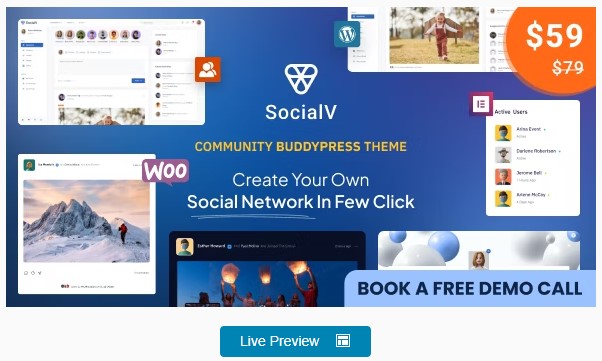 SocialV is a stunning WordPress community theme. It includes pages that are both responsive and usable. The idea for SocialV came from developing a WordPress theme for a sizable online community of people who have a shared interest or a similar vision.
Since social media is continuously changing, this BuddyPress community theme is prepared to handle whatever comes next. The SocialV social network theme, similar to Facebook, is ideal for any listing page for new businesses, communities, and ventures.
Due to its clear code, component-based architecture, and responsive design, you can start a project focused on building a community or using social media. The newest Elementor drag-and-drop builder is included with the SocialV community BuddyPress theme, making it simple to customize your site even if you don't know how to code.
9. WildCommunity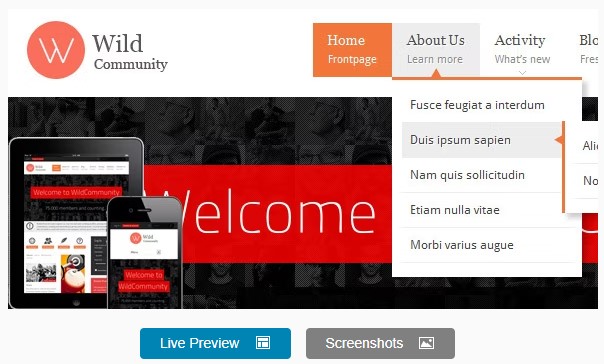 WildCommunity theme is one of the best WordPress community themes. It is incorporated with a BuddyPress plugin that enables users to sign up on your site and begin building profiles, publishing messages, connecting with others, creating and interacting in groups, and much more.
BuddyPress, a social network in a box, enables you to create a social network for your business, institution, sports team, or specialized community. This theme is translation-ready. It is integrated with Gravatar.com. WildCommunity is compatible with WPMU.
10. BuddyApp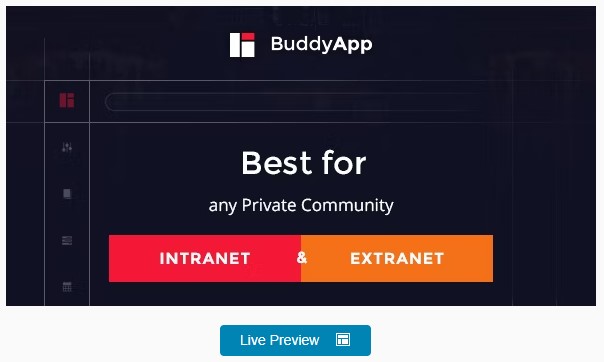 BuddyApp is a perfect WordPress community theme for any type of intranet or extranet website, private or public community.
This theme allows live site customizer so, you can design your site while you preview the changes. You may create a website with this theme that stands out from the crowd because it focuses on mobile first and has an innovative design. BuddyApp is compatible with the WPBakery Page builder. In this theme, everything is drag-and-drop; you don't have to write a single line of code.
11. Blackfyre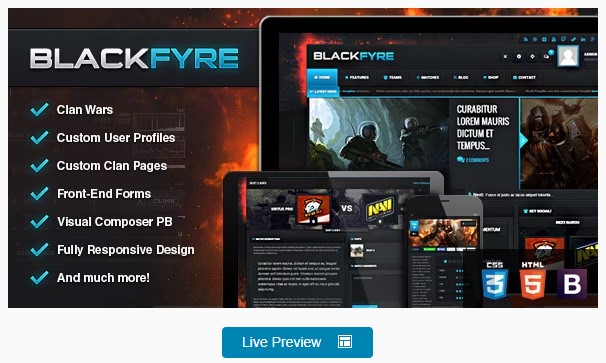 Blackfyre is a gaming WordPress community theme. With this gaming theme, you can simply build a sizable community without having to worry about privacy, control, or anything else. It provides total administrative control, ensuring that all users are happy with the features.
It has a predefined page layout for clans for easy creation. This theme is compatible with Visual Composer. It is fully translation-ready and supports WPML.
This theme is fully responsive. You can customize the background so you can upload your own. It also provides you some sort of dark theme feelings.
12. Seeko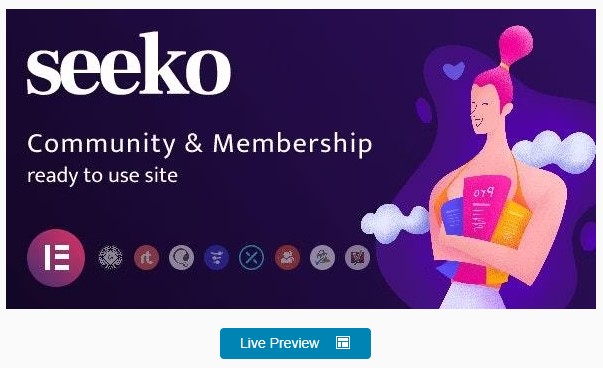 Seeko is a modern WordPress community theme. With improved search capabilities, you may create a strong community on your website.
Seeko is a BuddyPress theme built using the latest technologies. This theme is fully customizable with a lot of features to customize your theme.
This theme has easy-to-click install plugins, pages, and settings. You can add personality to your theme by using a live customizer.
13. MetaFans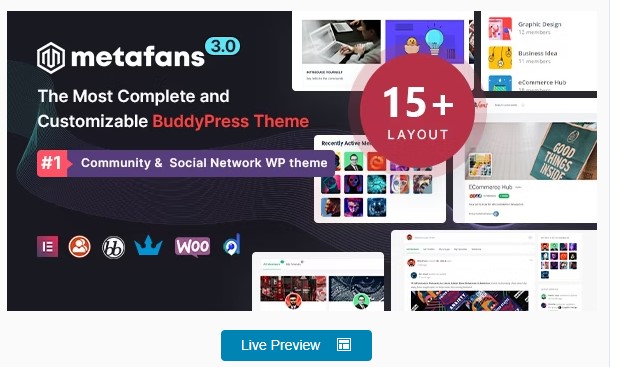 MetaFans is a social networking and community theme for your WordPress site. To provide your users with a fantastic experience, Metafans has developed a complete gamification experience with badges, quests, credits, and ranks.
Metafans offers a super full profile page with an appealing style, boxes, and a slider. Additionally, you can use the badge widget in your profile to proudly show them. Your posts can also be marked as pinned, favorite, or private, all of which can be identified by our distinctive iconography.
14. Gwangi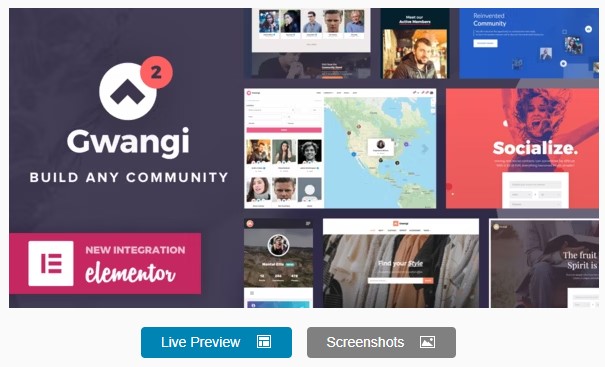 Gwangi is a multipurpose social community theme for WordPress. This theme is built to look good on mobile devices.
This community theme is also built for dating websites. It has deep integration with powerful plugins. With a few clicks, everything can be changed, and coding knowledge is not necessary. Gwangi is a fully customizable website.
This theme is SEO-friendly. It is fully translatable and compatible with WPML. With WordPress Customizer, all changes are made in real-time.
15. VaperGuru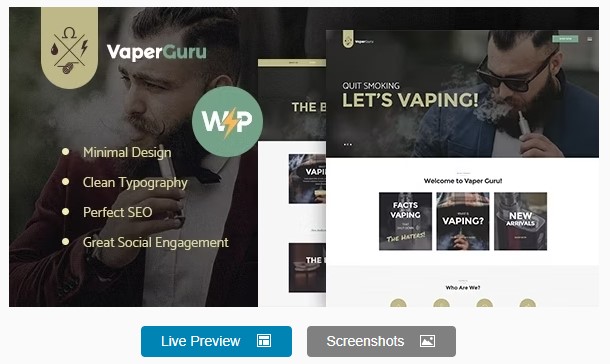 VaperGuru is a trendy and sophisticated WordPress community theme. It has a simple and modern design that was made especially for the vaping community and vape shop. Any fashion community, vaper fashion retailer, or accessories online store can use the theme.
VaperGuru is fully compatible with WooCommerce to allow you to sell your products and services. VaperGuru is a fully responsive and Retina Ready theme, which makes it look beautiful on all platforms. You can create as many layouts as you like using an easy-to-use graphic interface.
16. Listopia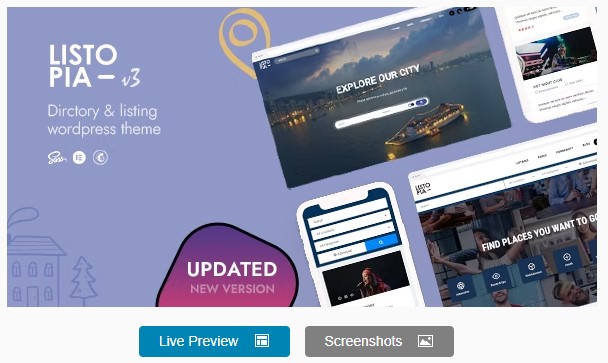 Listopia is a directory and community theme for WordPress. You can create unlimited listing types and corresponding fields.
Listopia is fully customizable. You can easily add, remove, and modify by drag and drop. Listopia is compatible with the Javo Directory, and Javo Spot database. You can simply change the theme and the listing will be displayed on maps.
You can create spots on any page and display them on the user's dashboard automatically. The theme settings provide various options for your site. It is easy to set up them and provide an index chart to find all options.
17. Gorgo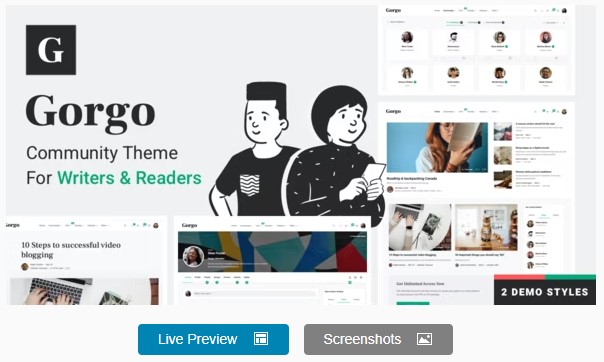 Gorgo is a multipurpose collaborative blog and social community theme for WordPress. You can build a perfect community composed of writing lovers and compulsive readers.
Gorgo has 100 layout options to create unique and stunning headers, navigations, sidebar, homepages, blog pages, etc. You can install a demo for this website with one click installation. This theme has deep integration of powerful plugins like WooCommerce, BuddyPress, Yoast SEO, WPML, bbPress, etc.
Conclusion
The key to selecting an outstanding WordPress community theme is to know what your website needs. Additionally, we advise choosing a responsive and feature-rich theme.
These are some of the top WordPress community themes that are currently available. Choose one of these themes if you want to create the ideal community website.