Choosing the right theme is often confusing, especially when spending a good amount of money on it. The two most popular WordPress themes on the market are the Divi and the Flatsome theme. You can easily get Divi vs Flatsome review in this article.
Because this article discusses Divi vs Flatsome comparison in detail. When you are trying to pick the right one among the two themes, it surely could be confusing as both are highly popular and excellent in performance. In this article, we will look into various aspects of these two themes so that you can choose the right theme based on your criteria and requirements.   
Divi vs Flatsome Comparison: Introduction
Divi
The Divi theme is one of the most customizable and lightweight premium WordPress themes. Currently, Divi has 2M+ active installations and over 20,000 reviews on its official website. It is one of the most flexible WordPress themes with an amazing page builder making development easy for everyone without any coding knowledge.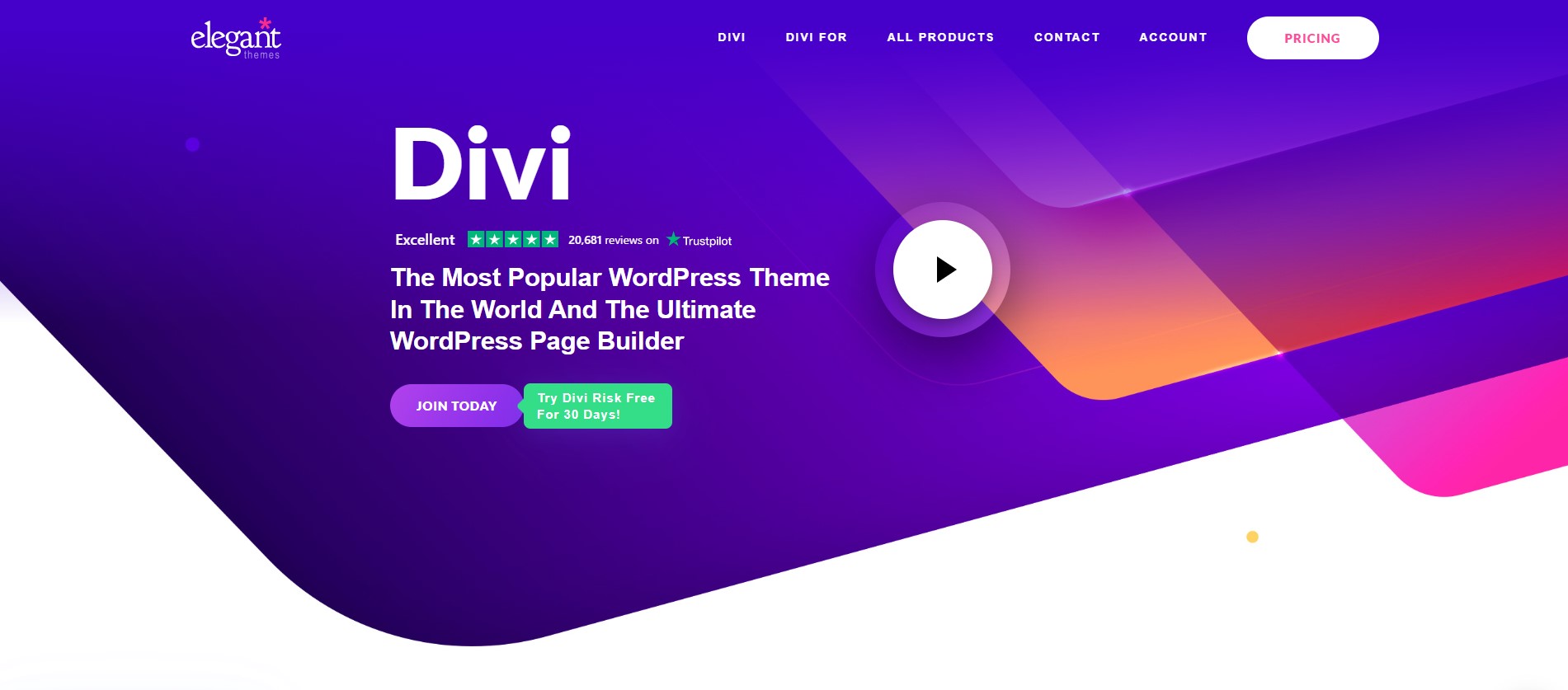 Flatsome
The Flatsome theme is the #1 best-selling WooCommerce theme. It is specially designed to create beautiful WooCommerce websites with dynamic functionalities. Flatsome is the most popular WordPress theme in ThemeForest and several countries and is ranked #8 on the entire internet in the WordPress theme category.
Currently, Flatsome has 600K+ active installations with 300K+ sites that used the Flatsome theme historically.  You can learn more about this theme in the Flatsome documentation section.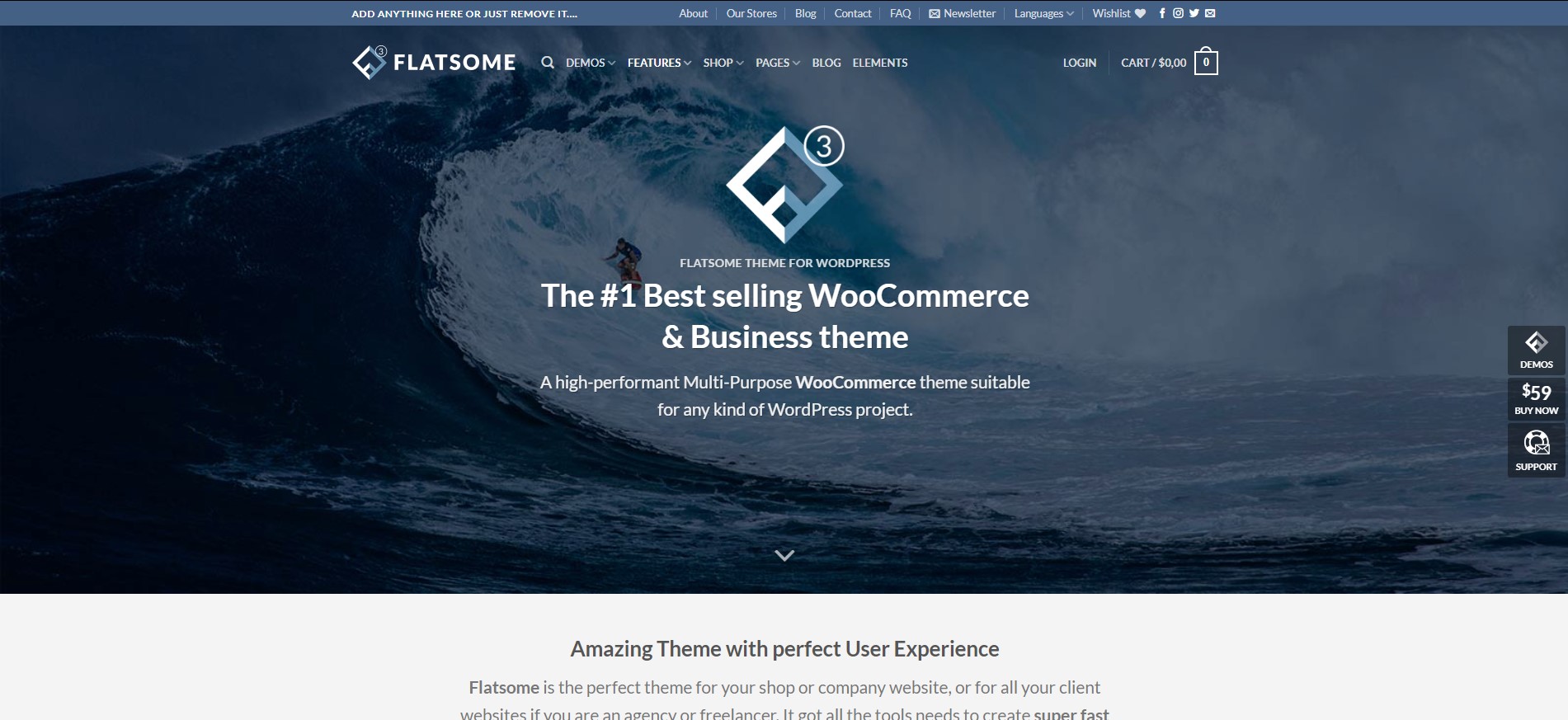 Divi vs Flatsome
Comparison
: Pre-Built Website/Demos
Divi
The Divi theme has an amazing collection of 200+ full websites packed. You can instantly download any demo website you like, and your website will be completed in minutes! Divi has made demo websites for all niches like car dealers, restaurants, corporate businesses, personal trainers, digital marketing, etc.
Besides this, the Divi theme has 2000+ premade designs that will boost your development process and add extra design ethics to your website. Most popular theme WordPress has demo websites but very few in numbers.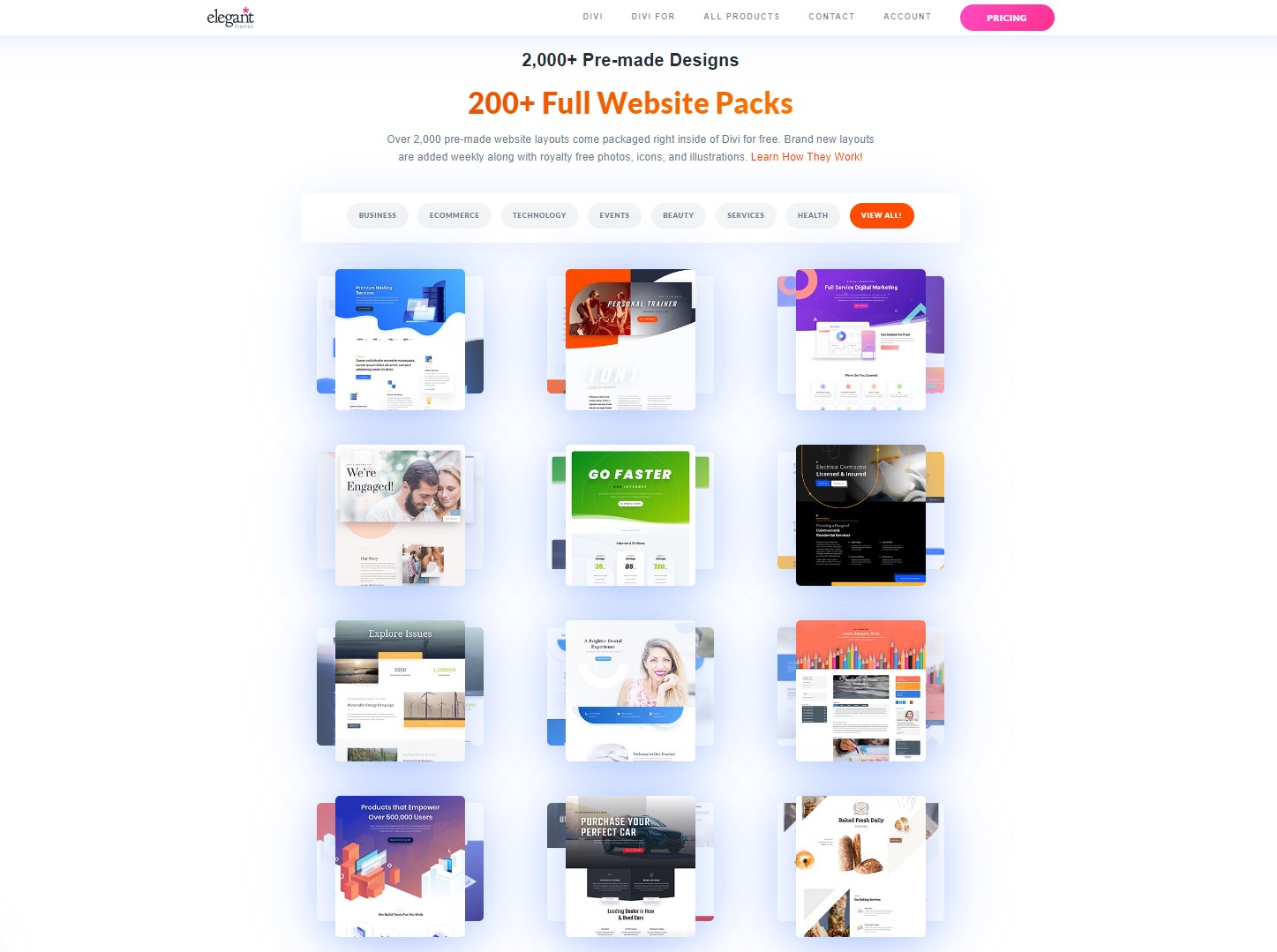 Flatsome
Flatsome is a premium WordPress theme specially designed for WooCommerce websites; thus, most of its demo websites are designed based on online shops. It has an amazing collection designed for different kinds of online shops on Flatsome demo websites.
The theme also included business and corporate website demos in its collection. Any of these demos can be downloaded with a single click, and you can create a fantastic WooCommerce or business website in no time!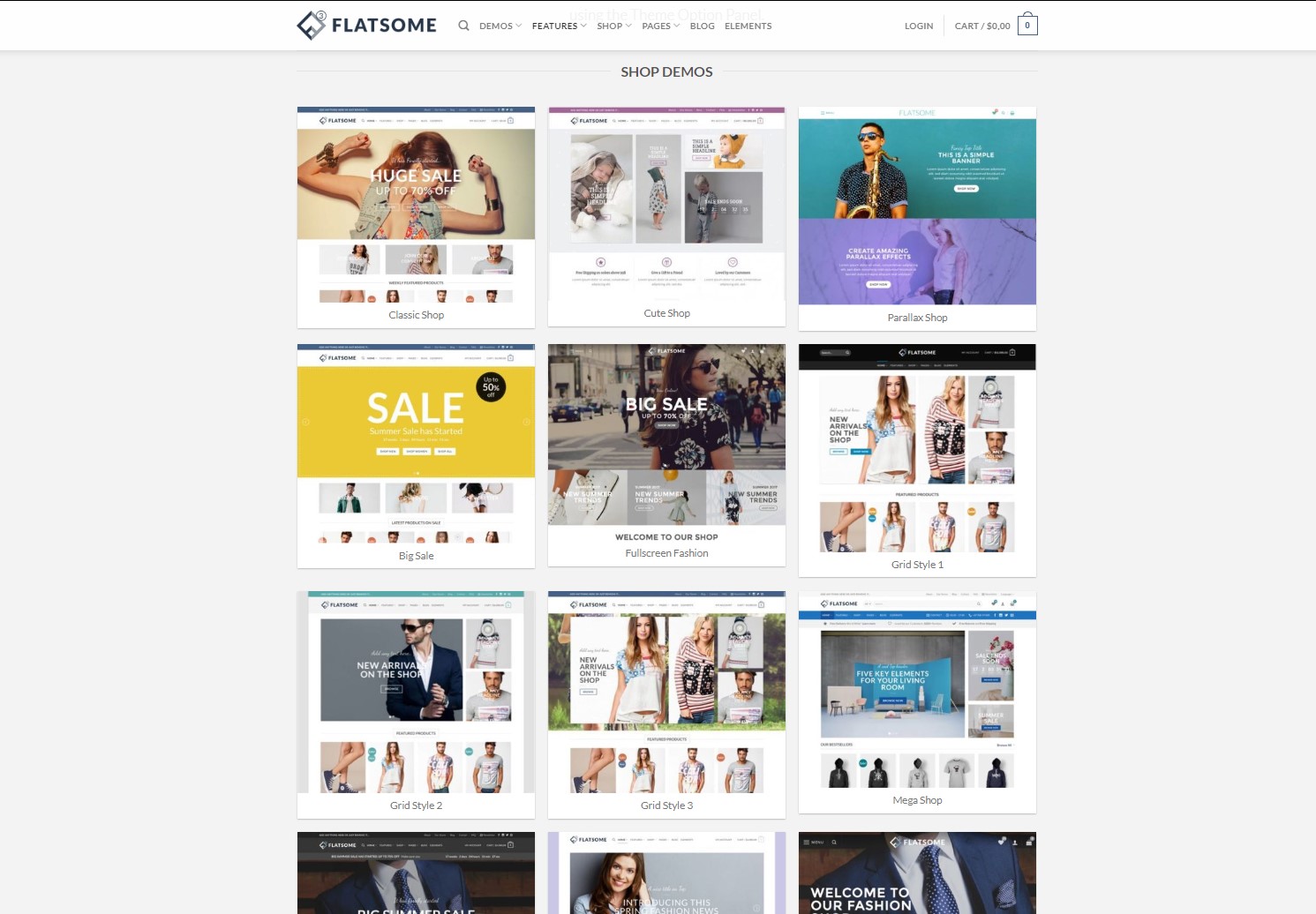 Divi vs Flatsome: Ease of Access
Divi
The Divi theme comes with endless features and options. Each of these can be used properly due to the Divi theme's interactive user interface. It provides every single tool and element you may need to create a stunning and dynamic WordPress WooCommerce website. It is easy to enable or disable any options using the theme options panel. 
Divi includes a parallax scrolling effect. Sticky header, quick view, etc., to make navigation beautiful and smooth through the website for your users. It also has drop shadows to make particular content more highlighted and readable.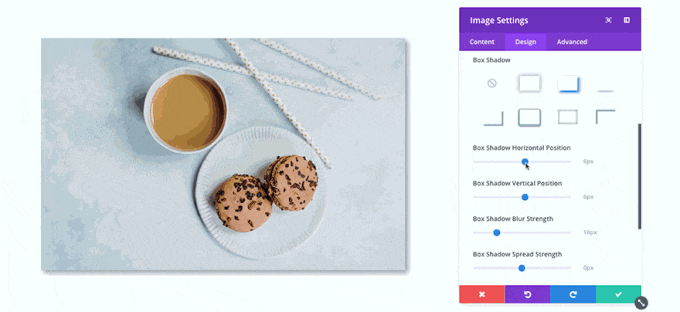 Flatsome
The Flatsome theme has a unique and user-friendly interface that puts each element and option at hand just when needed. You can build everything from scratch allowing you to provide your user maximum comfort. Its superb header builder gives you the functionalities to build an informative header with flexible navigation for users. Also, the product quick view, smooth scrolling, awesome animations, built-in live search, single-page navigation, etc., adds extra sensibility to your website, making it more user-friendly.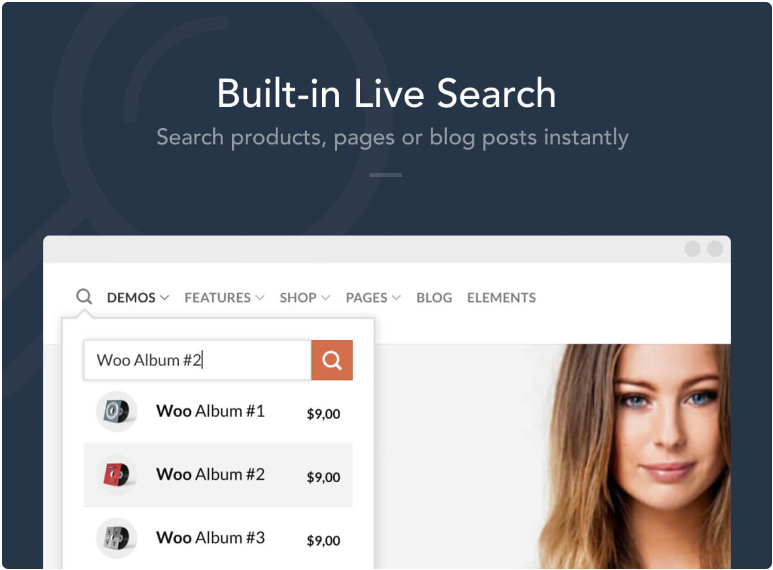 Divi vs Flatsome: SEO Friendliness
Divi
Divi theme is among the finest SEO-friendly WordPress themes. It includes more features than most WordPress theme that helps to make your website perfectly SEO-friendly. Divi has clean, SEO-optimized code and lightweight loading speed, which both boost your SEO ranking efficiently.
Divi is structured in a way that your published content will automatically be SEO-friendly, thus engaging more people every day. The WordPress SEO plugin Rank Math has great support for the Divi theme also.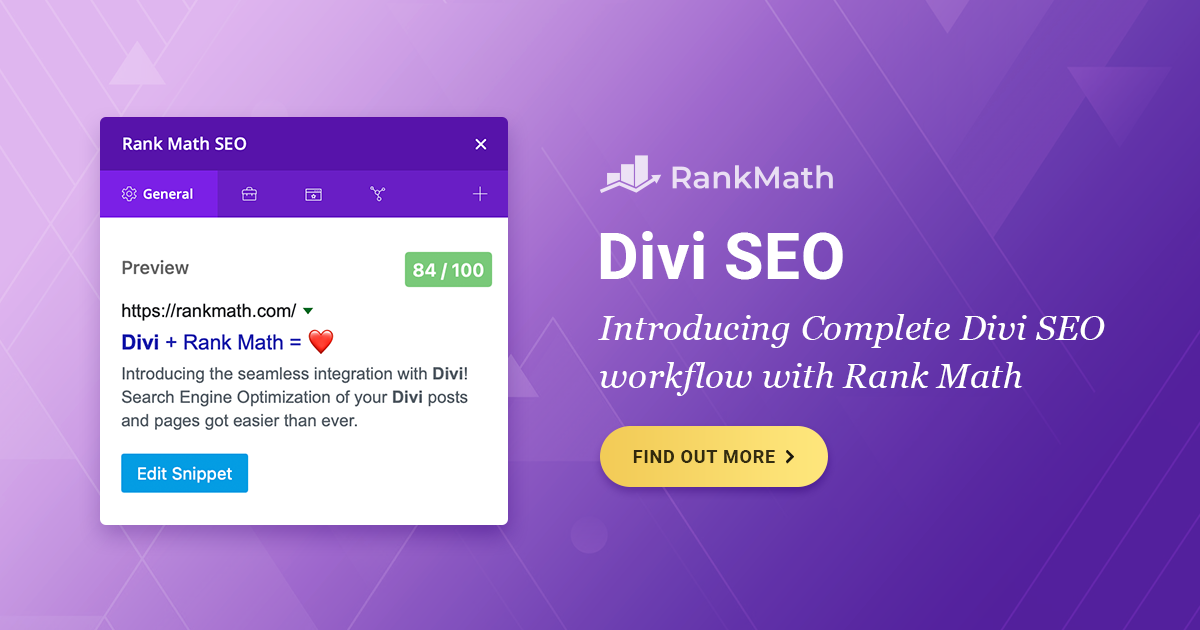 Flatsome
Flatsome theme's SEO-optimized code takes your website's SEO to the next level. Also, it supports the most powerful WordPress SEO plugins you can use to boost your website's SEO and achieve top ranking in the Google search engine. Flatsome's straightforward and clean coding gives it a speed boost, thus giving it better SEO optimization.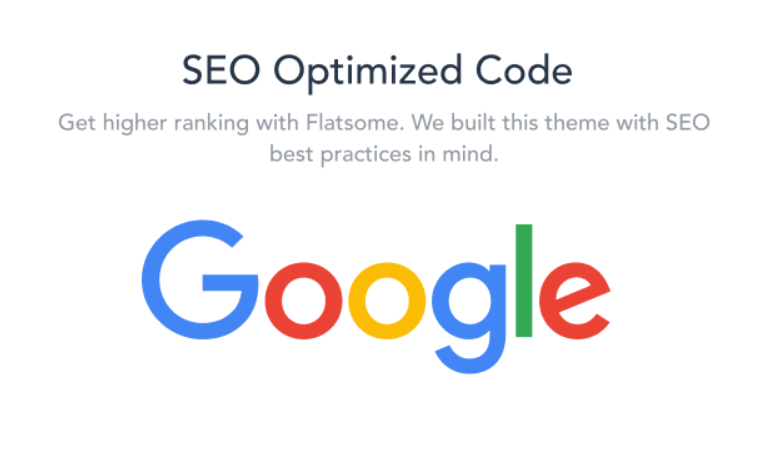 Divi vs Flatsome Comparison: Customization Options
Divi
Though the Divi theme is highly customizable while building your website with the Divi builder, it offers lesser theme customization options than the Flatsome theme. You will be offered general customization options like primary menu, secondary menu, mobile styles, color scheme, etc.
You can also find button settings and basic WooCommerce settings in the theme customizer. You can easily create a WooCommerce variable product in the Divi theme.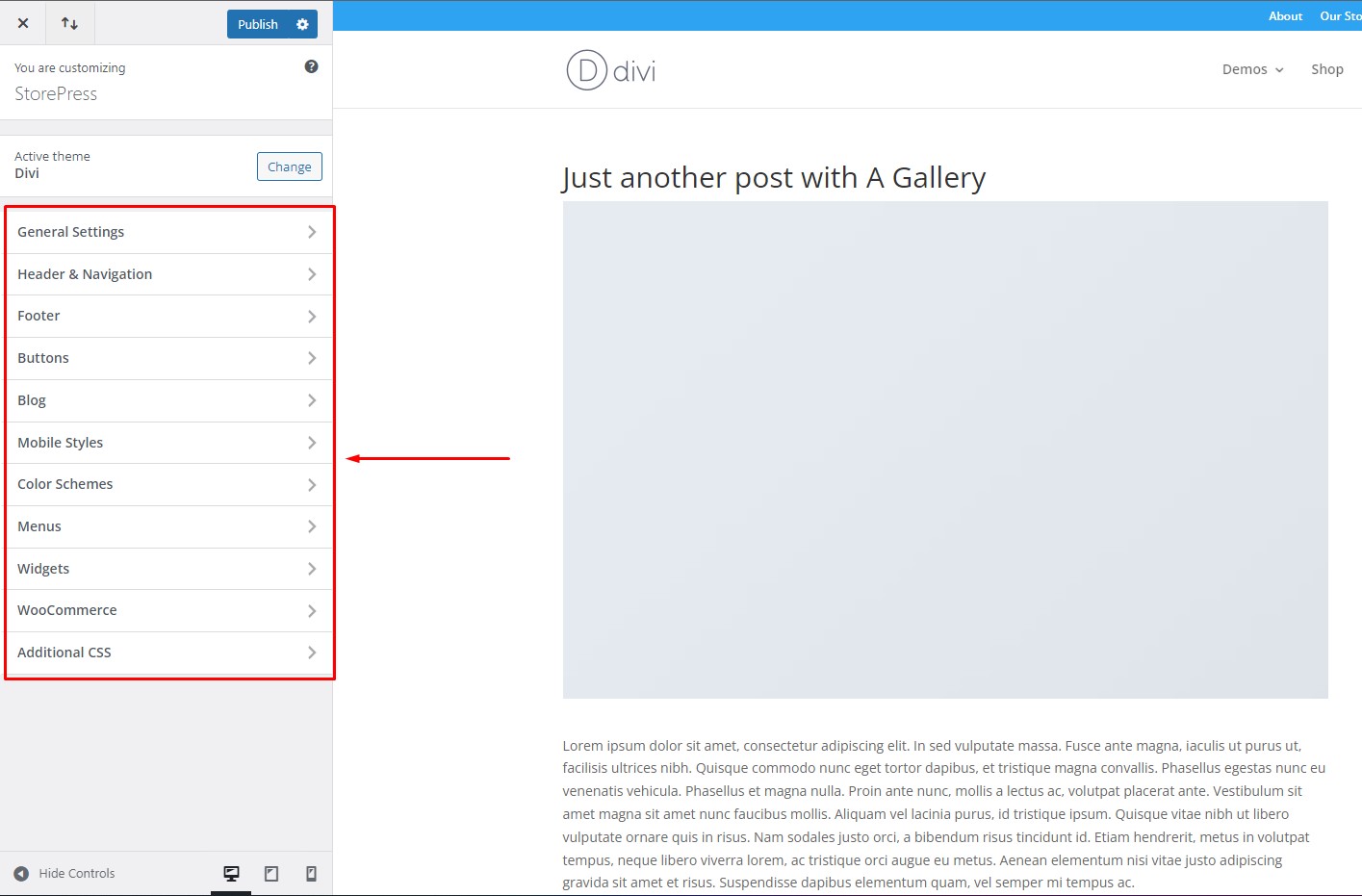 Flatsome
Flatsome is the most customizable WooCommerce theme you can ever find. The theme customizer allows you to work on every part of the theme according to your development criteria. You can find many customization options for each theme section in the theme customizer.
You can design your own header, footer, and shop layout, and also customize the elements they contain, even you can customize product page WooCommerce easily. In a word, the Flatsome theme enables you to customize each element of each section to your satisfaction.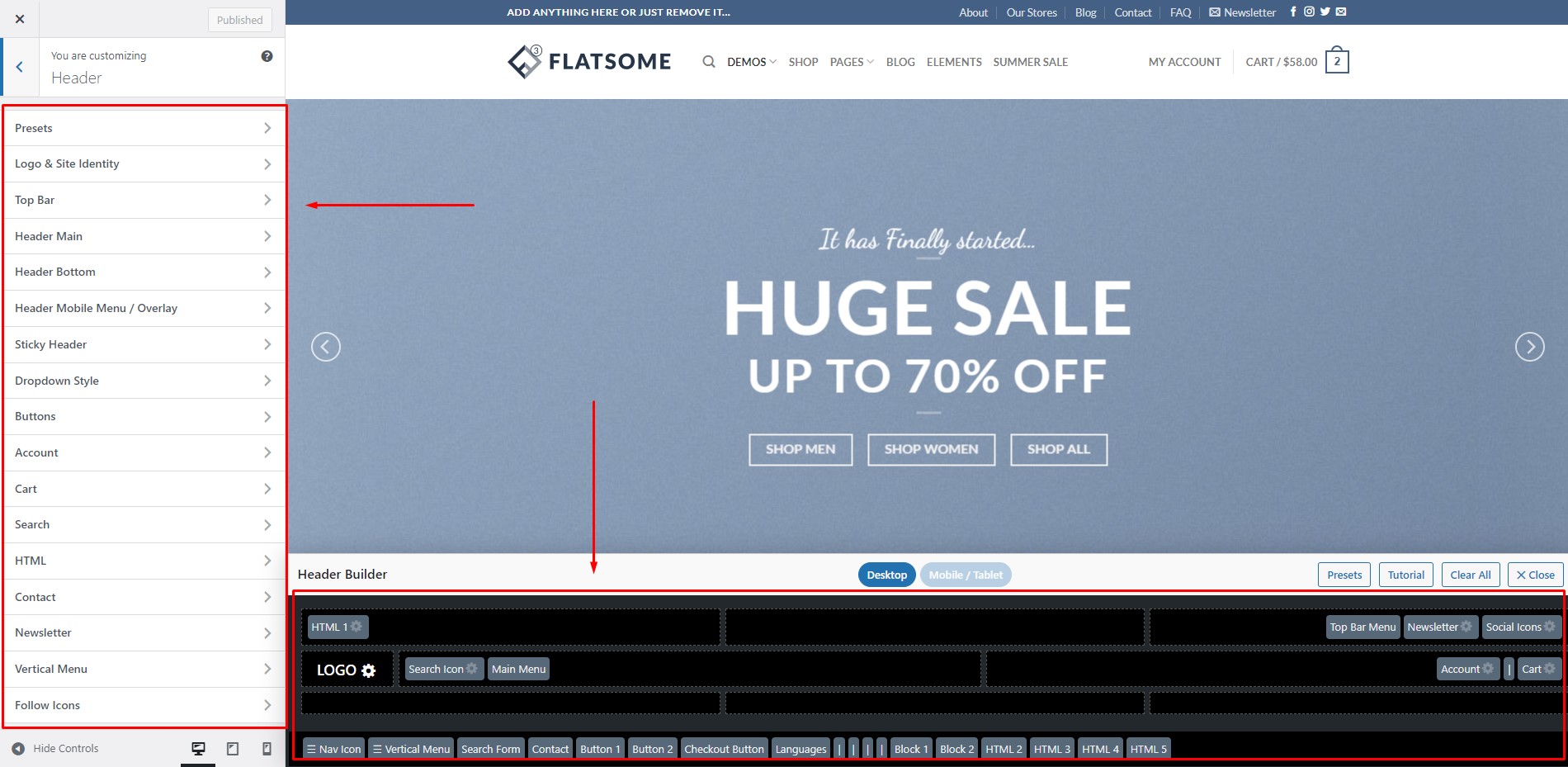 Divi vs Flatsome Comparison: Page Builder Integration
Divi
The Divi theme is integrated with an excellent visual builder that takes website development to a whole new level. The Divi visual builder has 40+ design elements to create beautiful and feature-rich sections. You can customize and build your pages while you see the changes in real time.
This visual builder has unlimited customization options for each module and element. It required zero coding knowledge to build pages using the visual builder.
Flatsome
Flatsome theme has integrated its revolutionary page builder, allowing you to build pages in real-time with tons of design elements. It contains 40+ elements for general content and other numerous WooComommerce elements.
Flatsome page builder allows you to customize each and every module according to your need. Creating and customizing with Flatsome is faster, smoother, and creative in every way.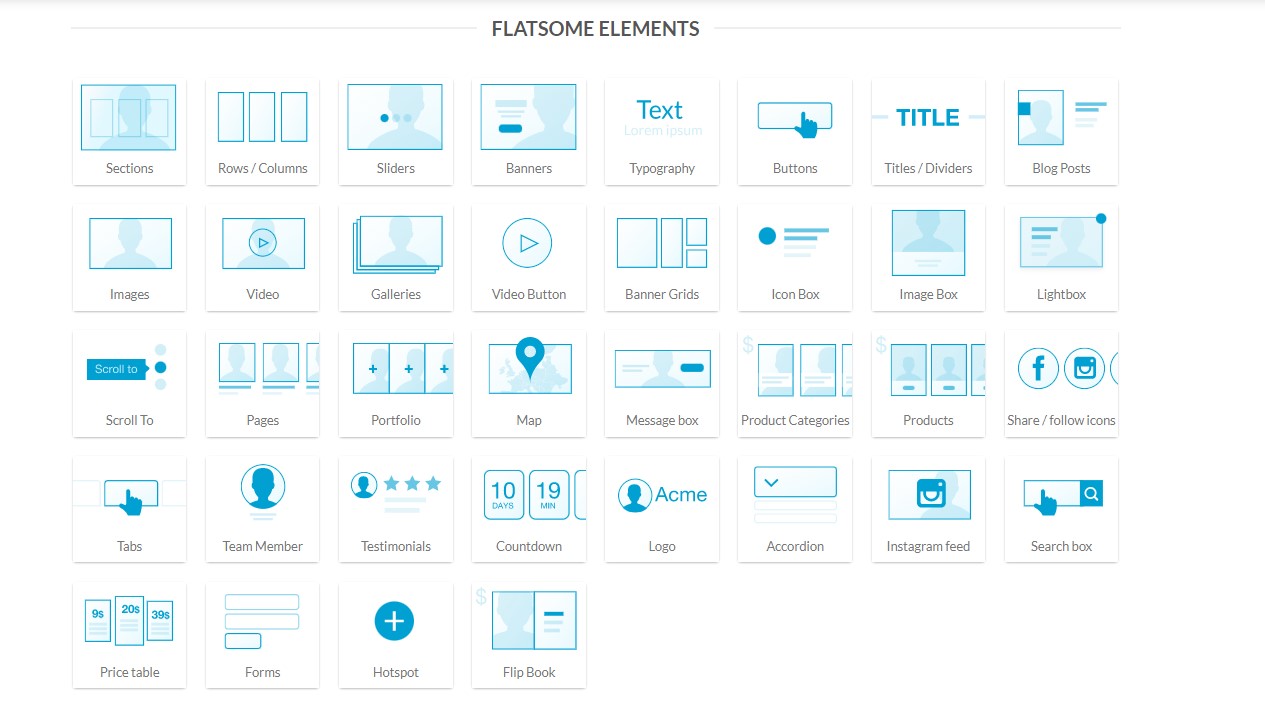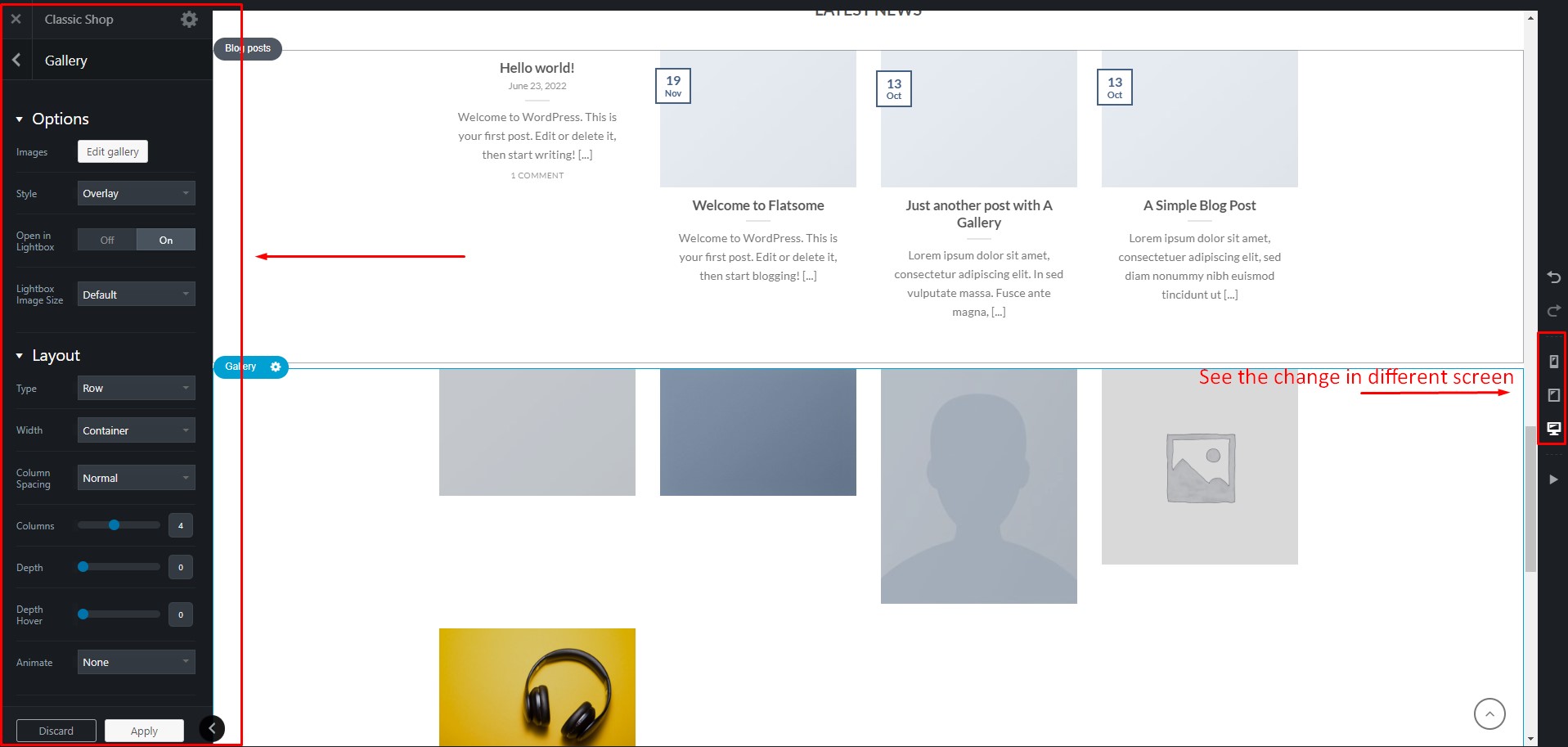 Divi vs Flatsome Comparison: Page-Level Controls
Divi
Divi theme included fewer options in page settings compared to other premium themes. In Divi page settings, you can set the page layout to the right sidebar, left sidebar, or no sidebar. You can also choose to hide the nav before the scroll. Most of the top Elementor Themes WordPress have similar page settings.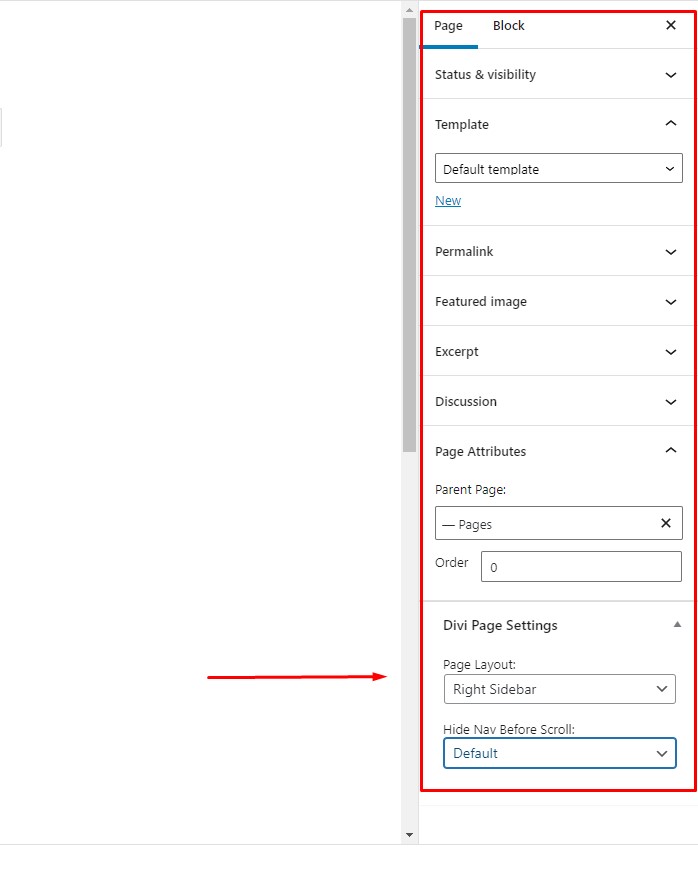 Flatsome
In Flatsome page settings, you can find options like page template, parent page, order, etc. You can also choose footer type for individual pages in page settings. Another interesting feature is you can add a featured image for your page.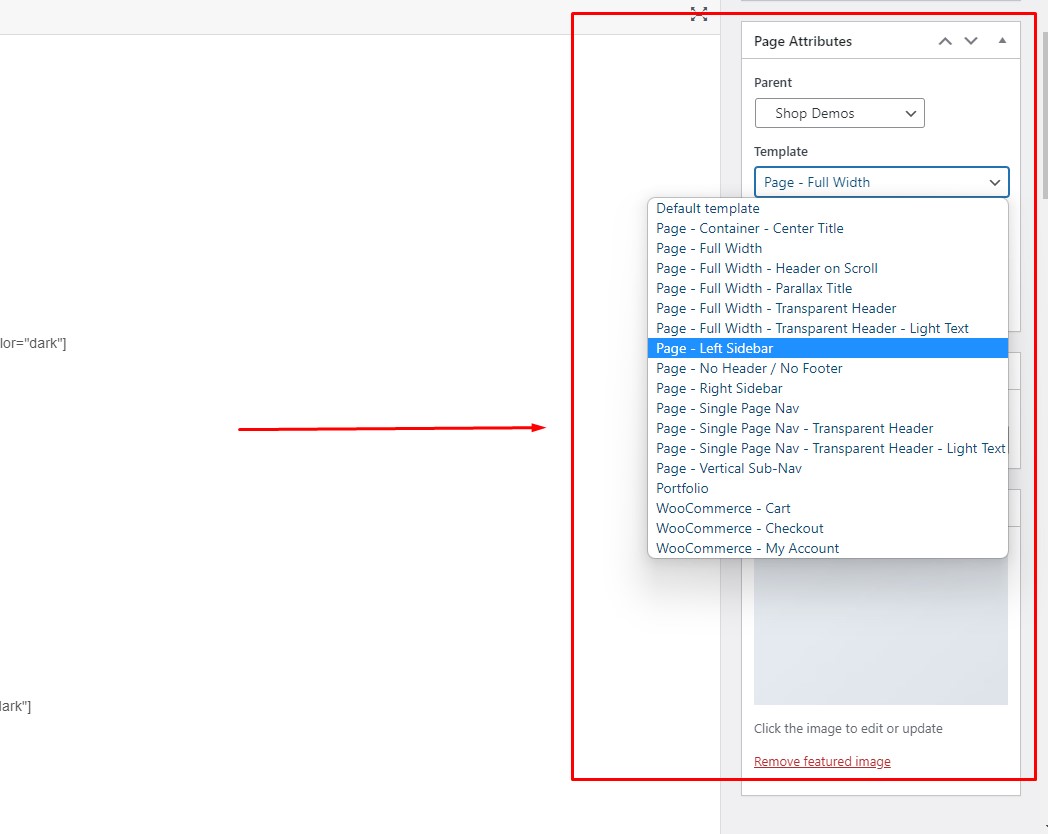 Divi vs Flatsome Comparison: WooCommerce Integration
Divi
Divi theme is well integrated with WooCommerce, but there are fewer customizations for WooCommerce than expected. From the theme customizer, you can only work with a few basic options like store notice, product catalog, product images, etc.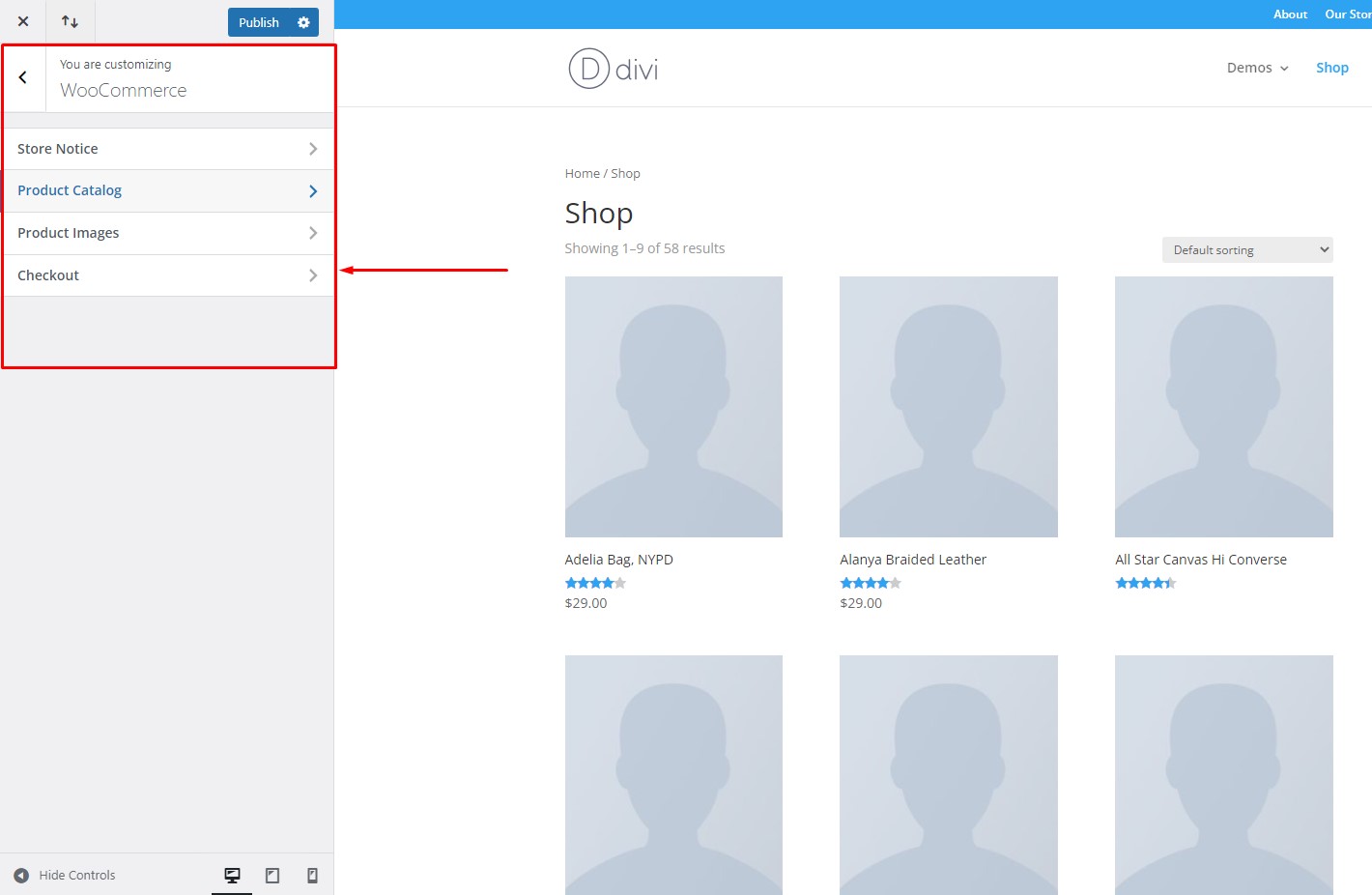 Flatsome
There is no doubt that Flatsome has more customization with WooCommerce than any other theme because Flatsome is specially designed to build WooCommerce stores. You can customize each WooCommerce section like checkout, cart, product catalog, single product, payment icons, etc. Even you can create a child theme with the help of the Flatsome theme. You will also have additional WooCommerce elements in Flatsome's page builder to display the website's mega menu', products, and categories per your need. So it is fair to say that the Flatsome theme integrates better with WooCommerce than the Divi theme.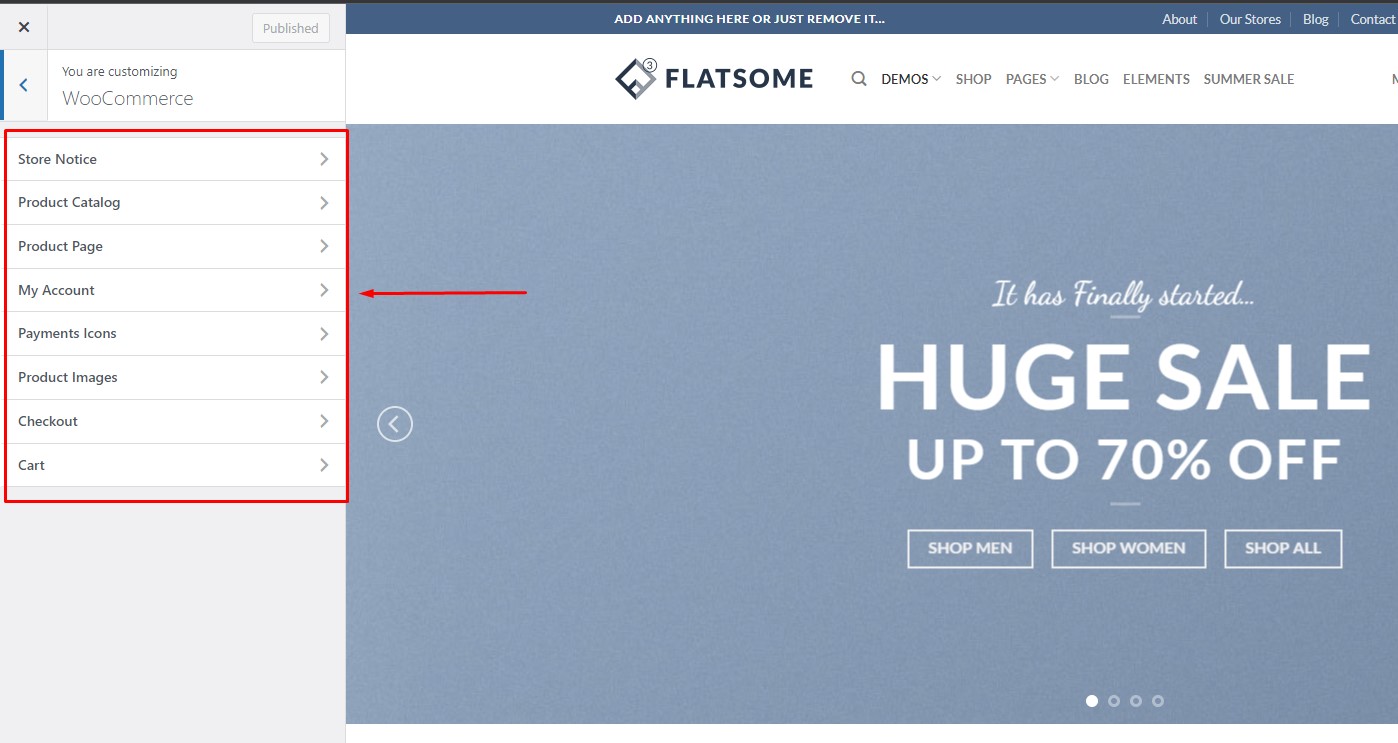 Divi vs Flatsome Comparison: Speed & Performance
Divi
The Divi theme is super fast and lightweight in performance. It scored 100 Pagespeed Insights and obtained an 'A' in the popular GTMetrix, which is used to optimize website speed. Although there are different kinds of faster WordPress themes, Divi is super fast according to the picture below.
The theme also scored 100 in both performance and structure. So undoubtedly, the Divi theme is one of the super fast and high-performance WordPress themes on the market.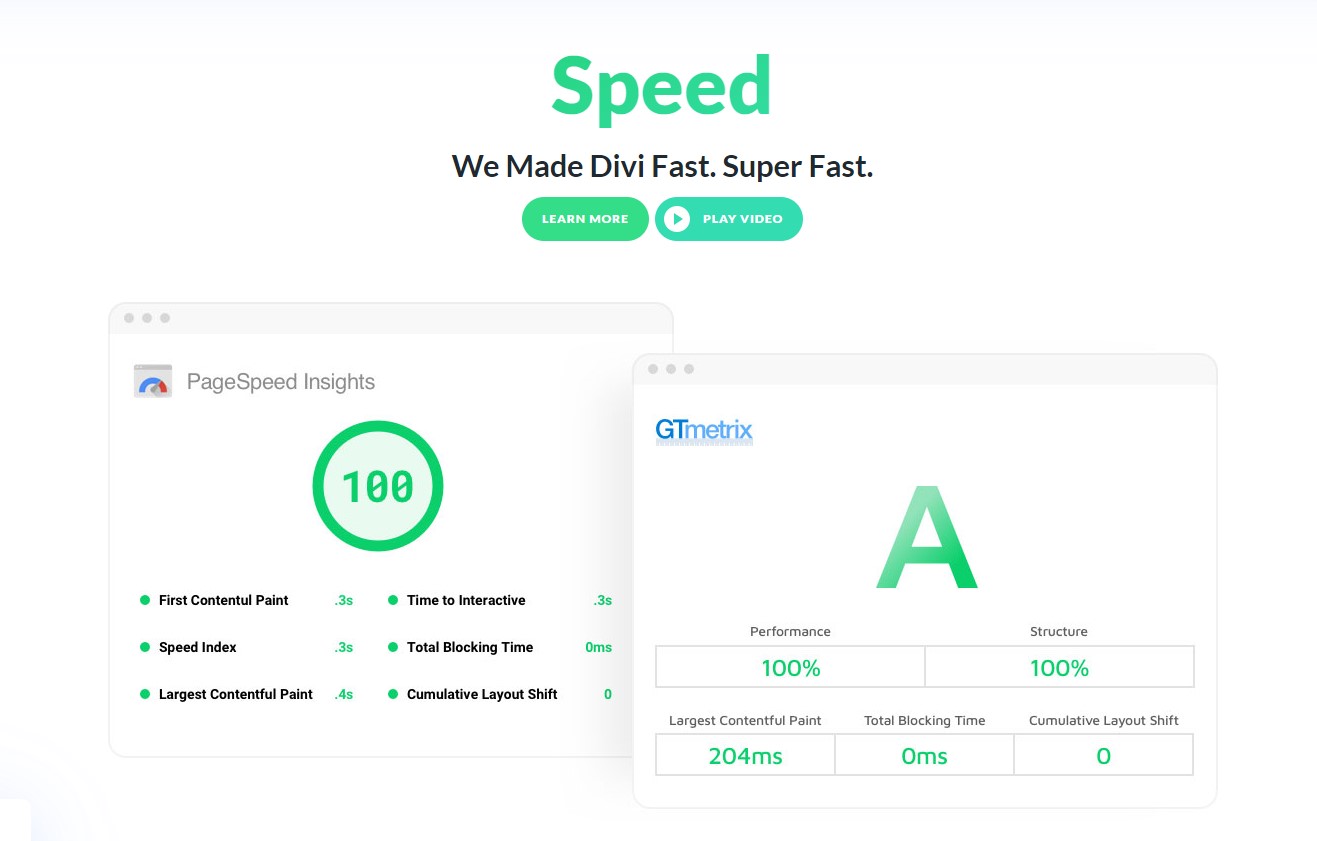 Flatsome
Flatsome is not behind anyone when it's to speed and performance. This super speedy and high-performance theme scored 100 out of 100 on Pagespeed Insights. This theme scored grade A and 100 out of 100 in both performance and structure.
Flatsome's new edition comes with 65% smaller javascript core files making the theme lightning fast.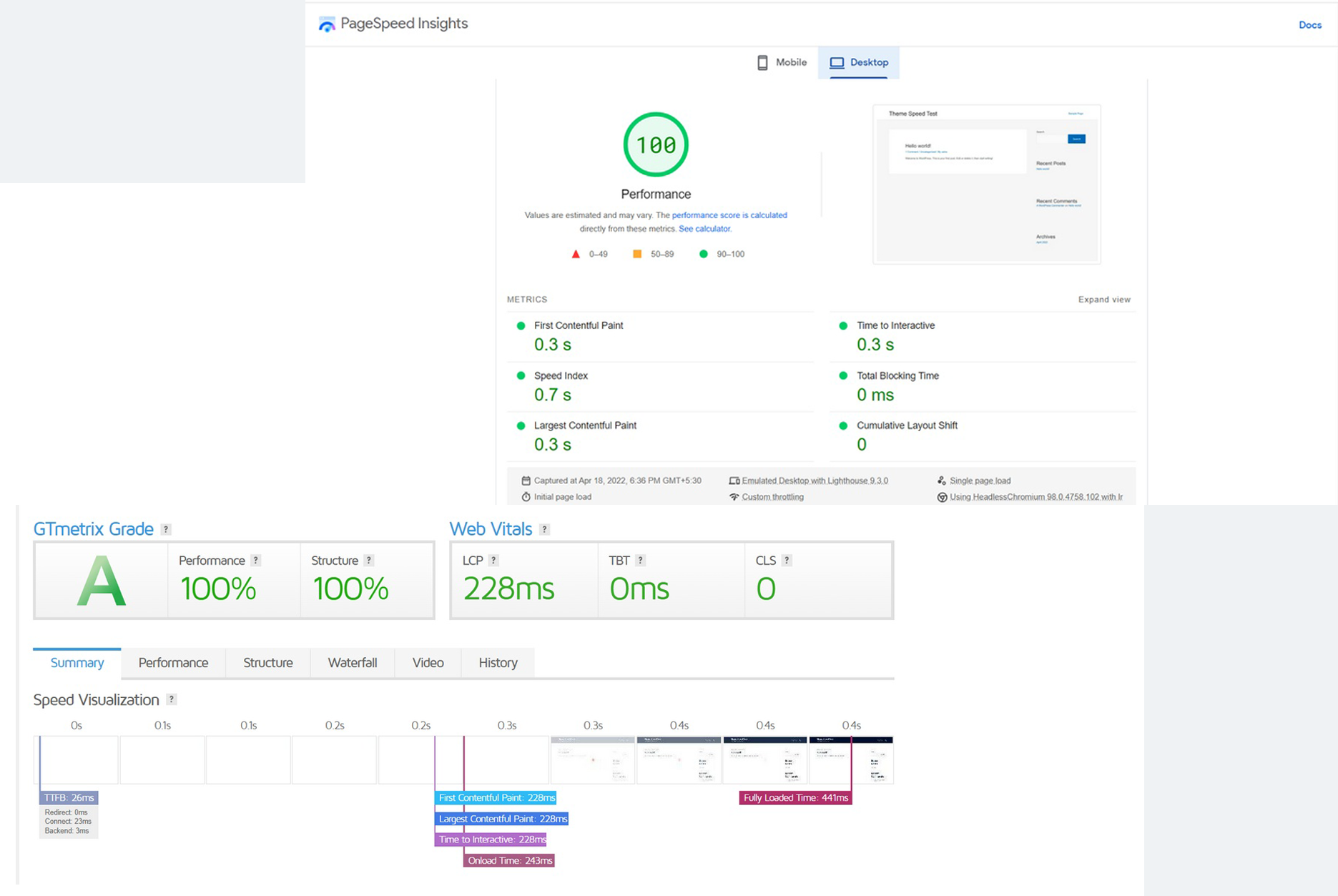 Divi vs Flatsome Comparison: Pricing
Divi
You can buy the Divi theme from its website for a yearly fee of $89. If you don't like renewing the theme each year, you can purchase the theme with lifetime access for a one-time fee of $249. In both packages, you will get access to Divi, Extras, Bloom, and Monarch alongside other facilities like customer support, updates, unlimited website usage, etc.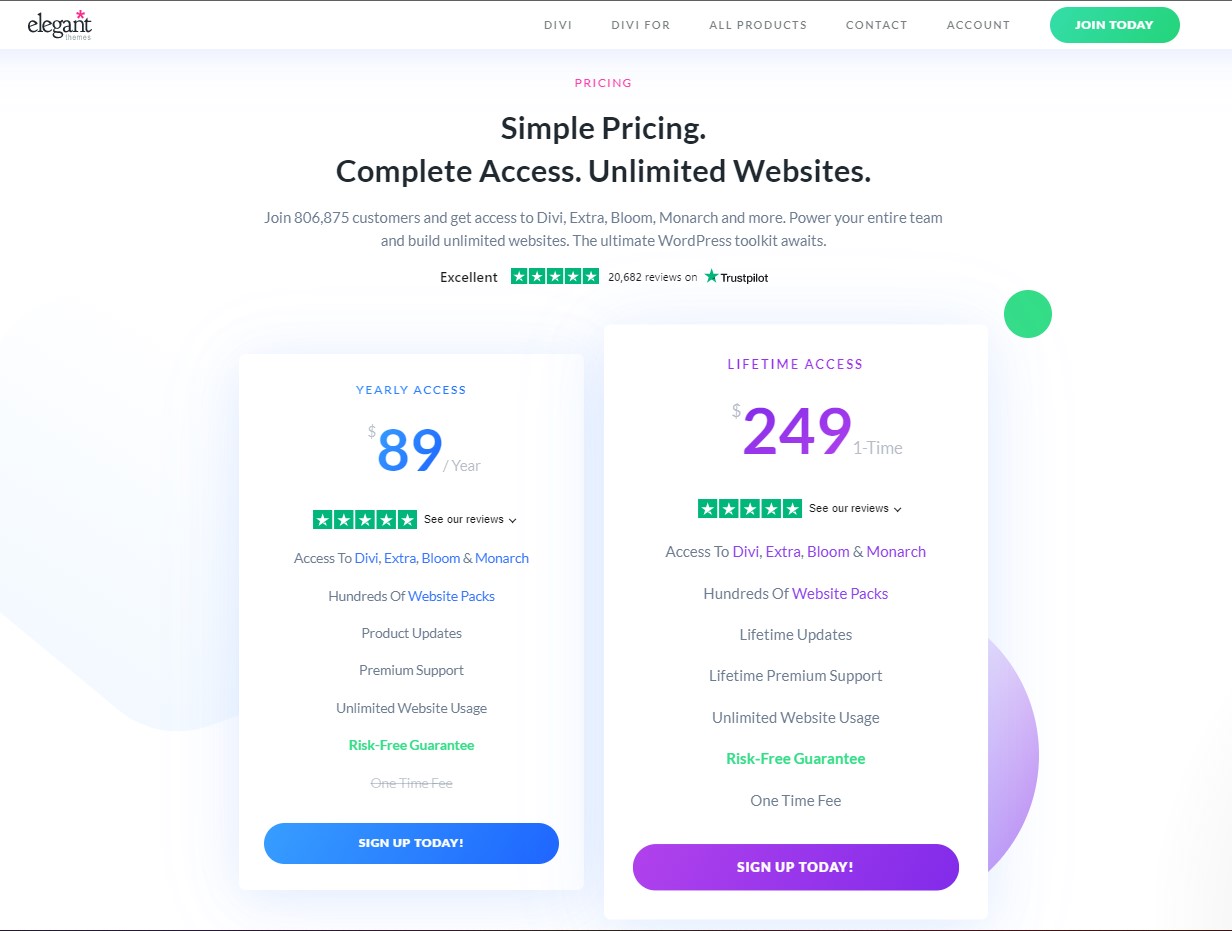 Flatsome
You can purchase the awesome Flatsome theme for just $59, and with an additional $17.63, you can extend the customer support to 12 months. So it's fair to say that, with all the exciting and powerful features, Flatsome is much cheaper than the Divi theme.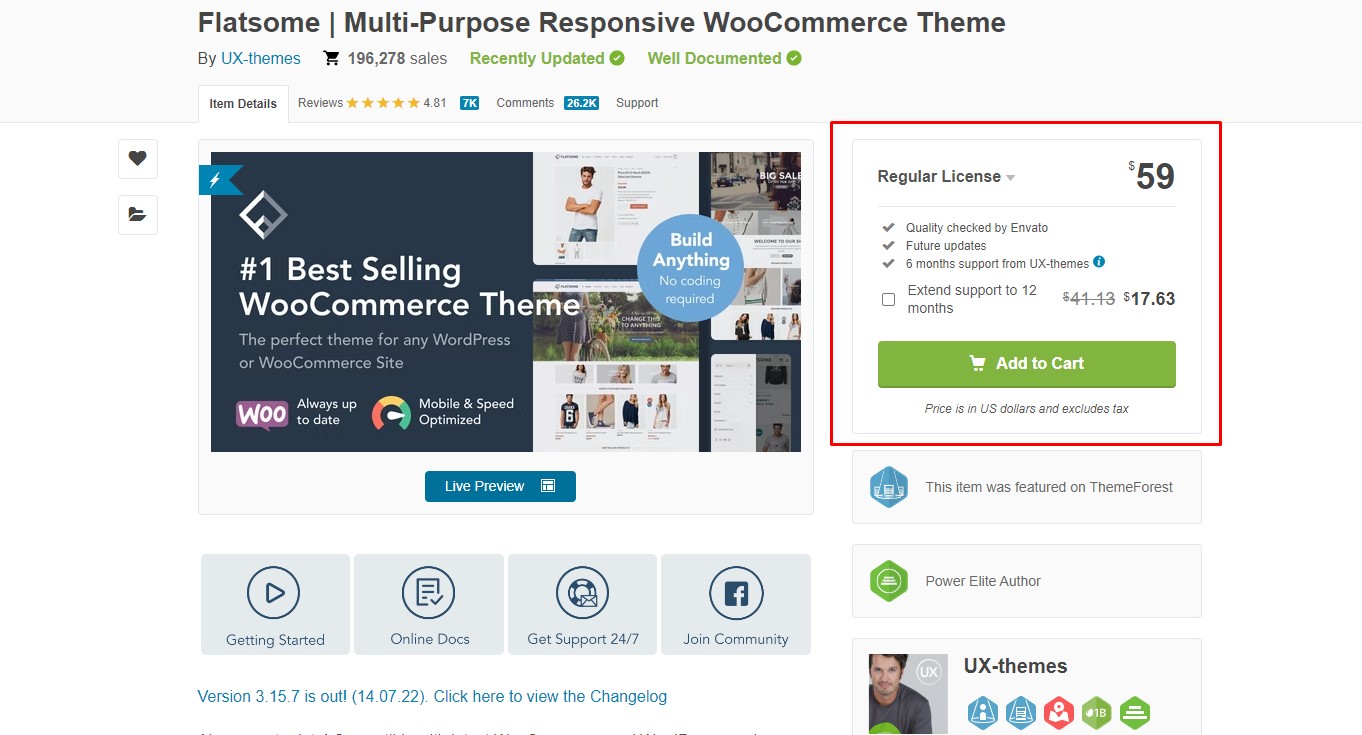 Conclusion
In this article, we have discussed different aspects of both the Divi and the Flatsome theme. Whereas both themes are highly customizable and provide excellent performance, the Flatsome theme is ahead of the Divi theme in almost every aspect. The Flatsome theme easily beats Divi when building a WooCommerce store.
On the other hand, the Divi theme is quite good for business and corporate websites since it has more demo websites and detailed customization options. So when you are creating a fantastic online store, you can choose the Flatsome theme with your eyes closed.
If it's about creating a corporate or business website, feel free to pick anyone among the Divi and the Flatsome theme. Feel free to check out our article on Astra vs Flatsome comparison.