Choosing the best web hosting solution for your WordPress website is of utmost importance because your website's speed, performance, and availability depend on it. There are various different kinds of hosting solutions available, and you need to select the one that is reliable and provides world-class performance. This article is on DreamHost review, one of the best WordPress hosting website that has been serving people for almost two decades. In this article, we will discuss the pros and cons of the Dreamhost hosting service alongside its performance to guide you choose the best hosting solution. 
Dreamhost Review: Introduction
Dreamhost is a web hosting provider company and is considered one of the most popular hosting services. Dreamhost has been providing hosting services for 18 years and is loved by many for its easy and flexible hosting plans and services. Like other web hosting companies, Dreamhost has all the latest technologies. WordPress officially recommends Dreamhost as a trusted and reliable hosting service. Currently, they are hosting over 1.5 million websites.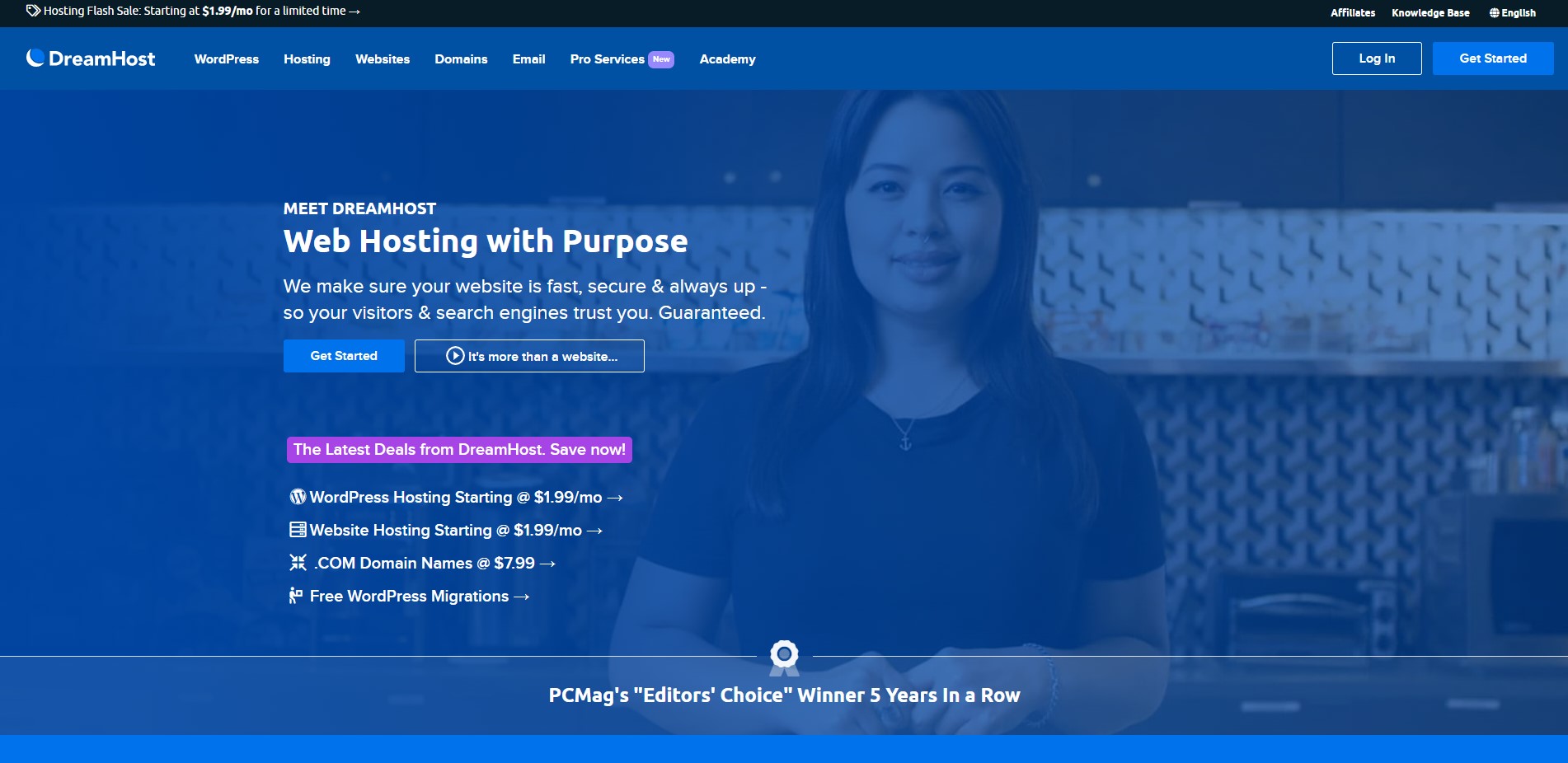 Dreamhost Review: Pros and Cons
Pros
Dreamhost is an award-winner hosting service company. They received the PCMag Readers' Choice Award for best-hosting provider company. They also have a high rating for technology and reliability.

Unlike other hosting companies, Dreamhost offers a money-back guarantee within 97 days, which is considered a long period. 

Dreamhost offers free domain registration and owner privacy with each of its hosting plans.

Paying bills is a lot easier in Dreamhost than in any other hosting company. You don't need to pay a setup fee and are also able to pay the hosting fee on a monthly basis. 

Dreamhost offers daily automatic backup with each hosting plan, making your data safer and secured.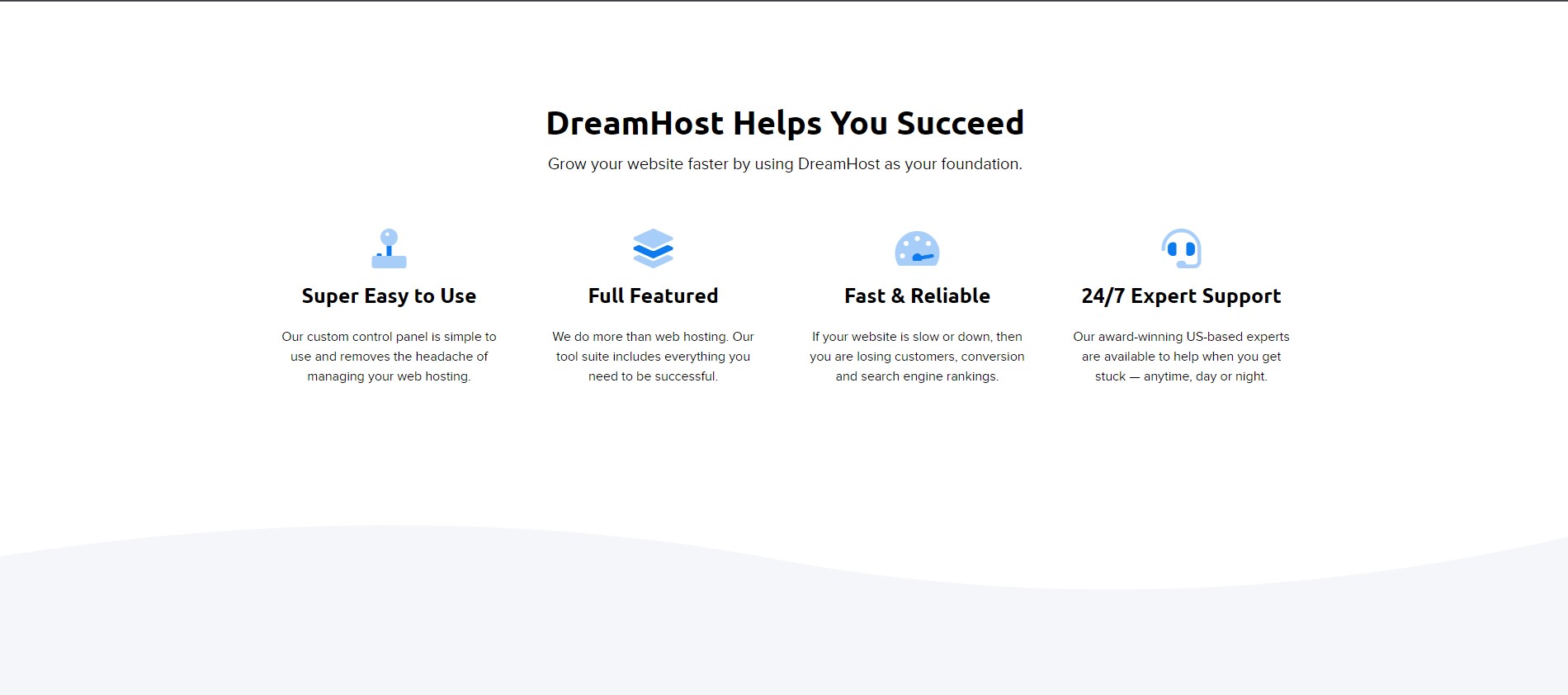 Cons
Dreamhost doesn't offer any email accounts for the starter plan, which can be considered a drawback.

Dreamhost has integrated live chat support with specific times and has a ticketing system using email. Though they provide 24/7 customer support, the support isn't immediate. 
Dreamhost Review: Types of hosting
In this section of the Dreamhost review, we will discuss the type of hosting it provides. Dreamhost provides hosting for almost all types of web services. They have a specialized specifically. They also have shared hosting, VPS hosting with ultra-fast SSD, dedicated hosting, and cloud hosting. Dreamhost also has a WordPress website builder you can subscribe to and start developing WordPress websites with no coding skills. You can host a WordPress website with this, created using any top Elementor Themes WordPress.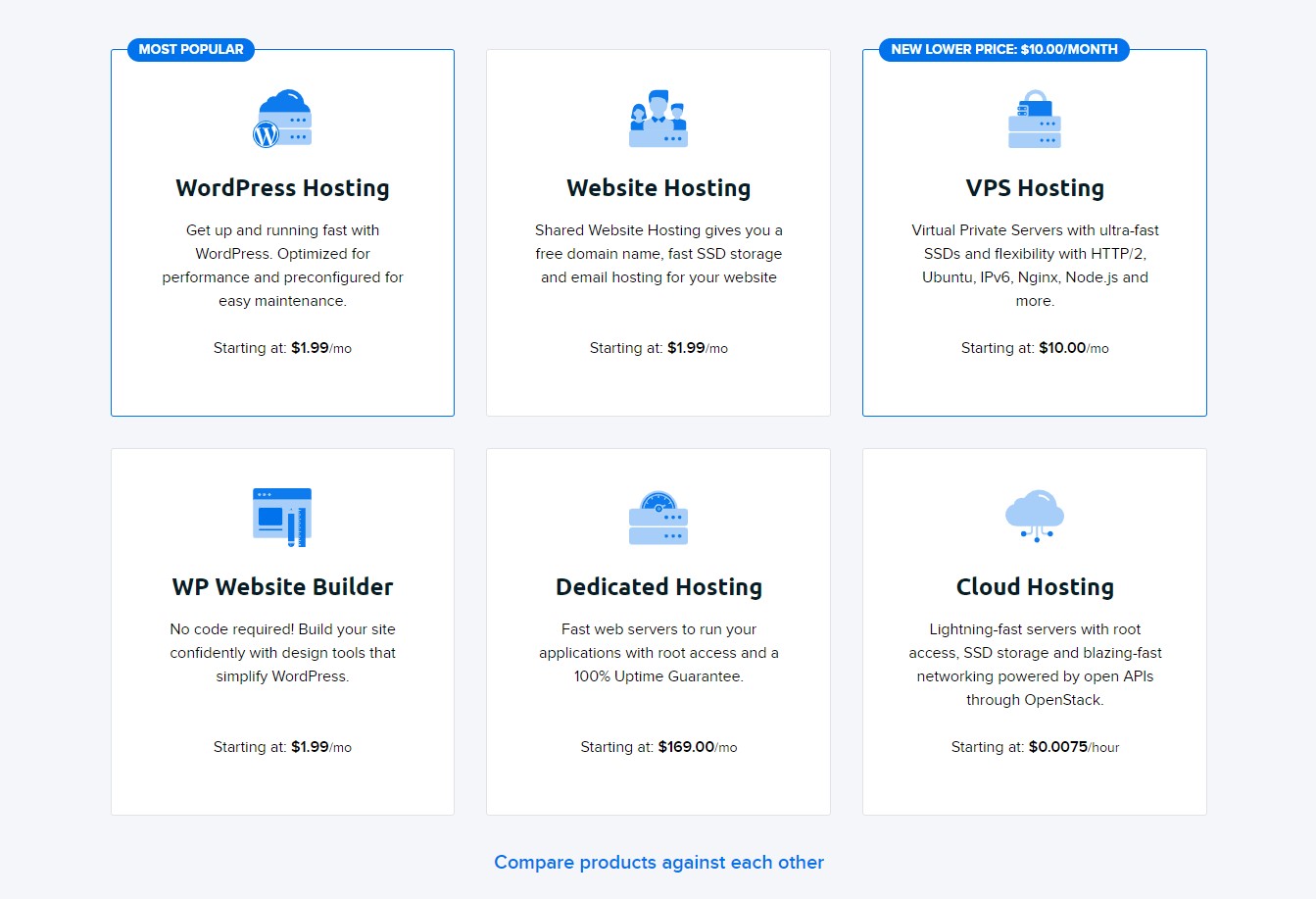 Dreamhost Review: Performance
In the performance section of the Dreamhost review, we will discuss the speed test, stress test, response time, and uptime to analyze its performance.
Speed Test
Speed matters most regarding the performance of a website and the hosting service. A website hosted by Dreamhost loads within half a second which can be considered lightweight and fast performance. In a speed test, Dreamhost scored 95 /grade 'A' with a page load time of 335 ms, which proves Dreamhost to be faster than most hosting services. You can use this hosting with or without faster WordPress themes as you can see its speed test below.
Stress Test
The stress test analyzes how a website performs under heavy traffic during peak offers. The purpose of this test is to identify how well a website can handle its busiest hours and traffic. According to the graph below, where the blue line represents page load time, and the light blue line represents the number of users, the site performed well, but the response time increased as the number of users went up. It can occur when Dreamhost's pre-configured WordPress caching solution is turned off. Basically, you need the best WordPress cache plugins to speed up your site, but in the case of Dreamhost, you don't need any extra plugins to speed up your site as it is already a super speed hosting provider.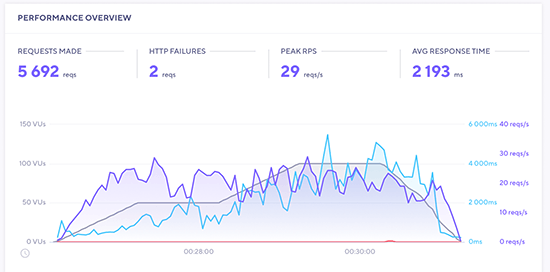 In the next image, we can see that the response time got much better even when the number of users increased due to the activation of the WordPress caching solution. So it is fair to say, Dreamhost provides you extra advantages when you want to host your WordPress website using their service.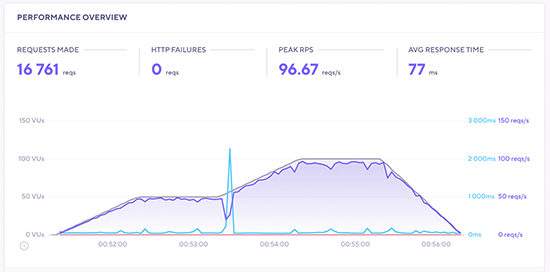 Response Time
In the response time test, the Dreamhost site is tested by making requests from various geographic locations. From the test result, we can see that the response time was stable throughout all the requests from different locations. The response time should also be steady for WordPress websites made with any WooCommerce WordPress free theme.

Uptime
Uptime is a considerably important aspect of an ideal web hosting solution. Everyone will want their website to be available on the internet for every waking and non-waking moment. In this case, Dreamhost is ahead of most the hosting solution providers with an admirable 100% uptime. This proves that Dreamhost is indeed a reliable hosting platform.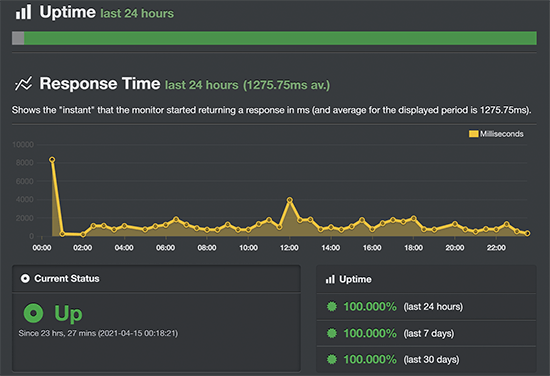 Dreamhost Review: User Interface
Dreamhost has an interactive control panel for its users. You can make anything possible related to web hosting using this intuitive dashboard. Its incredible user panel provides all kinds of features and supports to make the best of your Dreamhost service.  You can manage domains, email accounts, FTP, VPS, etc. You will also have a dedicated WordPress section in the dashboard where you can install WordPress using one click feature and manage your website.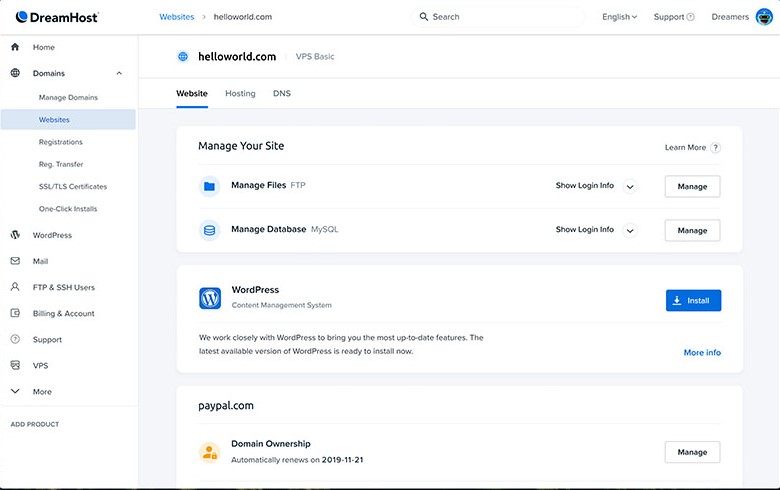 Dreamhost Review: Pricing and Plans
Dreamhost has detailed pricing plans for users of all capacities. Dreamhost has three basic plans divided into a few categories. You can get the Shared or Starter pack at the starting price of $2.95/mo. The Dreampress package starts at the price of $16.95/mo, and the starting price of the ultra-fast VPS package is $13.75/mo. All these packages and categories can be customized according to your need.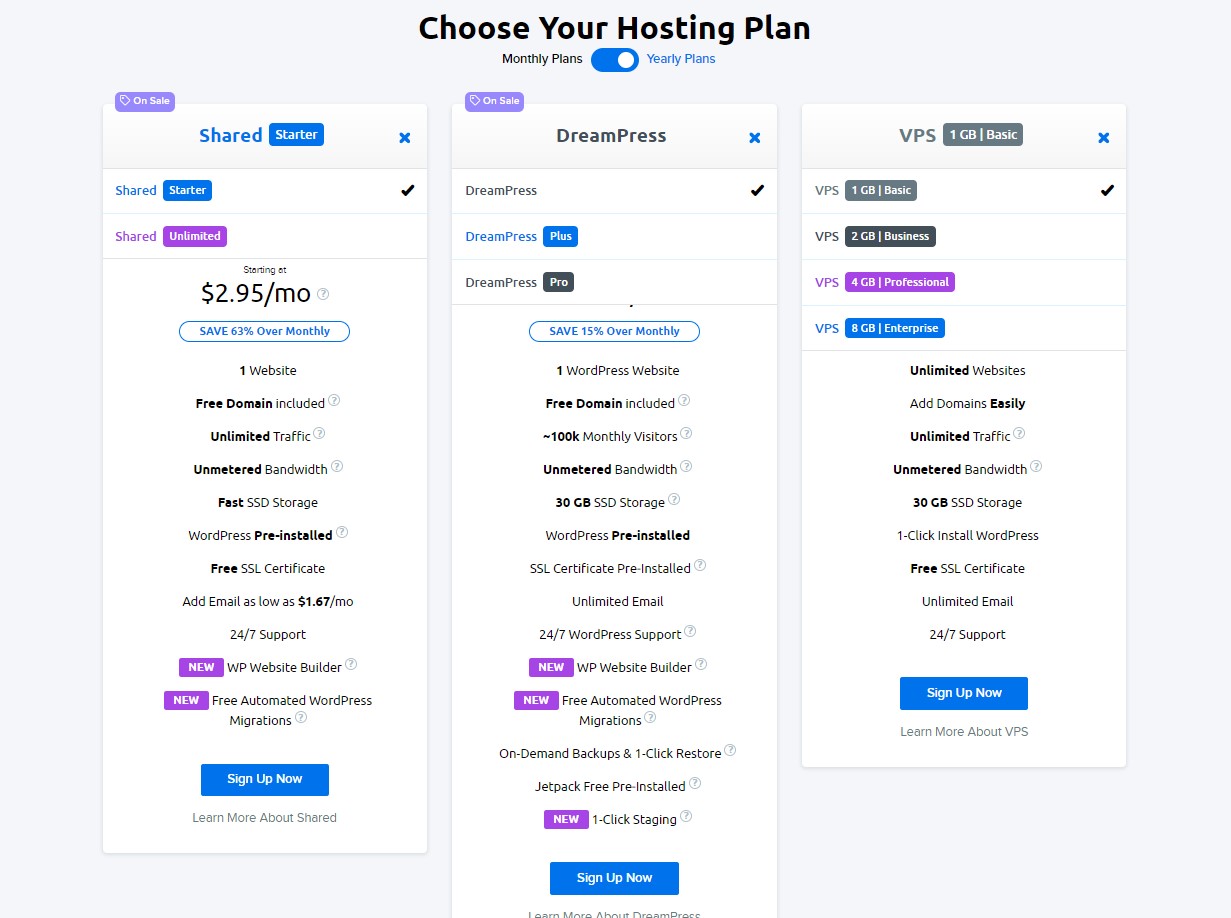 Conclusion
In this article, we have discussed various aspects of the Dreamhost hosting service. We have shed light on the facts why Dreamhost is the no.1 hosting solution for WordPress websites and other general websites.  The Dreamhost has everything that another hosting has but in much more quantities. This hosting solution has gained reliability and popularity through its high performance, incredible customer support, and affordable price. So, if you are looking for a hosting solution for your precious WordPress website, we recommend you choose the amazing service of Dreamhost hosting solutions. Feel free to check out our article on Rank Math vs Yoast SEO plugin comparison to get better insights on SEO plugins.