Do you want to add more product variation images to your variable product?
It is one of the easiest ways to understand the limitation of WooCommerce is the number of images you can have for a variation product.
One variation can have only one image!
What if you want more images of the variation products on the Flatsome theme?
You can't! WooCommerce by default doesn't allow you to add any extra variation images for your variable products.
It poses a problem for Flatsome-powered store owners who want to show their products from different angles or perspectives including color, size, style, etc. You can also use WooCommerce color swatches for variable products.
That's why you need an Additional Variation Gallery for WooCommerce Plugin. It enables you to include multiple variation images in your WooCommerce store. Additionally, you can completely customize your product image gallery.
The features of this plugin help to show a different set of images to visitors for product variations like Color, Size, and Style at the same time.
Add Multiple Attribute Product Variation Images for your Product
Follow the below steps to add extra variation images in WooCommerce –
Install and activate the plugin on your WordPress admin dashboard.
This step-by-step tutorial shows how straightforward it is to install a WordPress plugin.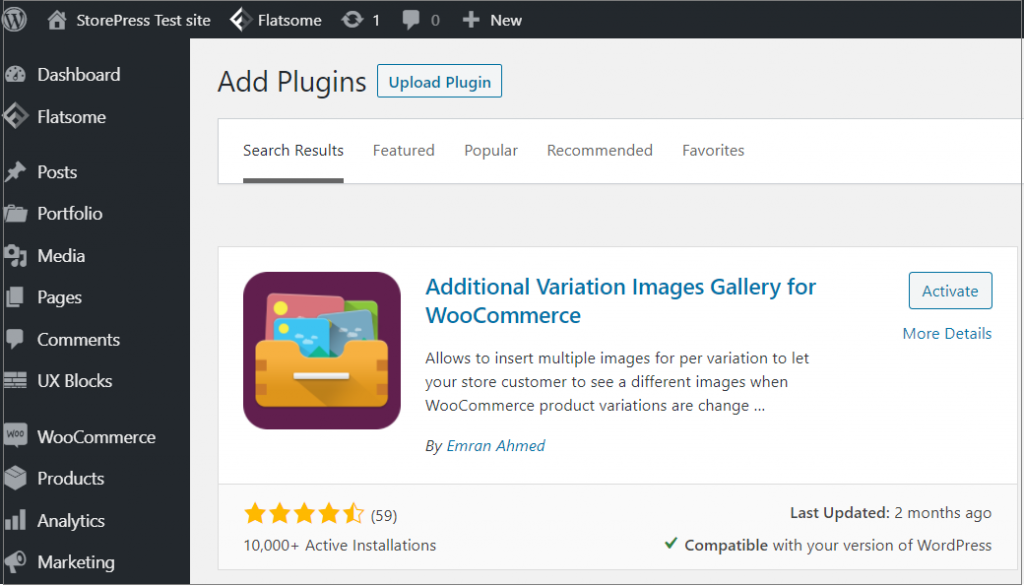 Once you have installed it, move on to uploading more variation images.
Head to All Products from the Products menu.
Edit your desired variable product if you want to add additional images.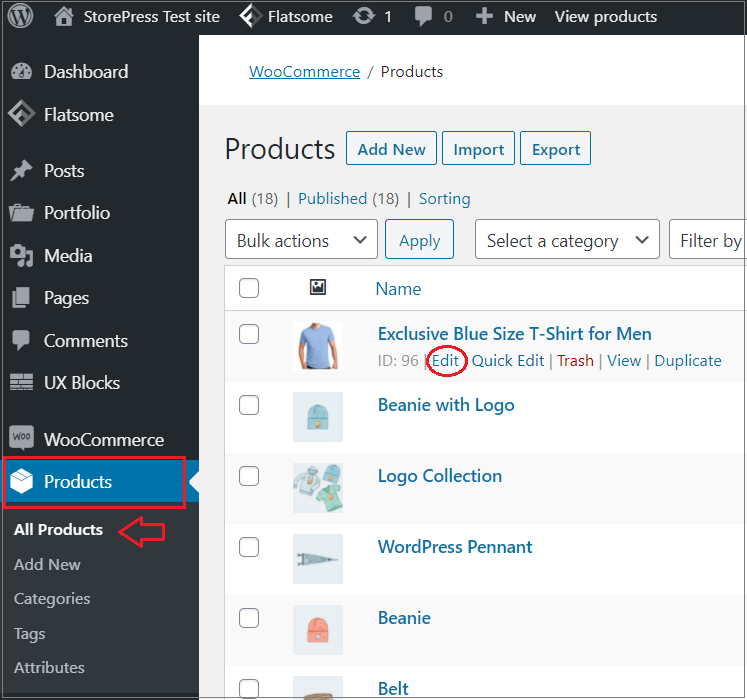 Now, scroll down to the Product Data section.
Click on the Variations tab on the left.
Expand the variation you want to add additional images to.
There is a new button 'Add Gallery Images.'
Select the variation image you want to add.
Once you have customized all your variations, Save changes your settings.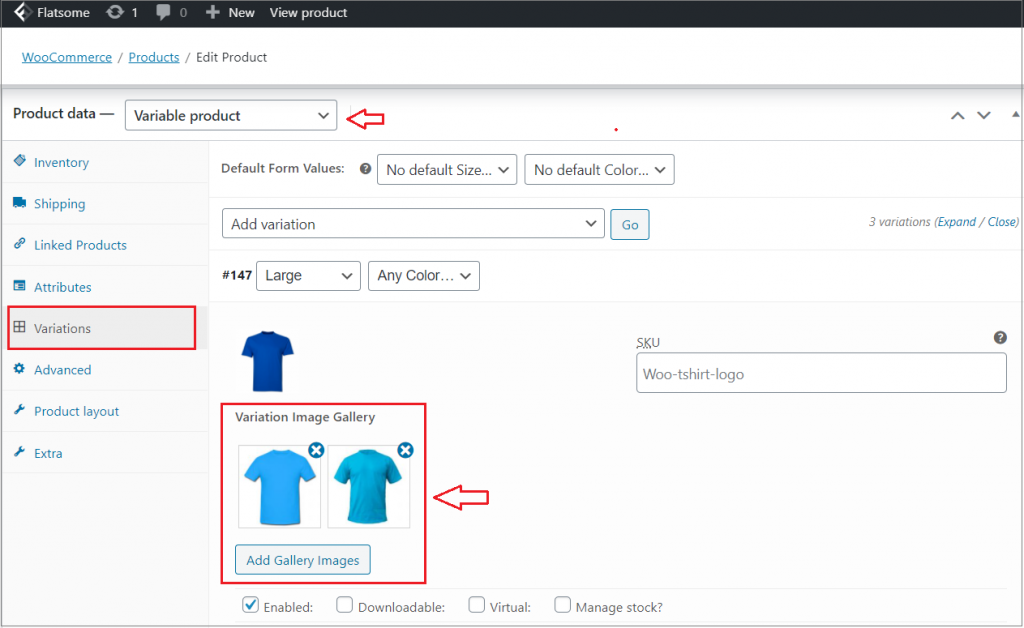 Once you add multiple images for your WooCommerce product attribute, you can re-order them by dragging them. Moreover, you can remove any unwanted images by hovering over them and clicking on the cross icon.
Note: by default the WooCommerce allowed you to add only a single image. WooCommerce Additional Variation Images Gallery plugin helped you to add the other two images. 
Let's check the view of the product frontend. There is a list of available images to that variation.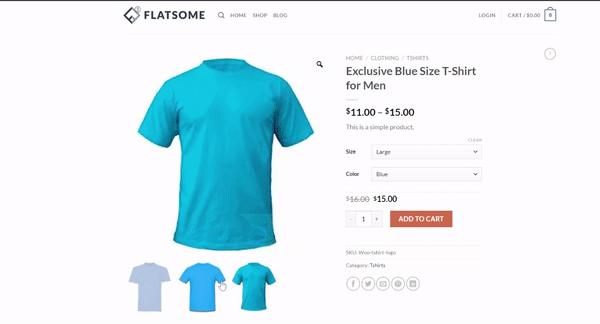 What if you want to add even more images to your variations? As the free version of this plugin allows you to add only 2 additional photos.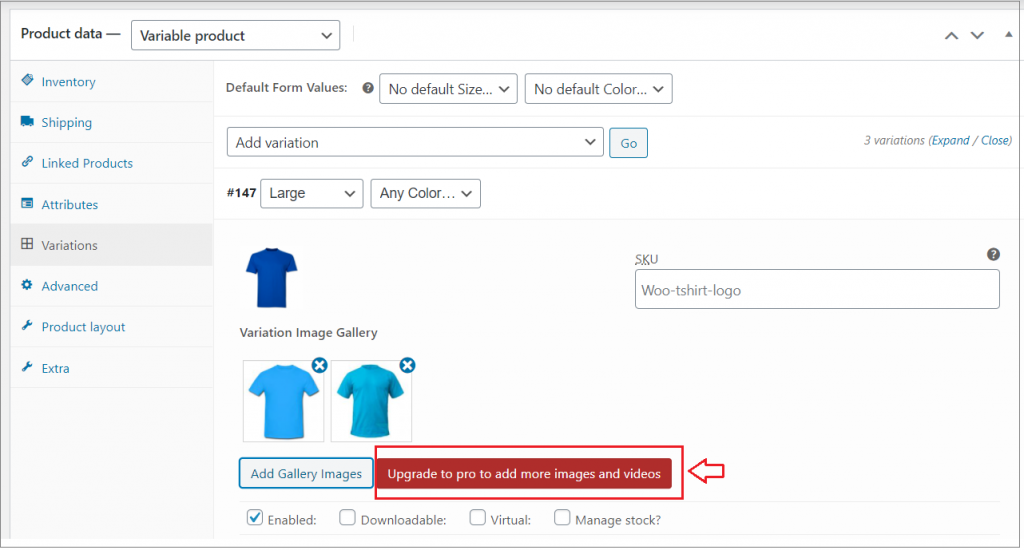 The pro version of the Additional Variation Image plugin in WordPress allows you to add unlimited product variation images. Also, you can add videos to your product variations if required.
Summing-up
Now your online store can add multiple variation images on its product pages. The WooCommerce Additional Variation Images Gallery plugin is an incredible option to pick for your Flatsome-powered WooCommerce website. When you provide the option to choose from additional images, there are more chances to take extra advantages ahead of your competitors.
If you want more tutorials on the Flatsome theme or WooCommerce, let me know in the comment section. I'll write the next content for you.