The access to the testimonial plugin on WordPress makes it simpler than ever to display testimonials on your website. Examples of testimonials help to give your visitors social proof. It functions similarly to a user review on your website. Even if you choose a WordPress testimonial plugin with limited design control, your social proof will still be displayed nicely. Using a shortcode or a block and embedding it on a page will also be simple. You can also know how to add testimonials in WordPress so that you can make your testimonials on your own If you are using a Flatsome theme. You can browse our hand-picked selection of the top 10 WordPress testimonial plugins.
Most Popular Top 10 Testimonial Plugin on WordPress 2023
1. Strong Testimonials

With the help of this helpful testimonial plugin on WordPress, you can gather and publish your testimonials and reviews in a matter of seconds. Stocked with unique features, Strong Testimonials arranges a front-end form for collecting testimonials and beautiful sliders for display choices. You can add customized testimonial submission forms to your website using this plugin. You can preview your users' reviews and decide which ones to publish. Strong Testimonials enable you to share particular reviews or testimonial sliders with various choices.  Creating multiple custom views or styles, allows you to use various testimonial types on your website. You can use shortcodes to display additional information, such as the number of reviews and the average rating, to impress your visitors further.
2. Easy Testimonial

A simple-to-use testimonial plugin on WordPress is called Easy Testimonials. You can use shortcodes to embed testimonials into a page or post or add them as a widget to the sidebar. The testimonials display correctly in search results using JSON-LD markup that is schema.org compliant. The necessary information, such as the client's name, website, position, image, and the place, thing, or service that they reviewed, is managed by Easy Testimonials. You can add categories with the plugin to keep your testimonials well-organized. Similarly, using the WordPress editor, you can choose how to display your testimonials on your pages, posts, and widgets. With this plugin, you have lots of customization options when using modern & creative WordPress themes. You can specify the section length, thumbnail size, whether to show the date, whether to cache the testimonials, and whether to display the ratings. Moreover, it has an import/export feature like product import export for the WooCommerce plugins, that lets you quickly import all your saved testimonials.
3. Thrive Ovation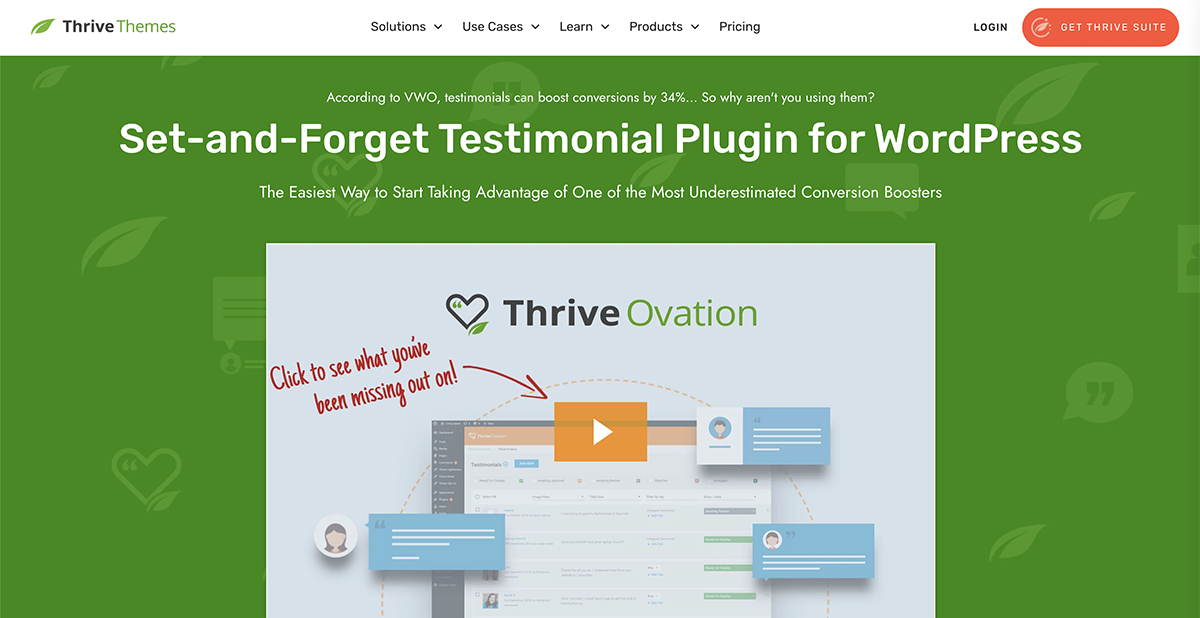 With the help of the premium testimonial plugin on WordPress Thrive Ovation, you can gather user reviews directly from the front end. It is an all-in-one plugin with a user-friendly interface, various customization options, and cutting-edge functionality that does a respectable job. There are also different kinds of review plugins for WordPress but Thrive Ovation is different from others in terms of features. It has a feature that lets you ask for customer feedback by sending them automated messages. By designing specific opt-in forms, blog posts, and landing pages for testimonial collection, you can automate the entire process. A Thrive Content Builder is a feature of the Thrive Ovation plugin that lets you add testimonials right away. This plugin has a library of grids, sliders, and standalone templates, making it completely customizable. Both the color scheme and the total number of testimonials to display are customizable.
4. Ultimate Blocks

Ultimate Blocks is the most popular testimonial plugin on WordPress. It enhances the capabilities of your Gutenberg editor to help you create better and more exciting content. You can add a picture of the reviewer, their thoughts, and finally, their name and company in the testimonial block. Links can be added, and the background color, font color, font size, and text alignment. It provides you with additional top-notch blocks like the Image Slider, Star Rating, Review, Social Share, Post Grid, Accordion, and many others. If you use your head, you can find separate plugins for each of these functions.
5. Testimonials Showcase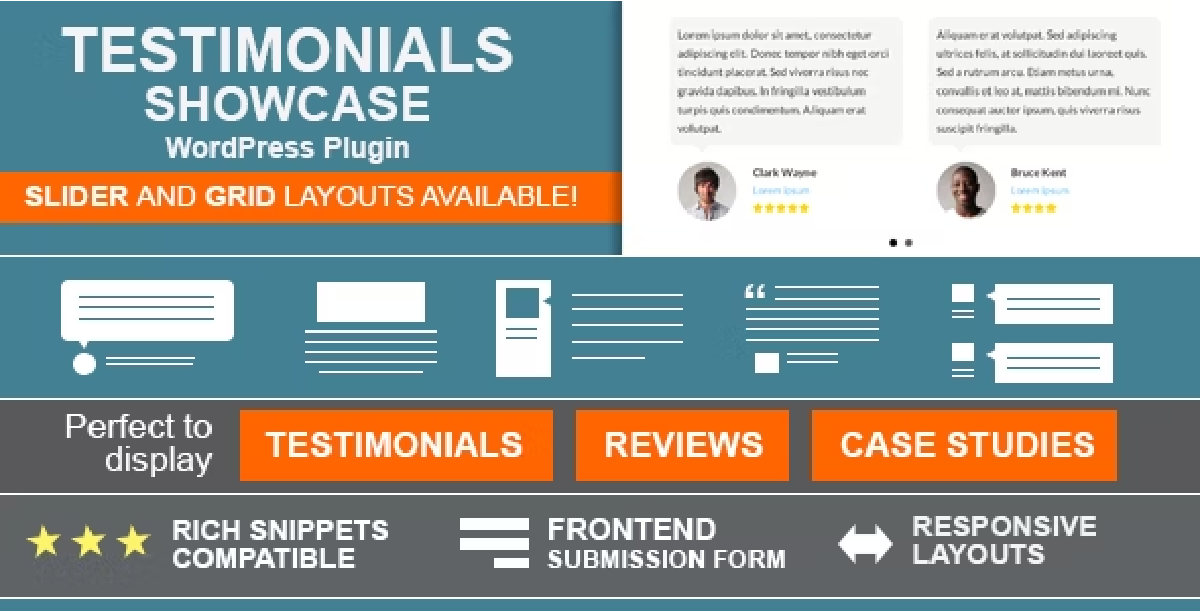 Another premium testimonial plugin on WordPress, Testimonials Showcase, creates some flawless-looking testimonials that you can display as either a grid or a slider. Customers can submit testimonials through the user-friendly front-end submission form found in Testimonials Showcase directly on your WordPress website. The grid of your testimonials has the option to have filters added. It enables visitors to your site to sort customer quotes based on various criteria, including testimonials, goods and services, locations, agents, Consulting WordPress Themes, and more. Testimonials can be added using shortcodes or as a widget. A visual shortcode editor's inclusion makes it simple to see how your testimonials will appear after making various settings.
6. Testimonials Slider

The Testimonials Slider plugin makes it simple to set up and use your testimonials in a stunning, contemporary testimonial slider plugin in WordPress. It is a free plugin that enhances your website's overall design and user experience. Using the plugin's built-in slider, your testimonials can be displayed in an elegant slider. It offers five different layouts that you can use to alter the colors and appearance of the slider. You can personalize how your testimonials are displayed by adding them to an elegant list. Using this plugin, you can add testimonials to your website without knowing any code. Both a shortcode and a widget are supported for adding them. Your customers can submit testimonials from the front end of your website using the frontend submission form included with the Testimonials Slider.
7. Testimonials Widget

The freemium WordPress testimonial plugin Testimonials Widget is excellent for managing numerous reviews and testimonials. It enables you to add customer reviews using a short code, theme features, or a sidebar widget. Using the plugin, your testimonials can be shown in a list, carousel slider, video slideshow, or simple-page view. You can add images and videos to make your testimonials more appealing. It has widgets for showing tag clouds, categories, and testimonial archives. If you don't know how to add a widget to the home screen, don't worry you can easily learn it from our blogs. The numerous settings can be enabled or disabled using checkboxes in the plugin's main settings area. The plugin enables you to categorize your reviews using categories and tags. You have the option to style the testimonials however you want by using your custom CSS.
8. WP Testimonials

The WordPress testimonial plugin WP Testimonials enables you to add eye-catching testimonials to your website and comes with a widget plugin called the Rotator. You can post the author's information, images, pictures, jobs, URL, position, and more. It also allows you to display multiple testimonials on your website. You can use this plugin to categorize and tag testimonials. You can quickly display testimonials after creating them by using a shortcode. You can modify how testimonials appear by using the shortcode's numerous parameters. Using this plugin, you can display customer reviews in a grid, slider, or list format. In addition, it supports the shortcode widget in Gutenberg and offers various designs.
9. Testimonial Builder

Another WordPress testimonial plugin is Testimonial Builder, which enables you to add an unlimited number of testimonials in an unlimited number of color schemes to any page, post, or widget area of your WordPress website. It is a simple plugin for showing quotes, reviews, or testimonials. This plugin includes two pre-packed design templates, and each one can be customized. A shortcode makes it simple to set up multiple testimonials as a component of a single element and publish them. The plugin also allows for each testimonial's unique CSS code while using WooCommerce WordPress responsive themes. Testimonial Builder offers complete customization. The meta options allow you to modify various settings, including the color scheme, font size, font family, image layout, and others. Moreover, Testimonial Builder has a clean design and is completely responsive.
10. BNE Testimonials

A freemium testimonial plugin on WordPress is BNE Testimonials. Using a default shortcode or a sidebar with the supplied widgets, adding endorsements and reviews to any page is incredibly simple. It provides a title, image, tagline, website URL, and message to go along with the testimonials. Your testimonials can be divided into different categories using the plugin. It has a slider and a straightforward list layout for testimonials that uses your theme's display style. You can bring in reviews and display them on your website using any of the layouts by using the Yelp, Google Places, and Facebook APIs. Moreover, the premium version offers additional layouts like a thumbnail slider and masonry grid.
Conclusion
The list above introduces various WordPress testimonial plugins, each of which has benefits and drawbacks. All of these plugins passed our tests, and we've concluded that they're effective at displaying user reviews on your website and boosting your social proof. You can also use user management in WordPress to provide a specific role so that users can review your site or not it will depend on you. One of them is yours to select. They will help you in expanding your website.