Do you want to create a skincare website with WordPress? There are excellent themes that can help you with your project. At least one cosmetics website demo is included with each of these beauty WordPress themes. There are various demos of this kind available with the themes. After selecting a theme, you can add a demo to your WordPress dashboard and add your text, images, videos, and other sorts of materials. With so many attractive skin care WordPress themes available, feel free to scroll down and take your pick. Surely something will catch your attention.
Most Attractive Top 15 Skin Care WordPress Themes 2022
1. Botiga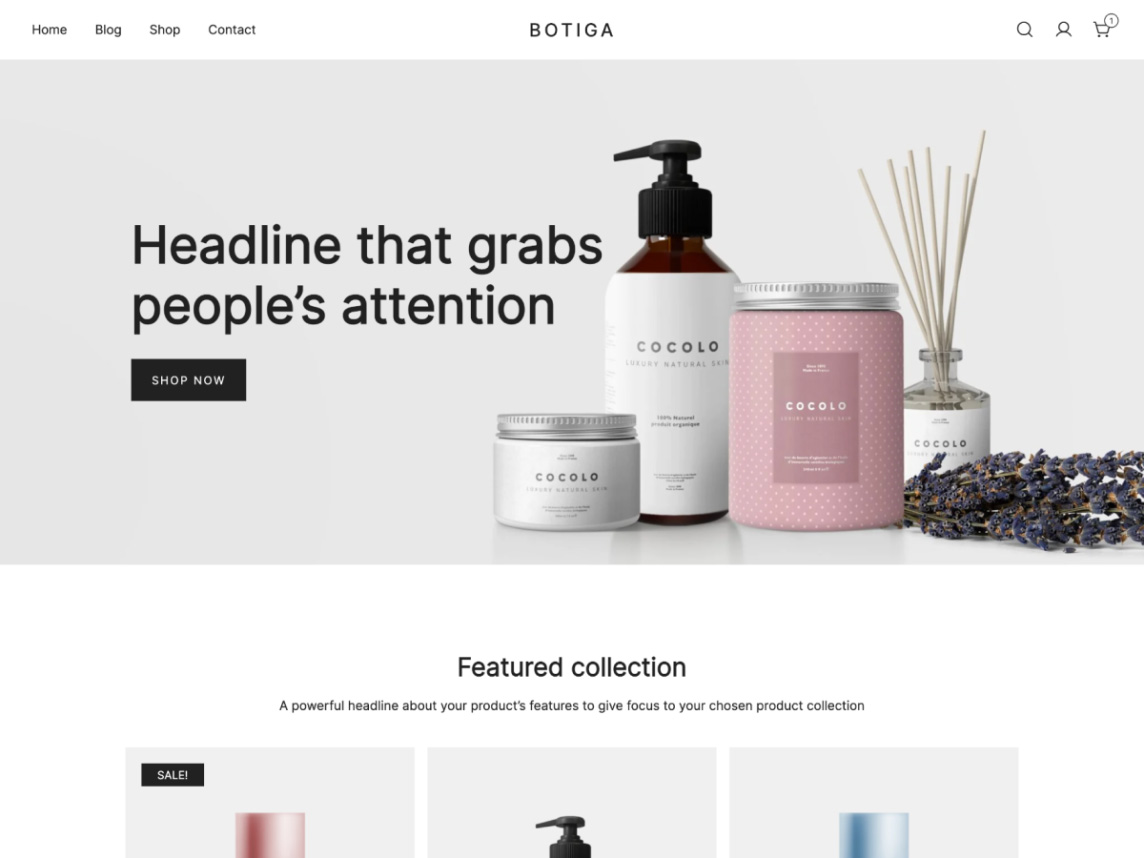 Botiga is a flexible WooCommerce theme that comes with a ready-made cosmetics demo for your website. This skin care WordPress theme's elegant style will offer your business and items a premium appearance. The pro version of Botiga offers many useful WooCommerce features for enhancing your cosmetics store. This theme makes adding popups and reviews to your website quite simple. This theme can display product images in an appealing gallery format and display product photos in a well-designed multi-step checkout process. You can integrate any top page builder plugins in WordPress of your choice to customize your web pages.
2. Cosmetsy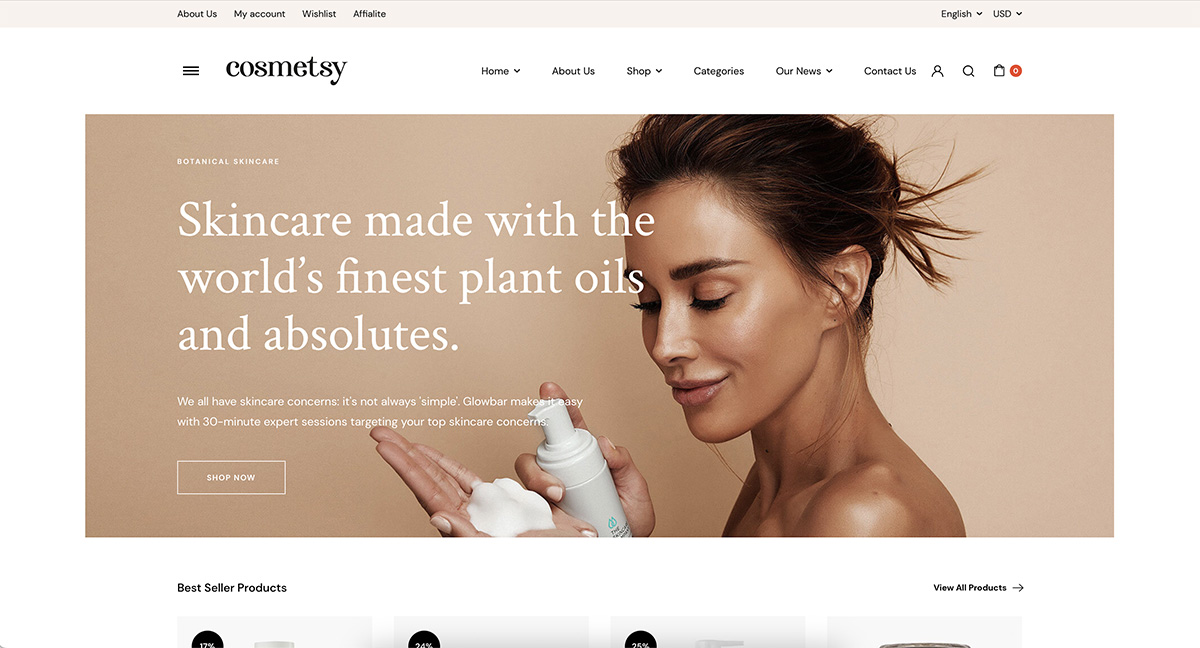 The Cosmetsy theme is used to build online shops selling cosmetics and beauty supplies. Four primary homepage demos are included in this skin care WordPress theme. You can use this amazing theme to create your own cosmetics store, fashion store, beauty store, online spa, salon equipment store, etc. On Cosmetsy, the shopping cart capability provided by Ajax makes it very simple for customers to examine their cart. With this theme, you can display more of your products on a single page because of amazing hover effects and infinite scrolling on the shop page.
3. Iva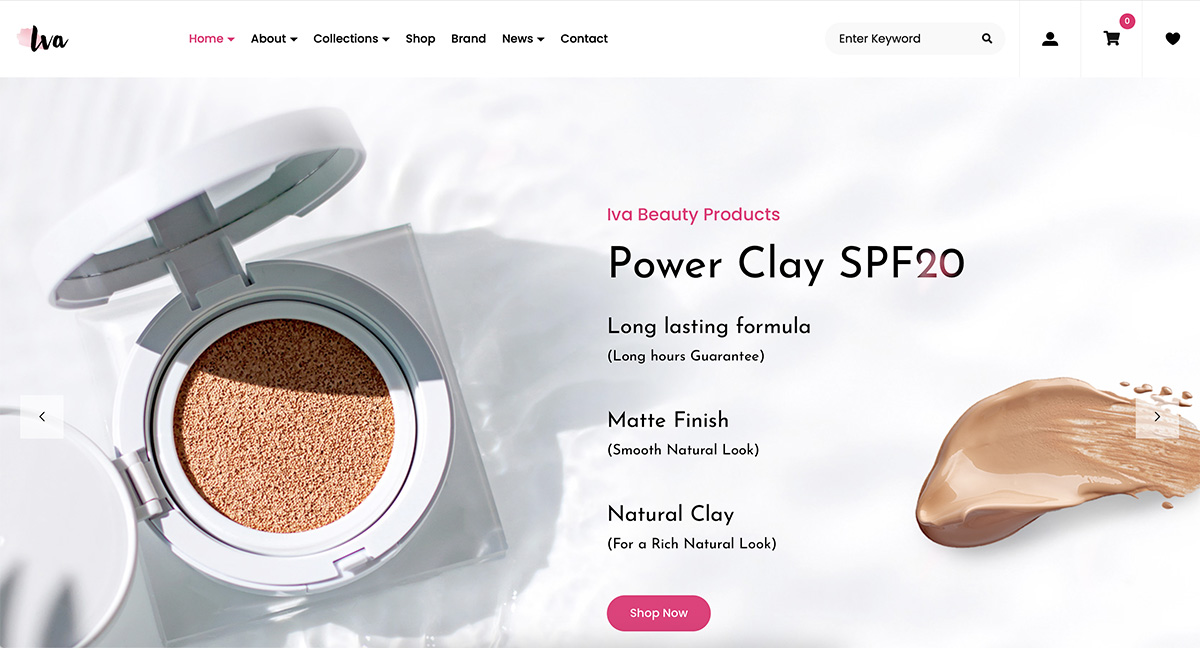 Iva is a WordPress theme for an eCommerce beauty and cosmetics store. Iva has four demos for its cosmetics store. You can launch your new WooCommerce business quickly with the help of this theme. You can use the one-click importer tool to copy the essential files into your WordPress dashboard. This skin care WordPress theme includes panels for listing a couple of your standout products and also spaces to share your contact details and location with the help of Google map plugins for WordPress.
4. Triss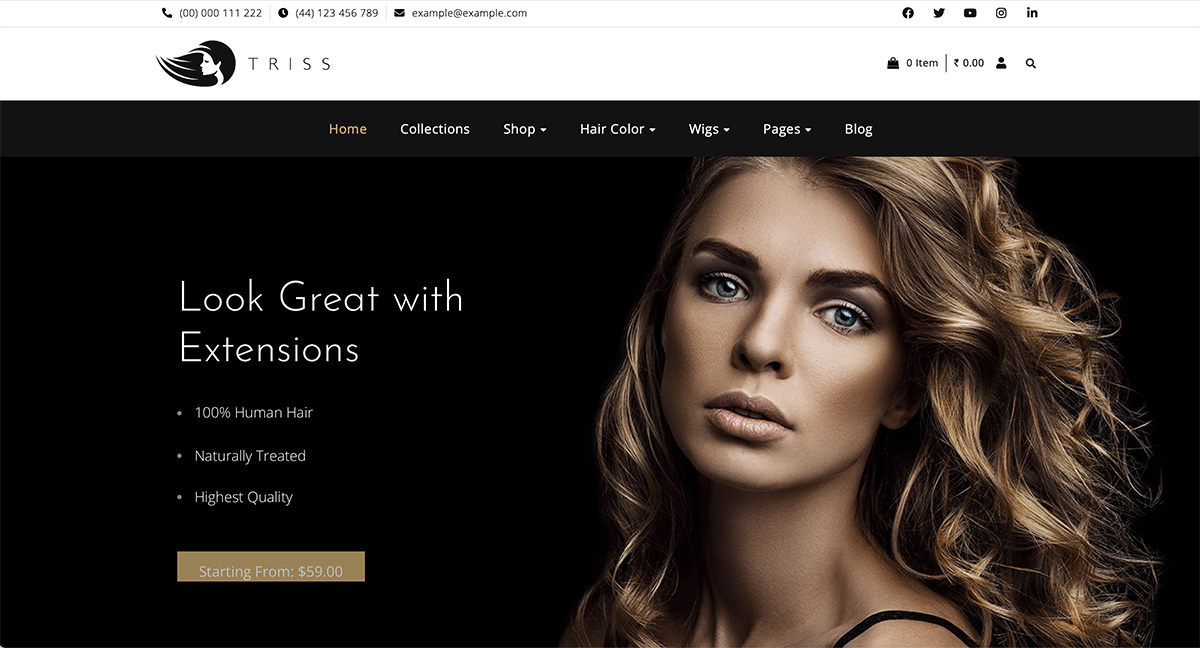 Triss is a powerfully adaptable skin care WordPress theme that comes with a complete collection of eCommerce templates. With so many features and templates, this theme is suitable for various online cosmetic stores. You may easily import the demo content once the theme package has been installed on your WordPress website. Triss was designed to make use of the powerful WooCommerce plugin. Adding products to your business and keeping track of your inventory are both easy with this plugin. You can use its library of add-ons to enhance the WooCommerce plugin functionality. This theme is included with the WPBakery Page Builder content editor tool at no additional charge.
5. Biagiotti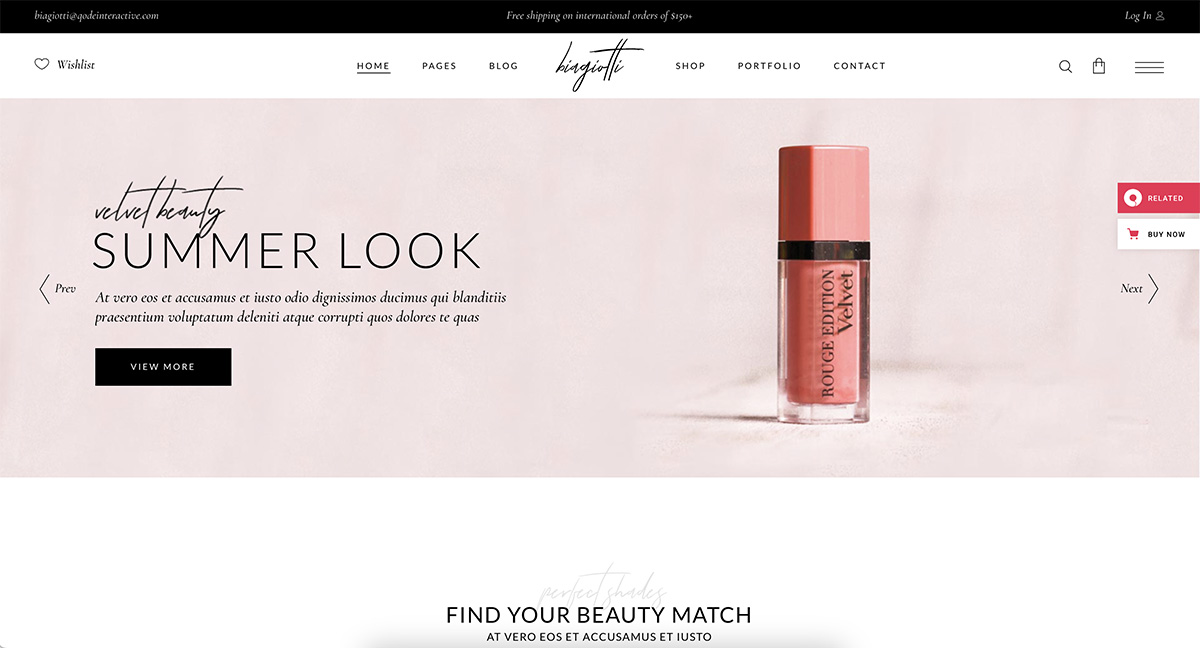 Biagiotti is compatible with different exciting and dynamic features of WordPress. You can use Biagiotti and any of the images from the demo content to make an eye-catching website. You can choose between the WPBakery Page Builder and the Elementor plugin to modify the Biagiotti templates. You can even use your drag-and-drop website editing tool to personalize your store. You can integrate any top free WordPress FAQ plugin to create a beautiful section with this theme. With the WordPress Customizer interface and theme settings panel, you may change your website in various ways. The highly adaptable skin care WordPress theme Biagiotti may be used to create stylish WordPress cosmetic stores.
6. Glowing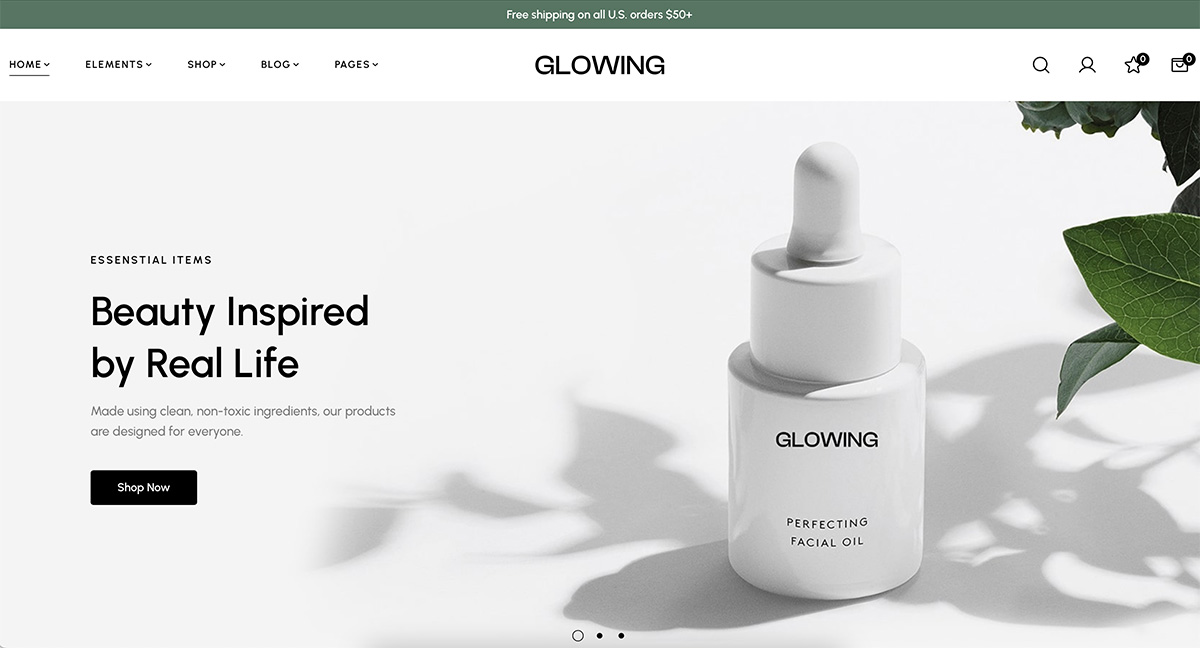 Glowing is a special eCommerce theme for cosmetics that has several stylish themes. A WordPress-based online cosmetics store can be created using Glowing's selection of WooCommerce demos. The templates in the theme's demo collection have attractive designs. It gives you a quick way to establish a fantastic online presence for your business. You can enable a wishlist, use advanced shop filters, and add an Ajax shopping cart to this theme. Running your website in catalog mode with this skin care WordPress theme is really easy and flexible.
7. Cerla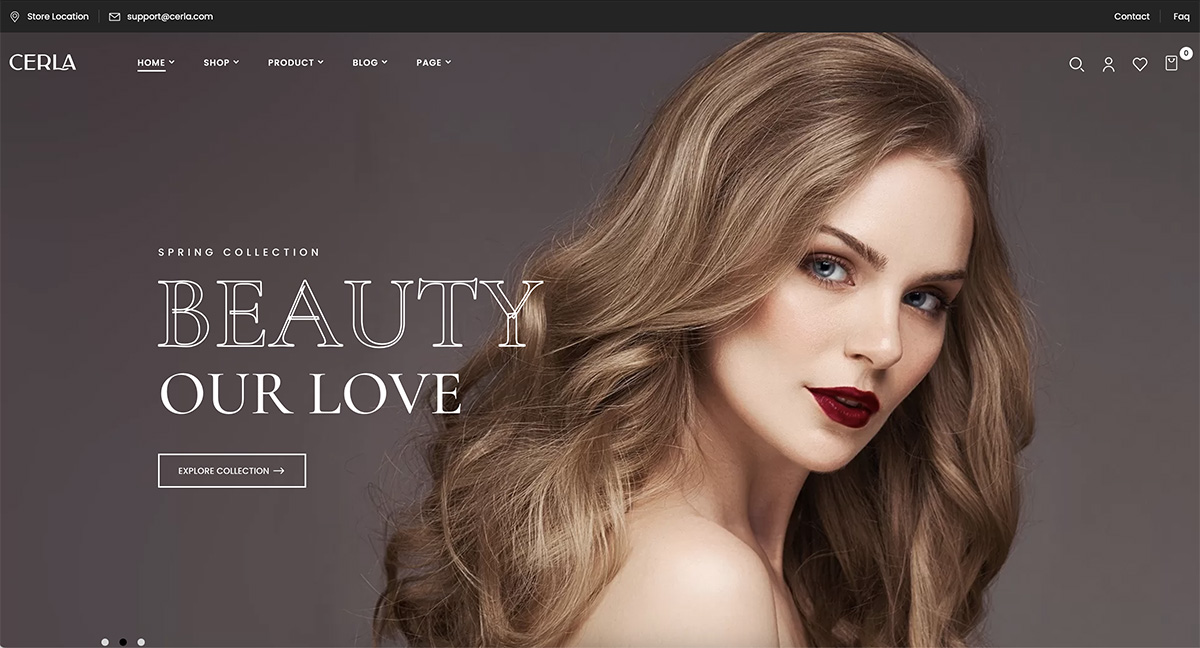 Cerla is a skin care WordPress theme for WooCommerce websites that offers eight different homepage designs. This skin care WordPress theme uses the latest version of Bootstrap for the back-end framework. Cerla places a lot of focus on categorical product alignment. It is based on the Elementor plugin, so you can quickly drag and drop elements to change how the website looks. This theme has widgets for displaying the top-selling products. Customers can narrow their search based on categories, product conditions, availability, and colors and For this functionality search plugins in WordPress help a lot.
8. Beaux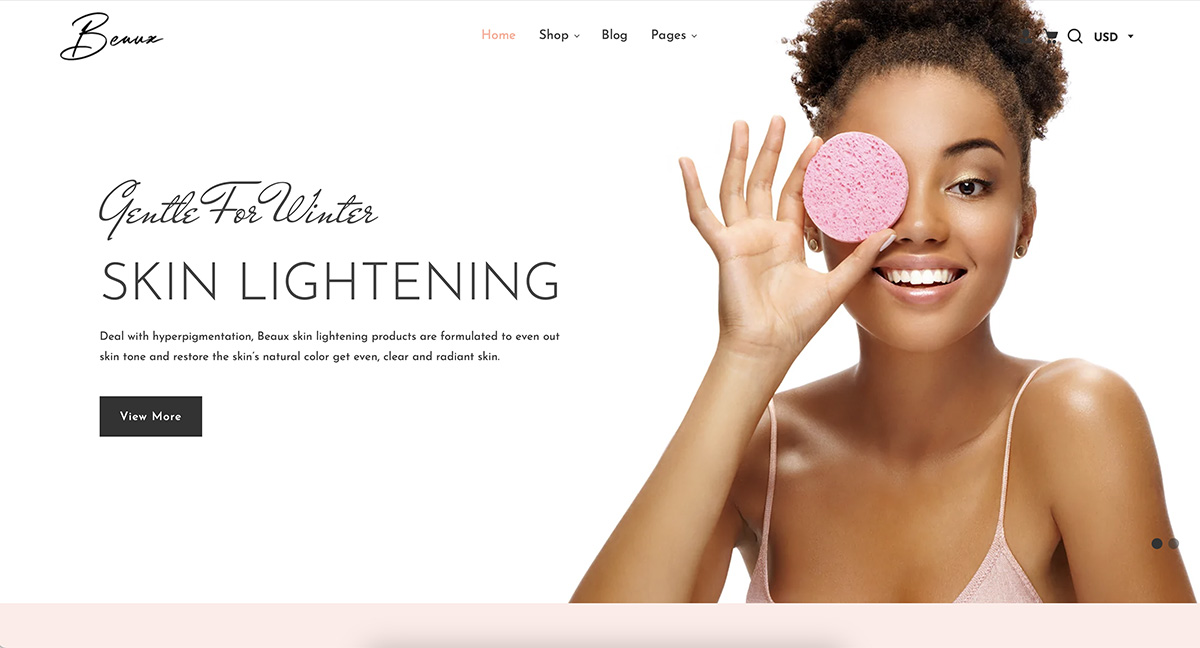 Beaux is a cosmetic and beauty store theme that works well with Elementor. This theme is designed to connect smoothly with the potent Elementor page builder plugin. This skin care WordPress theme is user-friendly and gives you stylish page layouts and sections. Its straightforward drag & drop interface allows you to create a personalized homepage. This theme makes it simple to improve your Woocommerce store's search engine rankings and conversion rates, and you can track the records with WooCommerce conversion tracking. Multi-level navigation is a simple addition to your website provided by this theme. The menu on your website might also contain eye-catching visuals and advertising ads.
9. Luchiana
Luchiana is a stunning, elegant, and lightning-fast WordPress theme for WooCommerce. This skin care WordPress theme is used in beauty salons, cosmetics stores, clothing stores, and perfume boutiques. This skin care WordPress theme is simple to customize. It has video background displays that are perfect for quietly presenting footage of your products. A group of logos can also be seen on the homepage of your website. Additionally, a sign-up form for emails is provided to enable you to build a customer list.
10. Yena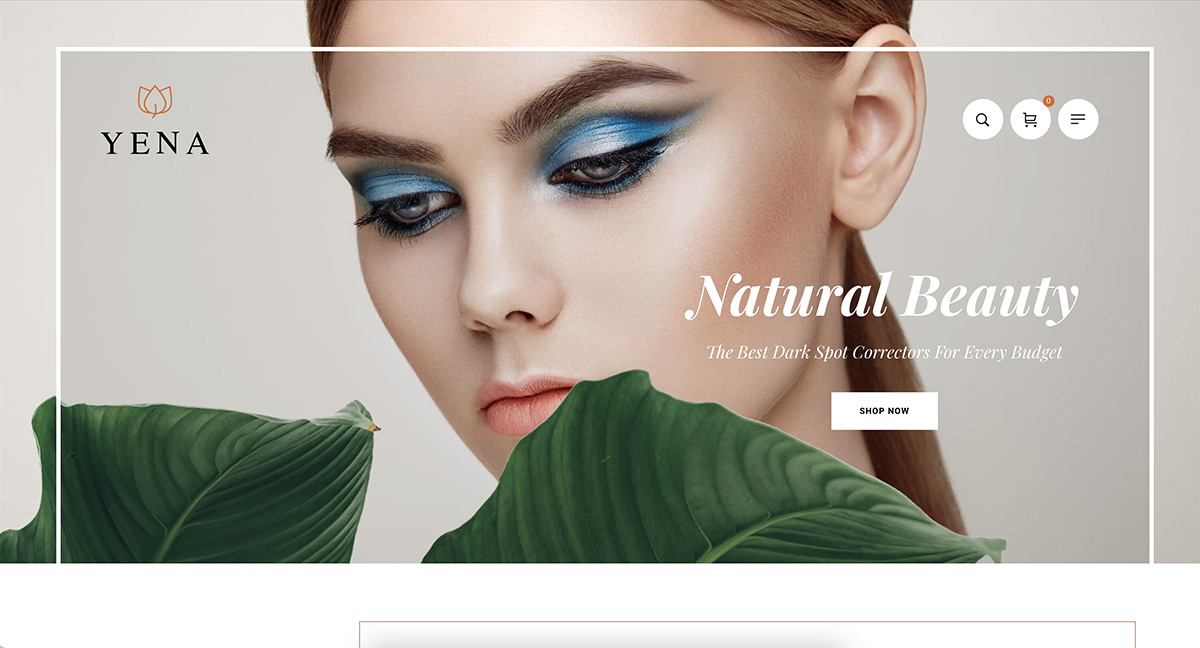 Yena is a truly stunning elementor WooCommerce theme designed for all beauty businesses and cosmetics companies. This is a very adaptable WordPress theme for the cosmetics industry because the Yena demos all look amazing. There are several different designs and layouts Yena theme includes. It also has a sidebar navigation area, small headings, and enormous headers. Yena skin care WordPress theme also works well for natural cosmetics and organic beauty blogs, cosmetic brands, and any other type of website in this field. This was developed to be compatible with the Elementor plugin.
11. Covan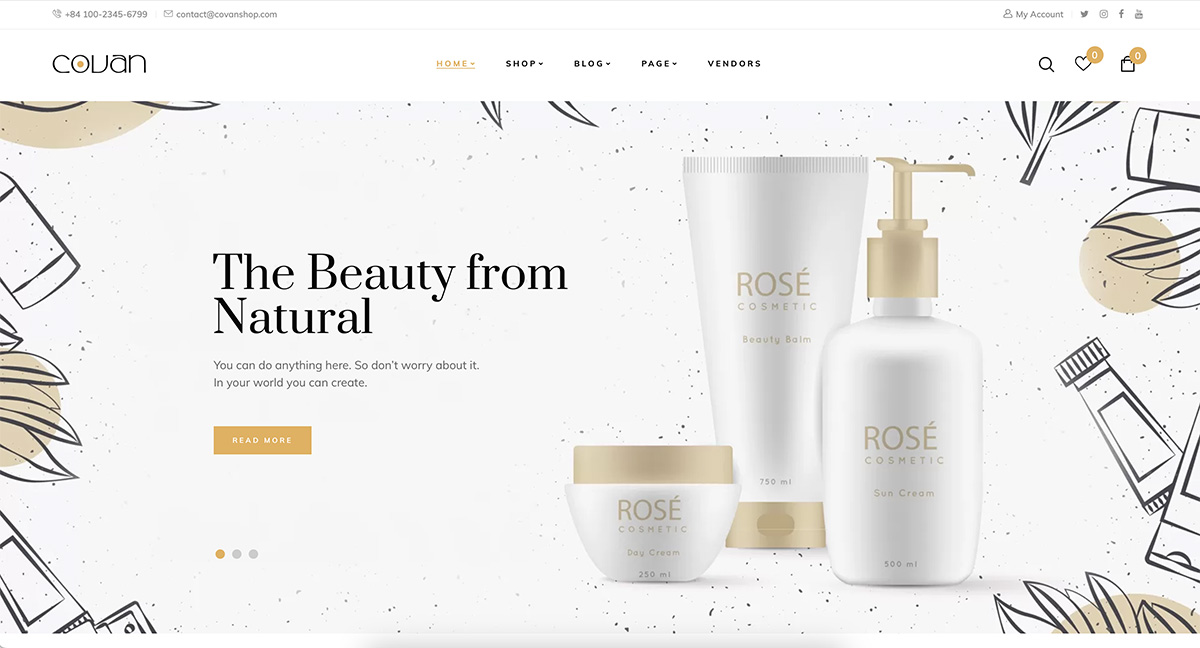 Covan is a WordPress WooCommerce theme for building up online cosmetics shops. You can choose from 10 distinct homepage layouts of Covan. The Covan demos have fashionable designs and dynamic functionalities. It makes use of the most recent Bootstrap version as the back-end framework. The design of this theme is outstanding and suitable for your store. This skin care WordPress theme has a pop-up feature without taking help from any popup plugin in WordPress that enables you to present the opt-in form uniquely. Covan was built with the Elementor page builder plugin, and you can quickly change any of the templates to make your website stand out.
12. Marra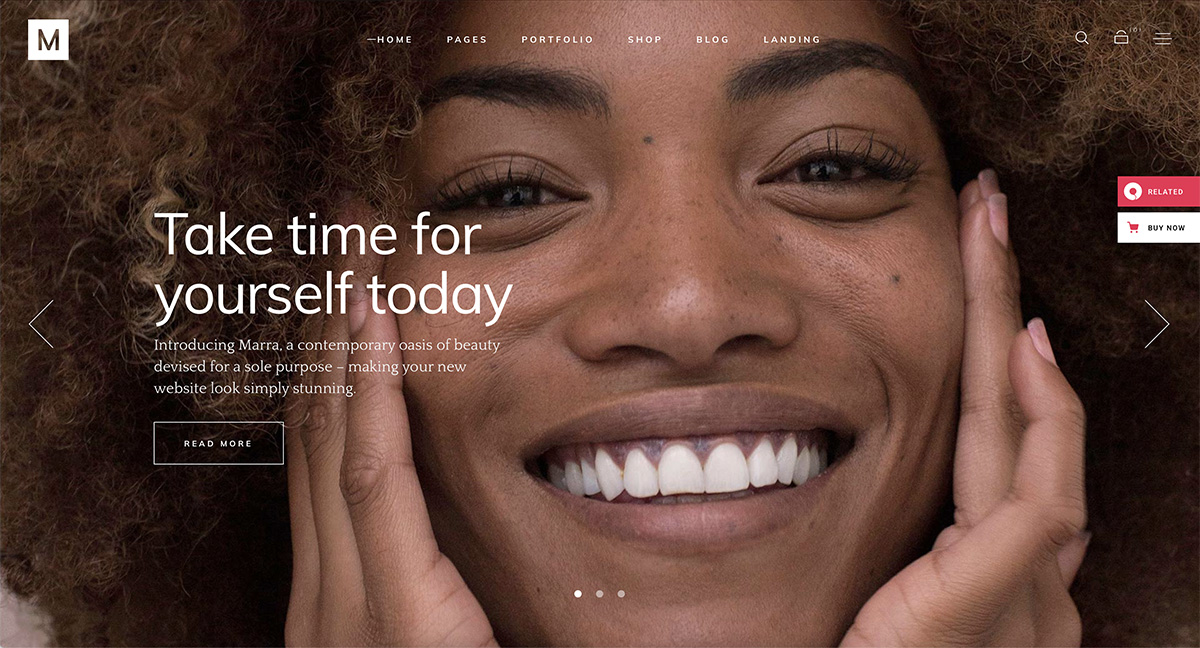 Marra is a multifunctional, modern WordPress theme for websites that sell cosmetics and beauty products. Its stylish shop homepage is perfect for introducing people to your website. There are templates for the cart, checkout, and account pages so that your store has a unified design. This skin care WordPress theme comes with a full set of blogging templates. Marra theme and the Elementor plugin work together flawlessly. As a result, you may access and change any template from the Marra demos using a simple drag-and-drop page builder interface.
13. Clima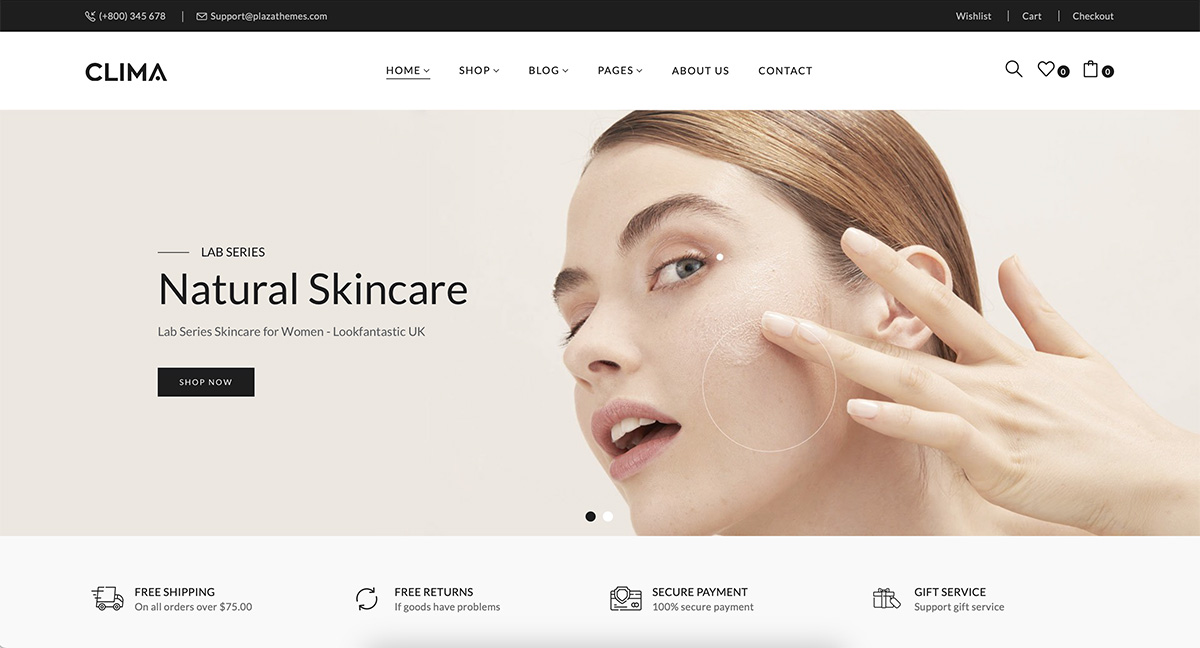 Clima is a multipurpose WordPress theme with a powerful framework. This skin care WordPress theme is suitable for use in a store environment such as a watch, digital, or cosmetic store. Your store will draw in more clients with the help of a lovely image slideshow with vibrant effects. The responsive layout is flexible and adapts to various device resolutions. This theme can be restricted to a specific screen size. The Clima theme package comes with the WPBakery Page Builder plugin. This theme also incorporates blogs, customer reviews, and Instagram to help you spread the word about your items on social media.
14. Lorada
Lorada, a premium responsive WordPress WooCommerce theme, is responsive and has a beautiful design. The skin care WordPress theme has all the features required to quickly develop powerful, responsive websites. The Lorada theme's theme settings and customizer make it straightforward for users to make changes to the theme. With this powerful theme options feature, you can adjust the theme layout and appearance to your needs. You can import demo site and theme options with just one click. This theme provides gorgeous and clear layouts that are gorgeous and clear on every retina monitor and other high-resolution devices.
15. Jacqueline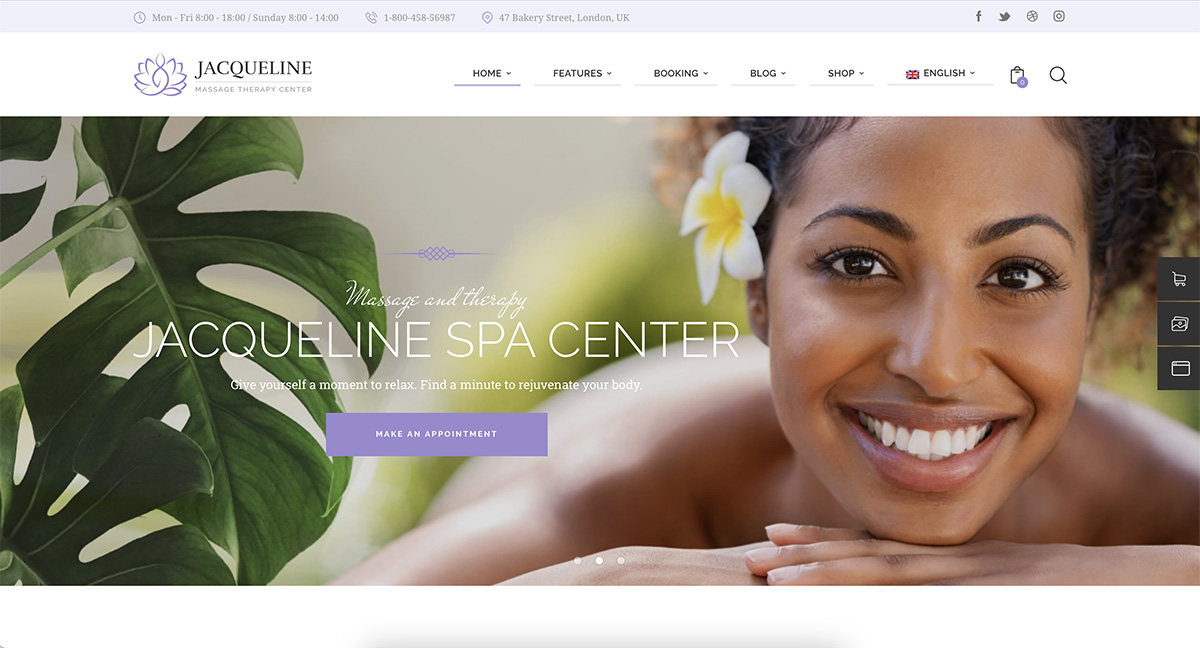 Jacqueline is an attractive skin care WordPress theme for stylish spa & massage salons with advanced functionality and beautiful responsive design. The WPBakery visual builder allows you complete customization of your website. It will be much easier for you to stay one step ahead of the competition if this theme has superb search engine optimization. You can display your product's fully customizable galleries added in by the Essential Grid plugin.
Conclusion
The finest locations to go shopping are websites for beauty products and cosmetics. These WordPress skin care themes will make a fantastic foundation for your upcoming success in the cosmetics industry. These themes come with a powerful page builder on their board. You may select a stunning new theme for your website with this WordPress skin care themes collection.