While setting up a shop or product page on your WooCommerce website, you'll find that the product page is too plain to attract visitors in the best way. 
But you have to appeal to the visual senses of your customers to make them purchase something. You need a variation swatches plugin to give your WooCommerce store the edge it needs. 
This article will write about some of the best free WooCommerce variation swatch plugins. There are a plethora of variation swatch plugins available. So let's see what the top options are-
Best Free Variation Swatches for WooCommerce
1. Variation Swatches for WooCommerce By Emran Ahmed, GetWooPlugins
This is the most popular variation swatches plugin which is currently installed on 300,000+ WooCommerce websites. It's compatible with most of the popular WordPress themes including OceanWP, Kadence, Astra, Neve, Flatsome, etc.
Moreover, it is also compatible with most builders and rarely conflicts with other plugins. Additionally, it has been downloaded more than 1 million times.

WooCommerce Variation plugin helps you to display your products using more variations and increase your chances of selling. It turns the product attribute select dropdown into beautiful swatches. You can easily impress your site visitors with colors, buttons, and image swatches. 
On the other hand, store visitors can quickly select their desired variation without pressing any extra clicks. It's less hassle for them and saves them valuable time.
Based on its features, the Variation Swatches for WooCommerce plugin comes with everything you need to display variation swatches in your WooCommerce store. All you need to do is, install and activate the plugin. See how it turns product attribute select dropdown buttons into beautiful swatches.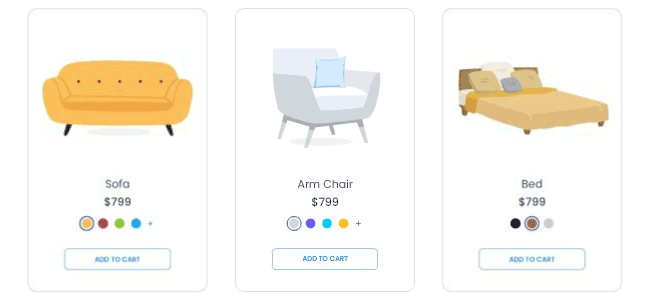 Selecting this plugin can hit two birds with a single stone. You can enhance the customer experience and boost your online store sales. The WooCommerce Variation Swatches for WooCommerce Pro plugin has more advanced features to control your swatches.
Users' Review
The review and rating section of this plugin is flooded with the admiration of the support team. This plugin provides one of the fastest and finest support. Additionally, its support team is super helpful and works beyond for the users. That's why it has 700+ five-star reviews on the WordPress repository. 
Along with this, users are satisfied with its regular updates with the improved technology.
Free Features
Auto Converts Drop-Downs to Button Swatches
Enable Color, Button, Radio, and Image Swatches
Convert Globally Created Attribute Variations into Swatches
Blur/Hide Out of Variation
Product Page Variation Image Tooltip
Supported With Quick View
Dual Color Variation Swatches
Premium Features
Change Product Gallery Image Selecting Only Color Variation Like Amazon and Aliexpress
Show Attribute Variation Remaining Stock Quantity
Create Category and Group Wise Variation Swatches
Offers to Highlight Special Attribute
Product Based Swatch Customization
Generate Variation Link for Every Variation
Text Tooltip, Image Tooltip, Display Swatch in Catalog / Archive Page
Auto Convert Dropdown Into Image Swatches If Variation Has a Featured Image Set
Price
Starter: $49.00
Single Site
Premium Support

Business: $149.00
Five Domains Sites
Premium Support

Developer: $299.00
Unlimited Domains Sites
Premium Support
Active Installation: 300,000+
Ratings: 4.8/5.0 (700+ Five-star)
Variation Swatches for WooCommerce is suitable for a wide range with lots of users' trust. It has a free version with limited features which is the best option for small businesses or beginners. And the pro version is suitable for professional usage.
If you want to make your WooCommerce site more unique and user-friendly, you can try the pro version. Even if you're a beginner, their support team is friendly enough to help you use it.
2. WooCommerce Attribute Swatches – By Iconic
WooCommerce Attribute Swatches – By Iconic offers extensive customization options, empowering you to align the swatches with your brand's identity seamlessly. You can customize the swatch shapes, colors, and labels, and even upload custom images, ensuring a cohesive and visually appealing experience that resonates with your customers.

One of the standout features of WooCommerce Attribute Swatches is its dynamic updating functionality. As customers make their selections, the product image and information update in real-time, showcasing the chosen variation instantly. This instant visual feedback enhances the shopping experience and enables customers to visualize their preferred options accurately.
In summary, WooCommerce Attribute Swatches transforms the way product attributes are displayed and selected on your WooCommerce store. With its visually stunning swatches, extensive customization options, dynamic updating, and mobile responsiveness, this plugin elevates the user experience, simplifies product selection, and drives conversions.
Whether you run a small boutique or a large-scale e-commerce platform, WooCommerce Attribute Swatches is the perfect tool to captivate your customers and create a visually captivating shopping experience that sets your store apart from the competition.
Users' Review
Most of the user reviews are good. Some of the users have mentioned that this plugin is very much capable to handle big sites with complete solutions. It's also mentioned that the code is much easier to customize.
Premium Features
Categorize & Group Swatches- Group product colors into plain and patterned
Assign Swatch styling for all products at once, or per-product basis
Modern Swatch Designs
Fully customizable shape and size swatches
Tooltips when hovering visual swatches
Large Preview for Image Swatches
Out-of-stock and unavailable swatches are marked
Price
1 Site: $79/year
3 Sites: $159/year
30 Sites- $489/year
Active Installation: 20,000+
Review: 4.79/5.0
This is a premium plugin with a comparatively higher price. So, we won't recommend it for any beginner or small-scale business owner. It's more suitable for enterprise-level eCommerce websites.
3. WCBoost- Variation Swatches
WCBoost Variation Swatches is designed to enhance the product selection experience on your WooCommerce store. With its seamless integration, intuitive features, and stunning swatch options, this plugin revolutionizes the way customers interact with products with variations.

This plugin offers a range of customization options, enabling you to tailor the swatches to match your brand's aesthetics. You can easily customize the swatch shape, color, and size, and even add custom labels or images, ensuring a visually consistent and attractive representation of your product variations.
In summary, it is a powerful plugin that enhances the product selection process in WooCommerce. With its customization options and mobile responsiveness, WCBoost Variation Swatches provide a seamless and visually captivating shopping experience for your customers.
Users' Review
There are very few reviews of this plugin. But there are no negative reviews.
Features
Auto-convert the default dropdowns to buttons
Enable Color, Image, Label/Text, Button swatches for product attributes
Manage attribute swatches globally
Edit product swatches for every single product
Control the style of swatches, including shape, size, etc.
Enable the tooltip for swatches
Provide inner API that allows themes/plugins to extend
Create a new attribute swatch in the product editing page
Price: Free
Active Installation: 30,000+
Ratings: 5.0/5.0
WCBoost- Variation Swatches is a free plugin, and it doesn't have any commercial version of it. So, if you want to use swatches for free and don't intend to expand your business anytime soon, it can be a perfect choice for you.
4. ShopEngine – Variation Swatches By WPmet

ShopEngine is a multipurpose plugin that helps by providing a wide range of WooCommerce functionalities, including variation swatches for WooCommerce. It's a package deal for small businesses and new eCommerce users.

Its seamless integration process is perfect for any WooCommerce beginner. This plugin is designed to increase conversion, and helps to create a visually appealing and intuitive shopping environment.
Users' Review
Free Features
WooCommerce Builder
Override WooCommerce pages like Single, Cart, Checkout page, etc.
Enable and Disable Any Widget/Module for the Best Page Speed
Product Variation Swatches
Filter and Pagination based on AJAX
Works with Elementor
Premium Features
Product size charts
Location-based advanced coupon
Product Filter
Price
Single $ 53.1
Unlimited $179.4
Unlimited Lifetime: $ 329.4
Active Installation: 20,000+
Review: 4.6/5.0 (111+)
ShopEngine is a bundle plugin with Variation Swatches. It has comparatively limited features of variation swatches. If you're searching for limited variation swatches with other WooCommerce solutions with a tight budget, we'll recommend this plugin. But it's not recommended if your site requires customizable variation swatches.
5. WooCommerce Variation Master –By WPSwings
WooCommerce Variation Master is developed by WPSwings which is an Elite author at Envato Market. It has some extraordinary features that can help you to use the variations alongside variation swatches.

If you're looking for a bundle variation plugin, WooCommerce Variation Master is a suitable option for you. In case you want only variation swatches with most functionalities only, this plugin is not recommended for you.
Users' Review
Users mostly focused on how to complete this plugin. So, it's obvious that its functionalities have won the users' hearts. Along with this, it creates issues with iPhone. In spite of having some issues, its rating is quite good. Because they've got a dedicated support team that solves most of the issues with patience.
Premium Features:
Compatible with most browsers
WooCommerce Variations Attribute Text Label
Allows product sharing on social media
WooCommerce Variations Customization
Update Variable Product for WooCommerce In Cart
Tested on different browsers for checking the compatibility
Price: $35
Active Installation: 1,000+
Rating: 4.56/5.0 (55 reviews)
WooCommerce Variation Master is a premium plugin for heavy usage. Though it has very few users, it can provide you with great support because of the least crowd.
6. Variation Swatches for WooCommerce – By Woosuite
Variation Swatches for WooCommerce is a product of Woosuite which is a renowned company for WooCommerce products. This plugin offers basic functionalities like other Variation Swatches.

This plugin has a solid declaration about what features exactly it'll provide. By following its main website, you'll have a clear understanding of how it can serve your purpose.
Users' Review
The ratings are relatively older, but most of the reviews are positive. But there is no mention of any specialty.
Free Features
Auto Convert Into Image Swatches
Show Selected Swatch Name
Out-of-stock Variation Swatches Control
Change Product Gallery Image Selecting Only Color Variation
Text In Color Swatch
Premium Features
Product Page Swatches Size Control
WooCommerce Filter Widget
Tooltip Insert and Display settings
Customize Tooltip Text and Background Color
Price
Basic: $99/year
Professional: $119/year
All Access: $349/year
Active Installation: 60,000+
Ratings: 4.0/ 5.0 (50+ reviews)
This is a fast-growing variation swatches plugin with some technical glitches. But it's giving frequent updates to make things better. If you can work with minimal instruction, you can use this plugin. Additionally, it's not recommended for beginners.
7. Product Variations Swatches for WooCommerce – By VillaTheme
Product Variation Swatches is a user-friendly interfaced WooCommerce plugin that helps to showcase product variations such as colors, sizes, and styles. It's a perfect option if your site is a multi-vendor WooCommerce site. Because this plugin allows site owners and merchants to control the swatches.

Whether you run a small or large business, incorporating this plugin can significantly enhance product presentation and boost your store sale.
Users' Review
According to the Users' reviews, Product Variations Swatches for WooCommerce is a simple plugin that is serving their purposes. Users are happy with the service but there is nothing extraordinary.
Free Features
Convert to swatches with fewer clicks
Customize global and custom attributes
Design swatch profiles
Customize tooltips
Compatible with any device, especially mobile
Premium Features
Unlimited swatch profiles
Image for each attribute term
Modify tooltip content
Disable out-of-stock variable items
Multilingual support
Price: $22
Active Installation: 10,000+
Rating: 4.9/5.0 (59+ Five Stars)
This is one of the cheapest Variation Swatches plugins in the WordPress repository. If you're searching for pro variation swatches but you're on a very tight budget, this is the best option for you. 
8. Variation Swatches for WooCommerce – By ThemeHigh
This is a plugin of ThemeHigh that offers variation swatches for WooCommerce. Though it has relatively lower downloads comparing the previous plugin, it can help you to add variations in a similar way.

It has various styling options so that you can make unique designs for your WooCommerce site. Moreover, this plugin is backed up by expert developers, and a dedicated support team so that you can easily use this plugin even if you're a beginner in WordPress.
Users' Review
According to the users' reviews, this plugin has some issues with mobile responsiveness and compatibility, but the support is quite skilled enough to solve these in time. Customers are happy with the support team.
Free Features
Convert attributes into swatches in no time
Multiple design types for an attribute and switching between them
Highlight selected swatches
Display "unavailable" and "out-of-stock" products with signs
Tooltips for swatches
Round and Square attribute variation swatches
Swatches for custom product attributes
Premium Features
Stock left alert on the shop page
Multiple swatches design
Five different ways of swatches display
Styling for the "out-of-stock" section
Custom styling of swatches
Price:
Single site: $39.00
Up to 5 sites: $69.00
Up to 25 sites: $129.00
Active Installation: 10,000+
Rating: 4.9/5.0 (62 reviews)
This is a commercial plugin, which means it has a free version with some limitations. If you want to use its full power, you need to purchase the pro version of it. You'll also have quick support while using the paid version.
9. Swatchly – WooCommerce Variation Swatches for Products– By HasThemes
Swatchly is designed with simplicity and efficiency in mind. Not only it has replaced the old dropdown but also gives users full access to the customization of the colors, sizes, and styles of the swatches.

Besides that, it gives full control over the swatches and helps to match them with the brand identity of the different brands. It helps to give the visitors an eye-soothing experience and helps them with their purchase decision. Moreover, its adaptability with different screen size and devices help to get a better user experience.
Users' Review
There are very few reviews of this plugin. Among the few, most of the users have highly spoken of the support team.
Free Features
Customizable alignment for Swatches
Customize width, height & font size
Text and image tooltips
Show the selected option name on a single product page
Set image size for image-type swatches
Premium Features
Disable showing Out of Stock variation from Swatch items
Option to select an attribute as a special/featured attribute
Enable catalog mode, global/custom attribute support
Ajax Add to Cart feature for the Shop page
Enable/Disable Swatch Limit for the Shop page
Option to add PHP condition to enable/disable swatches for the product listing pages
Price:
Personal: $99
Developer: $249
Agency $399
Active Installation: 6,000+
Ratings: 4.2/5.0 (13)
10. XT Variation Swatches for WooCommerce – By XplodedThemes
XT WooCommerce Variation Swatches plugin will upgrade the WooCommerce default dropdown to swatches. You can use this WooCommerce plugin to generate color and image swatches to show the available product variations.

At no extra cost, it offers to display product variable attributes like color, size, and style.
Users' Review
Users have faced issues with this plugin while using Oxygen Builder. Moreover, it's a bit more complex than other plugins. So, we recommend this plugin to the non-beginner only.
Free Features
Limited Live Preview Customizer
Square, Circle, and Rounded Swatch Style
Highly Adjustable Swatch
Independent Product Page Customize Options
Quick Editable Attribute
Premium Features:
Above / Before Swatches Attribute Level
Hide Attribute Label and Variation Reset Link
Adjustable Swatches
Highly Customizable Tooltip
Catalog Mode
Available in Quick View
Price
1 Site $49
3 Sites $89
30 Sites $299
Active Installation: 1,000+
Ratings: 4.5/5.0 (19+)
XT Woo Variation Swatches for WooCommerce offers the color, image, and label attributes in a single WooCommerce product page. It has a few more useful features as well.
Final Note
The product's appearance can enhance the customers' online shopping experience. So, you need to make it more appealing. Let your customers click on the visual representation for each product variant.
A "Variation Swatches" plugin will help you show your products using more variations. Your store visitors can select products based on specifications that fit them.
You can choose one of the best WooCommerce variation swatch plugins after reviewing the plugins with the features you prefer.