Are you worried about the best membership plugin in WordPress? We are presenting you with some of the best membership plugins for WordPress. So, this is the right place where you are. Membership sites are those where visitors pay a fee to gain access to information on your website.
If you have knowledge that others want to learn, you can create a membership website and charge users for access to your valuable content. During the process, you may need to manage your user with the system of user management in WordPress. WordPress has several excellent plugins with unique features that help you create the ideal membership site for your needs. We will discuss some membership plugins, and you can pick one.
Top High-Performance M
embership Plugin in WordPress

2023
1. MemberPress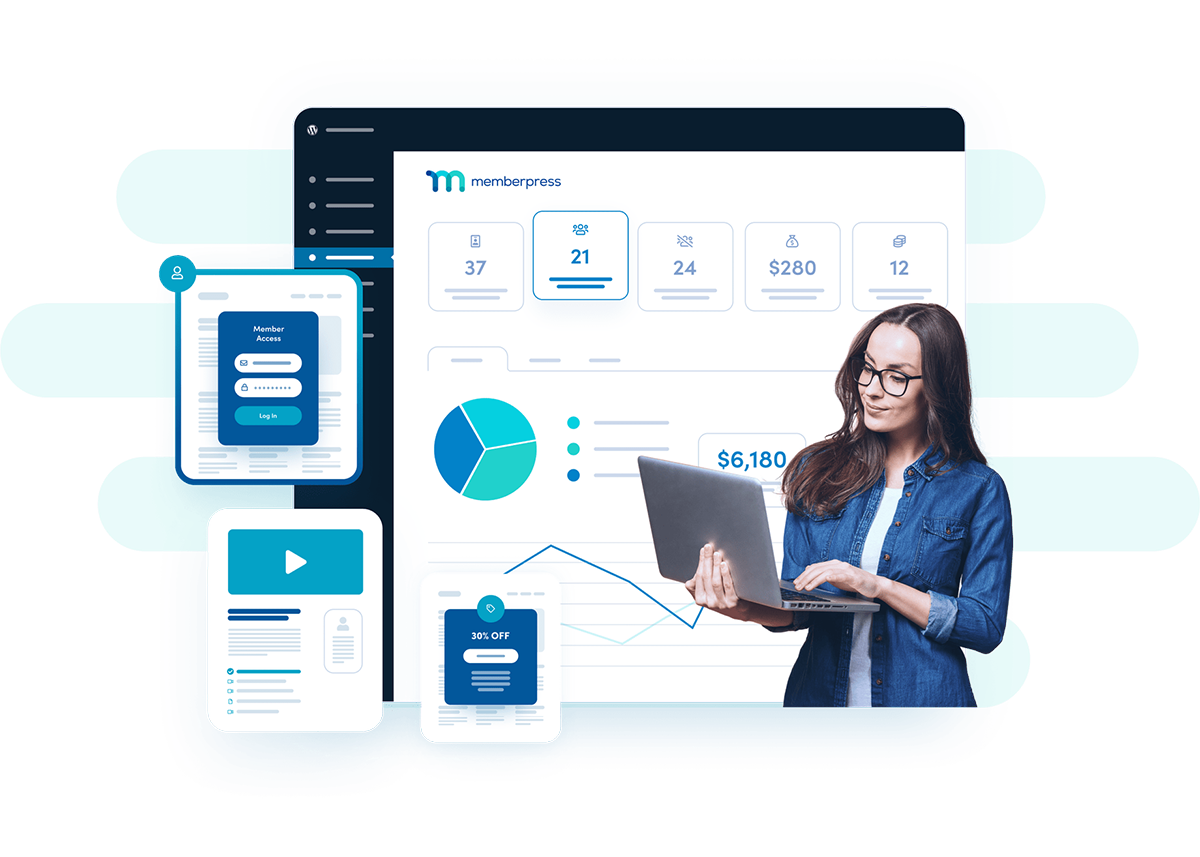 One of the most popular membership plugins for WordPress is MemberPress today. This best membership plugin includes all of the essential features for a complete membership site. Moreover, the setup and other functions are so simple to use that even beginners can do it without difficulty. MemberPress is a customizable plugin. So, you can confidently create, manage and track membership subscriptions and sell digital products. All functionality will manage your team member with the help of the WordPress team member plugin.
MemberPress will also allow you to grant permissions to MemberPress courses, posts, pages, categories, tags, feeds, reader disclosure, communities, and digital files based on which products your users have purchased or subscribed to. With MemberPress, you can create powerful and effective WordPress membership sites that take advantage of all of WordPress. WordPress plugins have incredible features, such as content management, forums, and social communities.
2. SureMembers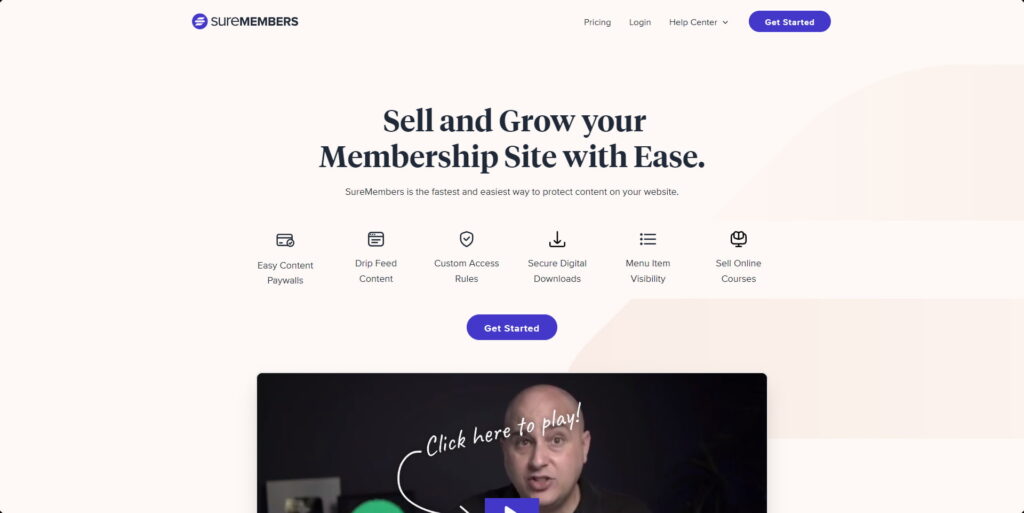 SureMembers is the epitome of excellence when it comes to WordPress membership plugins. It's unrivaled functionality and user-friendly interface make it a top contender in the realm of membership site management. Whether you're an experienced pro or just starting out, SureMembers empowers you to effortlessly monetize your content and create an engaging experience for your audience.
With SureMembers, you gain access to a wide array of cutting-edge features designed to elevate your membership site. From flexible tiered memberships to robust content protection mechanisms, SureMembers has it all. You can easily create different membership levels, protect valuable content, and seamlessly handle payments and subscriptions, all within the plugin's intuitive dashboard.
What sets SureMembers apart is its commitment to providing a seamless user experience. Both site owners and members can navigate and interact with the platform effortlessly, ensuring a smooth journey for everyone involved. Plus, SureMembers integrates seamlessly with popular payment gateways, making the process of managing subscriptions and processing payments a breeze.
3. ARMember
ARMember is a powerful and best membership plugin for WordPress. This plugin is used to create different types and levels of membership and earns money by charging users subscription fees. With the help of a user-friendly interface, ARMember makes creating membership programs effortless. ARMember is a freemium plugin, and it has an attractive login page.
You can make memberships, subscriptions, digital stores, and websites that offer online courses. It's also possible to create multiple membership levels, each with its own set of content restrictions. In case of any error with this or any membership plugin, you can know how to add users to WordPress easily. So don't worry about this issue if you have it in your mind.
This plugin is user-friendly, and it has drag-and-drop and digital download options. The most attractive feature of this plugin is easy payment processing. With MemberPress, you can create powerful and effective WordPress membership sites that take advantage of all of WordPress. WordPress plugins have incredible features, such as content management, forums, and social communities.
4. Ultimate Membership Pro WordPress Plugin
Ultimate Membership Pro is WordPress's most popular, effective, and best membership plugin. These essential plugins for WordPress integrate with WooCommerce for semi-automated billing and regular product subscriptions. It's one of CodeCanyon's best-selling WordPress membership plugins.
The multiple membership levels allow your users to choose how much they want to pay, while the free and trial options allow them to sample your offer. With it, you can restrict access to specific pages, such as WordPress posts, reader disclosure, and pages. Customers can log in using their social media accounts. Gutenberg modules are available in this plugin for instantly adding blocks for things like drip content.
5. Paid Memberships Pro

Paid Memberships Pro is a powerful and best membership plugin for WordPress. It comes with excellent customer support and a few features to help you get started with your membership site. Paid Memberships Pro is a free plugin. It comes with basic video tutorials and documentation and 19 free add-ons. It is a good option for membership sites and those who want to test the plugin before upgrading.
This plugin allows you to integrate with six payment gateways like CyberSource, PayPal, Braintree, or Stripe. You can use the plugin on many sites as you want and restrict content for members only. You can also learn how to add payment icons to the footer in WordPress so that you can utilize this plugin well. The plugin allows you to insert and customize ads directly and protect your course. You can send out emails to your customers using this plugin. Even you can create your membership levels at different prices.
6. Restrict Content Pro

Restrict Content Pro is a content-hiding plugin that comes with membership management and subscription management features. This best membership plugin's multiple built-in integrations are one of the reasons why so many people like Restrict Content Pro. The multiple built-in integrations are one of the reasons why so many people like Restrict Content Pro. It is able to export data to excel or CSVs for members and payment lists.
This plugin allows you to easily create unlimited subscription packages and manage all of your members. You can sell your memberships and even include other products for sale on your website with the WooCommerce integration. This plugin offers a lifetime pricing option to save money and eliminate recurring fees in the long run.
7. s2Member

s2Member is a freemium best membership plugin for WordPress. The premium version is selling for a one-time fee. s2Member can manage WordPress and its capabilities. It also can set up open registration and content restrictions. All registration and login forms are customizable. s2Member's premium version lets you integrate with PayPal Pro, Stripe, Authorize.net, and ClickBank.
The premium version also supports WordPress multisite and a public members list. This plugin is integrated with your favorite mailing list service, and you don't have to use the best WordPress email plugins at all. Several security features, such as digital download, brute-force login prevention, and unique IP restrictions, are built into the plugin.
8. WooCommerce Memberships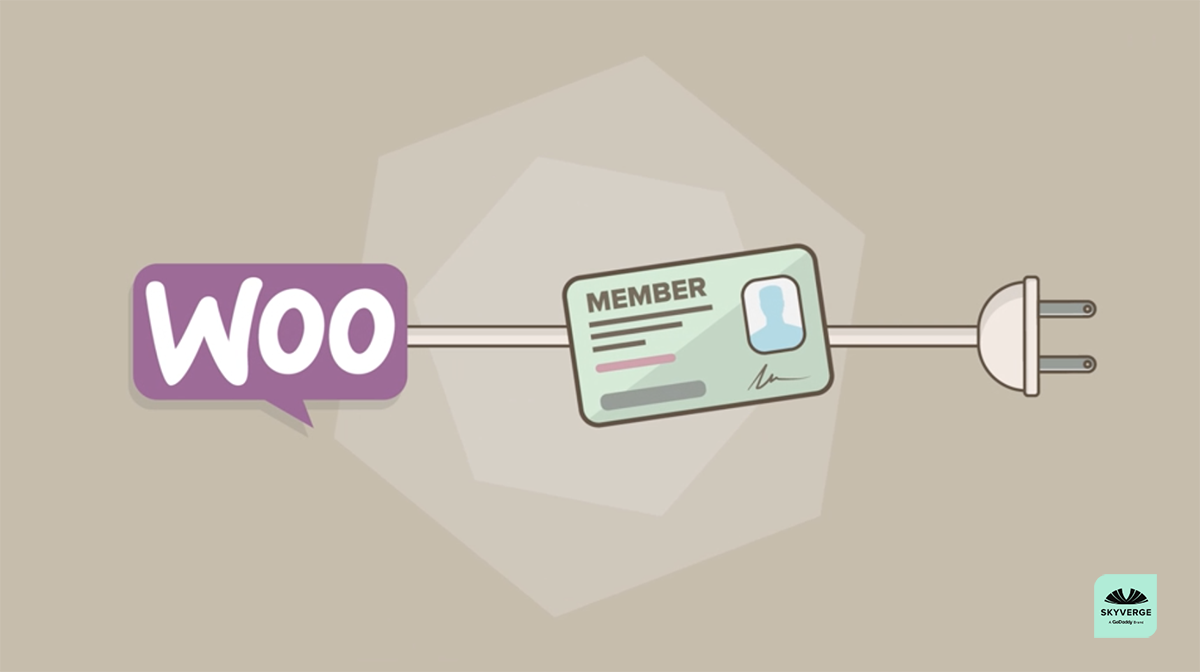 WooCommerce Memberships is more than just a content restriction and WooCommerce rewards plugin: it's a simple, site-wide membership plugin for WordPress that connects your content, shop, and memberships. You can create a buying club where some products are visible to members only. Even you offer special discounts to your members.
You can create a buying club or corporate account where some products are only visible to members. Lists of members can be imported or exported using this best membership plugin. You can send members messages and save templates for these messages.
9. Paid Member Subscriptions

Paid Member Subscriptions is WordPress's easy, powerful, and best membership plugin. You can manage unlimited subscription plans, restrict content, and get paid almost instantly with the membership plugins. You can create Login, Register, and Account pages by using shortcodes. Also, you can create unlimited subscription plans.
This plugin offers you Restricted content based on membership or logged-in status. With a "pay what you want" pricing feature, your customers can choose how much they'd like to send you monthly. This plugin integrates with WooCommerce, allowing the administrator to limit product viewing and purchases and offer members discounted prices. You can place a login module anywhere on your site using a shortcode. Also, you can customize email templates. This plugin allows you to export member data to use elsewhere or send to your stakeholders.
10. WP-Members Membership Plugin

WP-Members is one of the most cost-effective plugins for creating a WordPress membership site. There isn't a paid version. You can restrict your WordPress content as you want. Also, you can create as many registration fields as you want and customize them to match your brand and the type of data you want to collect.
The plugin has a unique feature for automatically generating an excerpt teaser for all blog posts. It provides over 120 filters and action hooks to improve the possibilities for customizations. So don't worry; you can easily start a blog website as you can do more with this plugin. This plugin provides several API functions for advanced expandability. The login module is available as a plugin, making it simple to integrate into various areas of your website.
11. Ultimate Member

Ultimate Member is a WordPress user profile and the best membership plugin for WordPress. The Ultimate Member plugin is a cost-effective way to create a membership website. The Ultimate Member plugin is free to download and use, and some extensions are like this. There are conditional logic form fields and custom form fields to create the exact types of forms you need for your membership site. The frontend user registration and profile module have options for customization.
All front and back-facing interfaces look just as beautiful as the premium plugin. This plugin has beginner-friendly features such as a drag-and-drop builder and Gutenberg modules. If you are using Gutenberg you can disable Gutenberg as this plugin has more attractive features like that. With a support forum, getting-started guides, and contact information, you'll be able to get answers to your questions quickly.
12. ProfileGrid

ProfileGrid is a user profile, member, and directory plugin with many features. User Groups are a feature of ProfileGrid, which is primarily a user profile builder. WooCommerce integration, bbPress support, and advanced forms are all included in the core plugin and you can easily add Google Recaptcha keys in the contact form.
A group event, a logout menu, and user profiles are also available. It's a small plugin that doesn't require heavy software that can overload your computer or server. Customers are encouraged to communicate and participate through user blogs, private messaging, and a friend system. This best membership plugin is excellent for allowing your users to upload larger files. You can create your membership levels using payment systems like Stripe and PayPal.
13. Simple Membership

Simple Membership is considered the best membership plugin. This plugin allows you to offer free and premium content from your website. It is flexible, well-supported, and simple to use. This plugin allows you to access most of the essential add-ons for free, with a few premium add-ons to choose from. Some of the add-ons include email service integrations, login redirection, and a membership form builder. This plugin provides a member login widget for placing a login form on all site pages.
You can create an infinite number of membership levels and list both free and paid memberships on your website. This plugin is compatible with different kinds of lightweight WordPress themes. While editing a WordPress post or page, the content is protected. A login module does seem to be for those who aren't at the correct membership level. Using the Simple Membership plugin, you can easily add a blocker to specific pages.
Conclusion
We have tried to cover some best WordPress membership plugins. Though it is quite tough to decide which plugin you are using for your website. We hope these plugin lists will help you pick the best one for your website. Please, feel free to check out our awesome WooCommerce WordPress themes lists like 19+ Best Free Creative Digital Agency Themes for WordPress and 19+ Best Free WooCommerce Themes to Boost Your Online Store to have greater insights about WooCommerce themes.