Cryptocurrency represents a new era of technology-driven markets. It enables anyone to use the global payment system whenever they want without disclosing vital information. You can take bitcoin and other cryptocurrencies as a form of payment with the help of cryptocurrency plugins.
It'll broaden the payment methods, and encourage international customers to purchase from anywhere in the world. This article lists the top 13 WordPress crypto plugins and discusses each one's main features.
Top 13 WordPress Crypto Plugins
1. NOWPayments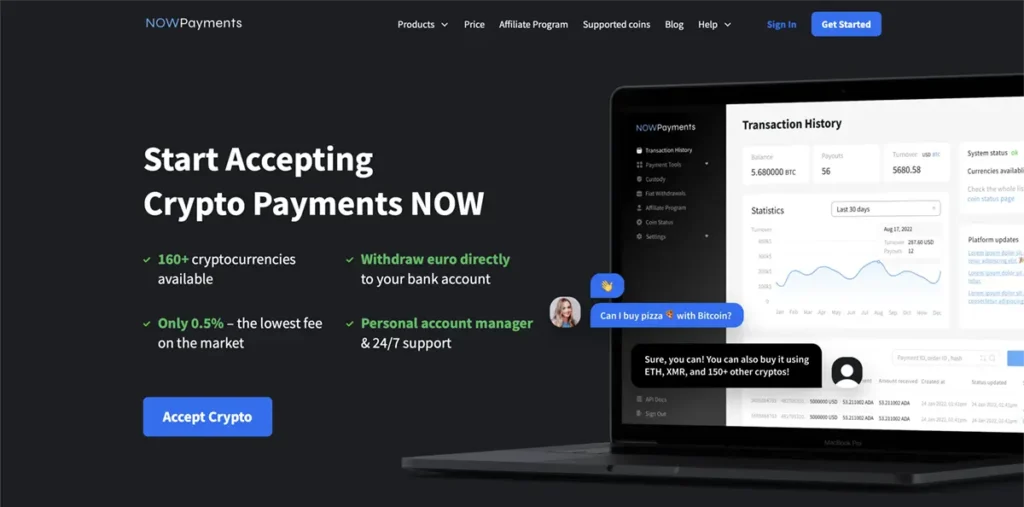 NOWPayments is the best WordPress crypto plugin. It offers many coins, including Bitcoin, Ripple, Tether, Pax Dollar, Avalanche, and TRON. This plugin's API sends instant payment notifications (IPN). It allows customers to pay an order using multiple cryptocurrencies.
This plugin transfers money to your wallet, and no blockchain confirmations are necessary. It offers periodic email billing to request payments from clients or B2B partners in different cryptocurrencies. NOWPayments lets you build subscription groups by selecting various frequency and invoice options.
2. MyCryptoCheckout

Using MyCryptoCheckout, you can accept bitcoin payments on your online store. This WordPress crypto plugin supports widely used coins such as Bitcoin, Binance Coin, Dash, DigiByte, and Electra. This plugin uses real-time conversions and exchange rates. Moreover, it enables fee-free peer-to-peer transactions.
MyCryptoCheckout provides an easy checkout experience by removing third-party redirects and completing cryptocurrency payments directly on your WordPress website. Using it, you can give clients various options while setting a default currency.
3. Massive Cryptocurrency Widgets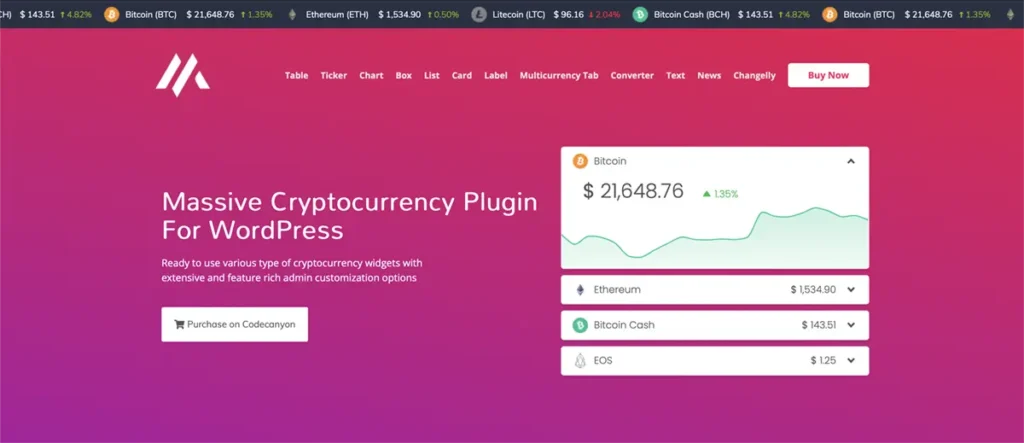 Massive Cryptocurrency Widgets is a wonderful collection of tools that will vastly improve your website's online visibility and professionalism. You can get tickers, tables, lists, charts, cards, and labels widgets, to name a few, in the Massive Cryptocurrency Widgets bundle.
This WordPress crypto plugin enables users to instantly calculate prices and convert between different currencies. You may gain a lot of information from a single kit of widgets, so explore and consider integrating some interesting features into your bitcoin website or blog. Moreover, you can add your widgets to the page without any coding knowledge.
4. Cryptocurrency Widgets

Cryptocurrency Widgets is a powerful WordPress plugin that includes the USD, GBP, EUR, and 32 fiat currencies. You can use a shortcode to display coin market capitalization (market cap), a price ticker, and a price table on a WordPress website.
Using the Advanced Ticker function, you can also show set coin prices in the website's header or footer. Using this cryptocurrency WordPress plugin adjusts the price ticker's design and speed. With the Elementor plugin, you can add price labels to the site pages.
5. Blockonomics

On your WooCommerce website, Blockonomics lets you accept Bitcoin, Bitcoin Cash, and fiat payments on your website. This WordPress crypto plugin lets you receive payments straight into your cryptocurrency wallet. It supports popular HD wallets like Trezor and Ledger Nano S.
Furthermore, this WordPress crypto plugin can begin processing payments without needing API keys or approved documentation.
6. Coin Table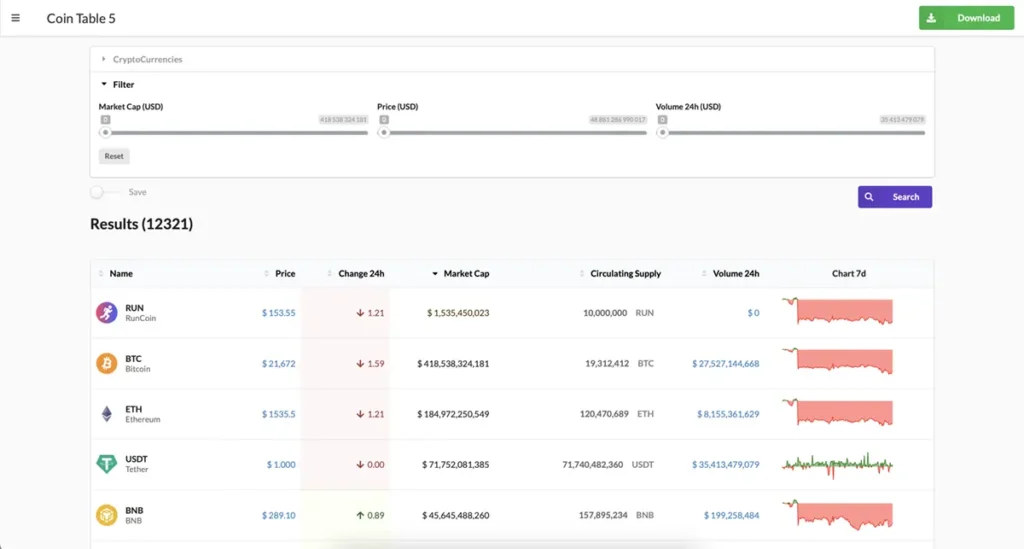 Coin Table is a content management system created specifically for real-time cryptocurrency information. This WordPress crypto plugin offers 24/7 automated updates and supports over a thousand currencies and all their data. Along with cryptocurrencies, Coin Table fully supports 156 more currencies, including the dollar and the euro.
The admin interface that comes with Coin Table allows you to control all the settings and even add more admins and users. The package includes four editable pages: home, table, currency, and converter.
7. Coinpress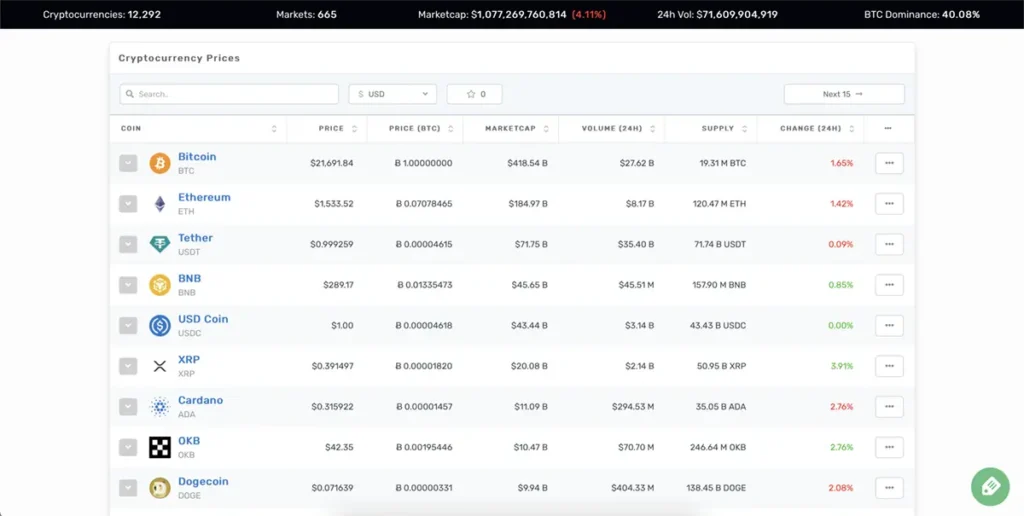 Coinpress creates over 2,200 detail pages with real-time prices, charts, coin market caps, historical data, and a calculator. This WordPress crypto plugin provides advanced table display options, including a currency selector and watchlist. Coinpress gives you the option to change the layout and order that are set as defaults.
This plugin offers a pre-written description. Using the built-in editor, you can update the text, linked website, white paper, and social links. Also, you may combine the website with Changelly and use Google fonts and US or EU number formats.
8. CryptoWoo

CryptoWoo is a cryptocurrency payment plugin that accepts payments in Bitcoin, Ethereum, Dogecoin, and Litecoin. It provides a secure gateway for your WooCommerce store by eliminating external redirection during checkout. CryptoWoo frequently provides updates to maintain the plugin's great speed.
This WordPress crypto plugin parameters can also be modified by sending development requests. It supports zeroconf payments, real-time exchange rates, and an HD wallet add-on. Moreover, it interfaces with the admin back-end and orders emails from WooCommerce.
9. Cryptoniq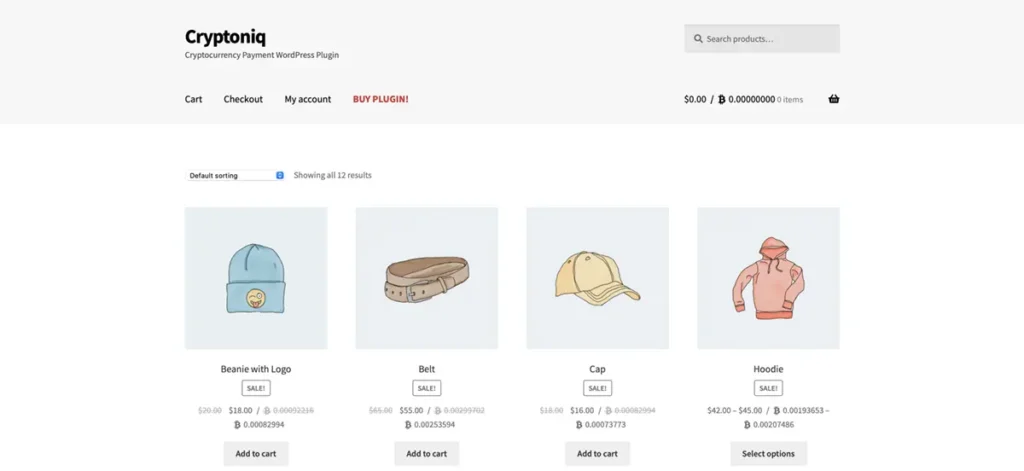 Cryptoniq is one of the best premium WordPress crypto plugins. This cryptocurrency WordPress plugin accepts six different cryptocurrencies as payment, including Bitcoin, Ethereum, Dogecoin, TRON, and Litecoin. With it, customers can send money without third-party redirection or withdrawal fees directly to their digital wallet.
Also, this WordPress plugin provides an admin panel where users may add product prices, wallet addresses, and payment currency settings. This plugin license comes with six months of developer support and upcoming upgrades. The Redux Framework plugin must be installed on the website to use Cryptoniq.
10. Cryptocurrency Search Addon
Cryptocurrency Search Addon is compatible with three plugins: Coin Market Cap & Prices, Cryptocurrency Exchanges List Pro, and Crypto ICO List Widget Pro. You can use the Bitcoin Search Addon to add a highly advanced search box to your WordPress page.
Using this WordPress crypto plugin, you can give access to over 2,000 coins, over 200 cryptocurrency exchanges, and an additional 4,000 initial coin offers (ICOs) to all of your visitors and members. The function of the Cryptocurrency Search Addon is to display combined ajax-based search results for the crypto coins.
11. GoUrl

GoUrl is an open-source digital currency payment gateway. You can accept cryptocurrencies like Reddcoin, Litecoin, Dash, Speedoin, Vertcoin, and Bitcoin Cash. This WordPress crypto plugin offers a white-label option that enables you to customize the payment box with your company's logo.
Moreover, GoUrl can instantly convert any cryptocurrency earnings into fiat currencies like the United States dollar (USD) and euro, and it can also transfer them to an altcoin or Bitcoin wallet (EUR).
12. Coins MarketCap

Coins MarketCap interfaces with a third-party API to automatically generate a cryptocurrency price listing with real-time value, coin market cap, tickers, and charts. You can choose which information to display and sort it by rank or volume. Also, each cryptocurrency leads to a single, automatically generated page.
This WordPress crypto plugin design can be changed using shortcodes or customized HTML. Coins MarketCap supports several languages, including English, German, Spanish, Italian, and French. You can easily translate the plugin to another language with the Loco Translate plugin.
13. Multi-Currency Crypto Wallet
Multi-Currency Crypto Wallet, a simple and useful WordPress crypto plugin, improves the level of complexity of your website. This plugin supports various assets, including Bitcoin and others, that can easily be added to a wallet.
Moreover, a widget is included to make converting currency into and out of bitcoin easier. Numerous clients are utilizing the service; one person even converted $40 million.
Conclusion
Using a WordPress cryptocurrency plugin is a great way of using blockchain technology and accepting Bitcoin and other currencies on your online store. We hope you succeed in your search for the top cryptocurrency plugin for your WordPress website. Last but not the least, please check the cryptocurrency acceptance rules of your country before start using.