Free live social chat widget for a website is your customers' best friend.  Are you wondering why?  – Because real customers always have questions about the product or service, chat support plugins can answer any question quickly.  No matter how energetic you're, it's obvious that your sales team or chat agents can't always be active in answering customers' queries. Also, you can't handle hundreds of questions at the same time. But a chat tool can do. 
That's why it's necessary to add a live chat support plugin. It also can help you to build a good relationship with customers. Let's find out the key benefits of
Benefits of Best Live C
hat Plugin in WordPress
Free live social chat widget for the website has changed the customer service experience and reshaped the industry. It offers many benefits for any website. The benefits are: 
Your customer service will be available 24/7 to assist your customers. 

The Live Chat plugin is faster than any human response. So your customers will have the solution quicker and more detailed. Also, it keeps chat history so that visitors can remind the query.

Introvert customers feel comfortable with a chatting service over connecting with a person. Using this opportunity, you can build a new customer base. 

A Live Chat plugin can simplify customer service work. When a bot can answer most generic questions, you don't need to hire people to reply with the same thing repeatedly. 

When you use chat support plugins, you don't need to worry about the behavior of the customer service executives. You know what your plugin will reply to when someone asks something. 
Free Live Social Chat Widget for Website
You can choose free live chat software, also known as a plugin, from WordPress Plugin Repository. We've sorted out 9 WordPress live chat plugins for you to have the best among hundreds. 
1. 3CX Live Chat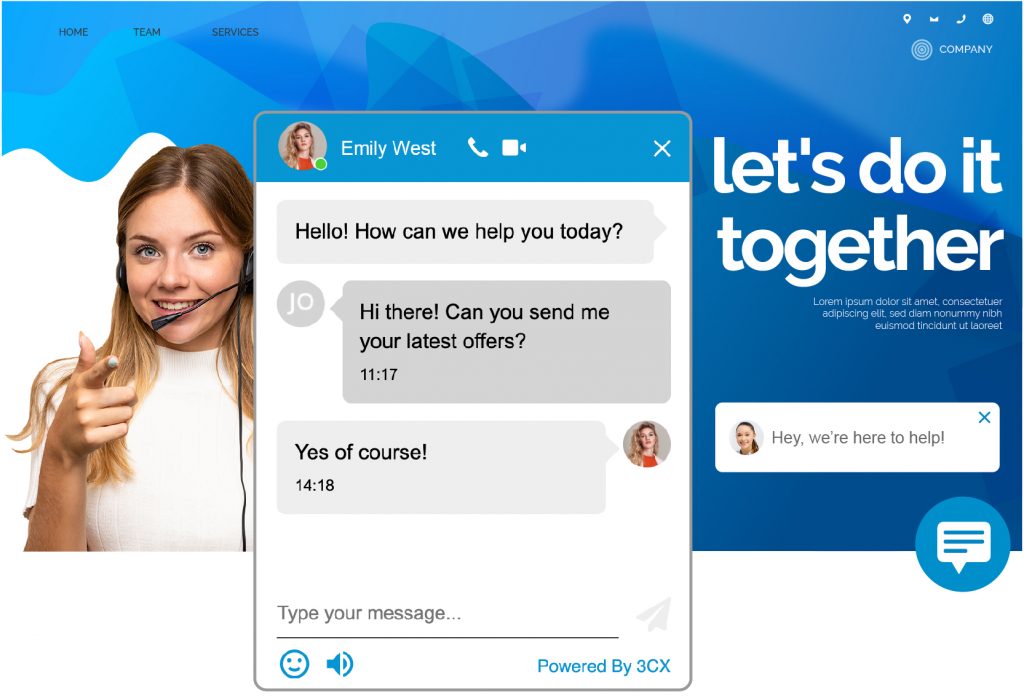 3CX is one of the most popular free live social chat widgets for websites, where you can start a live conversation with a visitor or vice versa.  The live chat control panel shows the visitor's information, such as when someone arrived on your website and how many pages they visited.  Visitors can initiate a discussion by typing their information into the live chatbox on their screen or selecting "Start chat." You can start a conversation with them once they take any action.
This plugin is compatible with WooCommerce WordPress free theme to better use of this plugin. 3CX Live Chat plugin uses cloud servers for high performance and uninterrupted support. Besides providing chatting-based support, it also offers video and voice-based customer support.  Among 2,400,000+ downloads, more than 30,000 websites are using 3CX right now. On top of that, it's free to use. 
2. Facebook Chat Plugin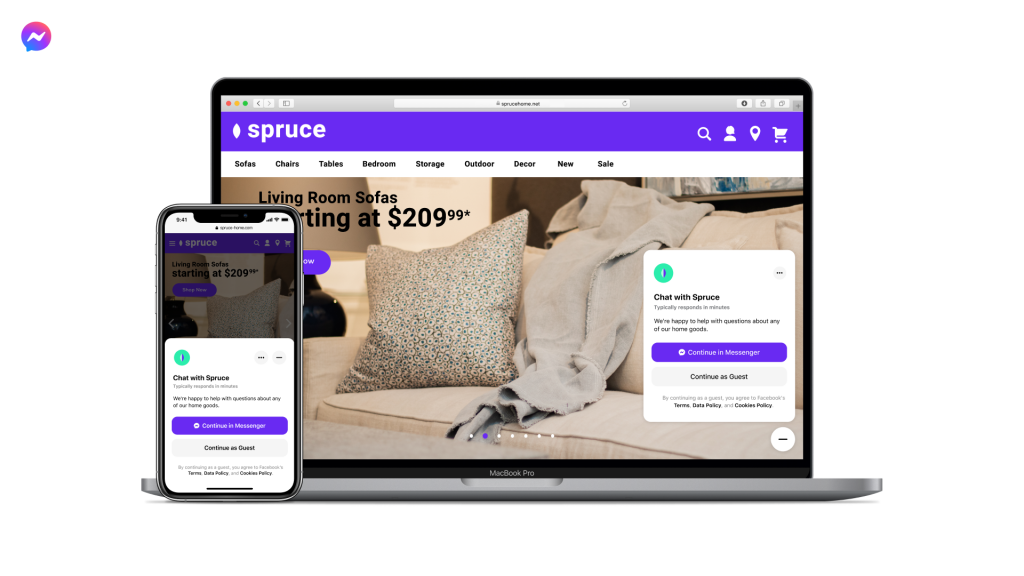 It's a part of the Meta Business chat widget that gives live chat on your website. The Facebook Chat Plugin allows you to use Messenger-powered mobile app-based chat to communicate with customers on your website.  Visitors can message you anytime by clicking on a little Messenger chat bubble in the lower right corner of your site, whether on a computer or a phone. You can categorize common question keywords and set them up to reply accordingly. Visitors can chat while browsing the page, and you can continue to chat with your visitor even after they left the site. 
Visitors without any messenger account can use the anonymous mode. There is no need to switch between apps and answer questions you get on the website. Facebook Chat Plugin is highly popular and holds around 200,000+ active installations. But numerous users have complained about its unresponsive technical support and don't reply to any support ticket. 
3. Tidio
Built-in chatbots are not always the ultimate solution for world-class customer service. You'll need customizable chatbots and a real person to understand the customer's issues.  Tidio offers both ready-made and custom-made solutions. It has bots that can help you 24/7 with some pre-made functionality. This chatbot can turn live chat widgets into smart popups. Specific actions can trigger those popups.
Also, it's customizable. As the chatbot is a popup plugin in WordPress, it will increase the attraction of customers. It offers to edit all the conditions, text, and images using drag and drop. Most of its features are free, but you need to purchase the paid plans if you need to use them all.  Tidio has been downloaded more than 1,000,000+ times and holds 100,000+ active installations.
4. JivoChat Live Chat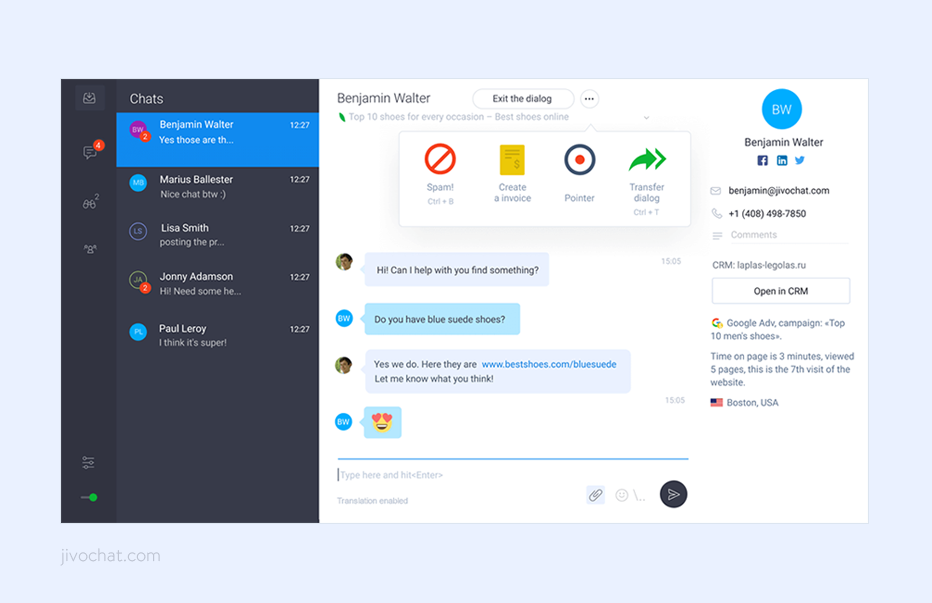 If you want to use a free live social chat widget for a website for multi-purpose and keep your customer support organized, JivoChat is a good option.  You can do live chat, voice call, email, and use socials using JivoChat. It helps to support your customer efficiently. It saves time because it offers you to use multiple things under the same hood.
Also, the integration of chat and call is a crucial feature to connect with your customers more.  JivoChat has been downloaded 300,000+ times and has 40,000+ active installations. Also, it has a free plan only. 
5. Tawk.To Live Chat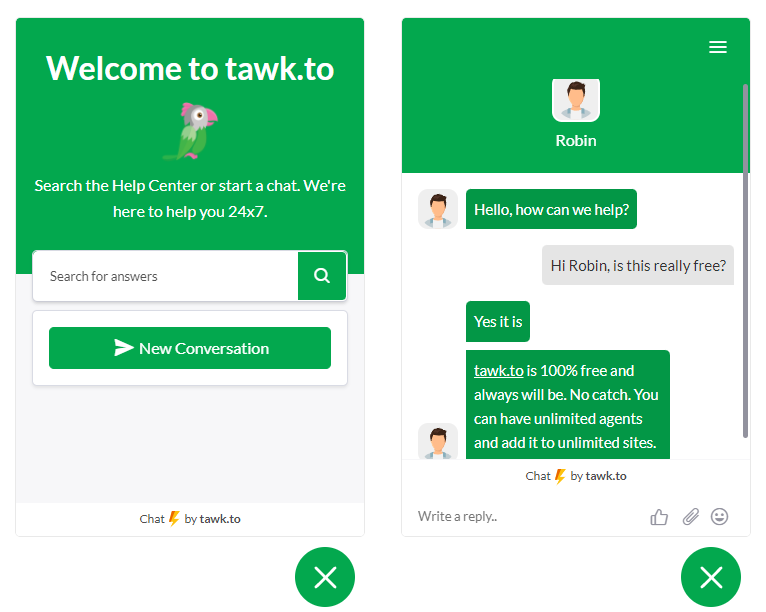 Tawk was created for businesses to respond in real-time. It allows you to personalize greetings and share promos. You can also do these with trigger messages according to visitors' location, previous visits, views, etc.  Also, it is compatible with all modern browsers. many businesses that are using this plugin with corporate themes for WordPress.
You can also create tickets using a built-in support desk and ticketing system. It makes things easy to follow up. You can also assign tickets using this plugin.  Tawk. to is one of the best free live social chat widgets for websites you can use. It has nearly 200,000+ active installations with 2.6M+ downloads.  
6. Live Chat with Messenger Customer Chat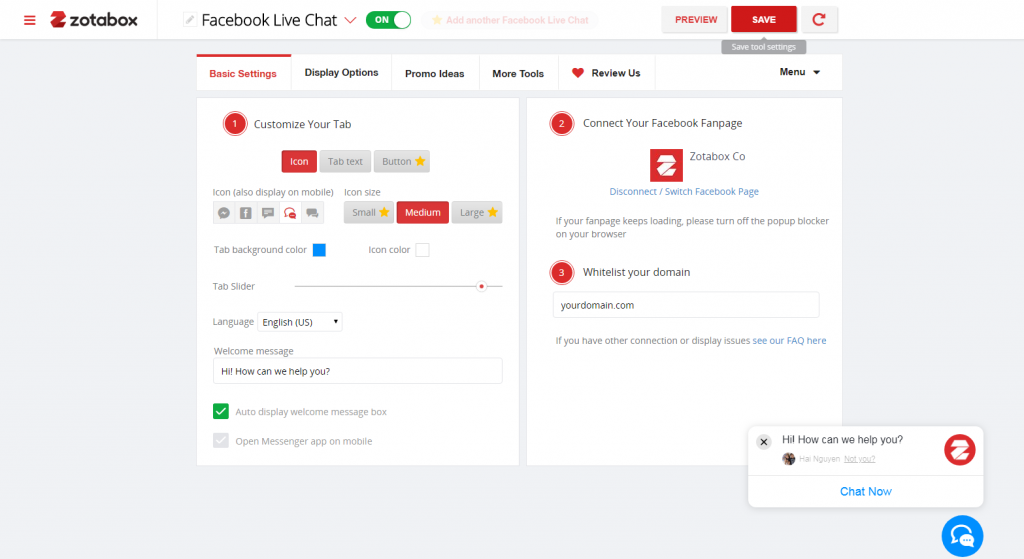 Live Chat with Messenger Customer Chat is an easy-to-use package of 20+ promotional sales tools for your website. It's also known as Zotabox. Mailchimp, Constant Contact, Aweber, Get Response, and Campaign Monitor, among others, are all linked with Zotabox.
It can be integrated with more than 20 social accounts. Popular social media, such as Facebook, Instagram, and Twitter, can be easily integrated with it. Zotabox, with a package of 20+ promotional sales tools,  is a paid plugin with a 30-day free trial. But it doesn't require the user's payment information. Also, it offers a 30-day money-back guarantee.
7. ChatBot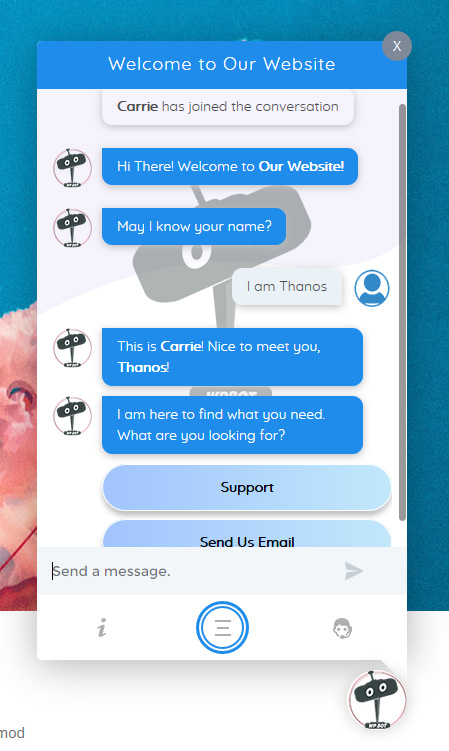 The ChatBot is made so that a non-technical person can use it without having zero coding knowledge. Also, it is super easy to operate. It's a plug n play AI bot that doesn't require any technical knowledge to install. You can install it quickly and start using it.  After installing it, you must create a section containing frequently asked questions and answers. The plugin will do the rest. 
The chatBot is NLP-powered. It can work in NLP mode, Menu-Driven Mode, or a combination of both. Besides that, this plugin is compatible with any language, and you don't have to install translation plugins for WordPress. Also, it is free to use and has been downloaded more than 100,000 times with 3000+ active installations. 
8. Social Chat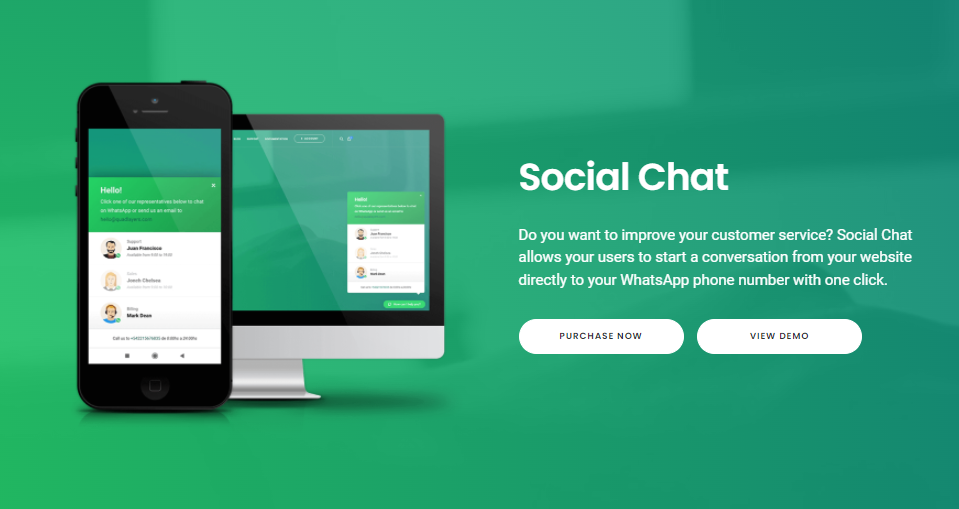 This plugin began with the name "WhatsApp Chat". Later, its name was changed to Social Chat. WhatsApp is one of the most popular instant messaging applications. It's available in 100+ countries and supports more than 50+ languages. In Social Chat, a WhatsApp button is placed, and your customer can communicate with you.
The visitor's message will come directly to your phone. You can also integrate with social media plugin for WordPress if you want.
You can also put a box with contact information and a personalized message in WhatsApp Chat. This box may be activated from the WhatsApp conversation section's Box tab, where you can customize the header and footer messages and the contact name, phone, work, and avatar.
Being connected with a top-rated app, Social Chat has 100,000+ active installations and 2.2M+ downloads. It offers a free version for limited usage. Upgrading to a paid plan will be necessary for professional use. 
9. Live Chat by Formilla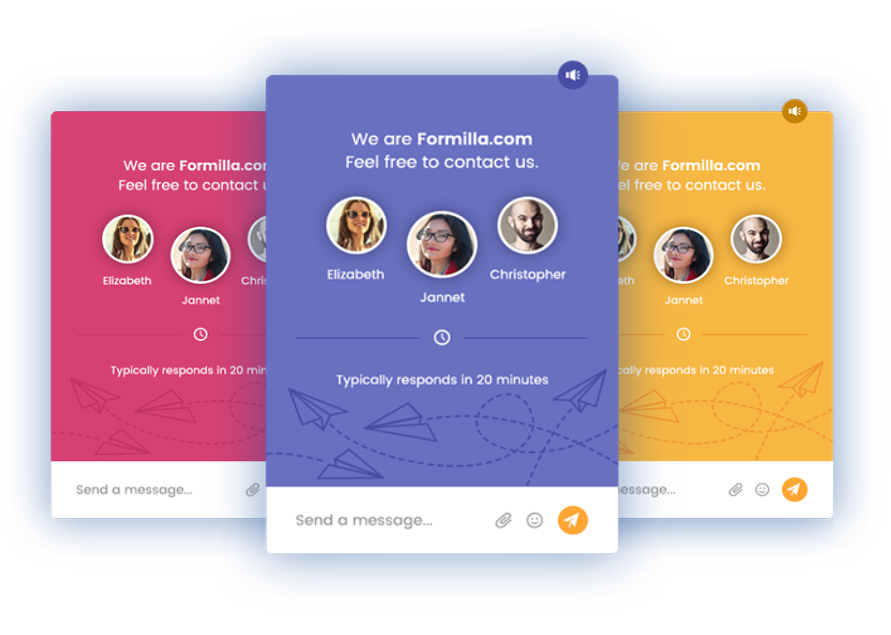 You can use Formilla Live Chat to start customer service immediately. It has a responsive, mobile-ready chat widget that is adaptive to any digital screen.  It allows monitoring or tracking of visitors in real-time and allows instant chat with them.
You can also track visitors' location, operating system, browser history, referring site, new user vs. returning, IP address, etc., and you don't have to use WordPress analytics plugins to track this record separately. Still, if you need, you can use different analytics plugins in WordPress.
Formilla Live Chat has various language support, such as Spanish, French, German, Dutch, Portuguese, Chinese, Hindi, Italian, and more! Having that multi-lingual support can increase your presence in foreign countries.  Customers can use Formilla Chatbots to substantially cut support time by building up a Chatbot that uses Artificial Intelligence to automatically reply to frequent visitor questions at any time of day or night.
You can set up a free live social chat widget for your website to accomplish the same, giving you even more control over the user experience. For example, a chatbot can proactively pop up to engage visitors and qualify them as leads before conversing with a live agent. Formilla Live Chat works with various unique chatbots you can build for your company.
Formilla offers to file sharing between you and visitors in case of any complex issue to solve that. It has 5,000+ active installs and 160,000+ downloads. This chat support plugin has a free and premium version of it. 
Conclusion 
A free live social chat widget for a website can help you improve customer service without increasing the budget. Also, it reduces the complexity of customer service and allows for increasing service hours. Don't miss this excellent communication tool to understand and serve your visitors well if you want to grow your WooCommerce store sales.
You can also use these 5 WooCommerce plugins to grow your business.  So, what kind of live chat experience will you give your visitors?