As important as digital photography portfolios are for photographers trying to connect with their audience. A successful photography profession requires time spent focusing on growing the business. Gallery plugins for WordPress for photographers help to create a beautiful photography website with all the necessary components to precisely capture the look and feel you desire. There are also different kinds of photographer themes that make your website look appealing. There are a large number of WordPress photography plugins, which might confuse any user when selecting one. Not only just WordPress photography plugins but also lots of other plugins like slider plugins, optimizer plugins, and SEO plugins which are considered photography plugins. We have constructed a list of the essential WordPress photography plugins to make your life easier and give your portfolio site the impact it deserves.
The Most Popular Gallery Plugins for WordPress for photographers 2023
1. NextGEN Gallery

Due to its numerous features, like the lightbox gallery and various layouts, NextGEN Gallery is one of the most popular WordPress plugins for photographers. It is the most popular user management plugin in WordPress. Its user-friendliness and comprehensive offers have led to over 1.5 million downloads annually, earning it the trust of photographers. It works with the Gutenberg block editor, enabling users to drag and drop galleries or albums into their website. This plugin calculates auto taxes. It has different payment gateways. It offers special discount coupons. It has Multiple gallery layouts.
2. Imsanity

Imsanity is one of the popular WordPress plugins for photographers. You might want to host huge, uncompressed images as a photographer for the best image quality. However, that is a terrible technique for maintaining a speedy website. You can avoid the hassle of individually compressing your photographs using Imsanity. Imsanity can automatically resize huge image uploads. With this plugin, you can choose whatever size and quality you like. It also provides a bulk-resize feature to resize previously uploaded images and free up disk space. You may resize individual images from the Media Library's List View while using any most popular theme WordPress. This plugin is perfect for sites where contributors don't want to scale photographs before posting or where original high-resolution images are not required to be stored.
3. Photo Gallery by 10Web
Photo Gallery is one of the most popular WordPress plugins for photographers for people who want to build a beautiful mobile-friendly gallery in a few minutes. Thanks to its easy-to-use capabilities, you can design anything from straightforward photo galleries to intricate ones. Beautiful layout options, gallery and album views, several widgets, and various extensions that expand its usefulness are all included in Photo Gallery. WordPress Photo Gallery is a wonderful option for websites and blogs that focus on photography and those that want to have powerful image galleries with simple navigation. The Photo Gallery plugin's watermarking feature allows you to put text or image watermarks to the images in your galleries and albums to prevent unauthorized use.
4. Envira Photo Gallery
Envira Gallery is an SEO-optimized and one of the best WordPress plugins for photographers created for those looking for performance-optimized photography websites. Its drag-and-drop builder allows users to construct image galleries quickly. It is the most popular WordPress gallery plugin for photographers. This layout plugin's front-end and back-end optimization enhance efficiency while ensuring mobile friendliness and responsiveness. With this plugin's pre-built WordPress themes and templates, you can quickly customize or make your own. You can split your extensive galleries into multiple pages to improve page speed and user experience, and all of these are compatible with any free themes for WooCommerce in 2022. You can instantly display and sell your photos with the most popular eCommerce software on the web. This plugin prevents unauthorized access to your WordPress galleries. You can take advantage of the native fullscreen and Lightbox display.
5. Responsive Lightbox & Gallery

A complete WordPress gallery plugin with a powerful drag & drop gallery builder and lightbox capability is called Responsive Lightbox and Gallery plugin. It is one of the best WordPress plugins for photographers. You can quickly create beautiful galleries, customize them, and add your favorite styles with the built-in drag-and-drop gallery builder. The responsive lightbox and gallery plugin is lightweight and quick to load because it was created with SEO and performance. If you don't know what is lightbox in WordPress and how to add it to your website, you can visit our relevant articles. You can automatically add a lightbox to the content of widgets. It also can automatically add a lightbox to comments in WordPress. It has popular page builders compatibility.
6. FooGallery

One of the WordPress plugins for photographers called FooGallery offers wonderfully optimized layouts and quickly adds galleries to your website. You can see the live preview while you create your gallery for simple editing. FooGallery is an easy image gallery plugin with beautiful pre-built gallery layouts and an emphasis on SEO. It enables lazy loading for raging photo galleries and is responsive and retina-ready. In this plugin, live previews are available while creating an image gallery; and within the Gutenberg block editor with FooGallery Block. With this plugin, you can create a One-click gallery page.
7. Modula Image Gallery

The best WordPress gallery plugin for adding personalized, distinctive, and responsive galleries to your website is called Modula. This is one of the popular WordPress plugins for photographers. Building unique lightbox galleries, block grids, custom grids, and more is now simpler than ever, thanks to Modula, which can be used straight from the WordPress dashboard. Using this plugin, photographers can make lightbox galleries, organize them into albums, add watermarks for extra protection, display EXIF metadata, paginate, and enhance the appearance of their portfolio websites. By dragging the image corners, you can resize it into any ratio. You can also use the plugin's auto-arrange feature to arrange your images.
8. Smart Slider 3

The most capable and user-friendly WordPress plugin for creating sliders, which was never before conceivable, is Smart Slider 3. This plugin is fully SEO-optimized, responsive, and compatible with any WordPress theme. Without any code, the Slider Plugin in WordPress makes stunning sliders. This slider plugin is one of the best WordPress plugins for photographers. the drag-and-drop functionality can drop your layers anywhere on the slide using. As with page builders, you can edit your slides. With this plugin, the slide library provides several pre-made slides to kickstart your work. You can change the device mode on your slider, then adjust your content's resolution. Any environment, whether it be a smartphone, tablet, or laptop, may experience your website.
9. Slider by Soliloquy

Check out Soliloquy if you're looking for the top WordPress slider plugin. With this WordPress plugin, you can easily add a fully editable image slider to your photography website. Slider by Soliloquy is one of the popular WordPress plugins for photographers. It has many features, such as slider themes, dynamic sliders, video sliders, several types of animations, the ability to integrate content from Instagram and Flickr, and much more which can be implemented with the fastest and most Lightweight WordPress Theme in 2022. Soliloquy picture sliders work effectively on all devices, are fully responsive, and load quickly. Because this plugin understands the importance of speed when it comes to SEO and conversion, it is well optimized for web and server performance.
10. MetaSlider by dFactory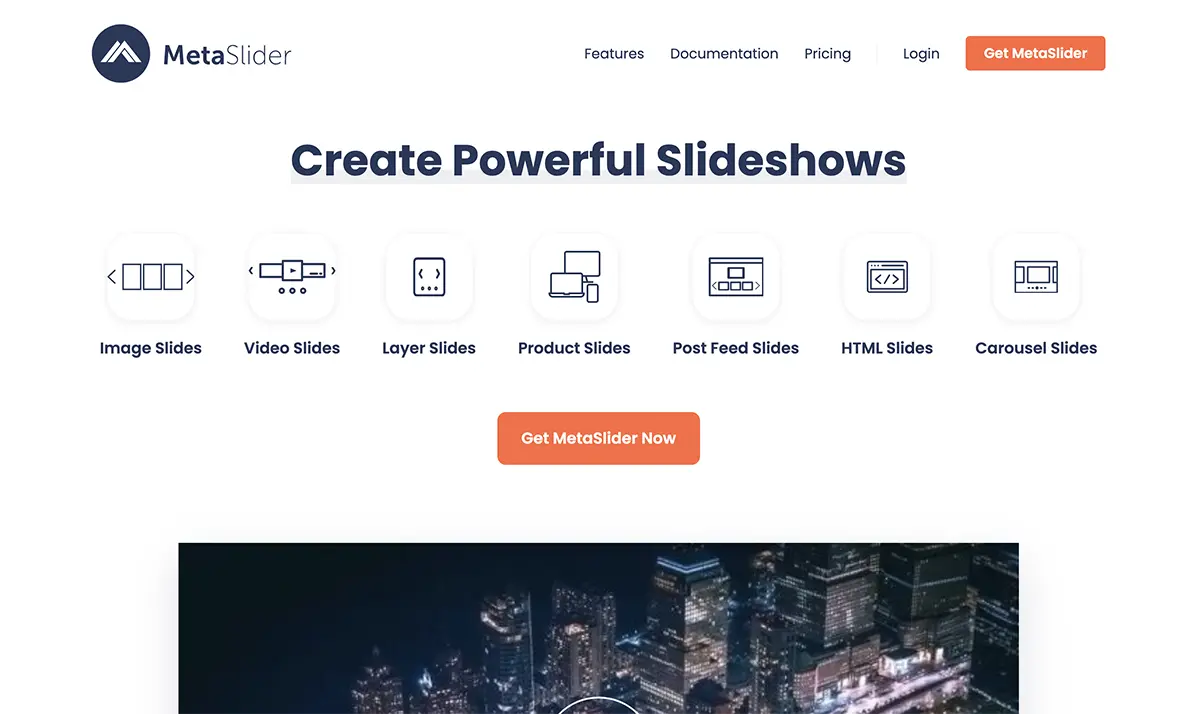 Another WordPress slider plugin for photographers is MetaSlider, which combines intuitive usability with cutting-edge capabilities to give your photography websites a polished appearance. Its user-friendly interface enables the creation of stunning slideshows. You can easily create a slider for WordPress using the UX builder. With MetaSlider, you may make a variety of slides, including carousel slides, image slides, video slides, post-feed slides, and more. To use a wide range of patterns and templates, you may access the Extendify template and pattern library. Whether it is a mobile device, desktop computer, or tablet, MetaSlider provides proper performance on all platforms, and all of its slideshows adjust to the screen size of the device. Additionally, it works with the Gutenberg block editor.
11. EWWW Image Optimizer
A plugin for image optimization is called EWWW Image Optimizer. It claims that speeding up and improving the photos' user experience may solve a slow website and reduce bounce rates. This is one of the best gallery plugins for wordpress for photographers. Using its premium compression to improve compression and quality ratios, this image optimization WordPress plugin keeps the image quality while lowering its size. There are no requirements for file size or uploading speed. EWWW IO is the only plugin that allows you to optimize photos using software on your server.
12. Imagify

Imagify is a plugin that photographers may use to optimize each image in their portfolio carefully. Photographers always make their portfolios with the help of the best portfolio themes for WordPress to look great in the eyes of visitors and Imagify helps a lot to present to optimize their photos well. With the help of this photography plugin, your photographs are automatically optimized to reduce their size without sacrificing quality. This leads to faster loading times, a better user experience, and eventually top SERP ranks. This is one of the lead WordPress plugins for photographers. You can work on numerous pictures at once using its bulk optimization tool. Additionally, you may effortlessly resize your photographs and select from three different compression settings. Imagify changes your images to WebP format to make them lighter and speed up your website.
13. Smush by WPMU DEV

Smush is an image optimization plugin for photographers that allows them to easily compress, resize, and optimize their photographs. It offers to raise the Google Page Speed rankings and allows lazy loading. This plugin has unlimited image optimization like bulk optimization, compressing, and resizing unlimited images in a matter of clicks. You can see it all from one easy-to-use dashboard. This plugin has an automatic resizing & scaling feature that helps the customer a lot. If you delete any picture unconsciously, then the plugin can back up your original image.
14. Image Widget

The easy-to-use Image Widget plugin allows you to add image widgets to your website by utilizing the built-in WordPress media manager. This is another best WordPress plugin for photographers. At first, you can know how to add a widget in WordPress. Then you can easily use this widget at your ease. A default template for the widget output is included with the Image Widget. The code contains various filters that let you override data as you see fit. You can scan the code for "apply filters", which is always the best method to find out what filters are offered. You can upload, link to an external image, or select an image from your media collection. Also, you can customize the look & feel with filter hooks or theme overrides.
Conclusion
Knowing the top WordPress plugins for photographers will help you make a better choice for the plugin that best meets your needs. To be entirely neutral about the plugin choices, we've created the list based on user reviews, features, and popularity. We trust that the information in this article has assisted you in choosing the top WordPress plugins for photographers.