Marketplaces are packed with options for windows and doors WordPress themes. So you must stand out to get the attention of your visitors. The solution is choosing an effective and unique WordPress theme for your site.
In this article, we've come up with 14 windows and doors WordPress themes so that you can easily choose. You can select one of the best Windows and Doors WordPress themes to give your business a professional website.
Top 15 Windows and Doors WordPress Themes for Promoting Your Business
1. Windows & Doors

The Windows & Doors WordPress theme was created specifically to accommodate Windows & Doors businesses' needs. It has several features that will help you build your website.
This Windows and Doors WordPress theme offers a wide range of services, such as window tinting, window installation, UPVC manufacturing, furniture manufacturing, construction shops, and plastic windows to add to your website.
Your new website will look exactly like the demo because the demo content is loaded into the theme settings; you won't need to worry about XML files or missing content.
2. Chrimson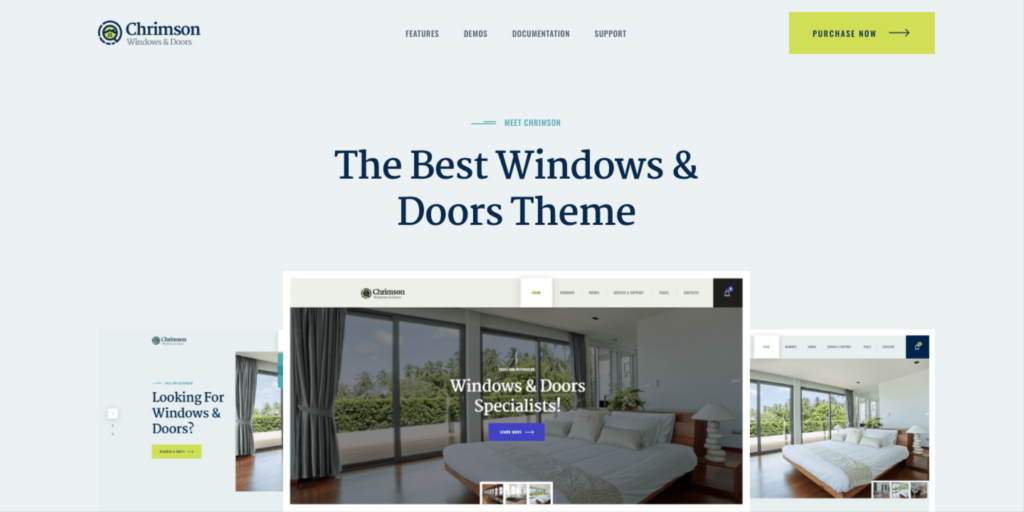 Chrimson is a suitable WordPress theme for a variety of maintenance service business initiatives. Using this Windows and Doors WordPress theme, you can build a fully responsive, retina-ready website with an exquisite minimalist design and personalized branding.
The website can be helpful to people who offer window and door repair and maintenance services, design businesses, designers, architects, and bloggers interested in interior design and furniture creation. This theme is an excellent choice for showcasing your company online nowadays because it can be easily changed and managed.
It has an advanced quote and cost calculator to make visitors' page-viewing experience enjoyable. You may start selling products online right away thanks to seamless WooCommerce integration. Even a brand-new eCommerce homepage design is available with all the bells and whistles.
3. Jannal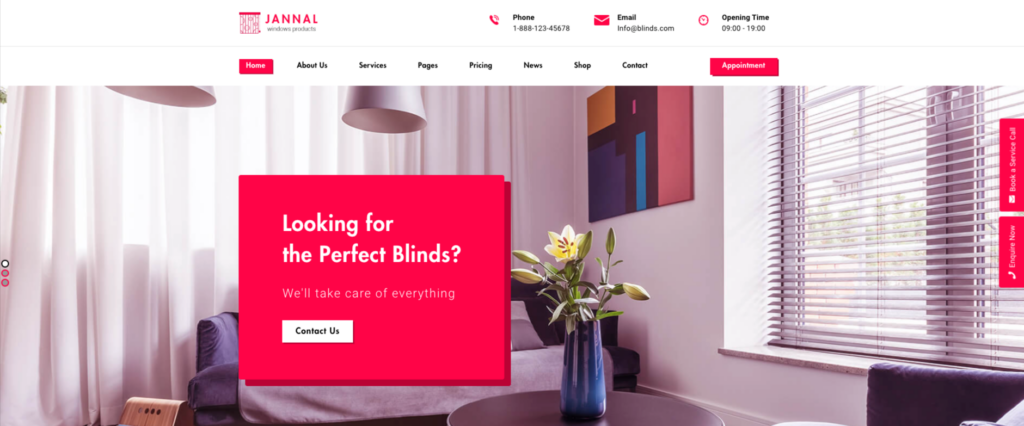 Jannal is ideal for retail establishments that provide interior design services, including kitchen, living, basement, and office design. This windows and doors WordPress theme creates a robust Woocommerce store where you can offer window blinds, interior blinds, external blinds, and lighting.
One of the objectives of this theme is to produce original, creative, and educational interior design blogs, furniture blogs, and WordPress interior websites.
4. Windazo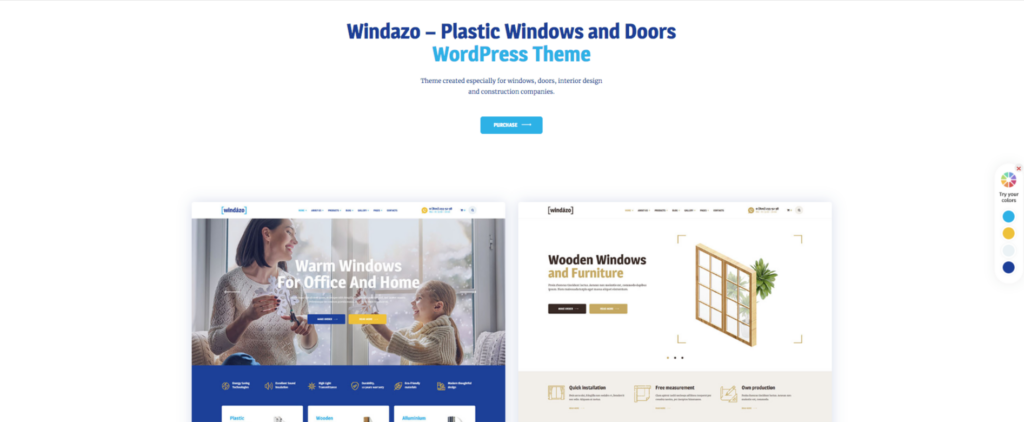 The Windazo WordPress theme highlights the most incredible plastic windows and doors. It is available on the market and was created exclusively for businesses. This windows and doors WordPress theme is ideal for wooden product manufacturers, UPVC windows and doors, furniture makers, and contract window firms.
Using this theme, you can sell goods like furniture, glass, accessories, services, and equipment, and easily customize the layout of your content. It also provides all the content necessary to make your online store WooCommerce-ready.
5. Windsor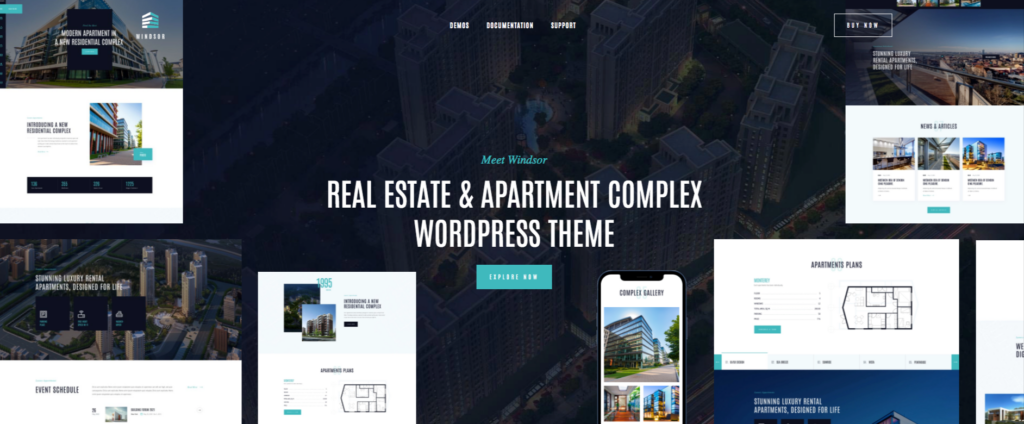 Windsor is a stylish windows and doors WordPress theme. It is an attractive choice for a recently constructed apartment building, business building, or rental home. This theme can be modified to serve as a corporate page for a real estate agency bureau or company, or it can be used to sell a single property item.
It is also excellent for commercial and residential developers, building companies, real estate amenities, construction companies, shops, and stores. The Elementor page builder was used to create Windsor. If you plan to sell your services through your online store, it integrates with Slider Revolution and WooCommerce. The elegro Crypto Payment and Events Calendar plugins are also connected to the theme to organize and manage events.
6. Boldman

The Boldman WordPress Theme is ideal for building an expert website for Renovation Services. This windows and doors WordPress theme is perfect for displaying handyman-related services on your websites, such as plumbing, carpentry, house repair, window and door installation, heating, air conditioning, and solar system services.
This theme is easy to customize with WP Bakery & Elementor page builder. It has many features and a solid admin panel for any client to quickly make a good website. The Boldman offers original inner pages that are exquisitely created, inventive home page demos, and 100% responsive layouts.
7. Dormatic
Dormatic is a minimalist, modern, and responsive WordPress theme for door repair. This theme is well-suited for all types of door repair, mechanical operations, etc.
This windows and doors WordPress theme comes with three magnificent homepage designs, three header styles, and more than ten inner page variations. It is easy to change and expand the theme layouts.
You can use the robust Elementor drag-and-drop Page Builder to build your website and view the changes as they happen in the live front-end editor. The Dormatic is your best option if you want to launch your website quickly.
8. Darna

The Darna theme looks fantastic and is completely responsive on any device. We have also created several layouts to better demonstrate the theme's adjustability.
Our straightforward method lets you make your website with just one click. This windows and doors WordPress theme allows you to add widgets, enable the revolution slider, import sites, and do many more things.
With the help of this theme's robust and flexible admin panel, you can quickly set up a WooCommerce-powered online store.
9. Metal

Metal is specifically made to meet the requirements of building firms, handymen, plumbers, electricians, and enterprises that offer construction services.
With Metal's built-in WPBakery drag-and-drop page builder, you can design websites exactly as you want. This tool is powerful with many capabilities.
This windows and doors WordPress theme supports whatever website development you choose to use and is entirely responsive on computers, tablets, and mobile devices.
10. Manufacturer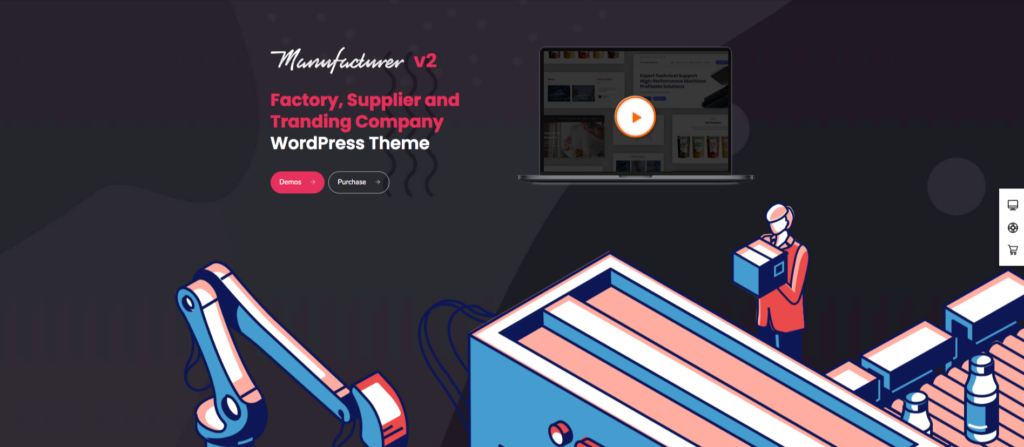 The Manufacturer WordPress theme lets you use custom content blocks to define your services. This windows and doors WordPress theme conducts market research and builds an online store.
This theme's demos are made to fit the needs of any industry, whether you work in manufacturing or the food processing sector. Each sector's needs are taken into consideration when creating these demos. If you select a WordPress theme appropriate for your business, you can concentrate more on expanding it.
11. Wilmër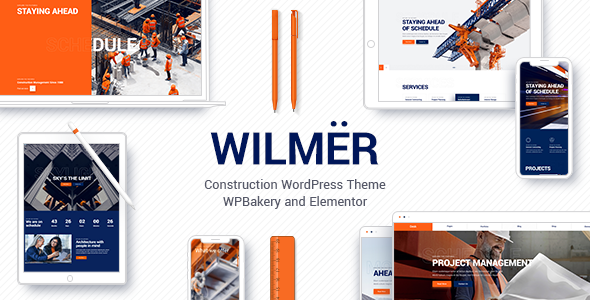 This theme allows you to showcase your work while drawing in customers. Moreover, this Windows and Doors WordPress theme comes with two premium plugins that you can use.
Also, you will get endless customization possibilities and 1000+ Google Font packs to completely personalize your website.
12. Archicon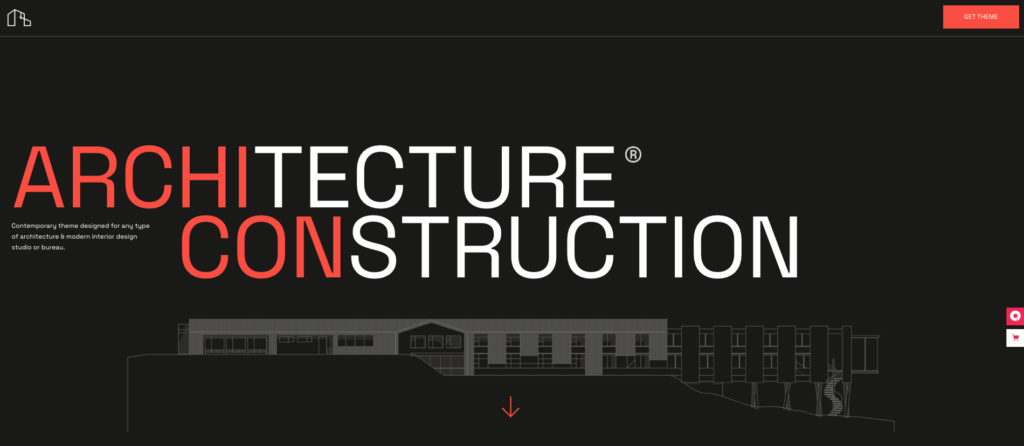 The Archicon theme can be helpful for architecture offices and organizations looking to provide a solid foundation for their projects. With this Windows and Doors WordPress theme, you can present all the information related to construction supplies, construction processes, and architectural designs.
Archicon comes with a blog with several portfolios, many helpful shop components, complete integration with the Elementor page builder, and 12 excellent preset websites.
13. Qwery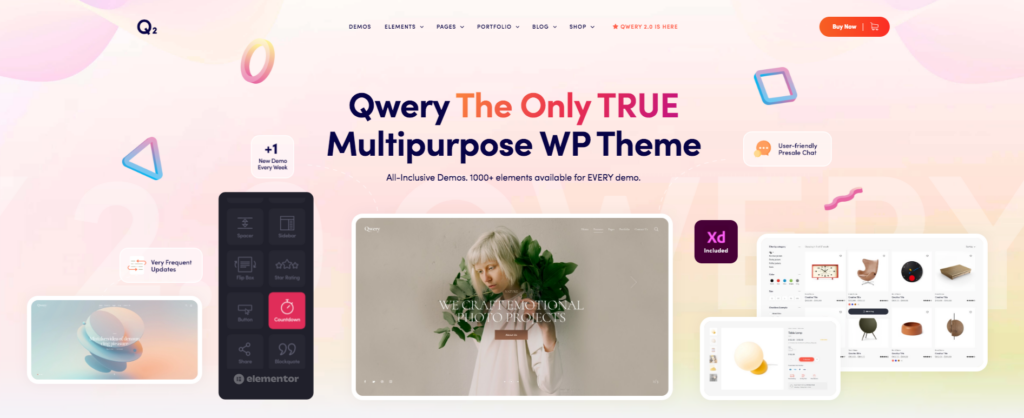 Qwery is a WooCommerce-ready website, ideal for windows and doors selling. It includes more than sixty pre-built websites to help you get going quickly. To customize anything, you do not need any programming experience. You can create new page layouts with Elementor's drag-and-drop functionality.
You can sell items online, make and manage calendars, and select between two booking alternatives. You can experiment with many helpful choices to make the most of the template.
14. Mendel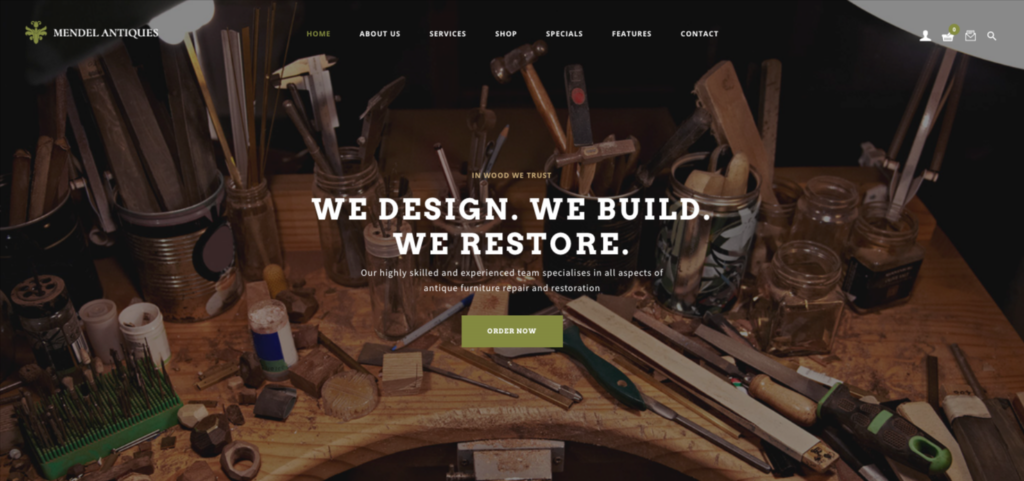 Mendel is one of the top windows and doors WordPress themes on the market. It is a modern solution in terms of functionality and adheres to the most recent web design trends. Also, it functions for a wide range of industrial web projects and structures. So, you can also use this theme to launch a website for a furniture maker company.
This Windows and Doors WordPress theme has many cutting-edge features and options. The main advantage is, it's so advanced that challenging problems won't be a concern. Instead, you can take advantage of Visual Composer's streamlined site development.
Conclusion
Finding a Windows & Doors WordPress theme for your website is simple. Pick one of these themes to improve your website, and start working on it. The themes are listed as some of the most innovative and can be used to advertise your newest windows & doors site online. We hope you locate the appropriate one.