You need a theme for wedding websites that can highlight the event's best moments. A wedding theme should also give a beautiful design that is simple to set up. We chose themes with a variety of features so you may use them for online retailers, personal blogs, photographers, and more. All of the features have premium quality, functionality, pixel-perfect design, and unrestricted customizability. Here, we will discuss some of the top WordPress wedding themes.
Top 16 WordPress Wedding Themes of 2023
1. Fleur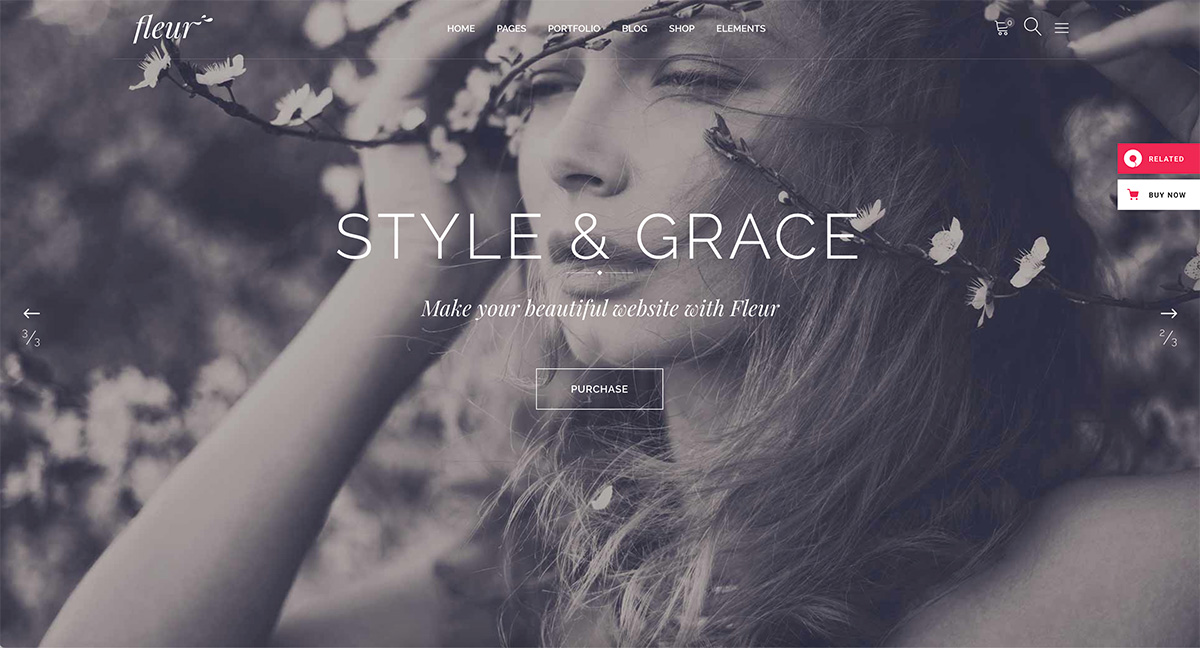 The Fleur is a beautiful WordPress wedding theme that comes with 13 premade homepage layouts. With this theme, you can not only show off your wedding, but you can also use this as a wedding planner or any other business. The theme's attractive font and generous use of white space make it simpler. There is also enough room to include an RSVP form, testimonials, and photographs. The admin interface for the Fleur theme is powerful. You may easily customize the fonts, colors, and other visual components. Along with these features, Google Maps is fully integrated, and you can also add different social media feeds. The theme supports video backgrounds and is fully responsive and retina-ready.
2. Divi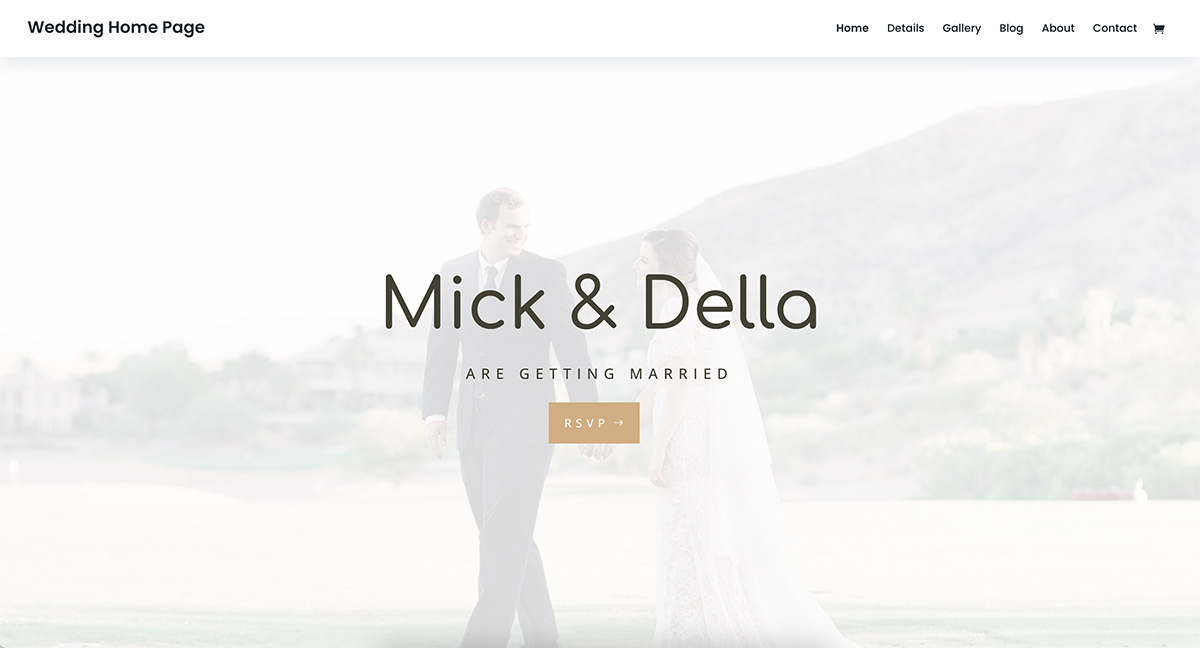 Divi is a powerful WordPress wedding theme designed for all kinds of websites. It includes lovely templates for weddings, wedding planners, and events you may use for your website. Additionally, it provides a complete page builder with all the website modification possibilities. The point-and-click tool allows you to flexibly add photographs, videos, and other things. You can also create WooCommerce variable products in the Divi theme. This WordPress wedding theme enhances your website's search engine rating in Google and other search engines. You can change the website's fonts, colors, logo, background, and other aspects.
3. Jevelin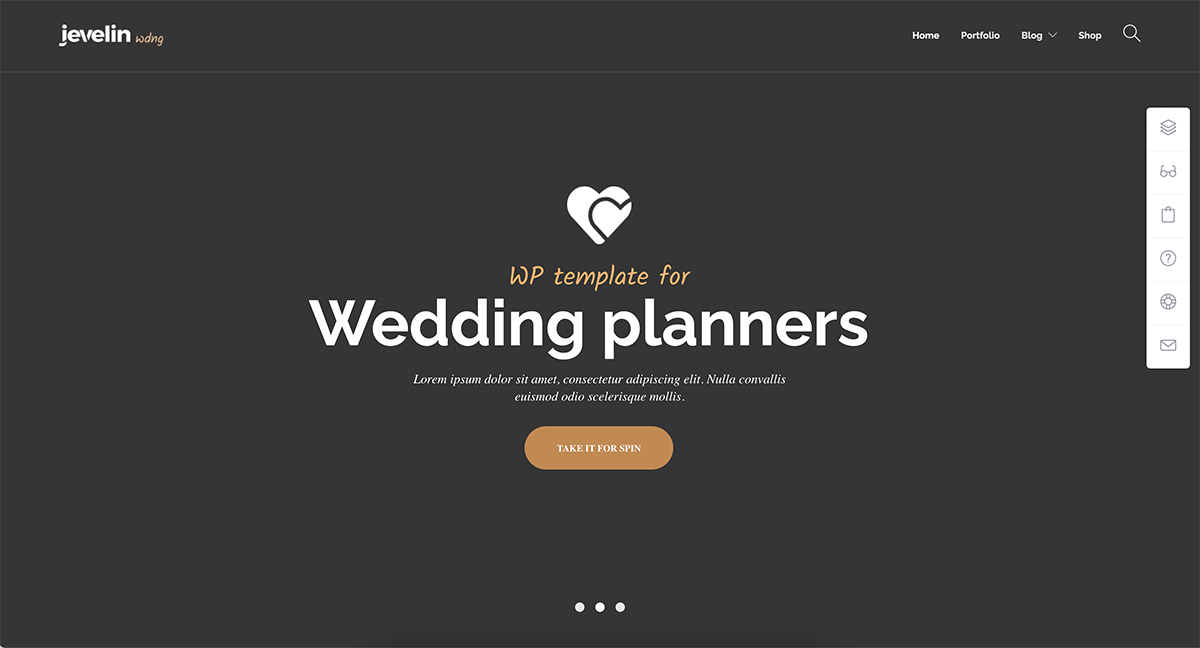 Jevelin is a stunning and elegant WordPress wedding theme. Your website can be launched with just one click. This WordPress wedding theme includes many demo websites and page templates. You can modify layouts, animations, and objects with the visual Builder and the top WordPress WooCommerce slider plugin Revolution. Jevelin is a popular choice among couples for their wedding websites. This theme gives the flexibility of 10 different portfolio layouts, all of which can be quickly deployed for stunning image galleries with gallery plugins in WordPress.
4. Webify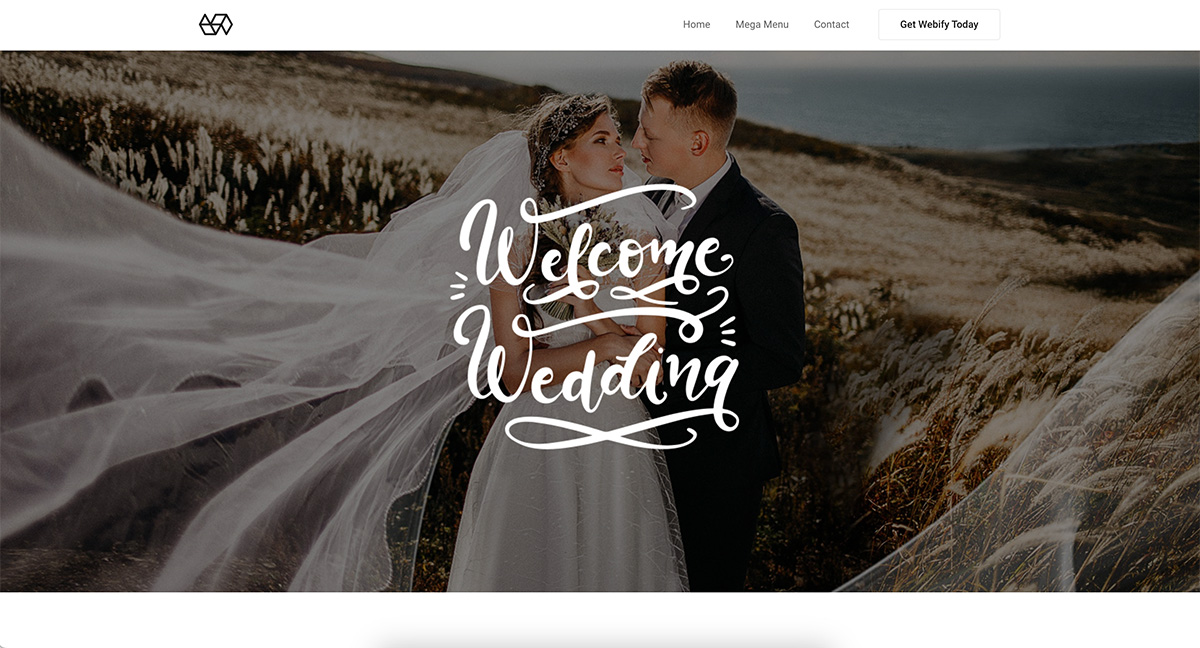 Webify is a straightforward, easily adaptable, and fully WordPress-responsive theme for weddings. The user who wants to showcase their work on a professional portfolio site should choose this theme to grow their business. You will have a massive amount of customization options so that you can change the layout, font size, color, and style directly from the backend. With Webify, you can either create your clear skin or pick from 14 pre-made looks. For each premade layout, you can provide specific stylistic settings as seen in the theme demo.
5. X | The Theme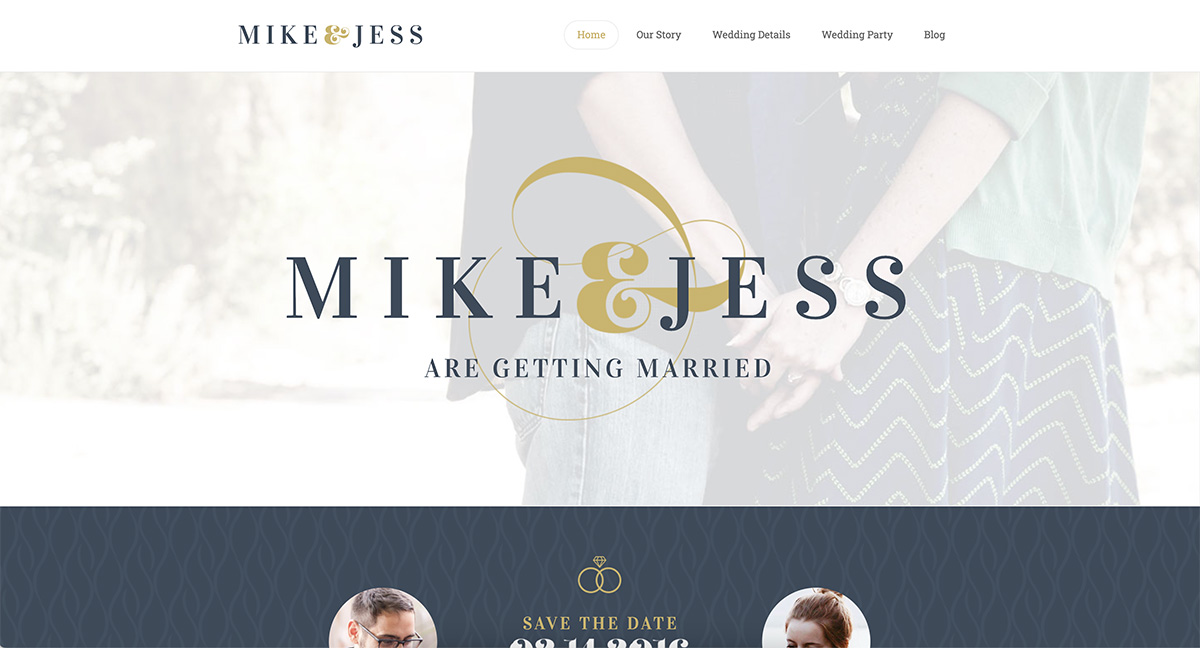 The X WordPress theme can be used for any purpose. One of the numerous demos in this theme was created for weddings, and it provides a stunning responsive interface. You can include RSVP information, useful reply options, and lovely fonts to make your website look as beautiful as the newlyweds. This WordPress wedding theme includes several high-end plugins, including Layer Slider and Essential Grid. Numerous additional premium plugins that you would usually have to pay for are included in this package. This theme gives your site full functionality without needing additional third-party plugins. Therefore, many individuals contend that a beginner would find using a top multipurpose WordPress theme like this much simpler.
6. OneLove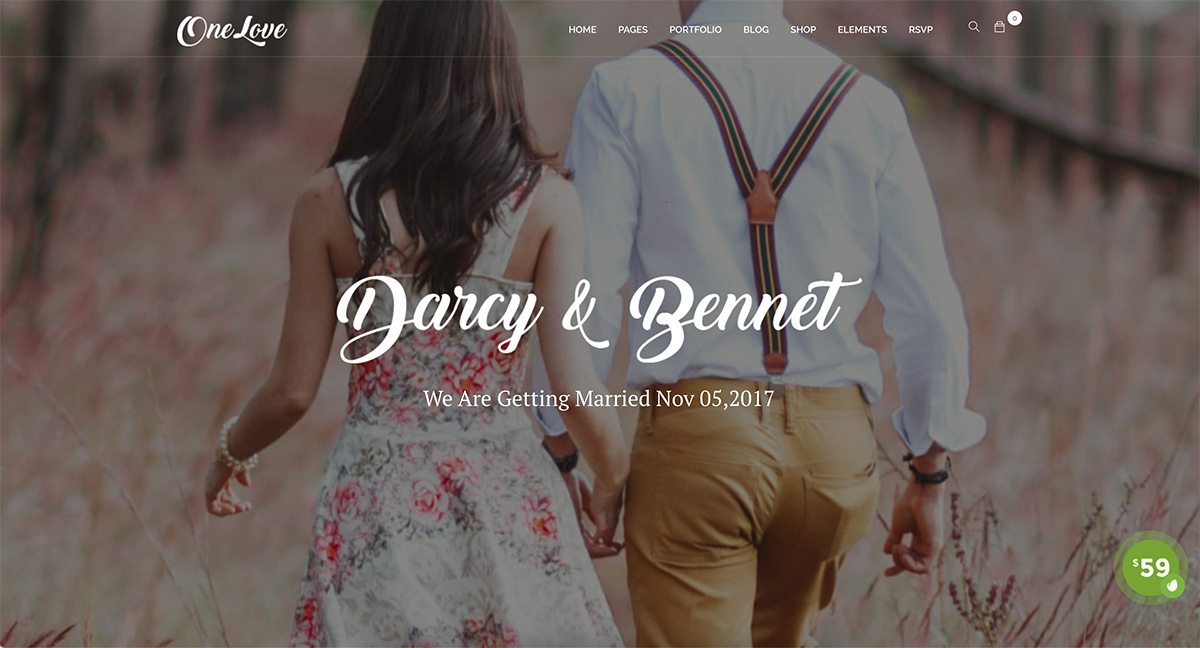 The OneLove WordPress wedding theme has a simple and flexible layout. With the help of this WordPress wedding theme, anyone can build a website that beautifully and expertly displays the precious moments between two people. You will have access to a large selection of layouts, some of which are oriented toward special events like wedding anniversaries or wedding announcements with the help of event plugins in WordPress. This wedding WordPress theme offers intriguing interior pages that showoffs the bridesmaids and groomsmen.
7. Kalium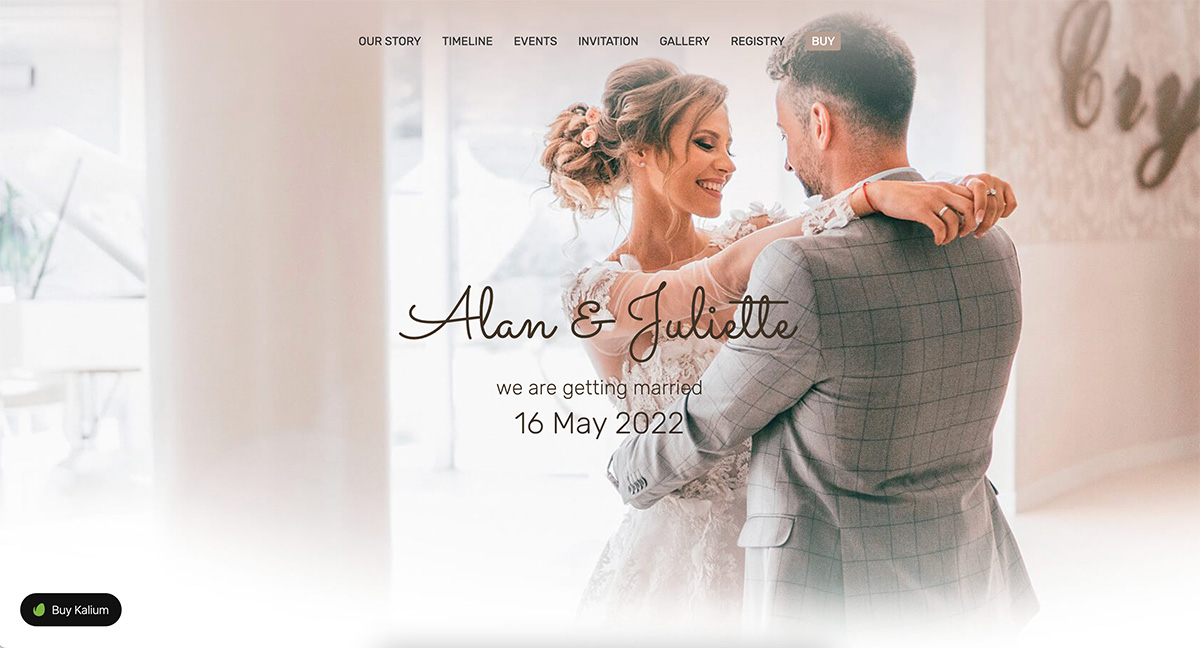 The stunning, modest style of the Kalium WordPress wedding theme will make your wedding photography showcase in the most eye-catching manner. You can put your wedding date in the header section to make it simple for your visitors. The reception, the wedding day, and the history of your relationship are just a few of the significant things you can include with this theme. This wedding WordPress theme is customizable and responsive. In this theme, changing colors is as simple as altering typefaces. Additionally, you'll receive the best WordPress slider plugins for displaying the event's images with ease.
8. Lavelo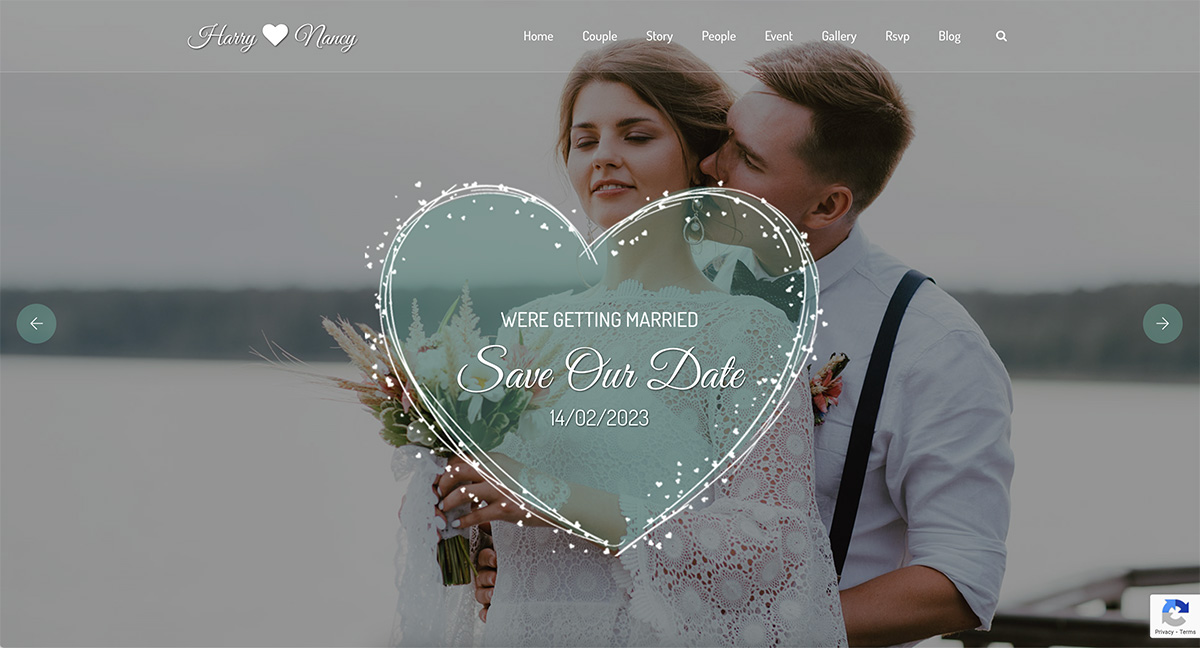 The Lavelo WordPress wedding theme is simple and contemporary. Your wedding date can be easily placed above the fold due to its exquisite layout. Additionally, you may include a counter to track guests and website users. Moreover, you can add Google Analytics with WordPress. You can share links to encourage site users to interact with you on social media. There is lots of room to include all the wedding details, including the venue, the history of the couple, the guestbook, etc. This theme contains a powerful theme options panel that changes everything from the fonts to the colors and backgrounds. Additionally, you may choose from 4 various homepage layouts and add lovely icons. This theme is completely responsive and contains stylish animations that make sure to grab your visitors' attention.
9. Gretna Green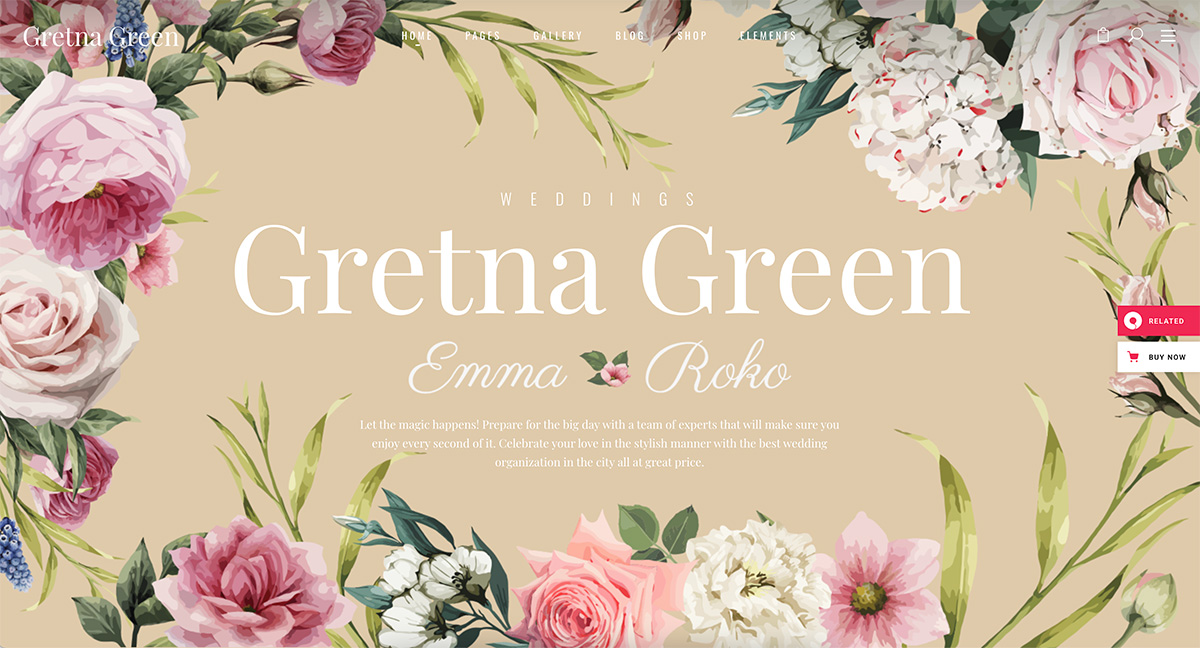 Gretna Green is an amazing wedding WordPress wedding theme with numerous demo versions. You won't have trouble building pages for the venue details, reception, RSVP, or blog because it also provides pre-made inner pages. With this theme, you can inform your guests how the big day's preparations are going. This theme offers a gentle, pastel color palette. It also employs vibrant typefaces, and you can freely choose whatever fonts that go with your brand and you can easily learn how to change WordPress fonts. With the theme, you can effortlessly add social share buttons to your blog and incorporate your Twitter or Instagram feed.
10. Moments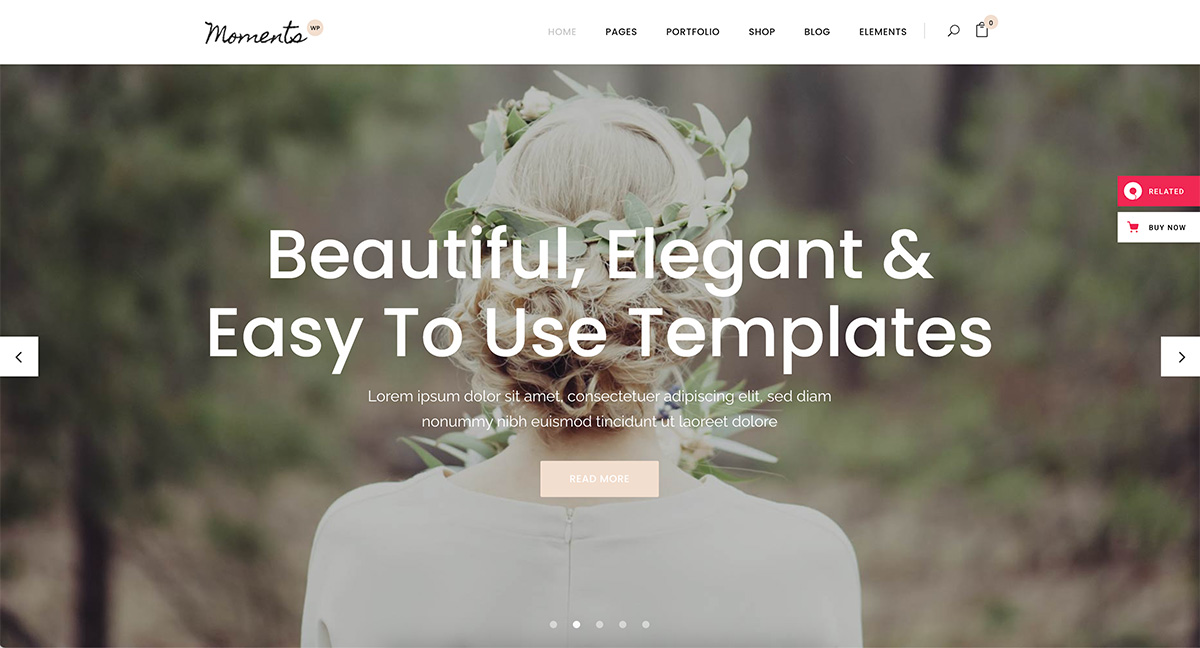 The Moments WordPress wedding theme creates enduring memories for people who are getting married. Additionally, this theme serves as a flexible WordPress solution for different kinds of gatherings and occasions. To create the ideal style and feel for your wedding, limitless font and color choices are available with Moments. When WooCommerce is combined with attractive shop layouts, everything fits together well, even when viewed on mobile devices. The Moments theme comes with essential elements. You'll build a great wedding website with elegant and straightforward RSVP forms.
11. The Aisle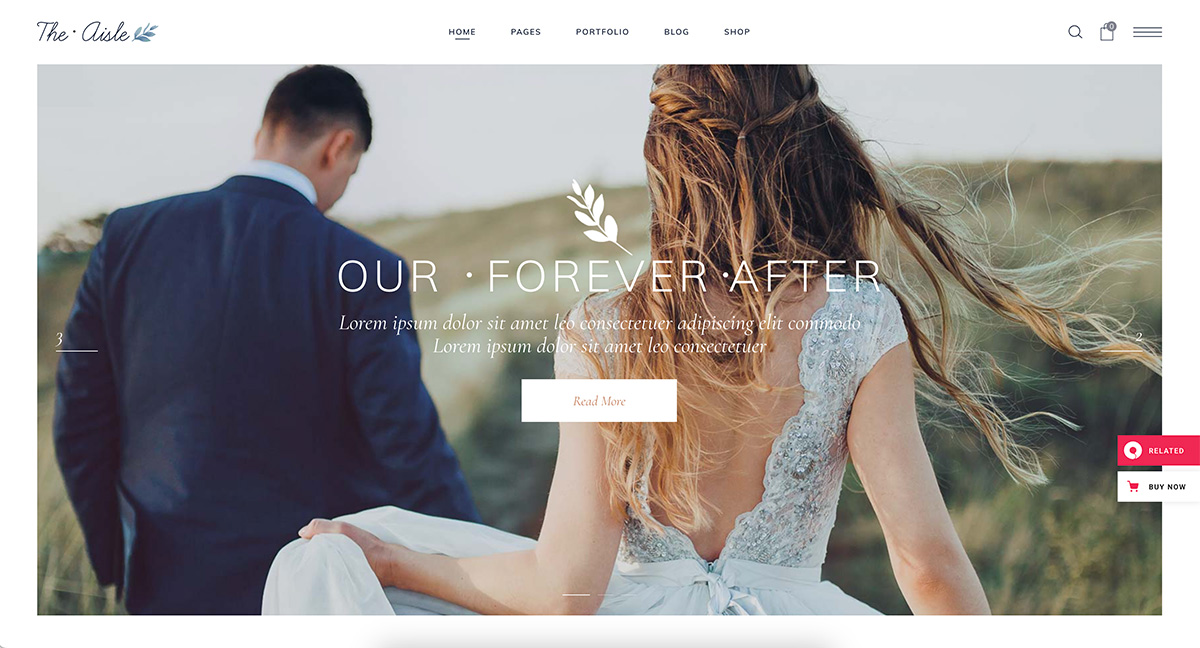 The Aisle theme is a fantastic choice if you want to promote your wedding planning services. This WordPress wedding theme has several homepage designs that will enable you to announce the event and issue an electronic invitation. Using this theme, you can establish a stunning store where you can offer everything you need to arrange the ideal wedding, including cakes, invitations, and digital wedding planners. There is a drag-and-drop page builder included with the Aisle theme. The pages are simple to edit, and you can design custom layouts. Colors, fonts, backgrounds, and other design elements may all be changed using the powerful admin panel.
12. Wedding Industry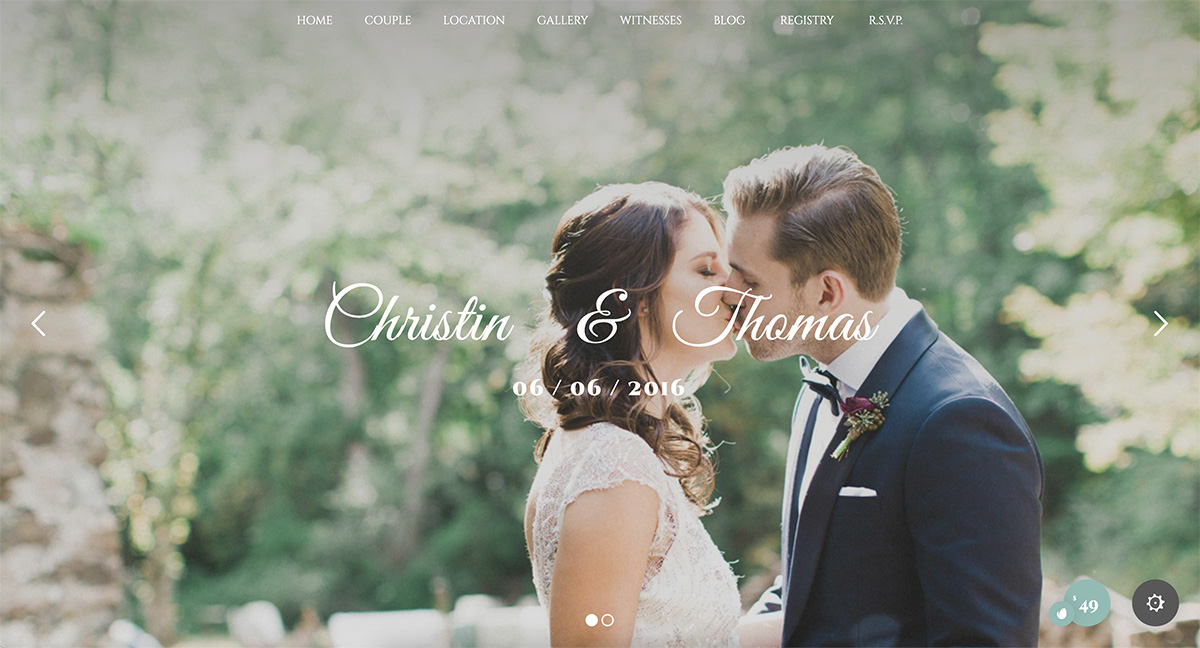 The Wedding Industry is one of the most popular WordPress WooCommerce themes. You can make a website with Wedding Industry for any company involved in weddings, save the dates, wedding venues, or wedding flowers. If you want access to many website components and demos, this theme is a good choice. Overall, there are a lot of customization options you can use flexibly. The theme functions more like a multipurpose one with several layouts and designs. You have the choice of creating your tiny internet store. This theme includes several shortcodes, eliminating the need to work with the source code.
13. Wedding WordPress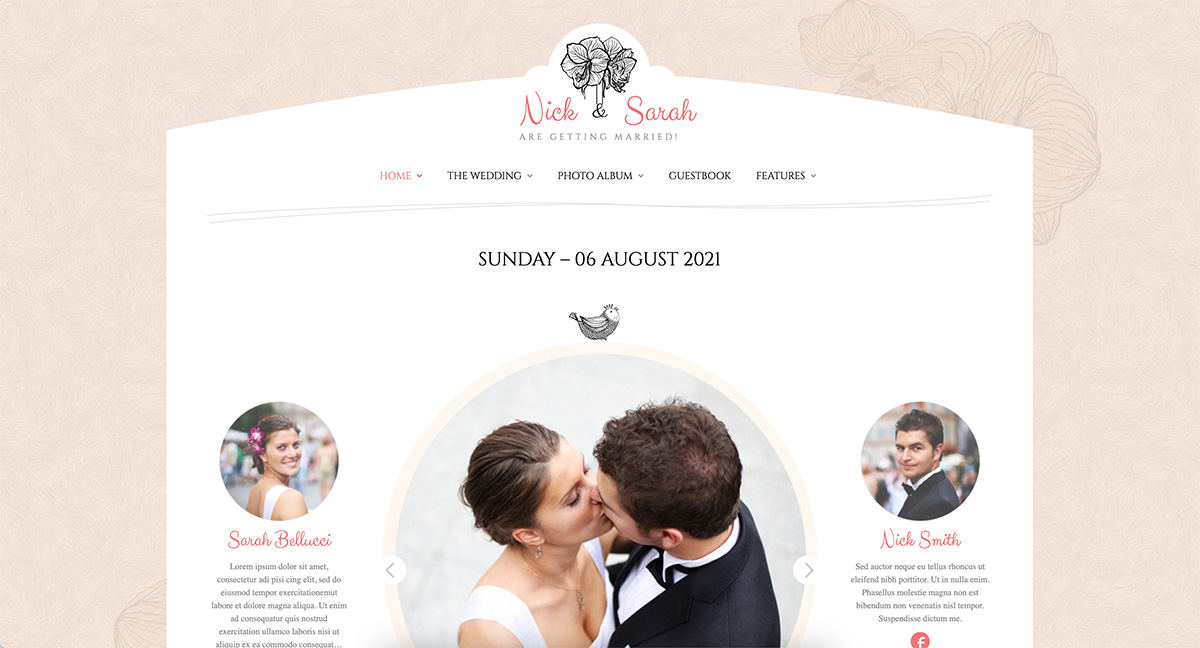 The Wedding WordPress Theme is a lovely specialist theme created especially for weddings. It is appropriate for people with no programming experience to be experienced developers. This WordPress wedding theme has a purpose-oriented design. It has a big selection of tasteful, predesigned pages that can be used for many different purposes. The locations of the wedding venues can be added to the map. Additionally, creating a gift registry is simple.
14. Jack & Rose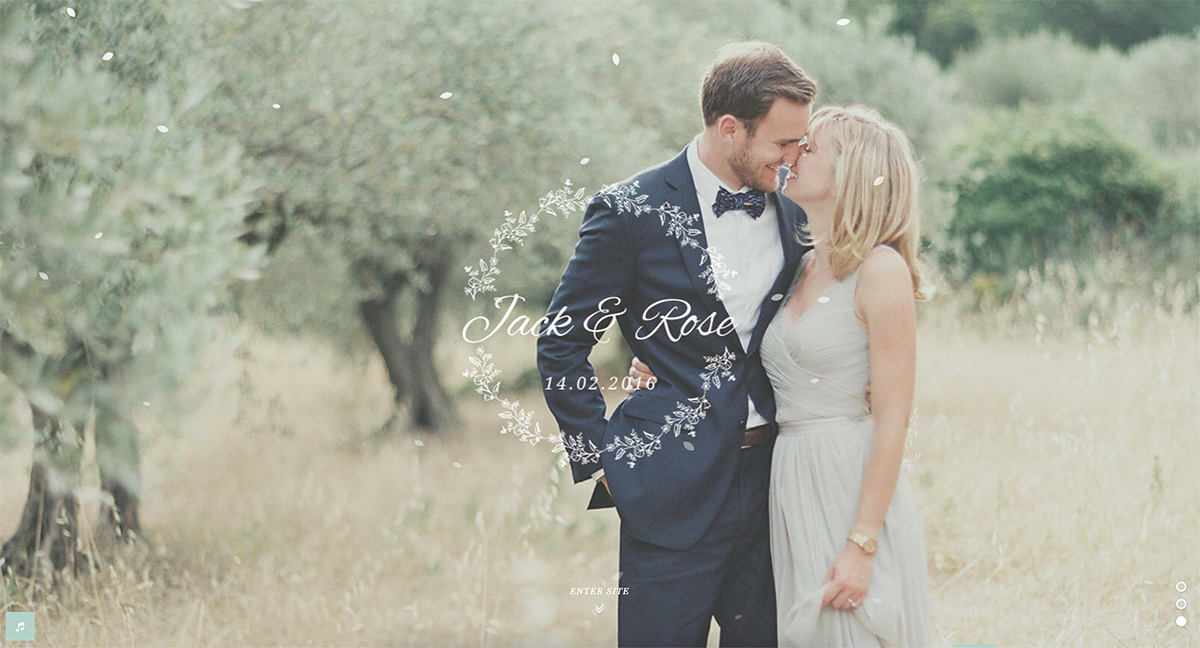 The elegant and charming Jack & Rose WordPress wedding theme offers three homepage layouts, including sliders, single photos, and video backdrops. When visitors arrive at the website, there will be a welcome music of your choice auto-playing by the theme. The header in this wedding WordPress theme includes a section for the couple's emblem and another section to mention their names. You can list the wedding date and direct visitors to informational pages using the themes' menu at the top of the page. The theme features a drag-and-drop page builder and is fully responsive. While the colors and fonts may all be changed from the backend, the one-click data import is quite useful. People can see the precise location of the wedding and celebrations thanks to Google Maps and for this, you don't have to install any Google map plugins for WordPress, which is seamlessly integrated into the theme.
15. Wedding Planner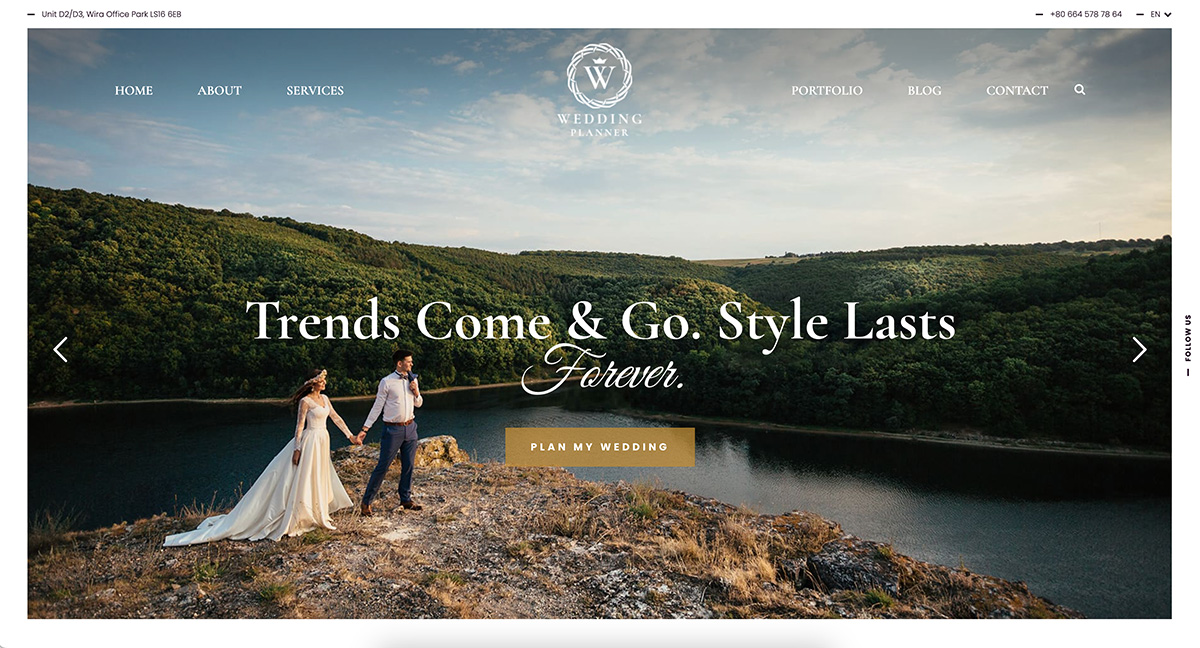 The responsive design of the Wedding Planner WordPress theme includes eight home pages and more than 20 regular pages. The option to create a website for a matchmaking or wedding service is available. To express your love and provide information to friends and relatives on a lovely website, the overall style is smooth and contemporary. The installation procedure is simple because the developers offer a thorough video to guide you through it. This wedding WordPress theme includes the WPBakery Page Builder. Even inexperienced developers should be able to create stunning websites because of the advanced theme options. You have access to some different demos in addition to the standard wedding demo.
16. Celebration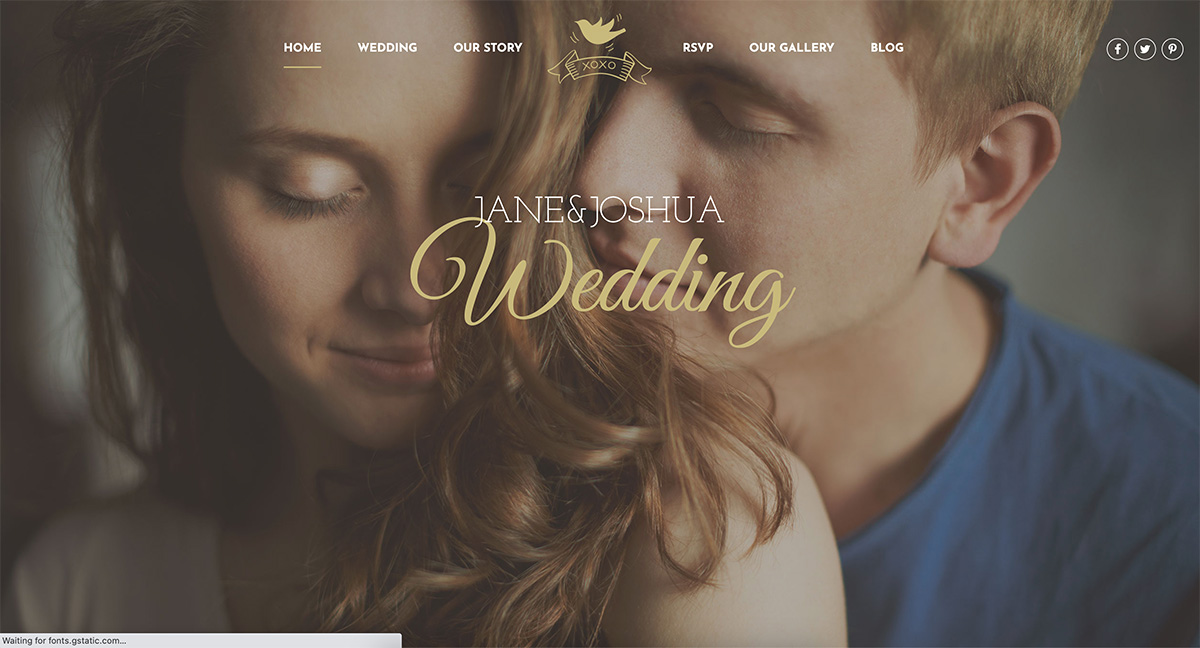 The Celebration theme has an infinite amount of layout options and doesn't require any coding. This wedding WordPress theme comes with some excellent demos. It provides a one-click import feature for quickly launching the details of your wedding. The graphics are immediately enhanced by the unique icon collection. In this theme, the WooCommerce web store will be helpful if you attempt to showcase your guest register to the audience. No matter which device is used, the completely responsive layout organizes all of this information beautifully. You have many alternatives to pick from when creating your small branding strategy for typography and colors.
Conclusion
You should think carefully before starting to develop a wedding website. The wedding WordPress themes will help you design the website to your specifications if you want to start a blog website, event management firm, or website for wedding photographers. In this article, we analyzed the top WordPress wedding themes for 2022. We believe the above themes will help you make the best wedding website possible for your special day.