If you are a fashion blogger, designer, or retailer, you'll need to have an engaging online presence. You can market your material and display your work on a stunning website. There are a few great solutions available that will work for any area. Your content will appear great on any device because of all these themes' responsiveness and speed. Some of them additionally offer useful blogging features that can be used to promote your products and generate income from your website.
In this article, we'll give you a list of the best fashion blog themes for WordPress. You can easily customize it even with no coding experience.
Top 17 fashion blog WordPress themes 2023
1. TheGem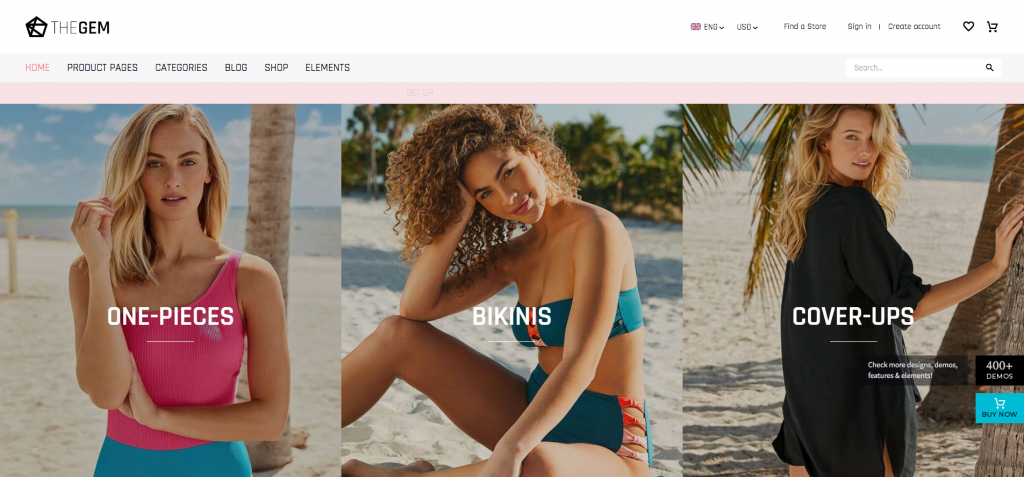 TheGem is the finest fashion WordPress theme since it has tons of fantastic photographs and well-written content. TheGem is a wise choice if this sounds like the kind of website you're trying to launch. TheGem is a flexible theme that is simple to customize for fashion websites. You may create the fashion website simply as you want it with the help of more than 400 demo layouts.
This fashion blog WordPress theme will help you get started quickly with more than 60 content pieces. For instance, you may quickly and easily design pages using the drag-and-drop interface of the WPBakery Page Builder plugin included with it. Additionally, you can choose from a large selection of shortcodes. This theme has been specifically created to meet your needs without the need for additional plugins.
2. The Issue
The Issue is the best-selling and best-rated fashion blog WordPress theme on ThemeForest. Your theme must appeal to various types of fashion businesses if becoming a fashion icon is your ultimate goal. The Issue calls itself a multifunctional magazine theme, but it works particularly well for the fashion sector. There are 17 complete demo websites with it, including designs made specifically for fashion websites and influencers.
This fashion blog WordPress theme's design is elegantly straightforward. You can keep the focus on the photos you choose and expands its customization. This theme gives you a choice of nine alternative layouts. You can share your content with your fans through your various online profiles because of its social integration options. The Issue provides almost all the designs and tools required to develop a successful fashion website.
3. Foxiz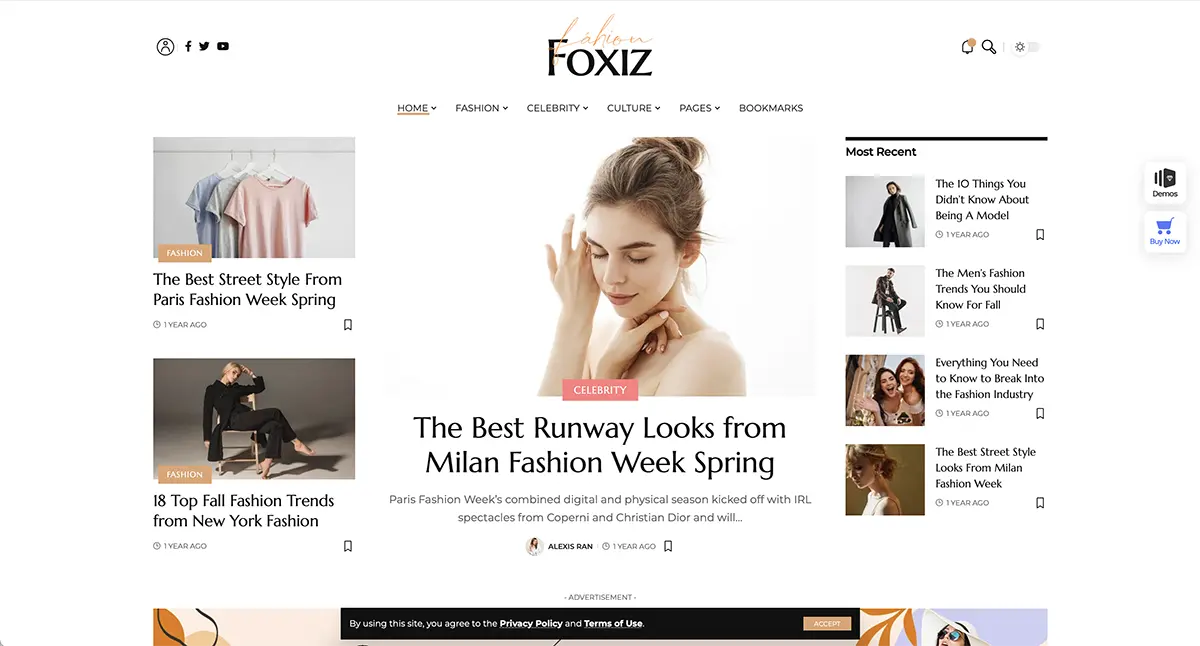 The gorgeous Foxiz theme was created for news, magazine, and blog websites, particularly those focused on fashion. This fashion blog WordPress theme includes a contemporary layout with a wide range of features and design options. This theme is ideal for publishing content about fashion. Paywalls and memberships are supported, and it is powered by the Elementor page builder plugin.
Additionally, Foxiz is developed for speed and performance, and it is a lightweight and SEO-friendly WordPress WooCommerce theme. Foxiz's selection of one-click homepages and demos is another perk. It includes choices for demo websites related to fashion, news, design, architecture, and beauty. Using the built-in functionality, you can quickly add auto-advertising code to your site if you wish to collaborate with affiliates or ad partners.
4. Sitka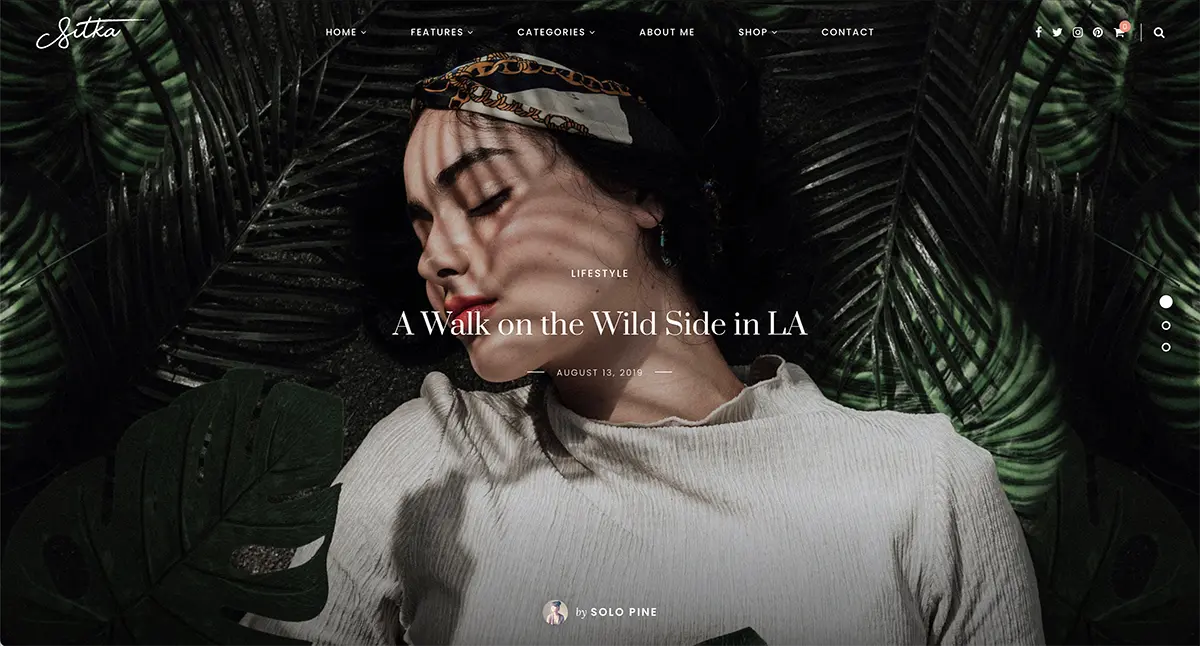 The requirements for fashion websites are frequent and fairly strict. If you want to draw attention, you need stylish designs that radiate a relaxed elegance. In this case, the ideal theme, such as Sitka, will most likely produce the required results. This fashion blog WordPress theme comes with eight ready-to-use website demos that can be imported with a single click. They include layouts for blogs about daily living, websites for interior design, and more.
Every design keeps the focus on the images you choose, which is perfect for a fashion website. You can utilize over 900 Google Fonts right out of the box and you only have to know how to change WordPress fonts. This theme allows you to change things like font colors and sizes as well as many other things. This makes for a versatile theme when combined with different blog layouts and complete support for the Gutenberg block editor.
5. Kloe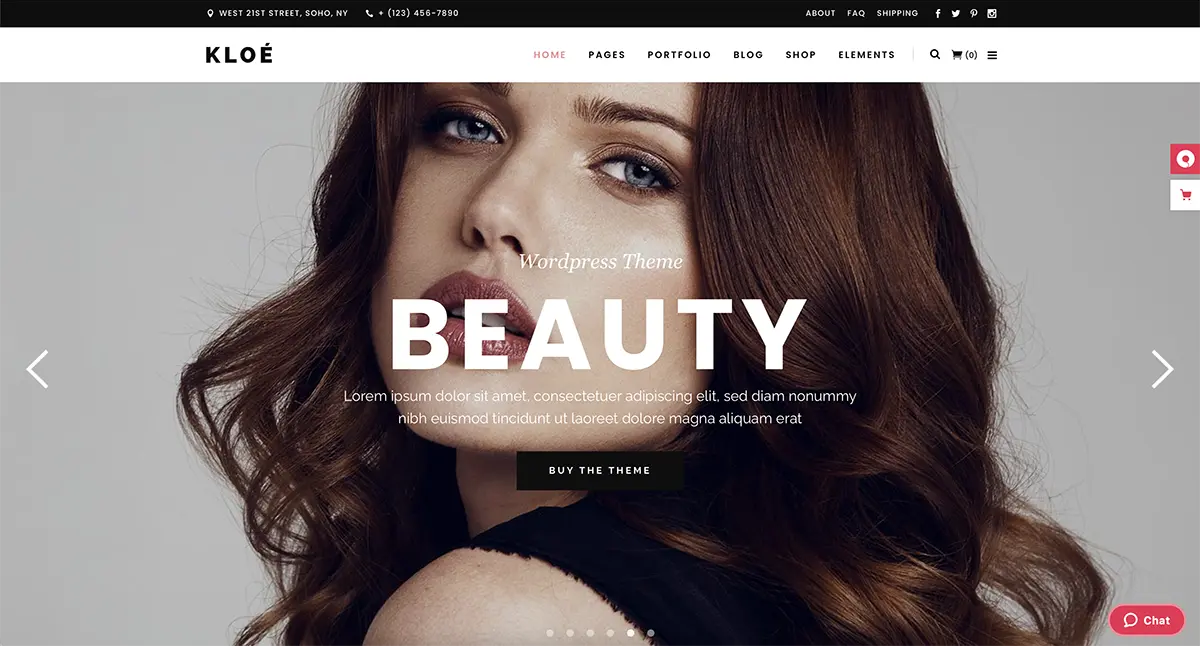 Kloe is undoubtedly a great choice if you're looking for a compelling fashion theme that expresses flair. This fashion blog WordPress theme has 15 different page-loading animations, and sharp parallax effects guarantee that they won't stop scrolling. This theme is prepared for child themes, interactive infographics, and WPML translation plugins for WordPress, in addition to being built for SEO.
It offers many header variations, a fullscreen mega menu, numerous custom widgets, custom shortcodes, and specially designed shop layouts. Kloe has a lot of amazing functionality. , Three distinct blog layouts are also accessible for customers that want to use blog content to reach a broad audience.
6. Gioia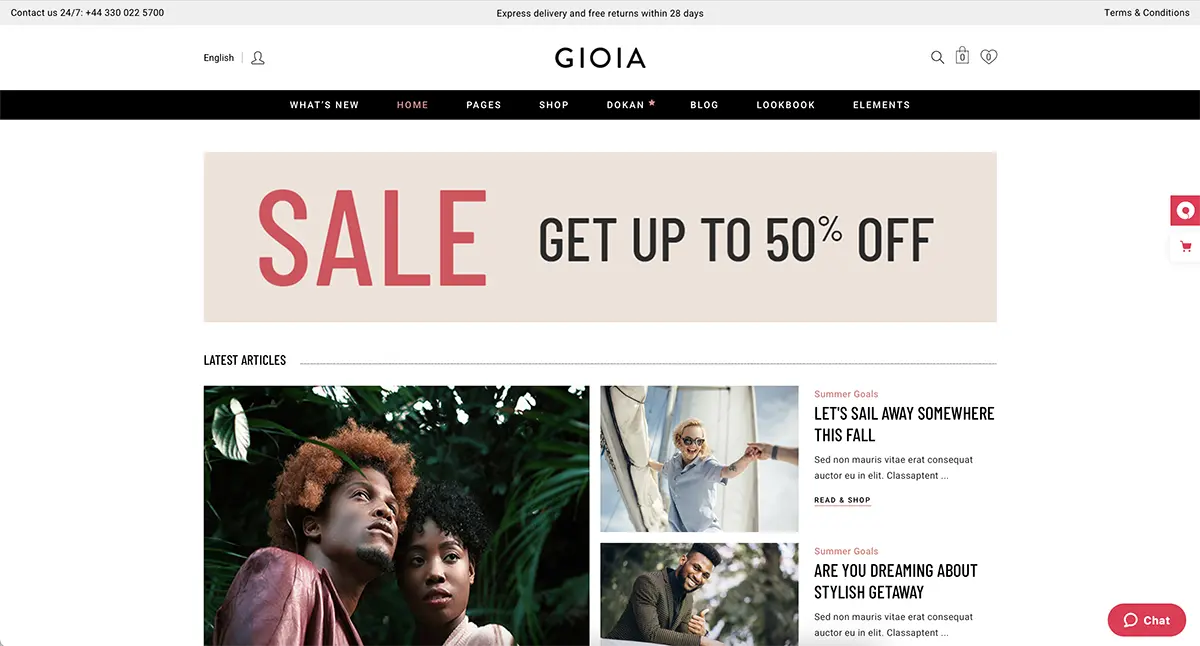 The style of Gioia theme is a mix of the old and new. It contains practically all of the pages required to set up an online clothing store, such as checkouts and shop listings. Every page's design mainly relies on your photographs. This fashion blog WordPress theme takes a backseat to let the pictures speak for themselves. This theme must work with the e-commerce plugin you have selected.
This theme provides advanced features like user wishlists without taking help from any wishlist plugin for WooCommerce and product quick views and was created to work flawlessly with the WooCommerce plugin. This implies that you can start using the most effective and captivating features right now.
7. LaFeminite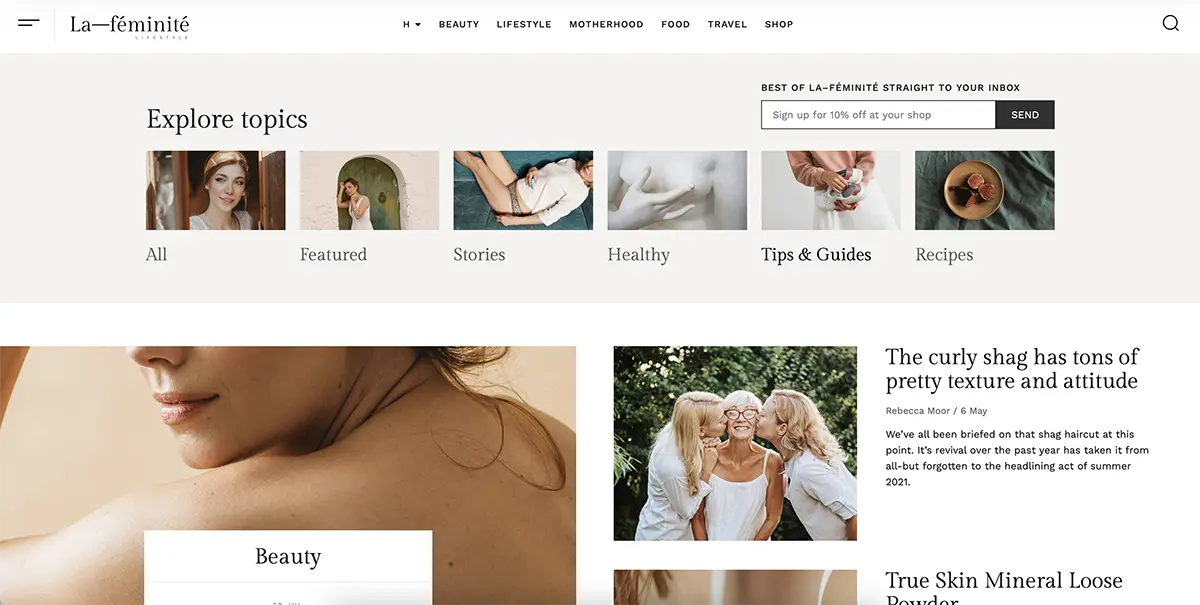 Check out LaFeminite if you're looking for a simple, user-friendly theme for your fashion website or blog. This fashion blog WordPress theme is a great option for blogs and online journals for its gorgeous layouts and pre-built sections and you can also create a tech-related blog website with this tech blog WordPress theme. Along with support for an incredible array of plugins, you can find options for home lifestyle and influencer demos.
This group of plugins includes WooCommerce, Elementor, Yoast, UpdraftPlus, WPForms, and more. You can take advantage of LaFeminite's powerful theme options panel, thorough setup guide, and beginner-friendly video tutorials. Additionally, you can use it to build pop-ups, menus, and dynamic content layouts.
8. Pixwell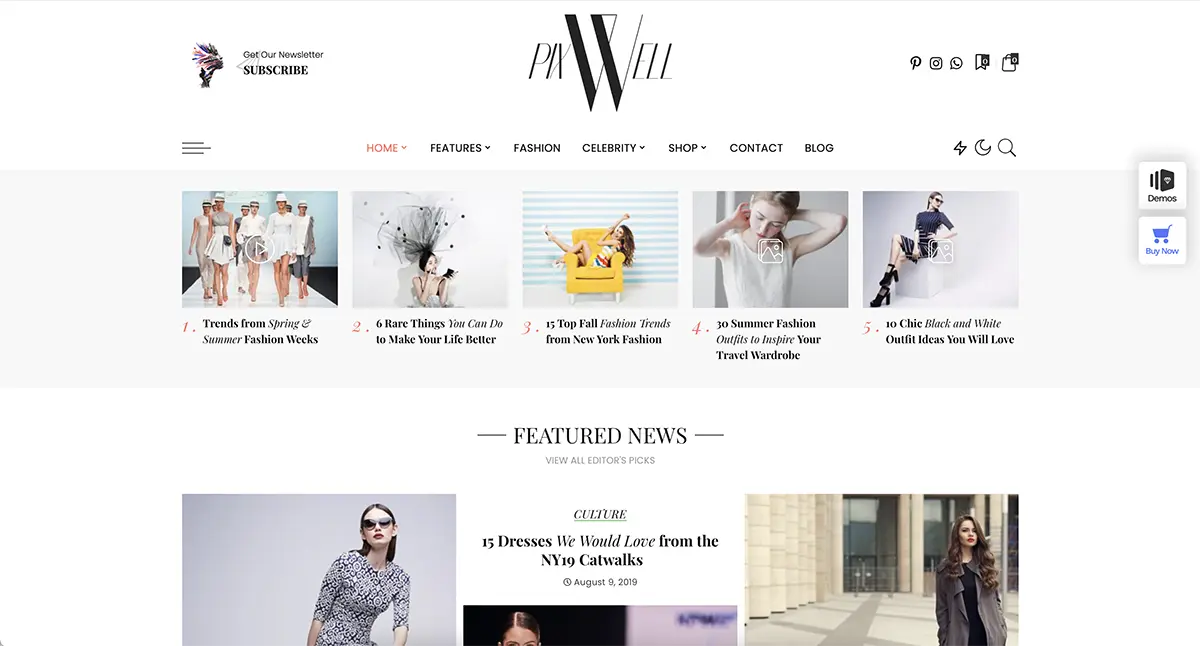 Pixwell is a multipurpose WordPress theme. This fashion blog WordPress theme includes pre-built designs for several types of online ventures, including travel agencies, food blogs, and fashion websites. You need an eye-catching and innovative theme to present and market the newest fashion trends to your visitors. This fashion blog WordPress theme makes it simple to combine components from several layouts to create the fashion magazine of your dreams.
The integration of the theme with the Elementor Page Builder plugin, which enables simple customization, makes this possible. Additionally, Pixwell comes with a pre-installed plugin for product reviews that supports affiliate links and includes star ratings.
9. Look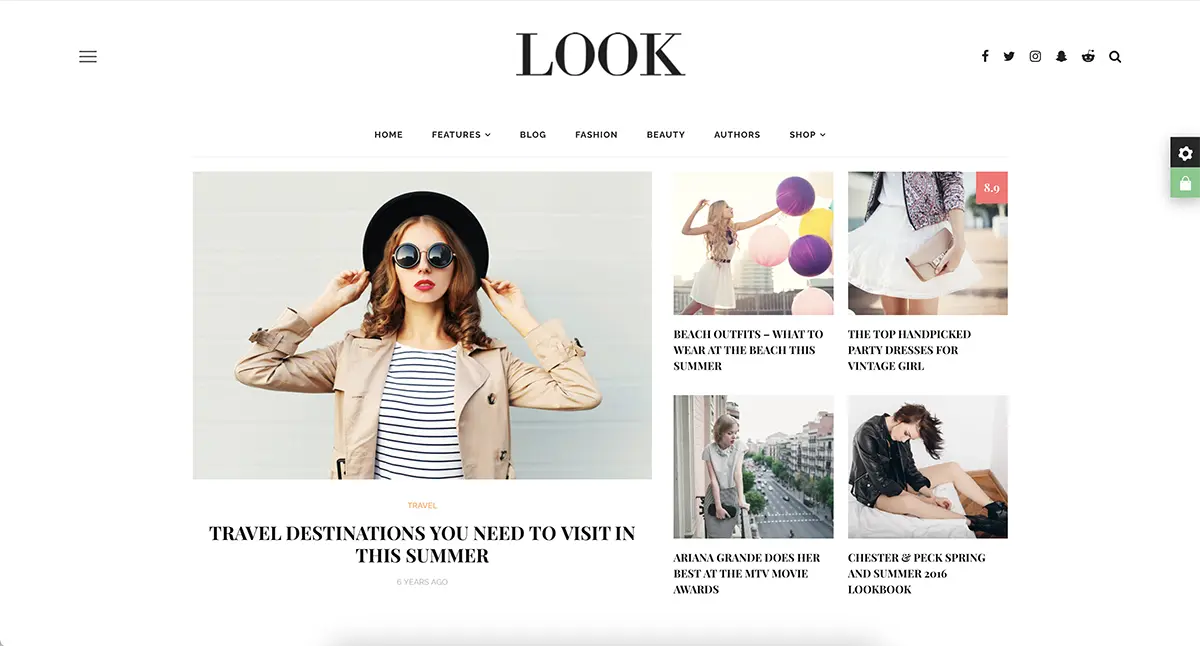 While creating a website isn't particularly difficult, convincing visitors to take a second look at it is a completely different story. You might think about using Look to accomplish this. You can choose from a wide variety of designs that are excellent for lifestyle and fashion blogs. This theme has a simple, clean design that is appropriate for a variety of purposes. Additionally, you can use any of the pre-built website demos provided by Look to quickly and easily launch your project.
The Look works smoothly with WooCommerce right out of the box. Additionally, infinite scrolling is supported, which might improve your time on page metrics. Additionally, this fashion blog WordPress theme is speed-optimized, so your website ought to load quickly in practically all situations.
10. Olsen Light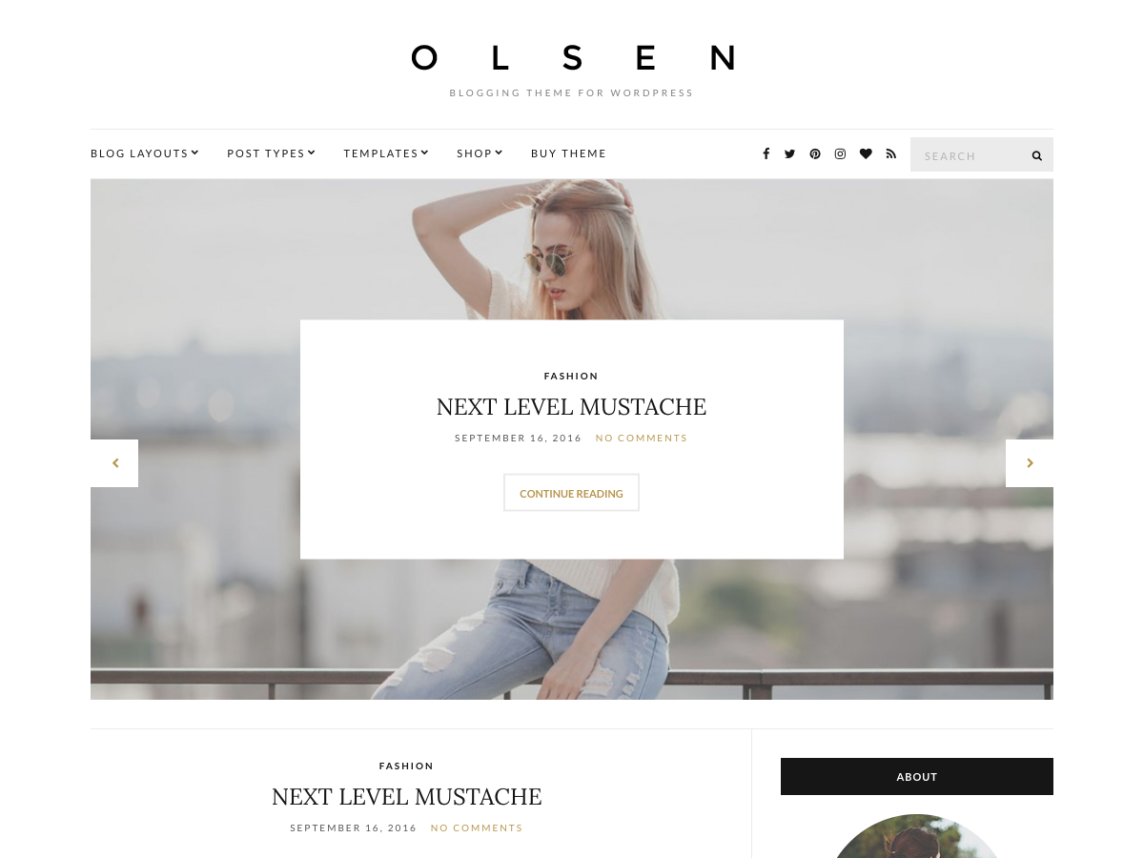 The CSSIgniter Olsen theme has an air of lightness and minimalism. It was made primarily for showcasing images on fashion blogs. With eleven various blog layouts and a selection of post styles, it is mostly focused on blogs. This fashion blog WordPress theme comes with a variety of unique widgets and page styles and you can also add a blog widget easily.
In this theme, the sidebar options allow you to show author details and social media links. For contact forms, there is also a dedicated page template. Olsen is retina and translation ready out of the box. It offers 20+ different color and typography choices for experimentation. Additionally, this theme has been speed- and SEO-optimized.
11. Anymag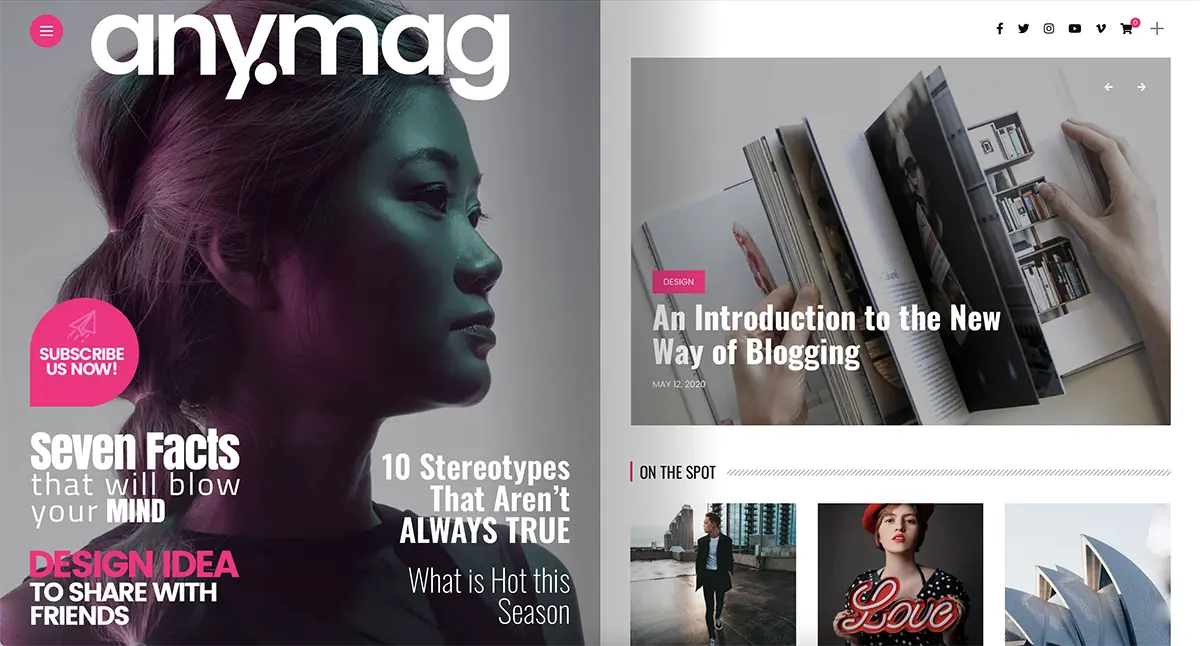 When creating a website for a business involved with fashion, appearances are key. Using the Anymag theme, you can make sure that your website looks great. This fashion blog WordPress theme has a unique look that resembles a real magazine. It comes with chic demos that have a WooCommerce connection, over 900 Google Fonts in the collection, one-click imports, and endless color modification choices.
Anymag is compatible with well-known plugins like Elementor, Mailchimp, and Contact Form 7 and you can add Google Recaptcha to contact form 7. Several themes of Anymag resemble magazines. There aren't many solutions that can replicate the look of a print magazine on your website as Anymag can. It has a powerful feature set and an appealing design, but it is also user-friendly for newbies.
12. Roslyn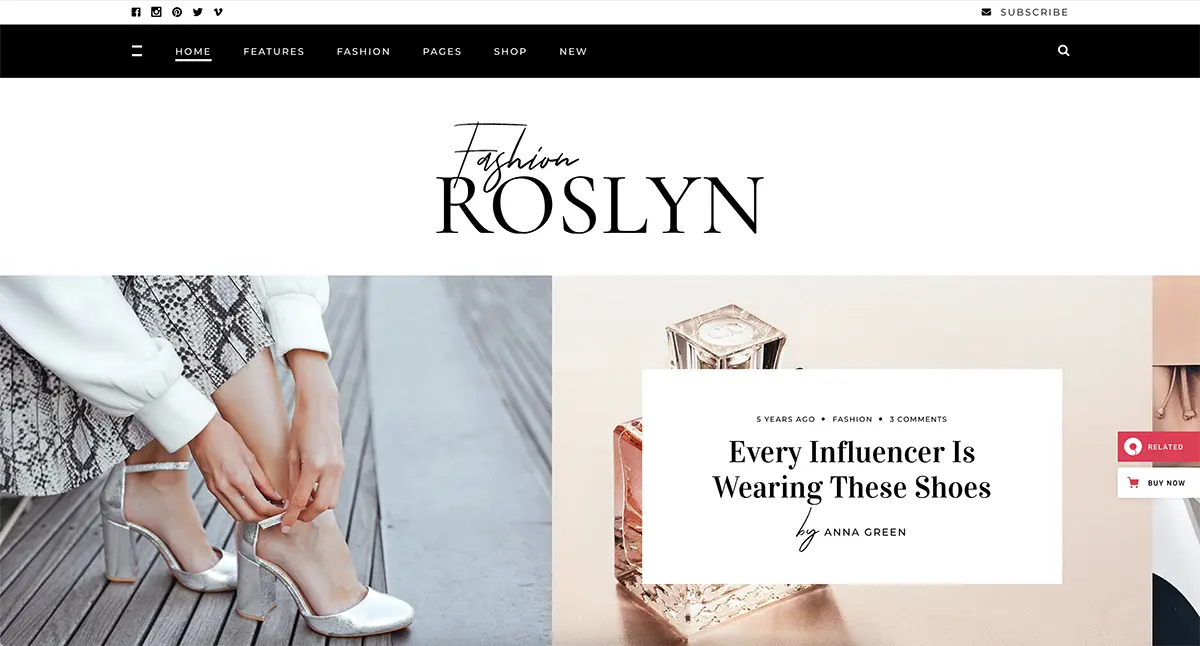 Roslyn is a WordPress theme that can help your website stand out from the crowd. You get access to a large selection of demo websites that you can use as the basis for your website. Images are always given the center stage no matter how a design use galleries. You can start a blog website with this theme. This fashion blog WordPress theme's designs also feature beautiful typography, with a preference for eye-catching, bold letters.
Roslyn includes a wide range of capabilities to support the development of your project. It comes pre-installed with various paid plugins, such as WPML and Slider Revolution. This fashion blog WordPress theme is compatible with the WooCommerce plugin. With this most recent integration, Roslyn may also be used to start a bilingual fashion blog and online shop.
13. The Voux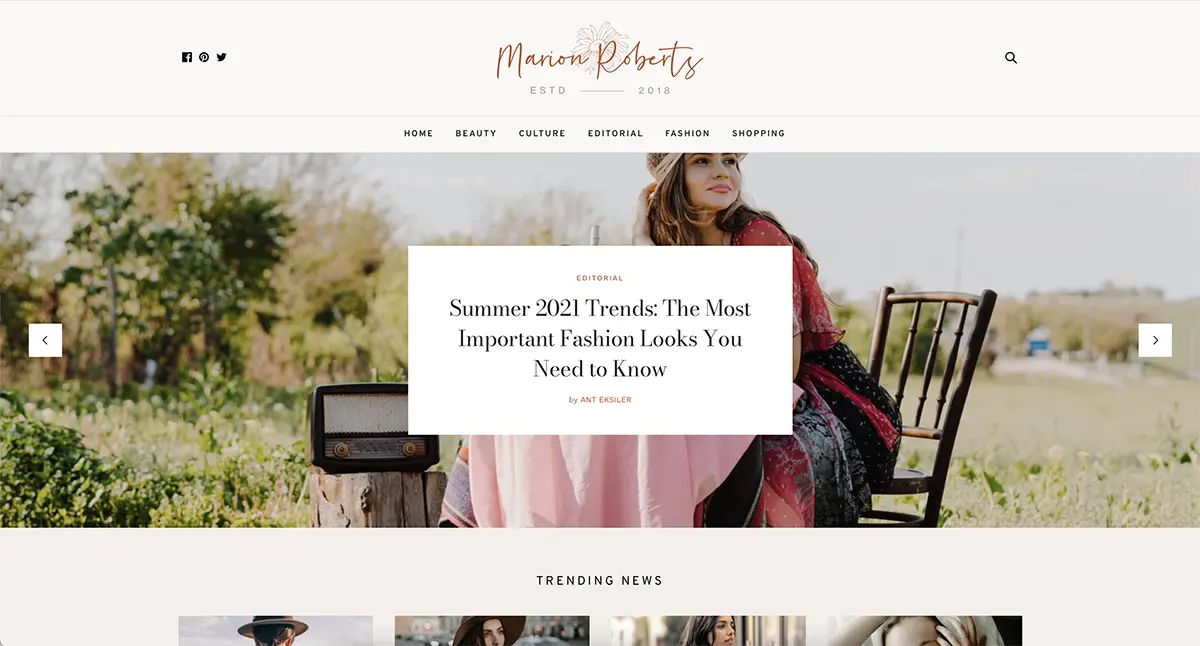 The Voux is a perfectly described magazine theme. This theme has vibrant built-in custom social icons and possibilities for choosing accent colors. This fashion blog WordPress theme comes with a little bit more color by default than many other fashion themes. It comes pre-configured with WooCommerce and WPML functionality and is responsive by default. This fashion blog WordPress theme is simple to arrange menus, and fashionistas will love the full-screen gallery design option.
The Voux enables you to create a user-friendly fashion website quickly. You can create something that will entice a style-conscious audience to return. If you pair it with the appropriate choice of photographs and thoughtfully employ its modification possibilities.
14. Suga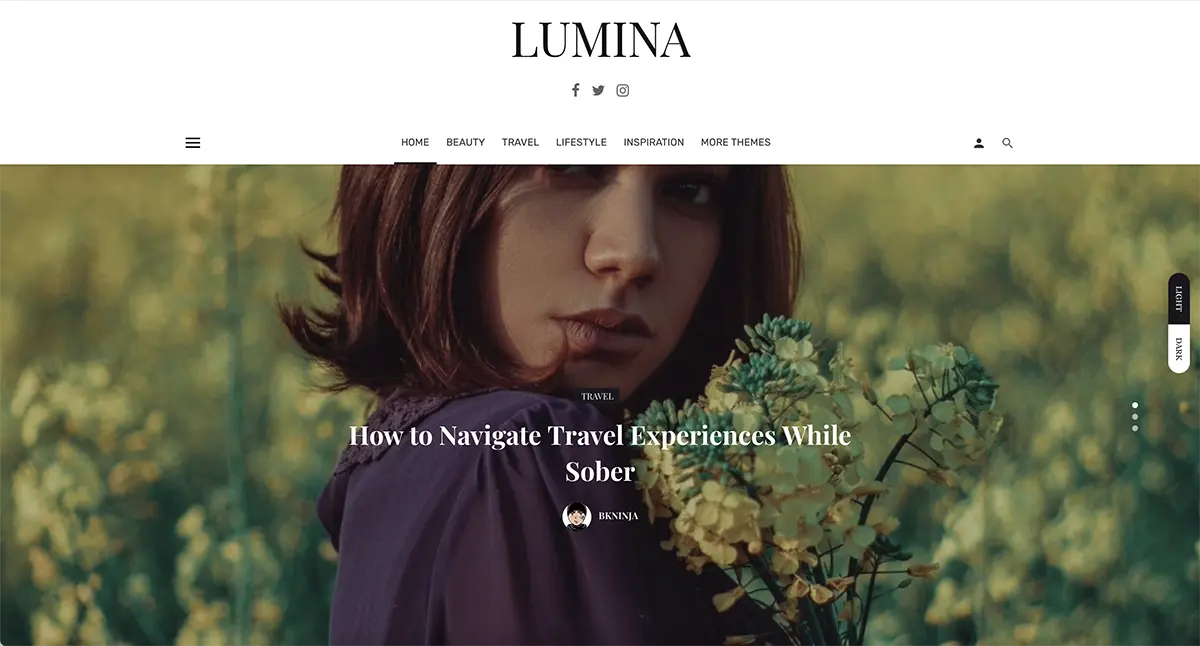 Suga is an entirely responsive and speed-optimized WordPress theme. You understand the value of powerful branding since you run a unique fashion blog or are a fashion designer. This fashion blog WordPress theme features an eye-catching, vibrant design that you can customize in various ways to develop your brand. The customizing choices offered by Suga are unmatched. You can install one of the individually styled demos to fit your area or select from dozens of modules and other gorgeous layout designs.
You also get advanced post options, Google Fonts options, and the chance to add your logo to personalize your website thoroughly. There are countless options at your disposal when using the integrated drag-and-drop BK Ninja Composer plugin. The elegant Ajax search functionality gives the entire spectacular experience one last touch.
15. Zeen
Zeen is a modern WordPress theme for news and magazines. Users of any skill level can quickly master Zeen. This fashion blog WordPress theme boosts your original ideas and produces a stunning, slick, and incredibly distinctive magazine, personal blog, newspaper, and fully-fledged WooCommerce shop. Zeen is a multipurpose theme that offers ready-made demos for various businesses, including websites for fashion, style, and photography.
It is also a theme that is ideally suited to those with creative sensibilities. Zeen has various intriguing design decisions, such as employing sidebars as navigation menus and unconventional page layouts. You can change any aspect of your website's appearance using the free Tipi Builder plugin, which is only available to Zeen users. This eliminates the need for coding skills and allows you to view the changes you make in real-time.
16. Lione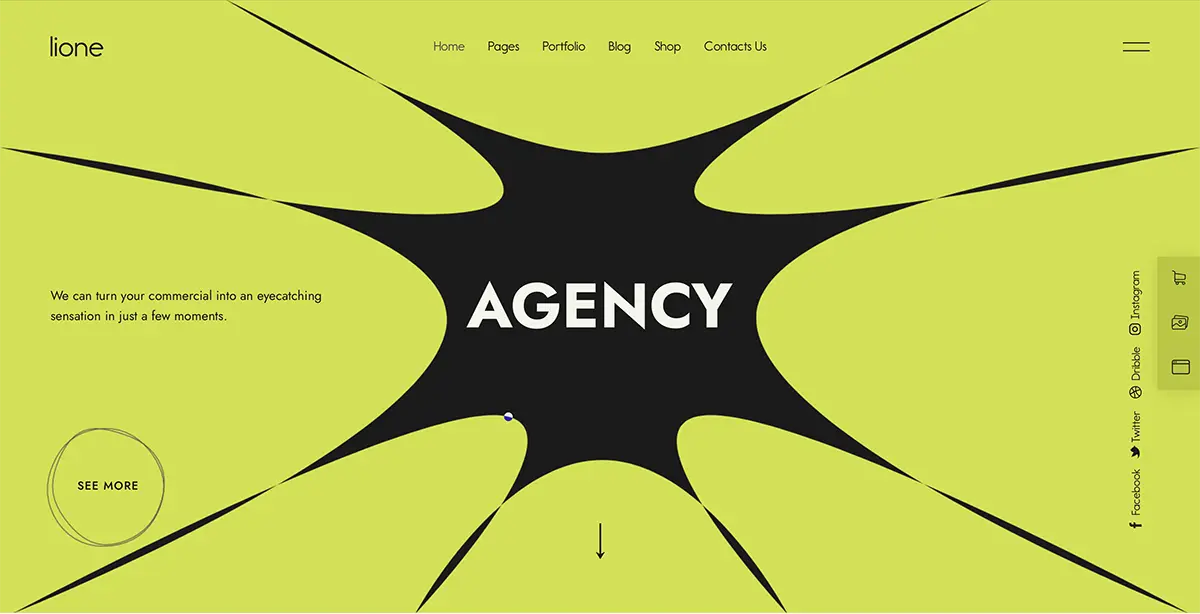 Lione is a stylish and effective life-coach WordPress theme for all types of digital and physical portfolios, including student, fashion, design, and assessment portfolios. This fashion blog WordPress theme is a fantastic option for creating a stunning and functional website that displays your online creative portfolio. This multipurpose theme includes a range of homepage demos and layouts and can be immediately launched online.
This theme is integrated with the Elementor page builder, it is simple to change the theme on your own. This theme will be a fantastic option for creating a web store in addition to acting as an all-inclusive basis for blogs and online portfolios. It features a collection of inner pages for your store that is ready to use and is fully compatible with WooCommerce.
17. Custom Made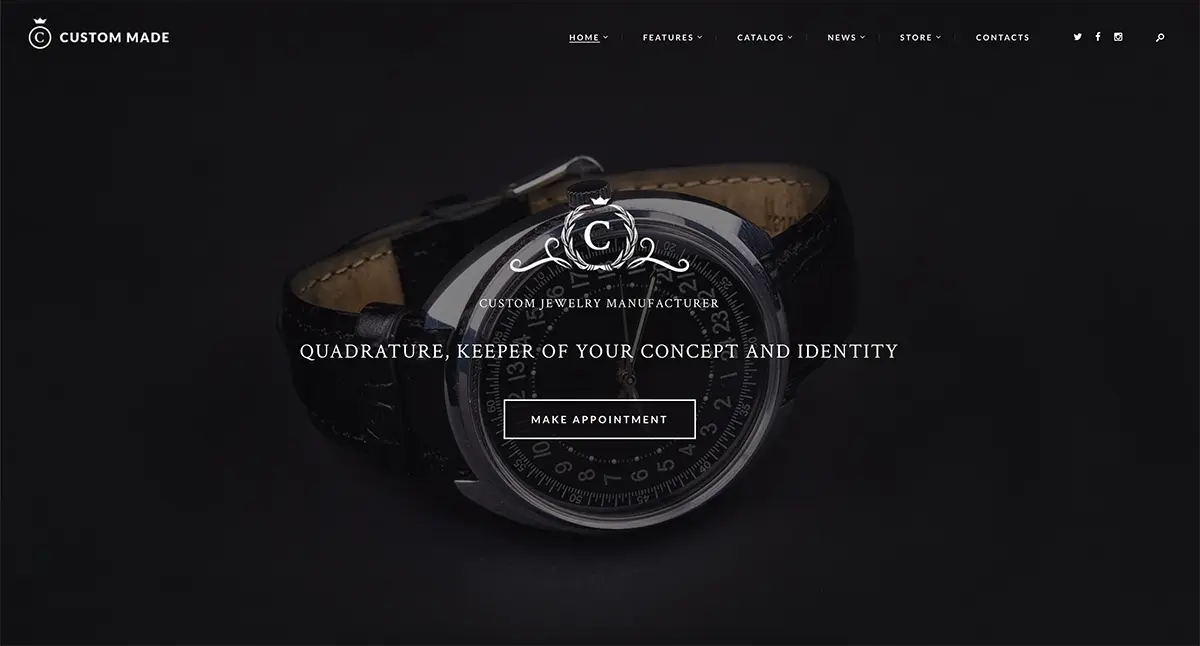 Custom Made Jewelry and Luxury Watches WordPress Theme is elegant, sensuous, and captivating. With the help of a gorgeous website created with Custom Made, you may introduce your company online in an attractive manner. It is the best free WordPress theme for jewelry stores and is used for fashion blogs.
This fashion blog WordPress theme, created with WPBakery, will save you a lot of time. It may be used to create websites for businesses like custom jewelry makers, watchmakers, fashion designers, and the like. You can choose from three lovely pre-designed homepage themes provided by Custom Made.
Conclusion
As you can see, the fashion blog WordPress theme presented here is pertinent and useful. The best part is that your jewelry website may be launched in a matter of hours. But before you choose, keep your eyes on your company's requirements. The top fashion blog WordPress themes listed above are loaded with features and have excellent usability. You can pick the option that most closely matches your preferences. You can check out the blog vs website to get a better experience on this topic.