Do you want to add a product filter to your website? We have arranged some best WooCommerce product filter plugins for you.
Using Product Filter Plugins, you can help visitors to navigate the WooCommerce store easily, especially when you have a hundred or thousand products. It helps to sell products from different brands and allows customers to filter products based on their interests. Also, it increases the chance of buying products from your store. In addition, if you want to grow your sales, you can give customers something surprising with WooCommerce points and rewards for their continuous buying.
7+ Best WooCommerce Product Filter Plugins
This article will discuss the best product filter plugins for WooCommerce, and help you to pick one for your website.
1. WOOF

WOOF is an excellent product filter plugin for WooCommerce. This plugin lets you set up the filter search that helps your customer to find any product easily.
With this plugin, you can set the filter using a shortcode or widget. You will find many effective filter options that you can add to your store like categories, product attributes, tags, size, etc.
The pro version of this plugin lets you add more advanced features like a taxonomy search module, color, meta filter, image, etc. You can also add product attributes in the search form such as checkbox,  dropdown, menu, etc., like most plugins on the list. After installing the WOOF you don't have to install other search plugins in WordPress.
WOOF works effortlessly with all the themes and product searches. So, your customer sees what they are searching for without refreshing the page.
2. Advanced AJAX Product Filters

If you are interested in adding a powerful product filters plugin then you can try the Advanced AJAX Product Filters plugin.
By using the Advanced AJAX Product Filters plugin, you can filter your products by taxonomies, attributes, prices, taxes, categories, etc. Its drag-and-drop builder helps beginners to place the filter anywhere on the website.
This plugin helps you to add unlimited filter options in a single widget. You can search for your product effortlessly and see them without refreshing the page.
You can navigate from one page to another through pagination. It also offers various widget options like checkbox, dropdown, slider, color, images, etc. You can also use the Additional Variation Images Gallery for adding unlimited images. This plugin is fully responsive so that you can add custom CSS through the admin page.
3. YITH WooCommerce Ajax Product Filter

YITH WooCommerce Ajax Product Filter plugin is the most installed plugin ever. It's a dependable product filter plugin that lets clients enjoy and appreciate using it instead of leaving it after a few seconds.
Customers can sort the product to find what they are looking for. By using the plugin, customers can filter their product based on a particular attribute like size, color, category, etc. Also, they can share those filtered products using social media plugin for WordPress.
This plugin helps you create preset various filters and show them on a page created by Gutenberg blocks. You can add your filter anywhere, using the built-in widget, shortcode, or Gutenburg code.
Along with the free version, this plugin has some advanced features with the premium version. The premium version includes features like image support, permalink management, unlimited price range, etc.
4. Themify – WooCommerce Product Filter


Themify helps your customer find what they are looking for quickly without scrolling down your website in spite of having an infinite scroll for WordPress.
This plugin aims to quickly serve the customer their desired product based on filter search. So, they can do their shopping in a few minutes.
The filter sidebar of this plugin can be horizontal or vertical; it is customizable. You can also add a price range, categories, attributes, tags, etc. This plugin allows customers to set multiple filters at a time.
You can make an unlimited number of search forms by using drag and drop features. Moreover, the plugin is user-friendly and beginner-friendly, so without hassle, beginners can use this plugin.
5. Product Filter for WooCommerce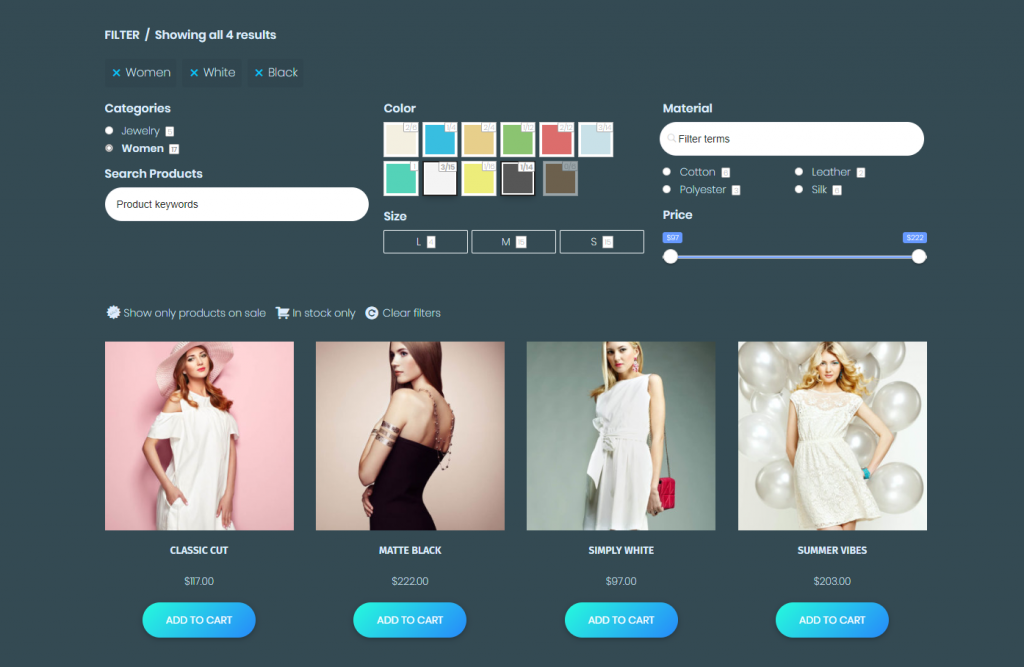 Product Filter for WooCommerce is one of the most sold and premium plugins ever. This plugin is powerful to handle the custom preset and does not hamper the website load speed.
It offers adaptive filtering and intelligent filtering analytics unique from other plugins. The adaptive filtering tool shows you the remaining terms in your filters, which narrows down the filtering criteria. It also lets you add filters like product qualities, taxonomy, price, sale items, brand name, etc.
This WooCommerce product filter plugin is perfect for those looking for a premium solution for their WooCommerce filter that is also simple to use. It also includes a dedicated Gutenberg block and if you don't like Gutenberg you can easily disable Gutenberg on your own. You can completely customize the plugin, including the filter terms, thumbnails, colors, checkbox layouts, etc.
6. WooCommerce Product Filter by WooBeWoo

WooCommerce Product Filter by WooBeWoo is another attractive plugin for creating a product filter. By using Elementor, you can directly create a product filter. Otherwise, you will use a shortcode or widget. You can know how to add a widget to your website by following some steps.
This plugin provides a live preview to see what your filter would look like.  It also allows you to select multiple filters to narrow down the search results and get the exact goods that your customer requires.
You can filter products using your criteria, including price, price range, categories, tags, etc. This plugin's most attractive feature is that it recounts products based on selected filters and displays the accurate number of products that match the results.
7. Product Table for WooCommerce

Product Table for WooCommerce is a top-selling plugin. It is an AJAX-based front-end layout table.
This plugin allows customer searching, filtering, and product sorting. Customers can add one or more tables to any page using a shortcode. It also lets you choose which column you show in the product table.
It can include custom widgets to let customers filter products by price, attribute, or rating. You can add search filters to let customers filter products by category,  attribute, tag, or taxonomy.
Customers can filter the product by using a sidebar widget or dropdown list.  If you want to replace the dropdown with something better, you can try Variation Swatches for WooCommerce to display the variations in a modern way.
8. WordPress Meta Data and Taxonomies Filter (MDTF)

And now, for the final entry in our list of the best WooCommerce product filter plugins, we have WordPress Meta Data like open graph Facebook metadata and Taxonomies Filter, also known as MDTF.
The plugin will help you set up a filtering system so users can search and filter your products based on meta fields and taxonomies.
This plugin also helps users filter through your posts, pages, and custom posts. In addition, it allows you to filter through your product list based on the criteria provided. It can help to make your website more user-friendly and navigable.
Conclusion
Product Filter is a type of essential plugin for WordPress. From these plugins, you can choose one for your website. If you are not started with any theme yet, you can try WooCommerce WordPress themes to use those plugins. Using those plugins and themes, you can give your customer a better user experience.
Every plugin has a different filtering implementation. So, you should pick them consciously and test the ones that provide the features you need.