WordPress directory plugins are essential for building a directory website or adding a directory section to your website. These plugins can help you to add such features without writing a single line of code. 
In case you have no idea about the directory, a directory groups the names, addresses, phone numbers, and other information of people and organizations so that it can be accessed from a single place. It's extremely helpful for finding information quickly. Some examples are- real estate listing directories, blood banks, restaurants, etc.
There are many WordPress directory plugins in the WordPress plugin directory, you'll be overwhelmed while choosing a directory plugin. We've gone through most of the plugins and sorted the best options for you. Feel free to choose from these.
The Most Powerful Best 10 WordPress Directory Plugins for 2023
1. Business Directory Plugin

Business Directory Plugin is the ideal option for professionals looking for a straightforward WordPress directory plugin. You don't need to be concerned about using the plugin if you're not tech-savvy. By immediately installing this straightforward plugin, you can get going. You don't need to have any prior developer experience at all.
You've discovered the most well-liked, adaptable, and user-friendly WordPress directory plugin. With the help of our WordPress directory plugin, you can boost interaction on your website, enhance customer retention, and make income. In that case, You can use the best lead generation plugin for WordPress.
You can establish any listing directory in addition to creating company listings. With this simple listing plugin, you can easily create a team or employee directory, a corporate directory, a medical directory, and other web directory sites.
2. GeoDirectory

GeoDirectory WordPress directory plugin enables you to create powerful location-based company directories. It has a highly optimized database architecture that supports quick and efficient scaling. Additionally, a free directory plugin for WordPress is offered by GeoDirectory. The directory will only contain the essential plugin features and will be limited to one city, and you can easily add Google maps to a website according to your will.
Users must submit listings through a front-end submission form that you can heavily alter to construct a directory. This business directory plugin for WordPress provides a drag-and-drop form builder to simplify customization. The add-ons and extensions offered by GeoDirectory can help your directory website. For instance, the real estate theme offers the resources to develop a real estate directory, and the events add-on enables you to generate event listings. Dummy data is also available for creating sophisticated classified directories.
3. Connections Business Directory

One of the top WordPress directory plugins is Connections Business Directory. More and more individuals are choosing Connections Business Directory for their directory needs due to its adaptability, massive array of unique features, and simplicity in design and function. Connections can be used to build a basic contact book, claim listings, manage staff or member directories, and operate a company or link directory.
Connections Business Directory was constructed from the ground up to be feature-rich and customizable for any most popular WordPress theme. The template engine in the Connections Business Directory is incredibly adaptable. Template and CSS loading take context into account. As a result, you may design templates that only run when a user accesses a particular entry, category, postal code, etc.
4. Directorist

The free WordPress directory plugin Directorist is excellent for building business directories. It is readily transferable from one website to another and smoothly combines with well-known WordPress themes and page builders. The WordPress directory plugin includes OpenStreetMap and Google Maps interface, listing form customization, search filters, and a CSV bulk importer. You can use Google map plugins for WordPress if you want, and the free edition of Directorist includes dashboards for back-end management and front-end submission.
The WordPress directory plugin introduces the robust Directorist business directory plugin, which is highly optimized and capable of handling millions of listings to provide the most dynamic management of online directory businesses. You may use Directorist to produce directories lists based on region, category, and other interests without writing a single line of code.
5. Directory Pro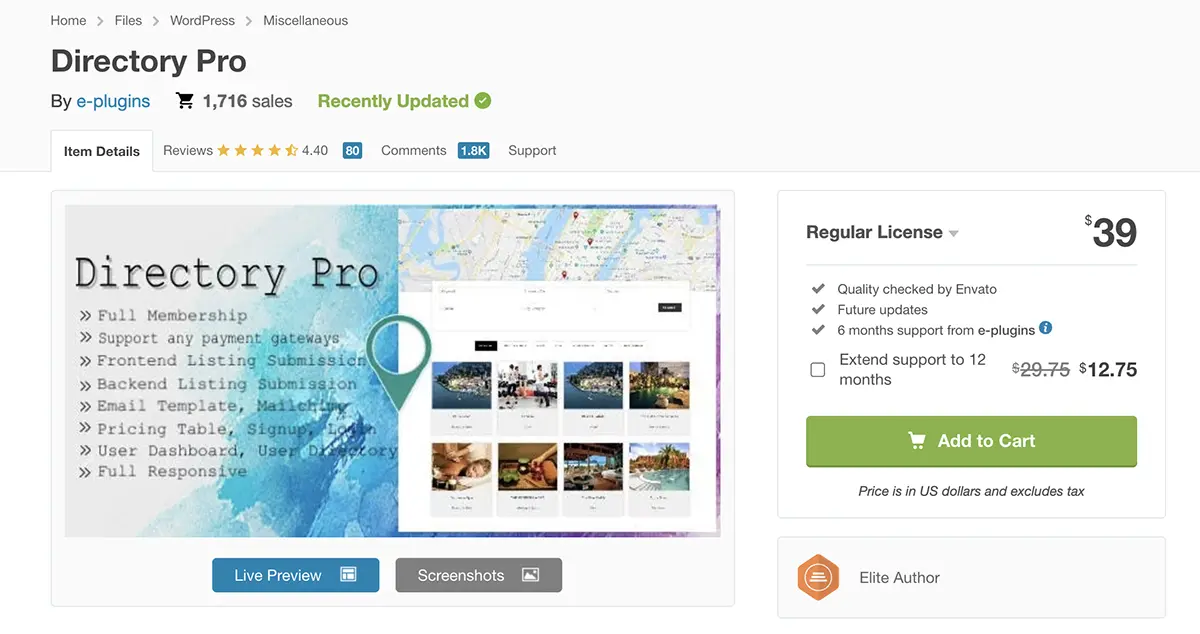 Another top-notch directory WordPress directory plugin is Directory Pro. It can be integrated with the majority of WordPress websites and works across all browsers, and has many powerful features. The vibrant and clear dashboards of this directory plugin set it apart. The front-end and back-end control panels' user interfaces are well-designed and simple.
The integrated Visual Composer allows you to complete all design work without worrying about coding or other technical skills. This plugin is compatible with your website's fastest and best lightweight WordPress themes. PayPal, Stripe, and WooCommerce Payment are the three integrated payment channels with Directory Pro. This enables you to provide users with various memberships and free and paid listings.
Additionally, this business directory plugin for WordPress enables you to accept payments for bookings, reservations, and other actions through your directory website, which is a fantastic method to monetize your enterprise. It is an excellent option for listing local and international firms because of these capabilities. Users can add listings by filling out a front-end form, and they can subsequently edit them using the simple dashboard.
6. Everest Business Directory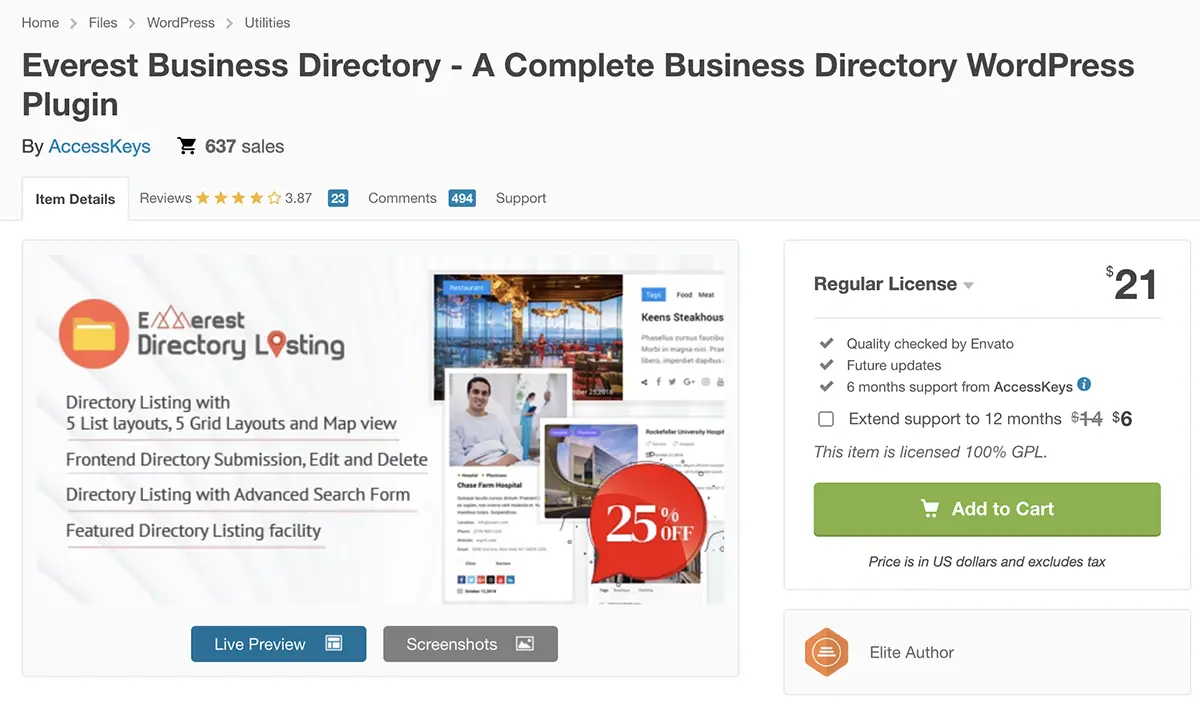 The Everest Business Directory is a powerful WordPress plugin used mostly for listing physical businesses. The WordPress directory plugin offers a welcoming back-end dashboard that is incredibly simple. And also, this plugin has fully adjustable form fields for creating bespoke front-end forms. Additionally, a directory notification system and quality security checks are included. This directory plugin's designs for directory display include a list layout and a grid layout.
Ten ready-to-use templates are also included, five of each design. Three Directory Detail designs layouts that show specific information about things on your claim listing are included with the Everest Business Directory. Every design comes with a photograph, a description, multi-locations, and contact details. And also, this plugin is built especially for working with WooCommerce corporate themes for WordPress to build an awesome eStore.
7. Sabai Directory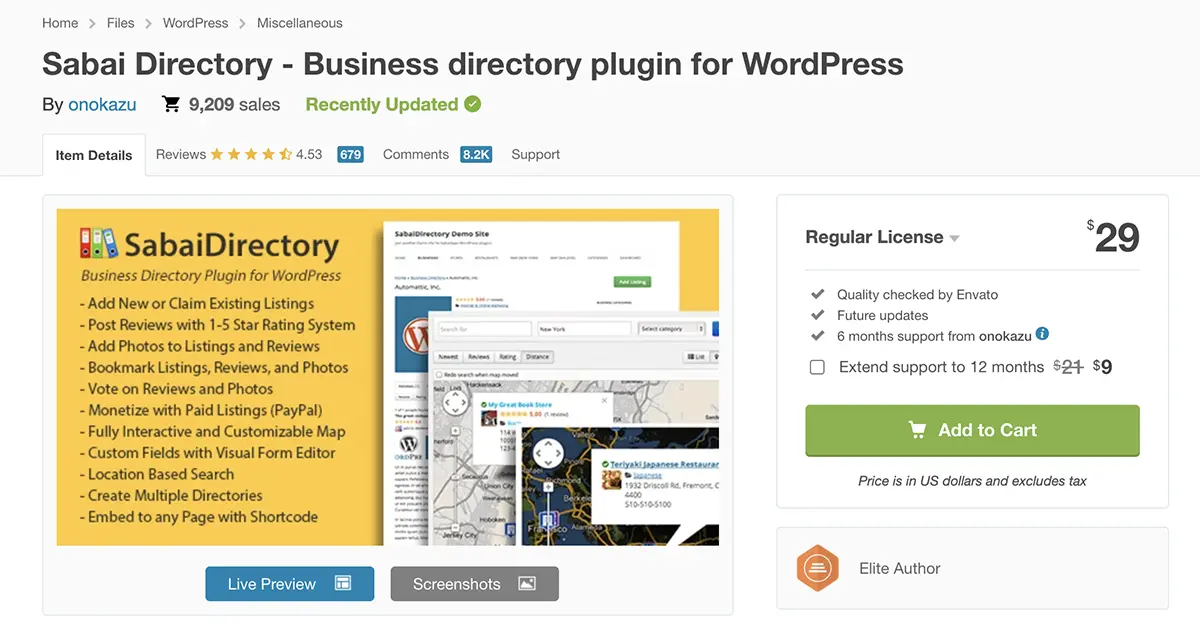 Online business directories can be created with the premium plugin Sabai Directory. Once you make the initial purchase, you won't have to worry about spending any money because free add-ons are available. There are 16 different interactive map styles available for Sabai Directory listings.
Additionally, this WordPress directory plugin comes with more modern features like multi-locations, email notifications, ratings and reviews, and media uploads. You don't have to take help from any review plugins for WordPress. With Sabai's visual form editor, you can add customized fields to forms. Then, users can easily post their listings and evaluate and score the existing business listings on your website using these front-end forms.
8. Name Directory

Name Directory WordPress directory plugin functions more like a dictionary. The website administrator creates a list of information accessible to examine internally and externally. A shortcode can embed this list into articles, pages, or widgets on your WordPress website. At the same time, Name Directory supports several directories, which means that a single installation is sufficient to display several directories across the website.
Even better, you may bulk import as many directories as you want using the bulk import tool like other product import-export plugins for WooCommerce. With this directory plugin, there aren't many customization choices, which makes setup quick. You must use the code if you choose to make any stylistic adjustments.
9. HivePress

The HivePress plugin can create unique directories and listing websites, such as adaptable, easily customizable, and user-friendly. With the help of this WordPress directory plugin, websites can be arranged into business directories. It might be used to design anything, even a busy corporate website.
The ListingHive HivePress theme is bundled with HivePress and is compatible with all software versions and essential plugins for WordPress. It is entirely compatible with both HivePress and authorized extensions. There are numerous other extensions accessible from the plugin dashboard. These extensions can be installed with just a few clicks, in addition to the standard plugins that come with WordPress. By adding a few shortcodes to the WordPress admin area, this plugin enables you to create a multifunctional listing, directory, and classified results page.
10. Advanced Classifieds & Directory Pro

A premium version of the freemium plugin Advanced Classifieds & Directory Pro with more functionality is also available at WordPress.org. This WordPress directory plugin may assist you in building both a traditional directory and a site for classified listings. You can use this plugin with any SEO-friendly WordPress theme to build an excellent directory website.
Users can create accounts to manage, renew, amend, and delete listings. They can also store the listings they find most appealing to other users. You can create multiple custom fields and categories to manage the listing pages. It also supports unlimited locations, including a Google Maps integration to show listings on a map.
Conclusion
As with any WordPress plugin like this, the best WordPress directory plugin depends on your requirements, financial position, and technical expertise. We have compiled this list of the top 10 WordPress business directory plugins with amazing selections.
Make sure you keep in mind the important characteristics we outlined at the beginning of this article before you make your selection. Consider these facts when selecting the plugin to create your WordPress directory website.