An excellent location to learn new skills and knowledge is the internet. You may look up courses online, register for them, and go through the lessons. And also, you can add a completion certificate to your CV, all from the comfort of your home study desk. Additionally, many WordPress LMS plugins and alternatives for LMSs will allow you to convert your website into a complete LMS. Additionally, if you want to give a flawless LMS experience, you should choose performance-centric LMS hosting, freeing you of all hosting concerns. You can see WordPress hosting website to host your website perfectly. This article will discuss the top WordPress LMS plugins to help you get everything set up and operating. Additionally, it will also offer useful advice on picking the ideal LMS plugin for WordPress for your requirements.
The most powerful 12+ LMS Plugin for WordPress 2023
1. LearnPress
A comprehensive LMS plugin for WordPress is called LearnPress. It is one of the best WordPress LMS plugins available and makes the process of developing and marketing online courses simple. it is compatible with most of the education themes. You can design a course curriculum that includes lessons and exams and is controlled via a user-friendly interface. With WordPress LMS Plugins, you can quickly and easily create educational, online school, and online-course websites without any prior coding knowledge. LearnPress is a premium, high-quality WordPress Plugin that unquestionably helps you generate income from your WordPress-based LMS, even though it is free and always will be. The LearnPress WordPress Online Course plugin is small, plus it has a ton of Add-Ons to enhance its core functionality.
2. LMS by Masteriyo
  Masteriyo LMS is the most user-friendly and powerful LMS plugin for WordPress for creating and selling online courses. It has a super-fast and minimalist course builder that lets you easily and quickly make online courses easily and quickly. You can instantly add lessons and courses without a full page reload. It provides a unique and attractive user experience for managing memberships, payments, and designing courses all under one roof. You won't need to bother grouping lessons, courses, or quizzes and waiting a long time to save the changes. It works with the fastest and lightweight WordPress themes, Even if you don't know how to code, Masteriyo makes it simple to create an online teaching platform that will benefit your students. With simple course navigation, a distraction-free learning mode, a course progress indicator, and specific questions and answer sections, this plugin enables you to create great learning pages for students.
3. LifterLMS

LifterLMS is a potent WordPress LMS plugin that makes it simple to create, advertise, and protect training-based membership websites. You can install any membership plugin in WordPress and then can proceed with your learning management system. LifterLMS is a full-featured WordPress LMS plugin and course creation tool. LMS solution is compatible with all well-coded WordPress themes, contemporary WordPress blocks, and well-liked WordPress page builders. Through Zapier, you can link your WordPress LMS website to over 1,500 more apps. Only 11 WordPress plugins are included in the Zapier app directory, including LifterLMS. Moreover, LifterLMS is renowned for its active listening, social interaction, course collection, and thorough documentation, which help to foster a healthy and well-supported LMS user community. LifterLMS is a feature-rich LMS solution that makes significantly invests in client success and support.
4. Tutor LMS

Tutor LMS is a comprehensive, feature-rich, and powerful WordPress LMS plugin that makes it simple to design and market online courses. This learning management system's features all pass the requirements for a fully functional online course market. The tutor is the best free WordPress LMS plugin because it allows you to construct complex and entertaining quizzes, interactive lessons, potent reports, and metrics. You can manage, administer and monetize your education, online school, and online courses without writing a single line of code. You can add google analytics with WordPress to track your LMS course record visitors. It includes premium, high-quality add-ons that you may use to enhance the functionality of the base plugin. This WordPress LMS plugin is simple to use and comes with add-ons that enable shopping carts, email notifications, certifications, and many other features.
5. Good LMS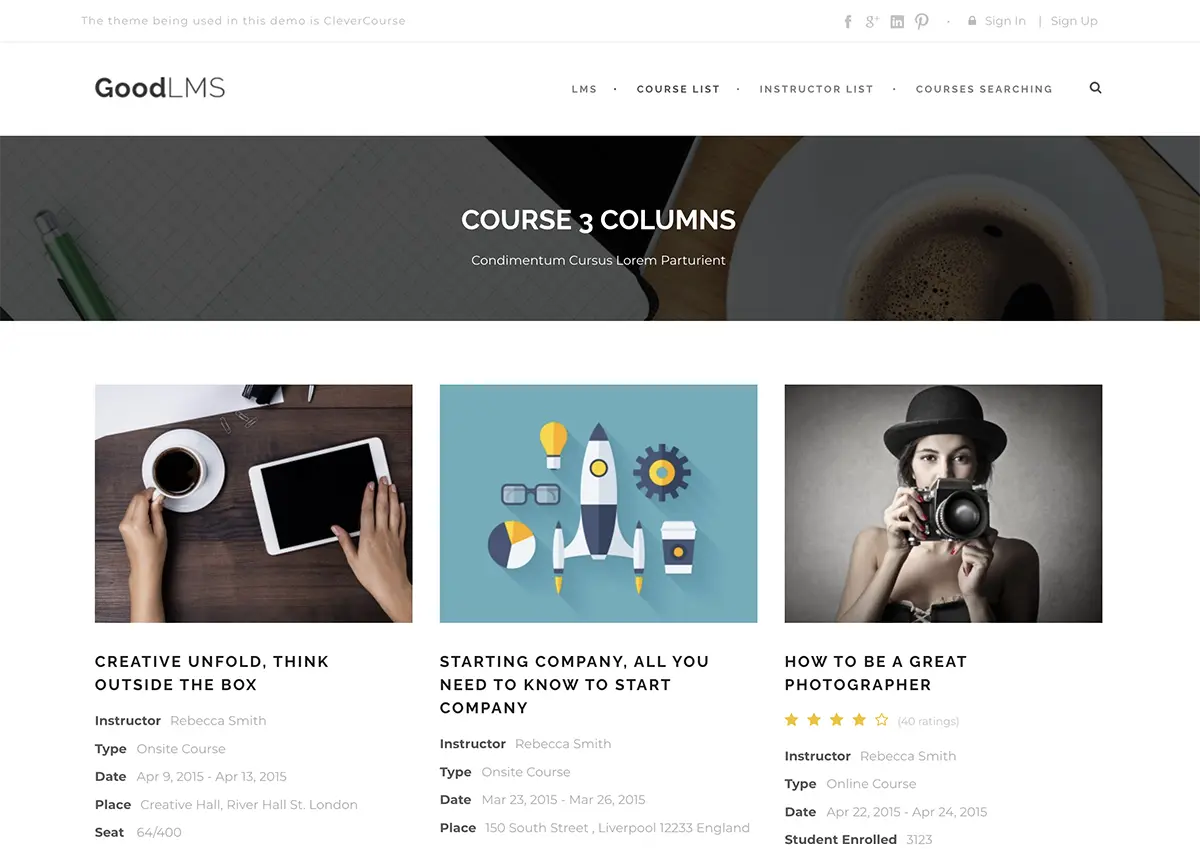 Good LMS is a WordPress LMS plugin that makes quick and simple courses. With its simple course builder, you can create online courses just as rapidly as WordPress blog articles. You can create quizzes and personalized certificates using this online course plugin from your WordPress dashboard. It can offer course ratings and commission fees to transform your WordPress website into a collection of paid courses without taking any help from review plugins for WordPress. This plugin allows students to track their scores, earning badges and certificates through the student backend. You can customize the quiz-taking options to your liking and enable unlimited retries.
6. Namaste! LMS

Namaste! WordPress is a WordPress LMS plugin that supports an infinite number of students, assignments, lessons, and courses. You can establish various rules for access to and completion of lessons and courses based on assignment completion, exam results, or manual admin approval. You can provide multiple user roles access to the namaste! LMS and additional roles that will manage it using the LMS. You can administer an unlimited number of courses, enroll students, or allow them to self-enroll. You can also specify different course and lesson access criteria based on the degree of completion, performance on a test, or manual approval. This plugin is compatible with any free simple WordPress WooCommerce theme. This WordPress LMS plugin can add different eLearning content to your website. In addition to using a grading scale or allocating points for accomplishments like WooCommerce points and rewards system, teachers might evaluate their students' performance.
7. MasterStudy LMS
Anyone in need of a website for online education should use the MasterStudy WordPress LMS plugin. A learning website may be easily built, customized, and managed according to the plugin. You can also create WooCommerce custom product pages to showcase your courses online easily. The LMS plugin may transform any WordPress website into a polished online platform. The WordPress LMS plugin is complete with all the capabilities required for industry-specific e-learning & LMS. It gives you the resources to make and market online courses. All necessary Learning Management System (LMS) functions for managing courses, tests, and educational content are included in this flexible WordPress LMS plugin. It facilitates the sale of your courses, the development of lessons, and the provision of online education services.
8. Sensei LMS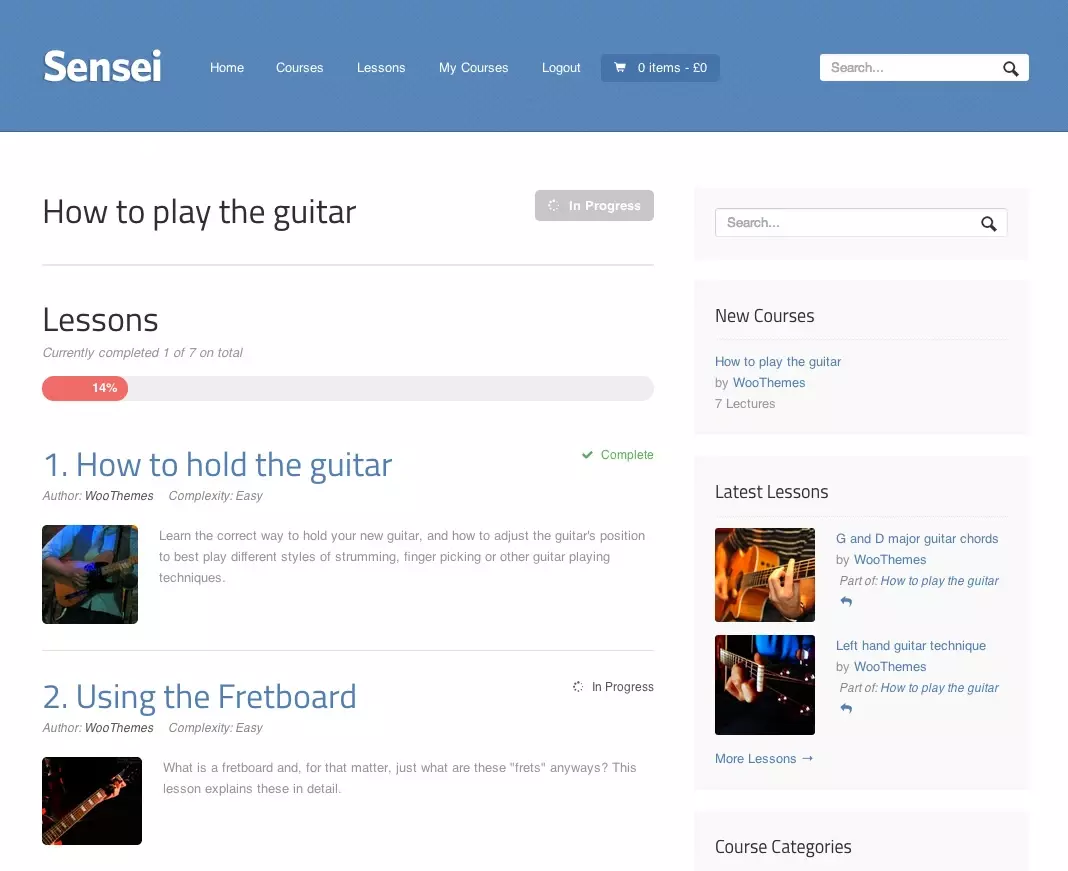 The organization behind WordPress.com, WooCommerce, and Jetpack, Automattic, created the teaching and learning management plugin known as Sensei LMS. Automattic's whole employee training and courses are also powered by Sensei LMS. You may sell your online courses using its flexible monetization tools, which seamlessly integrate with WooCommerce and you can customize the product pages WooCommerce. This WordPress LMS plugin also integrates well with most WordPress themes, enabling you to create an online classroom on your website without any coding knowledge. Making courses with Sensei is as simple as using the WordPress editor to make articles or pages. There are possibilities to oversee students' work using the included grade book, add quizzes, and attach videos.
9. WP Courseware for WooCommerce

With the help of the WordPress LMS plugin WP Courseware, you can easily create an infinite number of courses thanks to its user-friendly interface. You can change several course components using WP Courseware. These options include choosing teachers and customizing permissions, putting up welcome greetings, and sending personalized emails with the help of the best WordPress email plugins. You can design complex question kinds, set timeframes or retake limitations, and add additional features to the feature-rich quiz and survey builder. WP Courseware offers seamless interfaces with numerous WordPress plugins and page builders, including WooCommerce, BuddyPress, and WPBakery, for increased functionality.
10. LearnDash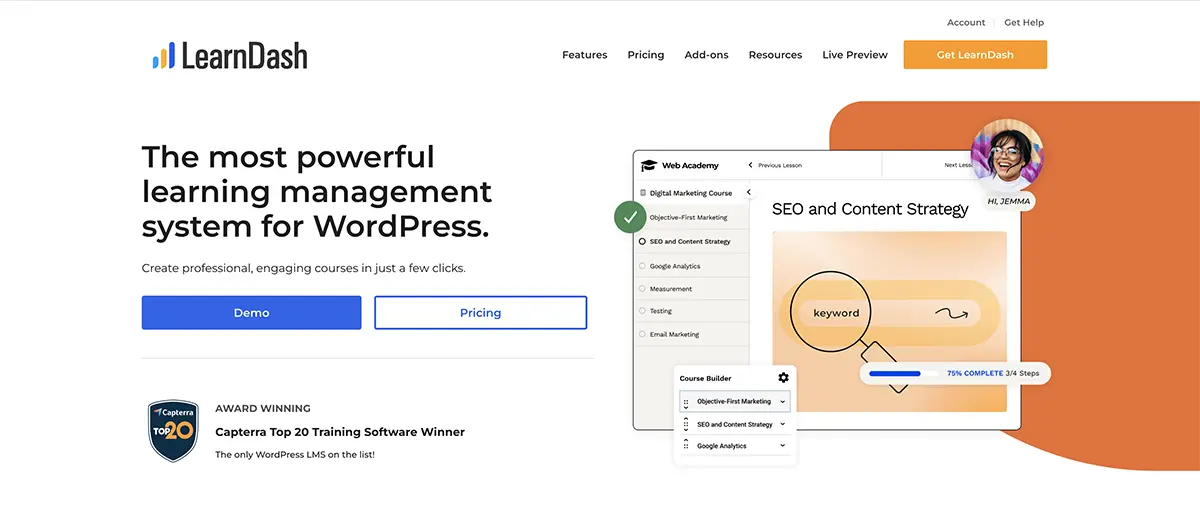 LearnDash is trusted by several Fortune 500 companies and well-known learning platforms like Yoast Academy and WPElevation, demonstrating why LearnDash is regarded as one of the top LMS plugins for WordPress. Additionally, LearnDash allows you the freedom to sell your online courses through bundles, licenses, subscriptions, or memberships. Additionally, this plugin interacts with 2Checkout, Stripe, and PayPal, simplifying the payment procedure. You can also use any PayPal plugin for WooCommerce. LearnDash's official Facebook and YouTube channels offer dependable support if you need assistance utilizing the program. In addition, you can get started with the help of a FAQ page and a ton of documentation.
11. Academy LMS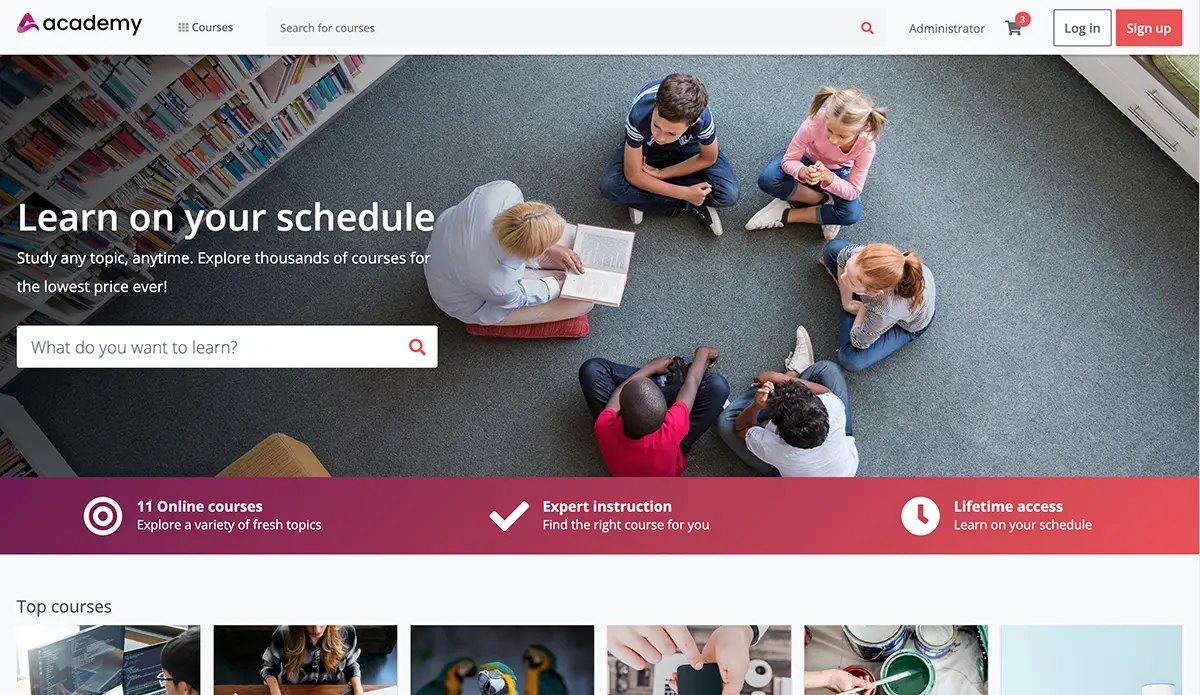 Academy LMS is a high-end WordPress LMS plugin for creating expert course content. The plugin offers extensive functionality for administrators, students, and instructors to guarantee that everyone using this learning management system (LMS) has the most excellent experience possible. Students can browse the course portal, filter courses using predetermined criteria, and then add the courses they want to take to create a wish list. Additionally, after finishing a course, students can rate the course and track their progress. The dashboard for instructors is specifically designed for managing courses and checking on payments. The course dashboard allows administrators to manage course categories, keep track of the list of enrolled students, and approve pending courses from instructors.
12. WP Attest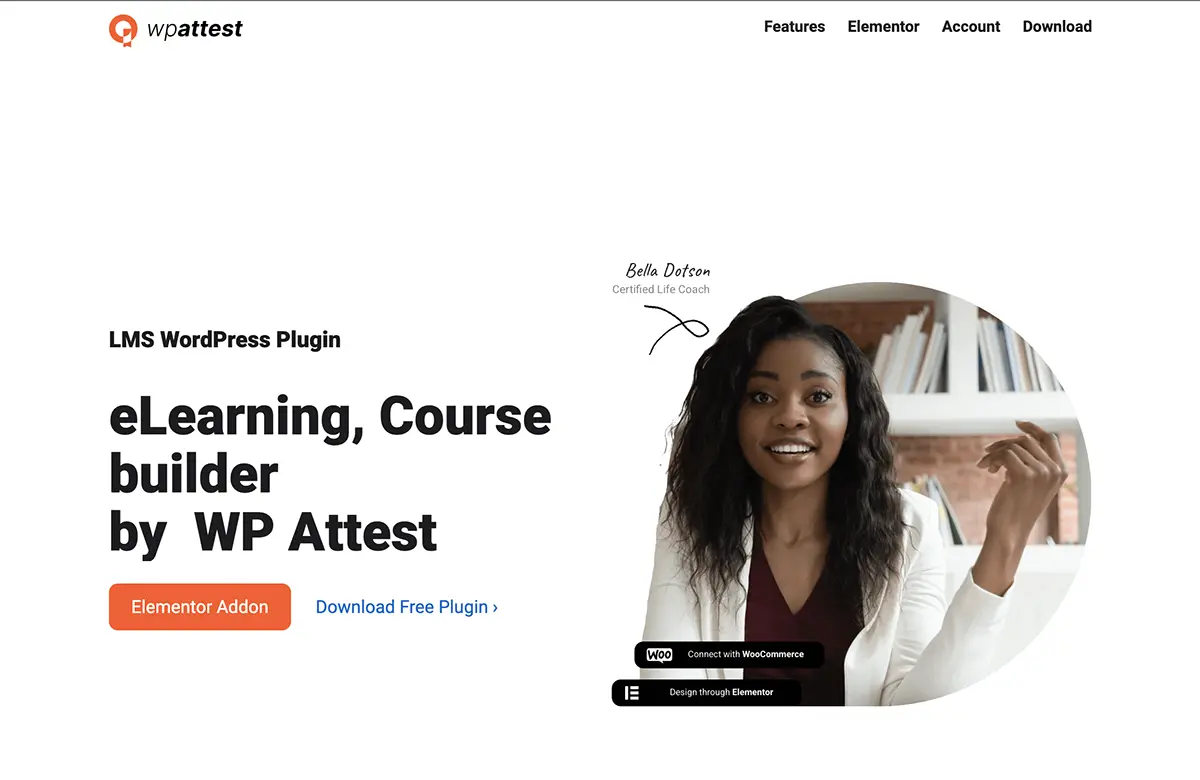 It is simple to create your online courses with WP Attest. This plugin is free, simple to use, and contains all the functionality you need to customize your courses. The LMS plugin for WordPress uses a well-known and adaptable front-end Gutenberg interface. Simply select an included option for the duration, featured image, main lesson video (and activate the preview teaser), and other options. You can include requirements for students to register and award points in addition to a completion page. This plugin is compatible with modern and creative WordPress themes. WP Attest has built-in options for course topics, length, difficulty level, cost, and a maximum number of students. The plugin can also be used to make unique landing pages for courses. The WP Attest learning management system also includes integration with reCaptcha to help reduce spam, various tutors, and a FAQ section for students. Additionally, future integrations with Elementor and WooCommerce will undoubtedly improve the plugin.
13. Edwiser Bridge

You can simply synchronize your WordPress website's course categories. Additionally, you can use the free Edwiser Bridge plugin to import all of your Moodle courses. Using this WordPress LMS plugin, you may enable course registration, sell them (using the built-in PayPal interaction), and more. You can also add payment option icons in the footer if you want. Moreover, Edwiser Bridge has a variety of settings that you can easily check to enable, such as automatic synchronization for courses, enrolled users, language, etc. Even better, your LMS plugin for WordPress powered by Moodle has fantastic add-ons that give it even more capability.
Conclusion
The above essential plugins for WordPress have extraordinary capabilities that will enable you to easily build a reliable eLearning program. Additionally, employing the best LMS WordPress theme in conjunction with these LMS plugins has advantages right out of the box.