WordPress event plugins can range from simple to feature-rich, such as adding a calendar to your website to inform visitors of future events. Ticketing features, resource and time allocation, attendee management, and email follow-up after the event may all be found in a fully working Event Plugin in WordPress. Although You can also use the best WordPress email plugins to follow up, event plugins help you better get all in one place. WordPress event plugins are a fantastic tool for managing your events in an orderly fashion, but do you know which WordPress plugins will be most beneficial to you? If you answered no, you shouldn't worry. The top 10 event plugin for the WordPress events page are listed in this article, so you may use them to organize virtual events successfully.
Top 10 Feature-rich Event Plugins in WordPress 2023
1. Events Manager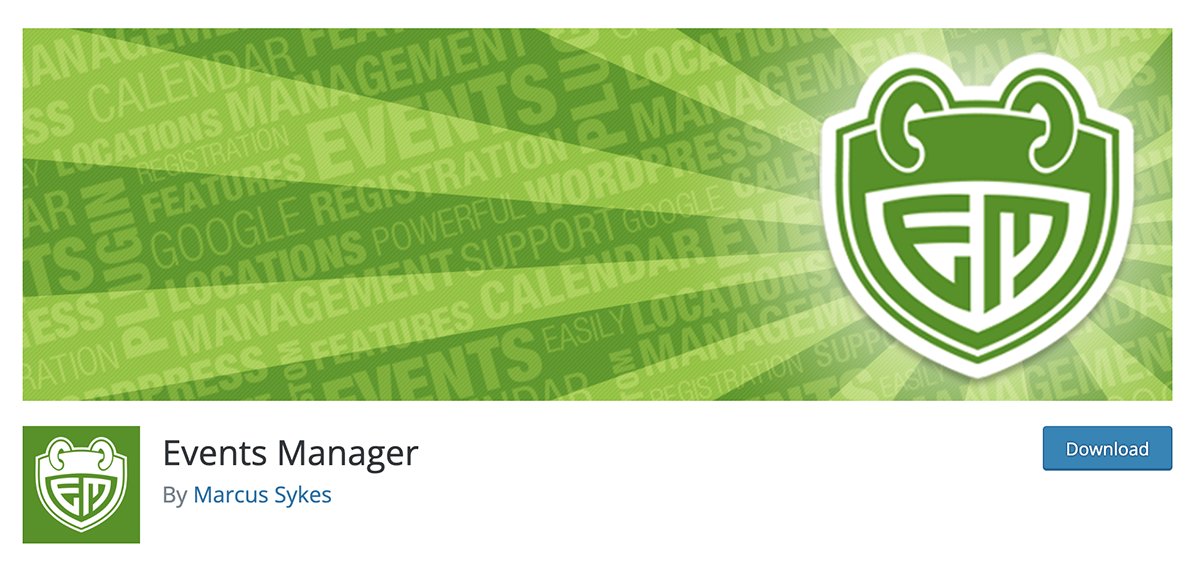 Events Manager is a fully functional event registration plugin for WordPress, which is built on the concepts of adaptability, dependability, and strength. The WordPress Events Manager plugin is organized around a calendar and lets you accept bookings for individual events. The plugin enables booking administration with approvals and rejections recurring and multi-day event registrations. The registration process for a one-day event is simply because it includes the start and conclusion times and the essential event details and this plugin is compatible with the best WooCommerce theme free. The plugin functions like a desktop calendar and is easy to use. Add an event, specify its start and stop times and any recurring settings, and then post it. With the Events Manager WordPress events plugin, a busy schedule may simply be managed with the least amount of work.
2. Amelia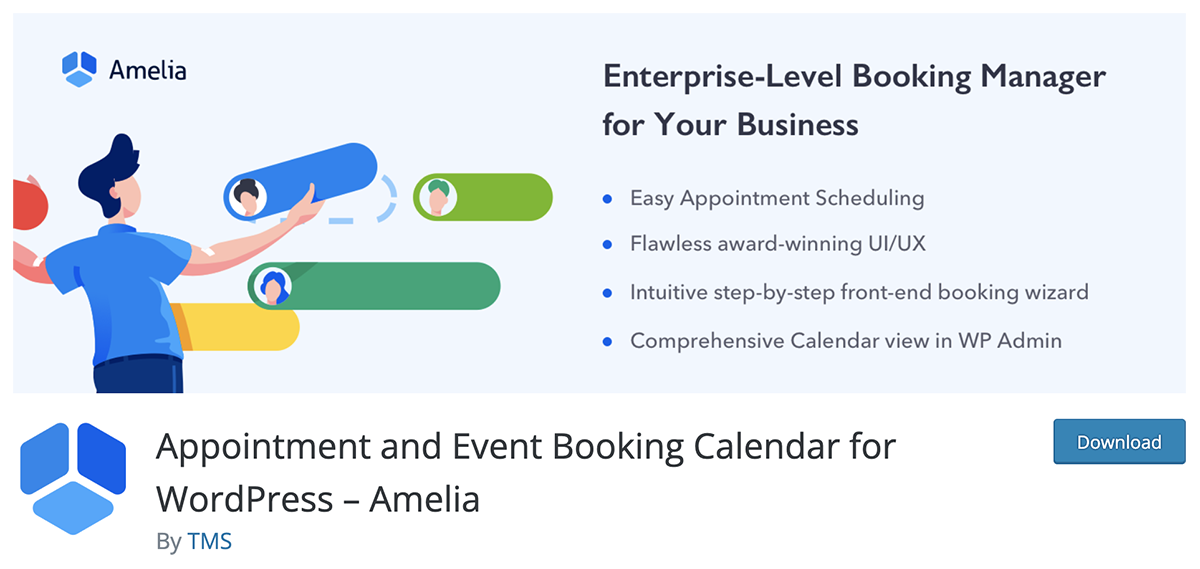 A free, trusted booking system for the efficient handling of online appointment scheduling and event reservations is the Amelia WordPress event plugin. With calendar support, this plugin primarily serves as a booking tool. Many useful features are available in this attractive WordPress events plugin, including booking, an events calendar view, views for various event types, and intelligent administration to avoid repeated booking. The design is advanced and made to fit easily and smoothly into any website layout. Once put on your website, it is incredibly simple to use, and you can manage all of your event widgets from a dashboard on the back end. You can also know how to add widgets to your website if you need. It takes five minutes to set up Amelia Booking System to get your first appointment or event booking through WordPress. However, with only a few simple settings, you may set up an online reservation system for reserving service appointments or attending events.
3. WP Event Manager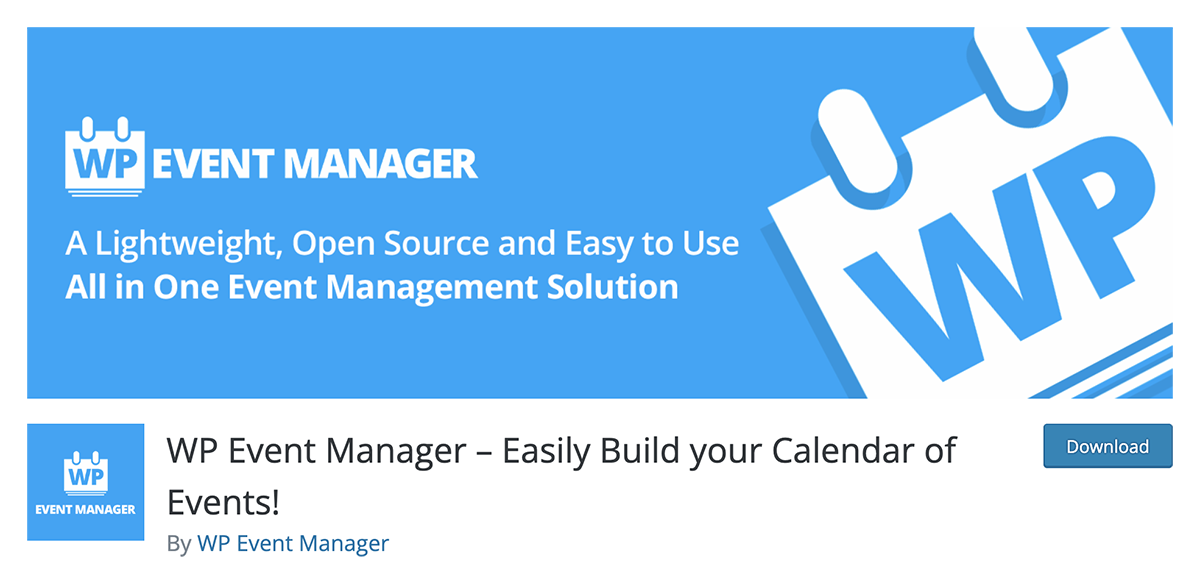 It is possible to integrate a fully effective event management system for both offline and online events into WordPress with the help of the lightweight and flexible plugin WP Event Manager. Although this plugin is new to the event management scene, it is popular with excellent evaluations and even better customer service. You get everything from frontend forms to widgets and shortcodes for searchable event listings to language translations and I hope you don't need to take any help from any translation plugins for WordPress. WP Event Manager offers user-submitted event forms, a fully configurable style that blends in with any website, several view types, a straightforward event dashboard for busy calendars, etc. One of the best WordPress event plugins available is WP Event Manager, which would be an excellent resource for any business that organizes events.
4. Event Organiser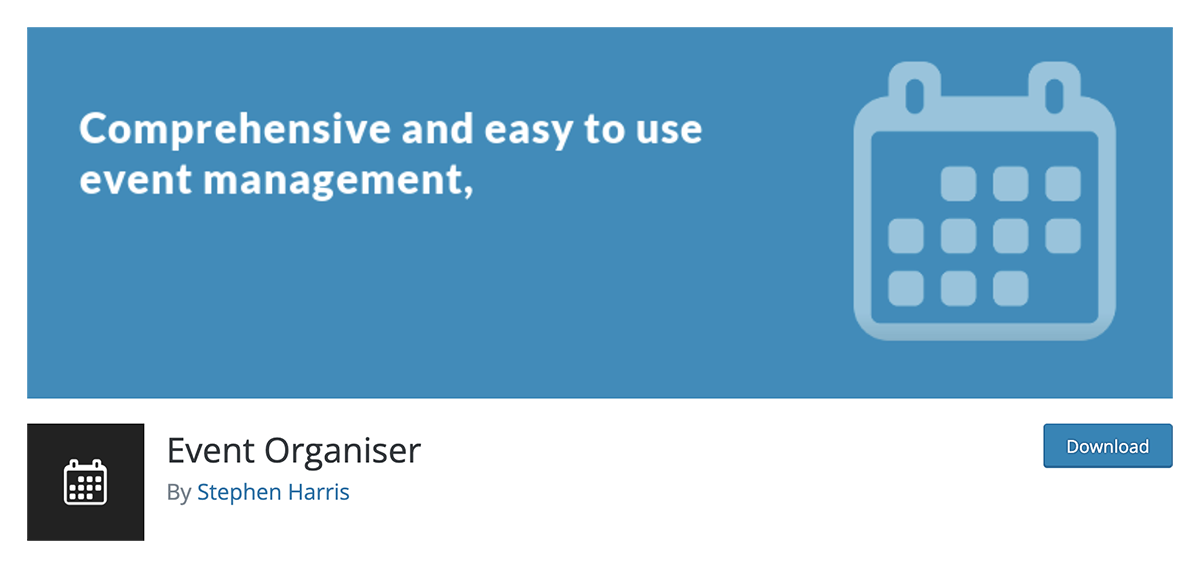 The WordPress event plugin feature of Event Organiser enhances your WordPress website. This plug-in enables you to create events. It has the same capability as posts and offers more features that let you manage your events. Event Organiser does this using WordPress's built-in "custom post type." The dashboard for the calendar-based plugin Event Organiser is uncomplicated and features a monthly view. You can manage reservations, customize the reservation form, send confirmation and follow-up emails, accept payments through various methods, and promote events with the plugin's assistance. If you are going to accept payment you may need to take help from the membership plugin in WordPress. You can also choose various forms, such as lists and other calendar layouts. Shortcodes and widgets are used to display calendars and events on your website. Therefore, getting started shouldn't be an issue for the average WordPress user.
5. Timely All-in-One Events Calendar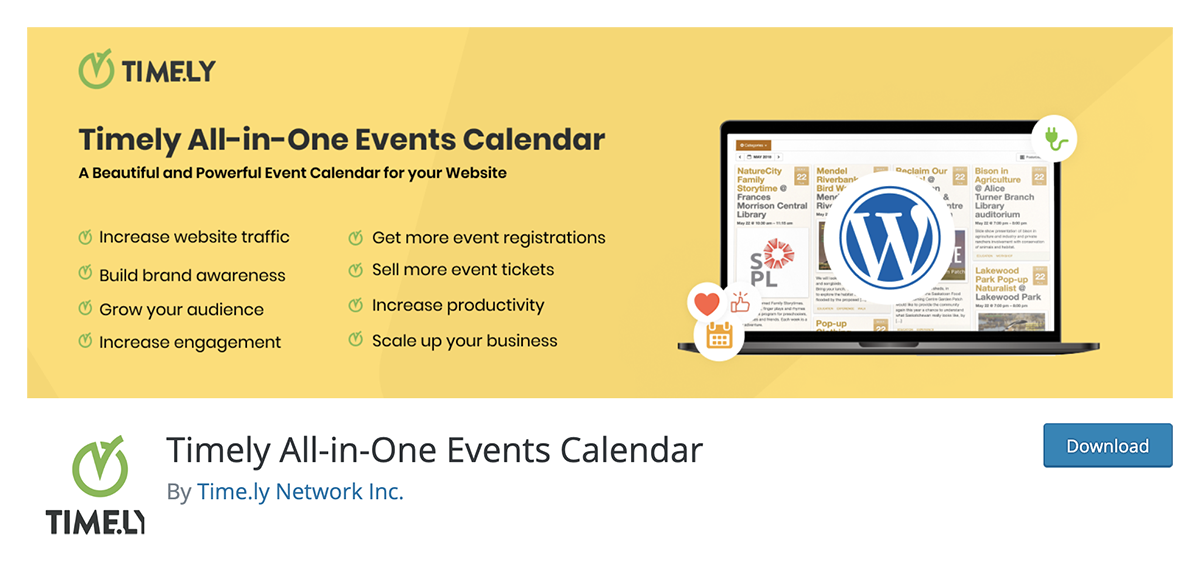 The attractive WordPress event plugin All-in-One Event Calendar from Time.ly is built around a calendar. The plugin was created to reduce administration work and simplify the management and posting of events. This plugin succeeds in achieving these goals. The layout is straightforward. It quickly handles calendar creation, event management, recurring event setup, and calendar import. With import, export, and sharing facilities for services like Google Calendar, the All-in-One Event Calendar supports several external calendars. Also, you can adjust this plugin with a freestore WordPress theme.
6. The Events Calendar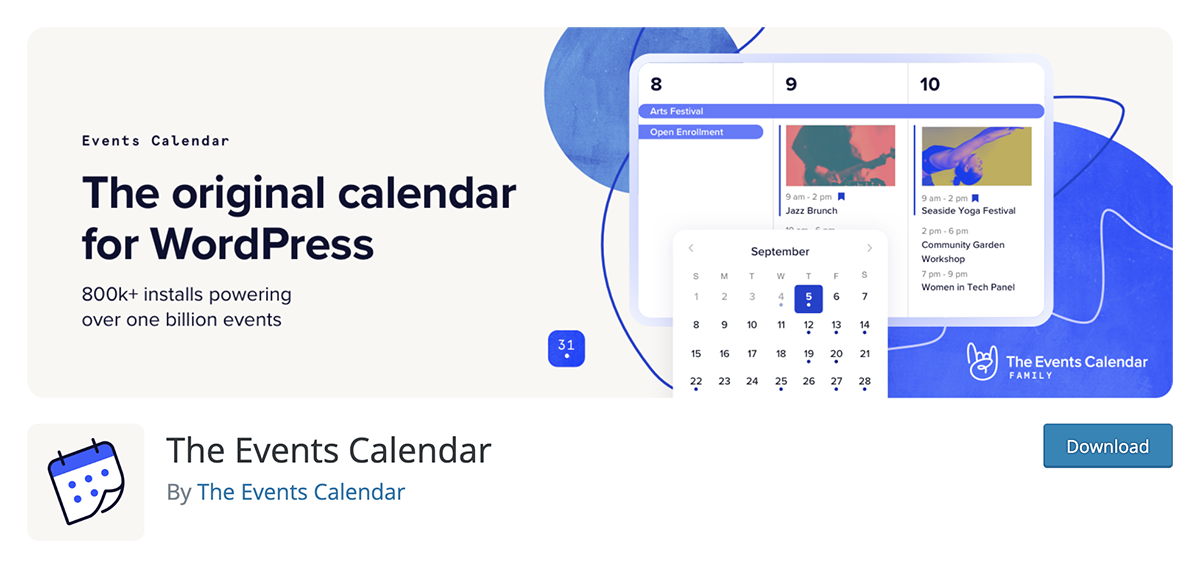 The Events Calendar WordPress event plugin makes it simple to create and manage an events calendar on your WordPress website. This WordPress calendar plugin offers industry-leading functionality powered by a top-tier team of engineers and designers, whether your events are physical or online. The Events Calendar can be used flexibly because of its design. Install the plugin, adjust your preferences, and you can start generating events instantly. The Events Calendar's main strength is its ability to be customized. If you know a little bit of programming, you can build branded and more extensive event views on top of the plugin's basic structure. Several layout options are available on the front end, ranging from lists to conventional calendars. The calendars are clean and contemporary, with support for maps and other key event information. For map integration, You can learn to add Google Maps to a website easily.
7. My Calendar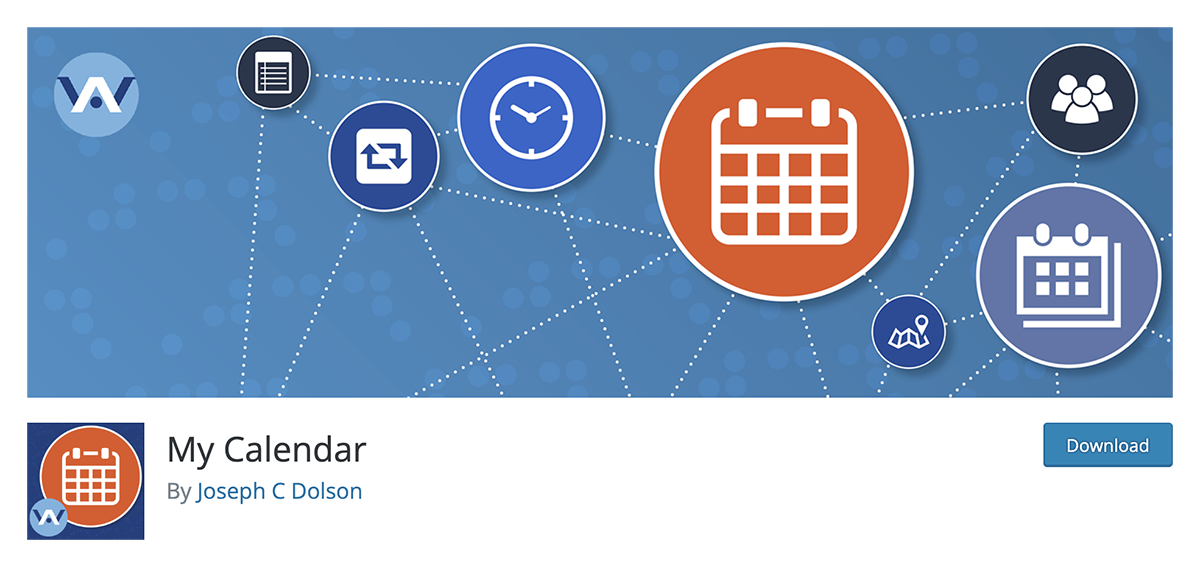 My Calendar organizes WordPress events and offers a choice of ways to present highly customizable events. The WordPress event plugin supports multiple calendars shown by categories, locations, authors, or plain listings. My Calendar is simple to use and offers considerable customization for designers and developers who require a unique calendar. All of your users will be able to access and use their calendars equally because the My Calendar plugin was designed with accessibility in mind. It is compatible with different corporate themes for WordPress. The standard My Calendar plugin offers a complete calendar grid and list view in adding micro calendars and widgets for smaller displays. The email notification system notifies you when a date has been reserved or scheduled, and the location manager is available for locations that you frequently use.
8. EventON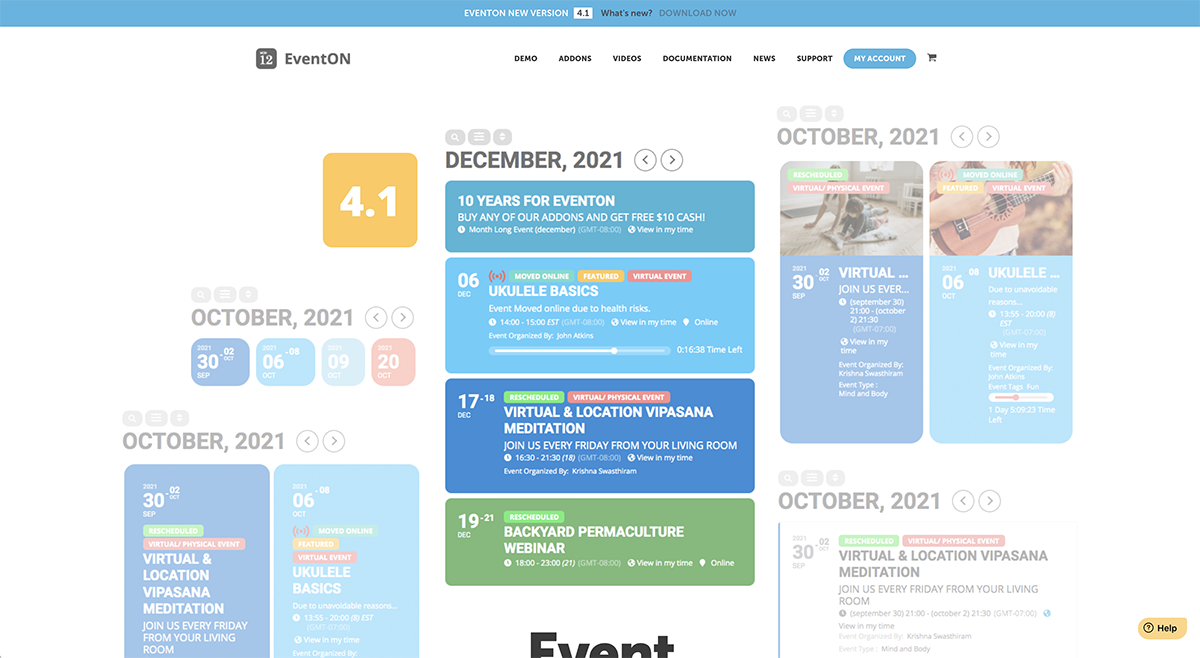 A beautifully made event calendar, the EventON event plugin for WordPress, shows events in a clean, uncluttered layout. This plugin We take pride in the fact that EventON was able to handle the most recent design trends in the business. A website or a widget can be used to display events. They can be added to, controlled, modified, or set to repeat. A join option for Zoom or other virtual events is included in listings, which may also be built with photographs. The plugin is also supported by the best photographer themes. The creator of EventOn also provides add-ons, such as subscriptions, email reminders, event monetization tools, booking administration tools, a speaker and session scheduler, etc.
9. Tickera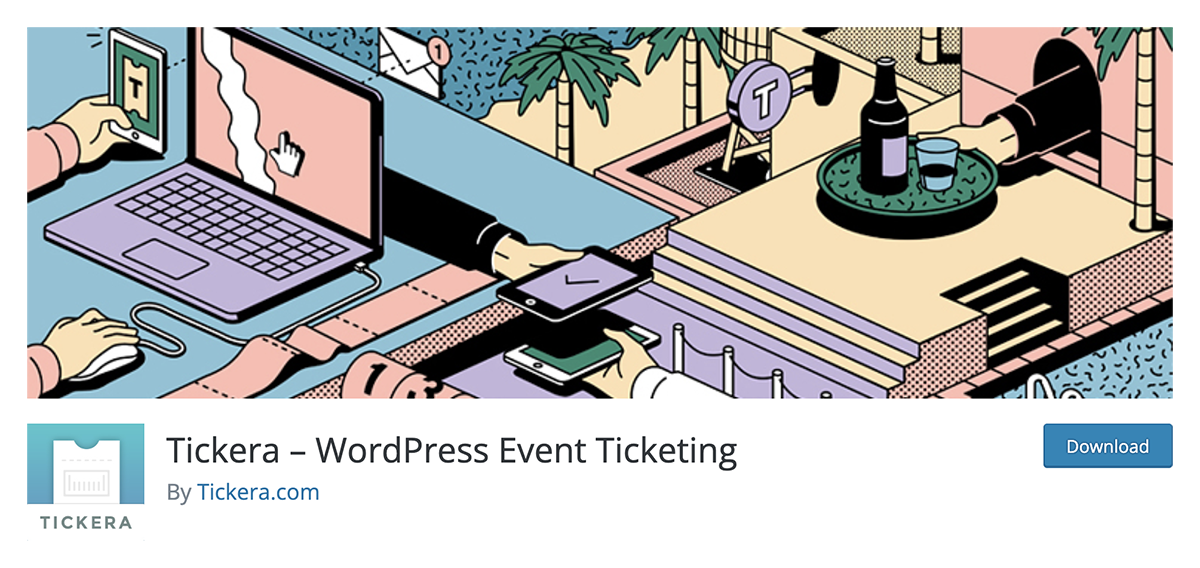 Tickera plugin is exactly what you need if you want to sell tickets on your website and give them to your clients electronically. You are effectively creating your own hosted ticketing solution using the Tickera plugin to sell and deliver tickets. You own the profits; Tickera does not receive any fees. Your customers are allowed to buy as many tickets as they want for various events at once. White labeling of the Tickera plugin is now possible. You can rename the plugin according to your preferences. It is compatible with WordPress lightweight themes. Tickera has good developer support. You can use actions and filters to change any feature of Tickera. By creating fantastic add-ons, you may increase its capabilities.
10. EventPrime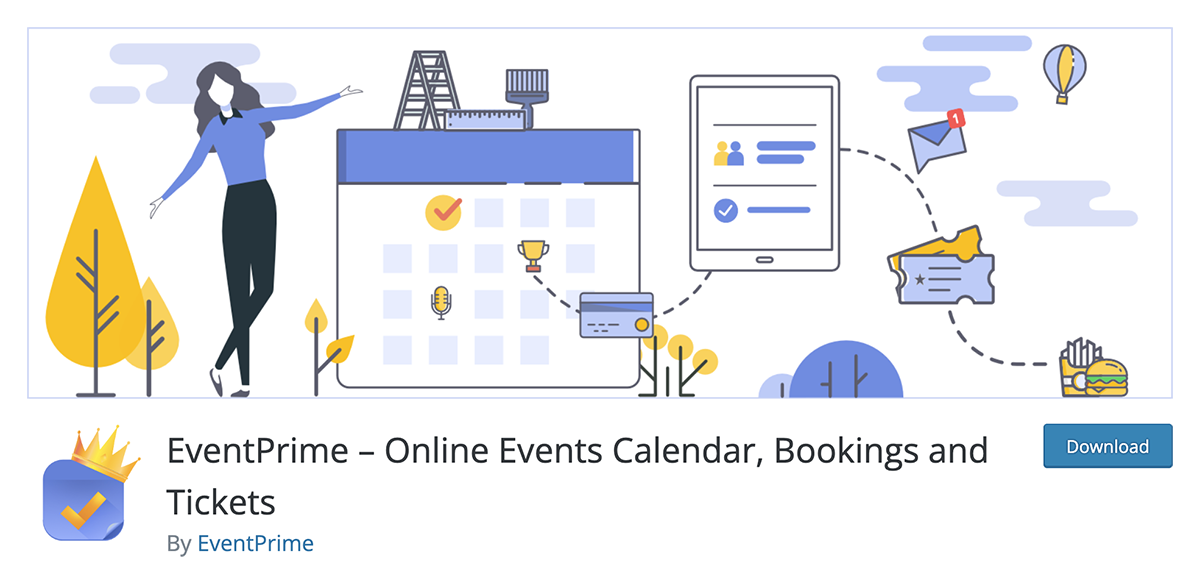 A simple and user-friendly WordPress event plugin is EventPrime. You may create events with a single click using the EventPrime events plugin. Select a date in the WordPress backend's Events Calendar to start creating an event on that day. Turning on the booking feature in EventPrime's Event Settings allow you to create both free and paid Events. EventPrime also supports free features like PayPal booking payments, front-end event submission, and email customizations. You can make and attach Event Types, Performer, and Event Site to your events using the EventPrime plugin. You may create an event list the way you've always wanted according to the WordPress events plugin, which provides an event management system. There is no longer a difference between the event calendar you build in the back end, and the calendar customers see on the front end. This plugin works for the best SEO themes for WordPress.
Conclusion
One of the most useful parts of the CMS is the WordPress event plugin. They offer essentially limitless opportunities for growing your audience and adding new features. You only need one of these WordPress event plugins to start hosting events for your company. Some of the most popular plugins, and the necessary capabilities and support, can be found on this list. We hope this article should be useful to you