Online reviews are becoming a requirement for operating an online business. According to studies, most people never make a purchase online without first reading several online reviews. That's why the WordPress review plugin is essential. review plugins for WordPress are highly beneficial and profitable.
They have been created expressly to enable publishing properly displayed reviews on your WordPress website as simply as possible. Some of the top WordPress review plugins are listed below. These plugins will help you bring in new customers and provide value to your WordPress website.
Don't worry if you are thinking about what will happen after installing these plugins, because we have another article on how to disable reviews from which you can easily learn all about the topic.
Top 10 most popular review plugins for WordPress 2023
1. Plugin for Google Reviews

The Google Reviews plugin uses a public, Google-approved API to show Google Business Reviews on your WordPress website instead of using other unauthorized techniques. You can also notice that Google Reviews will be displayed appropriately with the help of this WordPress review plugin.
The simplest and best strategy to boost customer confidence and, sales are to display Google ratings and reviews on your website. This plugin is unlike other comparable plugins; this one includes many widgets and Google Places. The plugin automatically updates all the connected Google ratings and reviews without any manual actions.
It is an excellent, responsive, and cool slider for WordPress that works anywhere on mobile, tablet, desktops, and HD. You can use a list style or choose to hide the reviews and only display the rating badge. This plugin displays the reviews through a shortcode, widget, or any page builder: Gutenberg, Elementor, Page Origin, Beaver Builder, WPBakery, Divi, etc.
2. Customer Reviews for WooCommerce

The Customer Reviews for WooCommerce plugin uses social evidence to help you boost sales, increase engagement, build loyalty, and improve SEO. Thus plugin is a popular WordPress review plugin. The plugin includes an optional integration with an external service to verify customer reviews.
It also offers discounts in exchange for reviews, and you can use this plugin in different kinds of free WordPress themes for WooCommerce. This plugin sends automated or manual review reminder emails. It enhanced reviews, including ratings, images, voting, and filtering options. The plugin integrates review forms for quick and simple reviews.
3. WP Customer Reviews

Many, including Google Places and Google Local Search, seek user-generated ratings. With WP Customer Reviews, you can create a page on your blog where customers can leave reviews for your company's products or services. This WordPress review plugin helps to create a review for your website easily.
You may build up a straightforward form using this plugin so visitors can leave reviews on the front end of your website. You may make it mandatory for people to provide their name, email, and any other details along with their evaluation, or you can make those sections optional.
You can read reviews submitted on the front end of your dashboard and decide to publish them or make them private. The template can also be customized, but you'll need some knowledge of HTML and CSS to do so.
4. Site Reviews

One of the most widely used WordPress review plugins is called Site Reviews. Blocks, shortcodes, and widgets are all included in the plugin, along with complete documentation. This plugin delivers a ton of functionality without charging. It allows you to display reviews using blocks, widgets, or shortcodes in the style of your active theme.
The star ratings and date formatting options are available in reviews. Before leaving a review, you can make users create an account. You can receive email notifications when new reviews are submitted. In this plugin, individual reviews can be published after approval, and a free plugin can be used to communicate with WooCommerce and pin specific reviews to the top. In addition, you can respond to reviews.
5. WP Review

As a complete option for building a review website, use the WP Review plugin. This WordPress review plugin is highly customizable and has theme compatibility. There is a free edition for those on a tight budget, and there is a premium version for website owners who require more features and design possibilities.
Without design or technical knowledge, you can build a fully functional review website on any topic with the WP Review plugin. You can use it to produce highly informative reviews and help potential customers make purchasing decisions for the Best WordPress Responsive Themes for selling products online.
The interactive reviews would help enhance website conversions and your overall revenue. You can choose and make color combinations that flawlessly match the style of your WordPress theme according to the limitless color options available. Additionally, you can select one of the two available themes and alter it to match your reviews and, most significantly, the layout of your website.
6. Let's Review WordPress Plugin With Affiliate Options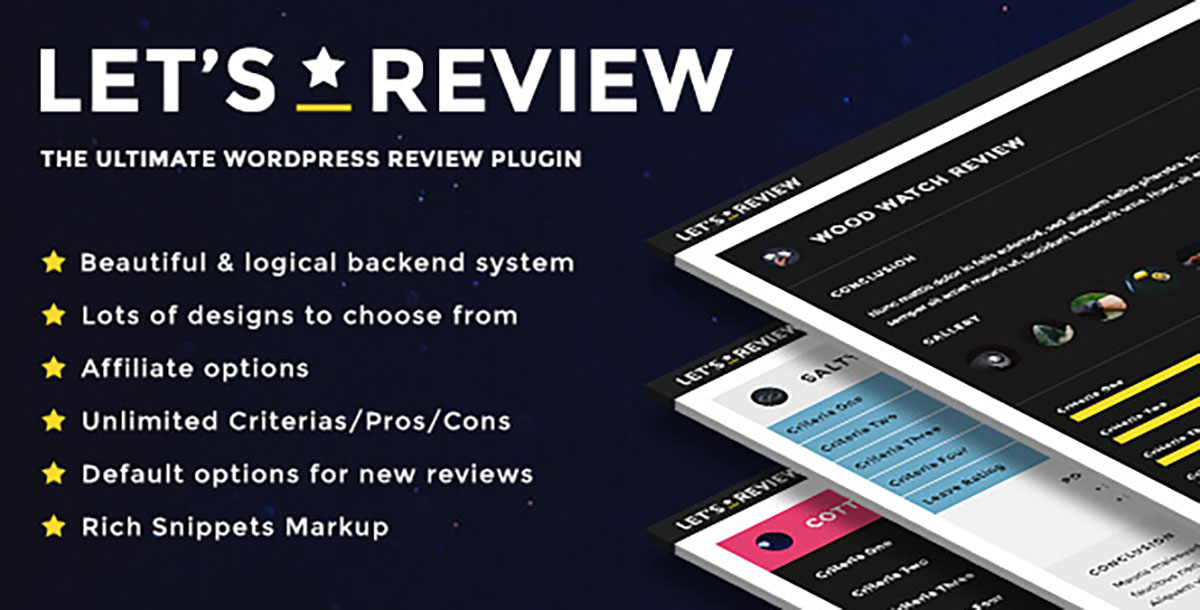 For affiliate marketing, the Let's Review WordPress plugin is perfect. Using this plugin, you may add gorgeous, flexible review boxes with affiliate connections to your posts. This WordPress review plugin will enable you to promote your website or blog without looking excessive. There is more affiliate plugin for WordPress that helps to grow your affiliate marketing. It is compatible with the Gutenberg editor; Let's Review includes blocks that let you make customized review boxes by simply dragging and dropping objects on the page.
This plugin; has many criteria, pros and disadvantages, image galleries, bars, star ratings, personalized icons, animation effects, and other features. A powerful widget is also included with the plugin. Several options are available when using the Let's Review widget, including various design options, order options, and filters.
There are several effective shortcodes included with Let's Review for your use. Let's Review shortcode tool is automatically added to the editor toolbar making it simple to insert them.
7. WP Business Reviews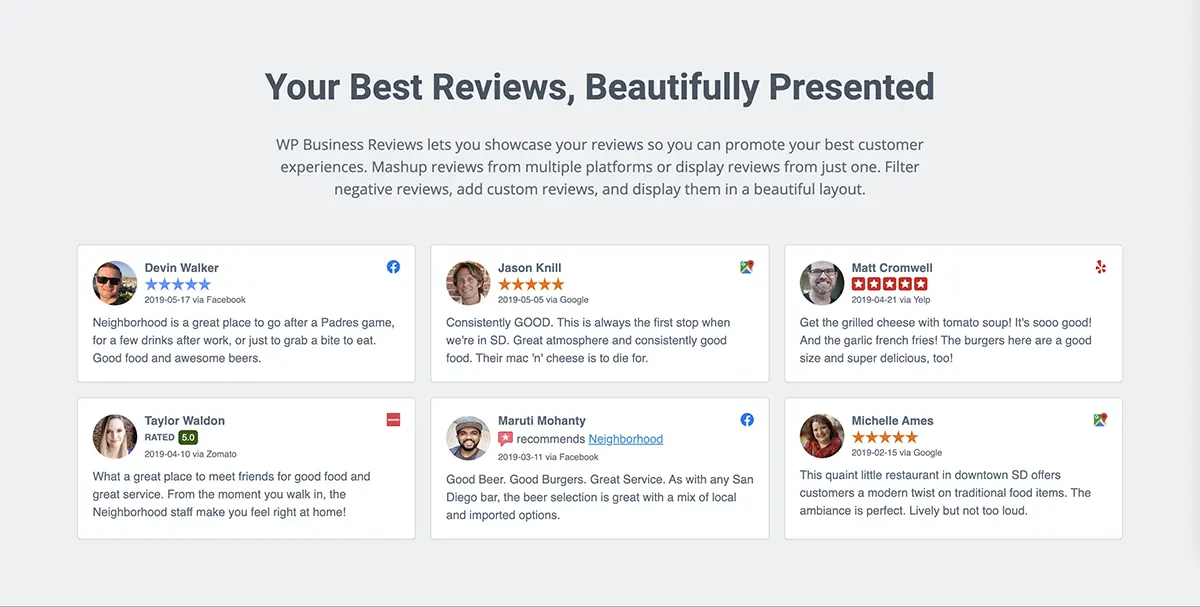 WP Business Reviews is a powerhouse WordPress review plugin. Technically, you don't need to make any effort to display customer evaluations on your website is the plugin's primary benefit. WP Business Reviews collects customer feedback from some well-known review websites, like Yelp, Google, and Facebook.
There is even a connection to Zomato, a website that serves as a global restaurant rating platform. The plugin allows you to include unique custom reviews that you have gathered. Instead of going to a website like Google, customers can leave reviews on your website made with the Most Popular Theme WordPress.
You can remove any reviews or ratings with less than a specific number of stars. While they are not entirely gone, they are now hidden from view at the top of your review section. You can set up your rating system for whatever you want to appear on the reviews.
8. Taqyeem – WordPress Review Plugin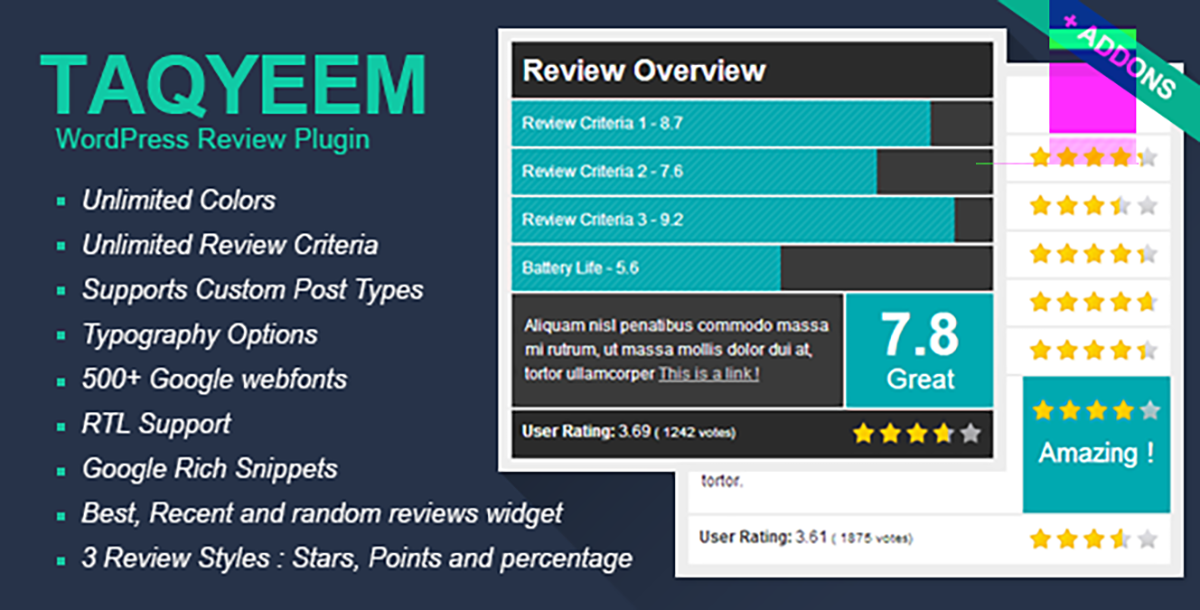 Taqyeem is a robust WordPress review and rating plugin. This plugin was created to add attractive ratings and reviews to your posts, pages, and custom post kinds. You can make the ideal rating addition to your website using the customization options. Any post or page, including custom post kinds, and the sidebar of your website, can have a review box added to it.
You can choose to display the most recent reviews or a random selection in the sidebar. By changing the color, typography, and rating system, you can ensure the review box matches your branding. In this plugin, stars, points, and percentages are the supported rating systems.
9. Photo Reviews for WooCommerce

Photo Reviews for WooCommerce is the most effective WordPress review plugin. You may be aware that allowing customers to upload photographs to their product reviews has started to gain popularity. Most professional photographers use the photographer theme along with this plugin. This plugin's primary goal is to enable your customers to publish an item on your website by uploading a brief image of what they purchased.
It will undoubtedly increase your social proof and create a new marketing channel where customers talk more frequently than you do about your goods. You can make ratings public on your website and allow your users to compare rates. It will enable customers to sort your reviews based on ratings, confirmed purchases, and other criteria.
10. Easy Testimonials

Easy Testimonials is a free WordPress review plugin and perfect for adding testimonials to a particular kind of review on your WordPress website. These are always favorable reviews about a customer's interaction with a business and how its goods or services benefit them.
The Easy testimonial plugin for WordPress allows you to submit positive and negative reviews to your website. This plugin allows you to select a template and personalize it with a client photo, a star rating, and a distinctive background color. You can include this review in your website's sidebar, as a widget, or as an embedded part of a page or article.
Conclusion
A WordPress review plugin turns out to be an excellent and highly profitable plugin. This plugin shows to be a helpful hand in increasing your website's creativity and revenue. Additionally, this will raise your website's ranking in search results by applying different kinds of tips on SEO. We have discussed a few of the top WordPress review plugins here. Choose one for your website.
In case you are looking for review plugins for Shopify, Here's a comprehensive article on the top review apps for Shopify. These apps are highly rated by Shopify store owners and can help you increase customer engagement and trust in your online store.