The WordPress table plugin is a fantastic tool for information presentation. It arranges information in a visually appealing way that makes it easier for the reader to understand. There are several table plugins available to assist you in creating data tables on your WordPress site that resemble Excel.
Finding the most excellent WordPress table plugin for your needs, though, could prove difficult. Here, we will show you 10+ WordPress table plugins. The ideal one is yours to choose for your website.
10+ Best Data Tables WordPress Plugins
1. TablePress

The most widely used free WordPress table plugin is called TablePress. TablePress is a free plugin that offers many customization options while still being simple to use. A spreadsheet-like interface can be used to create and manage tables. The table plugin may provide formulas for calculating data. By including custom CSS, table styles can be modified.
The plugin can export and import tables in CSV, HTML, and JSON forms. You must install the specialized extensions to receive extra functionality. Fully responsive tables, row filtering, single-cell content shortcode, and other further capabilities are provided through extensions.
2. Ninja Tables

Ninja Tables is the most popular and responsive WordPress table plugin. It has an attractive admin panel that makes building and managing tables simple and quick. The strength of this data tables WordPress plugin is customization. To save you time, more than 100 different table styles are available.
Additionally, three well-known CSS libraries with limitless color variations are included, which expands your customizability options. Any table can be exported as a CSV file in Google Sheets or Microsoft Excel. You may export and import JSON files with the plugin. Configuring tables is simple because of the column builder, which makes it simple to rearrange columns.
3. wpDataTables

wpDataTables is a popular WordPress table plugin. It is used to quickly create tables & table charts from Excel, CSV, XML, JSON, PHP, and other data sources. WP table plugin uses tables or charts to present massive amounts of complex data in a clear, user-friendly manner. Because wpDataTables automates data display on the website, its main benefits to users are time savings. There is no need to learn how to code to create WordPress tables.
Using wpDataTable with any simple WordPress theme, you can easily make this kind of chart. You can upload Excel, CSV, JSON, or XML as table data for WordPress tables, and you can use the plugin to create a straightforward table from the start. You can customize and configure the columns, and the number of rows of your WordPress table. Additionally, you have complete control over how the table's color and font settings, header, table-border, row, cell, and pagination should be displayed.
4. Data Tables Generator by Supsystic
Data Tables Generator is one of the most popular WordPress table plugins. This plugin creates responsive data tables with sorting, searching, pagination, and filtering. It has easy-to-use tables, charts, and data management. It also offers conditional formatting. You may quickly and effectively handle and manage SEO-friendly data tables using Data Tables Generator.
This plugin may organize information and be customized to meet any requirement. Data Tables by Supsystic is compatible with WooCommerce. You can create product tables for your WooCommerce store and list the products with a searchable, filterable, responsive table with the WooCommerce product table.
5. Posts Table Pro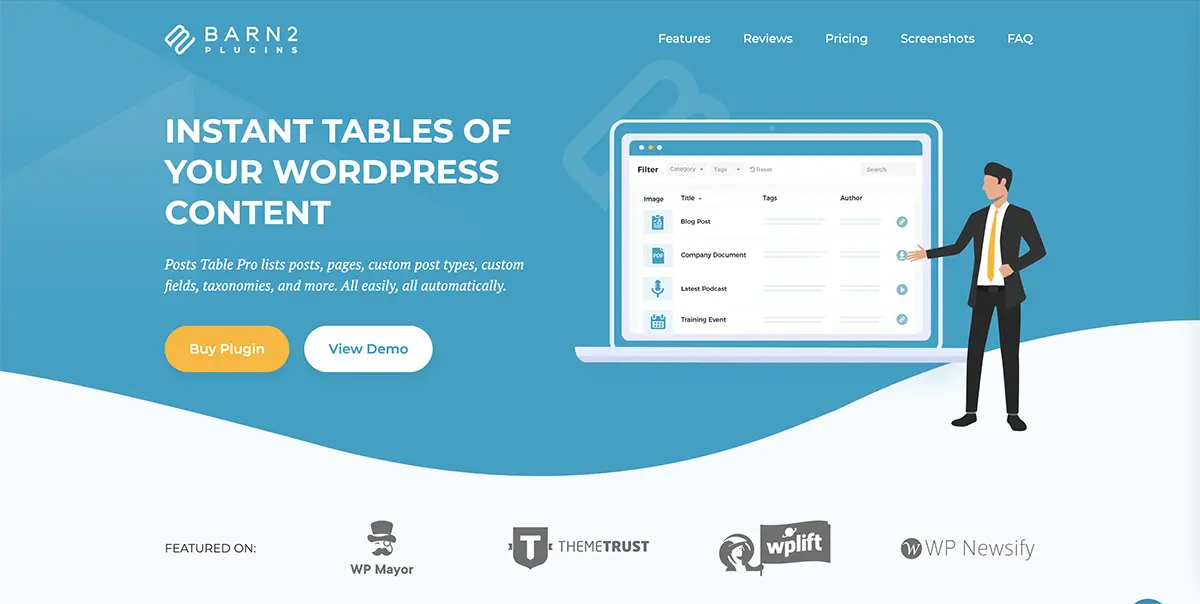 Posts Table Pro is a different WordPress table plugin. Table Pro builds list tables for your existing WordPress posts utilizing a table to display data. This data tables WordPress plugin is useful if you want website visitors to see a list of posts. It may automatically create a table for you, saving you the trouble of manually inputting the data.
You can insert images, audio, and video into the table and choose which material and columns to display. By sorting the columns, your visitors may locate the post they're looking for. You can filter the posts based on category, tags, or taxonomy. You also get a search box for the table where you can enter keywords to find any relevant posts.
6. JetEngine Tables Builder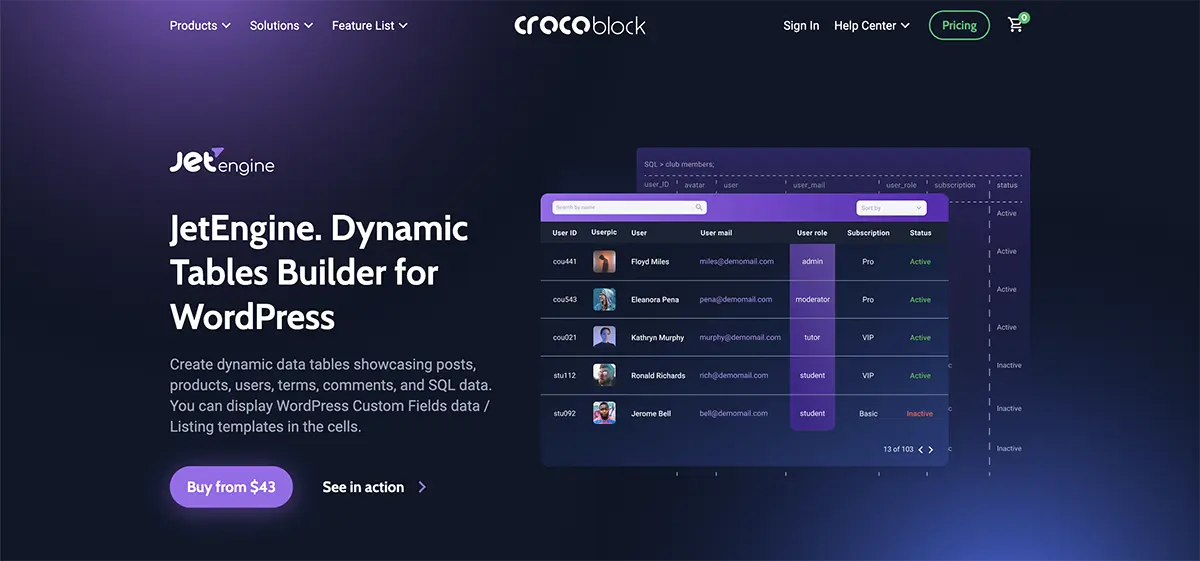 With JetEngine WordPress Tables builder, you easily create dynamic tables in Elementor and Gutenberg editors. You can include a price list, a list of product characteristics (size, category), tags, links to related products, user data, and more. JetEngine Tables builder also enables you to style, add heading or alignment, and add filters to your table from the Dashboard. You may add search to your table, sort and filter data, and add pagination using JetEngine and JetSmartFilters.
7. League Table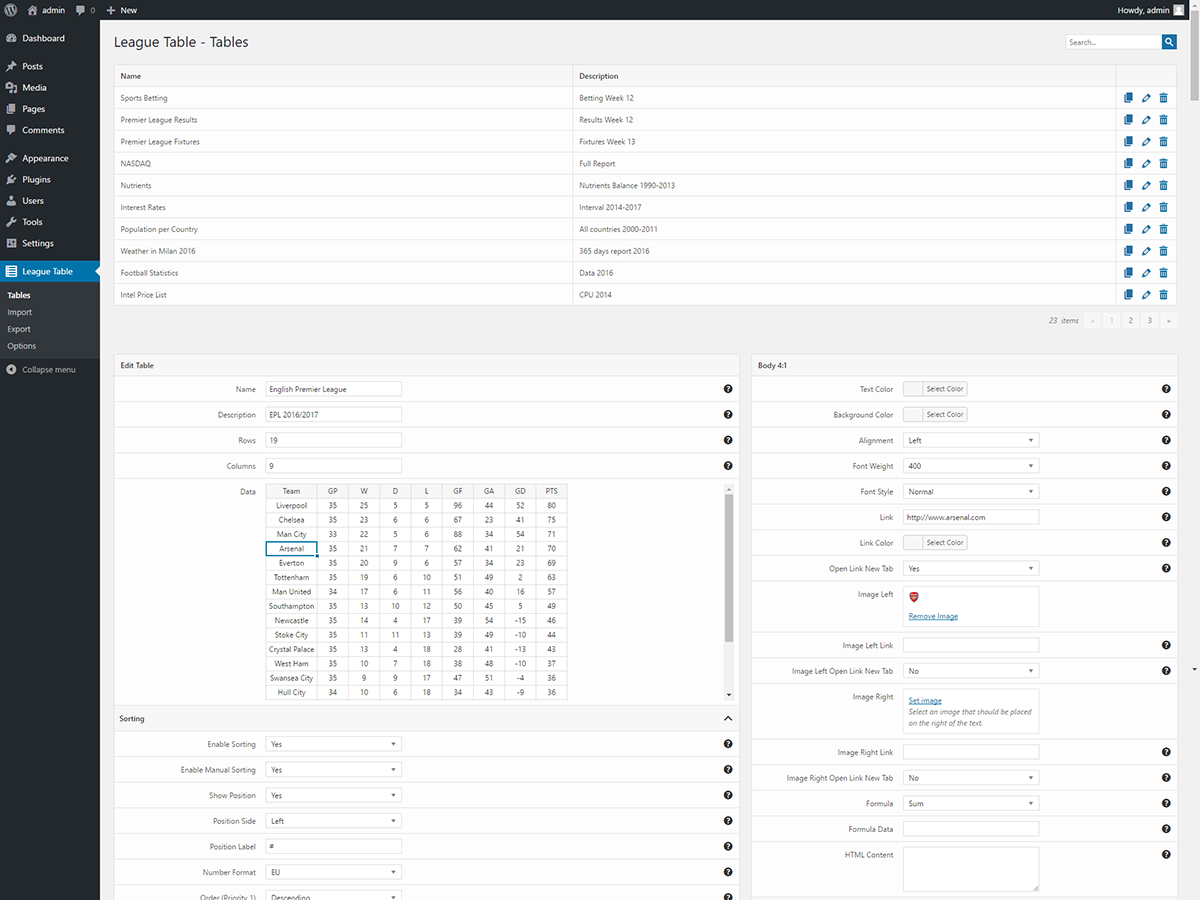 A strong and flexible data tables WordPress plugin is League Table. You can quickly generate tables because of their simplicity of use. It comes with a spreadsheet editor that enables data copying and pasting from and to other spreadsheets, including Microsoft Office, Google Sheets, and more. This saves you a lot of time. There are 135 customization choices, including 13 general settings, 105 customizations for tables, and 17 customizations for table cells.
A cell management mode is also available for modifying particular table cells, rows, columns, and merge cells. The variables you use can be used to sort columns with the plugin. League Table is completely responsive, and the change values can be customized which enables you to modify each table's responsiveness.
8. ARPrice
ARPrice is a powerful WordPress table plugin for pricing. It has many features and more than 300 pricing table designs to help you create a beautiful table. The plugin uses real-time visual editing. It makes it simple to personalize your table design because it enables you to make changes to the table template and preview it immediately.
The dashboard is also incredibly simple to use and straightforward. Because of the template's responsiveness, your tables will look fantastic on any device. You can select from more than 3,000 symbols and animation effects to add visual impact to your table. ARPrice is fully compatible with the WPBakery and Divi page builders and supports WordPress Gutenberg.
9. CSS3 Responsive WordPress Compare Pricing Tables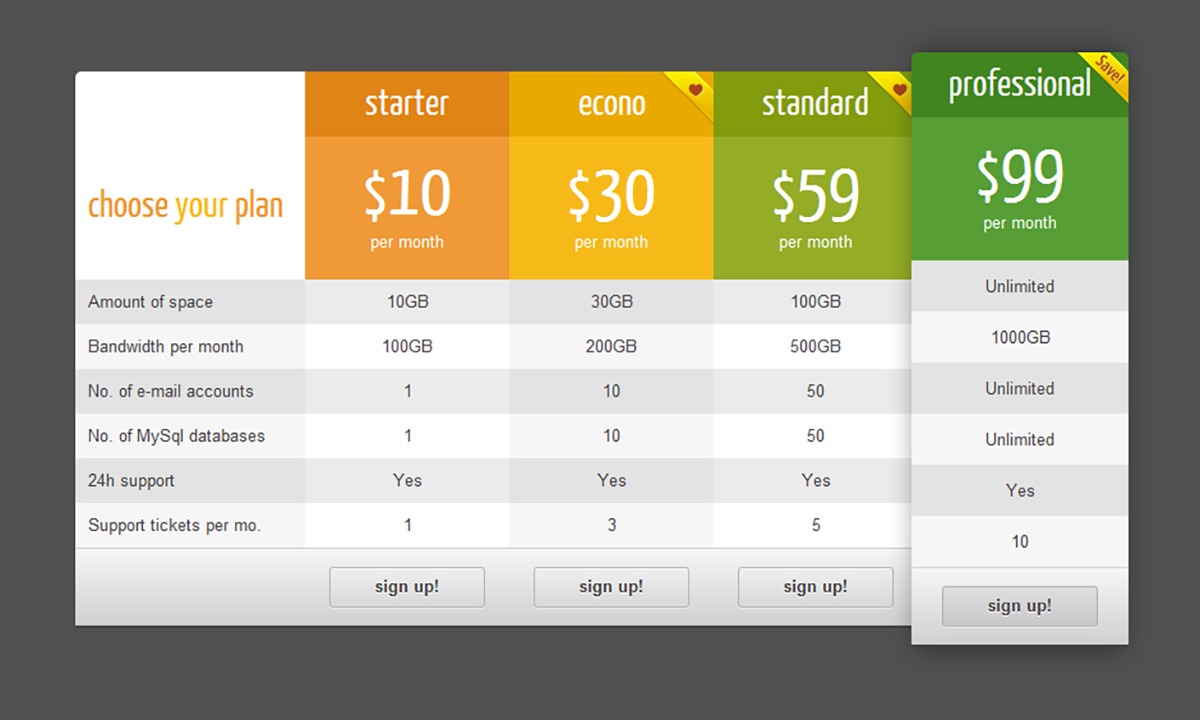 A data tables WordPress plugin used to create pricing tables is CSS3 Responsive WordPress Compare Pricing Tables. This WordPress table plugin is entirely based on CSS and HTML. There are two table types and 20 pre-set color schemes available. With the help of the user-friendly admin panel, which offers a live setting, making a new table with this plugin cannot take too long.
A responsive mode is available for activation. Additionally, it enables you to customize the responsive steps and table characteristics, ensuring that the table will function properly on any device. The option to extend and collapse pre-determined rows is another fantastic feature. You can hide some of the data to make the table smaller.
10. WP Table Builder

A data tables WordPress plugin is called WP Table Builder. You may easily design tables with its drag-and-drop table builder. WP Table Builder is the best tool for creating tables for comparison, pricing, listing, and many other types of tables. You can add seven different kinds of items to your table with the plugin. Star ratings, buttons, shortcodes, and images are a few.
The WP Table Builder plugin can be used to create pricing or comparison tables. WP Table Builder can make a table in the block editor and is compatible with WordPress Gutenberg. You can use shortcodes to add tables to your WordPress website.
11. Visualizer

Visualizer is a powerful and easy-to-use data tables WordPress plugin. It creates, manages, and embeds interactive, responsive charts and tables into your WordPress posts and pages. The plugin can nicely display your chart and tables on any screen and is fully responsive out of the box. Visualizer is a chart plugin, so you get nine pre-built chart types.
It will still be possible to add responsive tables and modify the layout. There are options for pagination, sorting, and a search function. You can use WordPress Gutenberg or a shortcode in the content editor. Data can be imported from Google Sheets, CSV files, and Microsoft Excel. You can regularly integrate data from Google Sheets or a data source from a remote CSV file, a nice feature of the premium edition.
Conclusion
You might be unsure which data tables WordPress plugin will work best for your website, given the available options. Remember that every plugin has a unique set of functions to provide. Here, we have arranged 10+ best WordPress table plugins. Choose any of them from the above list for your needs because some are specialized for pricing comparisons while others are for simple data tables.
In case, you're using it for a WooCommerce site, you may consider using some essential WooCommerce plugins for building a better site.