A grid layout serves as a framework for organizing content on the front end. It's a unique way of displaying visual content on your website. Grids support consistency in design on a page or post. WordPress grid plugin makes it simple to construct grid layouts. There are numerous post-grid plugins available, and selecting the best one from the WordPress plugin list could be challenging. We have compiled the top 10 Grid Plugins for WordPress in this article. So let's get going.
Best 10 Grid Plugins for WordPress 2023
1. Essential Grid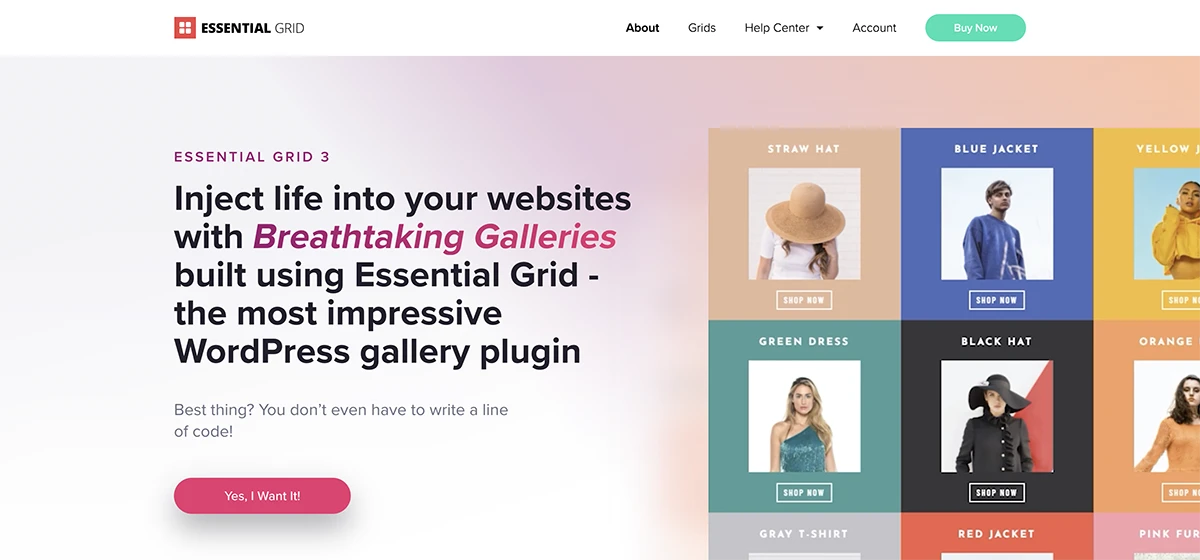 You can create stunning images, videos, and audio galleries from various sources with the help of the WordPress plugin Essential Grid Gallery. This WordPress grid plugin uses the articles, pages, and modified WordPress gallery features. It contains albums created using different plugins like NextGen Gallery and other gallery plugins for WordPress. It can connect to popular social media sites like Instagram, YouTube, Vimeo, Twitter, etc., or create a fully customized gallery grid. This plugin template library will give you example grids that will look outstanding on mobile devices. These templates are easy to configure and fill with your content. It has a graphic skin editor enabling you to create and customize your brand-new skin from scratch. Additionally, you can select boxed, full-width, and full-screen layouts for your grids.
2. PostX

PostX is a Gutenberg Block plugin for building layouts for websites like news, magazine, review, personal, travel, fashion blogs, etc. The WordPress grid plugin is a dedicated tool that lets you display your post listings and comes with many content layouts and display options. Moreover, you get a rich library of readymade Gutenberg blocks, layouts, and starter templates to help you get started easily. And also, you can add well-crafted pagination to give your users the freedom of choice. This plugin integrates well with all top free WooCommerce themes for WordPress. You could include a progress bar to inform users how far along they are in reading their blog posts. It also comes with AJAX-powered filtering allowing you to categorize content just the way you want.
3. Content Views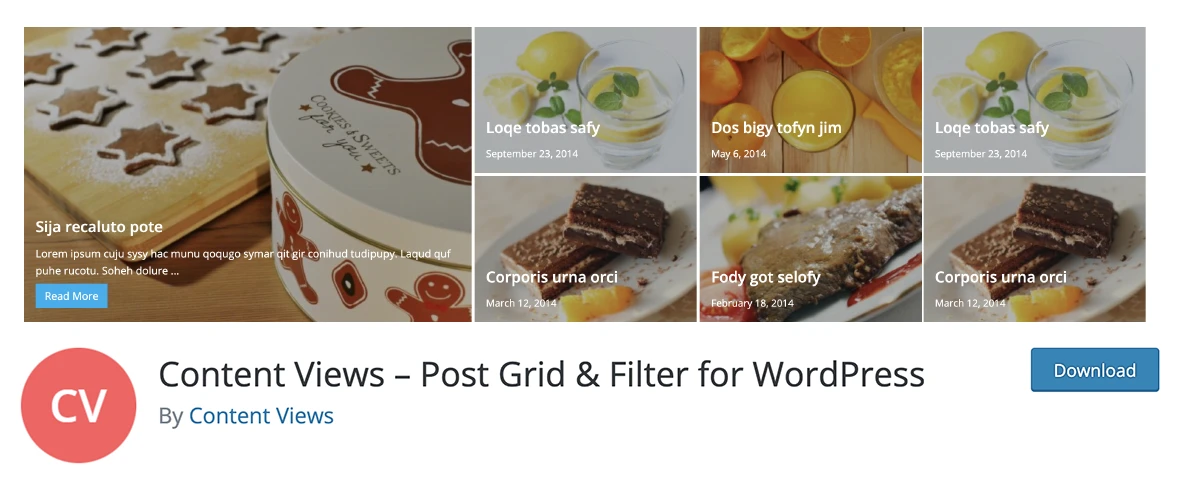 Content Views is a simple and useful WordPress grid plugin. you can create beautiful grids fast and easily without writing a single word of code with Content Views. Additionally, you can show the lists of recent posts and content under a specific category, tag, or author. For tag optimization, WordPress Google tag manager will help you a lot. You have complete control over what should be displayed in your grids. For example, you may quickly filter your list of articles and pages depending on the keywords they include, deciding whether to include or remove them. Similar to that, you can select from a range of styles, such as grid layouts, collapsible lists, and scrollable lists. Additionally, you can customize your grid's layout for desktop and mobile devices.
4. Visual Portfolio, Photo Gallery & Post Grid

With the help of the Visual Portfolio plugin, you may manage both audio and video files in a single gallery. The audio or video will instantly play in the popup gallery if you copy its URL. It is simple for entry-level photo galleries but strong enough for experts and this plugin is compatible with the best portfolio themes for WordPress. You can use the Visual Portfolio gallery plugin to create organized and effective photo galleries and portfolio layouts. It is simple for entry-level photo galleries yet strong enough for experts. The WordPress grid plugin comes with well-liked designs, including Masonry and Justified. All these layouts have been optimized for every function, so you can set everything up without hassle.
5. The Post Grid

The Post Grid WordPress plugin displays articles and pages in the grid, list, and isotope views without writing a single line of code. You can show posts by any category, tag, author, keyword, etc. It is responsive and mobile-friendly. The WordPress grid plugin helps you display posts by any category, tag, author, keyword, etc. It is responsive and mobile-friendly. You can adjust the filter button style using either a button or a dropdown style. Additionally, you may display your sticky posts at the top of the list. The Post Grid is compatible with the best elementor themes for WordPress. You have control over the category name's position, the category's default style, and the icon. Additionally, it supports the social sharing feature, allowing you to add a social share button to the single item popup.
6. The Grid

The Grid is a WordPress grid plugin enabling you to display any custom post types in an entirely adaptable grid structure. It is excellent for displaying your blog, portfolio, online shop, or any other type of WordPress post. This plugin supports various post types like standard, audio, video, gallery, link, and quote. The options are limitless and easily manageable because of its powerful admin panel. You can easily start a blog website with this plugin and your chosen themes. The Grid plugin for WordPress features a fully responsive touch slider. It is also the most sophisticated grid plugin overall. This touch slider's ability to filter any type of grid is truly unique. To create new skins, animations, navigation skins, and preloader animations, the plugin has also provided several developer-specific filters.
7. Responsive Gallery Grid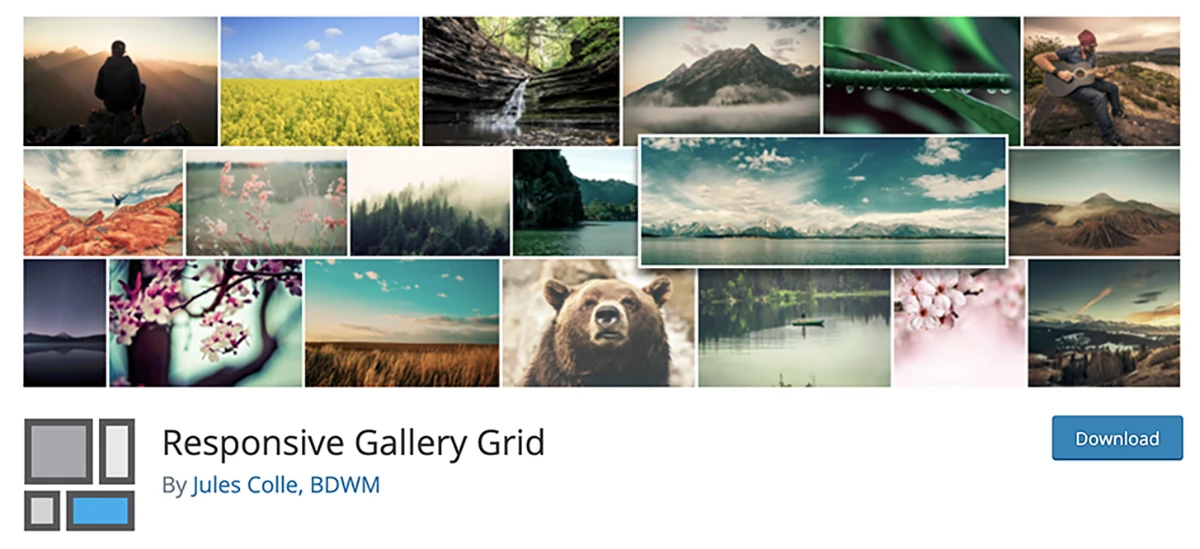 The Responsive Gallery Grid plugin transforms the native WordPress gallery into a responsive gallery, respecting image proportions. It includes Simple Lightbox but is also compatible with most third-party lightbox plugins. You can integrate this plugin with top responsive WooCommerce WordPress themes. You can customize your website, and it is incredibly extendable with many APIs to change searches and output. Additionally, you can choose one, several, or all post content kinds to display on your blog grid.
8. Post Grid Elementor Addon

Post Grid is a popular Elementor page builder addon allowing you to show posts in a grid manner. This WordPress grid plugin includes a completely responsive layout to present your material in a tidy and structured manner. This plugin includes more than 5 built-in post-grid layouts for a rapid start. In addition, it offers a variety of customizing possibilities so you can present the content however you choose. If it becomes too long, you may add a "Read More" link to your material to conceal it from the post grid. A pagination option, WooCommerce integration, a post-filter, and an additional layout with overlay are also included in the pro edition.
9. WP Ultimate Post Grid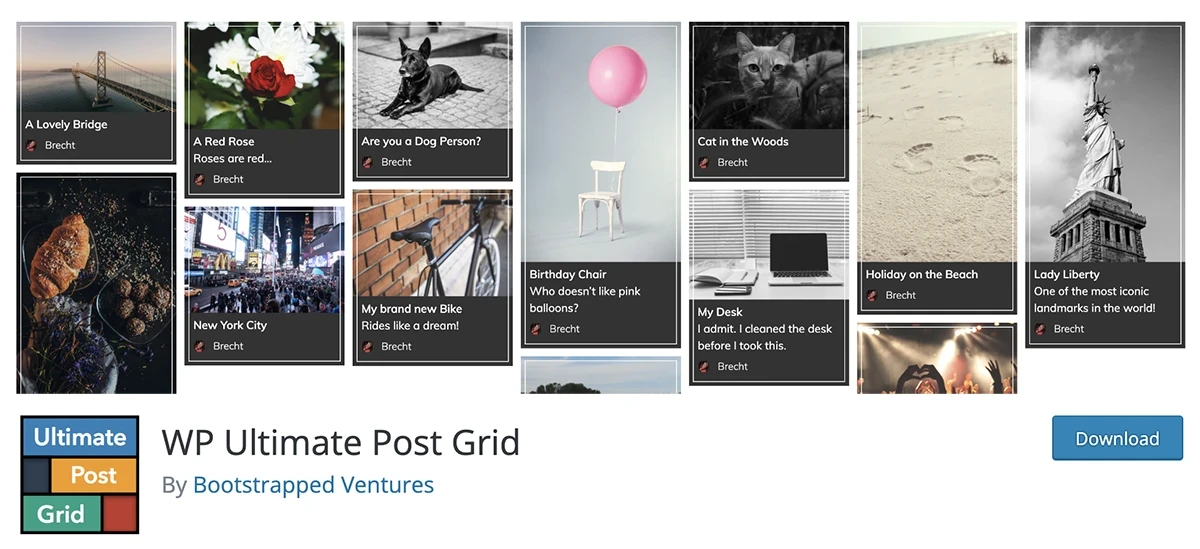 Using WP Ultimate Post Grid, you can design responsive grids for your posts, pages, and custom post types. Similar to featured images, you can substitute a series of original photos for the blog in your grid. The WordPress grid plugin enables you to include isotope filters in any custom field or taxonomy linked to your blog post and if you want you can add a widget to your blog site easily. If you wish to advance your grids further, you may also construct your unique layouts. Its post grids are also responsive and fit perfectly on all devices.
10. Grid Shortcodes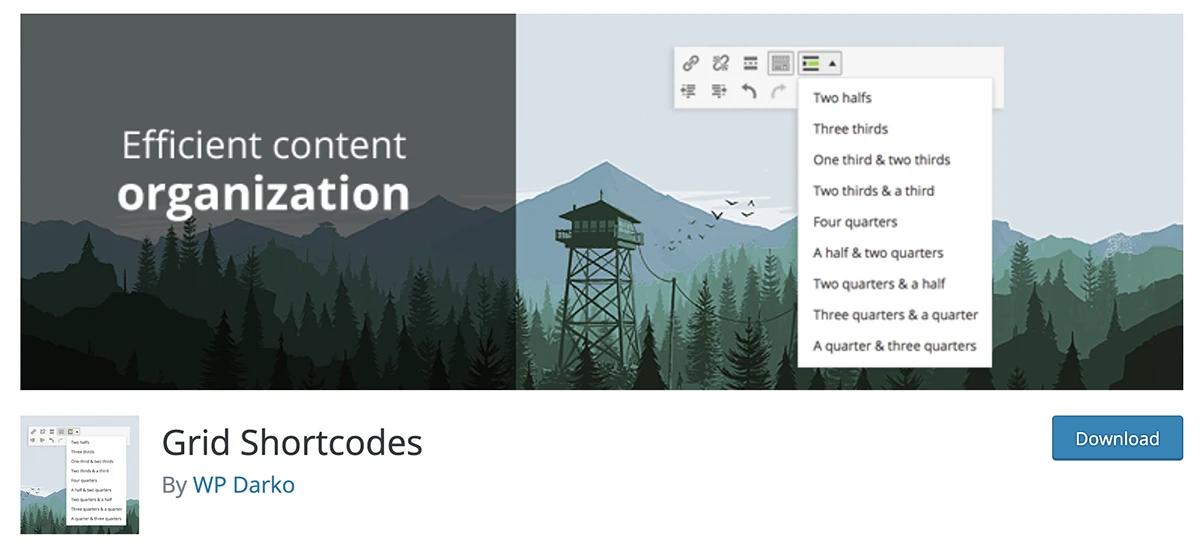 Grid Shortcodes is a responsive and easy-to-use tool for dividing the content of your posts/pages into grids. This WordPress grid plugin is ultra-lightweight, allowing you to put your content in columns of various widths. This plugin is used for your custom types and posts/pages. You may display post kinds in any widget area of your site by simply setting up the widget tool. Additionally, you may add custom CSS to your article grids and enable pagination.
Conclusion
The WordPress grid plugin offers a base for logical and systematic content organization. Arranging multiple posts in a grid-based structure conserves space and enhances the aesthetics of your website. As a result, your website's content will be easier for people to read, understand, process, and be connected to. If you use a WordPress grid plugin for your website, then you have more than simply a grid layout We have done our best to put up a list of the best WordPress grid plugins for 2022. We hope it has been helpful to you. Feel free to go through our article on Rank Math vs. Yoast SEO comparison to get insight into the best SEO plugins in 2022.