One of the few categories, tech blogging, makes it virtually difficult to run out of content ideas. This is made more obvious if your tech blog focuses on reporting on the most recent developments in technology, gadgets, etc. If you intend to promote your brand or tech blog in the long run, it's also a valuable area. Finding the best tech blog WordPress theme for a tech blog that meets all of your needs could be challenging. The list below includes the most popular and reliable choices for speedy website creation.
Top 16+ Tech Blog WordPress Themes
1. Blueprint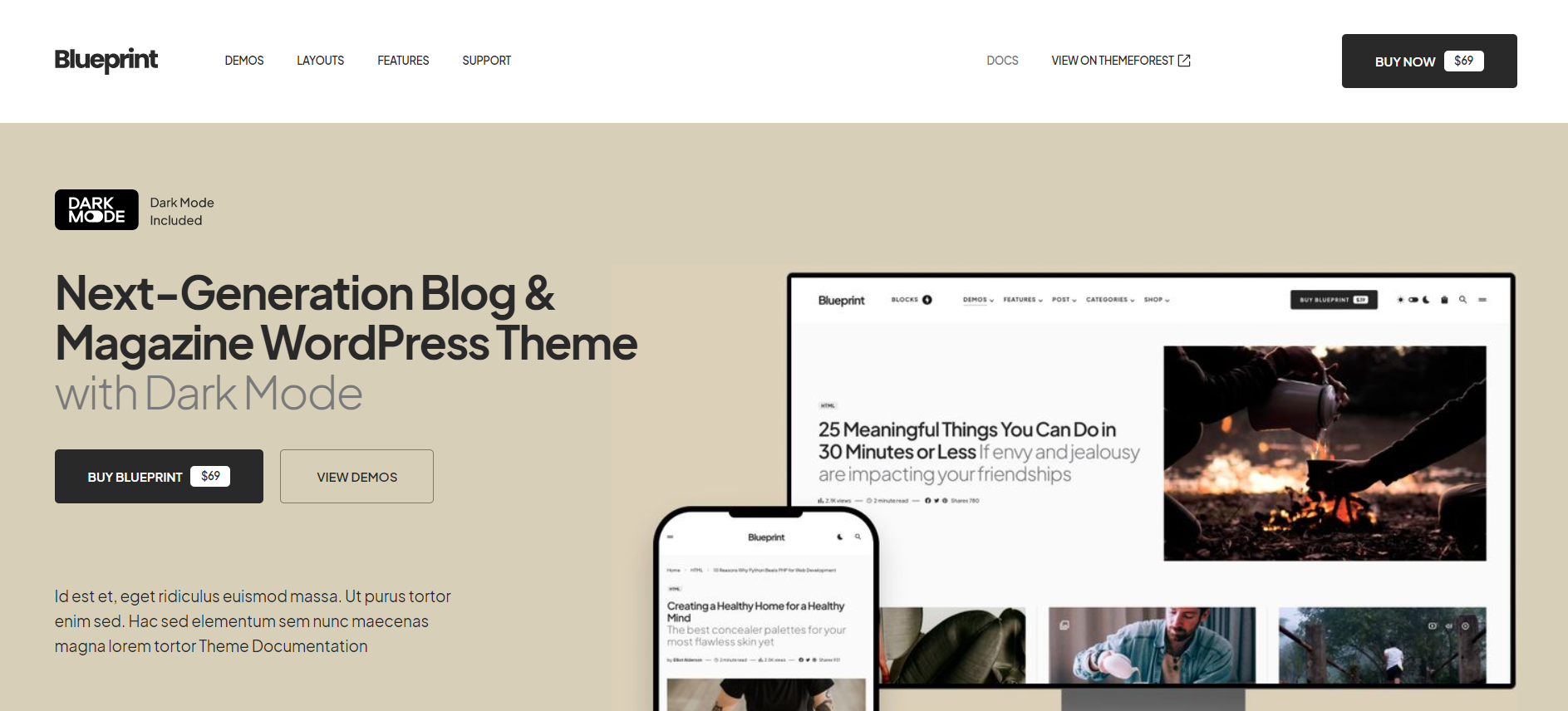 Blueprint is a modern and stylish blog & magazine WordPress theme for bloggers and publishers. There are three different header types for your articles and pages. The header from your featured content can be shown using an image overlay or a smaller page header. This tech blog WordPress theme has an excellent image presentation and typefaces that can be customized for header titles and blog post presentations. The native WordPress customize function allows for the configuration of every theme setting. You can manually refresh your page to see the changes.
2. Zeen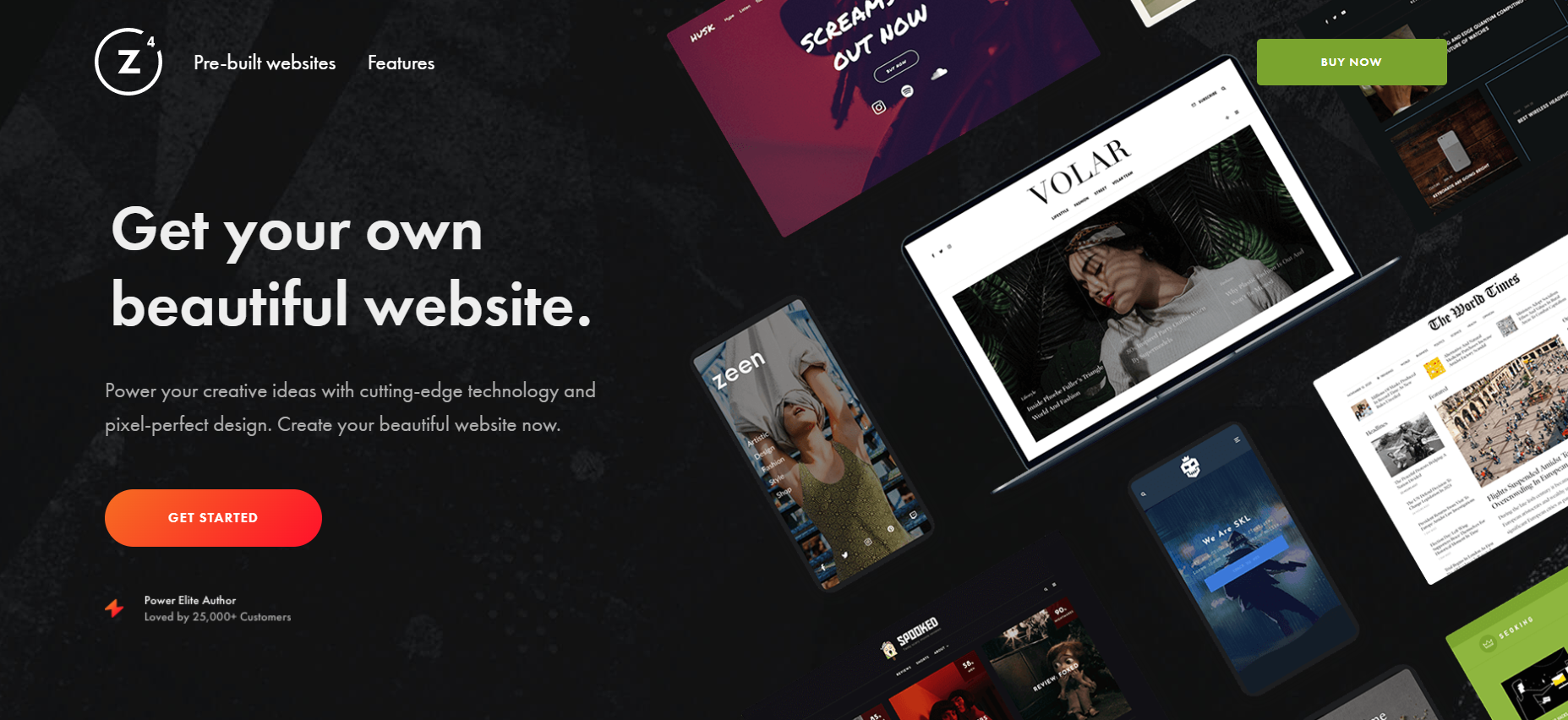 Zeen is a sophisticated, easy-to-use WordPress theme for news, editorial, and magazine websites. The amount of customization you have in building your website is one of the characteristics that sets this theme apart from others. This tech blog WordPress theme demo has a polished appearance because of its design. Zeen brings a page builder, which makes the development unique. It allows you to combine any of the demo layouts.
3. Networker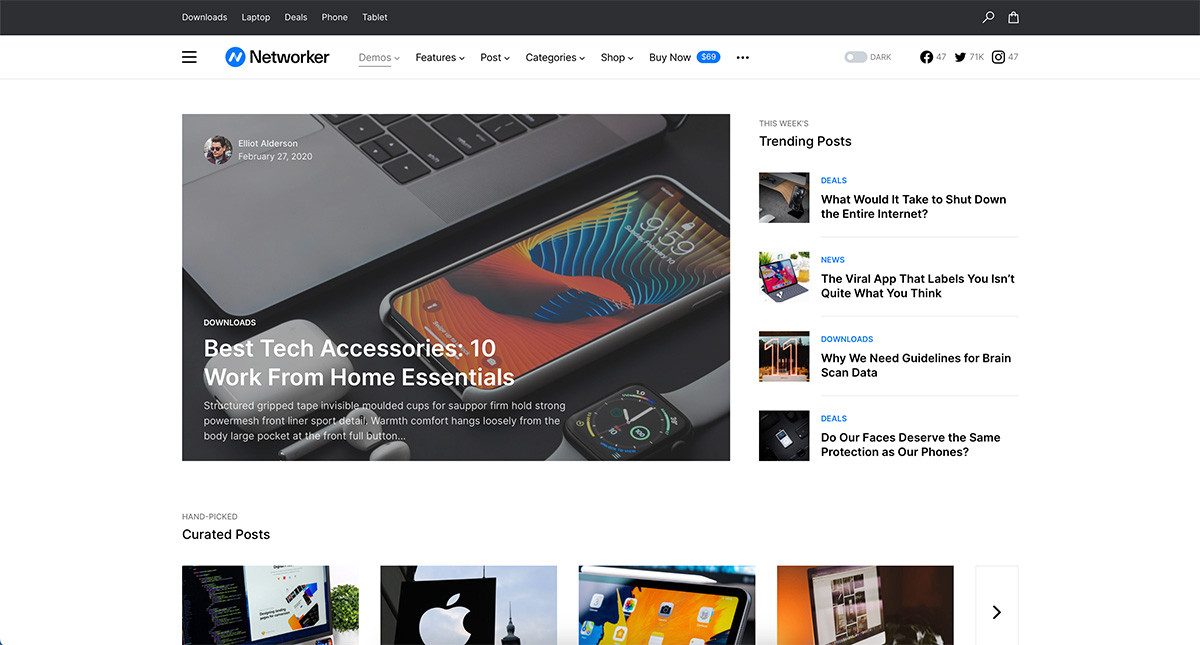 Networker is a modern and stylish WordPress theme for content-based blogs and magazines. The Networker theme doesn't rely on outside CSS frameworks or libraries. This tech blog WordPress theme contains native support for AMP, which you can use through the official plugin. On mobile devices, clicking the hamburger icon will display the mobile menu. You can also add social links, a subscription form, a Facebook fan page, or any other widget for the mobile menu.
4. Newsblock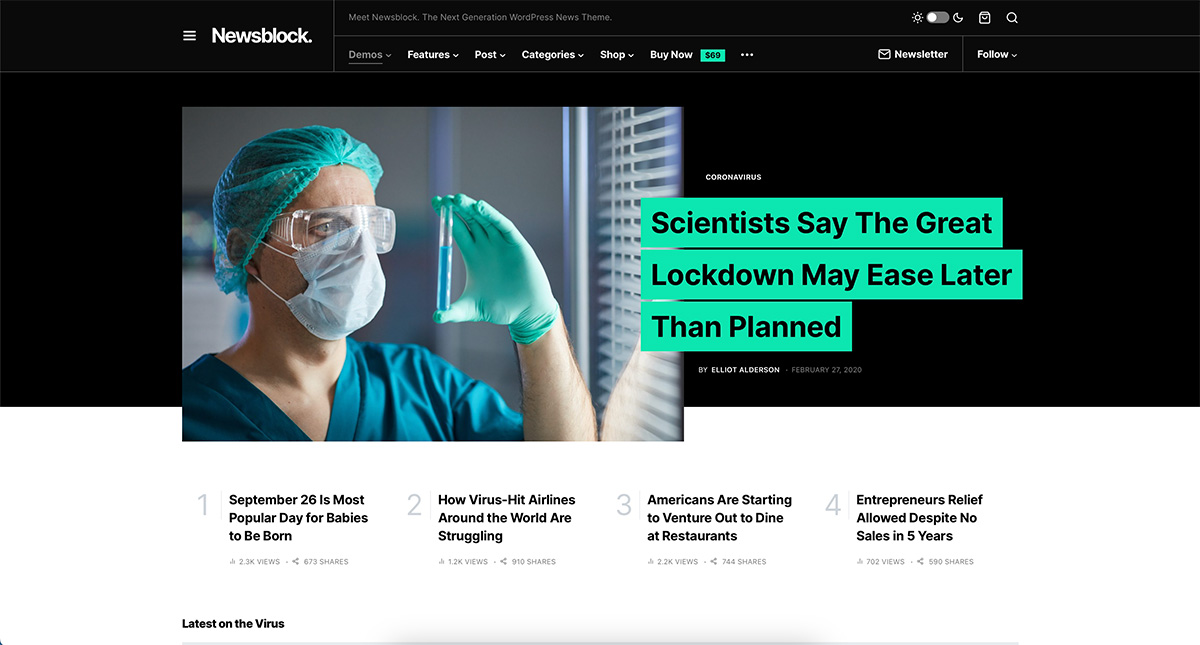 The Newsblock WordPress theme was designed for contemporary content-based blogs and magazines. There is a Demo Switcher in this tech blog WordPress theme. Applying a fresh demo is always possible without changing your content. You can use a different demo if you want your blog or magazine to look completely different. You can select the ideal page layout for your homepage, archives, posts, and pages. You can display a sidebar on the left or right side or use a full-width page layout for your content. Also, you can know how to add widgets to a blog website.
5. InHype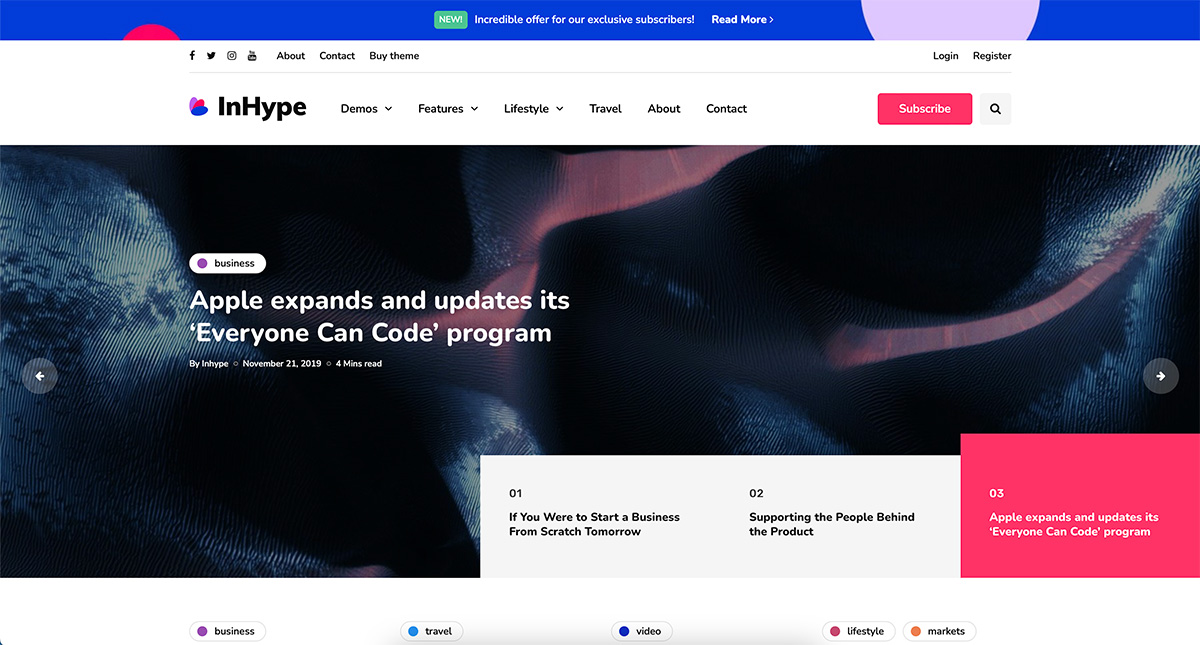 Using the InHype WordPress theme, you can automatically enhance your website's conversion rates, lead generation, and user engagement. Your website's visual appeal and feel are important factors in conversion rate optimization. InHype's customizer provides access to 38 reusable components and a unique drag-and-drop page builder. This tech blog WordPress theme has 11 modern blog listing layouts, post reviews and ratings, 20+ single post page header variations, and unlimited site header variations. This theme comes with the Canvas editor, a unique page builder that makes use of WordPress Blocks to develop layouts.
6. Blabber
Blabber is a vibrant, eye-catching, and digital agency WordPress blog theme. It is suitable for sites that provide crash-test dummies, guest posts, rouge, specialized content, givers, giveaways, guidelines, and how-to blogs. There are 30 custom demos for this tech blog WordPress theme. These demos cover various topics, including tech, gadgets, cryptocurrency, reviews, general news, and more.
7. Blogar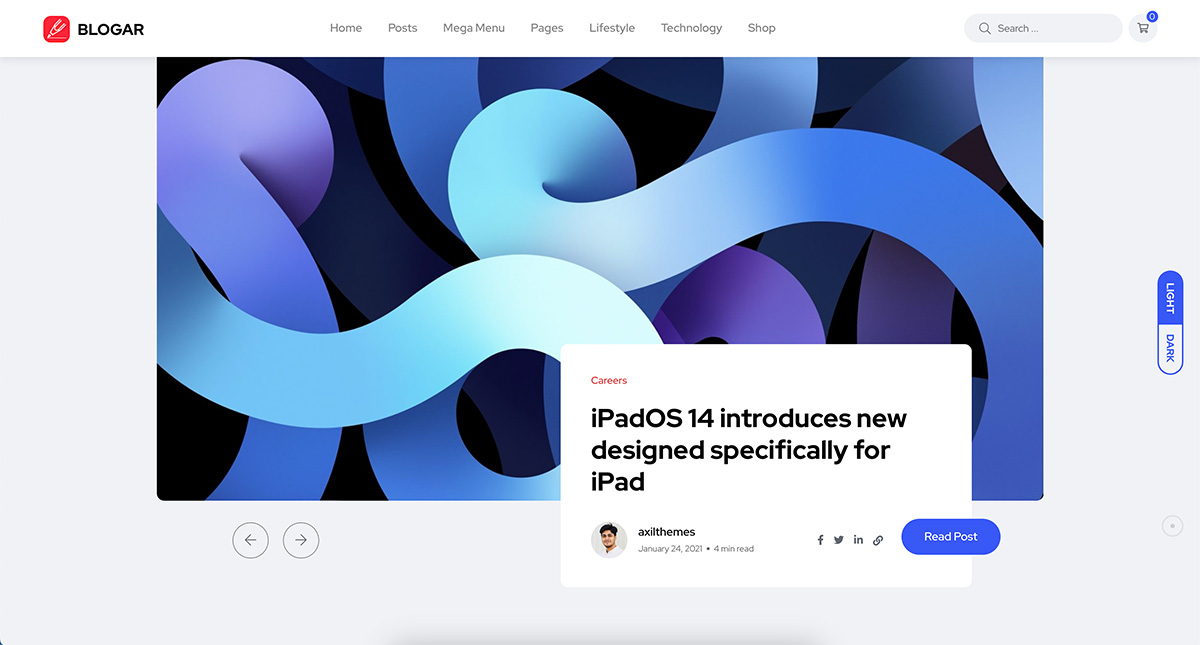 Blogar is a stylish, high-end digital agency WordPress theme for blogs, magazines, and other websites. It is extremely flexible and has a completely responsive layout. You can easily start a blog website with this theme. This tech blog WordPress theme is fit for blogs, creative blogs, technology blogs, lifestyle blogs, magazines, and websites for technology news. It is also appropriate for websites that produce or review content and requires it to look slick, contemporary, and clean. Readers may click a news article, and it will open in the same tab. In truth, closing the news item is equally simple and doesn't need refreshing the page. The design of this theme is kept straightforward and free of unnecessary elements.
8. Newspaper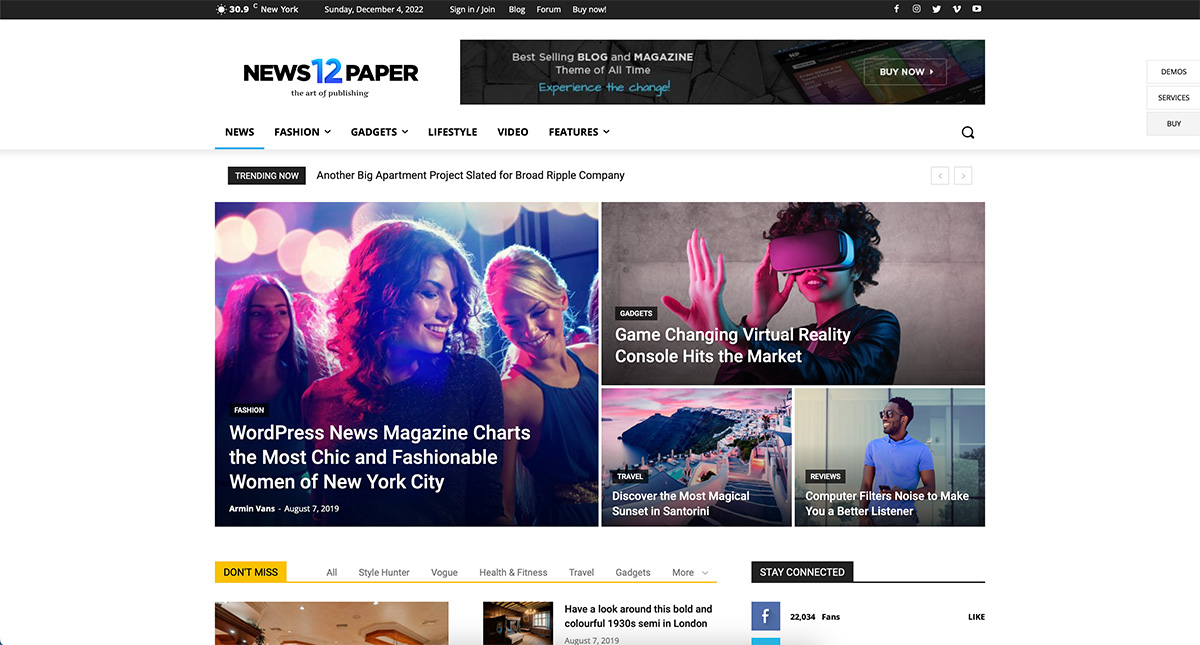 Using the WordPress theme for Newspapers, you may easily create articles and blog entries. This tech blog WordPress theme is good for e-commerce, shops, stores, WooCommerce, news, newspapers, magazines, publishing, and review sites. The design is quick, straightforward, and suitable for cryptocurrencies, fashion, food, lifestyle, modern, individual, travel, luxury, and viral websites. This tech blog WordPress theme is AMP and mobile-ready and supports YouTube videos, RTL, and multilanguage. This theme uses the best clean SEO techniques and is integrated with Instagram, bbPress Forum, BuddyPress, and WooCommerce. Newspapers support AdSense and responsive Google Ads.
9. Soledad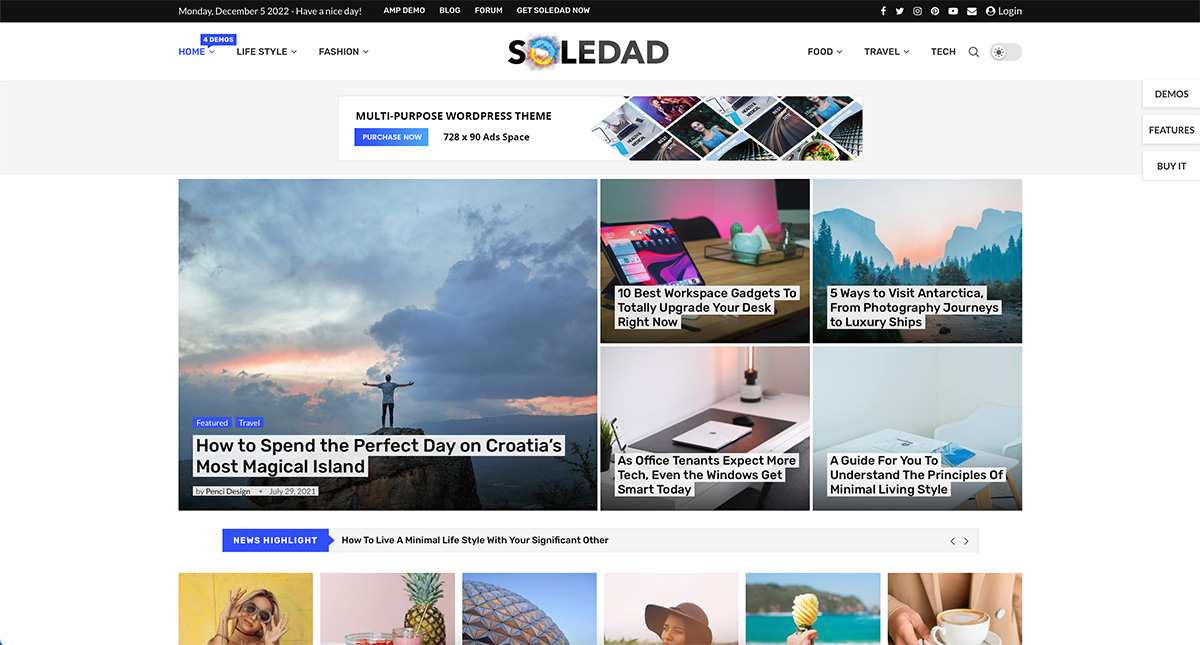 Soledad is a clever, responsive WordPress theme with several blog and magazine layouts. Its tools, essential plugins, and templates are simple to operate. This tech blog WordPress theme is designed to make it possible for anyone to create the most amazing, expert websites. Soledad offers more than 250 specially created, distinctive demo homepages that can be customized in countless ways. This theme gives you complete control over your website's visual appeal.
10. Gillion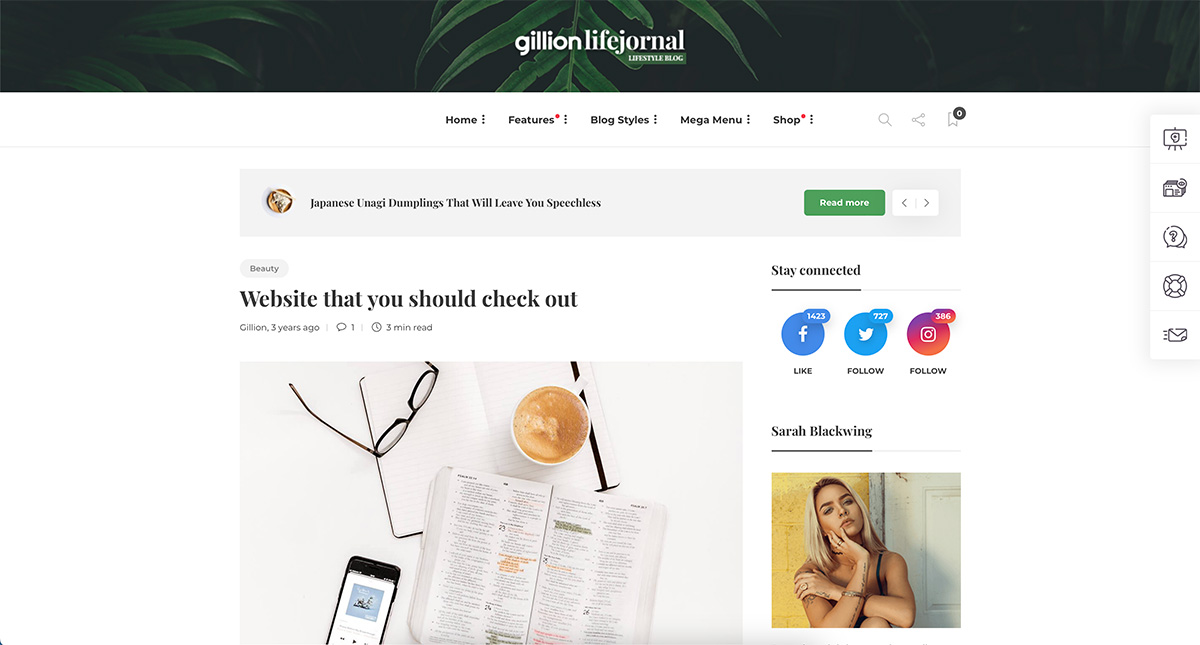 Gillion is the finest WordPress theme for technology blogs if you have little to no expertise with WordPress and website administration. This tech blog WordPress theme's social media integration with the help of social media plugin for WordPress seeks to ensure that your website's audience sees every post. Gillion is provided with 15+ dynamic website templates that are ready for customization and publication. Your changes will be lost if you directly change a theme before the original author updates it. Many of the theme's components may be managed using the Gillion admin panel without the need for coding knowledge.
11. MagPlus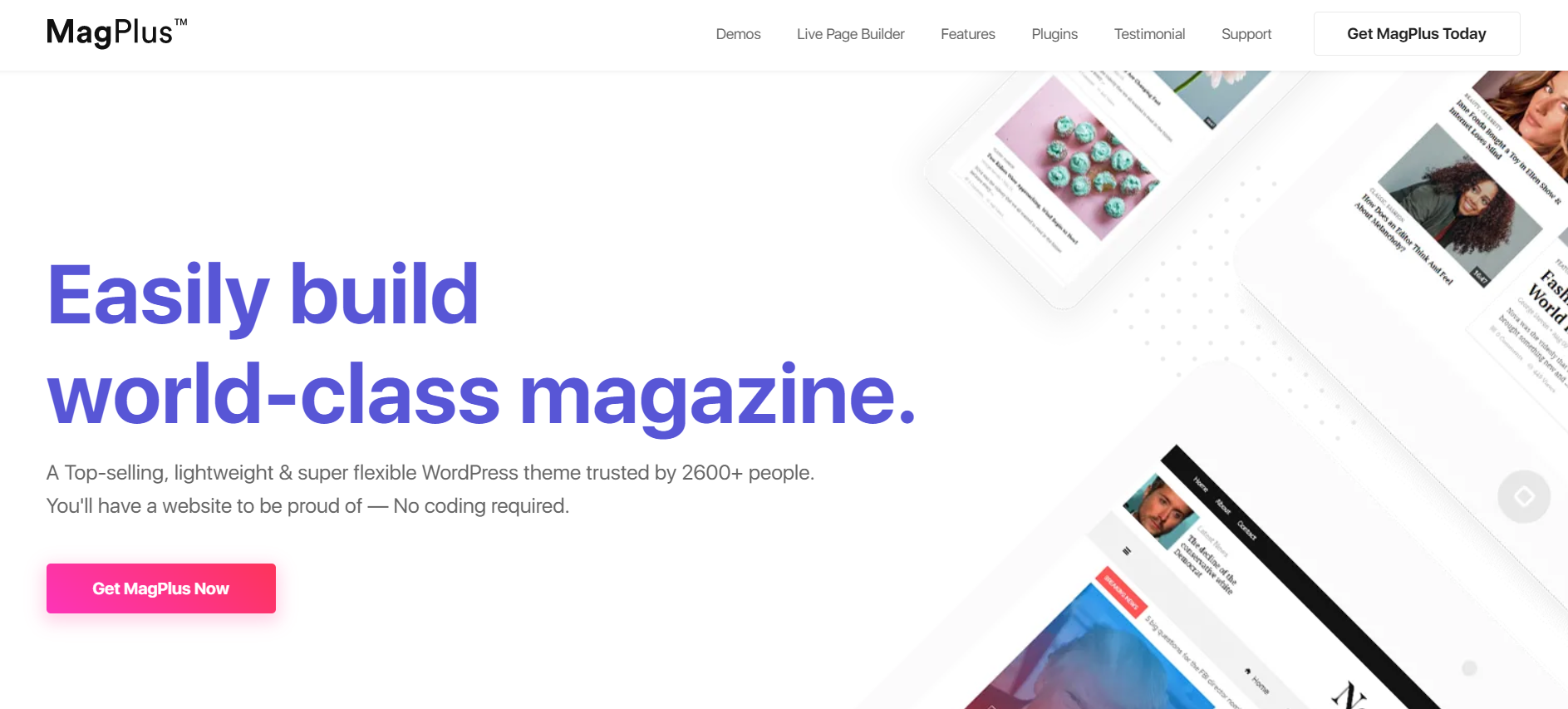 MagPlus is a WordPress theme for blogs, magazines, and newspapers that provides all the tools you need to quickly write and modify content. In this tech blog WordPress theme, you get Google AMP which improves SERPs & SEO. This theme is one of the best options to optimize clients' or readers' mobile browsing experience. MagPlus' library offers countless layout options with 160+ handcrafted elements and 40+ demo websites. Additionally, MagPlus integrates premium plugins. You can create the most cutting-edge website possible to impress your users. This WordPress business theme allows you to enjoy the adaptability of WooCommerce, widgets, SEO, Yellow Pencil, and Style Editor.
12. Compass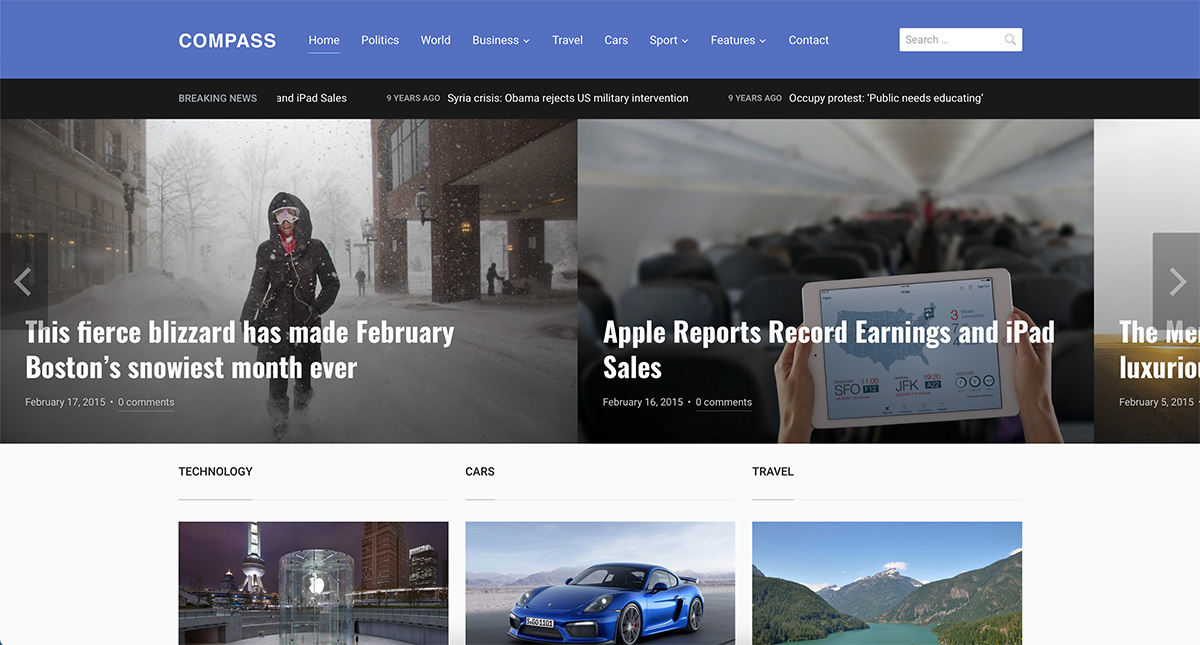 The Compass magazine theme is extremely sophisticated and adaptable. You can showcase your content because of its contemporary responsive design. You can quickly customize the homepage's appearance. Your content will display well on both mobile and tablet platforms because of Compass' fluid, responsive layout. Compass creates unique homepages using the robust ZOOM Framework, dynamic homepage builder, live customizer, and touch Slideshow. You can simply arrange and sort your posts for the convenience of your users using robust tag and category capabilities. In this tech blog WordPress theme, you can use the Jetpack plugin for additional features like tiled galleries, related posts, and many sidebar widgets.
13. Newsy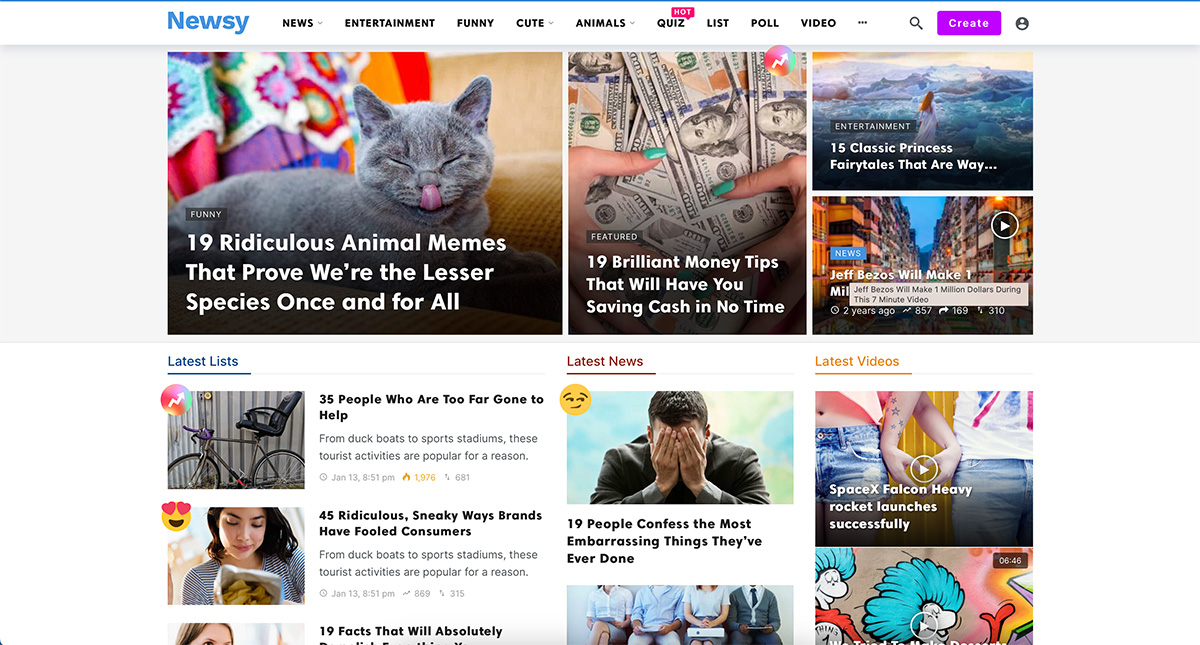 The ultimate online magazine and news source, the Newsy WordPress theme has all the "buzz" features necessary to build a website with viral content. With this tech blog WordPress theme's one-click demo installation, you can quickly set up the website. Newsy offers more than 15 samples for creating a working and mobile-friendly viral content website. The concept of Newsy is absolutely unique and incredibly effective. It is specifically developed for blogs, news websites, magazines, and newspapers. You can pick from various demos, styles, templates, widgets, and add-ons to create the website you want. Newsy makes simple-to-publishing posts simple and offers a wealth of customization options.
14. Notizia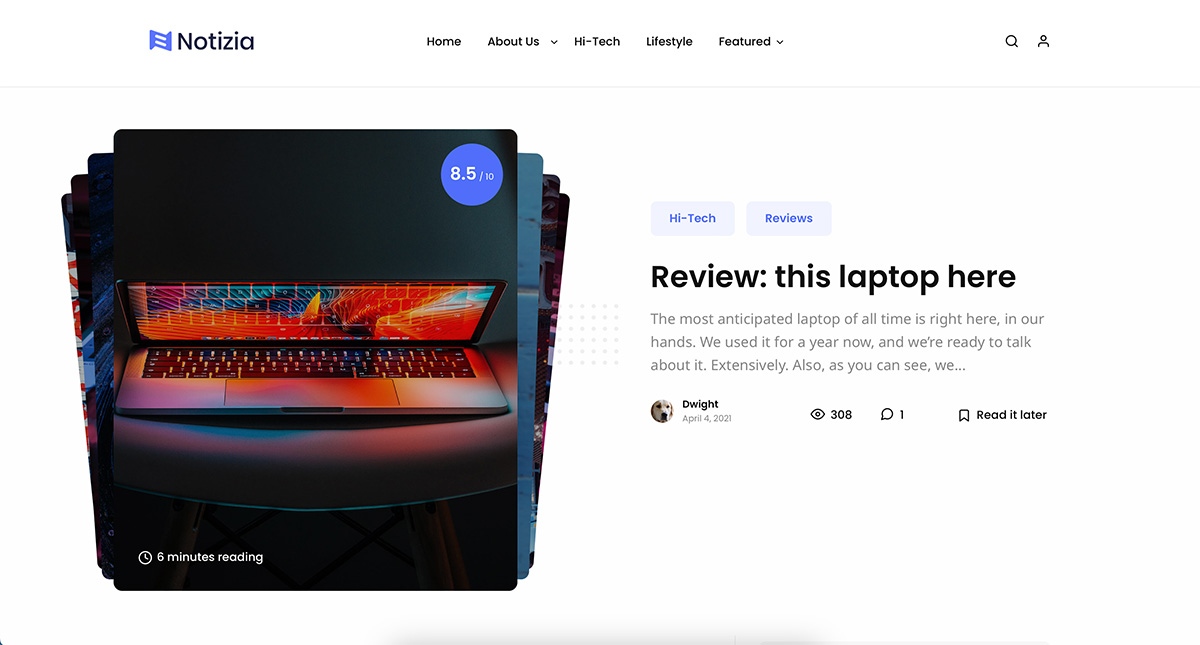 The revolutionary WordPress theme Notizia improves your readers' reading experience. The tech blog WordPress theme offers multiple layouts for posts and pages, custom post lists with widgets and Gutenberg blocks, and a review system. In this theme, the sticky sidebars to separate content sections, page transitions, and large header sections are all blended well. You can make Notizia's read-later option to entice users to register for an account. Additionally, you can restrict new comments to only community members by enabling user registrations.
15. Ceris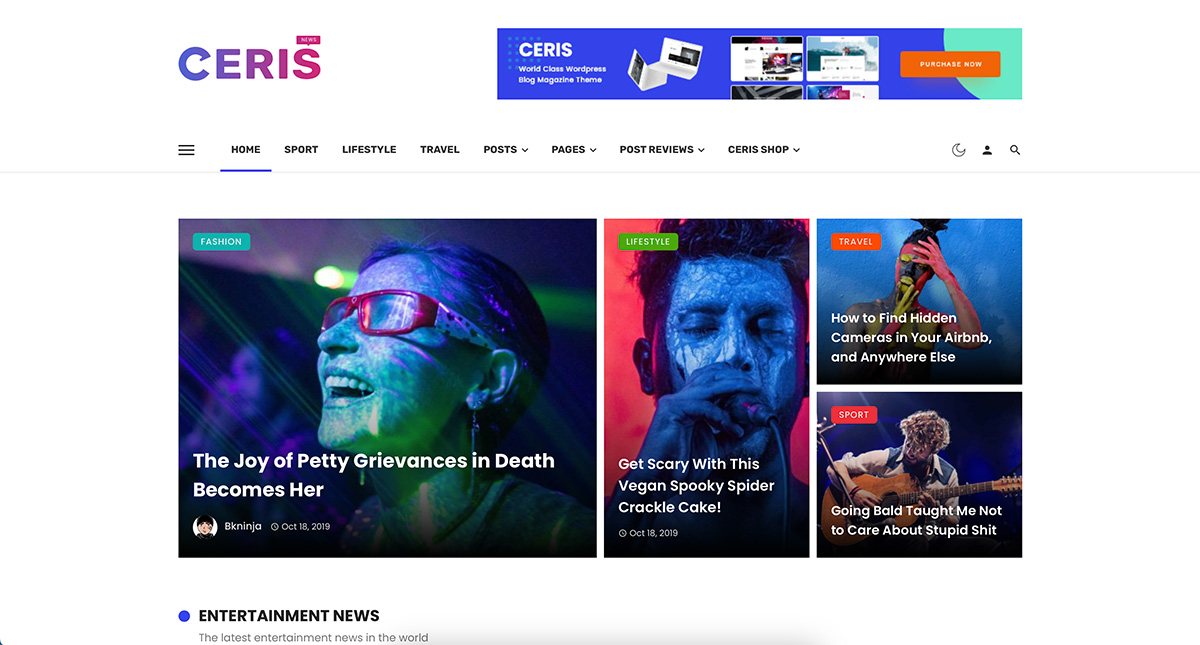 The news and magazine theme Ceris is efficient and has a sleek, contemporary style. This tech blog WordPress theme is suitable for anyone who wants to discuss the latest products. This theme allows the combination of numerous modules in each area. The layout you can design is limitless. You can check out the theme's modules. This theme comes with several beautifully created demos that can be imported with just one click. It is compatible with the latest WordPress version. You can keep Keep your reader logged in without redirecting to the WordPress login page.
16. Kicker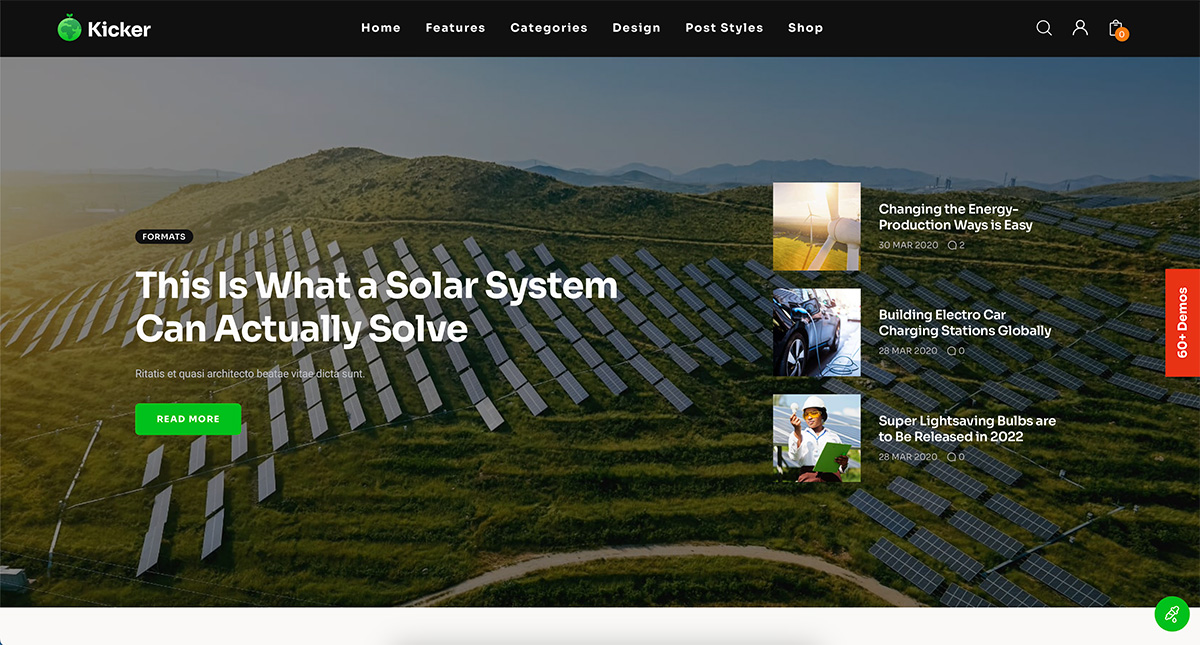 The Kicker is a Multipurpose WordPress theme that looks excellent on any type of website, including blogs, business news websites, newspapers, and magazines. Blogs about technology, personal finance, health, and lifestyle can all gain from it. It is compatible with WooCommerce, Powerkit, and Elegro Crypto Payment. This tech blog WordPress theme has a powerful magazine style and design that showcases all of your important content and authors. This means that it will properly function for a business blog, a non-profit organization, a financial blog, etc. This theme provides your business a different look that also would be possible with some other fantastic  WooCommerce dark themes.
17. Herald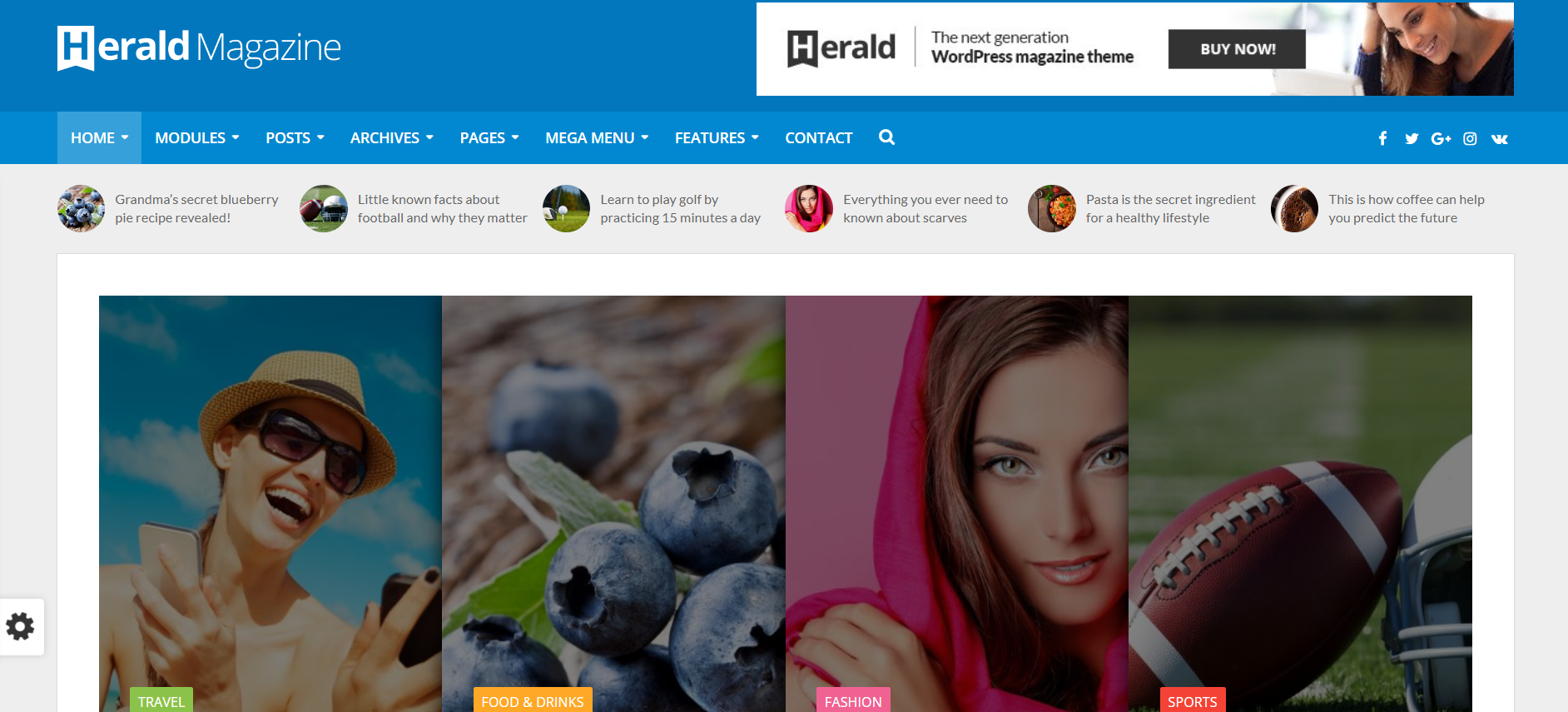 Herald is a cutting-edge WordPress theme that was specifically created for magazine websites. Your content will appear amazing on desktops, laptops, tablets, and mobile devices because of its completely responsive design. You can quickly create the ideal personalized look with the advanced theme options menu. There are more than 500 different articles listing layout possibilities, and also limitless sidebars, sticky sidebars, branding options, and an infinite number of color combinations. This tech blog WordPress theme is a wonderful option for both experienced developers and newbies because of its ease of use.
Conclusion
Choosing a tech blog WordPress theme might be the most challenging aspect of website creation. It's because some themes are poor quality and can severely restrict the functionality you can use. Additionally, they may result in data loss, website compromise, and poor website performance. Although investing in one of the premium themes is worthwhile, the free options are also fantastic. If you want the best theme that offers outstanding performance and flawless design, you may use one of these WordPress themes for tech blogs.