A search feature is essential for every website. It is particularly important for websites, blogs, news sites, online shops, and knowledge bases with significant content repositories, it helps users find information rapidly.
That is why the WordPress search plugin is a must-have feature. A functional native search system is included in WordPress. However, it can only run simple searches to get the most important data. Though you can improve WordPress native search system, using a WordPress search plugin is much more convenient.
You can add Google search console insight to see your search analysis based on impressions or clicks. By replacing or enhancing the default WordPress search mechanism, WordPress search plugins can enhance the improvement of your website. We will discuss the top 9+ WordPress search plugins to help you discover the best one for you.
The most popular Top 9+ WordPress Search Plugin 2023
1. SearchWP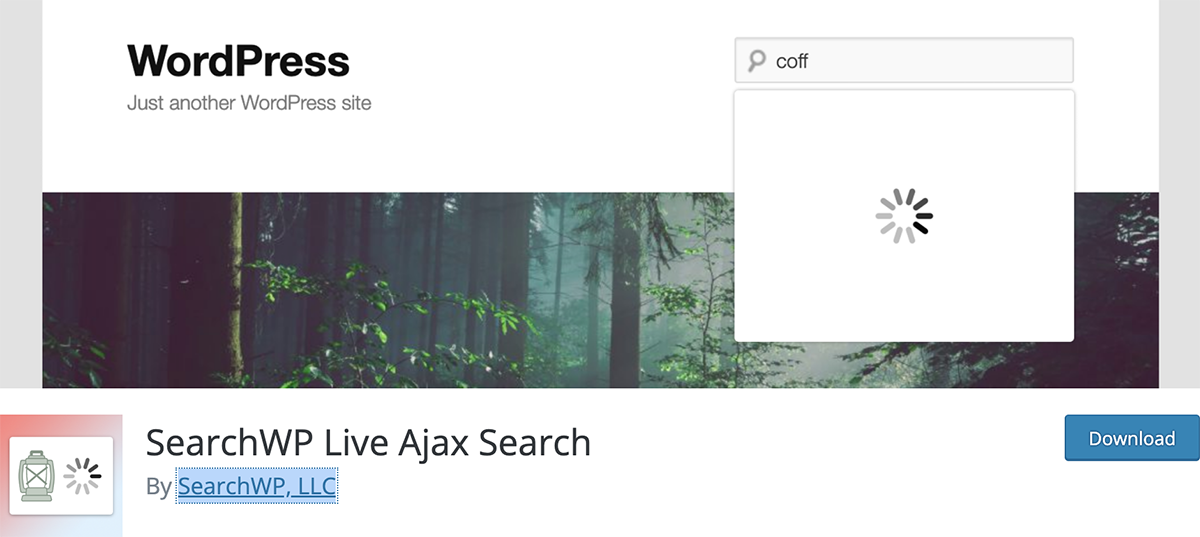 SearchWP Live Ajax Search is best used in conjunction with SearchWP. SearchWP Live Ajax Search may be configured to use any of your search engines per search form if SearchWP is installed and activated. SearchWP is the greatest custom search plugin for WordPress. With this powerful WordPress search plugin, you can quickly improve your WordPress search without knowing any coding.
It's simple to set up and use SearchWP. The plugin automatically scans your content and takes the place of the built-in free education WordPress WooCommerce theme's search feature as soon as you install and activate it.
The plugin provides your users with search and scan posts, pages, and custom post types. It also allows you to provide more precise search results like categories, tags, excerpts, taxonomies, comments, advanced custom fields, etc. Even the text, office, and embedded pdf WordPress documents in your Media library are searched and scanned by SearchWP. The weighted system allows you to alter how search results are prioritized and sorted.
2. Jetpack Search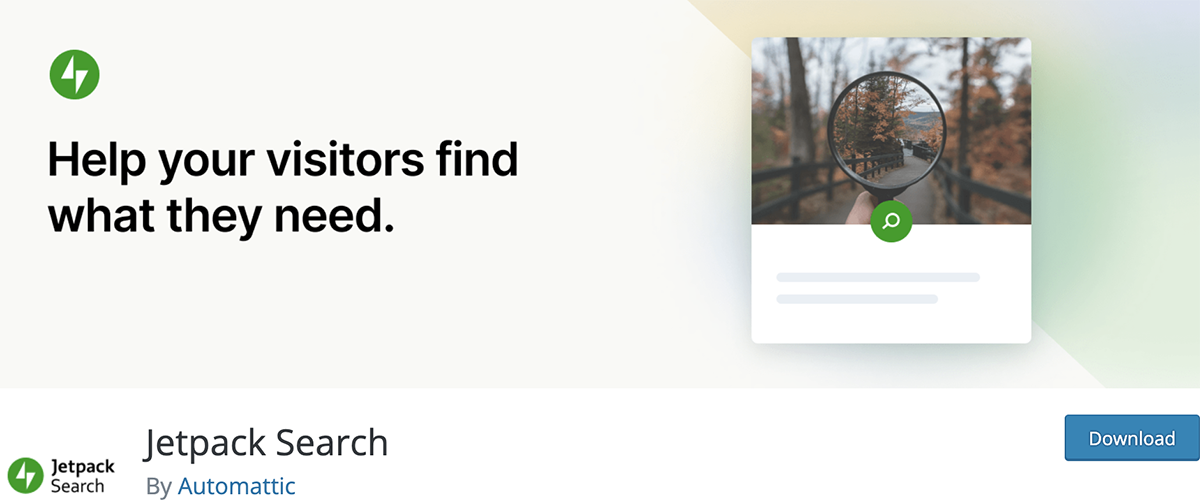 Jetpack Search is a simple WordPress plugin that improves the CMS's built-in site search feature. Your visitors will benefit from the finest possible search experience because of advanced site search features. Jetpack Search, which is incredibly strong and adaptable, helps visitors quickly find the appropriate material whenever needed. Jetpack Search provides all the tools and choices for the most significant site search usability and results. It is along with a predictive autocomplete algorithm and instant search results.
These types of plugins also work with the best WordPress analytics plugins for tracking results. Although Jetpack Search is a fully configurable WordPress site search plugin, your visitors will enjoy a search experience that effortlessly matches the aesthetic of your website. In case you're having more visitors, and they're searching more on your website, then you may require the pro version of Jetpack Search.
3. YITH WooCommerce Ajax Search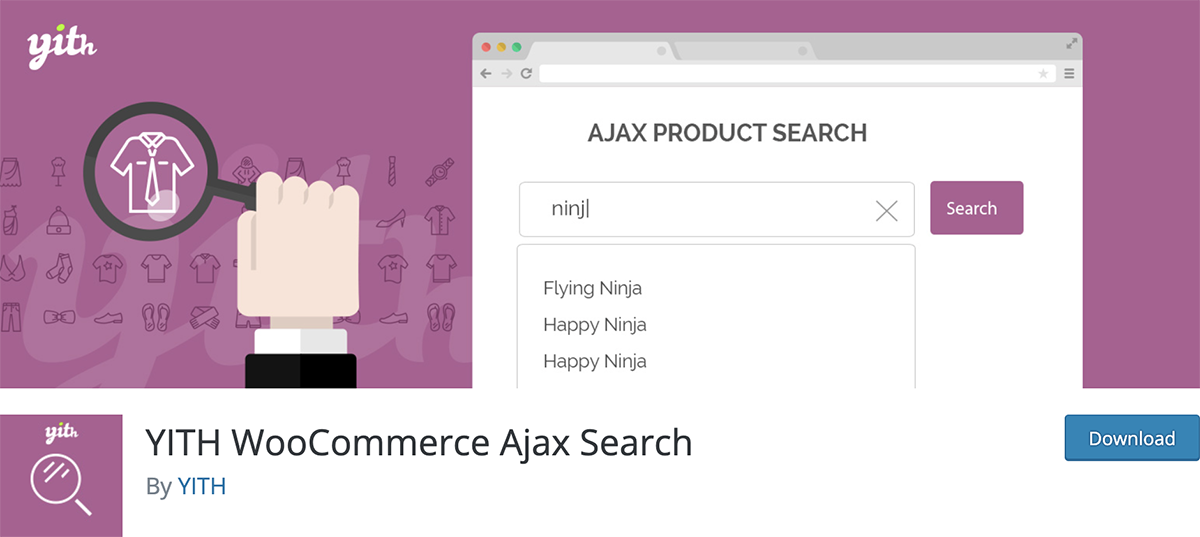 The WooCommerce plugin YITH WooCommerce Ajax Search is straightforward to use. It only requires installation before it is ready to use. The WordPress search plugin offers a straightforward search box and offers search suggestions of WooCommerce products that fit your search criteria, providing immediate search results.
Customers can use this plugin to rapidly find products in your store by using SKUs. This plugin restricts their search to particular product categories and filters the results without refreshing the page.
The WordPress search plugin is similar to google suggestion but accessible through your WooCommerce points and rewards website and using your database.
4. Better Search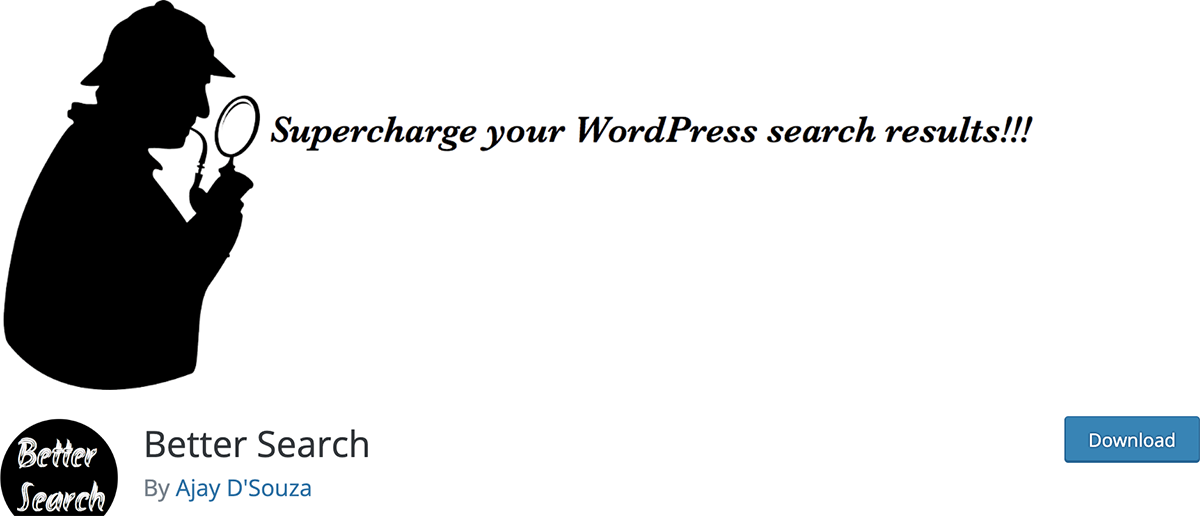 Better Search replaces the default WordPress search. As a result, your blog readers will find what they're looking for more quickly than they would if Better Search weren't enabled. Better Search can search via pages, custom post kinds, and posts. This WordPress search plugin makes it easy for your visitors to find what they want. Better Search is packed with filters and actions that let you expand the plugin's feature set for even more experienced users.
The plugin also keeps track of your searches and shows a "search heatmap" of the most popular ones. You can quickly add this heatmap to the sidebar or footer of your theme if WordPress widgets are supported. It's more likely to add a widget. The plugin has many options that make it simple to adjust the output. You can refine the results by giving the title or the content more weight. Additionally, Better Search offers templates for those who need that extra something.
5. Ivory Search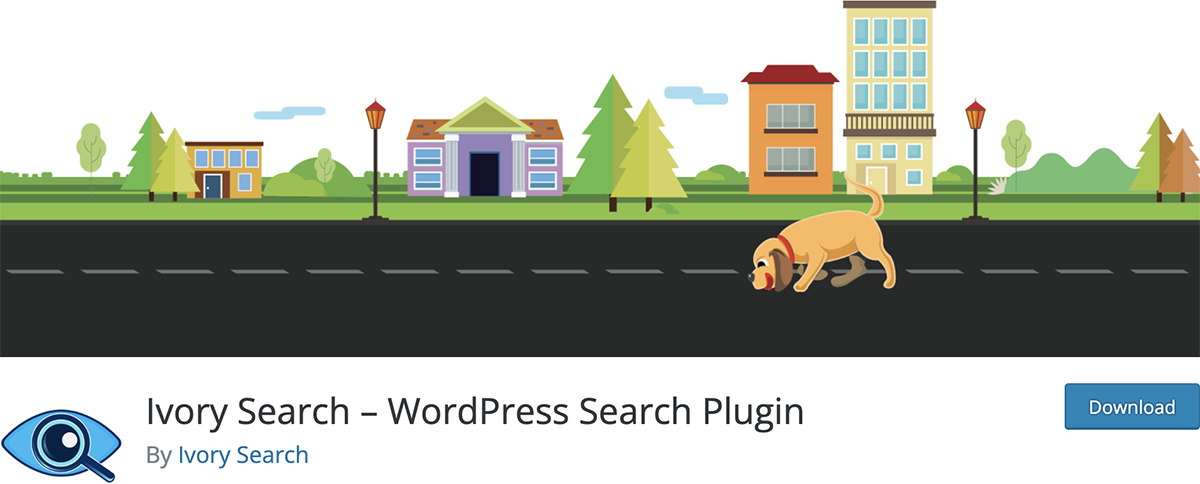 A straightforward advanced WordPress search plugin is Ivory Search. It improves the default search functionality and gives you the option to make brand-new unique search forms and this plugin is compatible with most WooCommerce themes. You can create an infinite number of search forms with Ivory Search.
You can also customize each form separately to perform various kinds of searches on the content of your website. Using the WordPress search plugin shortcodes, you may place the custom search forms anywhere on the website, like header, footer, sidebar, widget area, navigation, and on pages, articles, and custom post kinds.
6. Ajax Search Lite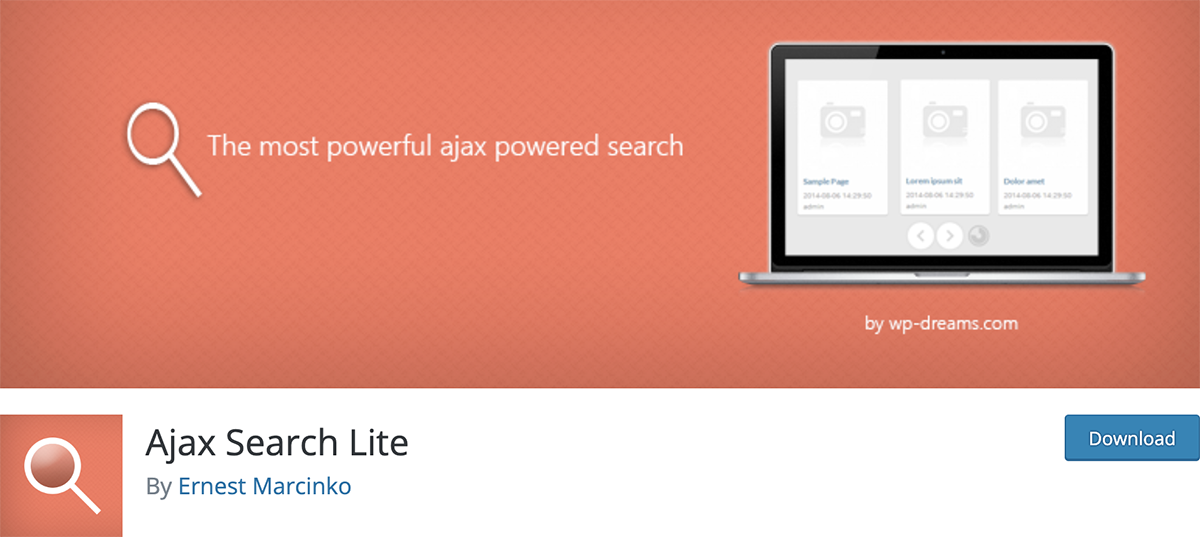 To enhance the user experience, AJAX Search Lite offers a live AJAX search bar. You may quickly replace the theme's search form with AJAX by using this WordPress search plugin.
If you like, you may display search forms anywhere on your website using the shortcode provided. It includes many features such as customization options, including post and page search, eight pre-built templates, personalized filter boxes, and post exclusions. The search field's placeholder text is also editable. The plugin's settings page gives users access to all modification options for a look with the help of user management in WordPress.
7. ACF: Better Search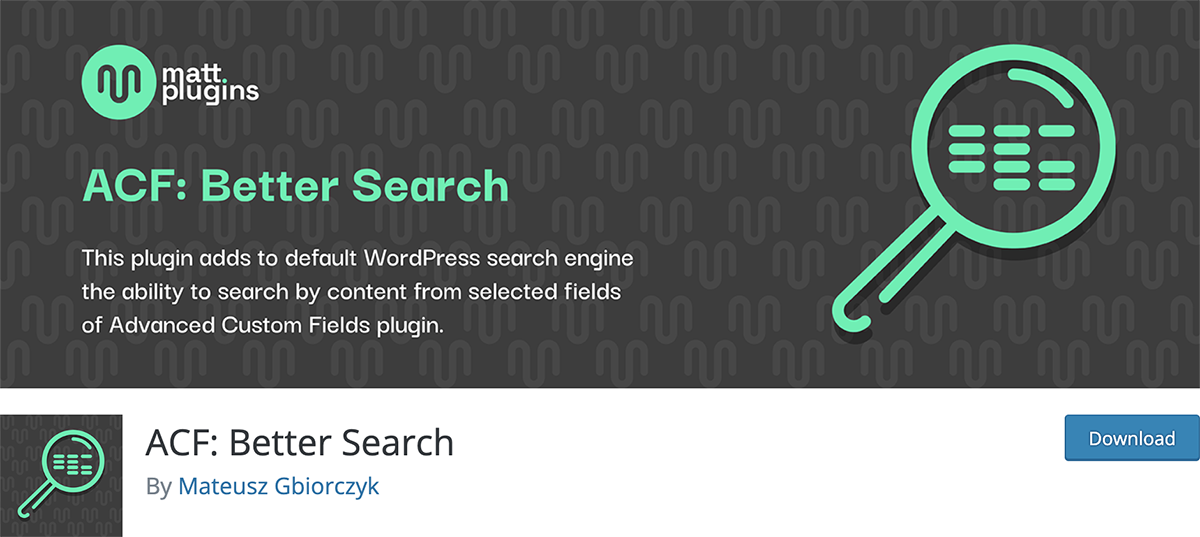 The default search feature for users of the Advanced Custom Fields plugin is improved with ACF: Better Search. It uses custom fields to search for content. Immediately after installation, the plugin will take the place of the built-in search engine and organize your content for better search results. It changes the existing SQL database and expands the regular search to some of the Advanced Custom Fields fields. You can also make various adjustments from the WordPress search plugin's settings page.
You can choose from several custom fields in the settings section of this free search plugin, including Number, Text, Text Area, Email, and File. Moreover, there are options to fine-tune search performance, such as instructing the plugin to look for precise phrases or words to improve the results. ACF: Better Search also has a Lite Mode to speed up searches. Overcoming the custom field choices will reduce the effectiveness of the search.
8. Highlight Search Terms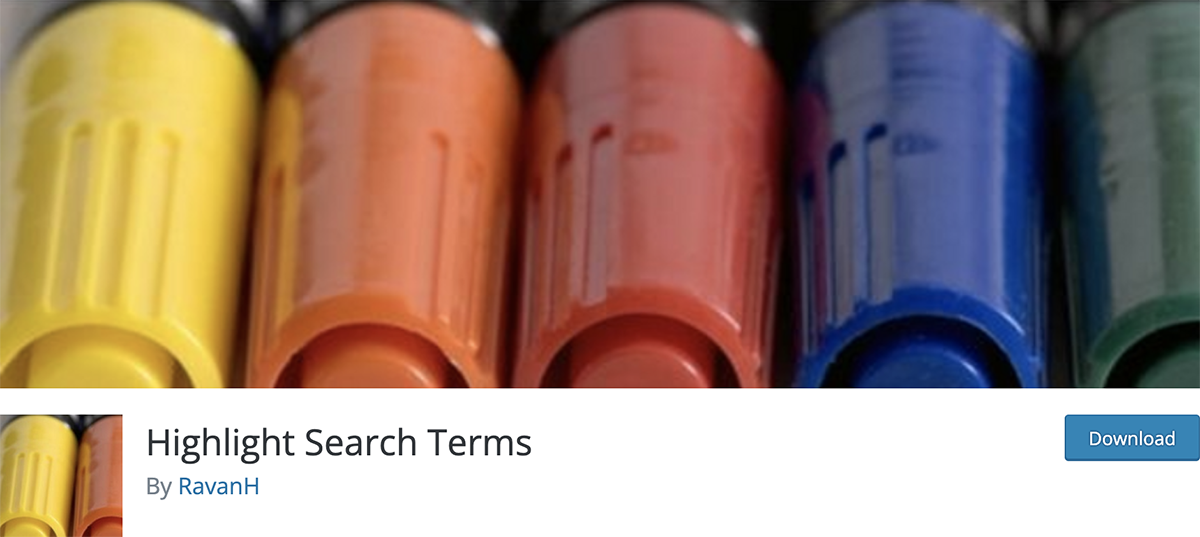 Highlight Search Terms is a simple plugin for searching terms on your WordPress website. It functions by highlighting the frequency with which a with first across all postings on the website. Because it doesn't include CSS rules for highlighting results, the plugin is lightweight, and it is supported by corporate themes for WordPress. The WordPress search plugin works with many well-known themes, and you can even have the plugin in your theme's header to improve visitors' ability to search.
9. WP Extended Search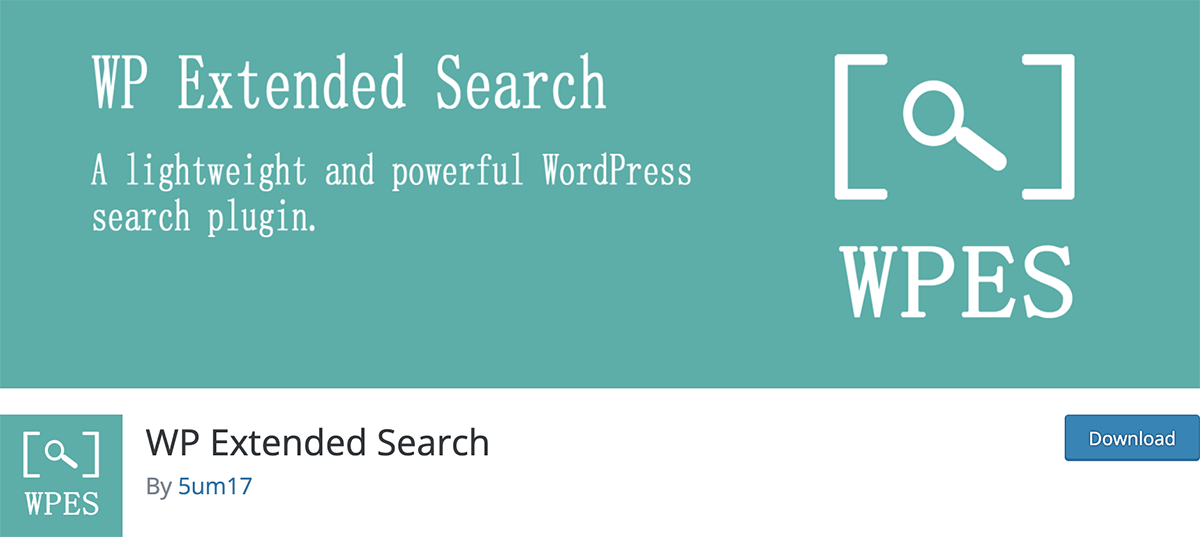 A small but effective WordPress search plugin is WP Extended Search. Using this plugin's admin settings, you may set WordPress search to look for terms in post meta, author names, categories, tags, or custom taxonomies and it is compatible with most WooCommerce WordPress themes. WordPress's default settings for searching in the post title, post content, and post excerpt are all configurable.
In addition to modifying the basic search behavior, you may make various search parameters and then apply them to unique search forms. You can use a widget, shortcode, PHP function, or HTML to create custom search forms.
10. Relevanssi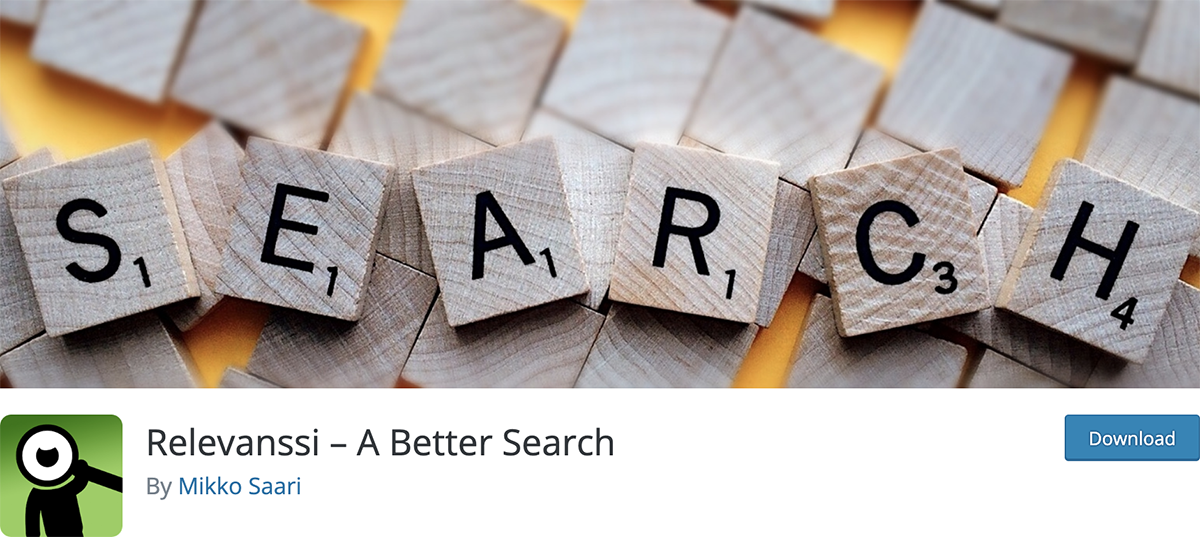 The default WordPress search is replaced by Relevanssi, a better search engine with many features and customizable settings. Your users will appreciate the improved outcomes and results presentation you get. Relevanssi enhances the built-in WordPress search by giving you complete access to and control over the search results for your website. The plugin only needs a little setup.
It takes the place of the default WordPress search widget, so there's no need to bother embedding it with a shortcode or another WordPress block. Use the built-in WordPress search widget, and this essential plugin for WordPress will enhance your experience.
Conclusion
WordPress plugin repository is here to display search plugins for your website. The best ones are shown above. Those plugins easily integrate with popular WordPress plugins so that you won't face any compatibility issues. There are many excellent search plugins for WordPress, each with a unique set of advantages. Just be careful and thoughtful while selecting one for your site. We hope that this post was helpful in your hunt for the top WordPress search plugin.