Do you know why online site owners and developers look for Free WooCommerce Themes for WordPress?
It's because WoooCommerce has revolutionized the eCommerce industry after its launch. Furthermore, nearly 30% of the total online stores are running on WooCommerce. So, it has a huge market share of the eCommerce industry and offers life-simplifying features to run online stores.
The best part of WoooCommerce is its usability. Even non-tech site owners can customize and create their stores easily.
On the other hand, WooCommerce is also convenient for WooCommerce website developers. There are thousands of free WooCommerce plugins and codes available online to customize WooCommerce functionality in a minute.
So, if you are a developer or eCommerce site owner, looking for website templates to create a high-converting online store. You are in the right place. We're going to share a hand-picked list of 45+ Free WoooCommerce Themes for WordPress. Before checking the theme list, check the key features of free WoooCommerce themes.
Key Features of Free WooCommerce Themes for WordPress
There are plenty of popular and easy-to-use WooCommerce themes in the market. Finding the desired one could be elusive. So, I've added some key points to check before selecting Free WoooCommerce themes for your online store.
Tight WooCommerce Integration: Tight WooCommerce integration is highly essential. Otherwise, It may conflict with popular WooCommerce plugins like WoooCommerce Variation Swatches. Consequently, your site development cost would be high to customize and troubleshoot for your requirement
Page Builder Support: Modern and Cutting-edge free WoooCommerce themes for WordPress offers a drag-and-drop page builder to build a page on the fly without writing a single line of code.
Necessary Theme Options: Theme Options are another incredible feature of feature-rich free WooCommerce themes for WordPress. It saves your time and allows you to customize online store websites without writing PHP filters and functions.
Responsive Design: online stores are mostly visited by mobile and tablet devices. If you can't find the best responsive WooCommerce WordPress themes, you have to create separate layouts for mobile and other small-screen devices and it will increase your site-building cost.
Frequently Updated: WooCommerce releases major and minor updates fixing bugs or adding new features. So, try to find frequently updated WooCommerce themes so that you can enjoy the powerful store-building kit wooCommerce. You can learn how to update themes on WordPress without losing customization easily.
Highly Documented: Documentation helps you to set up and use free WooCommerce themes for WordPress with ease. Without proper documentation, you may spend time achieving a simple feature which already available in your selected theme.
SEO Friendly: Sometimes, poorly developed website templates don't care about SEO. Whereas, good SEO-friendly Free WooCommerce Themes can rank your site on the search result page quickly.
Security: Security is the one most essential need of an online store. If you fail to select secured free WooCommerce themes, you may lose your time, money, and reputation altogether. You can know how to improve website security if you want.
Besides the mentioned checklist, make sure your free WooCommerce themes for WordPress are cross-browser compatible, RTL ready, lightweight, multilingual, AMP supported, and easy to use.
01. Storefront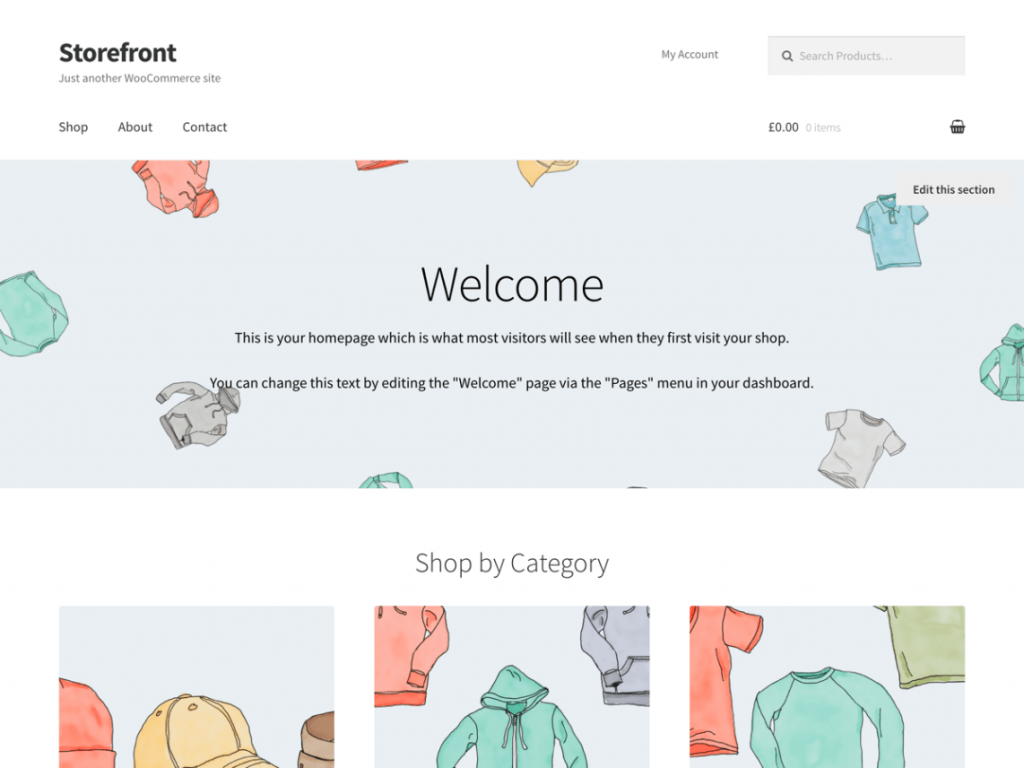 Developed by WooCommerce, StoreFront is a freestore wordpress theme for WooCommerce. Its minimalistic and clean design makes it a wonderful choice for an online store. They built the WooCommerce plugin itself so there is no question about the compatibility of StoreFront and WooCommerce and won't be in the future too. With this particular theme, you can set up your responsive web store within a few minutes!
This theme's features can get you out of many customization problems as you just have to drag and drop widgets and get your desired layout from that. It is more than easy to build a website on this theme. You can create custom homepages with the templates provided. It is compatible with the translation feature to get more audience attracted to your business. It has a clean and elegant display and SEO-friendly coding. The theme is also 100% GPL-licensed.
02. OceanWP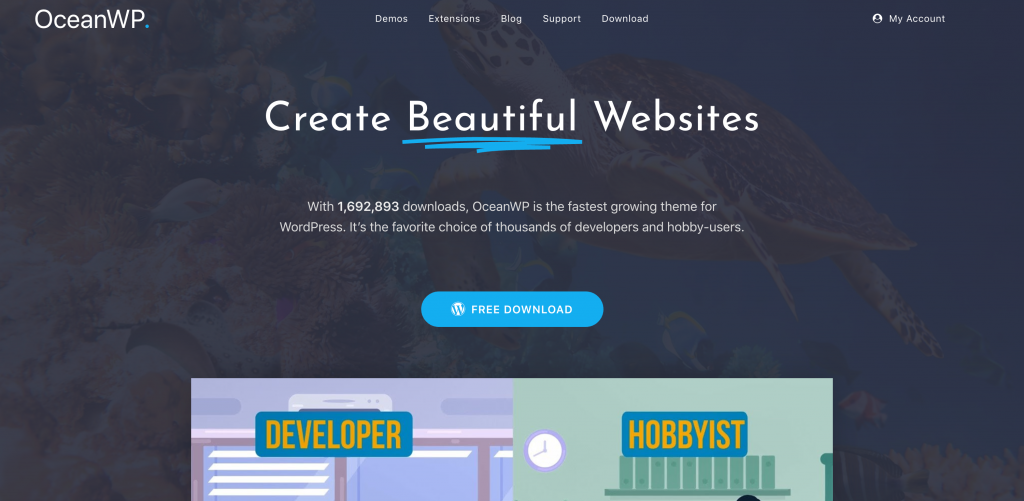 OceanWP makes you feel as if you are using premium and paid themes features. It comes with such features which sometimes are missing from Free WooCommerce Themes For WordPress. It is a highly customizable theme with many elegant and professional features to manage a complete online store. It is integrated with variable products WooCommerce. You can check its demos for a more proper understanding of how the theme looks and works. The theme has parallax and lazy loading effects for eye pleasure. It is one of the best free WordPress themes for eCommerce stores.
OceanWP has an ocean of features and options. The theme comes with modern widget settings to get you the most out of it. The animations are also professional and its retina-ready images are best to fit on every screen. Its responsive layout is perfect for any device. It has a flexible design that can be used for multiple purposes. It also comes with 13 different demos so that you have enough choice to select the best out of the best templates.
03. Astra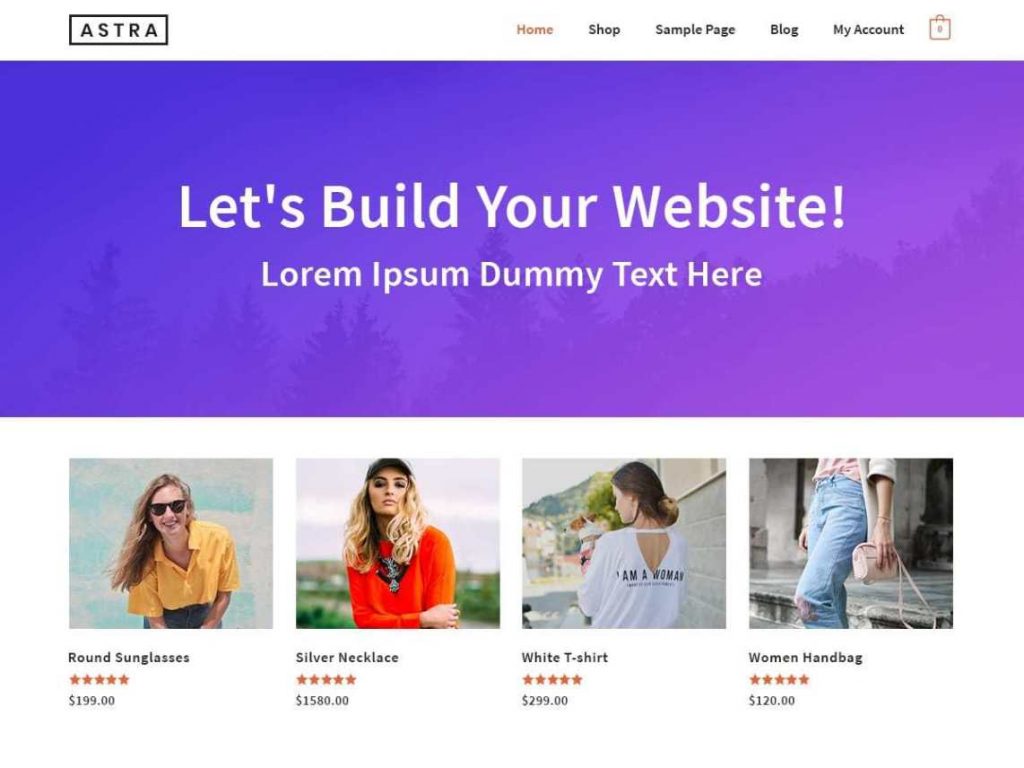 Astra has a clean, fresh, and robust design that is suitable for any kind of business including the most important "eCommerce". The beautiful parallax loading and scrolling features are so mesmerizing and sharp. The images look modern and bright on this stunning and flexible theme. There are ribbons for marketing purposes. The most important feature of it is that it is very light weighted and has a very short loading time which makes it one of the fastest free WooCommerce themes for WordPress. You can check out Astra theme reviews to get a better knowledge of this theme.
It has different pages of layout and advanced typography options to give you complete control of your theme. It contains many fonts, colors, and templates to make it a top theme. Its code has been designed efficiently by the authors with great love and care to make it highly responsive for different screens. You do not require any coding skills to operate this theme as it has all the basic features in itself already to make it the best.
04. Flash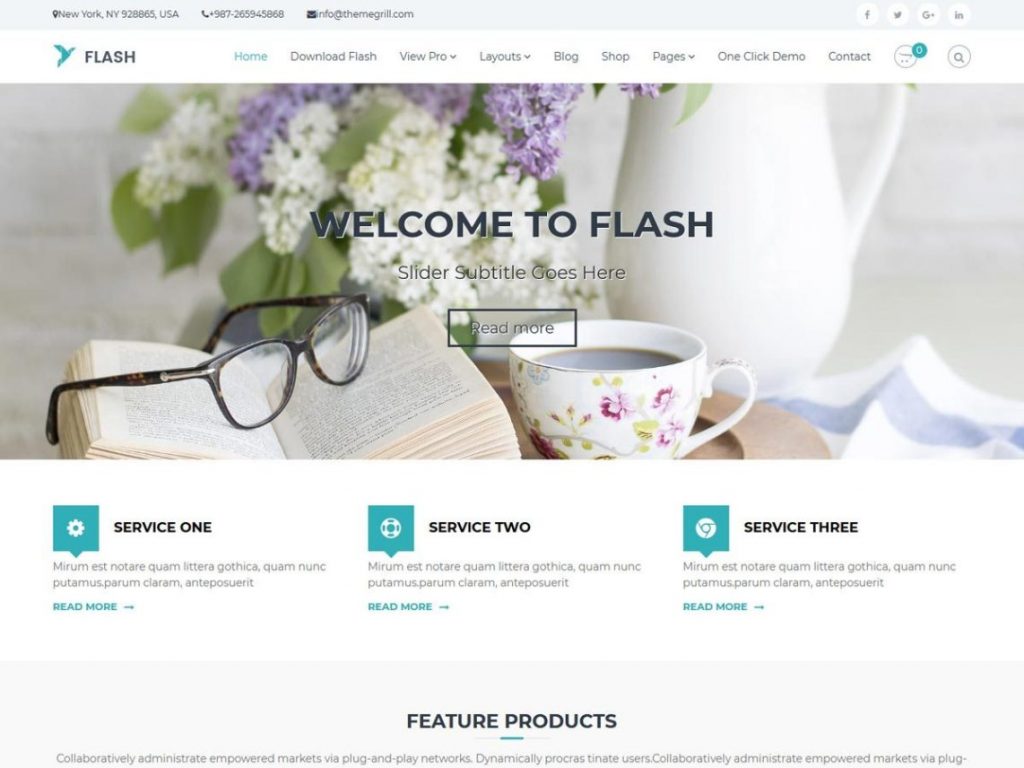 Flash is yet another exciting free eCommerce WordPress theme. It launched in 2018 and has more than 20,000 websites running under its banner and counting. There is a toolkit that comes along with the theme which gives access to more than 12 drag-and-drop widgets to the user. It is WooCommerce compatible which makes it mesmerizing for online store owners. Along with that, there are multiple premium features offered in this theme.
It includes a blog, testimonial, and call-to-action widgets for maximum interaction with website visitors. It does have an animated number counter to show the facts and numbers about your sales, views, and trending products. There are six demos with the free version of this theme which is notable comparing other feature-rich free WooCommerce themes for WordPress in this list. It has many header and site layouts. You can also connect your Instagram with it by using the Instagram slider on your website. With the feature of Google map plugins for WordPress in this theme, you can show your customers where your company is located, this is a very nice feature for the about-us page. It is also 100% responsive which is the feature every website owner wants to have.
05. AccessPress Store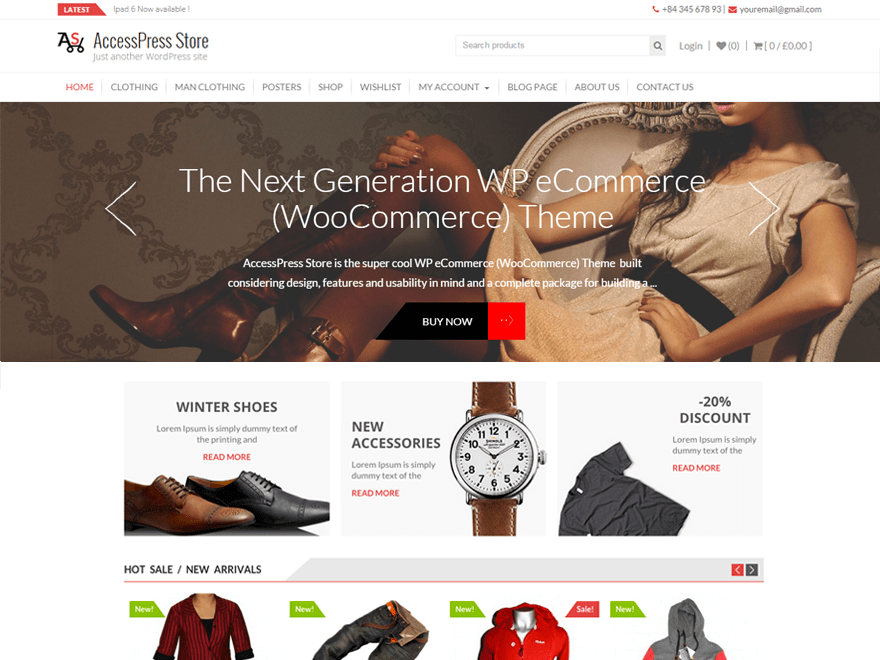 Why count on paid themes when you can easily access some free WooCommerce themes For WordPress? One of them is AccessPress Store. It is a perfect choice for your eCommerce online store if you want a modern and technology-optimized design. It is compatible with many useful WooCommerce Plugins. Its back-end coding is typically well-oriented to give you the best SEO you deserve.
It has exciting animations and decent layouts. You can add your newest products/posts by placing its special block on the homepage. Its preview feature is very much attractive as you can see the changes you made in your theme before you set your site live. A unique feature of "Youtube video Integration" is also included in this fantastic theme's home page. You can configure different colors and backgrounds in it. Also, you can use multiple widgets to make the website look the way you want. Make the best out of your online store with the AccessPress theme today!
06. Hestia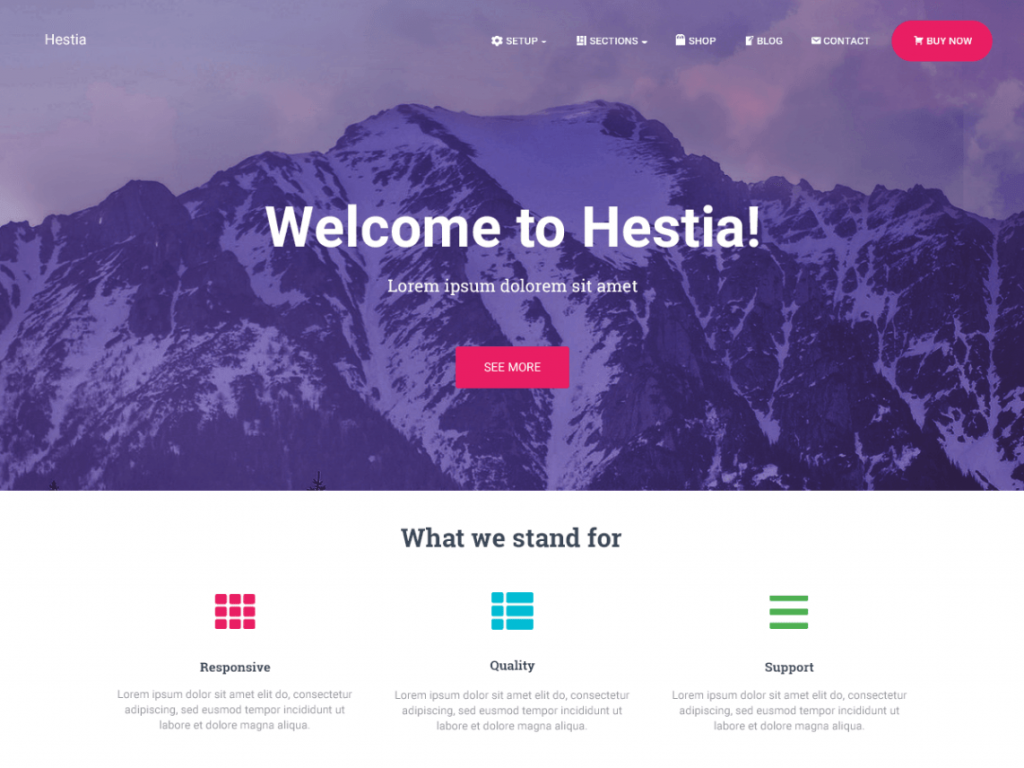 If you want to design a professional business website, Hestia is the ideal theme for you. The authors of this theme specifically designed it for small and creative businesses such as wedding planners, sports and recreation, etc. It is a multipurpose eCommerce theme with highly professional and clean looks. It is compatible with WooCommerce to give relaxation to the customers by easing them with transaction methods.
Hestia has a huge library of features through which you can customize your business website experience. It includes advanced typography and a variety of fonts and icons. You can use them depending on the niche of your business. It comes with Elementor Page builder and Flat Parallax Slider. Its Retina-Ready design captures the mind of the viewer. It is also WPML-supported for multilingual translations and you don't have to use extra translation plugins for WordPress. The theme is highly optimized for speed so that you do not compromise on your SEO for that. With more than 100 thousand installations, it is one of the best choices for your business website.
07. Shopper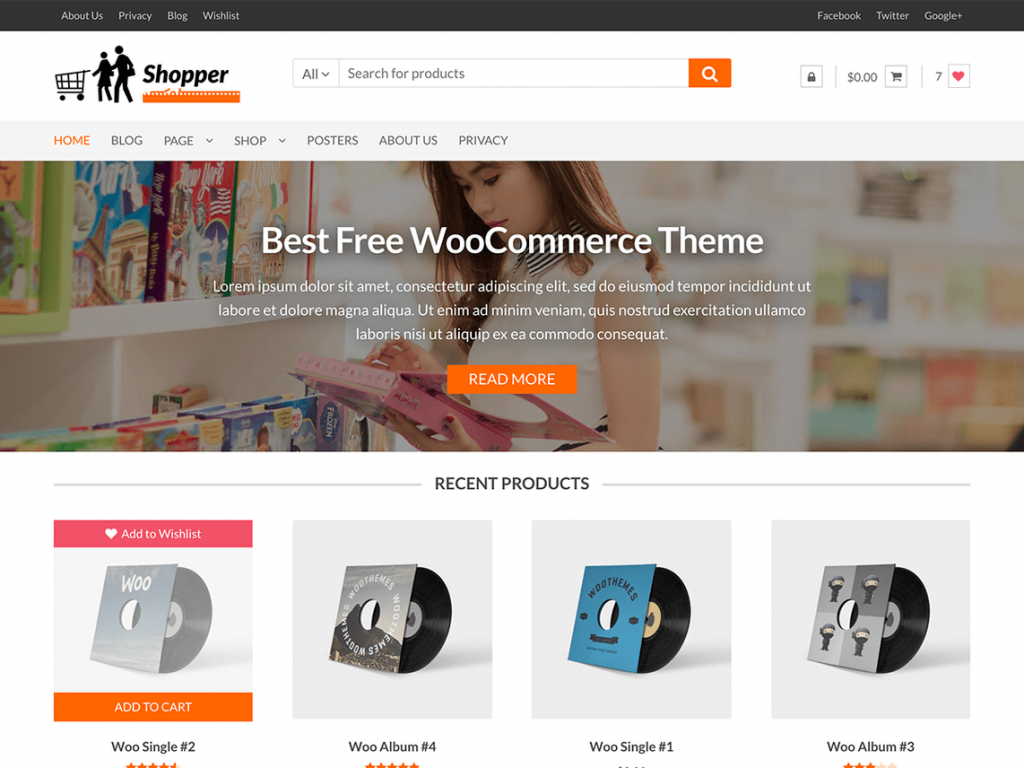 Shopper theme is included in one of the cleanest and creative WordPress themes. Its grid-style home page is unlike the traditional eCommerce homepages which are somewhat in itself modern features. It has a deep WordPress WooCommerce plugin integration, which makes it the ultimate choice for existing shop owners. You can showcase your products in this theme with grace and elegance. WooCommerce and WooCommerce colors are the two plugins you need to start a complete professional website.
Its beautiful and catchy design has many customizable features. One of them is that you can customize your background according to your choice. The theme is written with Valid XHTML + CSS code so it is very less likely that you will ever face a coding problem in it. Its SEO-friendly coding will help you in taking your business to the top. All you need to do is just adjust the website according to your needs by selecting the appropriate widgets, sliders, headers, and backgrounds. It is responsive for almost every device as well as for browsers too. If you are finding for an eCommerce-powered solution for your online web store then this theme can be your first assistant.
08. Zakra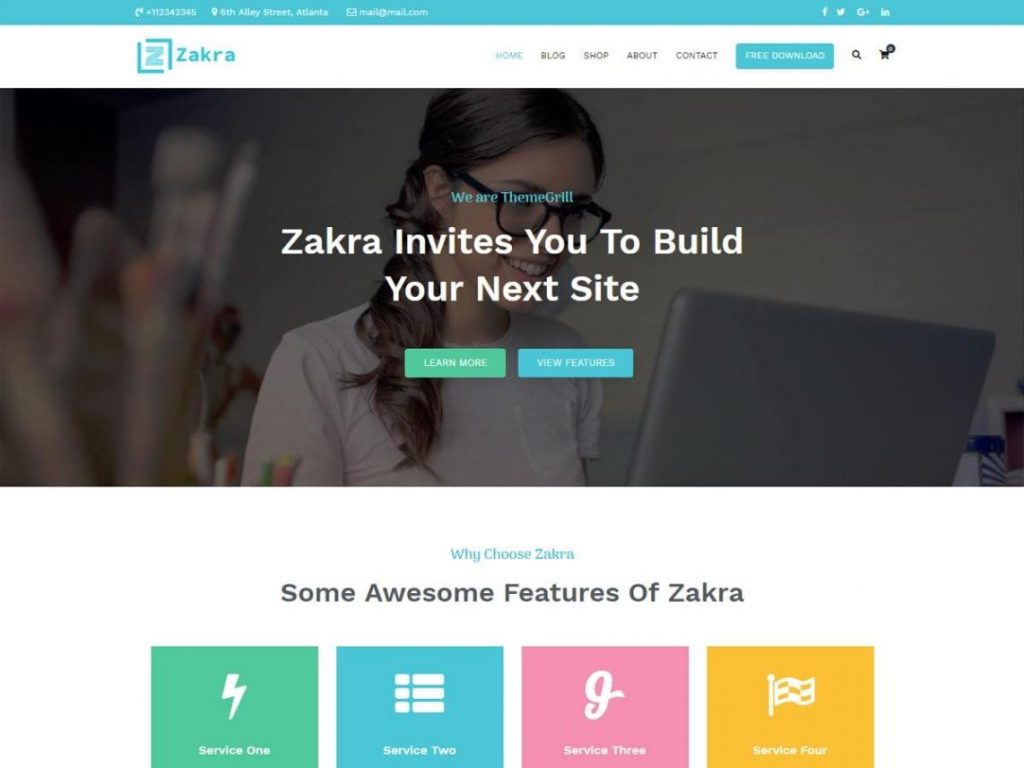 It is a smart and voguish theme. Which is fully supported for WooCommerce. Its modern look is specially designed for active brands. Its super-flexibility is unmatchable. Zakra is well-famous for its lightweight WordPress theme. There are more than 10 demos with it to customize the experience of your choice with ease. It has defined a separate category in free WooCommerce WordPress themes. Moreover, you can use the Gutenberg post editor and Elementor page builder to get your best-designed website.
One smart feature of the Zakra theme is that it is GDPR compliant so it will not store any sensitive data of the users. You can use several widgets for almost every part from the header to the footer for the orientation of your WordPress theme. It is packed with every possible need of an online store such as sections for special sales, best sellers, and new collections. Zakra Shop follows the practices of Search Engine Optimization and gives important content to the search engines to show it up in the rankings. There is also a newsletter subscription form available in this particular theme to keep you connected with your customers by sending them new offers and discounts. It is also a 100% adaptive WooCommerce theme without any responsiveness issues.
09. Online Shop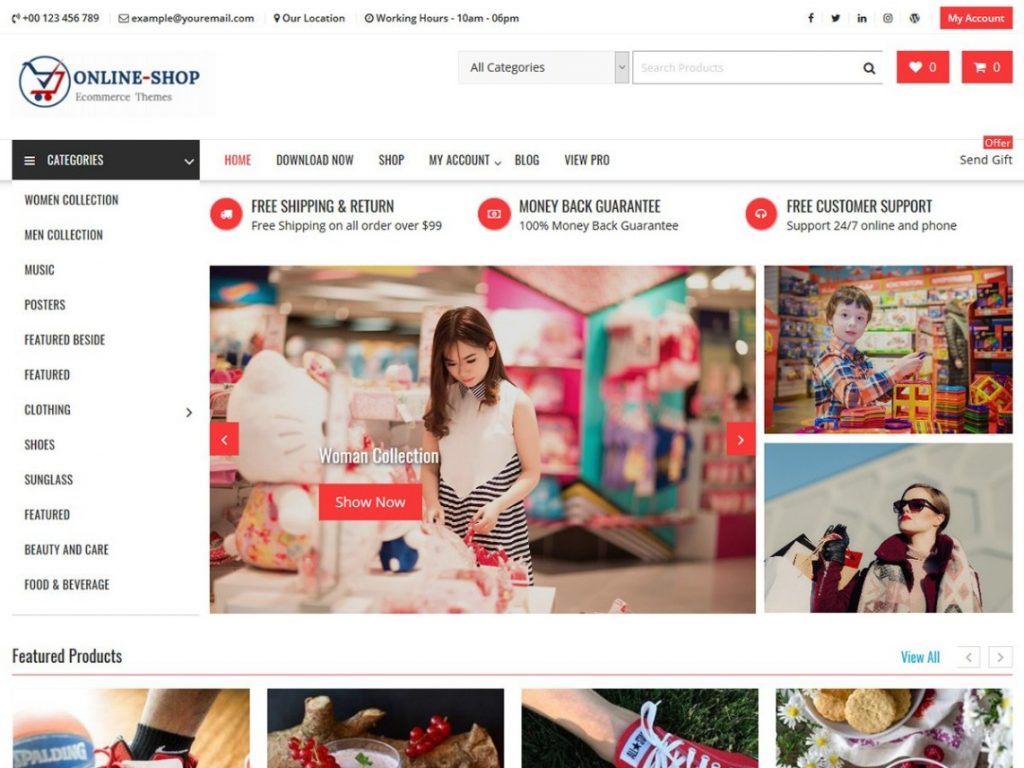 If you are looking for dynamic and robust top themes for WordPress for your business then Online Shop is made for you. The authors designed it with a motive to boost your sales and business. It has several ways to show your gallery to potential buyers. With lightning-loading speed, this theme is seriously exceptional. You can come up every time with a unique and beautiful design by playing with the customization tools provided in this theme.
It has advanced customization features for the header, footer, sidebar, and sliders. You can further edit the copyright options if you want. You can use its featured category and featured post page for your special items. It has many features to explore including advertisement options to increase your public domain. Furthermore, it includes an advanced logo, a sticky menu, and advanced menu options. The features count does not stop here. It also has attractive typography and fonts for you to get the best out of this theme.
10. eCommerce Market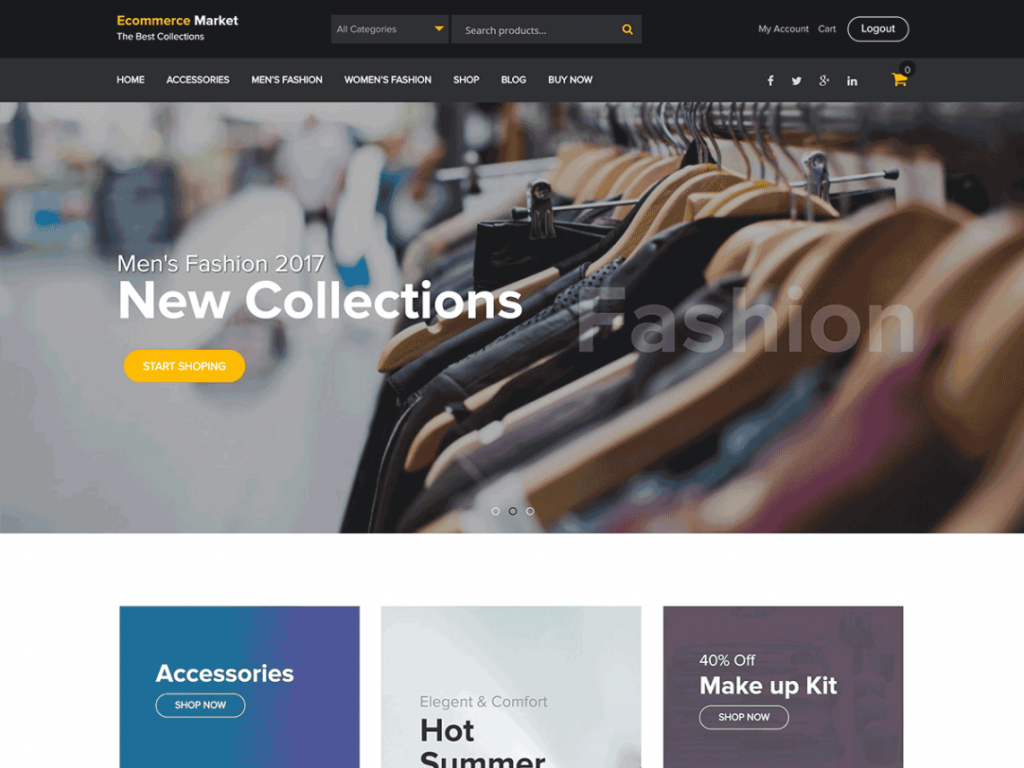 Rigorous theme presents its theme in the list of free WooCommerce themes for WordPress. It is a widget-based theme that is suitable for any type of online marketplace such as mobile market, electronics market, video games market, clothing market, etc. Its navigation is very handy and responsive to every device's screen. It easily gets on the best standards of an eCommerce website. The display screens for the product categories, descriptions, and check-out pages are well-constructed. You can create a multivendor marketplace WordPress using dokan plugin.
Rigorous themes offer many features to choose which include customizer theme options, responsiveness, ultra-fast loading speed, Search Engine Optimization, and much more. It has a beautiful parallax scrolling effect. For the user's best experience, the authors have come up with plenty of powerful options to deliver such as sidebar layouts, background options, custom widgets, etc. There are several color choices from which you can select the best suited for your website. You can import the demo of the theme with just one click!
11. Neve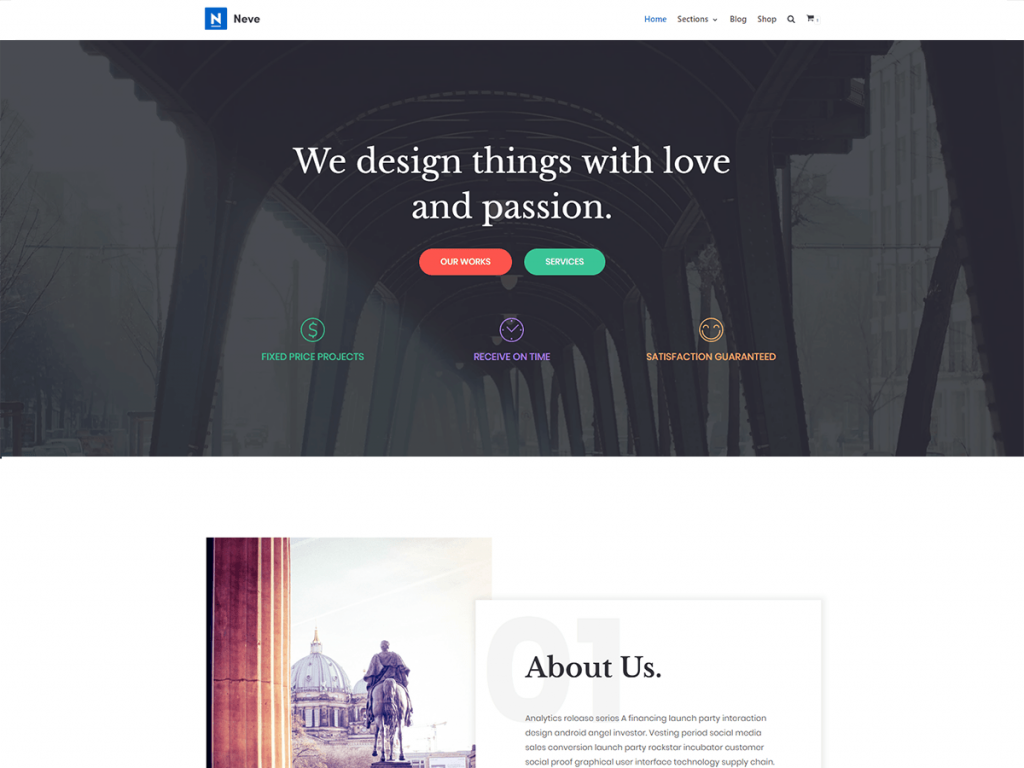 Neve Shop is a brilliant display of clean and robust design. It is a free WooCommerce theme for WordPress that provides a huge number of customizable features to the user. One good thing about the page design is that the theme can work with Elementor and WP Beaver Builder. So the user can build as many useful pages as he wants to. Being highly optimized for online shops, it ranks among the top free WooCommerce themes. Its lightweight makes it a supreme choice for SEO enthusiasts. You can enhance your performance with the best practices for SEO.
This theme will keep you away from responsiveness problems due to high adaptability. This enables customers to buy your products anywhere and anytime. It does include the pricing tables and overlay content blocks. Drag and drop is the only thing you have to do to customize your layouts. The theme comes with parallax and lazy loading effects. There is a shop list view where you can showcase your product along with its description and details. Similarly, you can also enable product ratings to be featured in that to give an idea to the people about your product. Similarly, it also has a shop list view option. Here, the proper description and the details of the products can be presented according to the need. The ratings for the products can also be added along with their images. This can be very convenient for the users as they can know how good your product is before they buy it. It is also a lightweight and fast free WooCommerce theme. So, your customers can have a very quick shopping experience.
12. Bellini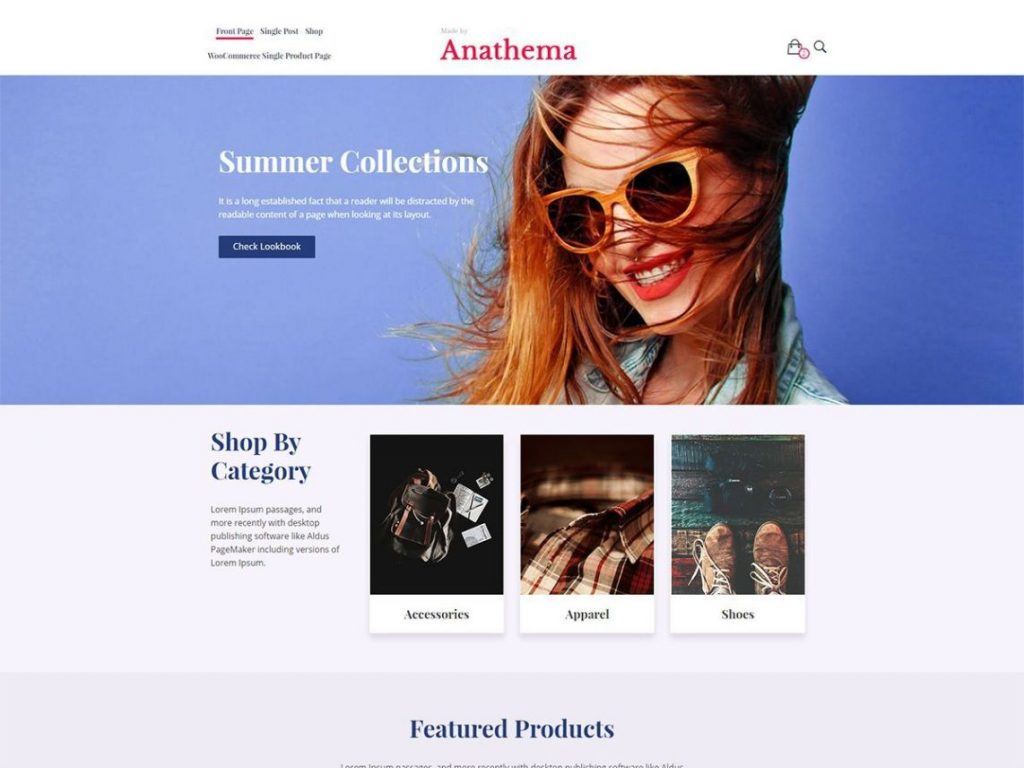 This theme includes perfect layouts of your site constructed by Bootstrap. The developers have designed this theme with SEO compatibility in mind. Hence, this theme is the most perfect if you are looking for an SEO-friendly theme. The theme is mainly comprised of bold image templates and strong typography which is an appealing way of showcasing your items in the store. It is responsive even for small mobile phone screens too.
Bellini also supports Google Fonts, So you can know easily how to change WordPress fonts. You can build your website using the given colors and layouts. Headers and Sliders can be chosen from a variety. There is a space for the logo which you can place to show your brand identity. Bellini is a user0friendly theme that supports many plugins of WordPress such as Google Analytics, Yoast SEO, and Mail Chimp. It also supports Jetpack through which you can guard your website from brute-force attacks and unauthorized logins. In short, this theme is a complete package for an eCommerce store.
13. Spacious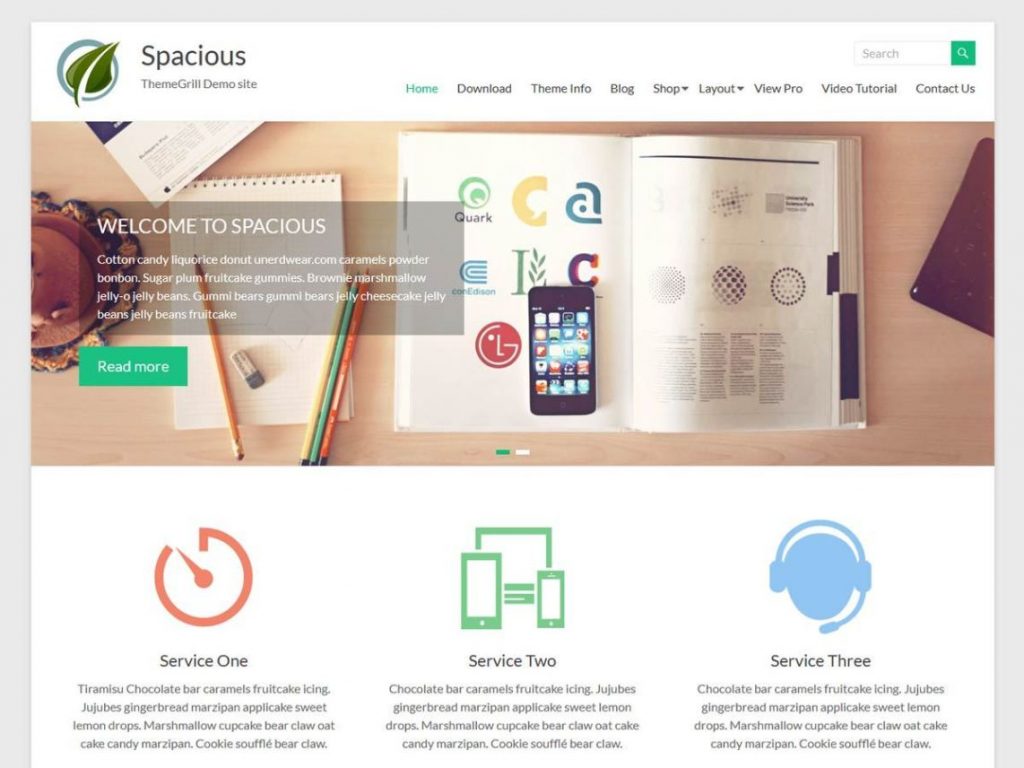 Spacious Store Who hasn't heard of this popular theme? Spacious Store is one of the most demanding free WooCommerce themes for WordPress currently. It is a versatile theme as you can use it for many purposes. Why indulge in the hassle of selecting multiple themes when this theme can be flexible for you? One of its attractive features includes WooCommerce deep integration. You do not need to use your best efforts in setting up your eCommerce website. This particular WooCommerce theme will do the job for you without any problem.
It is the best fit for an online store website because of its clean and captive design. Its flexibility and adaptivity make it easier for the developer to run a perfect eCommerce website and save time. It has a feature through which you can select the categories you want and can add and subtract them by your choice. You can also add a header slider where you can put your best deals and offerings. The web page header design menu includes general options such as home, accessories, and shop. Like every eCommerce website, this theme also has an appealing cart icon where the buyer's selected items will be shown when hovered over it. Isn't it a good theme to start your eCommerce website today?
14. Ample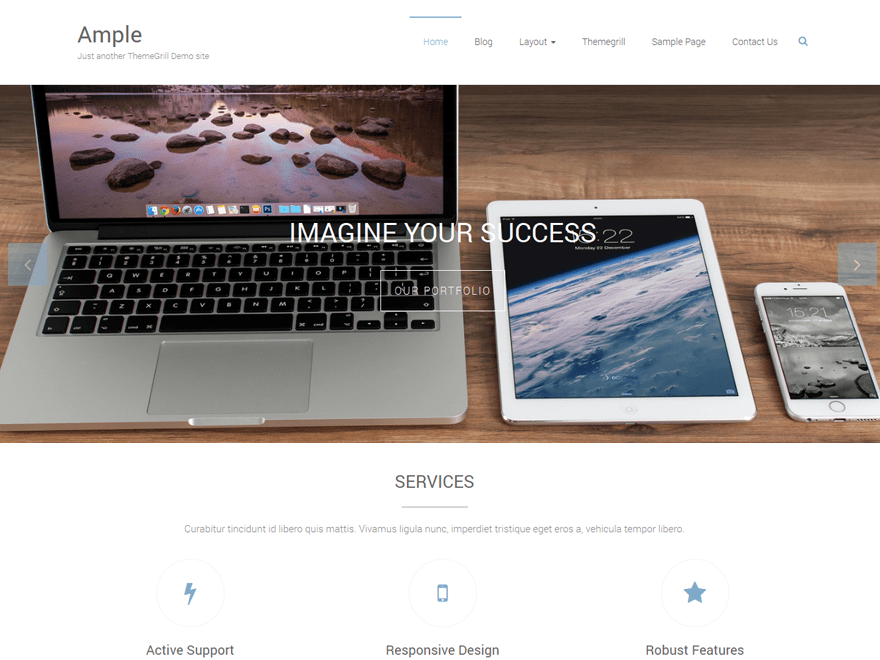 Are you looking for the best quality WordPress theme which is spectacular and lightning-fast? Then Ample is for you. It is a multipurpose theme of WordPress compatible with WooCommerce. The design template of the theme is typically built for professional businesses. The free version of the theme comes with four widgets that you can customize and you can know easily how to add widgets by following some easy steps. However, a pro version can get you more. It does have an option to set your primary color which will be the color of your buttons and menus, etc.
You can set up payment methods with ease, Thanks to WooCommerce compatibility. You can modify your slider and header according to your need. An ample theme also comes with excellent support. It has a support forum to discuss the theme's features and use. Also, you can use its guide to set it up the first time. Custom CSS can be written so that you can change the look of your theme. You can see the changes happening live as you toggle the features with its live customizer. Last but not least, your website is ready to translate into any language when Ample is installed on your WordPress.
15. Make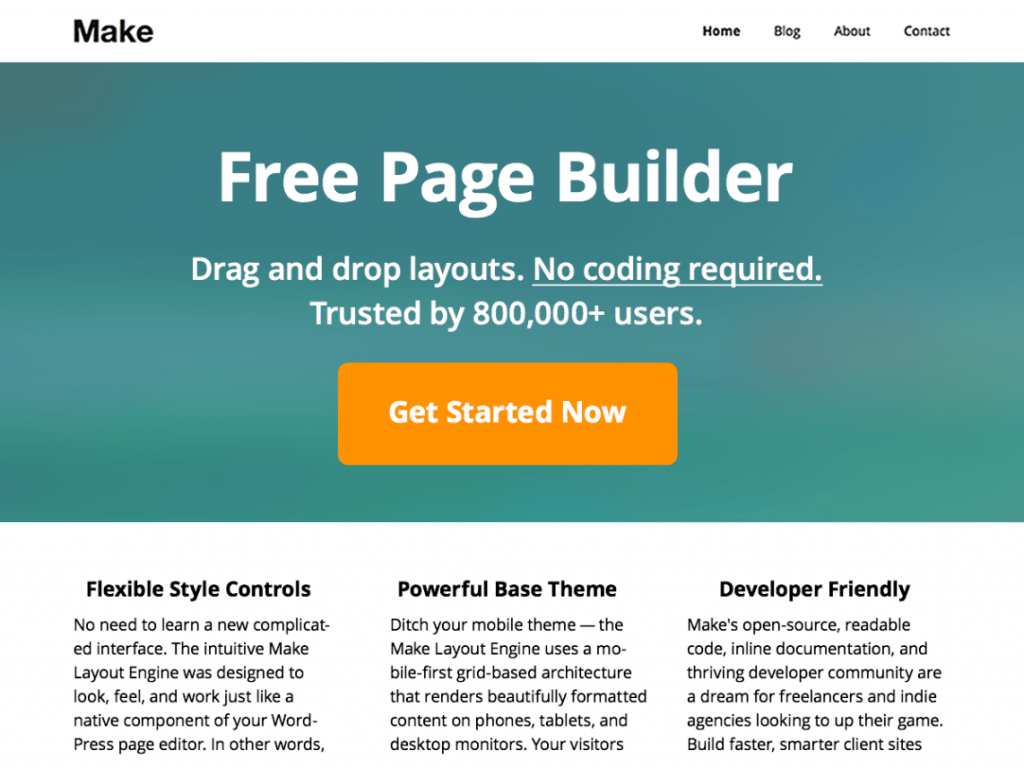 Make sets you free from the hassles of wasting time on managing a website so that give your time to your business. It is an open-source builder theme. You can try it now to find out why over 1 million users have tested it out. There is so much to offer with this beautiful theme. You can design your page layouts in this theme where you can add banners, posts, and your products in it. You can change the writing details size and image sizes as the theme is supported by Adobe Typekit image optimization WordPress.
You can add background images to the pages you build. There are also customization tools available for your online store blog. It is not necessary to know the coding always to run a successful eCommerce website.so No coding is required to use this theme. It has deep integration with WooCommerce plugins. The Retina-ready logo feature assures your brand is on top. Its developer-friendly interface is the reason for it to be famous among the WordPress community. Make also looks beautiful on the mobile screens as there is no problem with adaptivity.
16. eStore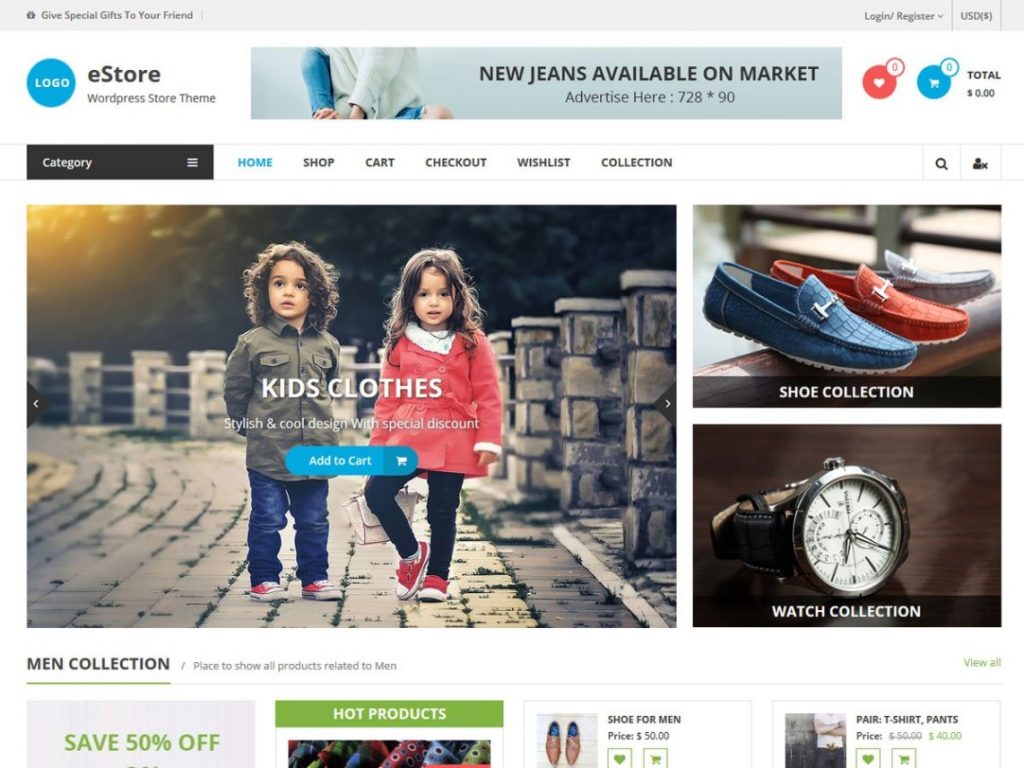 eStore is one of the most demanding free WordPress store themes. Its prominent interface will make the visitors notice every single product of your showcase. The design of the eStore is very handy and user-friendly. There are unlimited colors to use. You can even construct your new header, footer, and home page with the help of a page builder plugin. The theme is well-optimized and responsive for most devices like laptops, tablets, mobile phones, and desktops.
Best premium WordPress theme features will come along with this modern eStore theme. There is a slider for the products in the showcase with smooth and unwrinkled effects. There are more than 12 customizable widgets offered with this free WooCommerce theme to give you the best experience of an eCommerce online store. There is also a blog module that included interacting with your potential customers by adding posts and articles related to your products. The best feature of this theme is that you can quickly preview the product along with its information without redirecting it to the product web page. The theme is also compatible with the WPML plugin to work in multi-languages. You will also get free documentation to help you understand setting up the theme and its features comfortably.
17. TheShop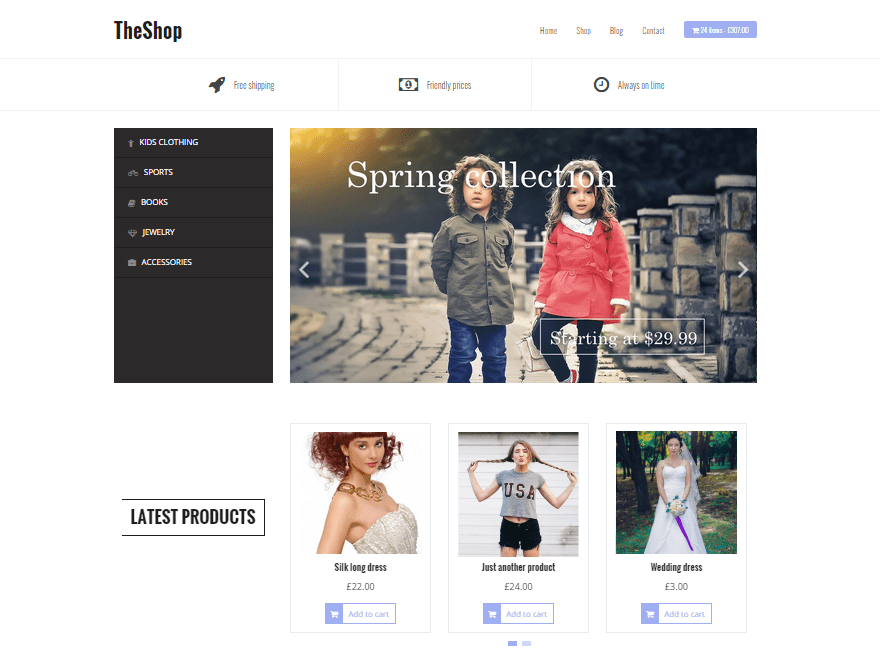 TheShop theme is an easy solution to set up your eCommerce website and make your business online today. All you need to do is watch the tutorials for setting it up for a few minutes and you will learn it comfortably. It mainly focuses on forcing the visitors to pay attention to the beautiful catalog which is the best thing a free eCommerce theme can do. The theme is responsive to every single major screen. It is also responsive to all the browsers tested such as Chrome, Safari, Firefox, etc. This particular theme has very few bugs. It is quite secure which distinguishes it from other themes in the online market and I don't think you need security plugins for WordPress if you install this theme.
It has one of the best support services even for the free version too. You will get time-to-time updates for this theme for bug fixes and other improvements etc. The theme has two sober templates, one for the home page and the other full-width pages. You can also find some blog options in the TheShop theme for a simple blog. It offers many primary colors, a call-to-action features, and much more in the free version. It also includes a feature by which you add ratings and also reviews for your products.
18. Alpha Store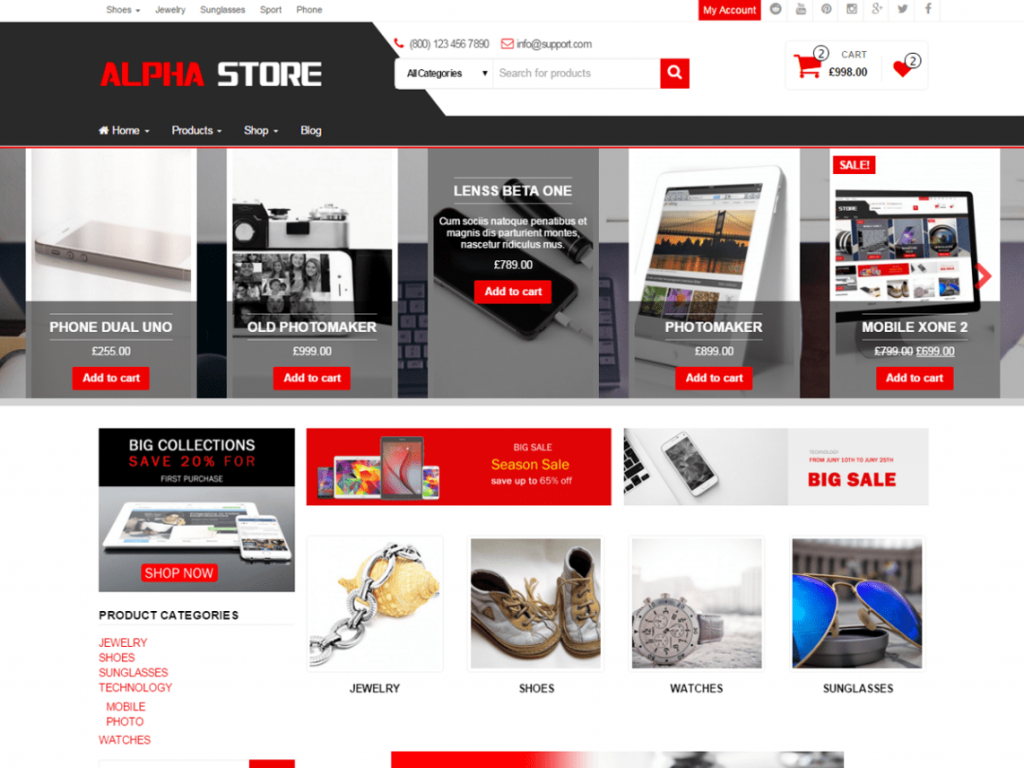 There is another great addition to free WooCommerce themes for WordPress which is Alpha Store. Similar to other themes, it is only compatible with WooCommerce. It is built on Bootstrap and CSS3. There are no responsive issues in the theme and can smoothly adapt to any screen mobile or desktop. It can be used for many eCommerce niches like Fashion, Garments, Electronics, Cosmetics, etc. It has very appealing HTML5 animations. The code is optimized up to SEO standards that can give you a fast page loading speed. You do not have to code anything further, the customizer tools serve this purpose well.
Live customizer helps you to set up the changes quickly in it. It does also include breadcrumbs. Alpha Store theme can work with most of the page builders like Site Origin's page builder or WR page builder to let you create as many homepage styles as you want. It comes with full documentation and tutorials to help you out with problems using the theme. There are two menu positions in it and a search bar which is a key feature for an online store If you need different kinds of the search bar you need to install search plugins in WordPress. Sidebars can either be customized to be left or right-aligned. Think you should give it a go? Get Alpha Store now!
19. Vogue

With more than 10,000 installations, Vogue is another exciting WordPress WooCommerce theme available for free. It is very famous due to its simple design. It can be used for an eCommerce website as well as for multipurpose websites too. The layout is clean and robust which is good to be employed by any business. The theme has all the required abilities to be responsive and customizable. Some of its features of it are mentioned here. You can easily customize the product page WooCommerce if you are using this theme.
By using Vogue, you can build multiple types of websites such as a blog, professional business site, or portfolio. You can connect your social media links to it. It has the layout for footers and blogs. It can work with any top page builder such as Elementor, Divi, SiteOrigin, etc to make unlimited pages for you. It also has a vast library of fonts and colors to give the user many choices to select from. The theme is Search Engine Optimized so your worries would be less about rankings after installation of this theme.
20. MaxStore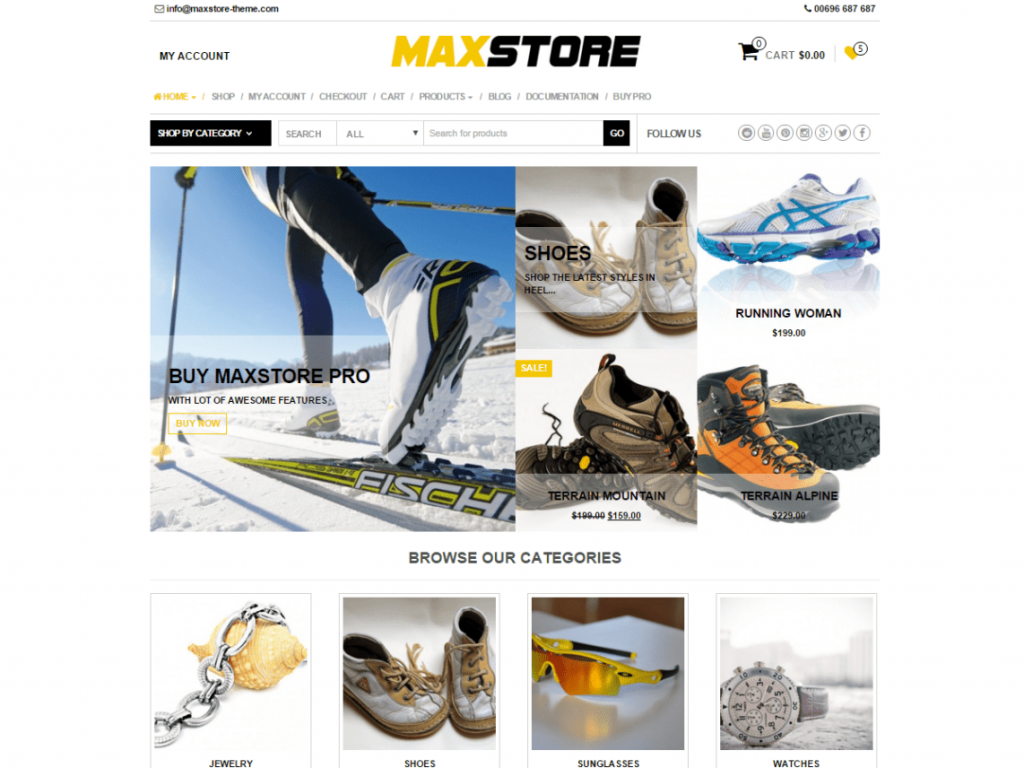 If you want to try the theme with maximum features then give MaxStore a try. Its almost five-star review says all about the theme specifications. It is responsive to most screen types and sizes. It has got what is required to run a complete online store. Arguably. it is one of the best free WordPress eCommerce themes ever developed. The theme has full compatibility with eCommerce so you just have to set up the plugin and start selling!
Unlike other free WooCommerce themes for WordPress, the MaxStore theme works well on SEO principles. The code is optimized and simple which supports healthy SEO and its plugins (such as Yoast SEO, You can easily compare Rank Math vs Yoast plugins). You do not need to learn any coding skills as theme coding fulfills every purpose. There is also an option of a wish list where the buyers can put items to buy later. Full Documentation is also available for this theme but as the theme is really simple so you would hardly need it. There are left and right sidebars which you can use both at the same time or disable anyone. The features list does not stop here, there is also a lot to explore in the pro version too.
21. Clean Commerce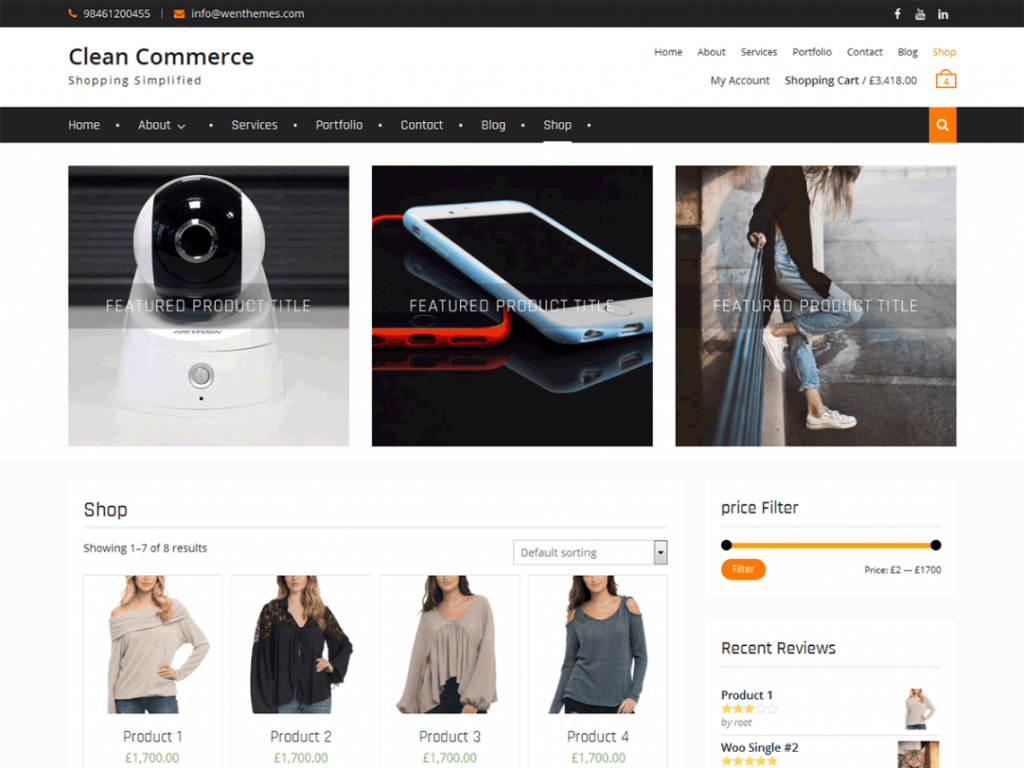 Clean Commerce, as the name implies is the cleanest among all free WordPress eCommerce themes. Its product-focused and bright design is what makes it different from the others. It is freshly developed with a few thousand installations and counting. It gives you high flexibility with different stunning features. Having WooCommerce compatibility gives it the qualifying badge to be one of the best eCommerce themes to use. You can customize your homepage and other pages with ease in this theme.
The theme has multiple options to select from in most of the features in the free version. It comes with 4 custom widgets for the front page. It does also have widgets for the footer You can add payment option icons in the footer if you want. The theme also includes a featured carousel. Its responsive design makes it perfect to be fitted in every screen size without compromising the image and text quality. The support is super friendly and equipped with all the necessary skills to solve your problems regarding the theme.
22. eCommerce Gem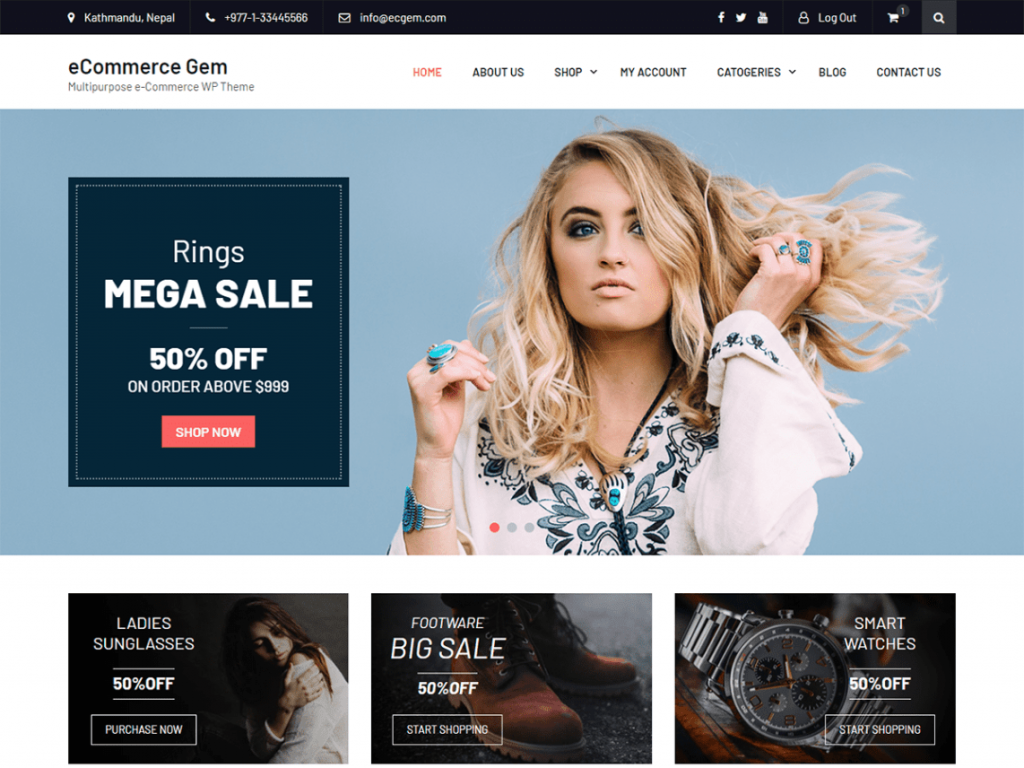 eCommerce Gem is one of the top free WooCommerce themes for WordPress to start your online eCommerce website in a short time. It is a fully flexible theme that can be used for any store type including sports, shoes, books, cosmetics, etc. Its design is robust and perfect for attracting visitors to the shown products. It does also have custom widgets for the advertisement with the help of WordPress marketing plugins and is compatible with WooCommerce. Using this theme will give users a premium experience you have never felt before.
There is a huge library of features in this theme which includes a beautiful slider with full width where a featured image can be placed. Also, there is a Latest post carousel to keep your customers updated with your new launches. It does also have a sticky sidebar. The layout is responsive for major desktops and mobile too. It has multiple color options to choose from and modify them accordingly. The theme is well optimized for the big search engines to show the website on top rankings.
23. FreeStore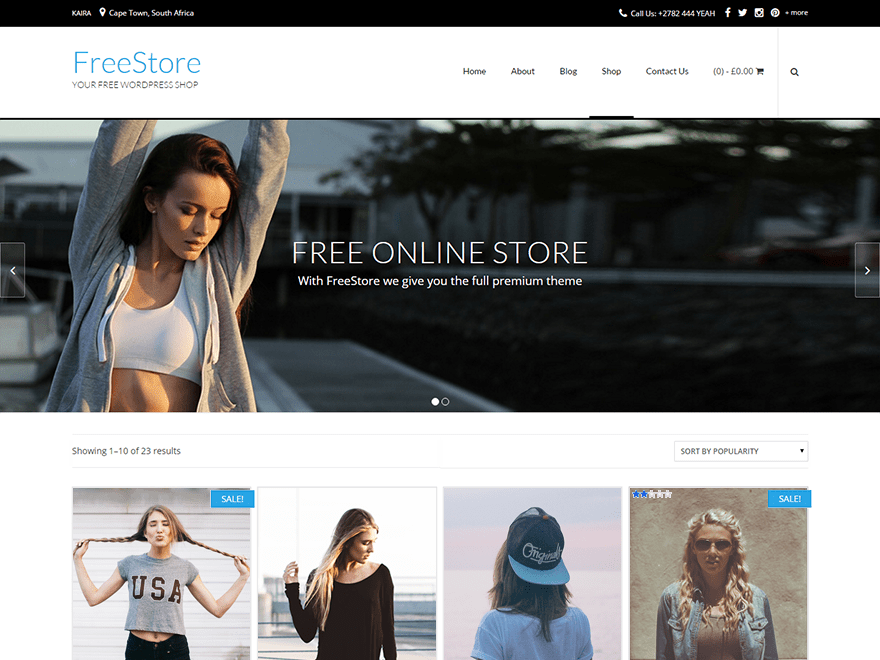 If you want to build your whole eCommerce store for FREE then this theme is specially designed for you. The theme authors have put a lot of effort into building its detailed layouts. It is a WooCommerce integrated theme with lots of exciting features to offer with its free version. It also supports many essential plugins for WordPress to modify the user's experience as per his or her choice. Its fully responsive design can load on any mobile or desktop screen.
The FreeStore comes with many useful features such as multiple layouts which include boxed or full-width site layouts and two blog layouts. There are social media icons to make your social media presence on your website. It has a vast library of colors and fonts to get a unique style for your theme. The theme has an ideal integration with Site Origin's easy-to-use (drag and drop) Page Builder. It does also have a live customizer for the website to track the changes in real-time. The theme also comes with a free support feature from the theme developers.
24. StoreOne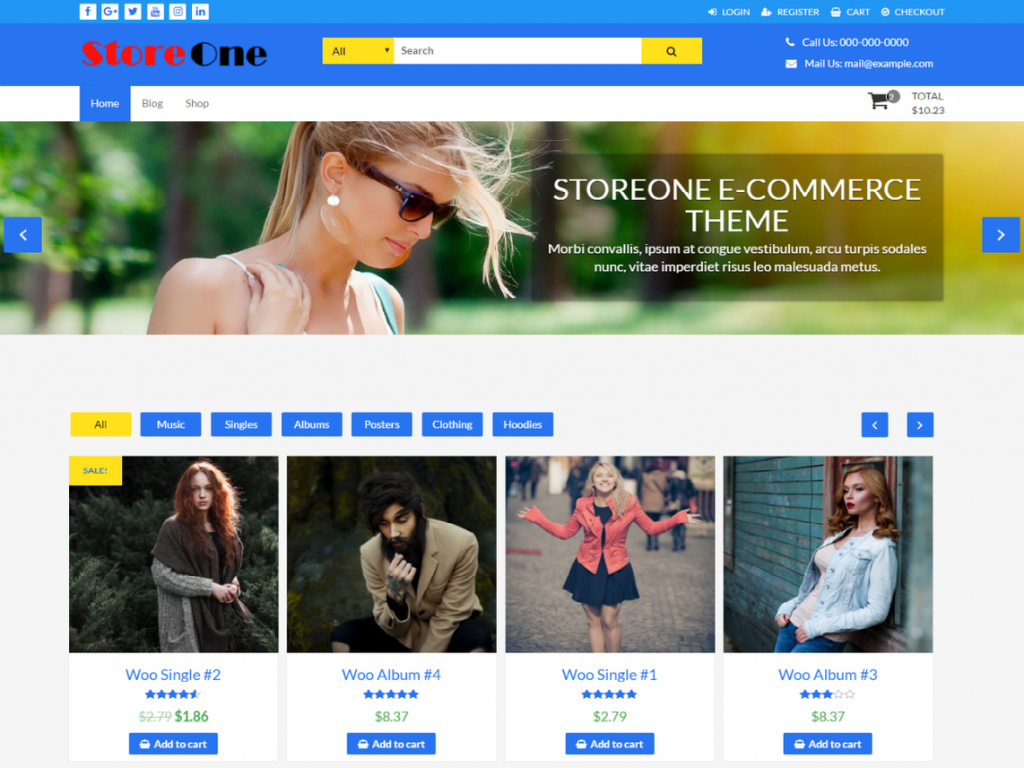 StoreOne is a responsive, SEO-friendly, and most importantly a free WooCommerce theme for WordPress. It is a multipurpose theme developed using Bootstrap. It can be used for small businesses, stores, and freelancers. The theme is good from the security point of view and lets you build a very creative eCommerce website. It has lightweight and therefore takes no long loading time. The live preview feature enables you to monitor the changes you make in real-time.
It has beautiful designs for the icons, an exclusive sidebar, and home page options. It allows you to add your custom logo to the website and you can take ideas from how to upload a logo if you need. It has idea layout options for salons or spas. This ultra-responsive theme fits any size of the screen. There is also a way to connect your social media with eye-catching icons. There are multiple custom widgets to get the most out of this free WooCommerce theme. It also includes a wonderful slider to get the attention of visitors at first sight.
25. Sporta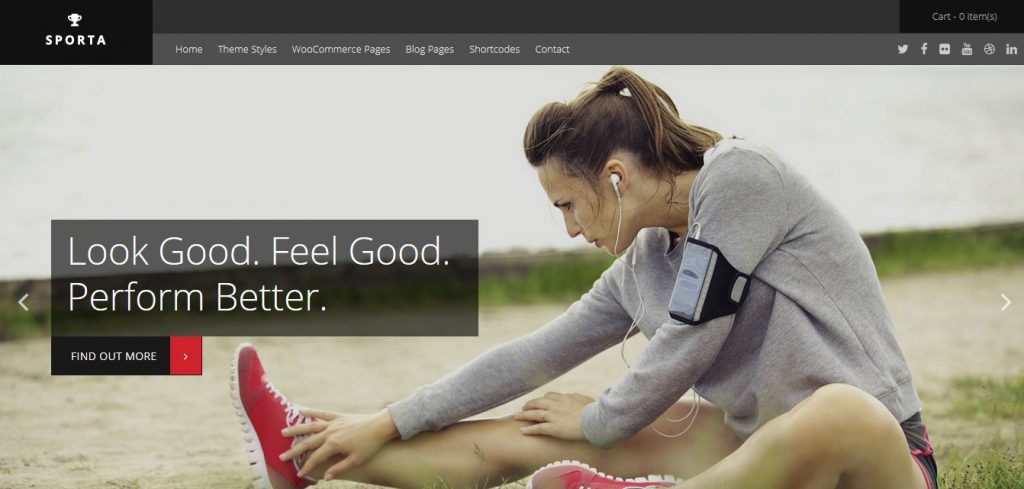 Sporta lets you create the most powerful sports eCommerce store. It has decent and modern layouts to showcase your sports products uniquely. Having an easy installation feature and supported by the WooCommerce plugin, it can also be used for other online store types. Unlike other common themes, it comes with unlimited color options and clean templates. The theme is well maintained up to WordPress standards. The theme is fully translatable to a completely different language.
The WordPress themes for sports come with an XML sample content file to look just exactly like the demo. You can also play with the Google fonts in the back-end to get your website a customized look. It is supported by almost every known browser for a better presentation of your content. The back-end script is written very consciously to make it SEO-friendly to get you more scores in Google rankings. Also, this theme will give you updates and bug fixes for a lifetime which makes it constantly improves the theme in the WooCommerce industry.
26. Best Commerce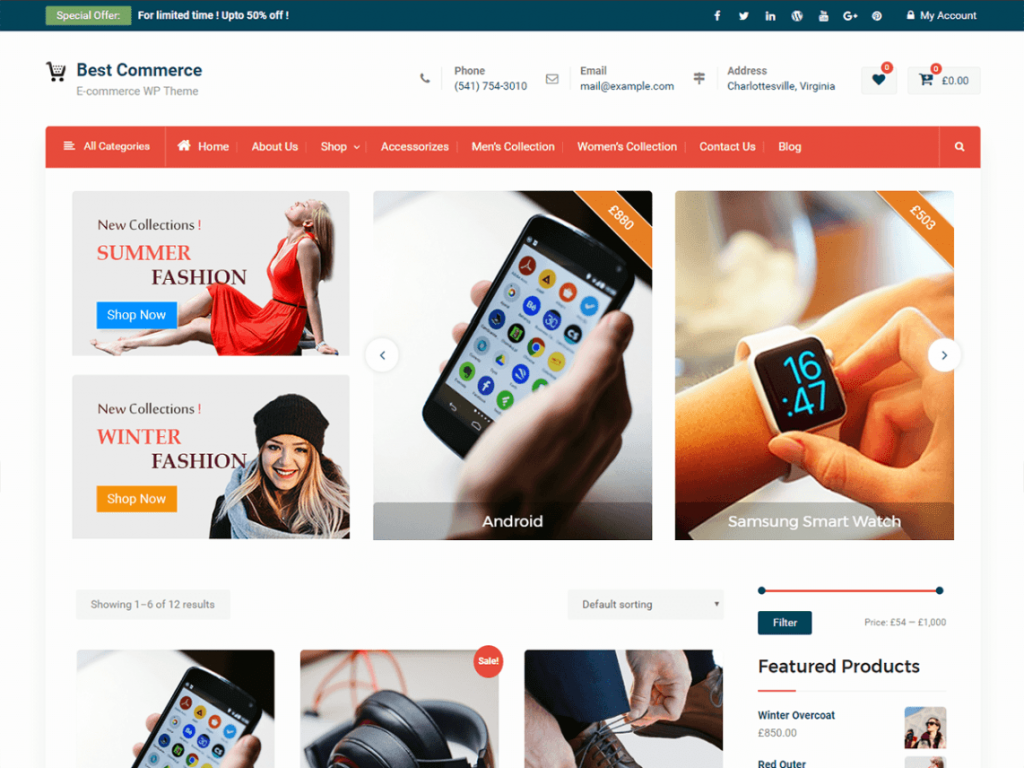 It is one of the best free WooCommerce themes for WordPress available. It is nice and easy-to-use features that give you the authority to run a full-fledged online store. The design is so responsive that you can engage with your customers even on their mobile phones and tablet without the hassle of scrolling as it has infinite scroll for WordPress. It comes with the latest WooCommerce and WordPress plugin compatibility. Its stylish and captivating design is well suited to be adopted as an eCommerce store theme.
It has many useful options such as custom menus, custom logo settings, pagination options, etc. Live previews are available for the changes you make. It is integrated with the Gutenberg Elementor plugin to give you an intuitive feel through which you can control the appearance of your theme. There are also widgets available for the footer for better customization. You can also edit the logo and title settings according to your choice. It does also include a wish list option in which the buyers can add items to purchase in near future.
27. Store Villa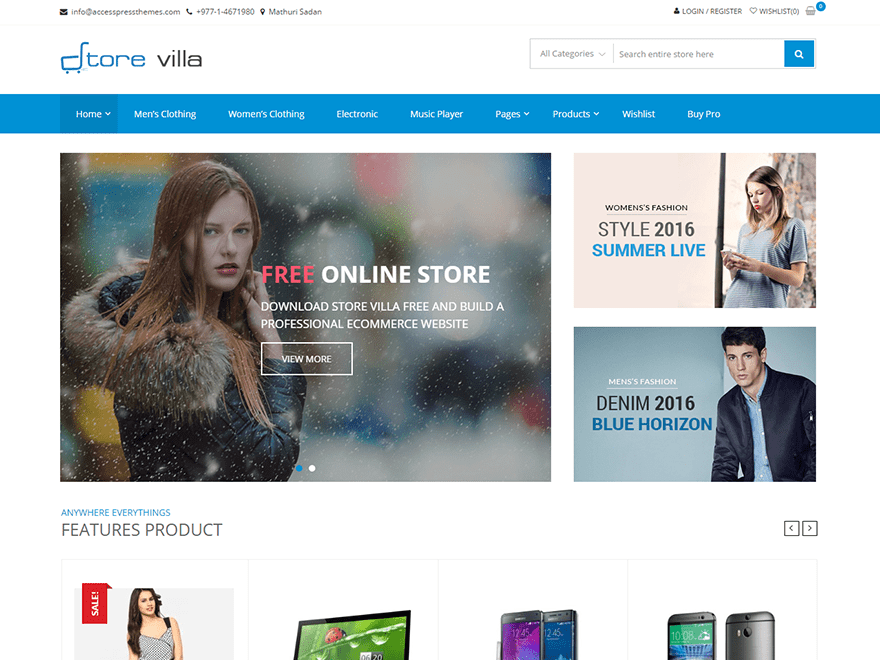 StoreVilla is a free WordPress theme for eCommerce purposes. Its code is SEO optimized to help you reach your desired rankings in Google and other search engines and you can create a sitemap for WordPress to index your page quickly in Google search results. It is compatible with WooCommerce and comes with more than 10 custom widgets to make it completely versatile. So you can run your WooCommerce plugins in this theme smoothly to make a happy customer community for your business. It has 2 archive layouts, one section for the testimonials placement, and proper navigation for each category.
Its advanced search option assesses the customers to find their required items in each category. You can add as many sliders in this theme as you like and can modify them accordingly. You can also configure the background to give it a nice and decent look. Its homepage is user-friendly and can even be made more flexible by changing its settings. There are 4-page layouts including No sidebar, right-sidebar, left-sidebar, and both sidebars. Its fast loading time will make the customers come again and again to your website. The theme is also translation ready. What else do you need to make a perfect eCommerce website?
28. Tyche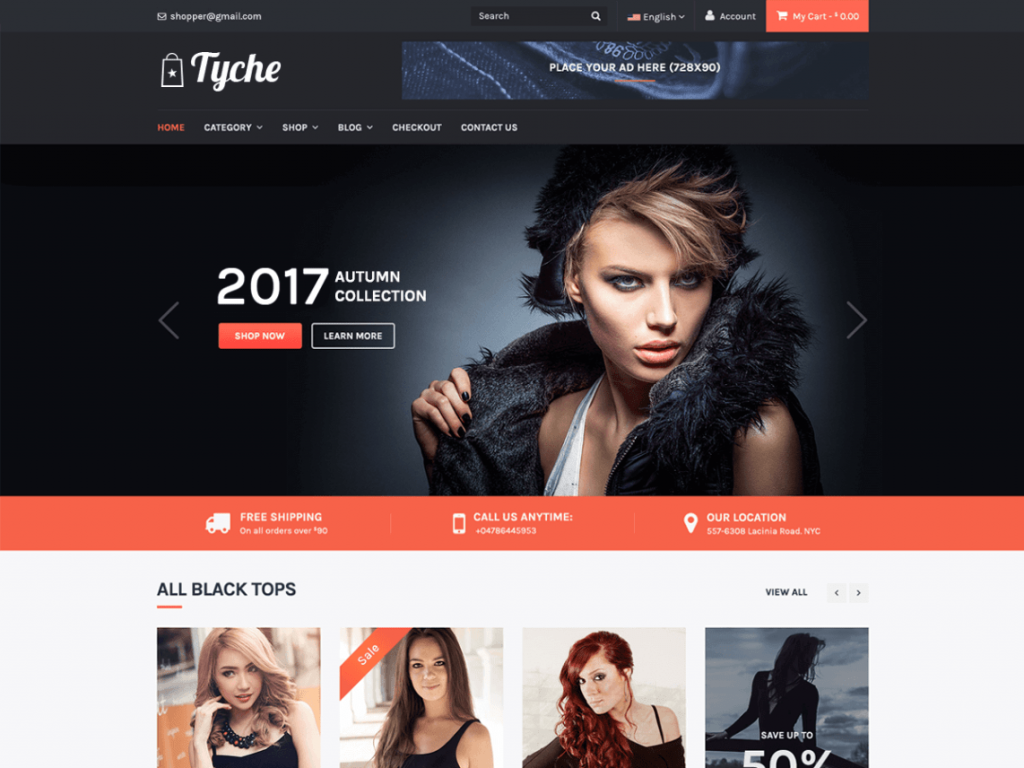 It is another masterpiece included in our list of free WooCommerce themes for WordPress. Tyche is stylish and sophisticated, compatible with the WooCommerce plugin to let you create your free eCommerce web store. There are different ways in this theme through which you can display your shop items to your customers. It includes an aesthetic slider on the homepage for your hot deals in every category. The theme also features social media icons and multiple designs of headers.
You can also upload a custom logo like most of the themes and you can easily customize icons according to your will. It also lets you add additional CSS for more modification. Tyche has a very elegant checkout page and an eye-catching blog layout too. You will get sharp images, text, and bright colors which will give the user a premium feel. The theme is built with WordPress Live Customizer. It is an ideal theme for beginners because of the user-friendly and simple interface so that they can set up their online store comfortably. Contact forms and Google Maps are integrated along with this theme.
29. Shophistic Lite
With thousands of downloads, this theme is another great addition to free WooCommerce themes, it has a grid homepage view with a clean and beautiful design. If you want a free theme that is well developed for an online store then you do not have to look any further. Its stunning features will fulfill all the needs to run a successful online store. It has CSS animations, SEO-optimized code, and WooCommerce integration.
It is mobile friendly WordPress themes and desktop-friendly equally so your website is accessible anywhere. It has very easy customizable features including WordPress custom menus, social icons, etc. It also allows translating the whole theme into any language as it is WPML supported. It also includes a blog that has a very mesmerizing layout. The items can be categorized and filtered by their price. The users can also comment through which other users can get help. There is also complete documentation free with this theme for assistance if you get stuck in any configuring step.
30. XClean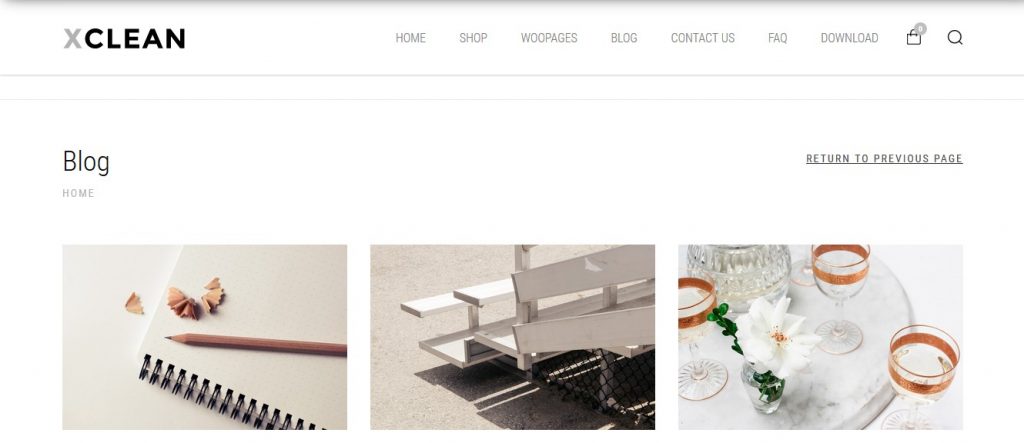 With its modern and fresh-faced look, it is a beautiful inclusion in the list of free WooCommerce themes for WordPress. There are several ways to present your products in this theme. Supported by the WooCommerce gallery plugins for WordPress, with the help of this theme, one can create an excellent online store of any type such as photography, technology, fashion, cosmetics, etc. 
You can showcase the content by using a slideshow. There are also spaces for big featured images to get visitors' attention. It has four blog layouts to choose from. There is also a feature that allows you to build an interactive contact page and contact form on the sidebar. Create your social media connections by adding these icons to the theme with just a few clicks. Its responsiveness is good for mobile and tablets as well.
31. Kakina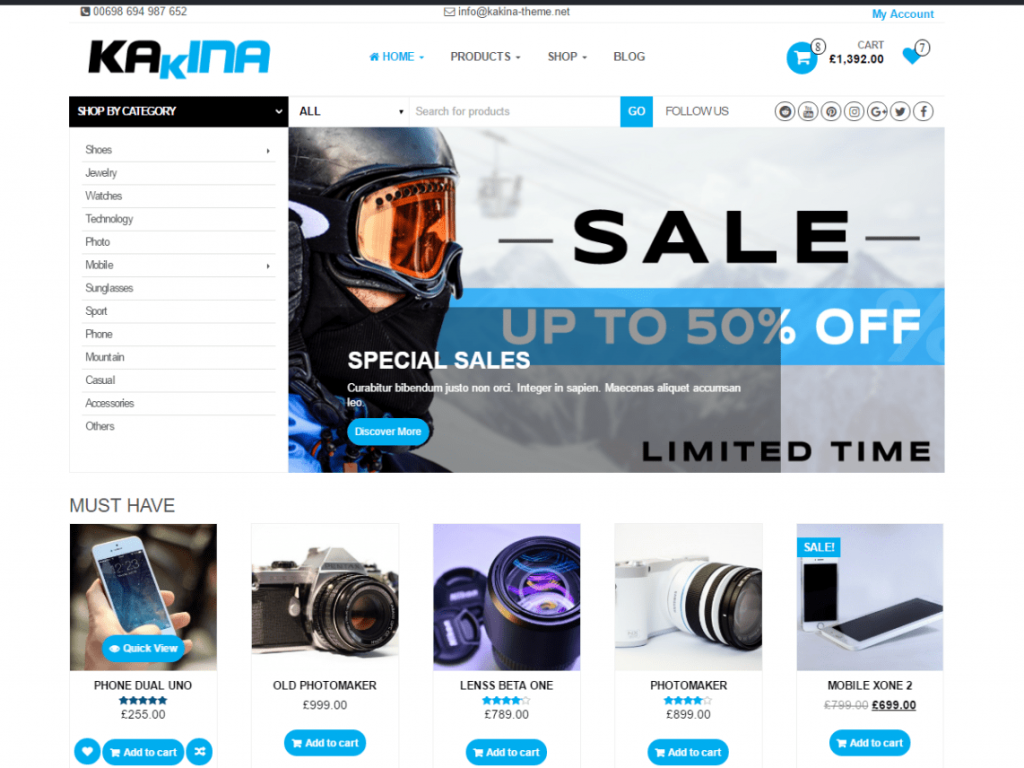 Kakina is a free WooCommerce theme. The theme is ideal for the fashion industry which includes glasses, shoes, cosmetics, and luxury bags. The theme supports the best WooCommerce SEO plugin which includes comparing the products and wish lists. It has an intuitive control panel for live customization. There are lots of pre-defined parameters to help you modify the features with ease. The theme is built with CSS3 and Bootstrap to give you the best experience. The theme is also translation-ready, and easy to be translated into any language.
It comes with a wonderful demo to help you set up things within minutes. This free theme is perfectly optimized for Search Engines so that you do not compromise on your search rankings. It has a huge support domain on every aspect of the theme to assist the users' problems. You can also customize the background of the theme. The homepage style is full-width which gives it a professional look. The theme also has proper documentation and tutorials to get the most out of it.
32. TopShop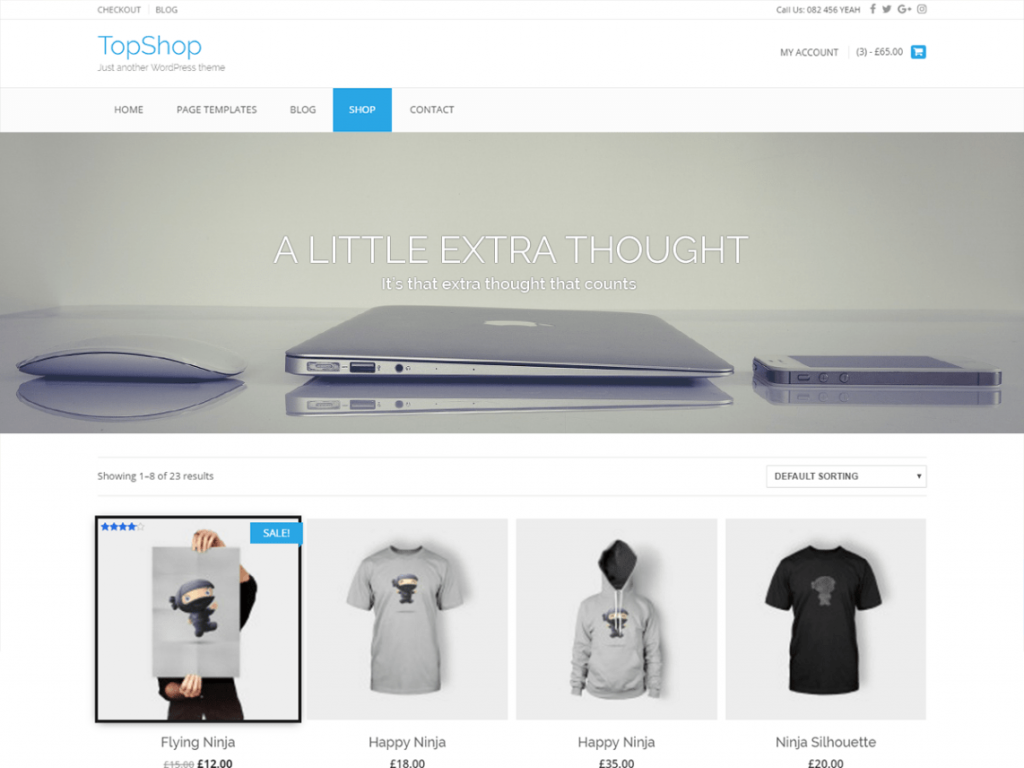 This theme comes with many wonderful tools to make a perfect eCommerce website. It is good for beginners as well as for professional developers. TopShop is flexible for any type of website from a blog to an online store and has an excellent support service to serve you. Its WooCommerce-ready design makes it a popular online store theme. It resizes itself to get the best display on every screen. The theme has two different layouts: box and full width.
This theme is so much easy to use – with its drag-and-drop page builder as it is integrated with Site Origin's page builder. It has many footers and blog layouts. You can add unlimited colors to your theme for the desired experience and add WooCommerce color swatches if you want. It also has amazing slider options for your homepage and inner pages. You can also change the fonts and navigation options. It is a good choice to start your eCommerce website on this theme.
33. E-Shop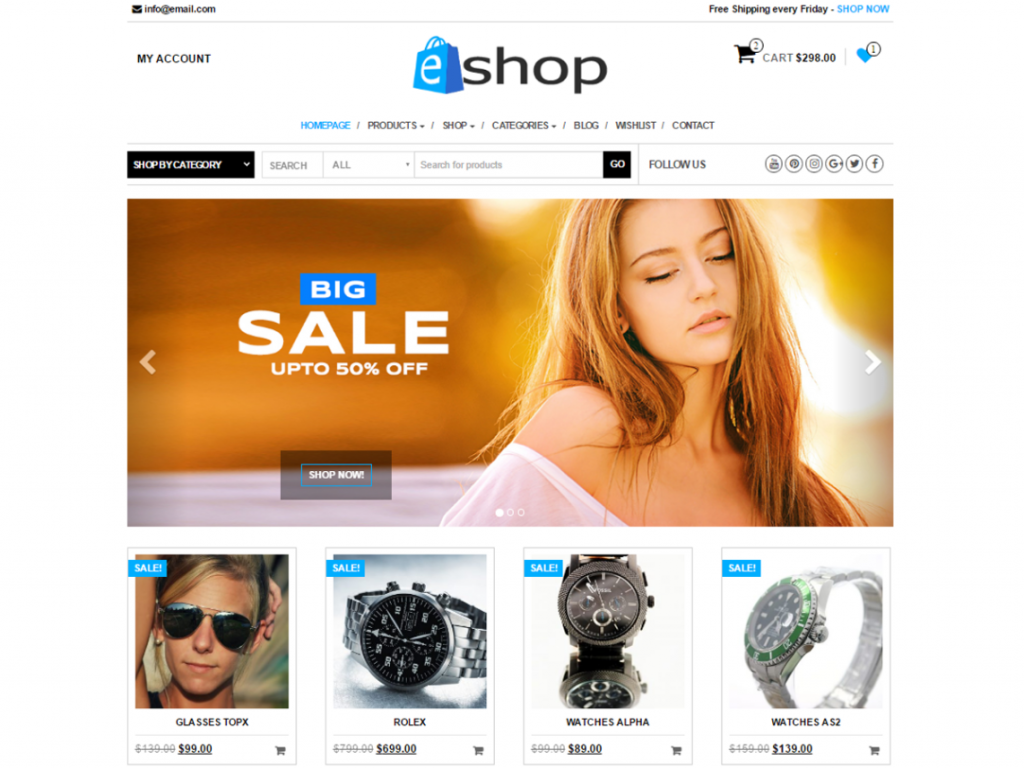 An online store website theme should focus on attracting visitors to the product gallery whether the product is virtual or physical. E-shop serves this purpose well for the eCommerce market. It is a multipurpose free WooCommerce integrated theme for WordPress. Its flat design is beautiful and clean for any online shop. It is highly responsive for tablets and mobile phones too so that customers can reach out to you without getting out of their comfort.
The theme code is well-written keeping the standards of UX. It does also offer very friendly support. It is free but still, it has premium-like features which are needed to make a full-fledged online store. It has a variety of sliders which include full-page and carousel sliders. You can also put your contact info on the top of the page in the header. The footer comes with a subscription form and you can add a membership plugin in WordPress. The theme introduces many additional features to you to add a wish list page, sidebars on either side of the page, and much more. This theme is best for beginners who are new to the WordPress community as it gives access to most of the customizable features with ease,
34. Trusted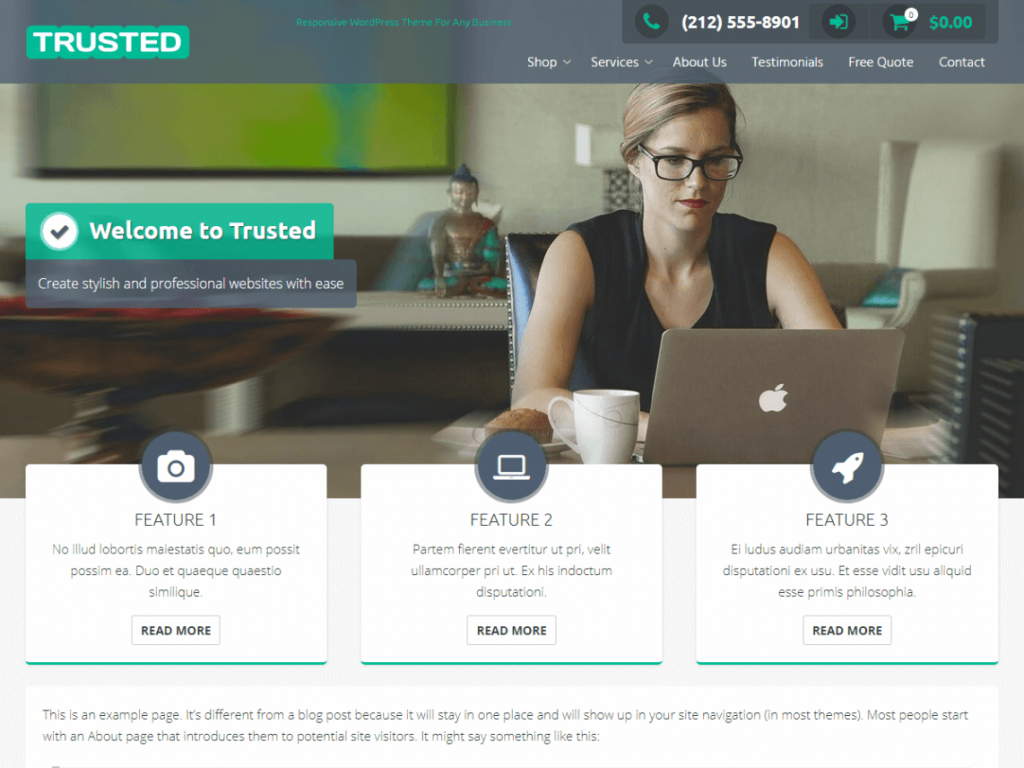 With thousands of downloads, this theme is one of the most popular WooCommerce-free themes. It may be used for multiple purposes such as to run an agency or business and you can easily start your career with this corporate theme for WordPress. Most importantly, its WooCommerce-supported feature allows you to run a successful eCommerce store. The changes can be previewed in real time so that you can change the settings of the theme live. The colors are eye-catching and modifiable. The theme's header has a dark and light style. There is 3 distinct features section to set with images and links.
There are stylish tabs to display the items in the Trusted theme. It has a call-to-action panel for maximum engagement with your customers. It also has a Blank Canvas page template which can be very good when used with different page builders. It is one of the best themes for running blogs as well because it has many useful blog features which allow you to display your desired content. There are more than nine widget areas and four sidebar designs which makes it a fully customizable theme. It has a footer that supports social media icons.
35. Sale Junction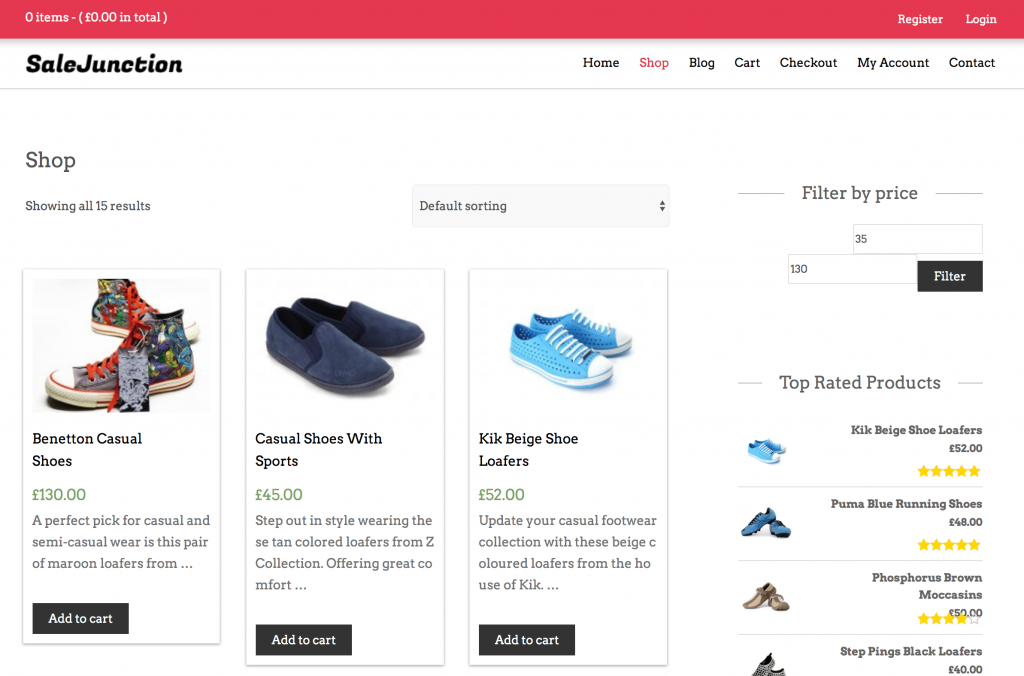 Sale Junction is another shining star in the list of free WooCommerce themes for WordPress. You may check its beautiful demo to know how it looks. The effort and creativity of the authors are depicted in the theme. They have made a masterpiece. It is compatible with WooCommerce with the plugin so you already have got what it needs to be a successful online store already! It offers a method to checkout from PayPal. You can take help from any PayPal plugin for WooCommerce.
Talking about its features, its high-quality images of the slider will make you feel using a paid theme. The slider can feature up to five images to prominently show them. There is a sorting tab on top of various categories. You can navigate and view products with ease. It has a unique blog layout. Social media icons and contact forms can be added for better connections with customers. The design and typography are specifically built to increase sales conversion. There are 3 columns on the homepage for your services. It has many templates for multiple purposes such as for login page, blog page, and contact page.
36. Customify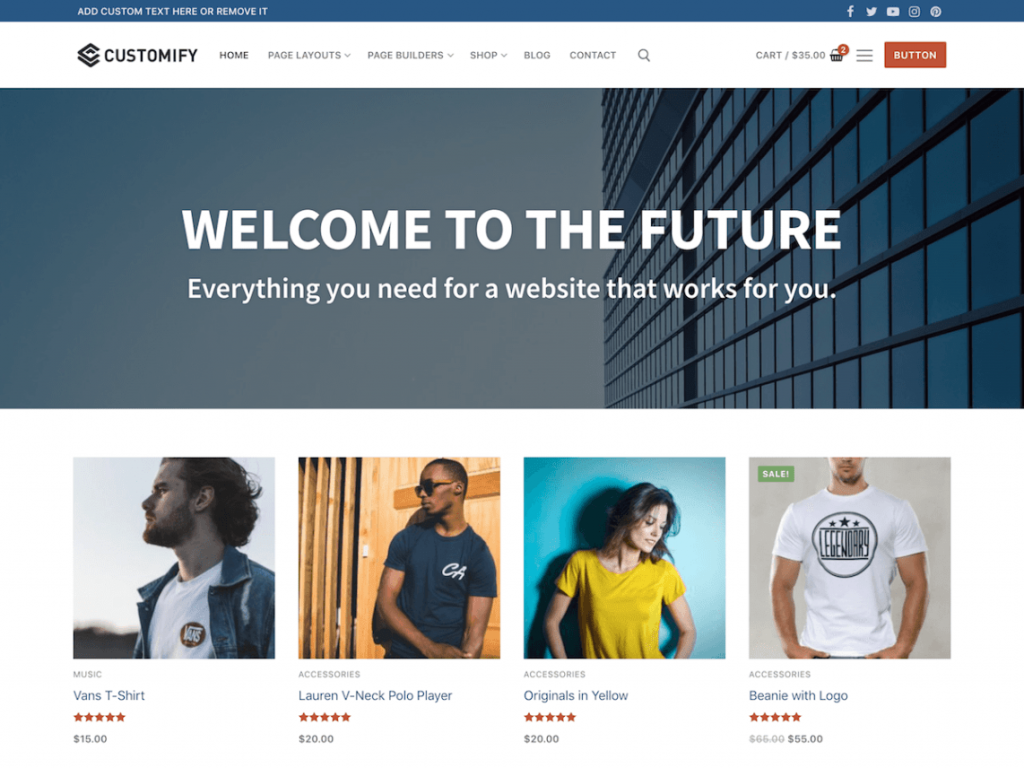 Customify is a highly SEO-optimized lightweight theme to use for an eCommerce purpose developed by PressMaximum. Its speedy and optimized coding by the developers is worth being praised. It gives you an intuitive feel with full flexibility and control. It has a comprehensive header and footer designer. It is one of the most customizable eCommerce themes on the WordPress market that are free to use. It gives you full charge to change your website's looks, features, and templates.
You can use any favorite page builder such as Elementor, Thrive, Architect, Brizy, and King Composer to edit your website. Search Engine Optimization will help you reach and grow more traffic to your website and you can track your visitors with Google Analytics, here is the tutorial on how to add google analytics with WordPress. It is responsive and best supported by every browser. The support from the developers is exceptional and friendly as they offer personalized email support for each client which shows their integrity and seriousness towards every customer.
37. Virtue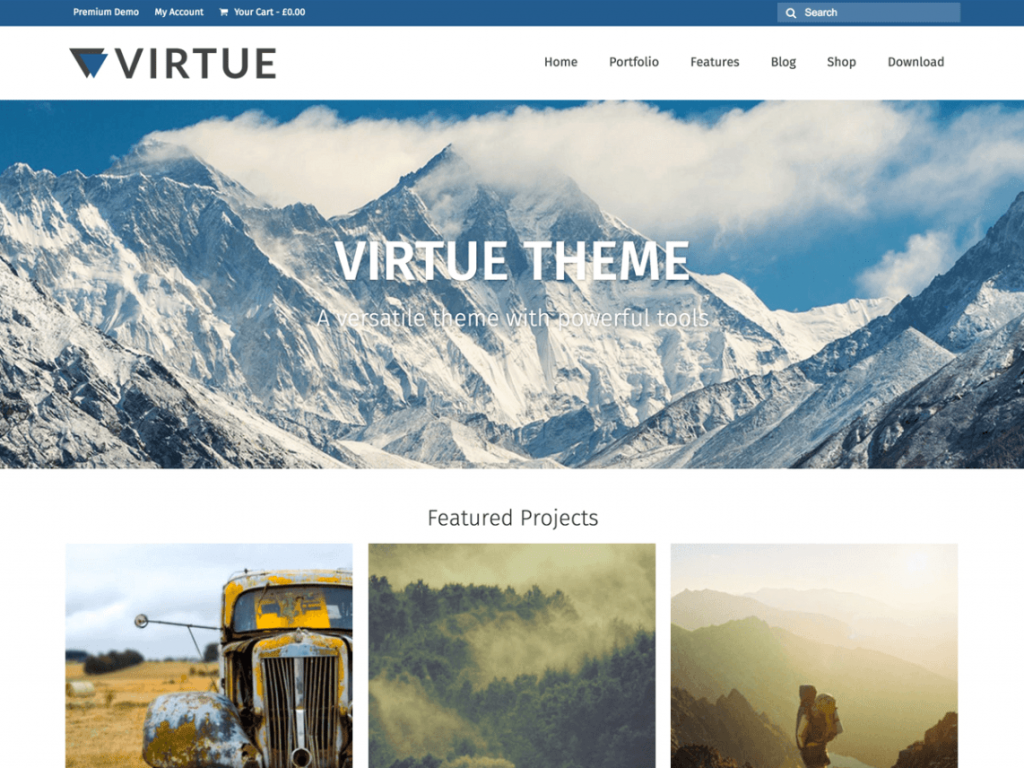 By Kadence WordPress themes, it is one of the most versatile eCommerce themes integrated with the WooCommerce plugin. It can be used for a portfolio, business, or online store and it will be the best portfolio theme for WordPress if you are planning to make this kind of website. The theme is completely responsive to every screen size. It is also compatible with different browsers to extract the maximum benefits. It has an awesome header menu that you can customize until you like it. You can select a box or full layout for your theme.
You can build an awesome portfolio through its grid feature to showcase your services, projects, or photographs. It works with most of your favorite WordPress plugins. One of the most important keys to web designing is its typography. With this theme, you can select from 800+ Google fonts that perfectly suit your design and templates. The demo is available with just one click. You will get the images and text of the demo which you can change and edit. It is well optimized for loading speed so that you do not waste a single second staring at the screen.
38. Store WP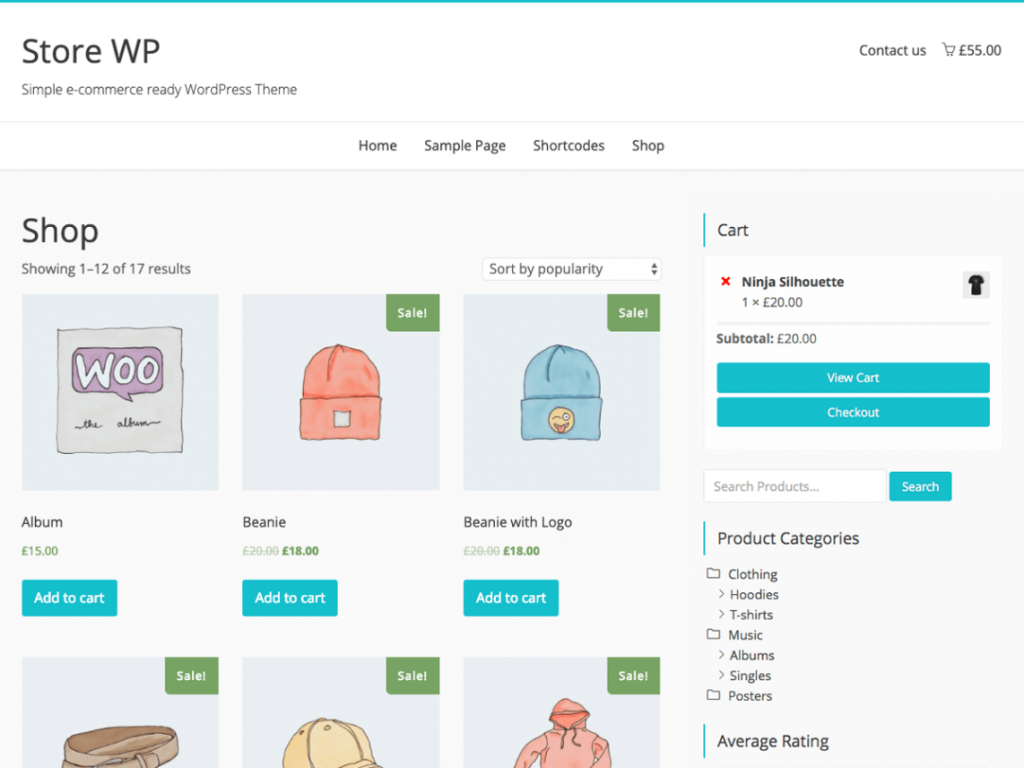 It is a solid WooCommerce WordPress theme. It features a Live WordPress Customizer. The theme seems to be very basic from its looks and design, but it has many customization options under its belt through which you can empower your theme with the most significant and remarkable tools. It is so user-friendly that even a beginner will set it up easily and configure the initial steps without getting stuck anywhere.
The theme has countless features to offer. It has a modern carousel slider where you can place your special products and services. It is also optimized for Search Engines to get you the best SEO results and climb the top of the rankings. It can support many famous plugins including Yoast SEO which is the most popular SEO plugin. It can also support Contact Form 7 to build effective contact forms and you can learn how to add a contact form on WordPress. It has a beautiful and helpful control panel so that you can modify your website effectively.
39. Multishop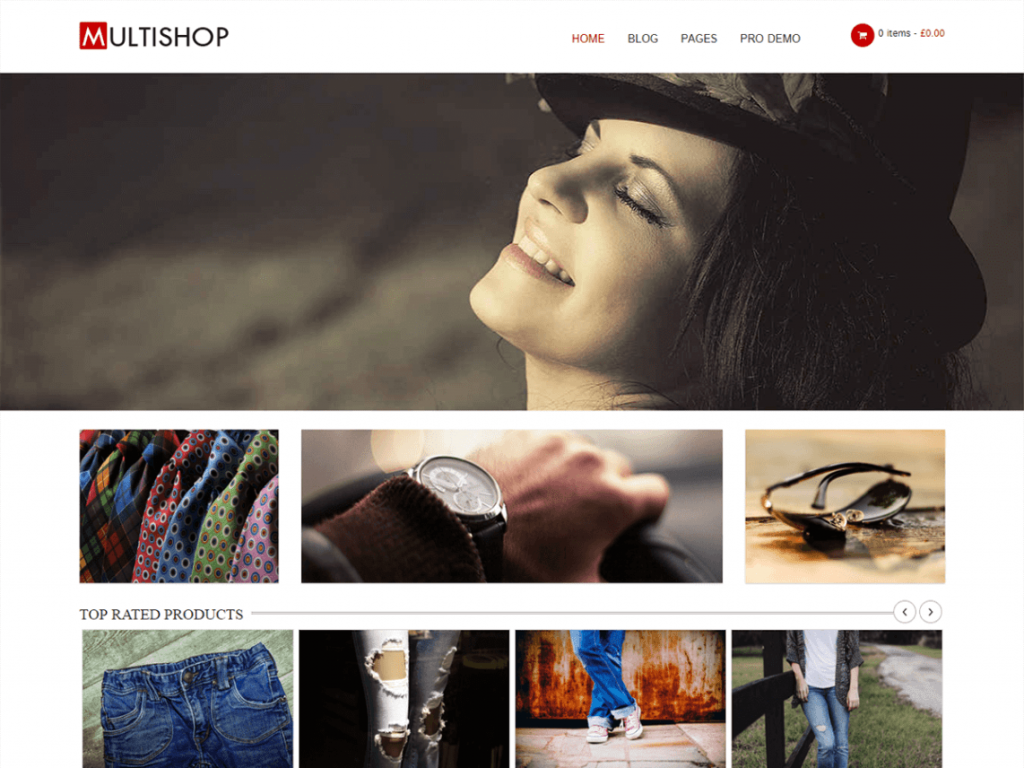 This is a Twitter bootstrap-based theme that is integrated with the WooCommerce plugin to build an eCommerce website. The homepage is nicely designed for the featured and special products. The theme contains all the basic features and attributes to run a professional WordPress website. Therefore, MultiShop is a perfect fit for small businesses or personal websites. You can import the demo with a single click and then edit things accordingly. You can also create multi vendor for WooCommerce if you want to turn your website into a multivendor marketplace.
It is a fully responsive theme that takes care of adaptability on every single screen of mobile or desktop. The theme is professionally built on the Visual Composer plugin. It does also have a free revolution slider which saves a lot of your money. There are also many ways to filter products according to prices, ratings, and categories. The Autocomplete search provides the best experience from the customer's perspective. You can also use Custom Google Fonts in it. Multishop is a theme worth trying out!
40. Savile Row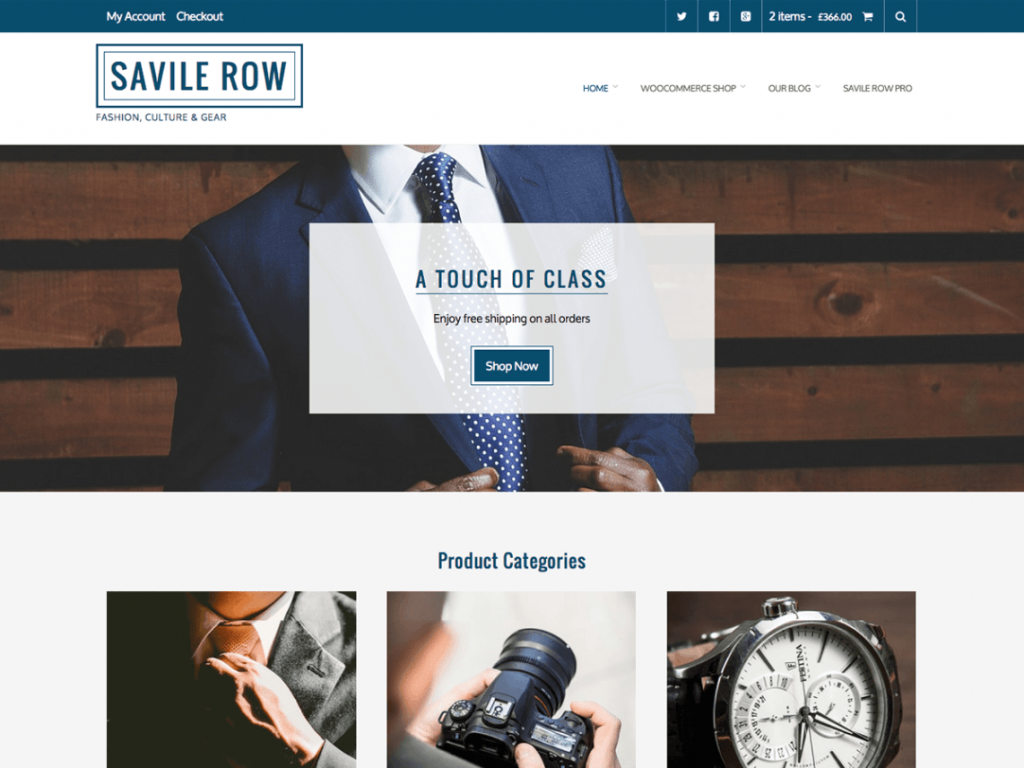 Savile Row theme is introduced in free WordPress themes specially designed for eCommerce websites. It has a modern and fresh-faced layout. The design of this theme is so technically perfect that your eyes will find no flaw in it. Its classic design is not its only specialty of it. Along with that, it intuitively displays your content on desktops, mobiles, tablets, and laptops. Its mobile-friendly interface is specially developed to access the website with ease.
The theme is ready to set up within a few steps. It includes the interactive call-to-action buttons on every page and section to generate more connections which would help to generate sales later. It has multiple headers and blog layouts to make a website with the best blog themes on WordPress. You can also add featured images to this highly customizable theme. It does also have smart navigation and a search button. Savile Row comes with full documentation. Even though you won't need it as the theme is so easy to use but it might help in tackling some advanced features. Therefore, this theme deserves to be called a wonderful choice for an eCommerce website.
41. EightStore Lite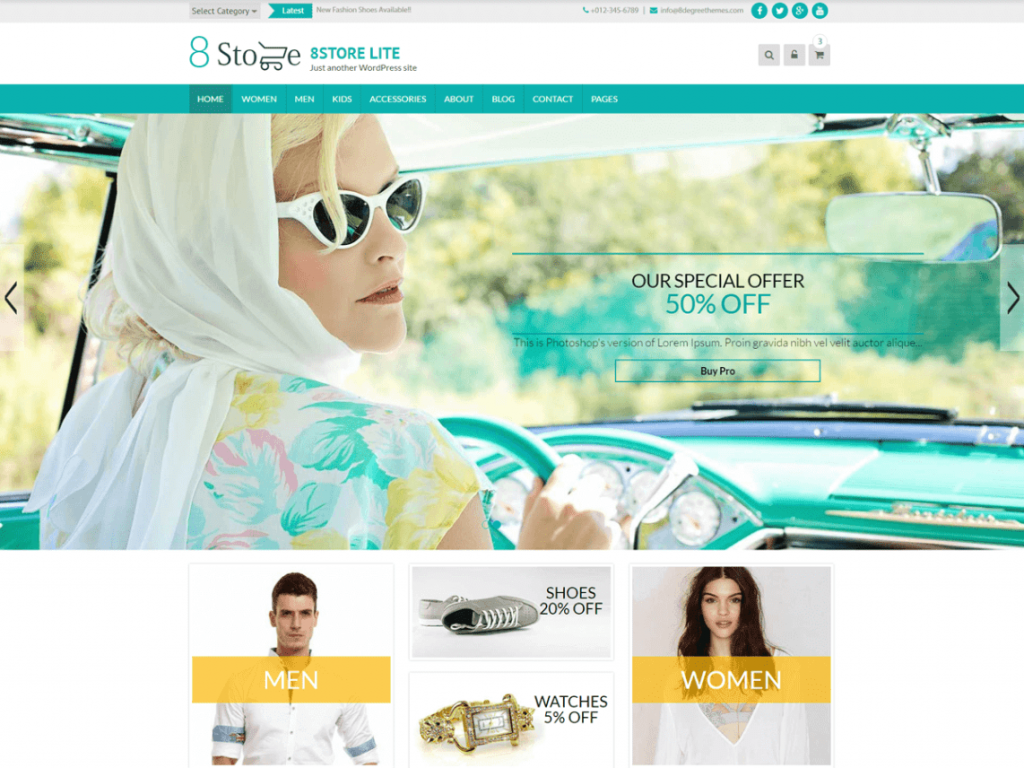 Eightstore Lite is a GPL-licensed free WooCommerce theme that lets you take charge of your website with easy configuration. Its elegant and robust design is not the only thing it is famous for! Its feature-rich interface makes it one of the best free WordPress store themes. The homepage appearance is changeable. However, the provided demo with the theme is good enough to be used in the first place. It is compatible with many WordPress plugins also.
It has a box and also a full-width layout. It does also have a slider that you can disable for inner pages. The options to customize the homepage are unlimited. There is also a method to integrate a YouTube video right on your homepage for showing up promotions, discounts, and WooCommerce points and rewards. There is a search feature to find the exact required items in the store. You can also show your blog on your homepage with some featured posts. It does also have a testimonial showcase and amazing sidebars to focus on. This theme is also bbPress friendly. You will experience stunning CSS3 animations in it. Support is available through Emails, online chat, and forums.
42. Shop Elite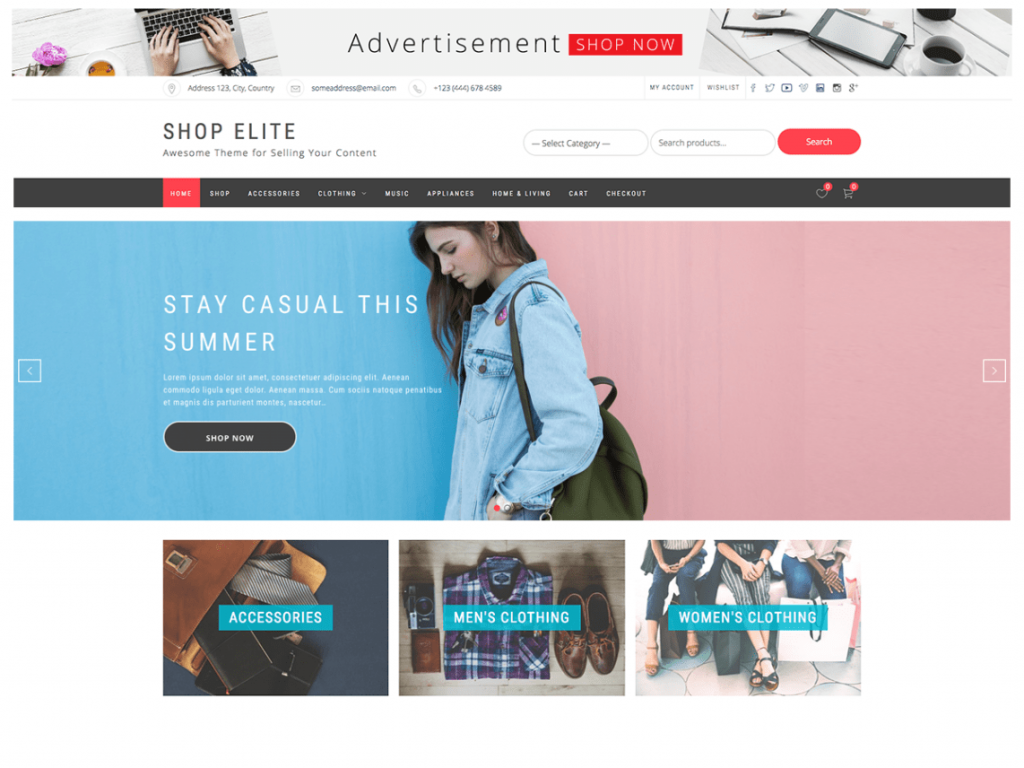 Shop Elite has a very decent-looking homepage. It is well integrated with the WooCommerce plugin. It has many useful features to count such as custom widgets, sticky headers, preloaders, etc. Several widgets support WooCommerce. It is cross-browser compatible so every user can get an equal share of experience of this beautiful theme. Its highly responsive design makes it perfectly fit on every small and big screen to display eye-catching images and text fabulously.
It has an option to upload your custom logo, which will be your official logo for your company. It has a boxed and wide layout and custom header styles. The theme is translatable to any language of the world easily and you can know how to change WooCommerce language. So your business domain becomes infinite. You can also integrate your social media accounts on this theme. There are also many plugins of Social Media with which it is compatible. Most importantly, it is Search Engine Optimized and compatible with the world's known Yoast SEO plugin to keep track of your SEO progress.
43. VW E-Commerce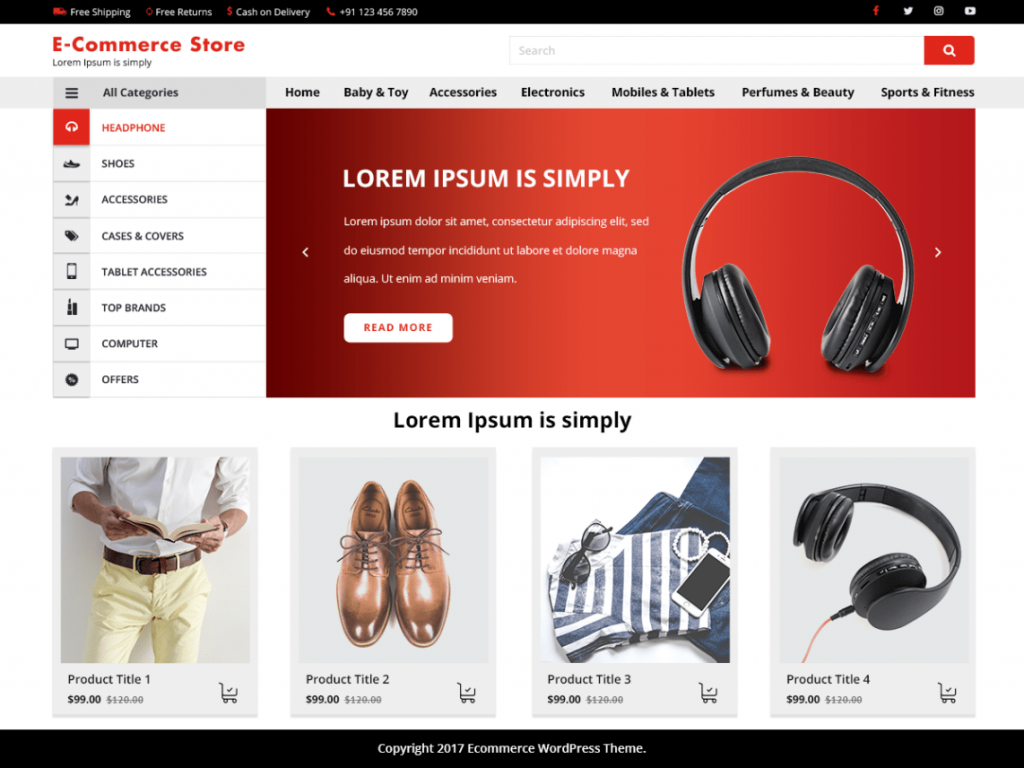 If you want a theme that has all the required features to run a full-fledged online store then you should experience VW Ecommerce's beautiful features now. It is very responsive and fits perfectly in all mobile and desktop screen sizes. It is so much flexible and easy to use that even beginners can set up a wonderful website by using it. There are multiple sliders for showcasing your best products and smart WooCommerce product filtering for the customers to use. You can enable testimonials to build mutual trust between you and customers. There are also special promotional sections for your top products!
It has detailed menus and the latest blog designs. The VW ECommerce theme is social media friendly and has social icons to place so that your customers can contact you through social media too. It also comes with handy documentation for you to assist wherever you get stuck in setting up the theme. The theme is SEO-friendly which is why you may want to select this theme to reach out to the maximum number of people. It has a stylish slider to get the attention of the people at first sight!
44. Shopline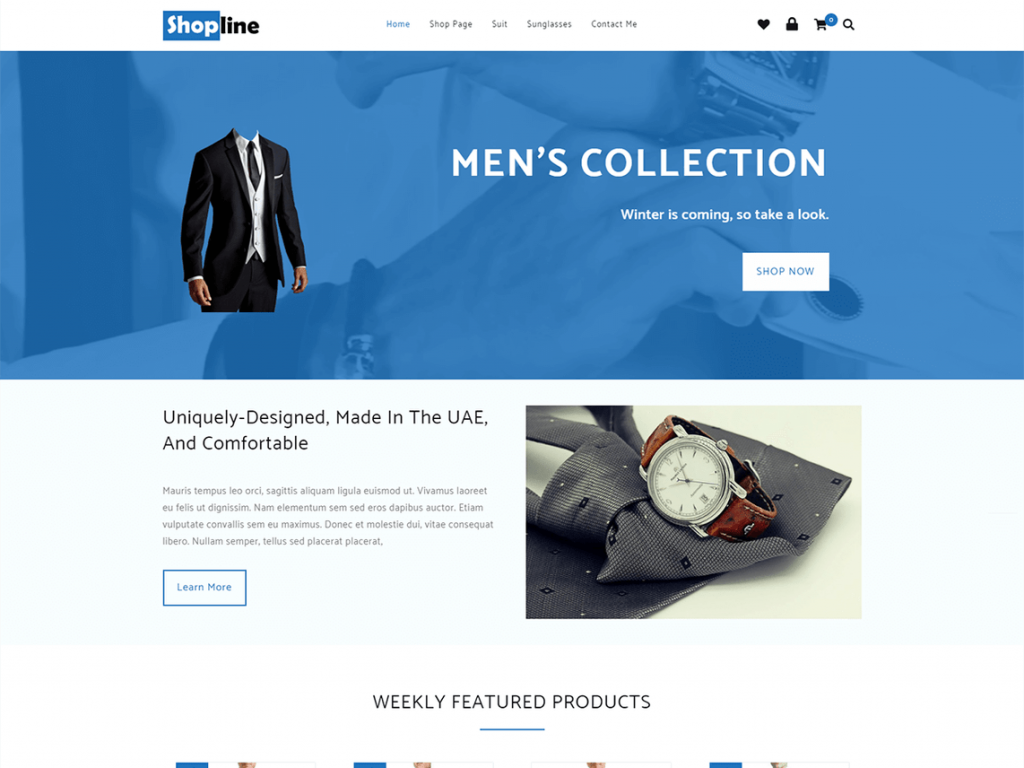 Shopline is yet another masterpiece in free WooCommerce themes for WordPress. It has an SVG design that enables the user to increase customer interaction through the features. Your setup for the whole theme is just one click away. It allows you to choose from unlimited colors, and gradient overlays. This theme is also compatible with major build builders such as Site Origin and Elementor plugins. So that you just have to drag and drop the things and this isn't that hard. Is it?
You can order your sections in the way you like them. You can also select the page width. It has six different layouts for your front page. The text alignment options allow you to align your text and media left, right, or center. It has a vast library of fonts so that you can use multiple typographies and it also has a custom padding feature. You may service the widget and customize its title and description. There is also a contact form template on the contact us page where you can also make a subscription form to increase store leads and engagement and you can also use a lead generation plugin for WordPress. You can also display multiple banners or ads in the three-column display.
45. WooShop Lite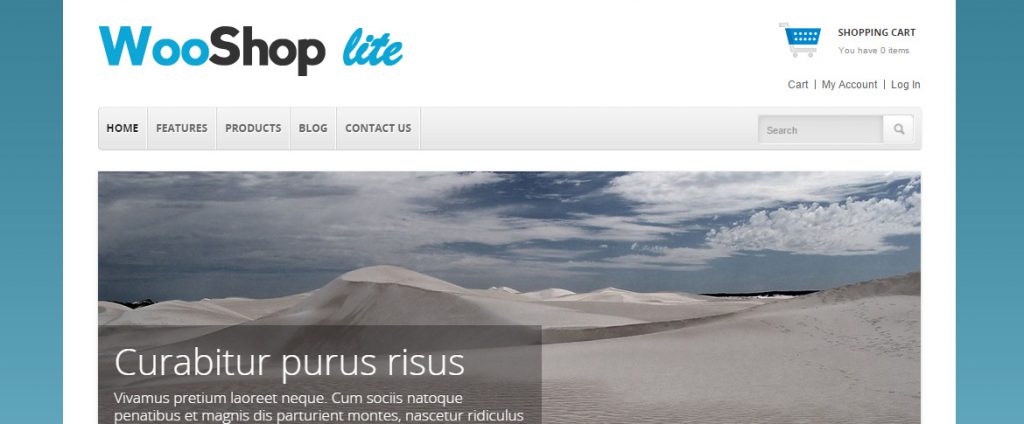 It is a proven theme in the WordPress community. It is capable of handling eCommerce stores professionally. Although it is not as visually appealing as other free WooCommerce themes still it offers other good features which are helpful to manage an online shop. Flexslider plugin is supported by this theme for homepage sliders. You can also create a blog page to post different articles about your products, their reviews, and much more and you can take help from review plugins for WordPress. It also includes contact forms to engage with your customers which is the key to SEO for your site.
You can manage your homepage with WordPress shortcodes. It can display your different social media accounts along with their links. The theme also includes the best seller section, blog templates, and jQuery sub-menu dropdowns. It is responsive to all devices as well as compatible with all major browsers to reach out to every audience. Its lightweight assists the browsers to decrease their loading time and show retina-ready images in no time.
46. ShopIsle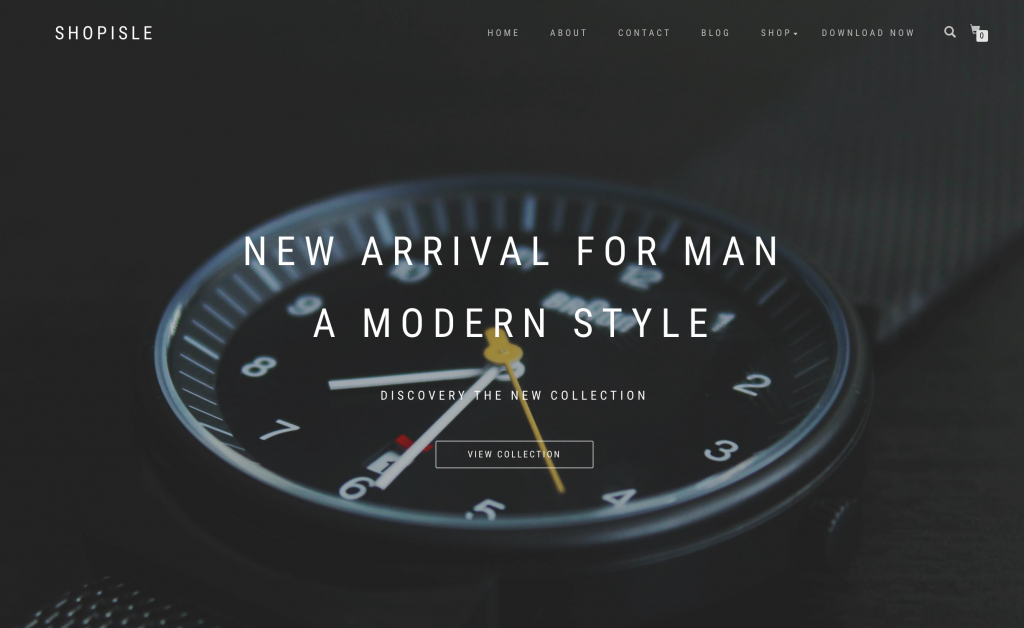 ShopIsle is another exciting addition to the free one page theme for WordPress. Its attractive and captivating design is specially built to keep the visitors engaged. Its pliability makes it ideal to be used as a one-page business website. The theme developers have put a lot of effort into making this amazing masterpiece. It includes classy animations and a clean home page with a full-screen slider. Its countless stunning features will keep your attention to this beautiful theme.
The theme is responsive to get the best display on desktops and phones symmetrically. Most Importantly, it is browser friendly and compatible with almost every known browser. The localization feature allows you to translate the text to any local language with ease. It has a well-designed About-us page to get the audience attracted. It also has an integrated contact form assisted by Contact Form 7. Selected social media icons are present in this theme to connect with your audience through social media. The smooth scrolling feature of this theme is very enjoyable.
Conclusion
WordPress community is growing constantly day by day and there are many more brilliant themes to come and conquer. These are the best 46 free WooCommerce themes for WordPress, we've collected for you. We hope that this article will help you find the best suitable theme for your eCommerce store you may have already selected the best one for you by the time you reached down here and if you are confused about choosing the right WordPress theme you can jump on our next article.
If you have any suggestions for more cool eCommerce themes then please share them with us in the comments section below and don't forget to follow our blog for more articles like this!