WordPress is one of the most popular and powerful CMS in today's world. You might often need to purchase premium WordPress themes and plugins to make the best of this CMS and for that, you need to know about the best WordPress theme marketplace. Some WordPress themes have their own official website where you can buy their themes at discounts and get great customer support. There are also websites where almost all premium and powerful themes are available to purchase with good deals and discounts.
In this article, we will discuss the 9 best places where you can purchase premium WordPress themes with secure transactions and guaranteed theme support.
What to Consider to Buy from a WordPress Theme Marketplace?
Before making the purchase for a WordPress theme of your choice, you need to look at certain things in the WordPress theme marketplace you are purchasing from. These things will ensure your satisfaction and guaranteed customer support.
24/7 Customer Support:  One of the best qualities of a WordPress theme marketplace is having a dedicated support team available to help you with purchasing and other technical difficulties. Also, they should be available anytime you need them.
Secure Transaction System: Cybercriminals are growing more powerful daily in stealing people's personal, official, and banking information. Thus, you must ensure the marketplace has a secure payment system before making the purchase.
A reliable WordPress theme marketplace has to have a secure payment and transaction system to provide its customers with a safe purchase.
Live Demo: Every reliable and professional marketplace includes a live demo feature on its website for all the available themes so that the customers can try out a live version of the themes and decide the best one. It is nearly impossible to choose a theme without spectating a live demo; thus, it is a must-have feature in all professional theme marketplaces.
Regular Updates: Regular updates of the theme keep your website compatible with other plugins and tools you use on your website. Providing regular updates and the latest versions of themes is another great quality of a professional marketplace.
9 Best Places to Safely Buy WordPress Themes (Compared)
1. ThemeForest
When it comes to the best WordPress theme marketplace, ThemeForest surely comes at the top, leaving others behind. It has the largest collection of premium and modern WordPress WooCommerce themes from where you can choose handcrafted, dynamic WordPress themes at the best price!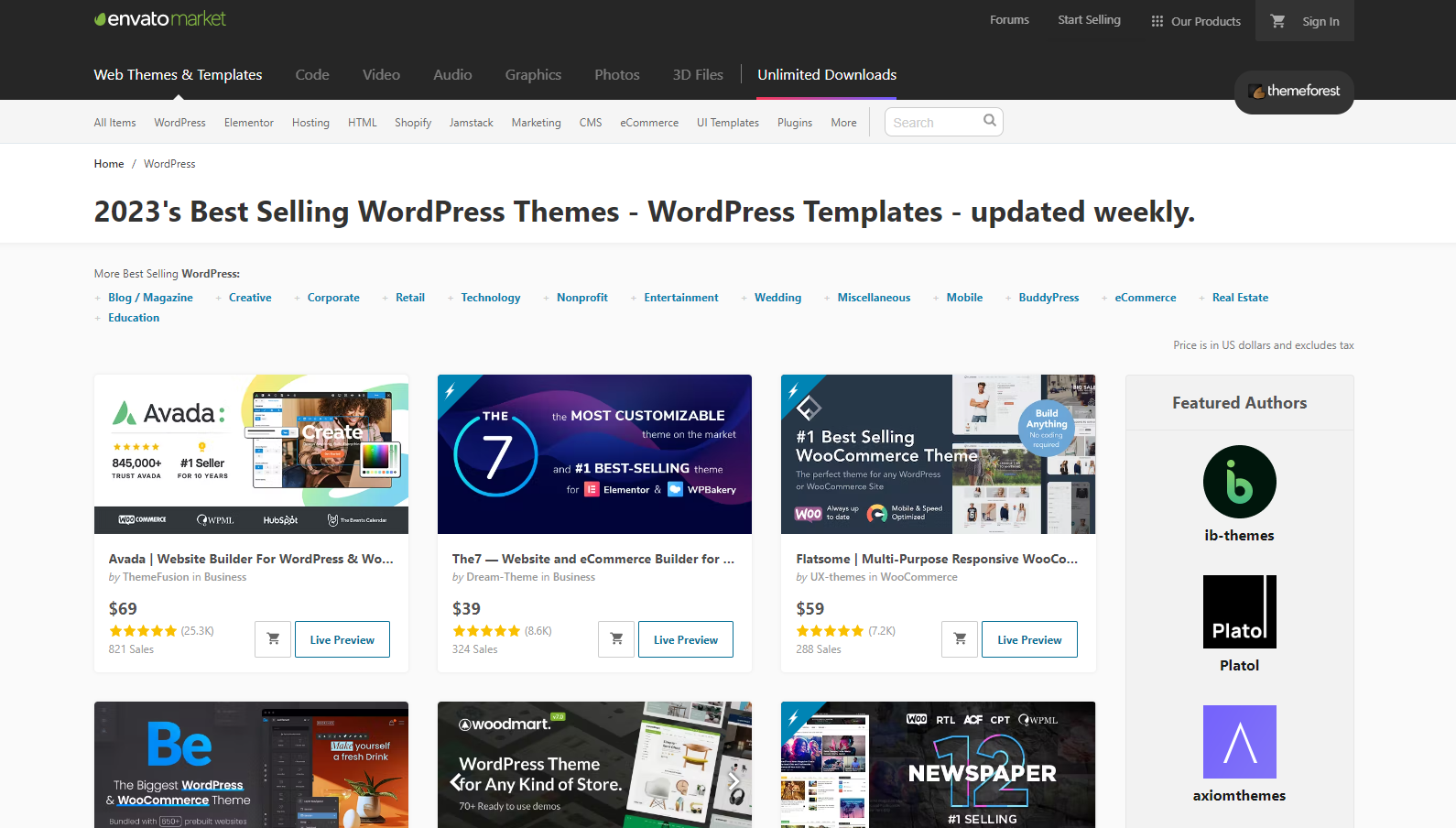 The price of the themes available in ThemeForest ranges between $2 and $100 generally. You can also choose other tools and plugins along with your desired theme and can be offered a fair discount.
Theme Forest has a safe and secure transaction method, and a live demo website is included with each of the themes to try before you make up your mind. Theme Forest belongs to the Envato Market and deals with many other digital tools and software besides WordPress.
Theme Forest has excellent customer support to assist you 24/7. It has detailed documentation for each theme so that users will not have any difficulty using it. It has a support page where you can find questions and answers on different general topics most users may encounter from time to time. Theme Forest is a marketplace where themes from different authors are available to purchase.
You can find most of the general topics in their FAQ section. If not, you can simply click on the 'Go To Item Support' option, and you will be redirected to the theme's official website for further support.
Price Range: $2 – $100
2. ThemeGrill
Themegrill is popular for delivering quality WordPress themes that are lightweight, super customizable, and come with a reasonable price and excellent customer service. It makes WordPress themes for blogs, magazines, businesses, corporate, interiors, engineering, shopping, cafe, restaurant, and much more.
This awesome WordPress theme marketplace is currently empowering 400K+ websites. ThemeGrill offers 16 fantastic lightweight and feature-rich WordPress themes, more than 100 starter sites, and holding 3k+ 5-star ratings.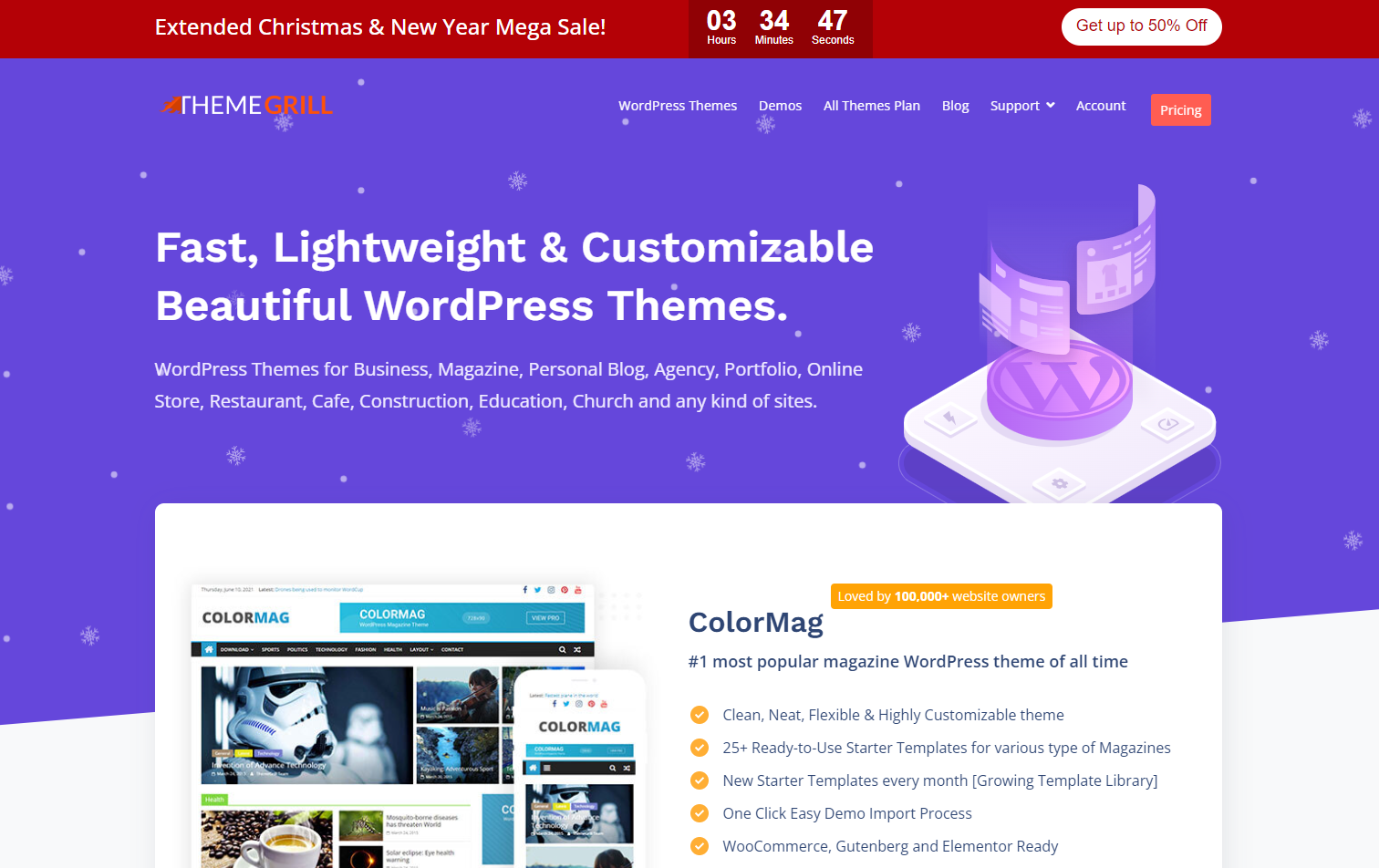 ThemeGrill has two reasonable and exciting pricing plans. You can buy a single theme license for $69/per year. They often offer great discounts on their WordPress themes for you to get themes at a cheaper price. Another reasonable offer is you can buy all 16 themes at the price of $99/ year.
ThemeGrill offers excellent customer service to its users. You can reach their 24/7 available experts to resolve any issues related to the theme or your purchase. It also includes detailed documentation and blogs for its users to guide them step by step through any possible issues. Furthermore, ThemeGrill has live chat support you can use to reach customer service through messages and explain your issues.
Price Range: $38 – $99
3. Elegant Themes
Elegant Themes is one of the most popular WordPress theme marketplaces. It provides the fastest and most lightweight WordPress themes with endless customization possibilities. Elegant Themes built the most powerful and popular Divi builder, which holds the top place among the best page builder plugins.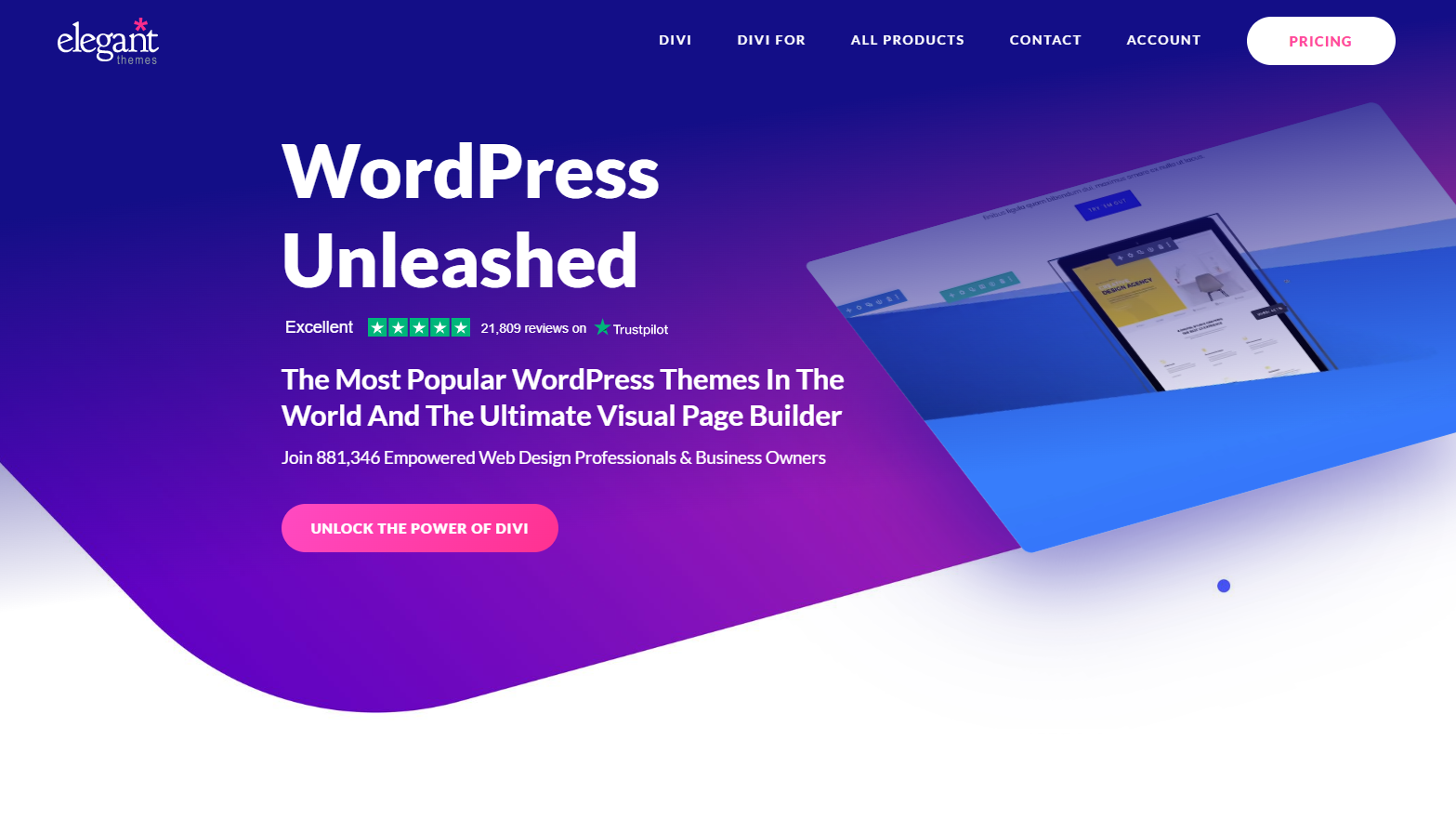 The Elegant Themes offers the simplest pricing plan you can ever find. You can have everything built by Elegant Themes with a single subscription. Besides, you can download and install themes and plugins on as many websites as you like with one single subscription.
It offers a simple pricing plan with zero hassle and without any hidden cost. You can subscribe to all the themes, plugins, and add-ons of the Elegant Themes for $89 for a year and renew it again in the next year with the same fee. You can also spend a one-time $249 fee and enjoy an Elegant Themes subscription for a lifetime.
Elegant Themes offers excellent customer support 24/7 to assist you with any issues you might face regarding themes, plugins, or other products. It includes an amazing blog tutorial section where you can learn to use each and every single element of the Divi theme with detailed documentation. You can also use the live chat support to instantly reach its representatives to help you with minor or major issues.
Price Range: $89 – $249
4. ThemeIsle
ThemeIsle is known for its numerous fantastic WordPress themes and is a reliable WordPress theme marketplace. It has WordPress themes available for all possible niches. It includes themes for businesses, corporate, blogs, magazines, Elementor, and many more. ThemeIsle has more than 410K+ satisfied customers all around the world.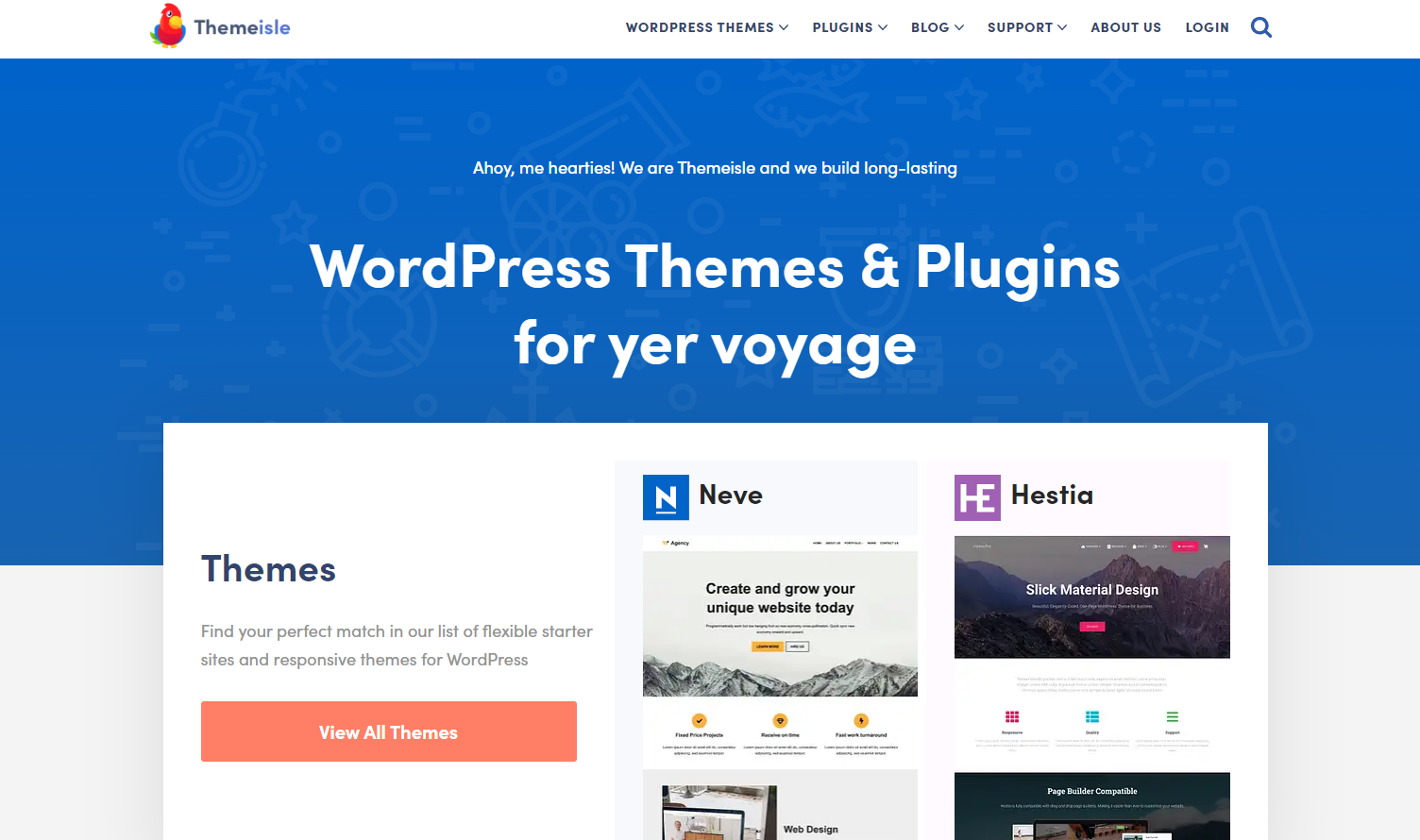 One of the most amazing features that come with ThemeIsle is their Create and Launch a Website. This feature contains the best possible design for a particular niche, along with all the plugins and functionality needed. All you need is to click Create and Launch a Website; you will get a fully functional and Elegant looking WordPress website launched in a minute! How cool is that?
ThemeIsle offers both free and premium themes. Free themes are good for startup websites, but as your business grows more, it's better that you get the premium version for more powerful features. Three types of pricing plans are offered by ThemeIsle. You can choose any one among the Personal, Business, and Agency packages. The price of these packages varies according to the theme you plan to purchase. For example, the Business package of the Neve theme costs you $149/year, whereas the Hestia theme costs $99/year for the same package.
ThemeIsle offers great customer support to help you with any issues you might run into regarding the themes and plugins. Its customer support is available Monday through Friday from 9:00 AM to 5:00 PM EEST. ThemeIsle also includes detailed documentation for the themes and a rich FAQ section you can use to guide yourself through the website development process.
Price Range: $99 – $149
5. aThemes
aThemes is another great WordPress theme marketplace for your business or personal blogs. It includes all kinds of WordPress themes like business, corporate, photography, restaurant, eCommerce shop, etc. aThemes currently has 100K+ active users completely satisfied with its lightweight and fully customizable premium WordPress themes.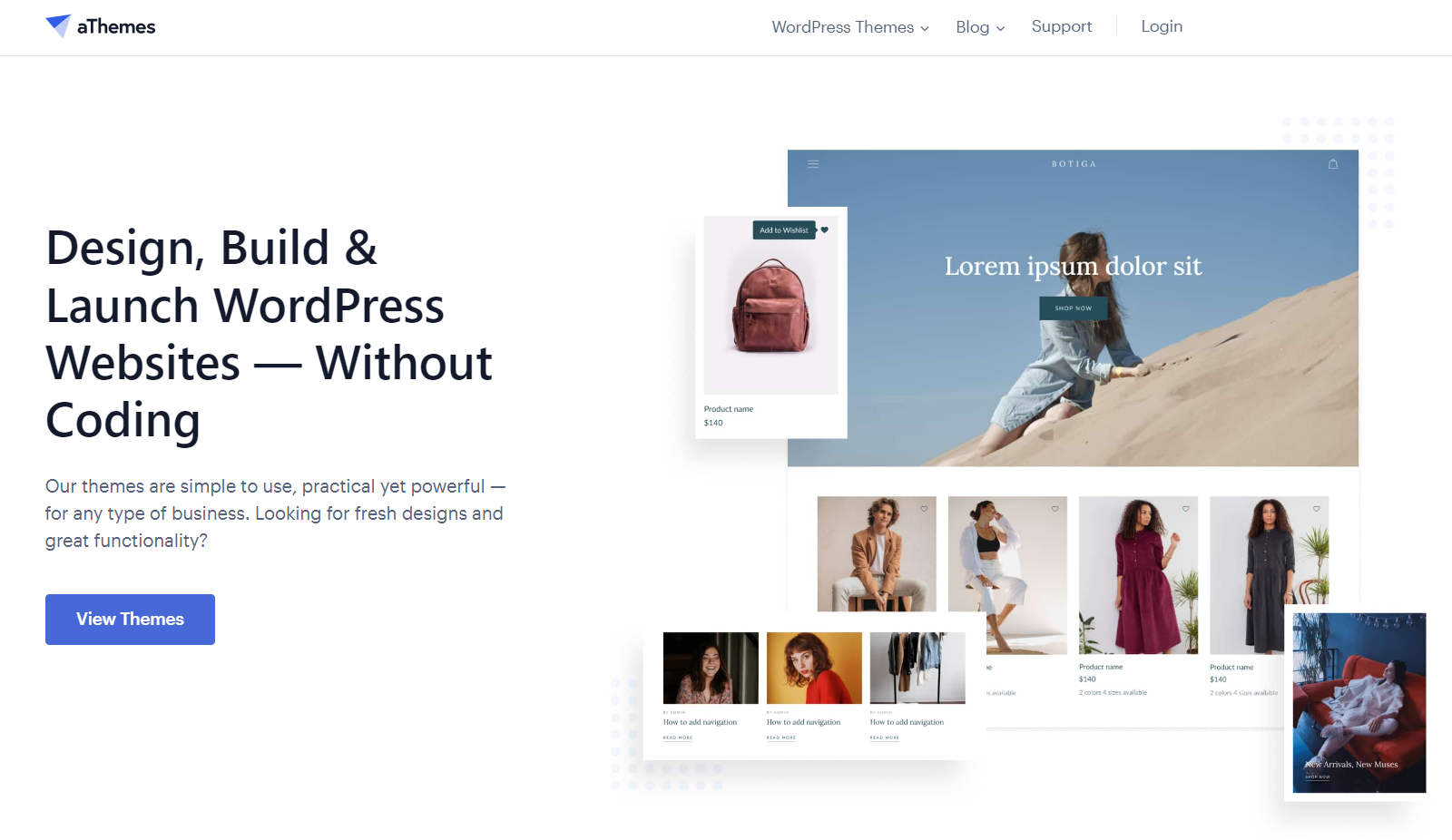 The themes provided by aThemes are lightweight, SEO-friendly, and translation-ready. All these themes have demo website features to let you create a fully functional website in a blink of an eye. You can also integrate the powerful Elementor page builder plugin with these themes to create dynamic web pages.
aThemes has a reasonable pricing plan you may like to think of. You can buy the Personal package for $69/year, which includes a single license; for a $99/year fee, you can get five licenses, and the unlimited license can be availed at $199/year.
aThemes provide support for both free and premium versions of their theme. You can get support for the free version via the WordPress.org forum, whereas premium version theme support is provided much faster with high priority via the email and ticketing system.
Price Range: $69 – $199
6. Themify
Themify is one of the best WordPress theme marketplaces, where you can choose from a large collection of quality WordPress themes. It was founded in 2010 and had been serving their customer with quality WordPress themes and amazing support since then. Currently, Themify has more than 115K+ happy customers.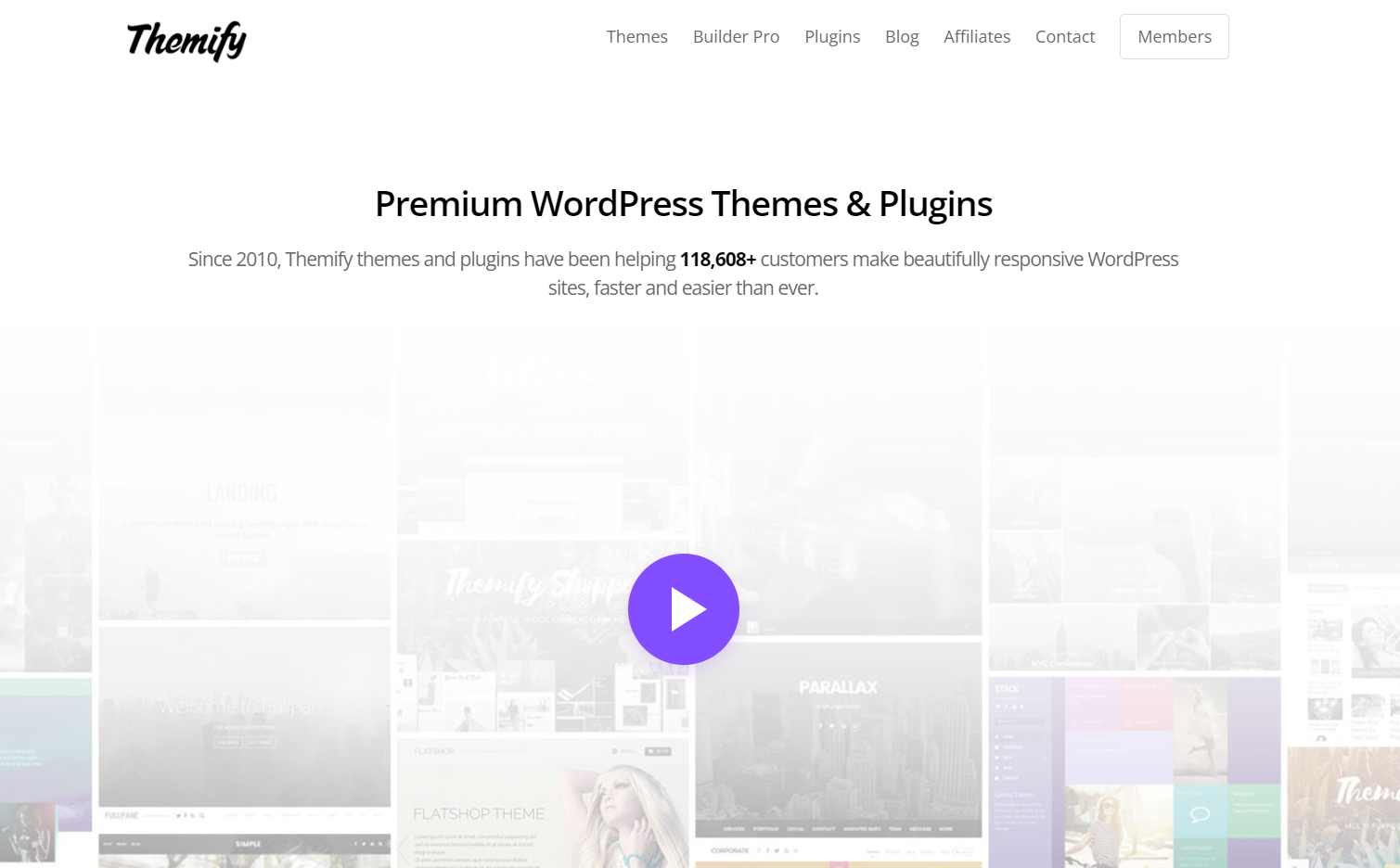 Furthermore, Themify provides 42 themes, 11 plugins, 25 add-ons, and several photoshop files. One of the most popular and renowned Ultra theme is Themify's flagship theme which comes with powerful functionalities, clean code, and a sleek design. It also includes several other premium WordPress themes suitable for different niches.
The pricing of the Themify themes is available in three different plans. You can avail of the Single Theme package for $59/year, Master Club package for $89/year, and Lifetime Club for $249.
Price Range: $59 – $249
7. Flatsome
Flatsome is a website and the name of the theme it sells. Flatsome is one of the most powerful WooCommerce WordPress themes and comes with endless customization, dynamic demo websites, and powerful plugin integration. This WordPress theme marketplace contains demos of several niches; thus, it is suitable for any kind of website you want to make. Flatsome is the #1 best-selling WooCommerce theme in Theme Forest and comes with an incredibly reasonable price. Flatsome theme belongs to UXThemes, which specializes in premium WordPress WooCommerce themes.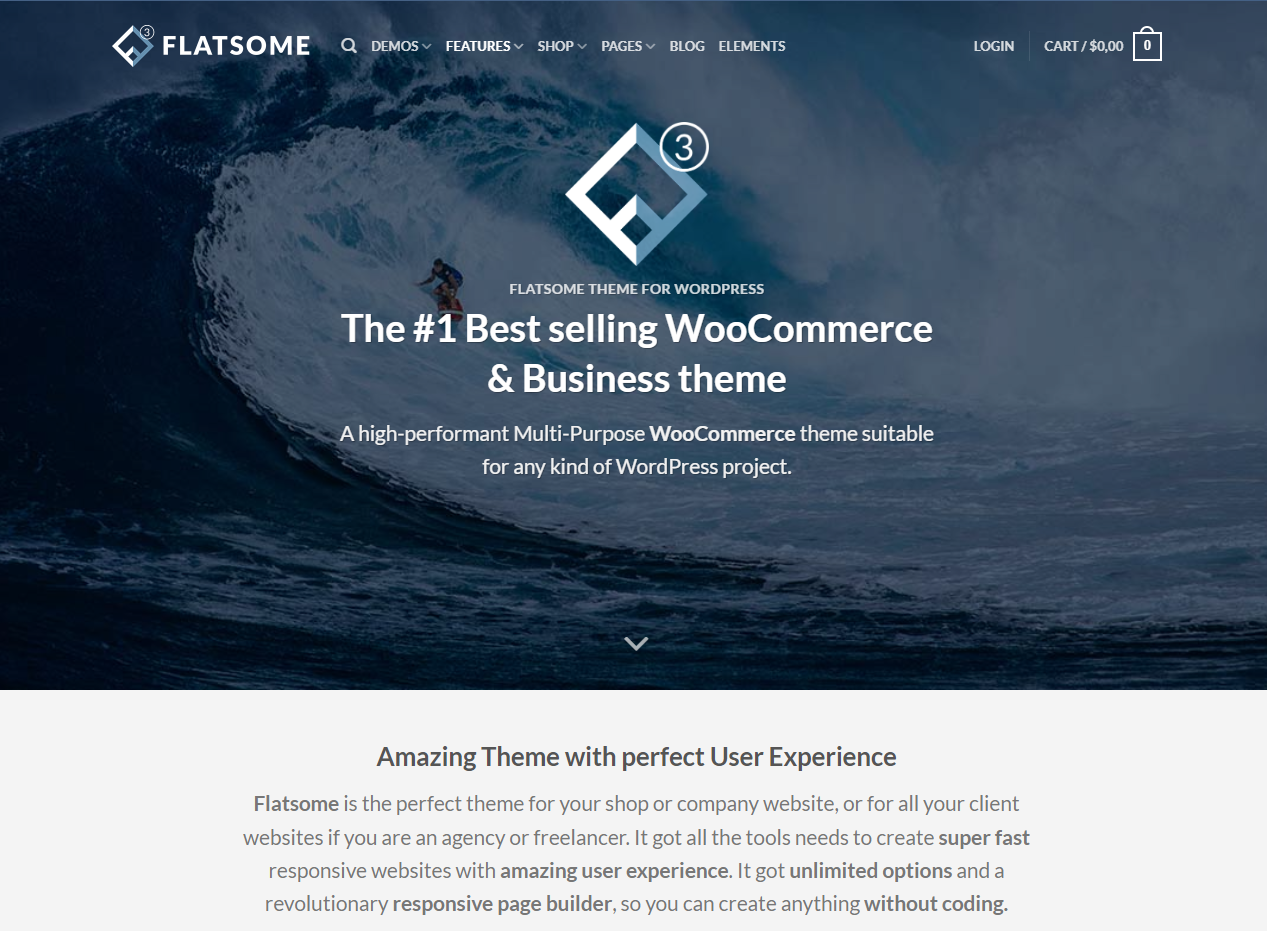 This theme is well-coded and comes with a sleek design. Its powerful integration makes it the best WordPress WooCommerce theme on the market. You can simply use one of its many pre-demo websites and create a dynamic website in a minute, or you can start from scratch using its powerful live editor.
The single-license Flatsome theme comes with a reasonable price of only $59/per year. You can use one license only on one live website. If you need this theme for several websites, you need to buy this theme for each one of your websites individually.
The owner UXThemes provides support for Flatsome theme users 24/7. It has an amazing customer support team ready to assist its users anytime they might face an issue regarding the theme.
Price Range: $17.63 – $59
8. Astra
Similar to Flatsome, Astra is also the website and the name of the theme itself. It is one of the most powerful and popular themes of all time and a secured WordPress theme marketplace. It is currently empowering approximately 1,653,898 websites and achieved 5K+ real-user 5-star reviews.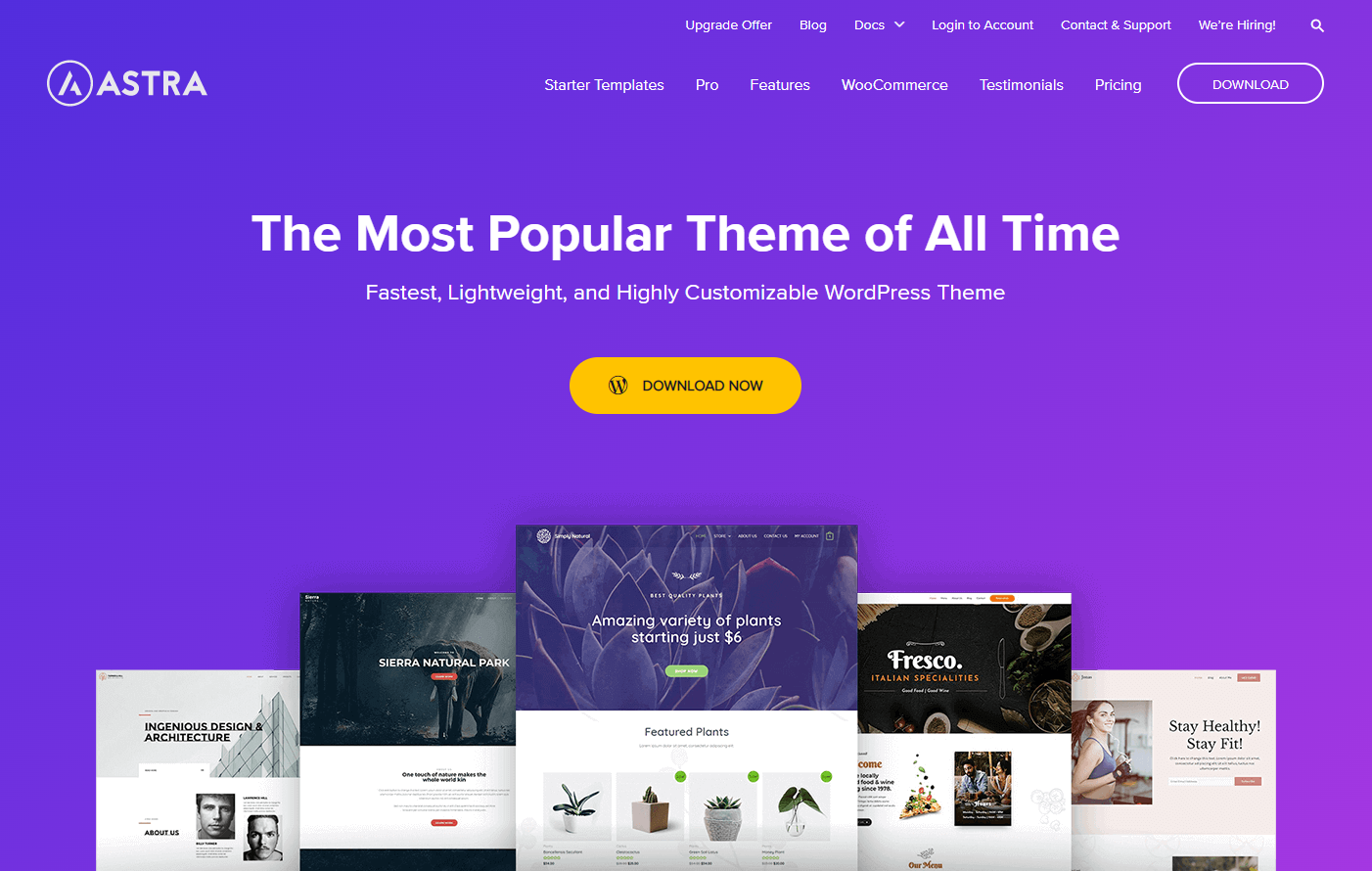 Astra is a powerful and dynamic theme with endless customization possibilities. Anyone with no prior coding experience can build a website using the Astra WordPress theme. You can download and install the Astra theme for free, but we suggest you to avail the premium version of the Astra theme for countless premium features and amazing customer support.
Astra's seamless integration with WooCommerce makes it one of the best choices for building a powerful and functional WooCommerce website. Additionally, Astra offers powerful features like LifterLMS and LearnDash integration to make your website even more dynamic.
Astra is free for everyone to download and install it. To unlock the full potential of Astra, you may purchase any one of the three pricing plans Astra offers. The Astra Pro, Essential Bundle and Growth Bundle packages are available for $49, $169, and $249, respectively.
Astra provides numerous documentation and FAQs for users to guide them through each and every detail of the Astra theme. Astra also provides technical support one can enjoy after purchasing any of the premium plans.
Price Range: $49 – $249
9. OceanWP
OceanWP is a renowned and popular WordPress theme marketplace selling its theme with the same name as the website. It is one of the top WooCommerce multipurpose themes suitable for all kinds of niches and categories. This WordPress theme marketplace is powering over 700000 websites with thousands of satisfied users.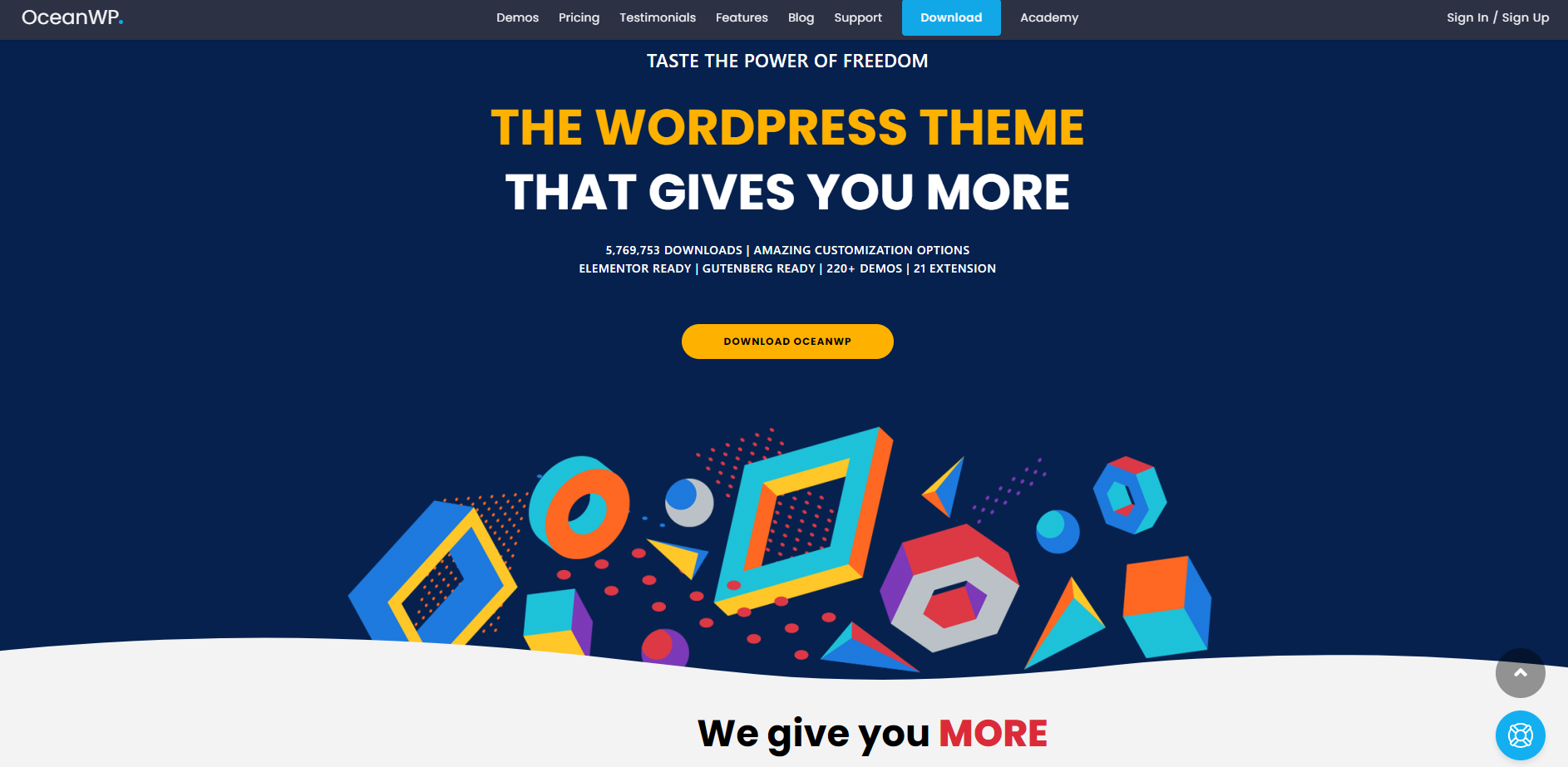 OceanWP includes numerous design templates for categories like health clubs, restaurants, start-ups, corporate, interior design, and more. This theme is lightweight and completely customizable. Additionally, OceanWp is integrated with powerful page builder Divi, providing you with countless design customization.
OceanWP is free to download, and you can upgrade it to the premium version using any of the three pricing plans it offers. You can avail the Personal plan for $54/per year, the Business plan at $89/per year, and the Agency plan for $159/per year.
OceanWP offers different types of support like Basic Customer Support, Priority Customer Support, Premium & VIP Customer Support, and other VIP Customer Support based on your purchased packages. The higher package you buy, the higher tier you receive for customer support.
Price Range: $54 – $159
Conclusion
It is important to purchase a premium WordPress theme from an authorized, safe, and secure place since it is the question of your theme's quality and transaction safety. The websites we mentioned above are well-known and trusted for quality WordPress themes, amazing support, and security of your personal information.
Visit these places anytime to get the best WordPress theme of your choice to build your next professional project!