CRM, or customer relationship management, is essential to every business. A CRM tool enables you to build and maintain client connections, enhance customer service, and eventually produce sales and generate leads. However, the procedure can be time- and labor-consuming. As it grows, your firm grows, and the amount of input needed will also increase.
That is why the CRM plugins for WordPress are essential to your WordPress site. You can use these plugins to automate various CRM tasks on your WordPress website. You might require some, all, or even more functions that aren't on this list. This blog post briefly reviews the top 12 CRM plugins for 2023. They offer the finest combination of functionality, dependability, scalability, and cost.
12 Top WordPress CRM plugins in 2023
1. WP ERP

WP ERP is a WordPress CRM plugin that gives small, and large businesses access to CRM, HRM, and accounting features. This CRM plugin offers various modules, one for CRM solutions and another for HRM and accounting solutions, which is one of the factors that makes it so intriguing. The plugin has no restrictions, so you can fill out the various modules with as many entries as you like. You can download and use this plugin for free, no expense is needed.
WordPress ERP's all-inclusive feature is available in the free version. The management of human resources is also included in this package. You may monitor staff at numerous places with the technology. Additionally, CRM features are included with WordPress ERP. It can track visitors who use your website and turn them into leads. The CRM activity report is an excellent tool for determining how your business is developing and whether your offerings benefit your customers. The WP ERP has a fantastic accounting system that provides options for non-accountants.
2. Groundhogg

Groundhogg is a WordPress CRM and marketing automation plugin. The plugin is externally hosted and can be used to streamline, combine and automate sales for companies using the platform. This plugin is well compatible with the top free WooCommerce themes for WordPress. Using the help of email marketing, CRM, and other capabilities provided by this CRM solution. You can smoothly and automatically move your customers through the sales pipeline.
The free version of Groundhogg can be used to operate your business without incurring any additional costs. This fully-featured WordPress CRM plugin enables you to develop forms, write tailored emails, establish scheduled drip campaigns, and organize your contacts. It uses timed drip campaigns to generate leads and make money through sales.
This helps you manage your business effectively. They provide more than 40 extensions you can download. It enables you to connect to the most well-liked WordPress services and plugins and add extra functionality like cash collection and conditional funnel logic.
3. FluentCRM

FluentCRM is a fantastic WordPress CRM plugin that enables you to develop client relationships and expand your master list. This plugin carries out email campaigns and creates sales funnels. It also offers excellent features and functionality. All of these features will result in higher conversion and greater earnings.
This plugin enables you to manage your contacts, email campaigns, memberships, e-learning, and more from the WordPress dashboard. You can also save communications and transaction information for tracking and customizing purposes.
4. WP Fusion Lite

You can connect the operations on your website to your CRM with the help of the WordPress WP Fusion plugin. You can create a membership site with WP Fusion, save customers' information, and track e-commerce transactions. Also, you can keep your customers' information up to date in one place. The WordPress CRM plugin has several additional CRM capabilities.
It includes a few fundamental CRM functions, like automatic contact creation and the ability to control who may access the database and your website. WP Fusion only shows how the plugin works with various contact management applications. It allows users to manage their contacts from any location.
5. Jetpack CRM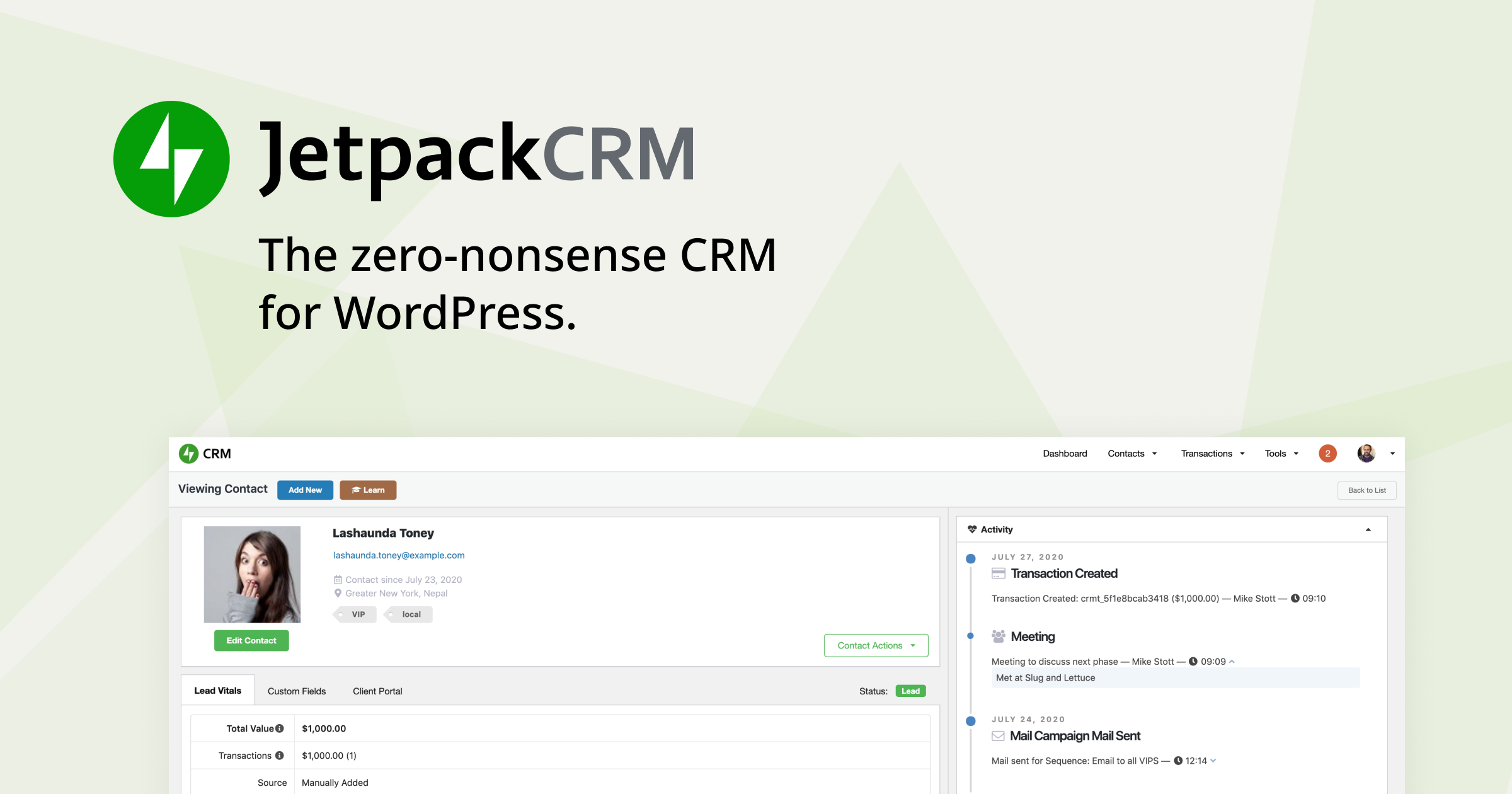 Jetpack is a CRM plugin that provides security, analytics, and WordPress optimization capabilities. Only Jetpack CRM is now among the group of WordPress CRMs. It offers a CRM platform that can be accessed from the WordPress dashboard. In Jetpack CRM, several features can be used to understand better and keep track of your visitors, leads, customers, and prospects.
JetPack CRM supports all the best lightweight WordPress themes. Users can create contacts using form submissions, segment contacts, and tag contacts. Users may also view their interactions with each connection through this tool's logs.
This WordPress CRM plugin includes a few paid extensions. It allows you to customize according to your criteria to meet the needs of your local business. The plugin can be coupled with numerous well-known platforms, like WooCommerce, AWeber, Mailchimp, and many others. It records your communications, including phone calls, meetings, and emails. Jetpack CRM is simple to set up and user-friendly.
6. vCita CRM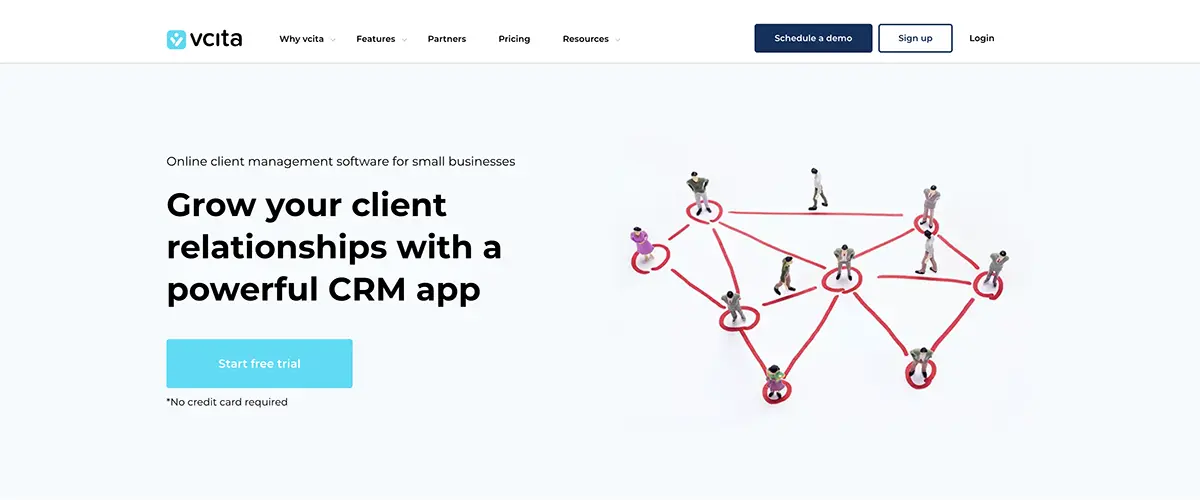 vCita CRM is a powerful CRM plugin because of its many features and support for virtually every website platform. For those currently working on WordPress sites, it also offers a WordPress integration, making it an exciting application. Additionally, the WordPress CRM plugin has a mobile interface to manage your business while on the road and enable your clients to reach you as needed. You can add notes to client profiles and change customer modules with minimum training.
7. Lead Form Data Collection to CRM

WordPress contact forms can be added to your CRM as leads or contacts using the WP Leads Builder for CRM. You can push or convert data from your WordPress site's contact form 7 or basic form into leads. A post, page, or widget can contain the newly constructed shortcode. Additionally, you can enable a workflow to add your WordPress users as contacts in your CRM.
The WordPress CRM plugin offers extra add-ons to support the CRM of your choosing. For Zoho CRM, Zoho CRM Plus, Salesforce, Freshsales, Vtiger CRM, SuiteCRM, and SugarCRM, you can pick one from a list of add-ons.
8. UpiCRM

You may get a complete CRM and lead management solution for WordPress for free with the UpiCRM WordPress CRM plugin. Even though this plugin is still relatively new, it has already achieved several positive reviews and hundreds of installations. The application primarily builds contact forms and logs leads into your database.
The UpiCRM WordPress CRM plugin can link to several websites and automatically gather data from many of them. UpiCRM's import process maps your form data and current database into a unified database, which you can use to construct a large database of all your leads in your dashboard.
9. WordPress CRM Plugin

You can use the WordPress interface with the fully featured WordPress CRM plugin, WP-CRM System. It makes managing your clients, projects, and tasks simple. The WordPress CRM plugin allows you to have an unlimited number of records. You can provide access to everyone in your company for the WordPress CRM data they need to grow their business. WordPress CRM allows you to manage projects, assign individual tasks, track marketing campaigns, and help convert your opportunities into successes.
With the help of the user-friendly CSV uploader, importing contacts and other details from your outdated CRM is simple. You may instantly create new contacts from website visitors with only one click. The plugin will add data, such as a user's name, email address, etc., to a new contact in the WP-CRM System.
10. Contact Form 7 and Zoho CRM

This highly-rated WordPress CRM plugin connects your Contact Form 7 plugin to the Zoho CRM suite. It integrates your contact form submissions with the CRM. Simply put, you use Contact Form 7 to develop a contact form. This plugin concentrates on lead generation instead of creating a straightforward contact form. When a document is filled out, it is sent right away to Zoho, where all the information gets registered and kept for later. Many custom fields and filters are available for building contact forms and sifting through lists.
11. Web-to-Lead for Salesforce

This fantastic Web-to-Lead for Salesforce plugin securely connects your WordPress installation to your Salesforce CRM account. Your WordPress installation and Salesforce CRM account seamlessly integrate with the Web-to-Lead for Salesforce plugin. Every lead will be stored in Salesforce.com for you to follow up on, so there's no need to duplicate lead information or worry about missing it.
You have two options for inserting the form: using the plugin's widget to place it in your sidebar after completely configuring the form's settings or using a shortcode to place it in posts or pages. These must be in your active theme or a functionality plugin's functions.php file. You may create a custom plugin for each of them to make them independent of your theme.
12. Bitrix24 CRM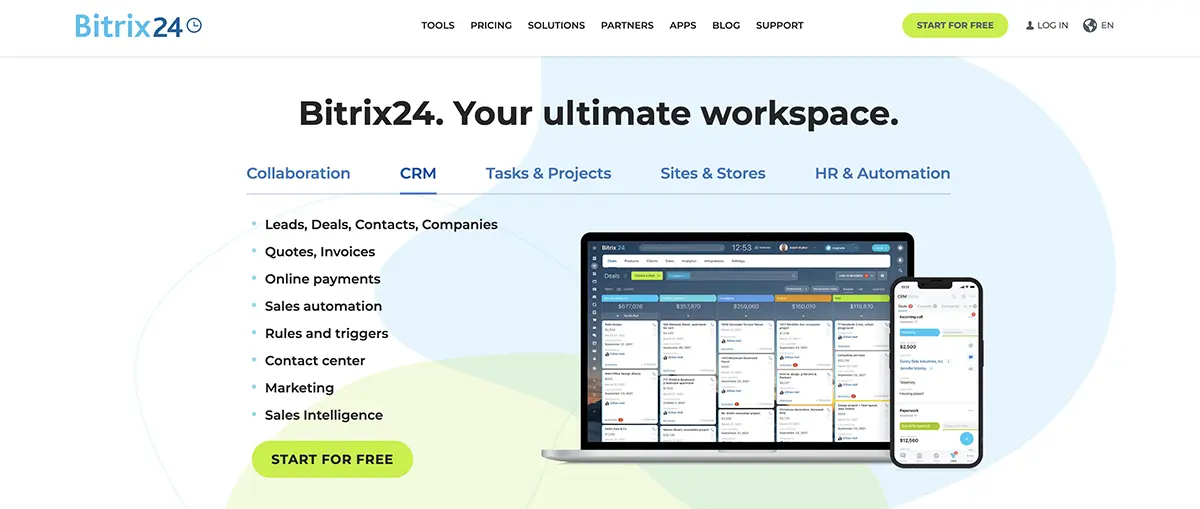 Bitrix24 CRM is an alternative WordPress CRM option that you can use. It's not a plugin in terms of technology, it's an integration method created specifically for WordPress. You can choose to manually enter your contacts or have them automatically submit them via a conversion form on your website.
This WordPress CRM plugin organizes your contacts into a database inside your WordPress website. If you are uncomfortable with the concept of your potential clients and customers being listed as users, you may set their default role before signing up, so you don't need to be concerned.
You can define which fields must be filled out in the advanced settings. You can manage your contacts and change forms with Bitrix24 CRM from the WordPress admin panel. The plugin can organize contacts according to their types and keep track of all exchanges by retaining a communication thread for each record. The extensive support options make using this tool convenient.
Conclusion
A WordPress CRM plugin system must be set up as soon as you begin attracting customers to your website. CRM programs can be quite helpful for identifying underperforming consumer groups and expansion prospects. The more knowledge you have about them, the better you can satisfy your client's goods, services, and customer support needs. We have compiled the best WordPress CRM plugin that would be helpful for you in many ways.
These plugins can help you make your website better. If you feel none of them can fulfill your need, we recommend you try Hubspot CRM, which has many functionalities such as live chats, email marketing, forms, and analytics. Feel free to check our article on the WordPress plugin list to learn more about the market's top WooCommerce WordPress plugins.