You're searching for tips that can help you to improve SEO, right? You may have already tried some cheap & popular tricks to improve your SEO. Though there is no harm in doing that, the reality is that these can't get you a quality result. To enhance your SEO, you need some practical, tested, and result-oriented tips to improve your SEO. You also need to know why this or that will work. 
Though SEO is an updated field, some fundamental things will never change. You can update things from time to time, but those are some evergreen tips for SEO.
We've come with 9+ powerful & evergreen tips that can improve your SEO ranking. We've experimented with three websites and found those techniques effective for the last 5 years. Let's get into those tips! 
9+ Tips on how to improve SEO rankings on WordPress
1. Pick an SEO-Optimized Theme

There are thousands of WordPress themes in the WordPress repository. You can choose any theme you want. But not all themes can help you with SEO. So before choosing your theme, make sure you chose from the Best SEO Themes for WordPress to make an SEO-optimized website well.
An SEO-optimized theme follows SEO guidelines, so that on-page SEO becomes easier to do. Moreover, these themes are mobile-friendly and responsive. 
Google focuses on user experience while ranking a website, so having such an SEO-optimized and mobile-friendly website can help your SEO. 
2. Change Your 'Permalink' Structure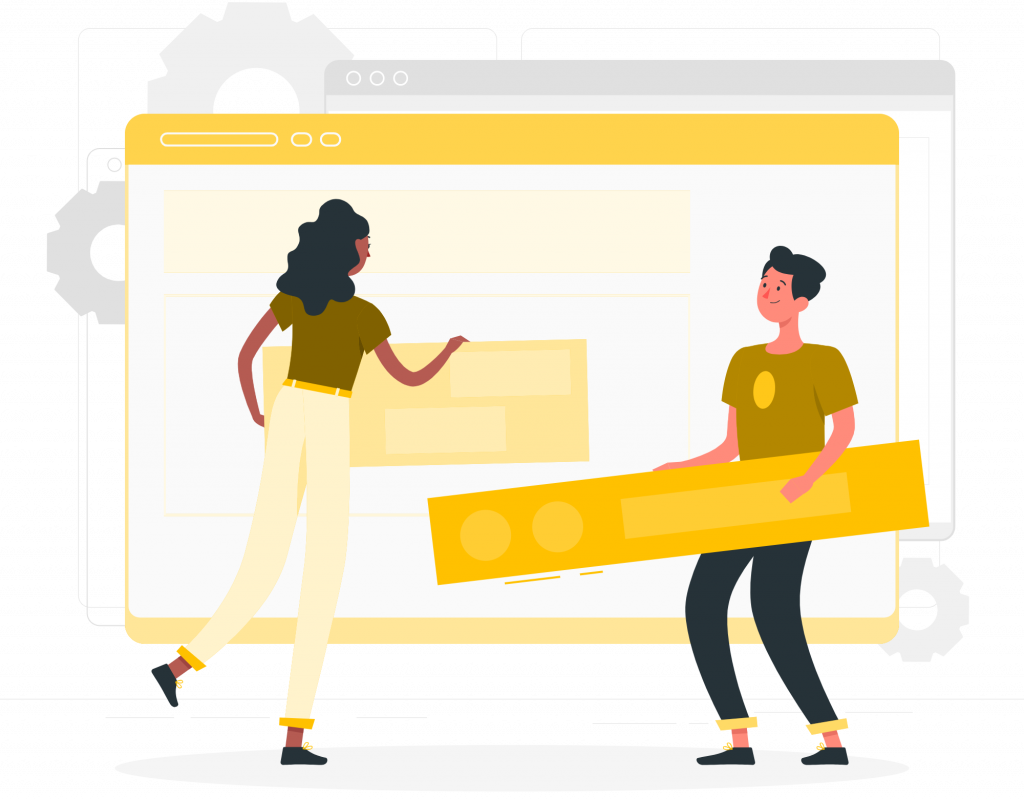 Generally, WordPress will give your web pages by default permalink. Those are not helpful for SEO. Even it doesn't help to understand what the content is about. That's why it's called the ugly link. You need to set the permalink structure for your posts to get rid of that. Here is a 3-step guideline to do that. 
Step 1: Go to the Dashboard, hover the pointer on Settings, and click on the Permalinks.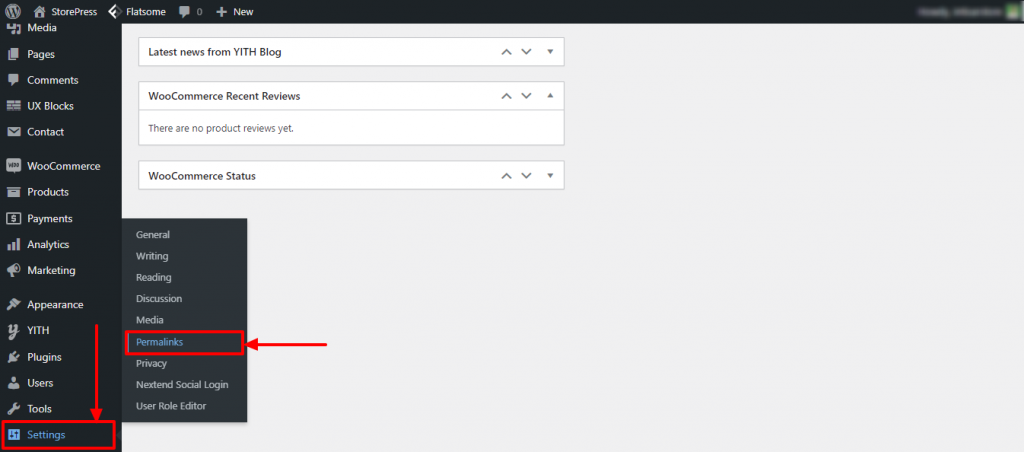 Step 2: A new page will appear. You can select any common setting for your permalinks.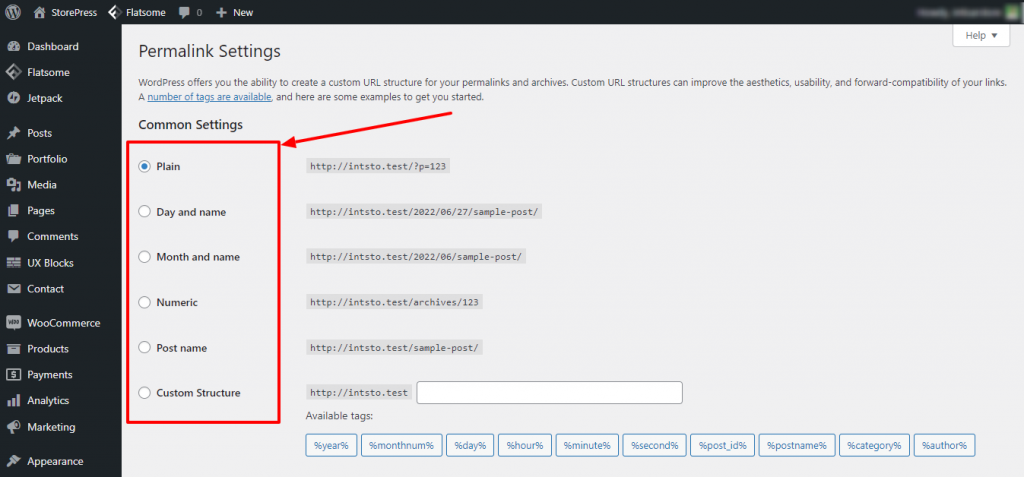 Step 3: Scroll down, and click on the Save Changes.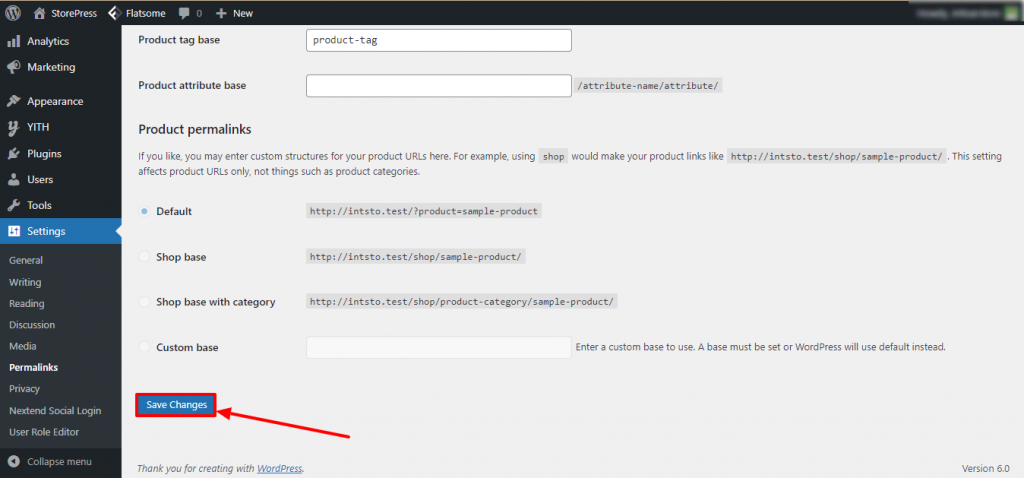 That permalink structure will help visitors and search engines with the website's content. Having a good permalink also helps the page to rank fast. Overall, creating proper permalink helps a lot to improve your SEO. 
3. Create a 'Sitemap'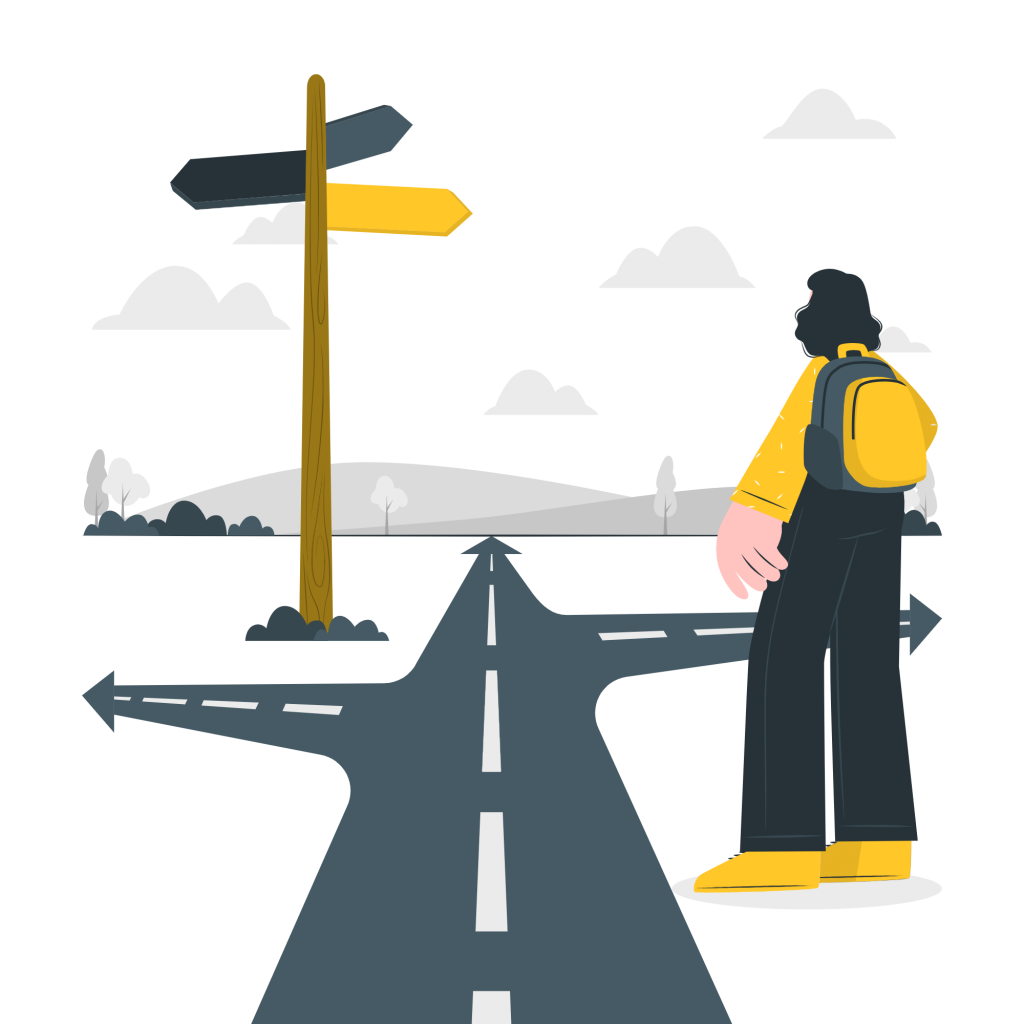 A sitemap is a file that contains information about your website. Information that can help search engine to explore your website easily, such as the information about the pages, media, and all other content. Submitting a sitemap is a must for any website because it helps Googlebot to crawl your site easily. Without it, Googlebot will face difficulties to crawl the website. 
The sitemap is itself a map of your website. The sooner you upload it, the sooner the Googlebot will find it, crawl it, and make it appear on the Google search. You can also create Google Sitelinks to get a fast crawl on Google search results.
So, what will happen if you don't submit this to Google? – Googlebot will not find your content easily. It'll take time to crawl it. 
That's why submitting a sitemap should be one of the very first things after building a website. 
4. Use Internal Linking
Internal links are the links to the other content of the same website. It helps visitors to find other content on the website they may need. When they find what they need on the same website, they stay longer. This helps with the SEO of your site. Having internal links mean you're producing content of the same niche, and visitor who once visit your website, are most likely to come again. 
Google appreciates such approaches, so your site will rank faster if you do internal linking among your content. But you've to be careful while doing this. Because if you link irrelevant information, add too many links on a single page, or do not maintain href properly, Google will punish your site for misusing this. 
So, use internal links to pass the link juice among your content. But do it carefully so that your site doesn't face any punishment. 
5. Quick Indexing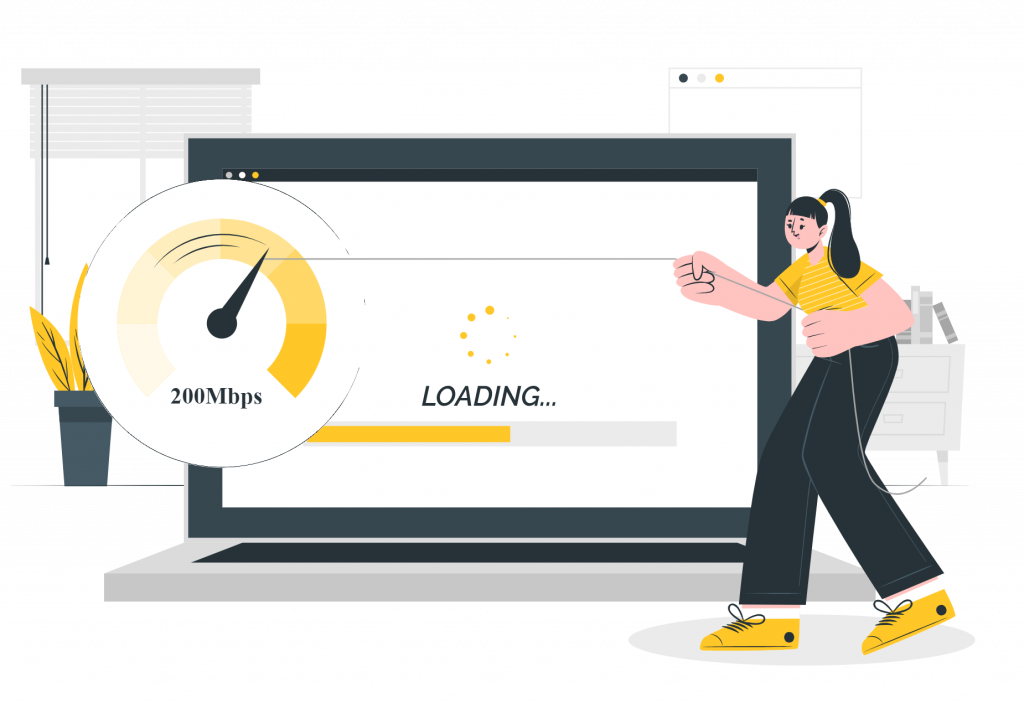 Indexing is very important for your SEO. Your content will be automatically indexed after some time through the sitemap. But we can accelerate the process by using Google Search Console. If you don't know what is the google search console and how to add your website, you may read our relevant article about the search console. After publishing content, copy its link, and paste it to the search console. Then request for indexing. In that way, it'll be indexed faster. 
6. Optimize for Mobile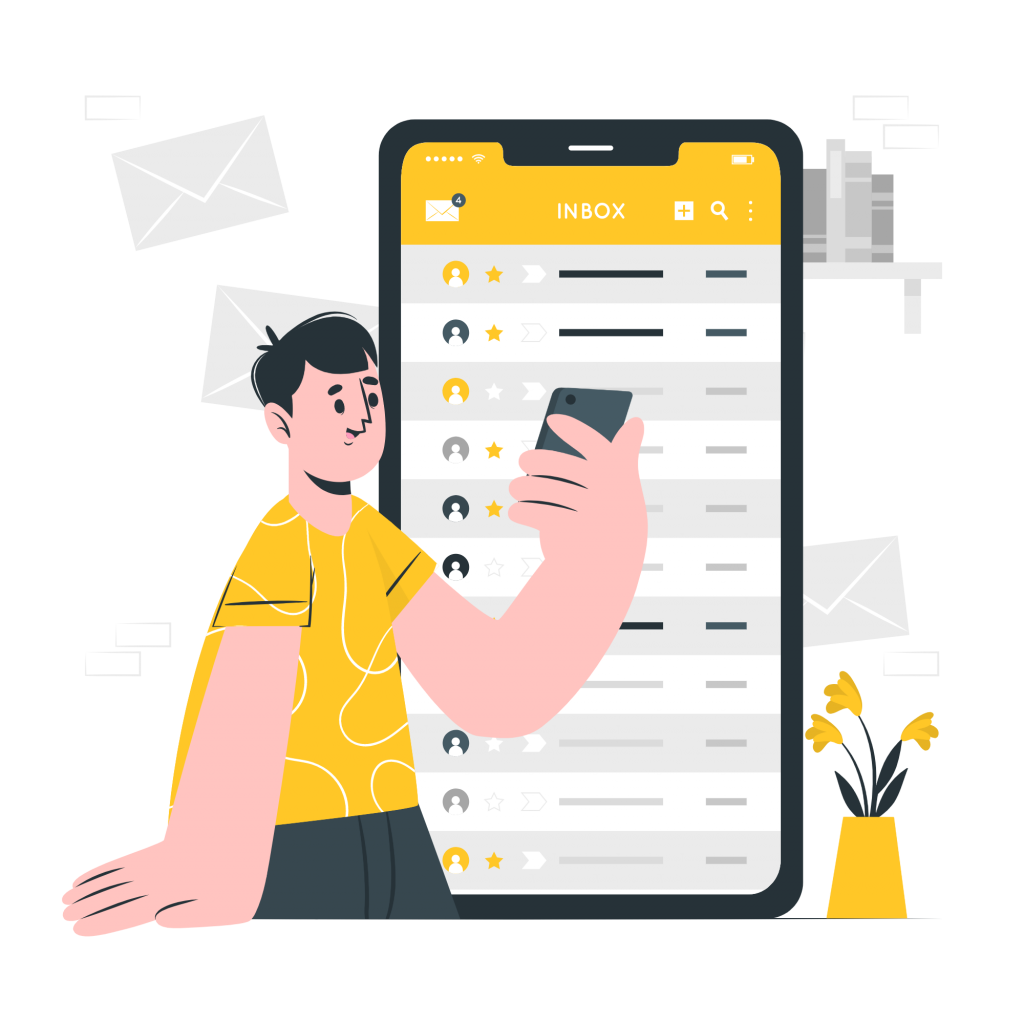 90% of internet users use mobile phones for browsing. So, your website must be mobile-friendly to reach a greater audience. 
When choosing a mobile friendly WordPress theme for your website, check the compatibility of that theme. It should be compatible with any screen size. This is not only for users' comfort, making a website accessible for every kind of user has become a parameter of being a quality site. Google also checks if a site is friendly to all sizes of screens or not. And this result also impacts SEO. 
7. Have a Content Strategy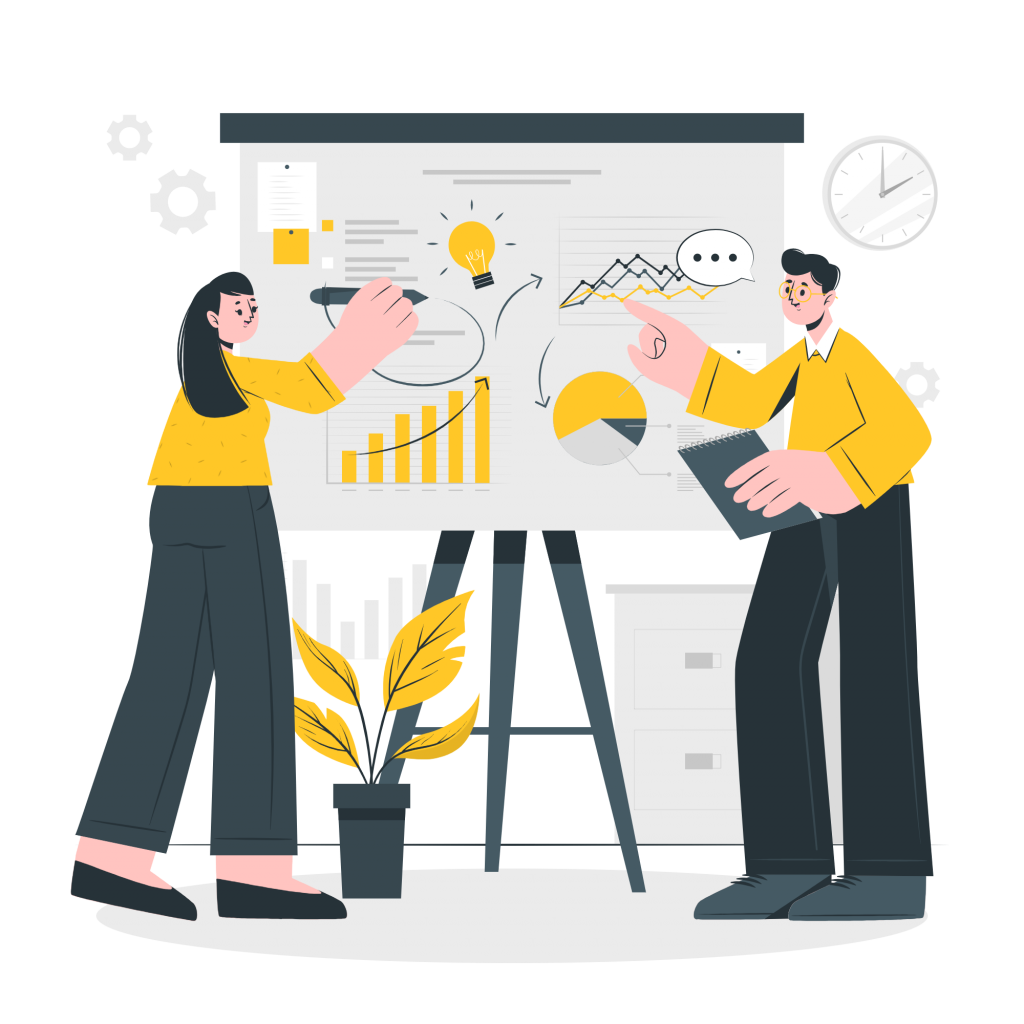 We know that you're wondering "how content strategy can be connected with SEO?". Most people don't look into the deep, that's why they miss important things like content strategy. Let us clear this for you, content strategy is a very indirectly impactful fact in SEO. If you don't have a plan for your content, you'll do such things.
Publishing content inconsistently

Bringing out less relevant content 

Not maintaining the chain around the content

Creating content without researching
Those are very common among beginners. Those are examples of not having a content strategy. And this leads to not ranking on Google, fewer visitors, higher bounce rate, low domain authority, etc. Overall, this is a slow poison that will kill your SEO, and you'll wonder what you are doing wrong! 
Content is the king of your website. Unless you're handling a formal static website that updates once a year, you need to have a strategy for your content. Gathering content ideas, and preparing content according to that are much more important than you think. Because it shapes the website's SEO and helps you to organize your content for a better SEO. It'll also put you ahead of your competitors if you've got a plan. 
8. Use a Dedicated SEO Plugin
If you're a beginner in SEO, a dedicated SEO plugin can guide you to do SEO properly. It can also help you with indicating SEO issues and give the way to solve them. In the WordPress plugin repository, there are many SEO-focused plugins to help you with SEO. You can choose any SEO plugins in WordPress from the plan. But we recommend using Rank Math or Yoast SEO for the best performance. 
9. Use Lighthouse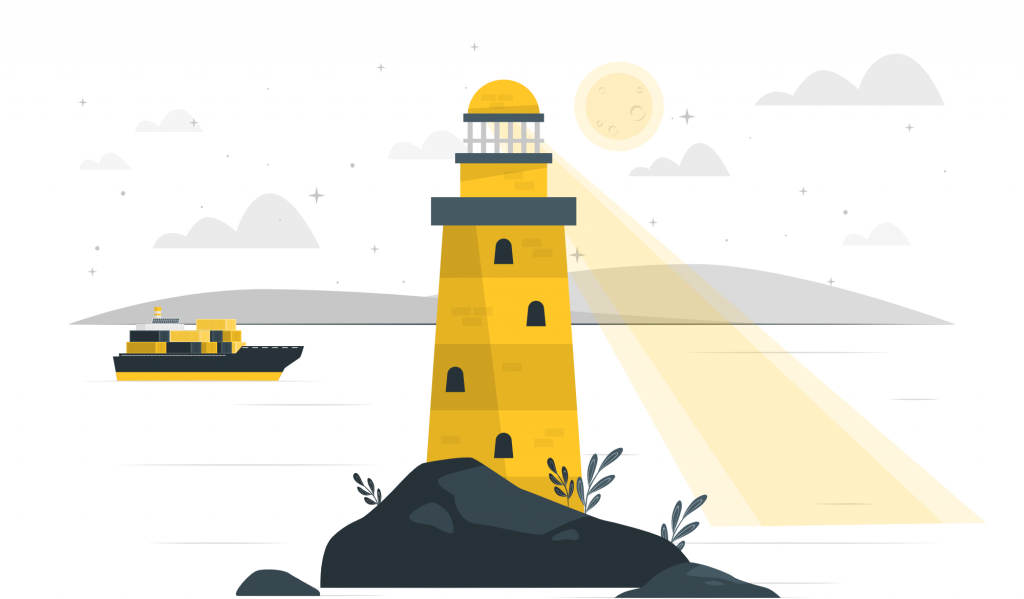 Using Google Chrome, you can use Lighthouse to improve your SEO. It's a built-in feature of Chrome that can tell you about your website. Using this, you can get an in-depth SEO report. Following this report, you can easily update your site. We've made a tutorial on how you can quickly get your SEO report using this.  
Step 1: Go to your website using Google Chrome, if you're not a Chrome user, download Google Chrome, and install it. For demonstration purposes, we're using our website WPCred.com. Then keep the cursor on the webpage and press the right button of your mouse. A context menu will appear, select the last option named Inspect as you can see in Rank Math vs Yoast SEO image below.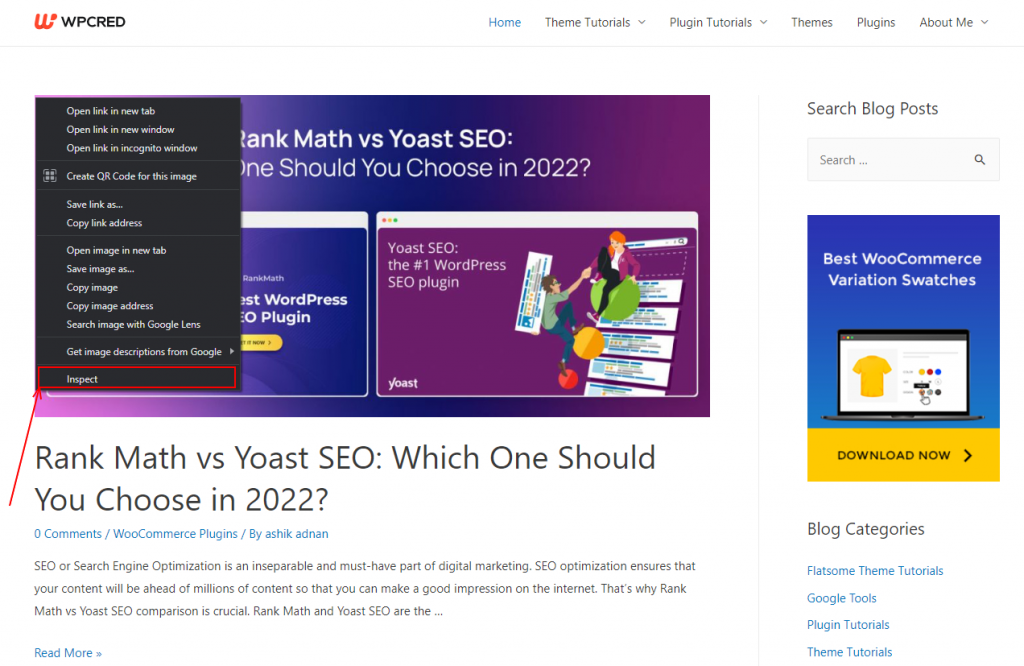 Step 2: A new section will appear on that page. It can appear right/left/top/bottom of your website. In that section, find the Lighthouse option, and click it.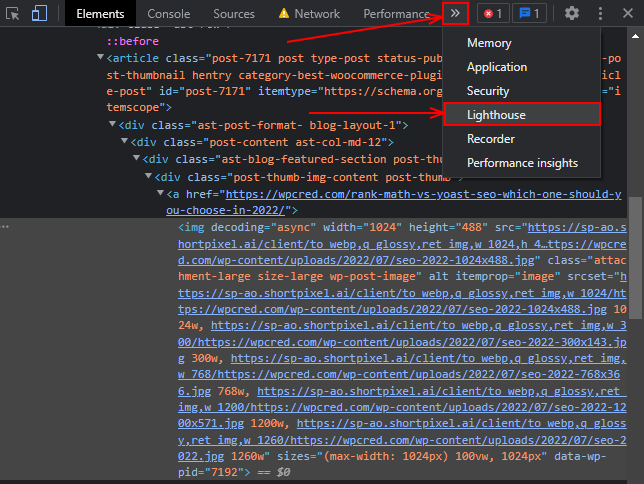 Step 3: Now, the Lighthouse will be opened. Now, select the category of the report, and device, then click on Analyze Page Load.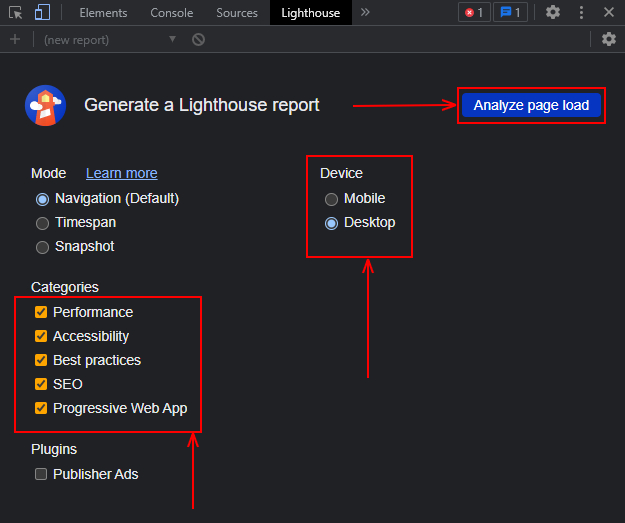 Step 4: Now, a report will be generated. Depending on your internet speed, website content, local machine performance, etc.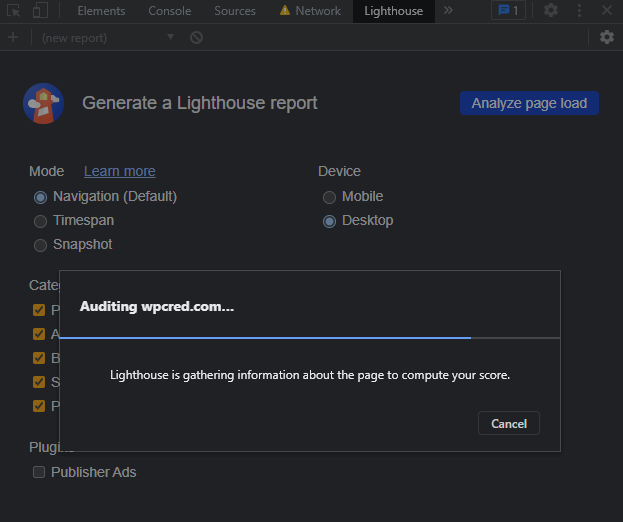 Step 5: After some time, the report will be generated, and you can see your SEO performance here. It'll show the exact issues of your SEO so that you can easily solve them. If you've got a 90+ score, you're doing great!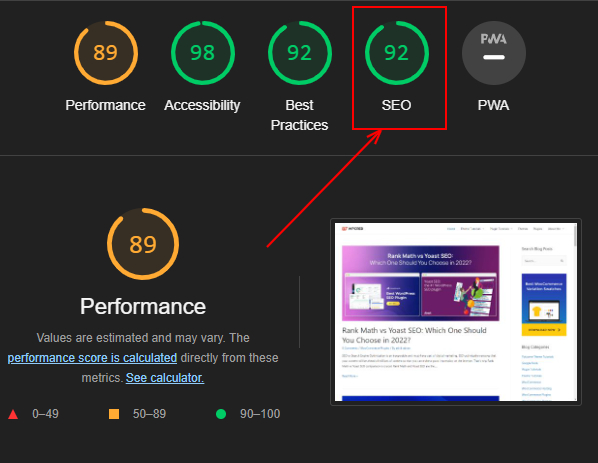 This is how you can get a high-quality evaluation report of your website's SEO for free. You can only use this on Chrome and Firefox. Other browsers don't have this feature. In Firefox, you need to use an extension to use this. It's a built-in feature only in Google Chrome.
Conclusion
SEO takes time to be effective. You can't apply those SEO tips and expect to get the output instantly. There is no specific timeframe for the effectiveness of SEO. It can take 1/ 2/ or 6 months. 
So, don't expect a quick result. Follow those tips, and wait for the result. By this time, do other essential tasks of SEO and track your SEO performance. All you need to do is add google analytics to track your SEO performances You can easily know how to add google analytics with WordPress from different kinds of resources.
Let us know if you face any problems regarding those tips. Also, if you find anything new, share it with us!