Any WordPress theme, free or premium, provides many similar features as compared to others. That is why it is always difficult comparing between two themes, especially when they are premium and cost you a lot of money. That's why OceanWP vs Flatsome comparison should be a must-read article on your list. In this article, we will discuss and compare different aspects of the OceanWP and Flatsome themes. These two are on the list of most popular premium WordPress themes, and they are in tough competition with each other. We will try to make it easier for you to choose between these two themes.  
OceanWP vs Flatsome Comparison: Introduction
OceanWP
The OceanWP is one of the most customizable and popular WordPress themes on the market. It is available both in free and premium versions. It has an astonishing download number of 5,312,627, including free and premium versions. This theme is widely popular for its excellent performance and reliable customer support.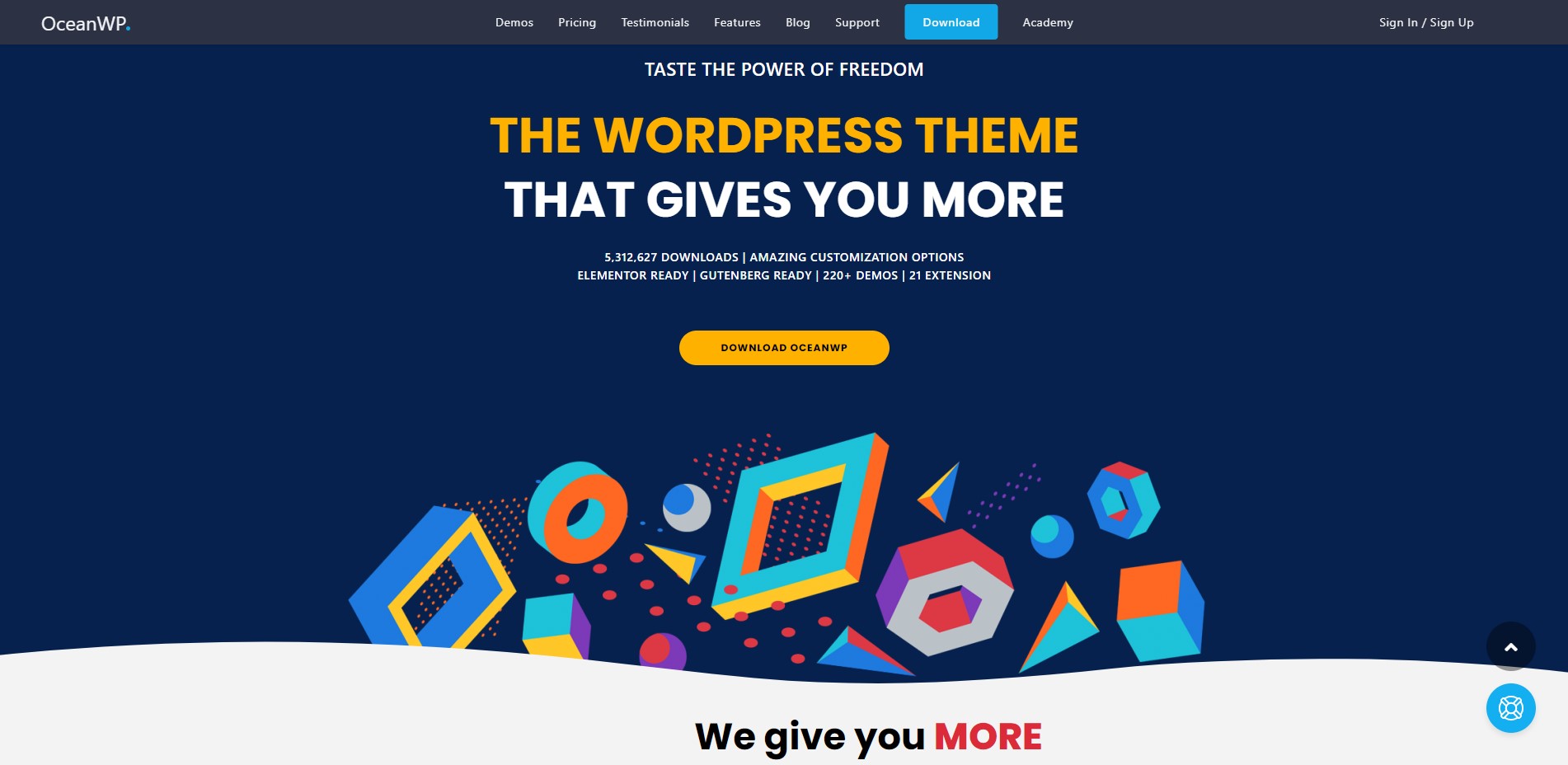 Flatsome
The Flatsome theme is the #1 ranked WooCommerce theme on Envato Market and a globally renowned WordPress WooCommerce theme. It has gained popularity through time for its lightweight performance, numerous customizations, and incredible customer support. Currently, it has 300K+ active websites that actively used the Flatsome theme previously, and 600K+ active websites and their customers are growing every day. Overall Flatsome review is awesome from any kind of perspective that you can realize after using this theme.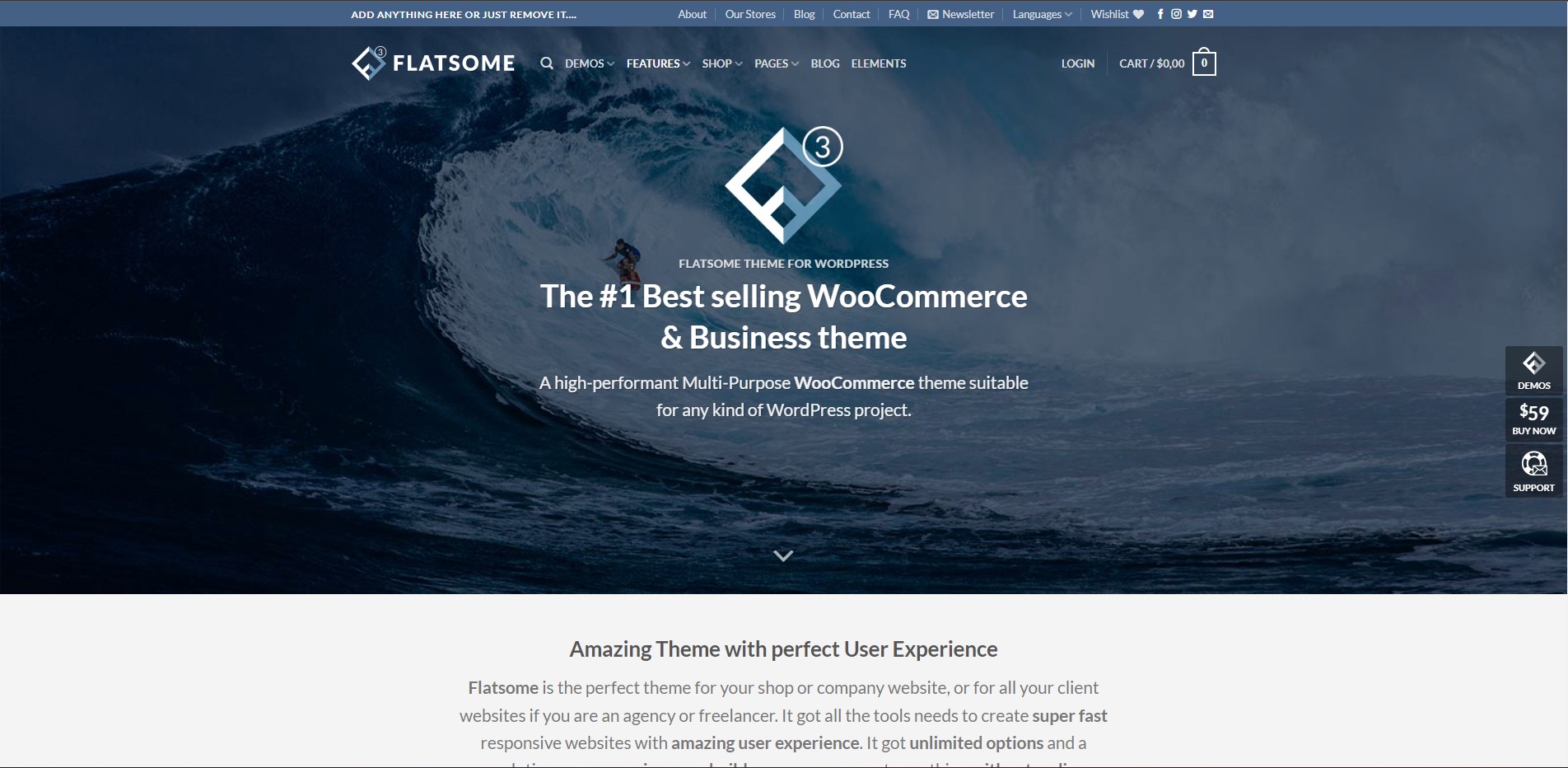 OceanWP vs Flatsome Comparison: Pre-Built Website/Demos
OceanWP
The OceanWP has an extensive library of beautiful prebuilt demo websites. They made demos for all possible categories you might need it for. These demos are creative in design and increase the functionalities of your website. You can download any of these demos with a single click and start customizing them. Some most popular WordPress WooCommerce themes also have demo websites included in them.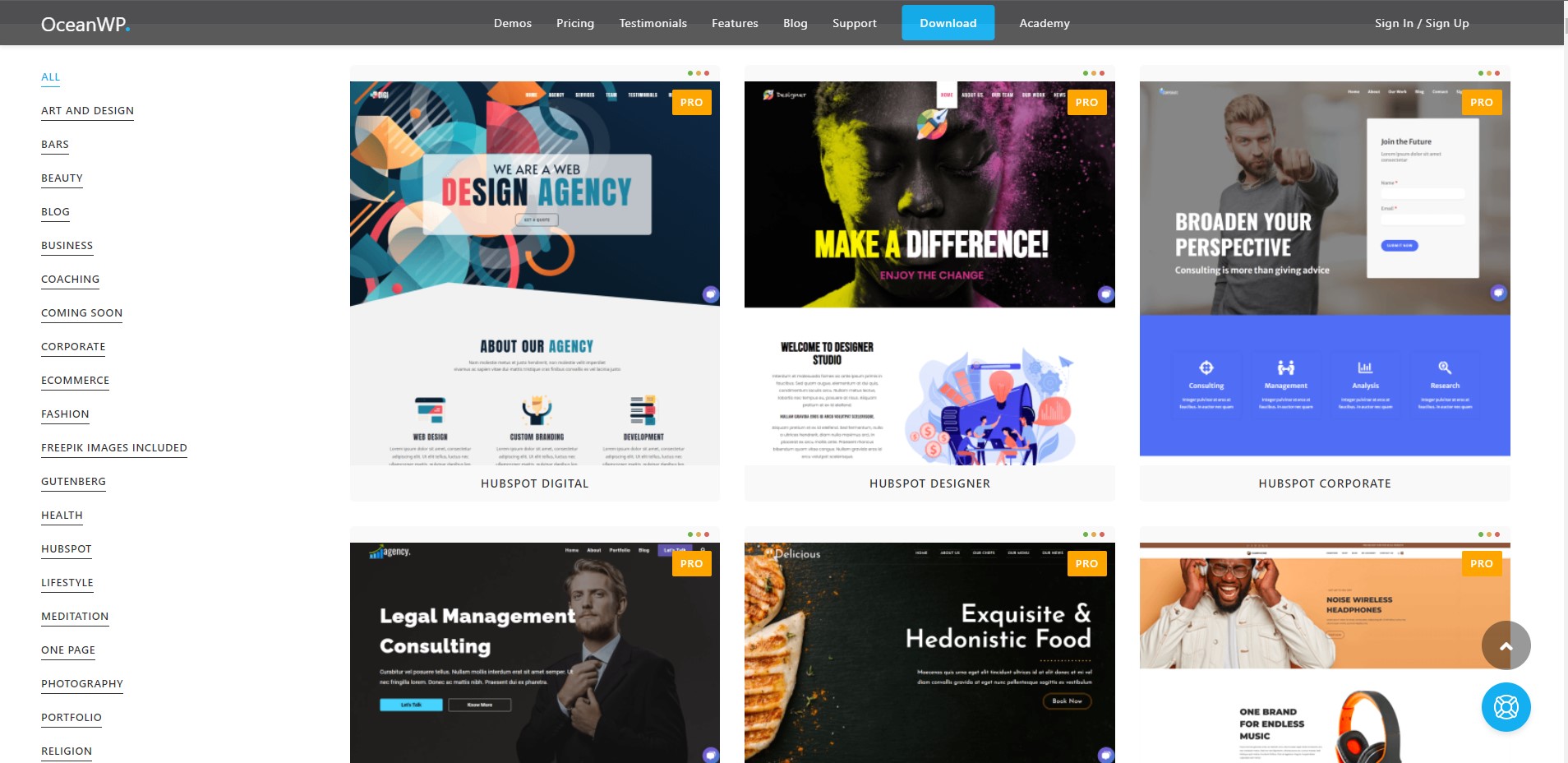 Flatsome
Flatsome theme provides demos for both business and WooCommerce websites. You will have demo websites for mega shops, classic shops, and other creative WooCommerce shops. It also included beautifully crafted demos for business websites such as agency, corporate, lifestyle, etc. This Flatsome theme demo can be downloaded with a single click, and you will be way ahead in your development in no time.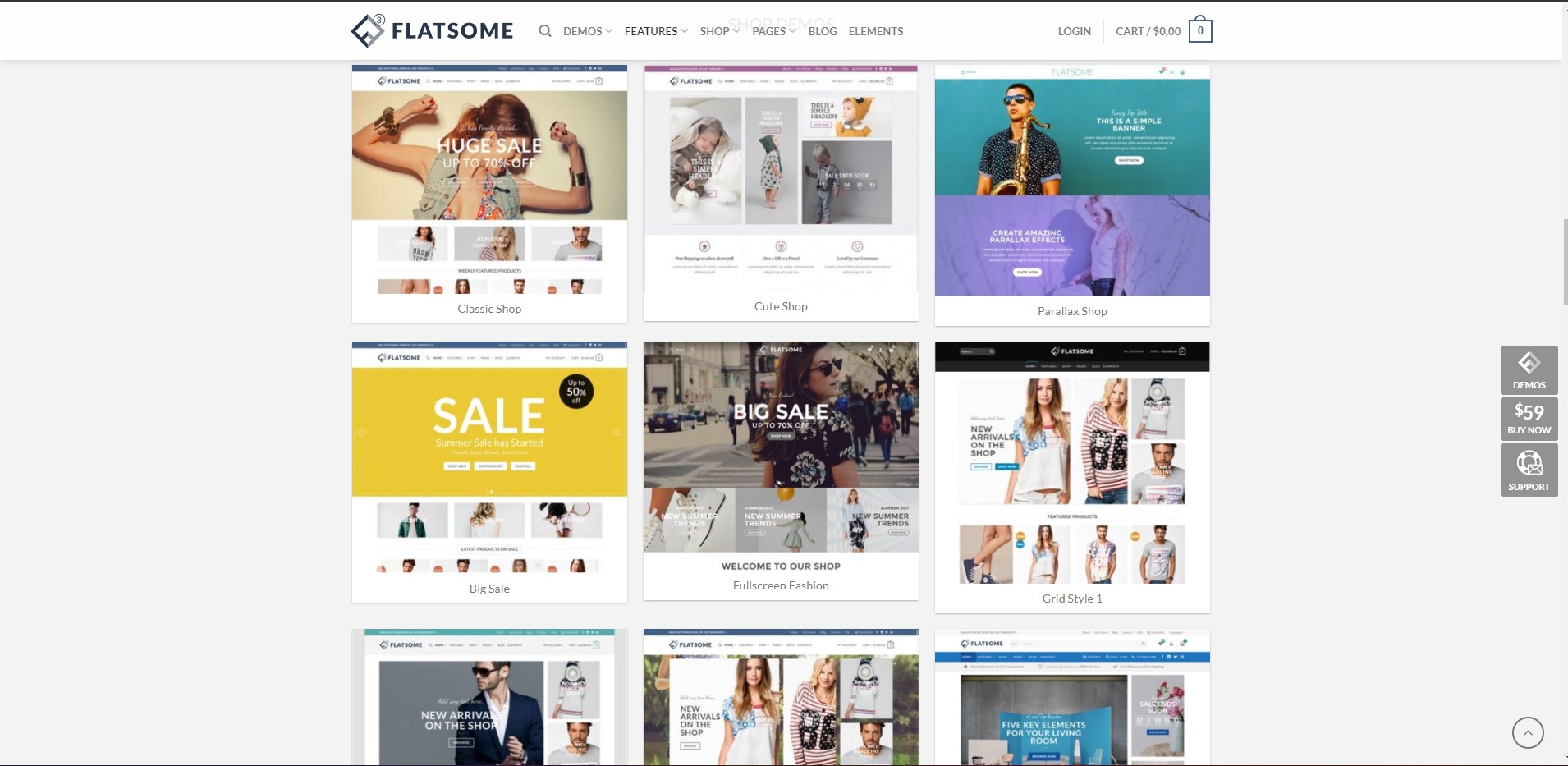 OceanWP vs Flatsome Comparison: Customization Options
OceanWP
OceanWP theme knows for its numerous super flexible customizability. The theme has a fair number of customizations in its theme customizer. It also acts as a live customizer means you can see the changes in real-time as you customize the theme. You will find customization options for all major sections of the theme like header, top bar, footer, sidebar, color, etc. Even you can know how to create variable products WooCommerce in OceanWP theme.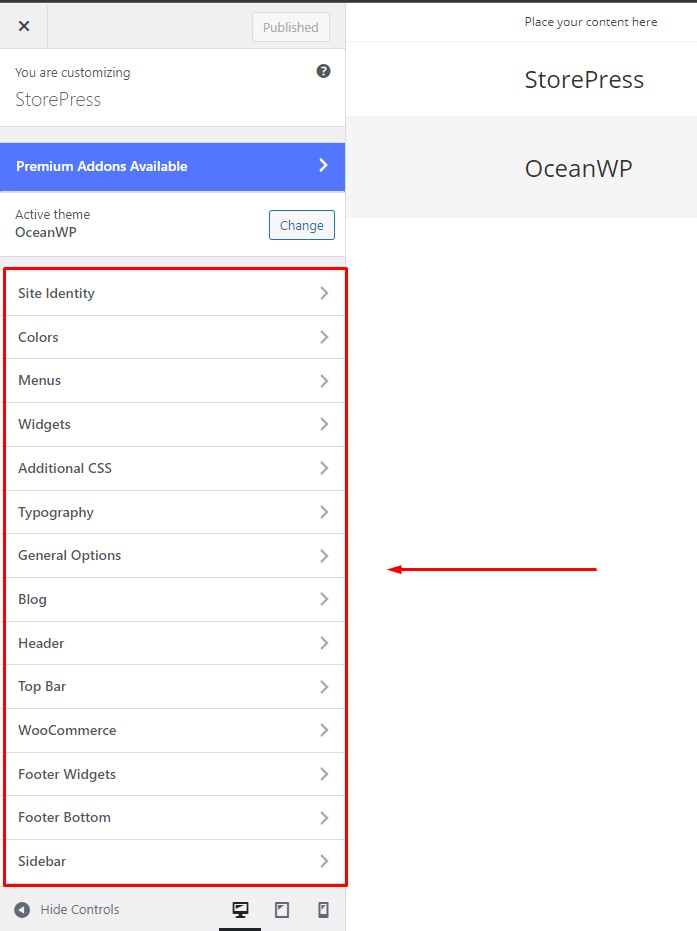 Flatsome
The Flatsome theme is ahead of any other premium theme on the market when it comes to theme customization options. The theme included several customizations for even the smallest section or element of the theme. Using the live customizer, you can build the header and footer of your choice. You are also able to customize site layout, colors, typography, portfolio, widgets, and many more. Most of the simple WordPress WooCommerce themes have their own customizer.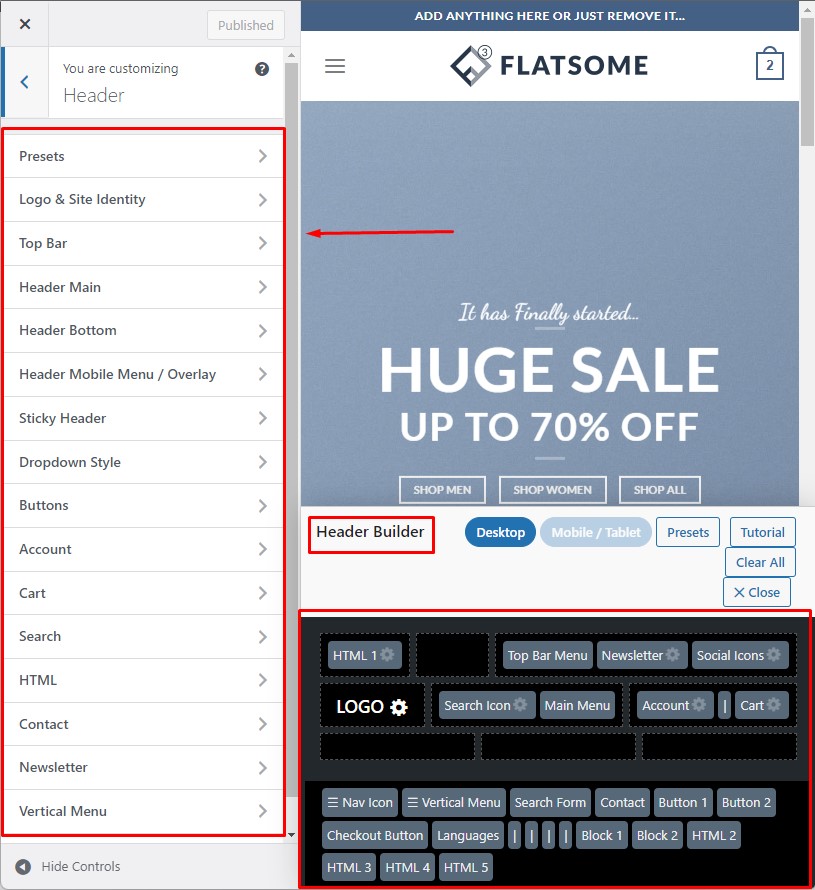 OceanWP vs FlatsomeComparison: Page Builder Integration
OceanWP
The OceanWP is integrated with the excellent Elementor page builder. It doesn't have its own page builder; rather than the theme lets you craft beautiful and functional pages using the Elementor page builder. With its seamless integration with Elementor, you can quickly build lightweight and dynamic pages. There are also free Elementor themes WordPress you can use the builder with.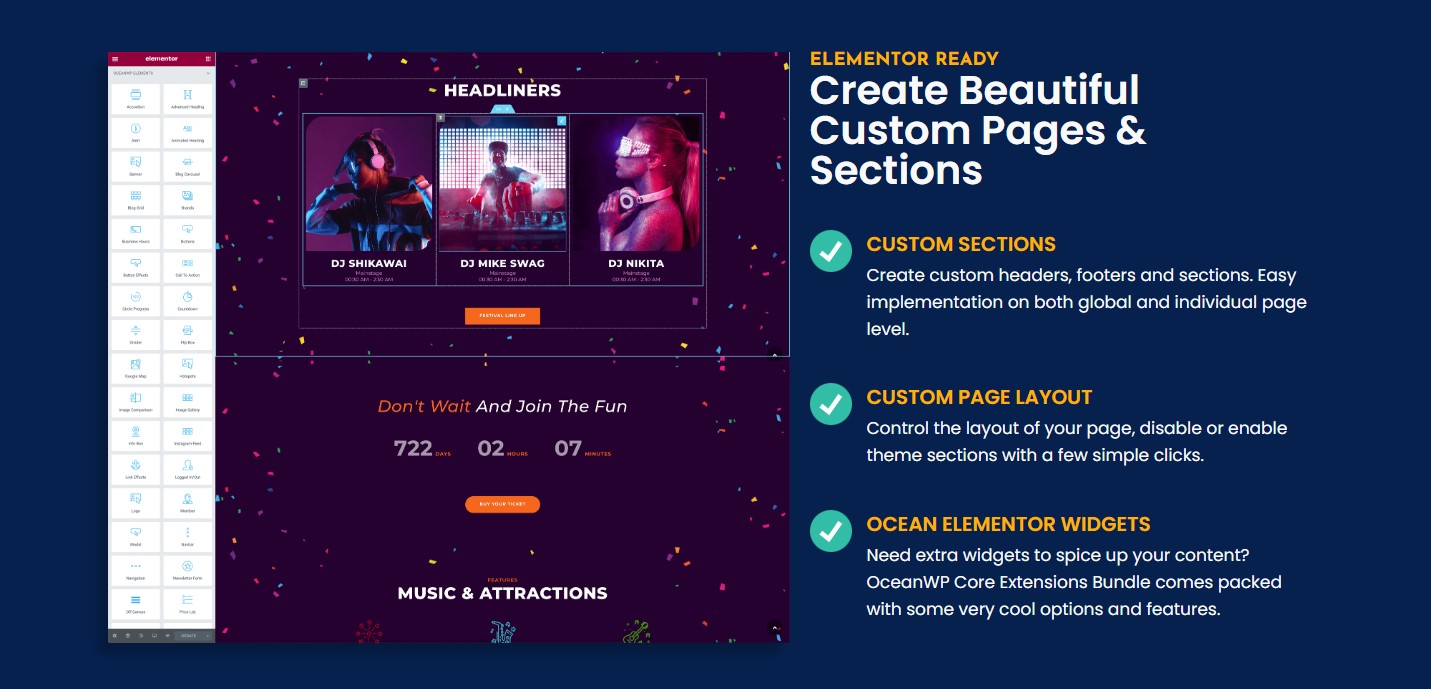 Flatsome
The Flatsome theme comes integrated with its revolutionary live editor. Using its integrated page builder, you can craft beautiful and functional pages from the front end and you can also customize product page WooCommerce easily. Its page builder has 40+ general elements and many other WooCommerce elements to showcase your products and implement functionalities.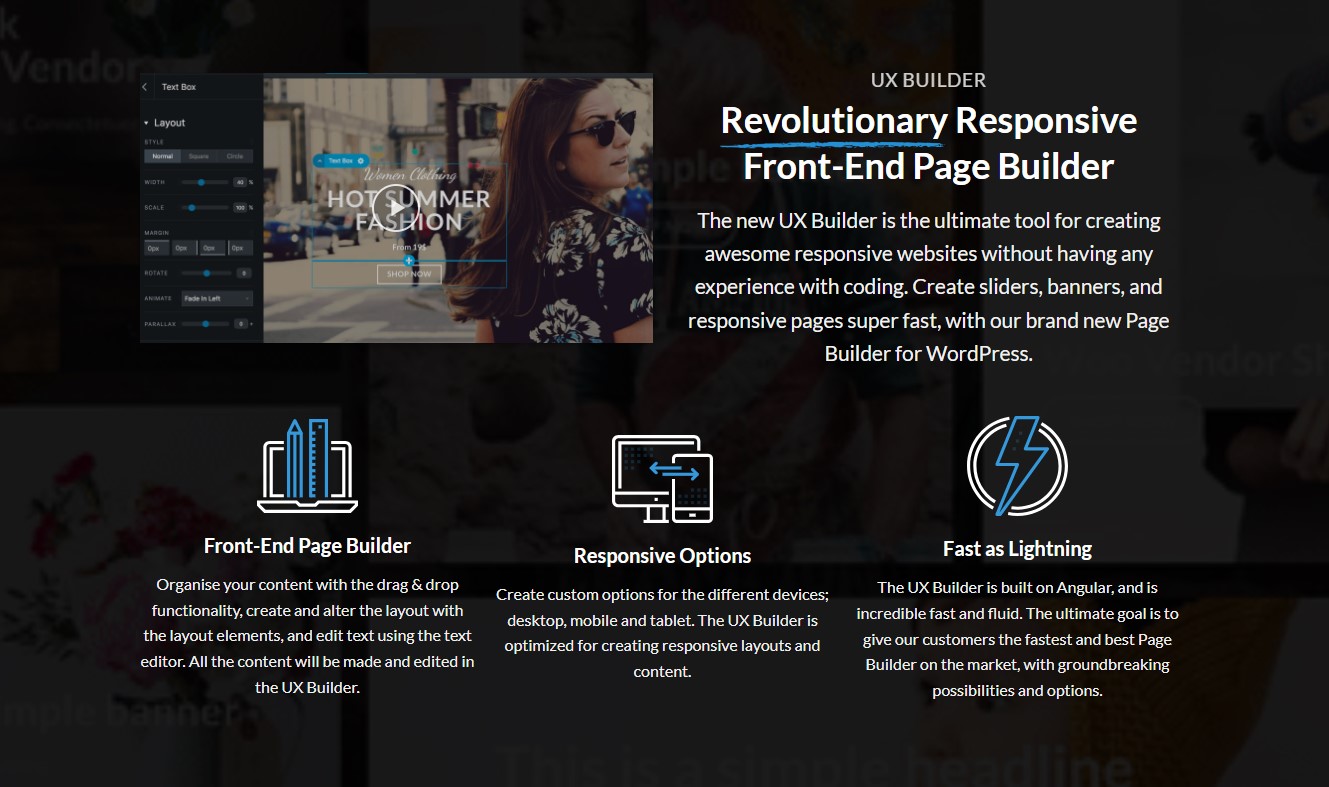 OceanWP vs Flatsome Comparison: Page-Level Controls
OceanWP
OceanWP has various customization options in its page-level settings. You can choose a page template from fewer options and control allowing comments on that particular page. You can also set the featured image for the page and set the parent page, order, and slug.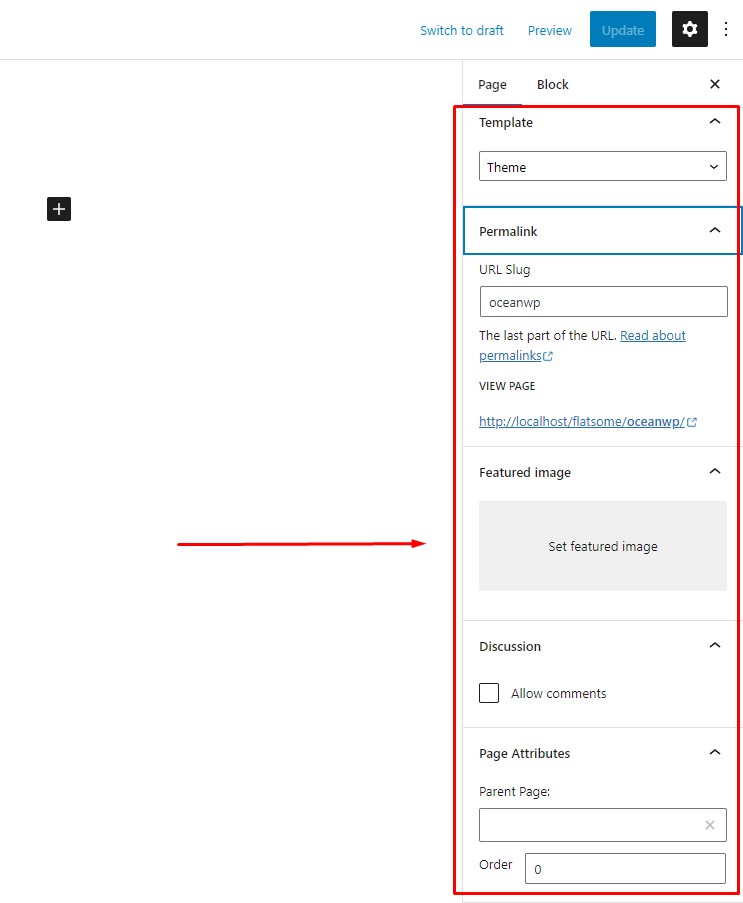 Flatsome
Flatsome has similar page options to OceanWP. Flatsome also lets you set parent page, order, featured image, etc. But, the Flatsome theme offers much more page template options compared to OceanWP.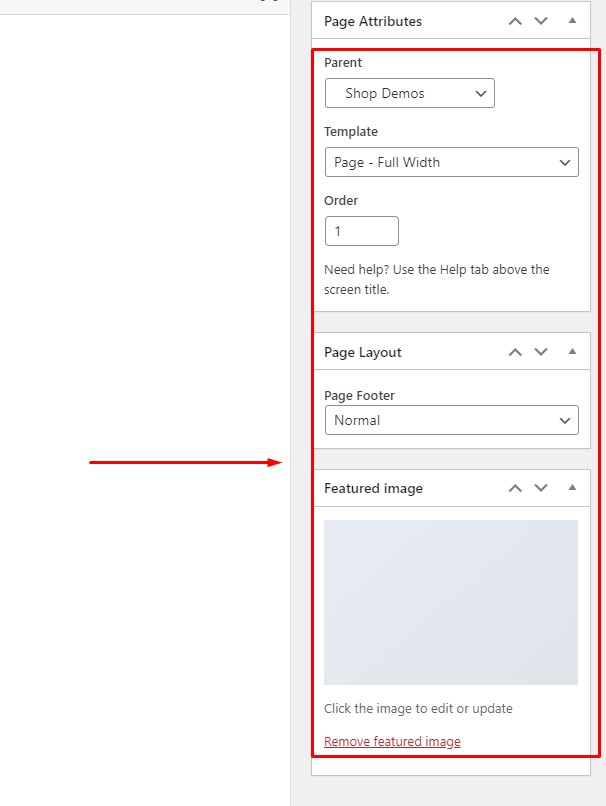 OceanWP vs Flatsome Comparison: WooCommerce Integration
OceanWP
The OceanWP has deep integration with WooCommerce. There are customization options for almost every WooCommerce element, and you can do a lot more using the Elementor page builder. Inside the theme customizer, you will have WooCommerce settings like the single product, product images, cart, checkout, general, etc.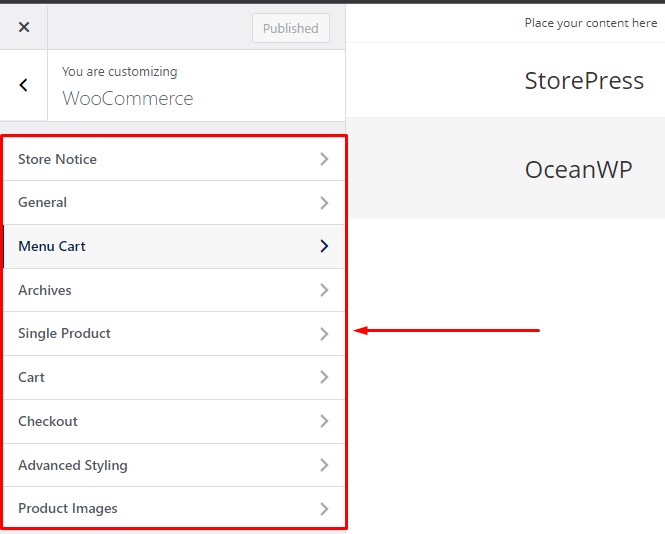 Flatsome
As Flatsome is a WordPress theme specially built for WooCommerce, there is no doubt it will have better integrations with WooCommerce. Though OceanWP and Flatsome theme both provide customization for every WooCommerce element, the Flatsome theme has deeper customization compared to OceanWP. You can customize each element, like the product catalog, product page, my account, payment icons, etc.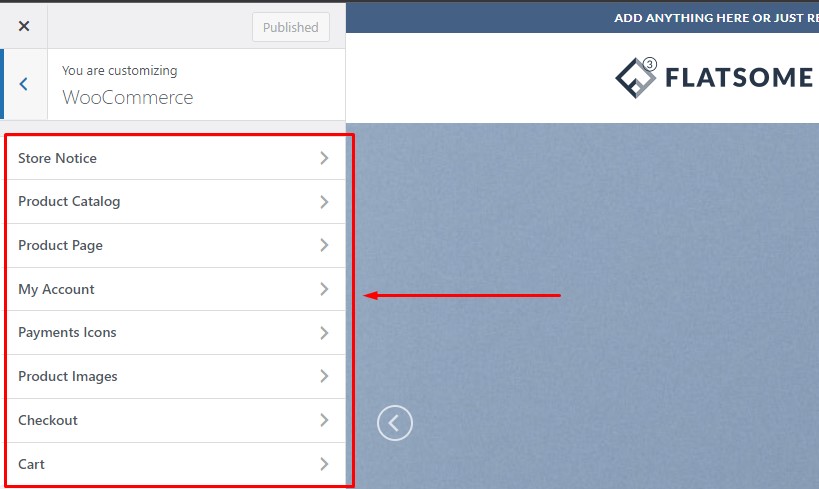 OceanWP vs Flatsome Comparison: Speed & Performance
OceanWP
The OceanWP is loved by millions because of its lightweight performance and incredible speed. This theme has scored grade 'A' in GTMetrix with a 100% PageSpeed score and 98% structure score. We can say from the speed test result that it is one of the high-performance WordPress themes on the market right now.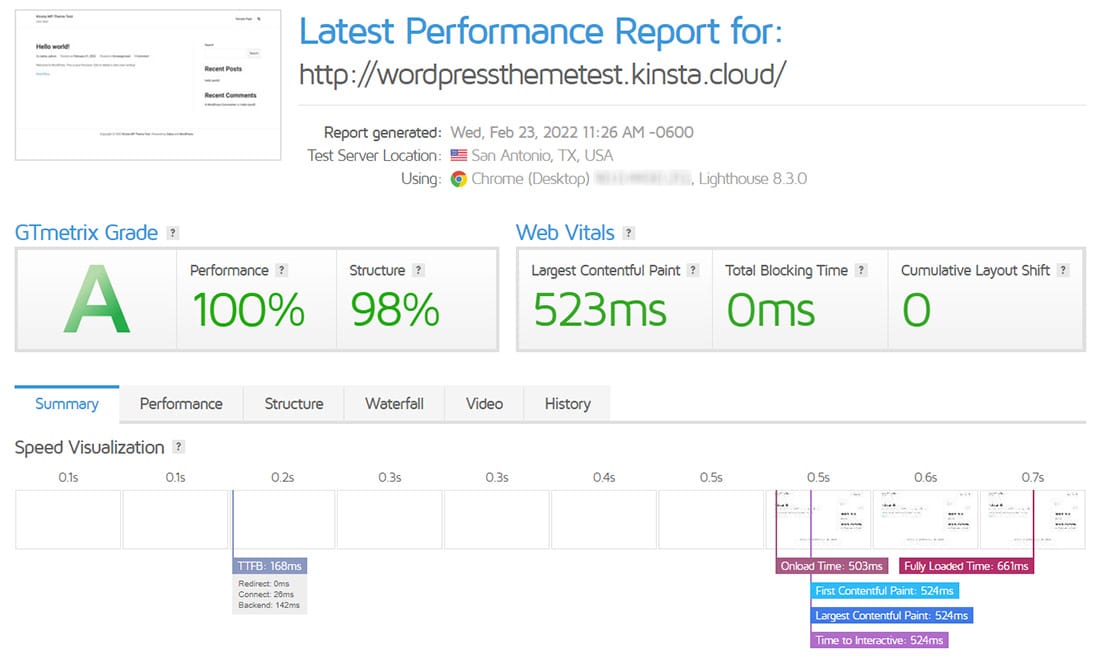 Flatsome
Flatsome is renowned for its excellent performance and lightning-fast speed. This awesome theme has scored a grade 'A' in GTMetrix with 100% in performance and 100% in structure. Surely. Flatsome is unbeatable when it comes to comparing faster WordPress themes with the best performance.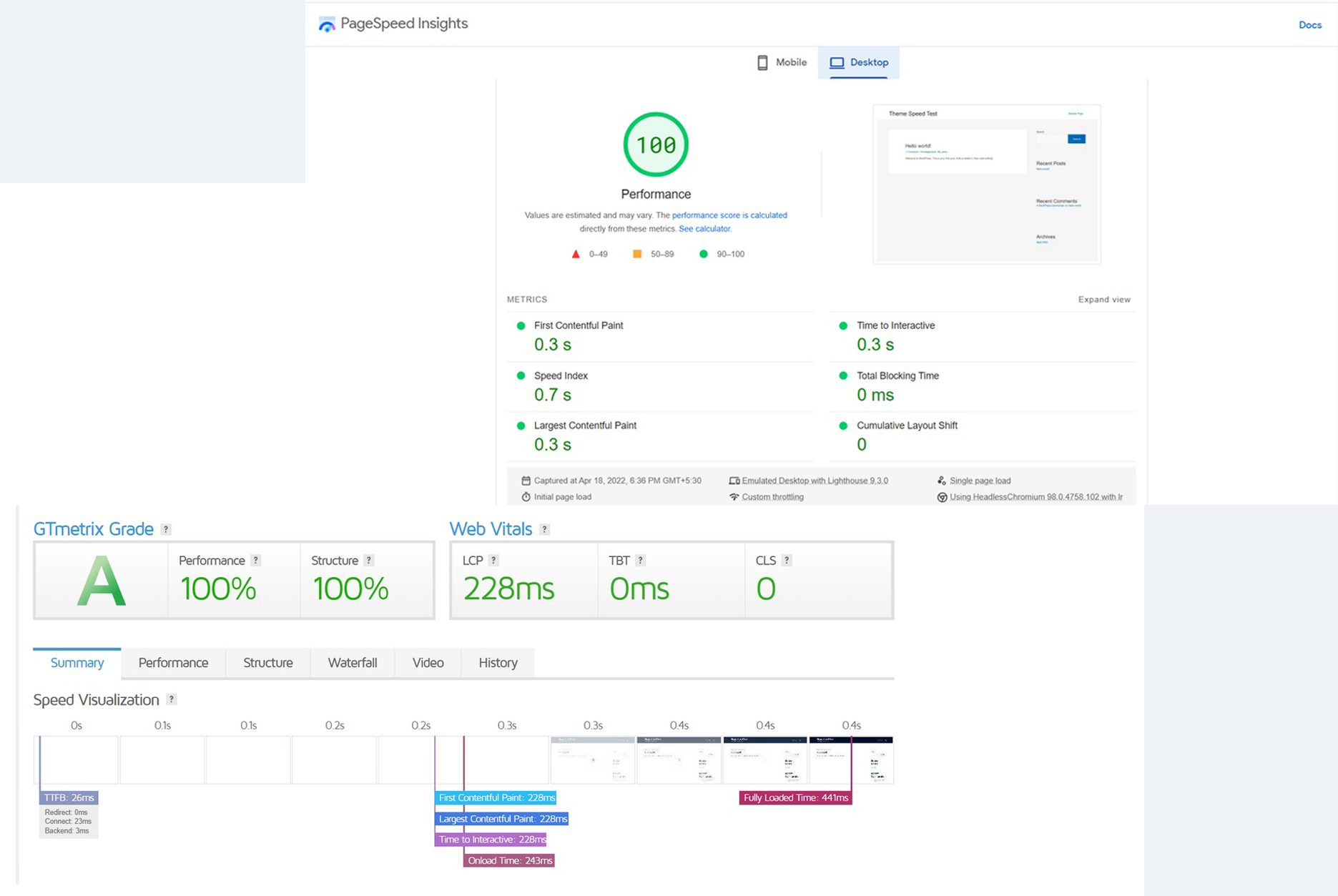 OceanWP vs Flatsome Comparison: Pricing
The OceanWP premium version is available to purchase in 3 exciting packages. You can obtain the Personal package for a yearly fee of $35. You can purchase the Business package for 6 sites at the price of yearly $49. The last package is Agency for 50 sites, which can be purchased for a yearly fee of $79. All these packages come with premium bundles, extensions, and support.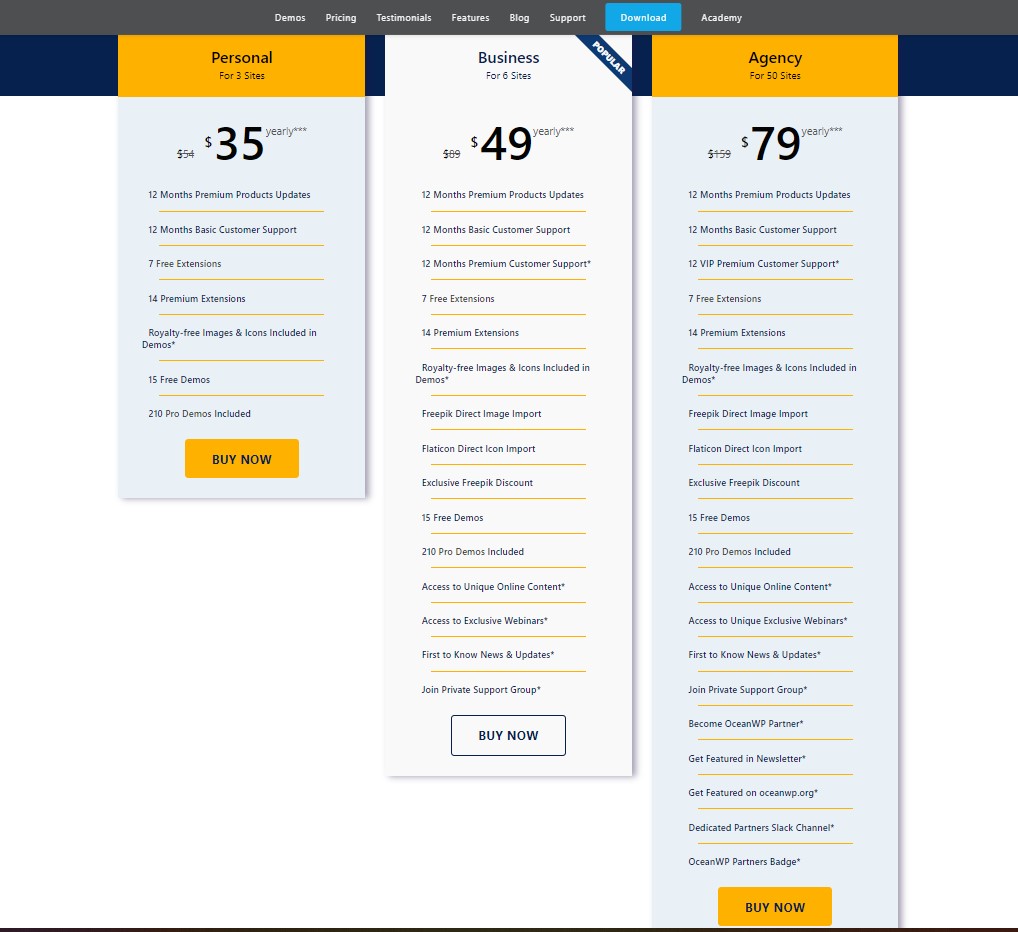 You can purchase a single license of this awesome Flatsome theme for only $69. With an additional $17.63, you can extend the customer support to 12 months.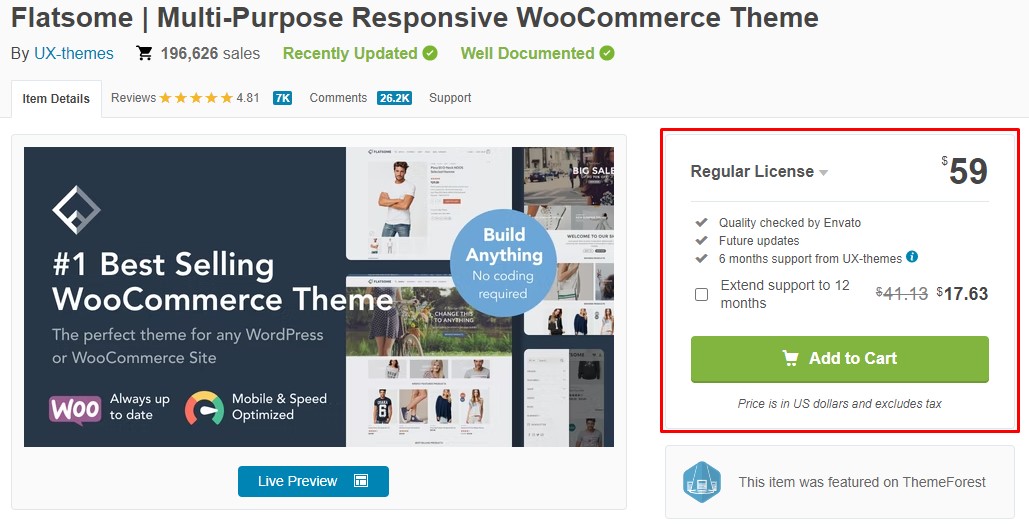 Conclusion
The above discussion has compared different aspects of an ideal premium theme between Flatsome and OceanWP. Though in a few cases, the OceanWP has similar customization options and features to the Flatsome theme, Flatsome is still ahead in almost every aspect. OceanWP has beautiful demos, many features, and options in theme customizer, deep WooCommerce integration, etc., but it's just that the Flatsome theme has more of it, and that's where Flatsome beats OceanWP in the race. If you want to build a business website, feel free to choose between Flatsome and OceanWP. But if you intend to build a high-performance and feature-rich powerful WooCommerce store, Flatsome should be your first choice! Feel free to check our article on Avada vs Flatsome theme comparison to have more insights about top premium themes in the market.