Are you looking for the best comment plugins for WordPress? We have arranged the top 15+ plugins to improve WordPress comments in 2022.
A robust comments area may add significant value to your blog entries, and WordPress makes it simple to welcome them by including a built-in, preconfigured mechanism. But blog comments are far more than simply a superficial statistic. Since the beginning, the WordPress core has had a commenting system for a good reason. The best way for website owners to interact with their users is through comments. A user can easily comment on your blog post or any other post. You can easily manage your users through user management in WordPress.
Feature-rich 15+ best comment plugins for WordPress 2023
1. wpDiscuz
wpDiscuz is the best WordPress comment plugin. The ideal option is to use this rather than Disqus or Jetpack Comments if you want to save your comments in your database.
This plugin has a real-time commenting system using AJAX with unique fields and forms. It is designed to boost WordPress's default comments. wpDiscuz has hundreds of features that are extremely quick and responsive. This plugin modifies your website commenting experience by adding new user interaction options.
This plugin has secure and anti-spam features which will not allow spammers to comment. In this plugin, comment voting can be made with positive and negative results. It is a smart voting system with tracking by logged-in users and cookies.
2. Jetpack Comments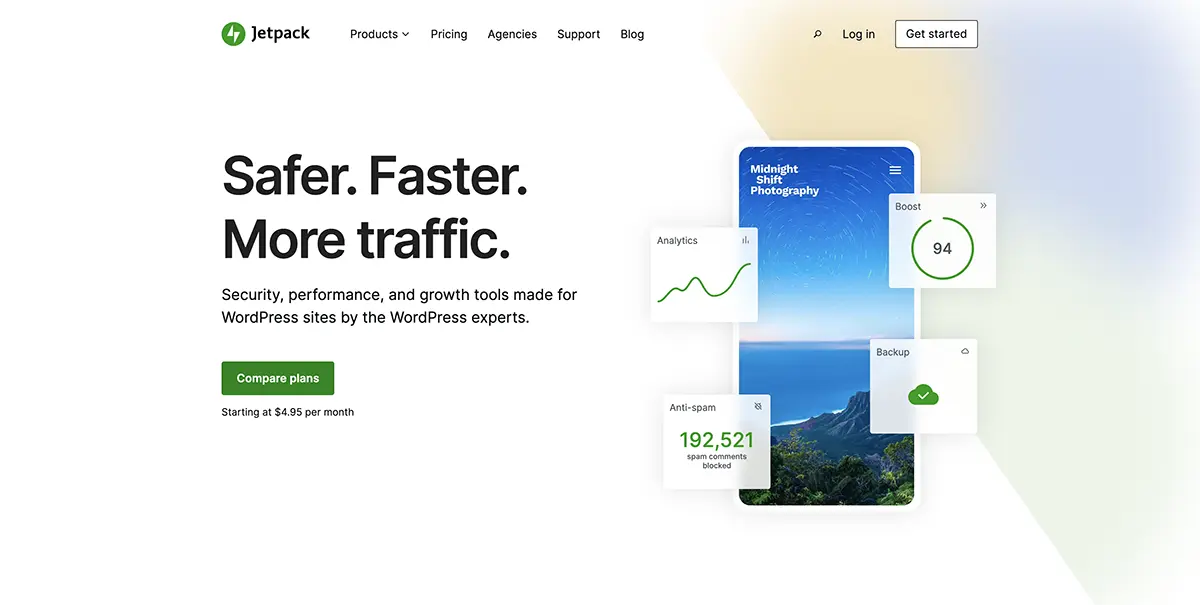 Jetpack Comments is a basic WordPress comments plugin. It is an add-on for the highly powerful Jetpack plugin. Using this extension, users can log in and leave comments using their social network accounts. It works with Google, Twitter, Facebook, and WordPress.com accounts. It is also known SEO-friendly analytics tools. There are different kinds of WordPress analytics plugins online but jet pack has another view stats.
Adding social media login is a beneficial feature and one we look for in a comment plugin. However, Jetpack Comments doesn't update the comment form, offer additional features, or change how comments appear and feel. For that reason, it deserves serious consideration.
You can easily duplicate websites, create full database backups, clone websites, manage migration to a new server, and move theme files and plugins to a new database. Also, you can fix broken websites by restoring previous backups or quickly put up a test site by duplicating your existing WordPress website.
3. Thrive Comments

The creators of Thrive Themes also created the WordPress comment plugin Thrive Comments. With the help of votes, badges, and comment sharing, it's a potent plugin that makes commenting more game-like. This gamification is the foundation of social networks; therefore, its effectiveness is well established. Now that you have this plugin, you can take advantage of those tools.
Additionally, Thrive Comments supports social networking login, provides share prompts to encourage social sharing as a social media plugin for WordPress, and replaces the original comment section with a fresh, more appealing one.
The complete Thrive Suite includes the Thrive Comments plugin. To utilize the comments plugin, you must purchase the whole suite, which includes a builder, Automator, quiz builder, and many other features.
4. Social Share, Social Login, and Social Comments Plugin – Super Socializer

Super Socializer is the best WordPress comment plugin. Visitors to your website will typically be required to enter their name and email address before submitting a comment This way, the plugin can deter spammers from leaving comments on your website, but it's still an extra step that might deter the actual site visitors.
Super Socializer eliminates this extra step by enabling users to remark on your website using their social accounts. This plugin offers native support for 24 social networks, including Facebook, LinkedIn, Twitter, Reddit, Instagram, and Amazon.
Super Socializer will collect the user's essential information, including their profile picture, from their social media account once logged in. Additionally, visitors who have logged in with their social media accounts with Super Socializer can have their comments automatically approved. You can save time by doing this instead of manually approving and monitoring WordPress comments.
5. Subscribe To Comments Reloaded
This plugin can sign up for email notifications on new posts with the help of the reliable plugin Reloaded. This is a popular WordPress comment plugin.
Your commenters can use the plugin's fully functional subscription-manager to stop receiving notifications for specific posts or to pause them altogether. With the aid of the most recent WordPress features and capabilities, it addresses most of the problems with Mark Jaquith's version.
Administrators can implement a double opt-in system that requires users to confirm their subscription by clicking on a link. Basically it works like membership plugin in WordPress that will manage all the things based on subscription. They will get it via email by using the plugin's One Click Unsubscribe feature.
6. Social Comments by WpDevArt

Social (Facebook) Comments is the best WordPress comment plugin. This plugin is a great tool allowing you to show your visitor's Facebook comments on your website. Additionally, this plugin is quite helpful for increasing Facebook traffic to your website built with the best WooCommerce theme free.
Most websites use this plugin because it is essential to social media optimization. You only need to create a Facebook App ID and utilize it on your website to use this plugin. If necessary, you can disable it on any page or post.
You can customize the title text color, font size, font family, and position. The title text's font, size, family, and position can be changed also. You may choose where to display it as well. You can control the display of numbers and orders.
7. Akismet

Akismet is the most well-known WordPress comment plugin. Because the CMS already includes it, but also because it is excellent at what it does.
You don't have to screen spam comments yourself, according to Akismet. To block known spammers, it has ties to the Akismet global spam database. Although it didn't replace admin moderation, it greatly eases the burden on busy websites.
While using the default WordPress comments area, Akismet efficiently maintains it clean. If your existing comment plugin doesn't filter spam, it's definitely worth using.
8. Lazy Load for Comments

Lazy Load for Comments is a simple WordPress comment plugin that excels at what it does. In this case, the answer is in the name. This plugin aims to reduce server requests and quicken page loads.
Quick page load is achieved by delaying loading the comments section until the user has arrived and started reading. Thus, there will be much fewer requests and a more responsive page. Simple but quite powerful.
Most WordPress themes are compatible with Lazy Load for Comments, which only needs one configuration in the dashboard to function.
9. GraphComment Comment system

GraphComment is a free and effective WordPress comment plugin. This plugin enables interesting discussions free of trolls and simple reading. There are no more disjointed conversations stacked up on multiple pages.
Your viewers may simply track the relevant debates with GraphComment. All comments will be added to the WordPress database. This enables you to switch to the usual WordPress commenting functionality without deleting any comments you may have made while using GraphComment.
All of your comments can be managed simply in the WordPress interface. You can also import all of your previous comments from the WordPress database. The WordPress database can automatically sync (backup) GraphComment comments.
10. ReplyBox
ReplyBox – Better WordPress Comments is another popular WordPress comment plugin. ReplyBox is a straightforward, privacy-conscious, lightweight, and lightning-quick commenting solution.
This plugin is designed as a comment system with a difference. It should be used if you and your users don't want to navigate advertisements or worry about how your data is handled. You can control all new comments with a manual approval system that's simple and effective. It is compatible with Most of the faster WordPress themes.
In this plugin, anyone can instantly subscribe to email notifications so that a reply or comment is never missed. You can make commenting even easier by authenticating via Google in just two clicks. Also, you can use CSS to transform ReplyBox into the on-brand addition your business has been waiting for.
11. WordPress Social Comments Plugin for Vkontakte Comments and Disqus Comments

WordPress Social Comments Plugin for Vkontakte is the best WordPress comment plugin. You can modify your website's comments system using this plugin. You can allow default WordPress, Disqus, and Facebook comment all at once in your website designed with the best SEO themes for WordPress.
You can reorder the comments and choose between a stacked or tabbed design. This plugin can show or hide comment counts for individual comment systems.
It has an option to enable Social Commenting on default post types (posts, pages) and custom post types that support comments. You can use customizable behavior for individual comment systems, like target Url, language, the width of a commenting interface, label, etc.
12. Simple Comment Editing

We decided to add Simple Comment Editing to our list of the best WordPress comment plugins because of its unique feature. It offers a clever cooldown feature that allows commenters five minutes to add, edit, or modify their comments before they are published.
This highly useful foundation plugin is free and a fantastic alternative. It doesn't require any configuration; it just plugs in and starts working. Users can choose whether to see the timer, and you can prevent comment deletion and enable email notifications for updates.
There are customization possibilities here, but unless you know CSS, they are simple. It provides a window of 5 minutes to edit your comments before getting published.
13. WordPress Comments Fields

WordPress Comments Fields are the best WordPress comment plugin. Custom fields can be easily added to the default WordPress comment form using WordPress Comments Fields.
The visitor's Twitter username, company phone number, date of birth, or anything else you wish could be entered in these boxes. The plugin will then use the information from these unique feeds to display it as a "comment meta" beneath the user's comment on your website.
The information typed into these forms is also visible on your WordPress admin dashboard.
14. Yoast Comment Hacks

Yoast Comment Hacks is a popular WordPress comment plugin. A collection of tools called Yoast Comment Hacks can help you manage and filter comments on your website in various ways. You can quickly build a great website using any top free WordPress WooCommerce theme.
You can email comment authors or other users who have left a remark on a particular post using Yoast Comment Hacks. Additionally, you may route new commenters to a page, assign comments to a specific thread, and customize your comment notification emails. Yoast SEO is also another analytics service from the Yoast and you can easily compare it with Rank Math vs Yoast if you want.
There is a commenter emailing button on the WordPress toolbar. You can add the option to route comments. A new option in the discussion settings for a post makes it possible to route comment emails to another user.
15. Replyable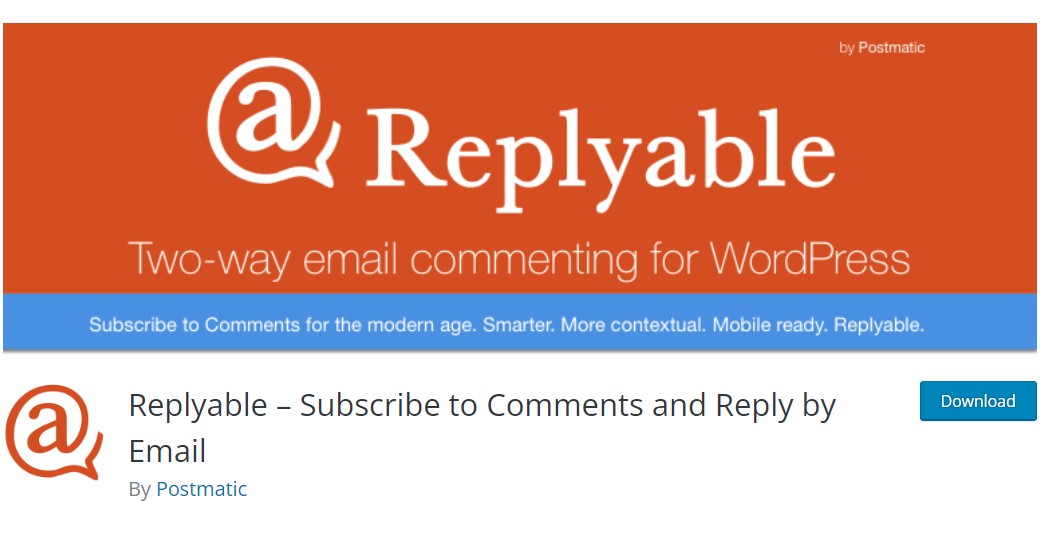 Postmatic is the next WordPress comment plugin, and Replyable is one of the products from the same creator. Replyable turns up the "subscribe to comments" option to eleven.
Replyable uses machine learning to filter comments and only alert to the most pertinent ones rather than spamming commentators with all the replies because only valuable comments are highlighted, and interaction is increased. Email is another method for users to respond, though you might not want to use it if you want them to reply. You can also use the best WordPress email plugins for improving your email performances.
Additionally, the plugin can combine many comments into a single email, keeping users involved without wasting time. It's an intelligent WordPress commenting plugin that removes one of the most unpleasant elements of website commenting.
16. Comment Approved Notifier Extended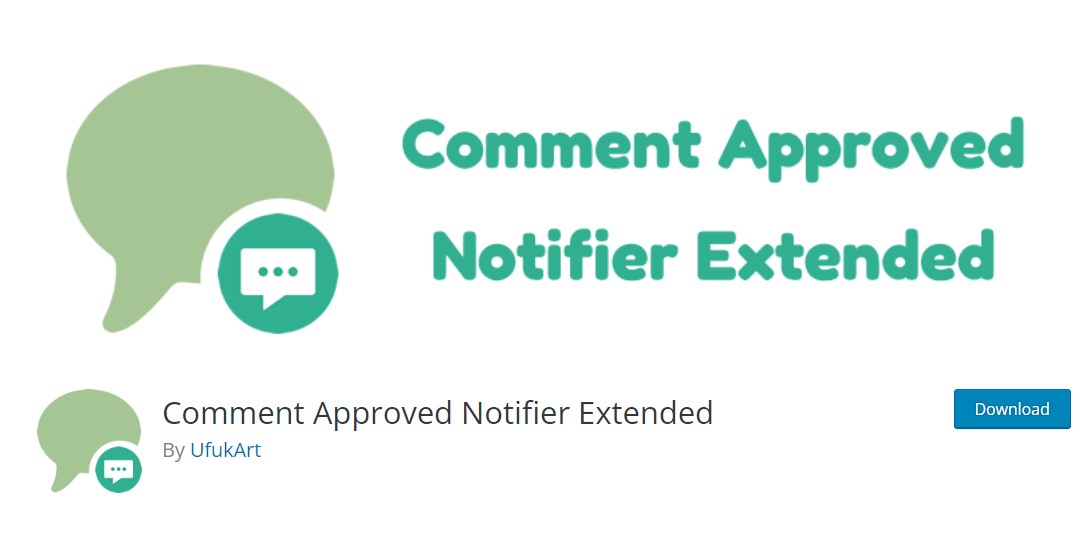 Comment Approved Notifier Extended is a popular WordPress comment plugin. It is simple and easy to use. There are no setting options. When you turn it on, it begins to function.
This plugin is fully compatible with SMTP mail sender plugins. You can easily configure SMTP server in WordPress. Multi-Language support has been added for Comment Approved Notifier Extended.
Conclusion
Any of these WordPress comment plugins take that fundamental function and enhance it. Some excel in just one item, while others provide numerous features. All of them can help you build a strong community for your website.
The market offers a wide range of commenting options. We advise trying each one out to discover which one best suits your requirements.