Are you looking for the best WordPress Paywall Plugin?
WordPress paywall plugins are widely available, although not all of them are top-notch. Paywall plugins help you promote your content by blocking non-paying people from viewing it. This will allow you to produce more money and distinctive high-quality content.
There are several paywall plugins available that are ideal for your WordPress website. However, selecting one from the various options is a real task. As a result, we've created a hand-selected list of the top WordPress paywall plugins.
1. LearnDash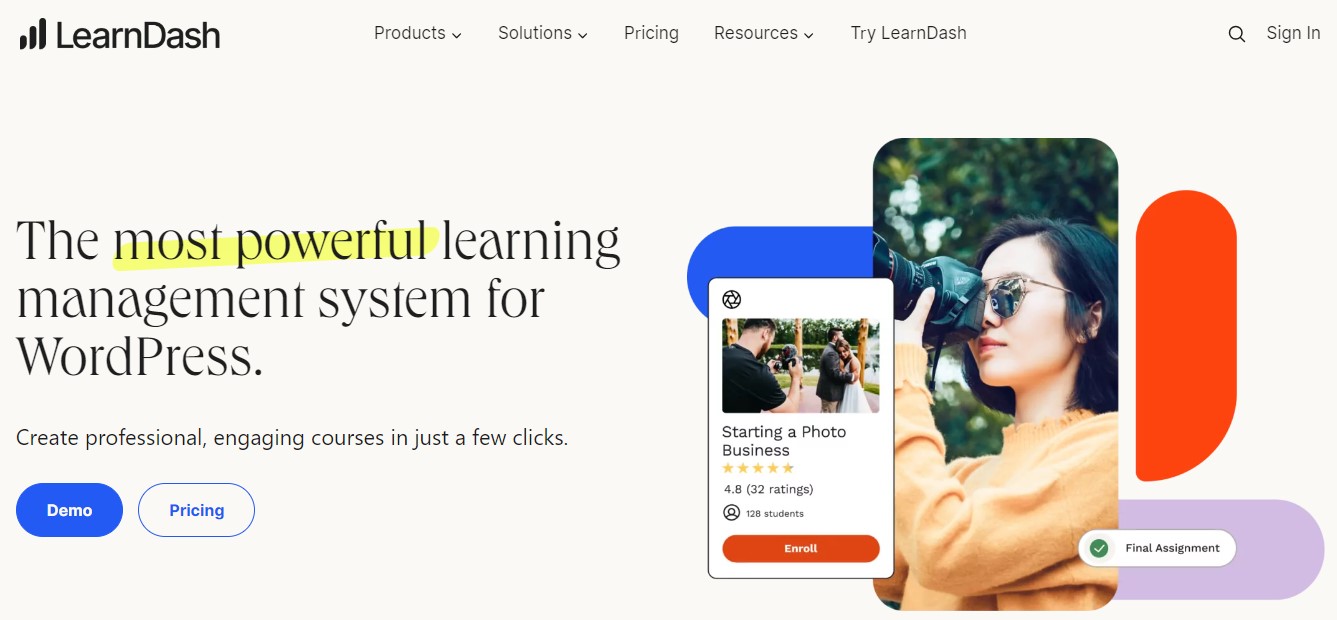 Online courses can be created and monetized using LearnDash, an e-learning management system. Because it is a non-coding plugin, it is useful for WordPress multisite users who lack coding knowledge. This plugin allows the creation of fascinating courses with user-friendly features like Focus Mode, reducing distractions.
With LearnDash, numerous course types may be created using templates and WordPress page builders. The plugin connects well-known programs and platforms like PayPal, Slack, and Zapier to make learning enjoyable and simple.
Additionally, through well-known email marketing platforms like Mailchimp, students have access to automatic email notifications depending on their updates and actions
Moreover, a convenient, user-friendly, and entertaining experience is offered by LearnDash for developing and marketing online courses. It is a great option for beginners due to its non-coding capabilities and compatibility with WordPress multisite.
2. MemberPress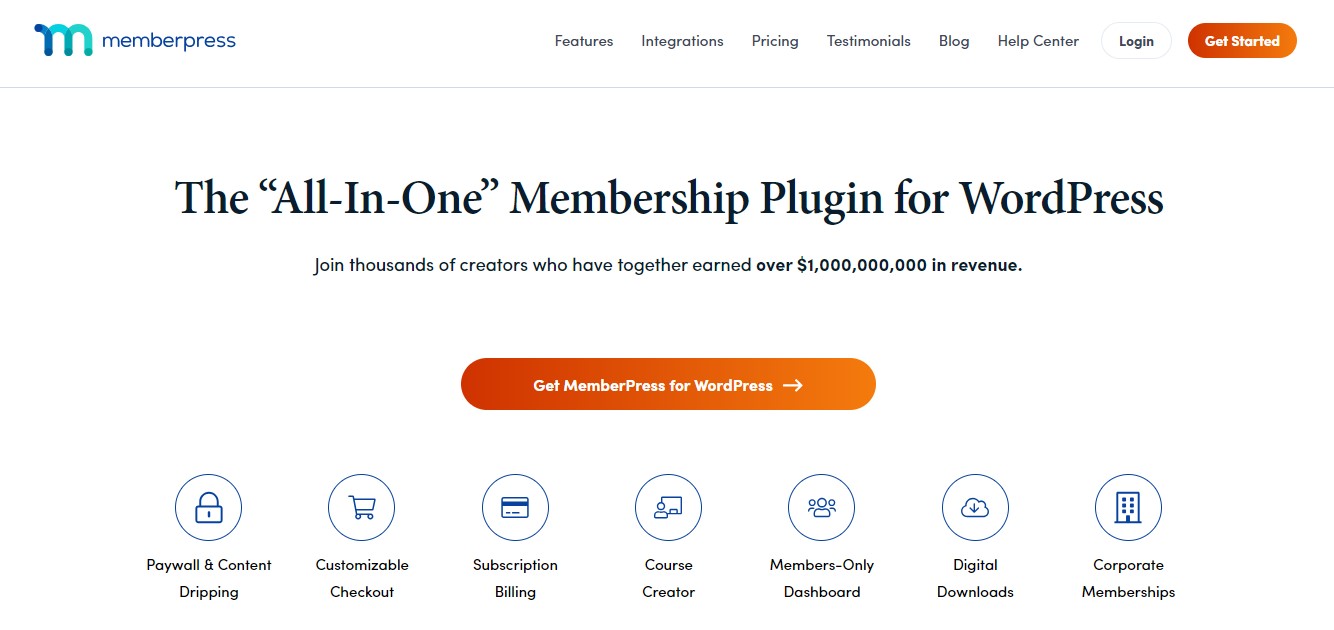 Another one of the top paywall plugins is MemberPress. You receive a lot of helpful features, including paywalls, content drips, subscription tiers, and more. Additionally, you can set up different payment methods for your subscriptions.
If you want strong yet adaptable access limits, MemberPress might be your best option. Using the plugin, you may restrict the content to pages, child pages, custom post types, and more. It also offers lots of front-end price tables to help you recruit new subscribers.
Partnering with MemberPress plugins gives cutting-edge capabilities that are more convenient than those of other WordPress membership plugins for managing educational content. You can sell your courses by including 2Checkout, PayPal, and a large number of additional payment processors on your website.
You can make a dynamic pricing page with a table of prices for different membership tiers using this tool. To keep your members informed, it makes use of email marketing systems like ActiveCampaign, Constant Contact, Mailchimp, and others. You will have total control over what content your subscribers can access, depending on the subscription.
3. Memberful WP Plugin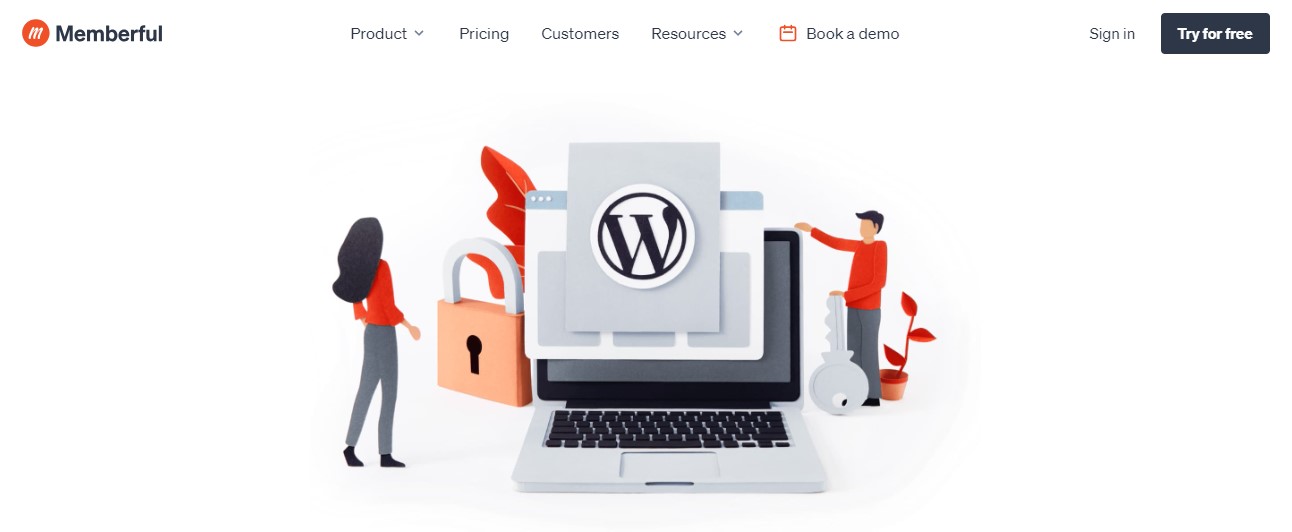 Memberful WP is another WordPress membership paywall plugin. It allows website owners to restrict content and sell memberships using the Stripe payment gateway. Its elegant UI and capacity to interact with WordPress, which removes the need for users to remember two sets of login credentials, are two of its distinguishing qualities.
This paywall plugin offers the ability to establish various membership tiers, collect payments, and calculate membership taxes. Users can also change their subscription settings using widgets that have been added to the website.
It offers a pay-per-click function that limits access to particular content and protects your website based on how many users are logged in.
4. Zlick Paywall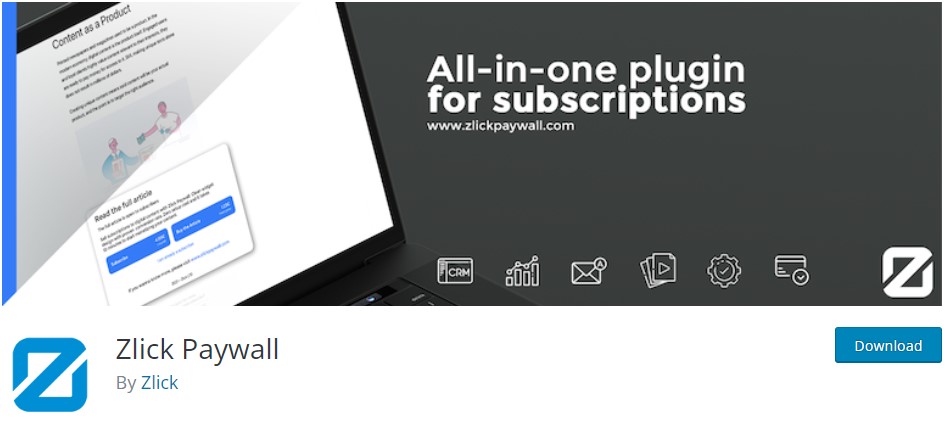 The easiest way to sell subscriptions is with the Zlick WordPress paywall plugin. Simply connect your Zlick account with your WordPress website, select price, and start taking subscriptions for the content.
You can build a website with premium content that is subscription-based with the help of Zlick Paywall. This plugin is easy to set up and use, making it perfect for online publishers and podcasts. You can access everything in one location with a user-friendly interface for editors and multimedia producers. Zlick WordPress paywall plugin has a detailed analytics dashboard for user interaction and business metrics.
5. Leaky Paywall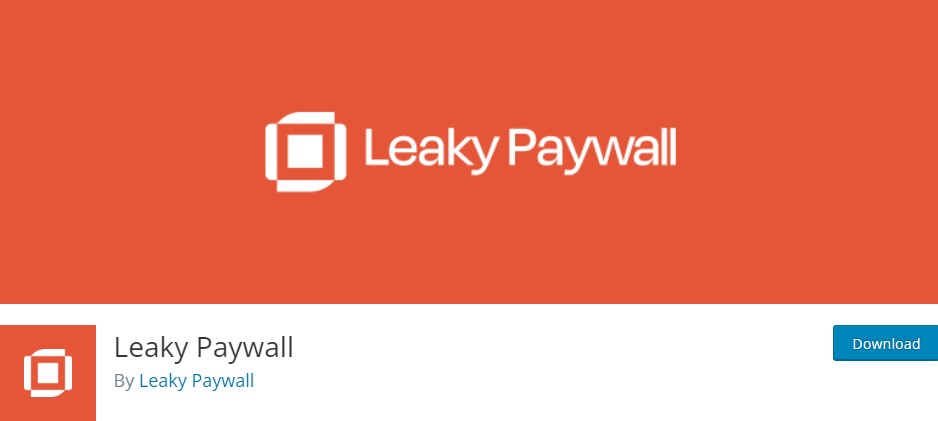 Using the WordPress Leaky Paywall plugin, news organizations, and online magazines can easily create new content packages, grow email lists, and generate cash from subscribers.
Its flexibility to handle many paywall types, such as classic, hybrid, and metric paywalls, makes it stand out from the crowd. Before subscribing to access more features, readers can access all content for free. This plugin supports several payment methods, including PayPal, MagHub, RunMags, and Stripe.
You can get extensions like a pop-up and paywall plugin Chrome that shows how many articles a visitor can access before subscribing to a website by downloading the plugin for free to use in comparison with your website. Leaky Paywall is the only option that supports email lists, mobile apps, and CRM connectivity.
6. Paid Memberships Pro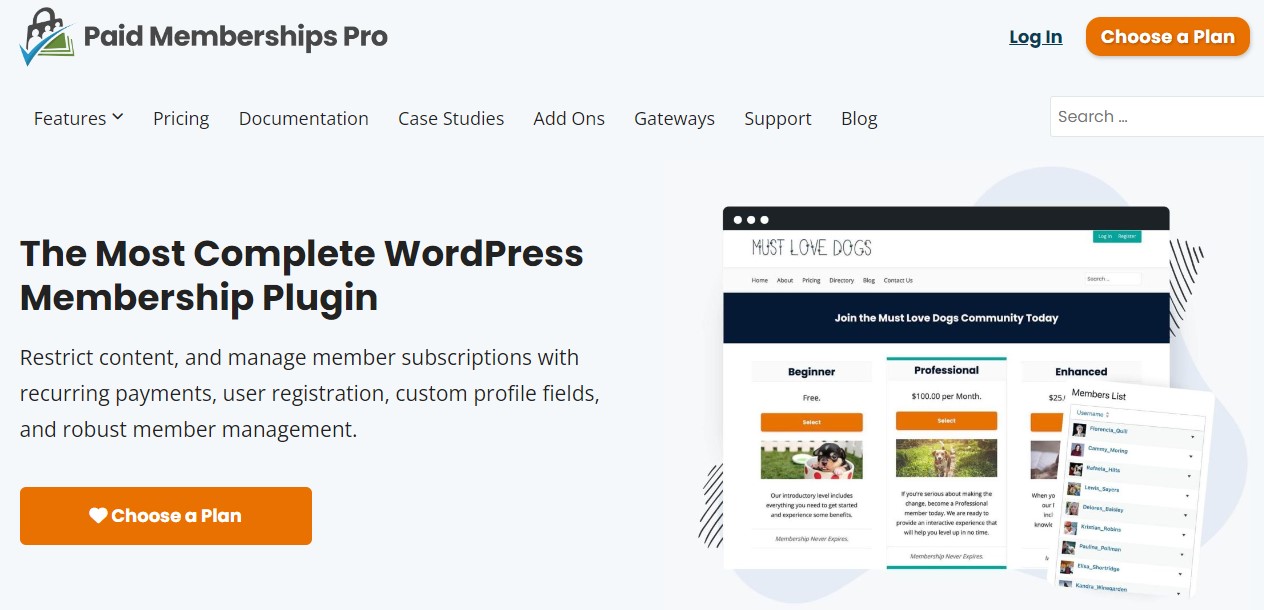 The Paid Memberships Pro paywall plugin gives you all the resources you need to launch, run, and grow your membership website.
For premium content marketing websites, companies that offer online courses, and organizations that offer training to their members all over the world, this particular plugin is a great option. Payment integration for the plugin is built-in, making it simple to receive money from members. You may make an unlimited number of membership levels with Paid Memberships Pro and specify unique prices for each level. Additionally, you can create kid accounts for businesses inside of parent accounts.
You can contact members and remind them of their duties using a mail communication function, ensuring the efficient operation of your website.
7. LifterLMS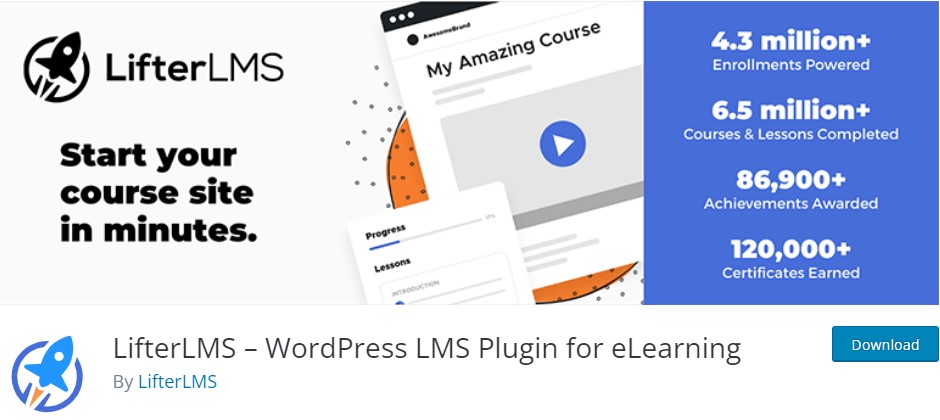 Another well-liked WordPress LMS plugin that enables you to set up a paywall system on your website is LifterLMS. It makes it simple to create, manage, and organize your subscriptions. You may successfully build a subscription website with it that makes money.
This plugin also provides a complete eLearning solution for your WordPress website. Anything from a straightforward single-instructor online course website to a multi-instructor online school can be built. For making an online school you can choose our top expert-picked educational WordPress themes that make your task so much easier.
This makes it ideal for small businesses who want to operate an internet site for subscription courses. It is also adaptable and lightweight. Moreover, it works well with any carefully written WordPress theme.
8. s2Member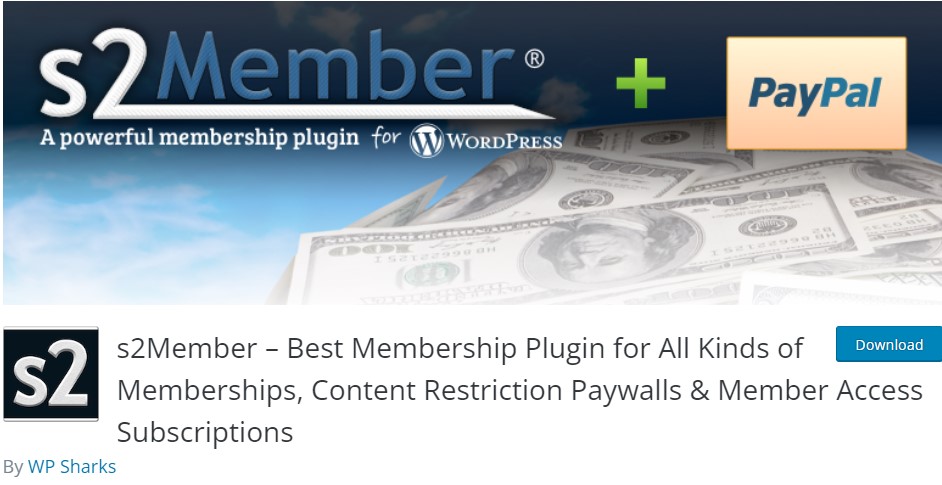 The S2Member WordPress paywall plugin enables users to convert their website into a membership site. The plugin is a well-liked option among developers because it is available in both free and commercial versions.
Users can choose open registration, which allows anyone to register at any time, or set their own login and registration limitations using S2Member. The user now has the freedom to limit access to their content to their requirements.
Users of S2Member will obtain security badges for each pay-per-post plugin they purchase, boosting visitor confidence but not the website's security.
9. ARMember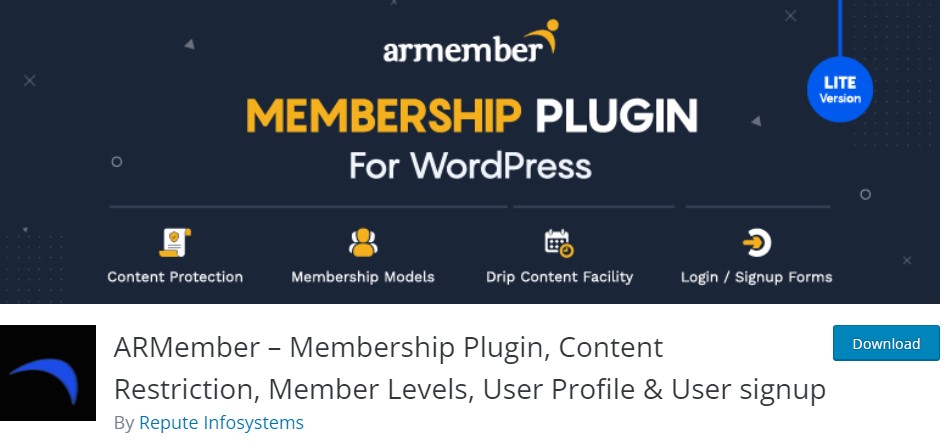 ARMember is another one of the best WordPress paywall plugins. It is quite simple to use and has a lovely modern user interface. You don't need any technical experience to add paywalls to your WordPress website by using this plugin.
Additionally, this plugin makes it possible to use features like drip content and unlimited membership tiers. You can design several program plans for your users using that. If you want to create a community then check out this article where we explained elaborately about WordPress community themes.
Several coupon types can also be created including discounted coupons, occasional coupons, plan-specific coupons, and more. As a result, more visitors can join up for your website right away.
10. Jeg Paywall


Jeg Paywall WordPress paywall plugin enables website owners to make money from their content. With Jeg Paywall, you can control price options on your WooCommerce store using paywalls and receive payments using methods like PayPal from anywhere in the globe.
The interoperability of Jeg Paywall with all WooCommerce themes is one of its most remarkable advantages. This plugin allows you to limit posts, custom post kinds, and other material and is compatible with any theme.
Jeg Paywall is simple to set up and only has to be enabled for a subset of postings. Since the PayPal payment channel is incorporated within the system for better earning possibilities, the system ensures secure monthly payments and consistent income.
Conclusion
The use of paywall plugins is a great approach to making money off the content of your blog in addition to Google Ads and Sponsored Posts. According to each member's subscription plan, you can restrict some members' access to certain types of material.
For educational reasons, photo and video sharing, blog entries, podcasts, and music, a paywall is ideal. An overview might help you decide how to build your website since each of the paywall plugins covered in this post has special capabilities of its own.
We truly hope that this article will help you in finding the top paywall plugins for your WordPress website.