Are you looking for the best WooCommerce hosting for your Flatsome-powered website?
One of the most important decisions is to choose the best hosting provider for your online business.    
The typical shared hosting might not be the best pick for you when it comes to launching a free WordPress eCommerce website powered by WooCommerce. This guide is about the best WooCommerce hosting providers for your online store.
Hosting providers offer some features – an SSL certificate, great support, fantastic uptime, and page backups. You can always hit up support in advance, even if you are not 100% sure about which option is best for you.
When it comes to hosting, WooCommerce is a feature-rich extension that requires a slight treatment than your normal WordPress website. That's why we have carefully selected the best WooCommerce hosting providers.
Here are my top five WooCommerce hosting recommendations to make your online store run smoothly –
 1. WPEngine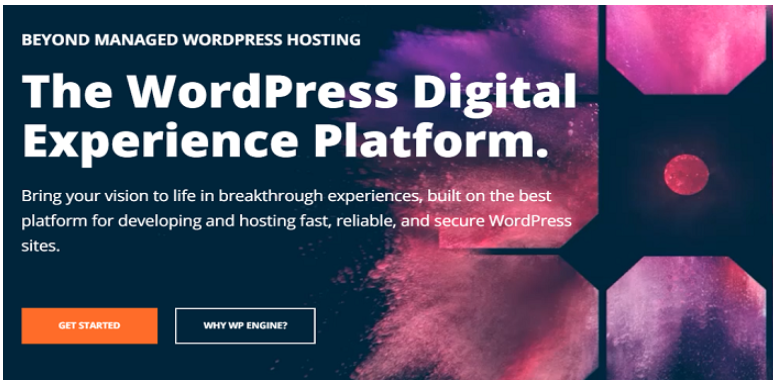 WPEngine is considered VIP hosting. They offer hassle-free, fast, and robust servers that can handle anything.
They specialize in managing WordPress hosting that offers fast servers, outstanding customer support, and amazing security, including daily backup and malware scanning.
WooCommerce specific features
WPEngine's plan comes packed with useful features for your WooCommerce store. Some great features include-
Integrated CDN for faster global performance.

Automatic backups to make sure you never lose your store's data.

Free SSL certificate to keep your store data safe and secure.

eCommerce Toolkit plugin to optimize store performance.

Free access to Genesis framework and all the StudioPress child themes.
Ease of use
WPEngine offers automatic security updates, automatic caching, daily backups, one-click restore points, top-tier security, and more. It uses its own custom hosting dashboard, making it pretty easy to perform key actions for your online store.
Pricing and plans
WPEngine only offers one type of service, and it's managed hosting. It provides a number of tiered plans to choose from. Their plan starts at $25 per month and goes up from there. These plans are not cheap. However, they provide plenty of features to grow your store.
This hosting provider company is well-optimized for WordPress users. It provides solid and consistent performance. Moreover, they offer plenty of dedicated and expert support.
2. Bluehost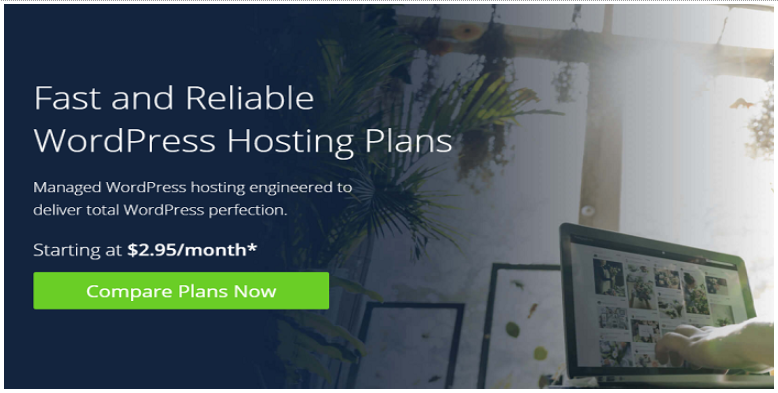 Bluehost is rated the #1 web hosting provider for small businesses. It is a popular WordPress hosting company that's officially recommended by the WordPress.org team, and it is compatible with all corporate themes for WordPress.
You never have to worry about your online store being slow with Bluehost, even though there is a lot of traffic.  They provide nearly every web hosting service that you could possibly need.
WooCommerce specific features
You will get a bunch of great features to make your online shop a success because Bluehost has dedicated plans for WooCommerce. They offer –
Offers WooCommerce plans for eCommerce stores.

A dedicated IP address all to yourself.

A free SSL certificate to help you to keep your customers' data safe.

Free online setup calls to help you to get your site up and running.

Pre-installed WordPress and WooCommerce along with the official Storefront theme.
Ease of use
You can start building your WooCommerce store and add products immediately. Because this hosting can pre-install both tools for you, making WordPress and WooCommerce set up super simple. The custom hosting dashboard of Bluehost makes it easy to manage things.
Pricing and plans
Bluehost offers a wide range of hosting solutions from shared, VPS, and dedicated servers to specialized WordPress hosting. Their WooCommerce hosting plans are quite affordable that starting at just $6.95 per month.
So, Bluehost is a solid web hosting that's worth checking out if you already have a WooCommerce store or need one. It can provide you with more than what you can normally expect.
3. DreamHost
DreamHost is best for their entry-level hosting plans and provides more powerful WooCommerce setups.
Looking through the list of its available features, the things that stand out are built-in caching, free SSL for your store, one-click staging, SFTP, and shell access. They provide plans for dedicated WordPress users and separate options if you are running a WooCommerce store. You can check out DreamHost reviews in another board article separately.
WooCommerce specif features
When it comes to WooCommerce-specific features, DreamHost doesn't skimp. Some of the highlights include –
Free SSL certificate to keep your and your customer's data safe.

Up to 3 calls per month with DreamHost's dedicated support and full access to regular channels.

WooCommerce and Storefront are pre-installed and configured for optimal performance.

Jetpack Professional plugin for free, which includes some top store data.

Server-side protection against traffic spikes, hacking attempts, and slow site speeds.
Ease of use
Once you sign up, you can get to work on your store right away with Dreamhost, thanks to the pre-configured WooCommerce. It has one of the most unique control panels, which includes a lot of options and is also easy to navigate.
Pricing and plans
Dreamhost is rather expensive as compared to other hosting providers. It starts from $16.95 a month (when paid annually) and gives your access to a cloud-based hosting environment with isolated resources. The server is ready to handle up to 100k monthly visitors, and you get 30 GB of storage for your media and files.
If you combine the features of DreamHost, it all adds up to a well-rounded WooCommerce plan. They make sure your site is fast, secure, and always up.
 4. Liquid Web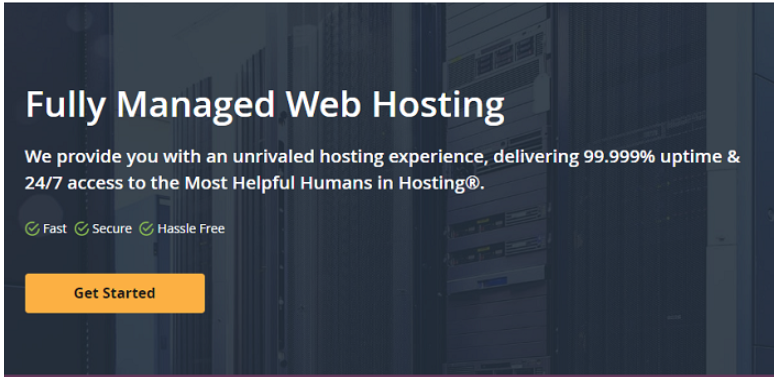 Liquid Web is a specialized hosting company that offers ranging from cloud to dedicated servers. They also offer managed WooCommerce hosting plans.
The service provider is famous for its high-quality support, known as 'Heroic Support.' Their servers are highly tuned for speed, performance, and security, making it a hassle-free hosting solution.  
WooCommerce- specific features
This managed WooCommerce hosting is excellent when it comes to the number of WooCommerce-specific features. Some from the list include-
Expert level help to set up your online store.

Mobile optimization for all of your store pages.

Free SSL certificate to keep your website's data secure.

Abandoned cart technology via a partnership with Jilt.

Value-added plugins to add a variety of functionality to your store.
Ease of use
It comes with a pretty streamlined control panel. The Liquid Web team can help you setup additional payment gateways, add new products, and much more, and you can easily add payment option icons on your own. Moreover, it has an intuitive dashboard to manage all your sites in one place.
Pricing and plans
When it comes to plans, this hosting company offers plenty of options. You get a package starting from $19 a month or $190 a year when paid manually. You can upgrade to more powerful plans if you need more server resources.
Liquid Web hosting is the best WooCommerce hosting on this list when you look at the price-to-value ratio. They provide high-performance managed web hosting infrastructure to power your online store. 
 5. SiteGround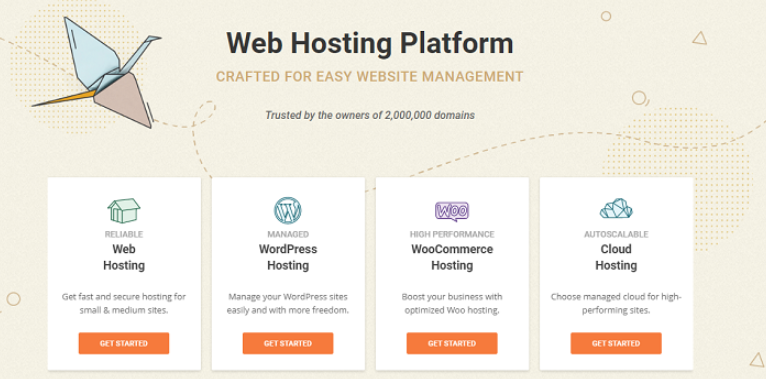 SiteGround is a recognizable brand in the WordPress community. They have been very active and perfecting their WordPress-specific hosting for years now.
Their hosting plans are very affordable and come with a number of automation to make your life easier. They also give you customer support that's been highly praised.
WooCommerce- specific features
WooCommerce plans of SiteGround offer all the same features as their basic shared options. However, they also provide a bit of extra functionality, including –
Integrated CDN to

speed up your WordPress website

online shop's load times.

PCI Complaint servers on the highest tier.

Free shopping cart installation for setting up your new store.

WooCommerce and storefront theme is set up out of the box.

A Let's Encrypt SSL Certificate to keep secure your visitors' information.
Ease of Use
You don't have to deal with installing WordPress or WooCommerce on your own. Since they automatically set up the WooCommerce plugin and WooCommerce store themes for you. That means you can effectively be walking into a blank WooCommerce store that's ready to have your products added.
Pricing and plans
There are 3 main plans with SiteGround that start at &3.95 for the StartUp and go up to &11.95 a month. You can use either one to launch your WooCommerce store.
Overall, SiteGround will be your best choice when it comes to entry-level affordable WooCommerce hosting. They are one of the few companies to offer location-specific hosting with 3 data centers in Europe, the USA, and Asia. 
Every online business has different needs. So make sure to base your decision on the things that matter most to you.
If you were struggling to compare, we hope this guide has done the hard work for you to find the best WooCommerce hosting for your Flatsome theme-powered website.  You can also watch the Flatsome theme tutorial to increase your knowledge in this field.